The Haunting of Hill House
Loosely based on the 1959 gothic horror novel by Shirley Jackson, The Haunting of Hill House follows seven members of the Crain family who are forever traumatised by their brief time living at an old mansion in 1992. From the show's title, you've probably surmised that the house is haunted, however, these particular ghosts will continue to haunt the Crain children well into adulthood – no matter where they live. Regularly flicking back and forth between the present and past, The Haunting of Hill House gets under your skin slowly, gradually revealing the escalation of horror that led the family to be as fractured as it is today. As chilling as The Haunting of Hill House is, it's the family drama aspect that resonates most. That said, you'll probably want to sleep with the lights on after binging this is one. If you're a fan of films like The Conjuring, It and Hereditary, you're going to love this.
Details: 1 season, 10 episodes per season, 60-70 minutes per episode
Maniac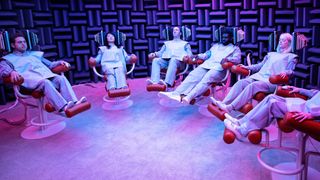 From director Cary Fukunaga (True Detective) comes Maniac, a sci-fi dramedy that's almost impossible to describe (we'll try our best, though). Set it a retro-futuristic version of New York City (think 'Big Apple' by way of Blade Runner), Maniac follows two troubled individuals (played by Emma Stone and Jonah Hill) who sign up for a mysterious pharmaceutical trial that promises to improve their lives exponentially. Placed in a series of dream-like states, the pair somehow find themselves repeatedly drawn to each other in their shared delusion. Do the two characters share a destiny, or is this just a side-effect of the trial? Featuring beautiful visuals and incredible performances, Maniac is the kind of mind-bending miniseries that deserves your time.
Details: 1 season, 10 episodes per season, 26-47 minutes per episode
Lost in Space
Based on the classic 1960s television series (and rather forgettable 1990s film) of the same name, Lost in Space is the latest show to get its own Netflix makeover. The space colonist family Robinson has found itself stranded on a mysterious planet once again, and it's up to them to find a way off that rock and back on course to its actual destination. Darker and more serious in tone than the original series, the new Lost in Space still offers the same sense of wonder, albeit with a new emphasis on survival in a harsh new realm. Visually spectacular.
Seasons on Netflix: 1
Altered Carbon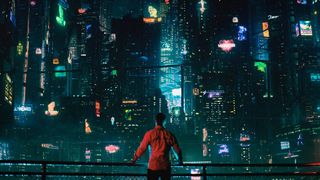 Based on the science fiction novel of the same name by Richard K. Morgan, Altered Carbon explores a futuristic world where death has become an inconvenience rather than a permanent state. A human's entire life can be backed up onto a chip in their neck, so when they die, they can move onto to a different body and continue on in another form. But when a wealthy man's chip is destroyed by a would-be assassin (lucky he's rich enough to have a 24-hour satellite backup), he brings Takeshi Kovacs (Joel Kinnaman) out of digital prison after 250 years to solve his murder. Kovacs is the last remaining Envoy, a super soldier who is now tasked with working for the very people he fought a war against. With an epic scope and a visual style influenced by the cyberpunk classic Blade Runner, Altered Carbon is the most epic show that Netflix has produced to date.
Seasons of Netflix: 1
Stranger Things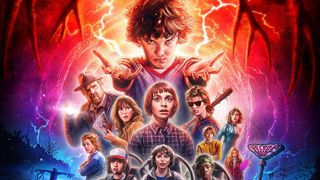 Following up its instant-classic first season, Stranger Things season 2 is now streaming on Netflix. Playing like a cross between Stephen King and Steven Spielberg, Stranger Things is a nostalgic and somewhat scary throwback to the classic Amblin films of the '80s. In the small town of Hawkins, Indiana, young boy Will (Noah Schnapp) disappears in the middle of the night without a trace. The very next day, a young girl in a hospital gown appears in town, scared and unable to speak. In true Goonies/Stand By Me-fashion, the girl joins up with Will's buddies in an attempt to track down their missing friend. Also embroiled in the mystery is the young boy's mother, Joyce (Winona Ryder) – a woman who must confront terrifying forces if she has any hope of seeing her son again. Without spoiling the first season for newcomers, Stranger Things 2 picks up a year later and not only introduces some new characters, but also an even bigger and more terrifying threat that must be stopped at all costs!
Seasons on Netflix: 2
Star Trek: Discovery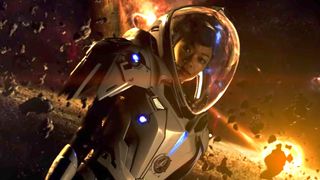 It may take an episode or so to truly get off the ground, but the newest Star Trek TV series delivers all the intergalactic adventuring we could possibly hope for. There's no shortage of action or spectacular visuals here, though the show's creators have balanced it with the series' trademark smarts to provide a truly compelling new entry in the Star Trek canon. The cast, which is led by Sonequa Martin-Green and features the likes of Michelle Yeoh and Jason Isaacs, is extraordinary. We can't wait to see where Star Trek: Discovery takes us in the future.
Seasons on Netflix: 1
Scream
Many scoffed when it was announced that MTV would be making its own Scream show based on the hit Wes Craven-directed film series of the same name, but that initial cynicism bleeds away once the show sinks its hooks into you. Inspired by the films but in no way connected to them, the show maintains the meta-commentary and slashing action that the Scream name is known for while creating a whole new mythos of its own. Featuring a (mostly) likeable cast, buckets of blood and a central mystery that will keep you guessing until the very end, fans will definitely get a kick out of Scream's small-screen slashing mayhem. The first iteration of the show is done and dusted after two seasons, however, a brand new story will kick off later this year that follows a completely different group of characters. It's also been promised that the classic Ghostface mask will return!
Seasons on Netflix: 2
The Expanse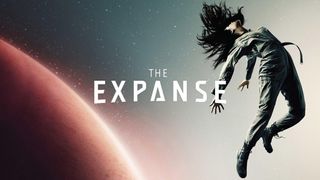 Fans of brainy, politically-minded science fiction, like the incredible Battlestar Galactica reboot series, would do well to check out The Expanse, a futuristic series that sees our Solar System colonised by humans. Initially presented in the guise of a cop procedural about a missing person, The Expanse's stakes are quickly raised when a vast political conspiracy becomes apparent that threatens the fate of our galaxy. Starring Thomas Jane, Steven Strait and Shohreh Aghdashloo, The Expanse is a show that takes a little while to warm up to, but once you're hooked, you won't be able to look away.
Seasons on Netflix: 2
Black Mirror
Firefly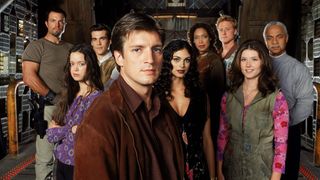 After he had produced the perfect female lead in Buffy and before he was Hulk smashing with The Avengers, Joss Whedon created a short-run sci-fi series that has spawned not only a massive cult following but, quite astonishingly, a movie. The reason it was such an underground success was because Firefly takes the Star Wars framework of making space messy, where everything is a little rough around the edges – including the crew. It even has its own Han Solo in the form of Nathan Fillion's Malcolm Reynolds. Whedon's witty words permeate the whole of Firefly, which is not so much a space opera but a space rock opera.
Seasons on Netflix: 1