Best TV: Quick Menu
1. The list in brief
2. Best overall
3. Best budget (US)
4. Best budget (UK)
5. Best mid-range (UK)
6. Best for image quality
7. Brightest OLED
8. Best 2023 OLED
9. Best 8K TV
10. Best gaming QLED
11. How to choose
12. How we test
The best 65-inch TVs are the ideal way to get fully immersed in movies and games if you have a mid-sized home and viewing room. They've become so much more more affordable in the last few years, and you can get some seriously high-quality screen tech for very reasonable prices.
Of course, any list of the best 65-inch TVs will also include some money-no-object sets – some of the best OLED TVs with next-gen tech or best 8K TVs are available at this size – but you might be surprised by how little difference there is between these and the price of the best 55-inch TVs in many cases.
65 inches is also a perfect size for those planning on hooking up an Xbox Series X or PlayStation 5 to your screen. Some of the best gaming TVs are in the list below and you can truly experience the delights of 4K gaming at 120fps in incredible quality at a size the latest cinematic games were made for.
When we test 65-inch TVs, we take objective readings of elements such as their color accuracy and brightness levels, and combine those with our subjective opinion and experience of how natural the detail is, how realistic their motion processing looks, and how well the whole picture hangs together. We know what to expect from the best TVs at all kinds of price levels because we've tested so many, so we balance performance against cost and features to arrive at the list below.
You'll see that our list of the best 65-inch TVs doesn't just list from the most elite on down – we've highlighted the best budget option nice and early, for example, so you can easily find something whatever price you're aiming for.
Latest update: 30 May 2023
Checked list of products against our latest reviews. Added more about how we test TVs to the introduction.
Previous update: 28 April 2023
Reordered products to reflect latest recommendations. Added new easier navigation features.
Written by
Matt is TechRadar's Managing Editor for Entertainment, meaning he's in charge of persuading our team to watch the latest movies on gorgeous TVs as well as listen to fantastic speakers and headphones. It's a tough task, as you can imagine. Matt has over a decade of experience in tech publishing, and has been writing about the latest TVs and soundbars since 2017.
The quick list
Want to cut to the chase and find out which 65-inch TVs are the best? Below, you'll find a roundup of our choices. You can also jump to a more detailed review of every pick and our price comparison tool to help you find the best deals.
Load the next 3 products...
Best 2023 OLED
Best OLED TV of 2023
The LG C3 punches above and beyond its predecessor (the C2) with HDR-improving picture processing, new smart TV software and high-end specs, but it costs a lot more, too.
Best 8K TV
Best 8K TV
Want the ultimate in image tech? This set's 4K upscaling ability and overall top-tier quality are impressive, but most 4K TVs offer better value.
Best bright QLED
Best QLED TV
Looking for a super-bright QLED? This is a great balance of price and performance, with a mini-LED screen and four HDMI 2.1 ports for 120Hz gaming.
The best 65-inch TV overall
The LG C2 remains top of our guide despite the appearance of its own successor thanks to the big price drops it's had, making it the best balance of performance, features and cost in 2023, while it's still available. The Alpha a9 Gen 5 processor is designed to offer better object enhancement and dynamic tone mapping than previous OLED TVs, we found it very impressive.
You also get 'virtual surround sound', with the TV upscaling stereo content into 7.1.2-channel sound. While we convinced by the virtual surround, the audio performance is still very good for a flatscreen TV and the multiple sound modes means you should be able to find an audio profile that suits your needs.
You get four separate HDMI 2.1 ports just like the C3, so it's the perfect companion for the PS5, Xbox Series X and Xbox Series S.
The LG C2 isn't flawless, however. We found that off-axis color saturation diminished when we moved to the left or right of the screen, something particularly apparent when we compared it to the new QD-OLED models. It's not the brightest set on the block, either – the QLED models here, as well as the Sony A95K and Samsung S95C OLED models, are brighter than it. But again, when you look at the total package, we can't stay mad at it.
Read our full LG C2 OLED review
The best budget 65-inch TV in the US
As TCL's flagship model, the 6-Series Roku TV is known for its impressive image quality at great value. Since launching in the latter half of 2022, the set has become our favourite pick for anyone in the US looking for a TV that can deliver high-end movie and gaming features on a budget.
The TCL 6-Series Roku TV uses mini-LED technology to deliver stunning brightness, while local dimming helps it to create deep and detailed shadows. The rich colors of QLED stand out too. On top of all this, the 6-Series has Dolby Vision IQ to make high dynamic range images shine bright regardless of the environment's lighting. Its HDR support also extends to HDR10+, unlike most TVs here.
The high-end specs continue with the set's gaming features. The 6-Series includes two HMDI 2.1 inputs supporting 120Hz, Variable Refresh Rate (up to 144Hz) and Auto Low Latency Mode (ALLM). FreeSync Premium Pro is also supported, making TCL's flagship an obvious choice for gaming.
The 65-inch TCL 6-Series Roku TV is very competitively priced in the US, making it a top choice for those looking for a a mini-LED TV with above-average performance and high-end features.
Read our full TCL 6-Series Roku TV (2022) review
The best budget 65-inch TV in the UK
With a detailed 4K picture, comprehensive Tizen smart TV interface, and some gaming features, the Samsung BU8500 is a solid 65-inch set at a reasonable price. We found the picture performance to be more than adequate for the cost when we reviewed it – not high-end, but as good as it comes in the price range.
This affordable 4K TV is powered by Samsung's 'Crystal 4K' processor and supports HDR10+. As usual, the company does not include support for Dolby Vision in its TVs. As for sound, the BU8500 features the 'Lite' version of Samsung's 'Object Tracking' audio arrangement and 'Q-Symphony' compatibility, which engages the TV's built-in two-channel speakers when connected with a Samsung soundbar.
As for other hardware features, the Samsung BU8500 has a trio of HDMI inputs, making it compatible with ALLM and HGiG in next generation consoles – but there's no 4K 120Hz support. It also has an Ethernet socket, two USB ports, an aerial binding post and a digital optical output. There's also two remote controls. One is small and filled with buttons design, while the other is more pared back and solar powered.
Its better-than-expected image quality is offset by the fact that its sound is a bit weedy, although this is to be expected given its thin design. As we said in our review: "For the price, it's very hard for anything to beat the assured consistency of quality that Samsung delivers here."
Read our full Samsung BU8500 review
The best mid-range 65-inch TV in the UK
The Sony X90K delivers excellent performance for the price. It has a full-array LED backlight, which features local dimming. The result is deep blacks. Paired with the LCD panel's quantum dots, there's enhanced brightness and color. This TV is a real treat to watch – especially with a large 65-inch screen.
Having said that, it isn't the brightest TV on the market – take a look at the Samsung QN85B in this guide for a brighter alternative – and there are some blooming and uniformity issues. But there's also a lot to love, including the X90K's video and audio quality, Google TV interface and ATSC 3.0 tuner.
With extensive gaming features, including two HDMI 2.1 inputs and support for 4K 120Hz, VRR, and ALLM, this is also a great 65-inch TV for gamers to consider. This TV is also Perfect for PlayStation 5, a Sony initiative that activates both Auto HDR Tone Mapping and an Auto Genre Picture Mode to optimize the image when a PS5 console is connected. Only Sony TVs have this.
But there's more going on than just gaming tech. In our review we wrote that the Sony X90K is great if you love watching movies and sports, too: "The X90K series can deliver deep, detailed blacks for movie watching, and its peak light output is high enough to make it a good option for daytime sports viewing as well."
Although this isn't the perfect 65-inch TV, for the price its overall performance is very good and should satisfy even fussy viewers.
Read our full Sony X90K review
The best 65-inch TV for picture quality
If you're considering one of the best 65-inch TVs, you'll want to ensure you're getting an excellent picture to fill all of that space. And we're not exaggerating when we say the Sony A95K delivers the most beautiful images we've ever seen from a consumer TV.
That's because Sony's flagship display combines its excellent Cognitive XR processor with a Quantum Dot OLED screen. We were incredibly impressed by the picture quality during our testing and although rivals – such as the 65-inch Samsung S95C – can actually better it in terms of contrast, this is our top pick for picture when you combine contrast, colors, motion control, detail and everything else going on.
Having said that, this TV stands out in several other ways. The build quality is premium through and through and design-wise this is one striking TV, which comes with a full-width metal stand for added "wow" factor—although you can tuck that behind your display if you want a more minimal look. Sound is also impressive here with Sony's Acoustic Surface technology inside—although we would always recommend pairing your new TV up with a soundbar.
If you're looking for class-leading picture and room-filling audio from your next 65-inch TV, we promise you will be astounded by the Sony A95K. Of course, for this wonderful experience, you'll have to pay premium. While not bad value given just how excellent it is, the A95K is very expensive for a 65-inch TV.
Read our full Sony XA95K review
The brightest 65-inch OLED TV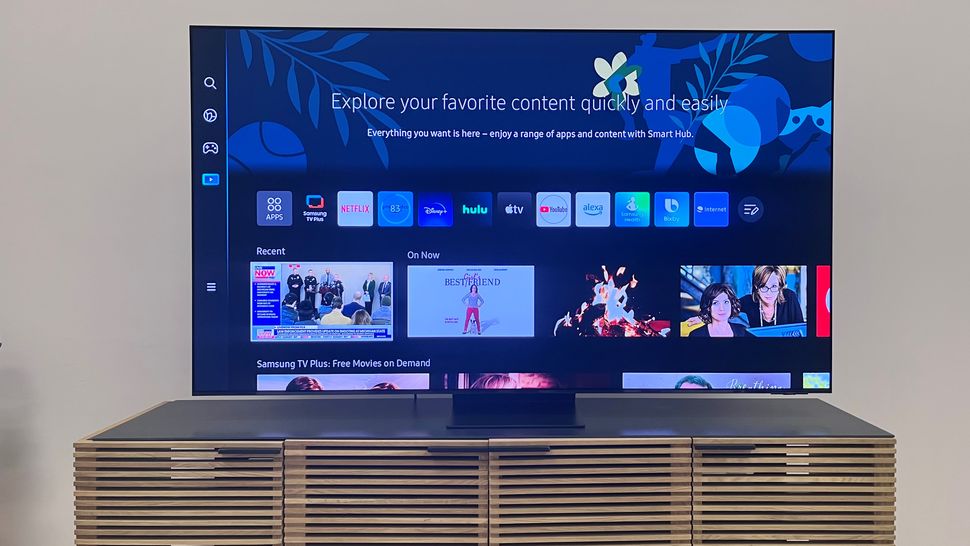 Samsung's QD-OLED TV combines the famous self-emissive properties of OLED with the brightness and color range potential of QLED, delivering superb picture quality and exceptional brightness – around 70% brighter than the LG C2 – with better blacks and contrast than non-OLED displays. In our review, we said that with a bit of tweaking it provides a combination of brightness, black depth, contrast and color that we just haven't seen before on a home TV. It's something special.
There are four HDMI ports that all support 4K at 120Hz, variable refresh rate and automatic low latency mode switching features now available to Xbox Series X, PS5 and PC gamers with the latest premium Nvidia and AMD graphics cards. The built-in sound system is very impressive for such a slim set, with Dolby Atmos and Samsung's Object Tracking tech for positional audio.
There's no Dolby Vision gaming support for the Xbox, but the HDR is so good you probably won't really mind – still, between that omission and Sony's more refined processing, we think hardcore movies lovers may still prefer the Sony A95K's pictures. The only issue is that it's very expensive, but if your budget stretches to it, and you want something with the high brightness to break through the light of bright rooms, it's fantastic.
Read the full Samsung S95C review
The best 65-inch OLED TV in 2023
As the latest model in LG's mid-range OLED TVs, the LG C3 marks a major improvement from its predecessors, which is why we've rated it our top OLED TV for 2023. While we still rate the C2 as a better buy for most people because of its value, the C3 has blown us away for improving on what we already felt were premium picture quality and features.
The set delivers crisp 4K, making HDR images more even more detailed and realistic. Indeed, during our tests, we didn't feel the need to tweak the 'HDR Expression Enhancer' setting as the image performance was already crisp enough. As we said in our review: "I took the opportunity here to play with the HDR Expression Enhancer feature and while it worked as advertised to dynamically boost brightness and detail, I found myself perfectly happy to leave it off. Yes, the LG C3's basic picture performance is so good, there's not much you need to mess with."
The one area that the LG C3 lacks in is brightness. The set reached 820 nits of peak HDR brightness, which compared to the 1,400 nits of the Samsung S95C is pretty middling. Mini-LED TVs like the cheaper TCL Roku TV offer better brightness too, so in a bright room, one of those options may be better. But the C3 does make up for this with its control of black tones, making it great for cinephiles.
From a cost perspective, we think that C3 offers good value for a premium OLED TV released in 2023 – it's just not as good value as the C2 right now. But if LG reduces the price of it in the same way that it did to the C3 in 2022, then it could cost even less by the end of the year.
Read our full LG C3 review
The best 65-inch 8K TV
8K might seem like overkill, but there's no doubt in our minds that the Samsung QN900B Neo QLED 8K TV delivers a whole new level of performance. The Mini-LED-sporting QN900B Neo QLED 8K TV delivers stunning picture quality, exceptional color and brightness, terrific sound and outstanding blacks, and it does it all in a package that's beautifully designed too.
Samsung's 'Quantum' Mini-LEDs are 1/40th the size of a regular LED, meaning thousands of smaller LEDs can be packed together in a much tighter fashion. That ensures far more accurate dimming zones, which in turn means black levels that are practically indistinguishable from an OLED.
And because the LEDs are far smaller, they're able to achieve far more precision and less blooming. During our tests we didn't see bright areas of the screen unnaturally bleed over into darker spots, and because the processor uses Samsung's Multi-Intelligence AI upscaling we found that the QN900A was consistently able to produce images that looked better than their source.
So why isn't this TV topping our list? All of this comes at a huge premium, and 65 inches is a size where 8K is overkill unless you're sitting close. While the hardware is superb, we're not so keen on the software either. Samsung's 2022 TV range got a new Smart Hub UI across its top models. It's a totally revamped interface featuring a Google TV-inspired home screen with content recommendations from your various streaming subscriptions and apps.
Unfortunately, we found that the change to a full-screen, content-packed home menu makes using the Samsung more frustrating than with previous models. You can't easily adjust settings and change viewing modes on the fly any more; instead, you have to exit what you're watching, navigate to a sidebar menu, and then scroll down to a separate settings menu. In previous Samsungs you could do all that with a couple of button presses.
Read our full Samsung QN900B review
The best gaming QLED 65-inch TV
The Samsung QN85B is a mini-LED TV (Samsung calls this Neo QLED), and it's apparent in the slim screen and its high levels of peak brightness for a more mid-range price. With much higher brightness across the whole screen than OLED delivers, it can punch through reflections in bright rooms much better than a lot of other sets, so no matter when you watch, you can still see what's going on.
It can handle motion and upscaling from lower resolutions well too, so you generally get the most clarity in everything you're watching, making it easier to follow what's going on. The speakers all around the edge give a bigger sound than most TVs.
We particularly recommend this TV for gamers, because the Samsung QN85B has HDMI 2.1 features across all four of its HDMI sockets and works well with next-gen consoles. It's more expensive than the mini-LED TCL 6-Series, but it offers more flexibility for gaming, making it more future-proof.
A lot of TVs beat this on image quality or price if those are your most important factors – but the Samsung should still be a tempting option, because its processing is a cut above the more budget options, and the better-looking TVs tend to be even more expensive, or not as bright.
Read our full Samsung QN85B review
How to choose the best 65-inch TV
What is 4K resolution?
4K is, essentially, an ultra-high-definition screen resolution. Also called UHD or 4K UHD, the display technology has become the default screen resolution across all of the TVs that you're likely to see in stores today – as well as many PC monitors, too.
The very best UHD TVs pack over eight million pixels in their high-res displays – that's four times the amount you'll find on the Full HD panels in today's small TVs.
You don't necessarily need access to 4K entertainment content to enjoy the benefits of 4K resolution, either, since many of the best 4K TVs – i.e. most of the 65-inch displays on this list – boast impressive upscaling technologies that bolster content filmed in HD.
The only displays which sport a sharper picture are the 8K variety – though, being a still-new technology, choice in that department is much more limited and, naturally, 8K models are far more expensive.
Should I buy a 65-inch TV?
We've answered this question in a much more detailed guide elsewhere on TechRadar, but the short answer is: yes, if you can afford to.
Basically, a bigger TV is often a better TV and, as mentioned earlier, these large-scale displays typically boast the best specification when it comes to new tech and useful features.
As 65-inch models are becoming increasingly popular, too, they're also becoming less expensive, and we'd almost always recommend parting with a little bit more money to enjoy the benefits of such an impressive screen size.
Which is the best 4K TV brand?
The question of the best 4K TV brand (for 65-inch models, in particular) is a difficult one to answer when there's so many great models out there. Displays from the likes of LG, Sony and Samsung regularly make this list, but they're often joined by equivalent models from brands like Hisense and Panasonic.
A better question might concern what to look for when buying a 65-inch 4K TV, to which we'd say picture quality, app support, other handy bells and whistles like voice control and, of course, price.
Features like HDR support, Dolby Vision and Atmos, OLED panels and the like can be real differentiators, too, when it comes to finding the 65-inch 4K TV with the best viewing experience, though it's no surprise that the more of these extras a display has, the more expensive it tends to be.
How we tested the best 65-inch TVs
Our writers select the best 65-inch TVs based on a few main factors: their overall picture performance including contrast, color saturation and motion handling, as well as their feature set, design and smart TV platform. We're looking for TVs that are well-built and have the technology to last for the next few years.
Obviously, there is a level of subjectivity that goes into the review process, however we strive to maintain fairness across brands by testing the same type of content on each screen (HD/SDR, 4K/HDR, games, movies and music) and reporting what we've found the experience to be like.
We test the brightness and color range using a colorimeter, and we ensure that we test 'out-of-the-box' as well as after calibrating the screens ourselves, so that we can tell you what you'll get if you don't tweak at all, as well as what the TVs are capable of in the right hands.
Like our readers, our writers' and editors' room layouts differ and may cause slight disparities in testing, however we make every attempt to question our assumptions and troubleshoot our issues with performance in every review.