Editor's Note: August 2022
We've added the Sony Z9K to this list, based on our hands-on (well, eyes-on) experience with it. It's something of a stunner, no doubt, and actually undercuts the Samsung QN900B at the same sizes – however, the lack of 65-inch size means that it won't be convenient for everyone. We also prefer certain features of the QN900B, including its excellent One Connect separate box.
Matt Bolton, Senior Editor - TV & Audio
The best 8K TVs deliver truly incredible images. That's because they have four times as many pixels as 4K TVs do – and 4K TVs have four times as many pixels as 1080p HD TVs do. So where a 1080p HD TV has a resolution of 1,920 x 1,080 pixels and a 4K TV has 3,840 x 2,160, an 8K TV has an incredible 7,680 x 4,320. Provided your TV is big enough – this is one area where bigger is almost always better – the difference in picture quality over a 4K TV is absolutely incredible.
It's also quite expensive, but the good news is that 8K TVs are becoming increasingly affordable. It'll be some time before you see an 8K TV in our guides to the best budget TVs, but prices are definitely on a downwards trend as the technology matures and manufacturers find ever more efficient ways of making 8K panels. We've seen the same thing with OLED TVs over the last few years: prices have absolutely plummeted and you no longer need to sell a family member to afford one.
There's more good news. There's much more 8K content to watch too. The very first 8K TV buyers faced the "only fax machine in the world" problem: the hardware was there to play 8K video, but nobody was really making 8K content to play on those TVs. That's improved significantly, and because the best 8K TVs also have very powerful processors to upscale content, the best 8K TVs can also upscale 4K and even older HD content to make it look much better than the original source material. It isn't magic, but sometimes it seems like it.
While 8K TV is very much a luxury purchase, it's also the pinnacle of home entertainment technology. If you want to be ahead of the curve and experience the best possible content either natively or by upscaling from 4K, then 8K TVs blow every other type of television out of the water. When in a few years time 8K becomes the standard resolution for the best new TVs, you'll be able to say that you were one of the very first people to experience the many joys of 8K TV.
So which 8K TV should you actually buy? Let's look at the best options for every kind of viewing.
Best 8K TV
The Samsung QN900B Neo QLED 8K TV takes home entertainment to a whole new level thanks to its mini-LED panel, which delivers stunning picture quality, exceptional color and brightness, terrific sound and outstanding blacks – and it looks stunning when it's off too.
Samsung's 'Quantum' Mini LEDs are 1/40th the thickness of a regular LED, so thousands more LEDs can be packed into the backlight. That means far more accurate dimming zones and black levels that are practically indistinguishable from an OLED.
Smaller LEDs also deliver more precision and less blooming, so the likelihood of seeing bright areas of the screen unnaturally bleed over into darker spots should be greatly reduced; we didn't encounter it at all. And because this TV also has Samsung's Multi-Intelligence AI upscaling, the QN900B is consistently able to produce images that looked better than their source.
So why doesn't it get a full five stars from us? Blame the Smart Hub UI, which takes Samsung's previously great smart TV interface and makes it more frustrating. No longer can you easily adjust settings and change viewing modes on the fly – you now have to quit what you're watching or playing to bring up the home screen, navigate to a sidebar menu and then scroll down to a separate settings menu to perform actions that were just a few button presses away before. It's a minor issue and one that will likely be solved by this time next year, but we think it'll annoy you in the meantime.
Read the full Samsung QN900B Neo QLED 8K TV review
The second Samsung in our top 8K TVs list is another mini-LED model, the Q900A. Like its sibling it gives you stunning picture quality, exceptional color and brightness, terrific sound and outstanding black levels, and it's a looker too. It can't quite produce lights and colours as well as an OLED TV can, but its contrast levels are very close to OLED quality.
In addition to its mini-LED panel the Samsung also has the AI-based 'Neo Quantum Processor 8K', which did a great job upscaling 4K and even HD in our tests. And while it's relatively expensive compared to standard LED TVs you don't have to shell out big sums on a terrifyingly large TV here: there are three sizes, starting at a relatively low $4,999 / £5,999 for the 65-inch model.
Read more: Samsung QN900A Neo QLED 8K TV review
Over the last four years, the TCL 6-Series has delivered fantastic performance at an unbeatable price. Until now, the range has been limited to 4K models that have progressively gotten better over the previous years; QLED was added in 2019 and Mini LED made it into the 6-Series in 2020. And now in 2022, TCL has added 8K resolution to the list.
The TCL 6-Series 8K (R648) is officially – by our count at least – the cheapest 8K TV on the market at $2,199 for the 65-inch version of the screen and $2,999 for the 75-inch model. That undercuts the likes of Sony, Samsung and LG by hundreds of dollars, which is a real feat and continues the 6-Series' trend of underpricing the competition.
Of course, money isn't everything. We did find that the TCL underperformed compared to rivals in some areas, particularly upscaling and motion processing. The image processor is clearly this TV's weak point, and while it's good its more expensive rivals are great. We also found the sound rather weedy, and there are only two full-spec HDMI 2.1 ports that support 4K/120Hz or 8K/60Hz.
But while this model doesn't outshine the best 8K TVs from other manufacturers, the TCL 6-Series 8K redefines what you should expect from an affordable 8K TV. At this price it's superb value for money.
Read more: TCL 6-Series 8K Roku TV review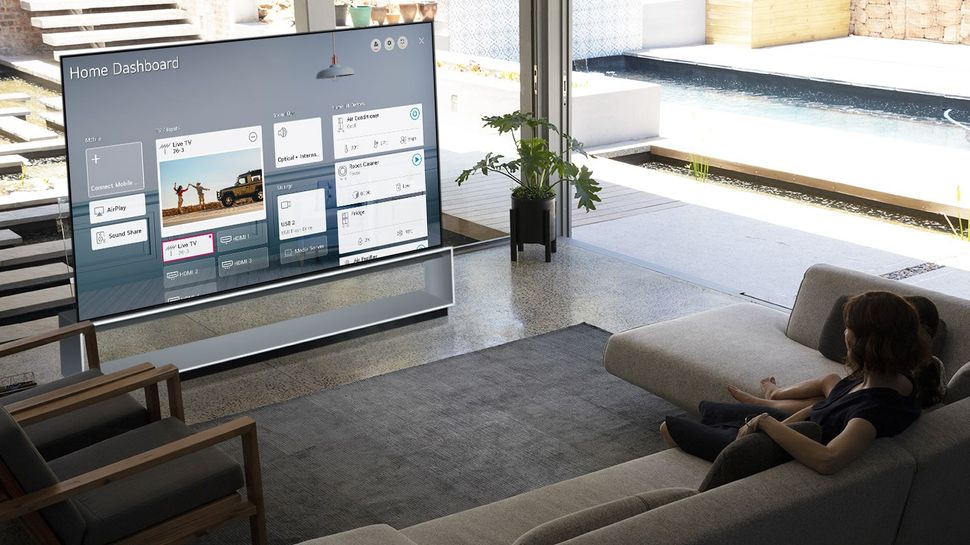 8K resolution on an OLED TV? So far, only LG is really doing it (aside from the very premium BeoVision Harmony, which will set you back an even larger amount of cash). And we wish more firms did, because it's incredible. The picture quality is stunning, the colours and brightness are just what you'd expect from a high quality OLED and the audio output is impressive for such a slim set.
If it's so good, why is it so far down our list? Sadly a TV this big comes with a big price tag too; at the time of writing the 77-inch is just shy of £12,000 while the 88-inch is £24,999.98.
If you can afford it (and if you have room for it), this is home entertainment heaven. Unlike its predecessor this TV can be wall mounted, and the already impressive Alpha a9 processor has been upgraded with even better upscaling and tone mapping. There's also better surround sound support and a better depth of field to make the onscreen images more lifelike. 4 ports with HDMI 2.1 support are the icing on the cake.
The LG Z2 takes everything that was great about the LG ZX and polishes it even more. That means this is without a doubt LG's best TV, and arguably the best TV in the world right now.
We haven't had the opportunity to do a long-term review of this new Master Series 8K TV yet, but we have seen it in person and you can consider our socks well and truly knocked off.
The mini-LED panel is exceptionally bright and very detailed with absolutely superb colour reproduction. As you'd expect from a high-end Sony there's all the key technologies here: Cognitive Processor XR for a more lifelike experience, XR Backlight Master Drive for exceptional dynamic range with virtually no halo or flare around bright spots, Acoustic Multi-Audio for directional sound and Bravia Cam, which analyses where you're sitting and optimises the picture and sound accordingly.
It's a wonderful TV but it is quite pricey, at $7,000 for the 75 and $10,000 for the 85-inch model. UK prices are currently tracking at £6,799 for the 75-inch and £8,499 for the 85-inch.
8K TV FAQ
Which TV brand is best for 8K?
Even though there are relatively few 8K TVs available on the market right now, the idea of which is best is still largely based on personal preference.
We think the best 8K TV available now is the Samsung QN900A Neo QLED, which you can read about at the top of our guide. Samsung's bespoke QLED panel technology really comes into its own at an 8K resolution, and with phenomenal brightness levels makes for simply one of the best TVs out there.
However, the best certainly doesn't come cheap. And the QN900A's eye-watering price tag, at any size, simply isn't feasible for the average consumer.
That being said, we'd have to argue that Samsung is on top of the 8K world right now, in terms of brands. If gaming is a priority for you, the Samsung Q800T QLED also supports 8K, and features some of the best image upscaling we've seen. That's especially important for most modern titles that cap at either 4K or 1080p.
What is the most affordable 8K TV?
While "affordable" is still something of a misnomer when it comes to describing 8K TVs, there's already a vast range of prices across all the best models currently available.
Right now, the award for the most affordable 8K TV has to go to the TCL 6-Series 8K Roku TV, as mentioned in our guide above. Available in 65-inch and 75-inch sizes for $2,199 and $2,999 respectively, this is as low as you'll be able to go for 8K picture quality, at least right now.
Unfortunately, the TCL 6-Series is currently only available in the US. For UK buyers, your next best bet would be the Sony Z8H 8K TV, which retails for £4,999, which is certainly a price point well within enthusiast territory.
For the average consumer, our advice on buying an affordable 8K TV would be to wait a little while. The tech will gradually become more widely available and thus more competitively priced over the next few years, allowing consumers to more easily welcome 8K into their homes.
Is 8K better than 4K?
8K displays have 33 million pixels, which is four times the number of pixels found on 4K displays. However, there's little 'native' 8K content available, and truly low-resolution video needs very capable processing to look, well, normal on an 8K screen.
Do I need an 8K OLED TV?
Trying to figure out if you need an 8K OLED TV, or just a TV with one of those technologies?
While there aren't many 8K OLED TVs about just yet, they're still hovering around the market here and there, if just for the LG Z Series listed above and 88-inch BeoVision Harmony we reported on last year.
If you're after an astonishing level of detail on a massive screen, 8K resolution is a must. Though you must remember that you don't really get the benefit of 8K at smaller sizes, meaning you need a large 77-inch / 88-inch screen or be sat somewhat close to one of the best 65-inch TVs to see the difference compared to a 4K model. (A 55-inch 8K TV just isn't really worth it.)
OLED TVs, on the other hand, excel at deep blacks and bright highlights – something that's hard to recreate with LCD technology, but is increasingly possible with Mini LED backlights. You'll generally find realistic and vivid colors, and brightness control that banishes blooming or halo effects around light sources.
If you only want one of those technology's benefits, then, it doesn't make much sense to opt for both, given the increased cost.
Additional resources