Editor's Note: June 2023
The Samsung QN900B is the best option on the market if you're looking for a new 8K TV with stunning picture quality, excellent colors and Dolby Atmos. It's at the ultra-premium end of the price spectrum, but you may be lucky enough to find it discounted – we were treated to some reductions during sales season last year.
There are several TVs coming out in 2023 that could shake up our best 8K TVs list, including the Samsung QN900C. We've already had the opportunity to evaluate the QN900C in an early hands-on review, but a full review will be coming soon.
Al Griffin, Senior Editor – Home Entertainment
The best 8K TVs bring you incredible images, offering up four times as many pixels as 4K TVs do. Until recently, getting those extra pixels on one of the best 8K TVs has proved to be incredibly expensive, but the good news is 8K TVs are now more affordable as the tech has matured. There's also never been a better time to buy one of the best 8K TVs, and our buying guide aims to guide you through the highest-value 8K TV options.
More 8K content is being produced to suit the high-end resolution, though it's still not commonplace. That's not a major issue considering 8K TVs also have powerful processors to upscale content, so 4K and even HD content looks better than it originally did. Along with advanced picture processing, OLED, QLED, QD-OLED, and regular LED 8K sets have similar features that are important for 4K TVs such as a smart interface for streaming and 120Hz display panels for gaming, and we'll guide you through those features for each set in our guide.
Each of these TVs has been tested by our expert reviewers with careful attention paid to performance parameters such as peak brightness, color accuracy, screen uniformity, and motion processing. We've also taken them for a spin with next-gen gaming consoles, with measurements provided to gauge input lag. There's solid reasoning behind the presence of each TV on this list, so you can be confident that the set you're getting provides good value for the money.
The best 8K TVs for 2023
The Samsung QN900B Neo QLED 8K TV takes home entertainment to a whole new level thanks to its mini-LED panel, which delivers stunning picture quality, exceptional color and brightness, terrific sound and outstanding blacks—bonus points for the fact it looks stunning when it's off too.
Samsung's 'Quantum' Mini LEDs are 1/40th the thickness of a regular LED, so thousands more LEDs can be packed into the backlight. That means far more accurate dimming zones and black levels that are practically indistinguishable from an OLED.
Smaller LEDs also deliver more precision and less blooming, so the likelihood of seeing bright areas of the screen unnaturally bleed over into darker spots should be greatly reduced; we didn't encounter it at all. And because this TV also has Samsung's Multi-Intelligence AI upscaling, the QN900B is consistently able to produce images that looked better than their source.
The only downside is the Smart Hub UI, which takes Samsung's previously great smart TV interface and makes it more frustrating. You can't adjust settings and change viewing modes on the fly anymore. Although this is a minor issue and one that will likely be solved soon, it may annoy you in the meantime.
Read our full Samsung QN900B Neo QLED 8K TV review
The second Samsung in our top 8K TVs list is another mini-LED model, the Q900A. Like its sibling it gives you stunning picture quality, exceptional color and brightness, terrific sound and outstanding black levels, and it's a looker too. Granted, it can't quite produce lights and colours as well as an OLED TV can, but its contrast levels are very close to OLED quality.
In addition to its mini-LED panel the Samsung also has the AI-based 'Neo Quantum Processor 8K', which did a great upscaling job. In our review, we wrote: "One of the big selling points of any 8K TV is how well it handles upscaling. and thankfully the QN900A does a great job of making content look crystal-clear without any artificial smoothing."
While it's relatively expensive compared to standard LED TVs, you don't have to shell out big sums on a terrifyingly large TV here: there are three sizes, starting at a relatively low $4,999 / £5,999 for the 65-inch model. That's why this is our pick for mid-range budgets because, in 8K TV terms, that's what it is.
Read our full Samsung QN900A Neo QLED 8K TV review
The Samsung QN800B is a seriously impressive 8K TV. It has gaming features, a thorough smart TV experience, a good audio system, an external box for physical inputs, a mini-LED screen that promises more effective backlighting than anyone is used to from LCD panels, and a profile slimmer than the slimmest OLED TV you can currently buy
And, wow, it looks great. In our review we wrote: "Brightness is considerable, black levels are impressive by the standards of backlit LCD screens, the color palette is extensive and naturalistic, and both edge-definition and motion control are impressive."
However, the backlight control isn't a match for other high-performing TVs that aren't 8K resolution. And, during our testing, we found that the way the screen regulates its own brightness can make for some uneven viewing.
What's more, having to upscale anything less information-rich than 4K content can give the Samsung real problems. Which wouldn't be an issue if everything you wanted to watch was in 8K resolution, but that's just not the case yet.
Luckily, this isn't one of the more expensive 8K TVs you can buy at £2,699 / $2799 / AU$4499 for the 65-inch version. By 8K TV standards that's 'cheap' but, importantly, you can find better 4K TVs out there. No, neither the LG C2 or the Sony A95K are ready to wow you with 8K picture quality, but when it comes to displaying 4K content they're both a better bet.
Read our full Samsung QN800B (65QN800B) review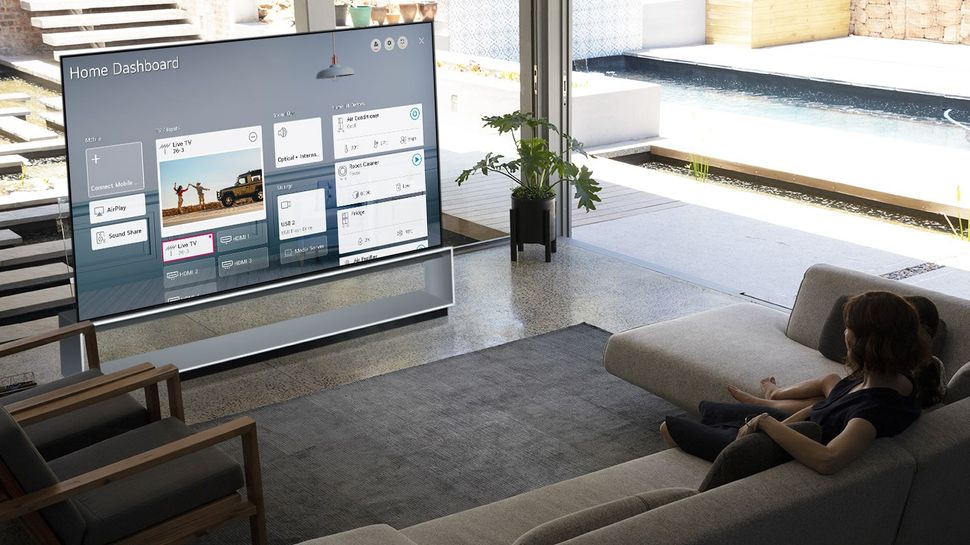 8K resolution on an OLED TV? So far, only LG is really doing it (aside from the very premium BeoVision Harmony, which will set you back an even larger amount of cash). And we wish more firms did, because it's incredible. The picture quality is stunning, the colours and brightness are just what you'd expect from a high quality OLED and the audio output is impressive for such a slim set.
If it's so good, why isn't it at the top of our list? Sadly a TV this big comes with a big price tag too; at the time of writing the 77-inch is just shy of £12,000 while the 88-inch is £24,999.98.
If you can afford it (and if you have room for it), this is home entertainment heaven. Unlike its predecessor, this TV can be wall mounted, and the already impressive Alpha a9 processor has been upgraded with even better upscaling and tone mapping. There's also better surround sound support and a better depth of field to make the onscreen images more lifelike. 4 ports with HDMI 2.1 support are the icing on the cake.
The LG Z2 takes everything that was great about the LG ZX and polishes it even more. That means this is without a doubt LG's best TV, and arguably the best TV in the world right now.
We haven't had the opportunity to do a long-term review of this new Master Series 8K TV yet, but we have seen it in person and you can consider our socks well and truly knocked off.
The mini-LED panel is exceptionally bright and very detailed with absolutely superb colour reproduction. As you'd expect from a high-end Sony there's all the key technologies here: Cognitive Processor XR for a more lifelike experience, XR Backlight Master Drive for exceptional dynamic range with virtually no halo or flare around bright spots, Acoustic Multi-Audio for directional sound and Bravia Cam, which analyses where you're sitting and optimises the picture and sound accordingly.
It's a wonderful TV but it is quite pricey, at $7,000 for the 75 and $10,000 for the 85-inch model. UK prices are currently tracking at £6,799 for the 75-inch and £8,499 for the 85-inch.
Best 8K TVs: FAQ
How to pick the best 8K TV
Why you can trust TechRadar We spend hours testing every product or service we review, so you can be sure you're buying the best. Find out more about how we test.
The first question to ask if you want to buy a new 8K TV is: are you sure? Yes, 8K TVs are the future and, luckily, more and more content is being made in 8K. But as things stand, you might be better suited to a 4K TV while your favorite movies and TV shows catch up.
If you're sure you want the incredible 8K resolution, then our first suggestion is to pick a TV that upscales remarkably well. Not everything you want to watch will be in 8K, which means you'll need to pick a powerful TV that can make 4K and even HD content truly shine.
The next thing to consider is size. Bigger isn't always better when it comes to TVs. But if you're paying a small fortune for 8K resolution, you really want the largest TV you can afford to make the most of it. You'll need to consider how you'll place it on a TV cabinet or mount it to a wall and if it'll literally fit in the space you have planned for it.
Many of the best 8K TVs have impressive audio built-in, but to get the true cinematic experience worthy of this resolution, you'll want one of the best soundbars or best surround sound systems—that way your audio will sound as good as your new 8K TV looks. Consider the size of a soundbar too, a smaller one won't work with a huge TV, so look at larger sizes, like the Sonos Arc instead.
Which TV brand is best for 8K?
Even though there are relatively few 8K TVs available on the market right now, the idea of which is best is still largely based on personal preference.
We think the best 8K TV available now is the Samsung QN900A Neo QLED, which you can read about at the top of our guide. Samsung's bespoke QLED panel technology really comes into its own at an 8K resolution, and with phenomenal brightness levels makes for simply one of the best TVs out there.
However, the best certainly doesn't come cheap. And the QN900A's eye-watering price tag, at any size, simply isn't feasible for the average consumer.
That being said, we'd have to argue that Samsung is on top of the 8K world right now, in terms of brands. If gaming is a priority for you, the Samsung Q800T QLED also supports 8K, and features some of the best image upscaling we've seen. That's especially important for most modern titles that cap at either 4K or 1080p.
What is the most affordable 8K TV?
When you're talking about 8K TVs, the term "affordable" is relative: these are all considerably more expensive than the average 4K TV will be, with some models costing well into five figures. But prices are coming down, making even the best 8K TVs more affordable than before.
If you're in the US, the most affordable current 8K TV is currently the TCL 6-Series 8K Roku TV that we've included above. It's currently retailing with a suggested price of $2,199.99 for the 65-inch and $2,999 for the 75-inch, which is an exceptionally low price for such a high resolution set.
UK buyers won't be able to get their hands on those TCLs, sadly, but Samsung's QN800B is keenly priced: the RRP is currently £2,659 for the 65-inch, £3,599 for the 75-inch and £4,999 for the 85-inch. Samsung also offers quite generous trade-ins for your existing TV, ranging from up to £500 off the 65-inch to up to £600 off the 85-inch.
You might also find some older Samsung 8K TVs for even less, although of course the trade-off is that you're not getting the very latest technology: even a year in TVs is a long time these days.
Our advice to most TV buyers would be to hang on a little longer before going for an 8K TV, as it's still very expensive. That's always the case for relatively new technology, and over time the price goes down as things become more competitive. For now 8K is still really for early adopters: we're going to wait a while before welcoming an 8K TV into our own homes.
Is 8K better than 4K?
8K displays have 33 million pixels, which is four times the number of pixels found on 4K displays. However, there's little 'native' 8K content available, and truly low-resolution video needs very capable processing to look, well, normal on an 8K screen.
Do I need an 8K OLED TV?
Trying to figure out if you need an 8K OLED TV, or just a TV with one of those technologies?
While there aren't many 8K OLED TVs about just yet, they're still hovering around the market here and there, if just for the LG Z Series listed above and 88-inch BeoVision Harmony we reported on last year.
If you're after an astonishing level of detail on a massive screen, 8K resolution is a must. Though you must remember that you don't really get the benefit of 8K at smaller sizes, meaning you need a large 77-inch / 88-inch screen or be sat somewhat close to one of the best 65-inch TVs to see the difference compared to a 4K model. (A 55-inch 8K TV just isn't really worth it.)
OLED TVs, on the other hand, excel at deep blacks and bright highlights – something that's hard to recreate with LCD technology, but is increasingly possible with Mini LED backlights. You'll generally find realistic and vivid colors, and brightness control that banishes blooming or halo effects around light sources.
If you only want one of those technology's benefits, then, it doesn't make much sense to opt for both, given the increased cost.