The best TV 2023: the top smart TVs from LG, Samsung, Sony and more
Best
Contributions from
last updated
Ready to upgrade to one of the best TVs? These smart TVs will deliver the picture performance of your dreams
Best TV: Quick Menu
1. The list in brief
2. Best TV for most people
3. Best budget TV
4. Best for picture quality
5. Best 8K TV
6. Best cheap OLED TV
7. Best TV for sport
8. Best TV for sound
9. How to choose
10. How we test
The best TVs in this guide are all excellent, representing the pinnacle of what's possible in smart TVs at different prices levels. Each of our choices below are packed with detailed 4K (or 8K) screens, impressive HDR color and contrast, and robust features – including HDMI 2.1 connections with support for 120Hz input and Variable Refresh Rate (VRR) for next-gen game consoles and PCs.
As the latest smart TVs from the best brands in the business, including LG, Samsung, Sony and TCL, are released in 2023, we'll review them to keep this guide updated. You don't necessarily have to buy the very latest TV, though – televisions that were absolutely cutting edge a year or so ago are still around but with massively reduced prices, making them really smart buys. If money's tight they deliver a serious amount of bang for not very many bucks.
If you're willing to consider a slightly older model than the very latest 2023 sets, your possibilities expand quite considerably. It means you might be able to pick up one of the best OLED TVs, or that you can afford to get one of the best 75-inch TVs instead of one of the best 65-inch TVs. If there's one thing we like more than getting a new TV, it's knowing we got a good deal on it.
The TVs we've recommended here cover all kinds of display technologies and include the best 4K TVs and best 8K TVs. Our experienced reviewers have put all of these TVs through their paces to discover the best of each kind, so whether you're looking for the very latest tech or the very best value you'll find the perfect TV right here.
The quick list
Want the simplest guide to the best TVs around? Here's our quick guide – you can read more in-depth verdicts on each TV by following the link, as well as alternative options in some cases.
Best for sound
The best TV for sound
Sony uses the whole screen as a speaker to make this mid-range OLED sound a cut above the likes of the LG C2 out of the box. And it looks great, too.
The best TV 2023
Why you can trust TechRadar We spend hours testing every product or service we review, so you can be sure you're buying the best. Find out more about how we test.
Below you'll find full write-ups for each of the best TVs in our list. We've tested each one extensively, so you can be sure that our recommendations can be trusted.
The best TV for most people
The best TV for most people, balancing price, features and pictures
Specifications
Screen size:
42-inch, 48-inch, 55-inch, 65-inch, 77-inch, 83-inch
HDR:
HDR, HLG, Dolby Vision
Reasons to buy
+
Beautiful 4K HDR picture
+
Four HDMI 2.1 ports
+
WebOS is fantastic
Reasons to avoid
-
Lack of cable management
-
No HDR10+ support
BUY IT IF
✅ You're buying your first OLED TV:
It showcases everything we love about OLED technology, with excellent contrast and tons of features.
✅ You need lots of HDMI 2.1 ports
It has four HDMI 2.1 ports that all support 4K 120Hz, so the LG C2 offers unbeaten connectivity options.
DON'T BUY IT IF
❌ You'll watch in a bright room
It's not very bright compared to mini-LED or more premium OLED TVs, so you may suffer from reflections during the day.
❌ You hate dangling cables
When you consider the price, it's a shame the C2 OLED doesn't come with cable management options.
LG's C2 OLED remains in the top spot on our list of the best TVs, even after its successor has been released. The LG C2 OLED is a great-looking TV, with excellent brightness and contrast. In fact, it's one of the best OLED panels we've ever seen. Its Alpha a9 Gen 5 processor offers excellent object enhancement and dynamic tone mapping. You're getting 'virtual surround sound', with the TV upscaling stereo content into 7.1.2-channel sound. While we weren't convinced by the claims of virtual surround sound, the audio performance is good for a thin TV, and a number of different sound modes means you should be able to find an audio profile that suits your needs.
There are four separate HDMI 2.1 ports at the rear, which is extremely rare, and means it's the perfect companion for the PS5, Xbox Series X and Xbox Series S – as well as being great for movies. There's also support for G-Sync, FreeSync and regular VRR, plus an upgrade to the game bar, which you'll enjoy if you ever connect your PC to your TV. The LG C2 isn't flawless, however. Off-axis color saturation does diminish a bit when you move to the left or right of the screen when compared to the new QD-OLED models, and LG doesn't support either the IMAX Enhanced or HDR10+ format.
The LG C2 OLED is incredibly light and slim. The panel itself is razor thin, about half as thick as our iPhone 13 mini. If you're into the minimalist look, this could be the perfect TV for you. Made of a glass substrate, the panel is slightly reflective, which means you you'll need to shut your blinds for uninterrupted viewing of night or space scenes.
The LG C2 showcases everything we love about OLED technology. For your money, you're getting vivid colors, a comprehensive smart TV platform, and a slick design that'll look great in any home. When it first launched it was a high-end option, but these days we think it's excellent value as the price has dropped so much, making it the overall best band-for-buck, even when a new-and-improved version is around.
Read the full LG C2 OLED review
The best TV all-rounder released in 2023
Specifications
Screen size:
42-inch, 48-inch, 55-inch, 65-inch, 77-inch, 83-inch
HDR:
HDR, HLG, Dolby Vision
Reasons to buy
+
Fantastic pictures, and great gaming tech
+
Improved webOS smart TV software
Reasons to avoid
-
Little image improvement from C2
-
More expensive than C2
BUY IT IF
✅ You want a great TV for watching movies:
With deep, detailed blacks and rich color, OLED TVs are perfect for movies, and the LG C3 excels in that regard.
✅ You want a great TV for gaming:
There's support for 4K 120 Hz input, VRR, and ALLM, along with FreeSync Premium Pro and Nvidia G-Sync support.
DON'T BUY IT IF
❌ You want the brightest OLED TV possible:
The Samsung S95C provides higher peak light output than the C3 series.
❌ You want to save money:
LG's C2 series OLED TV offers nearly equivalent performance to the C3 in most respects, though it's less refined.
The LG C3 is the latest version of LG's mid-range OLED set, new for 2023. It's an excellent TV in every way. Our full review said that it's "already a contender for top TV of 2023", thanks to its impressive performance across the board. We said that contrast is great for the price, HDR images look rich and realistic, detail on the 4K screen is superb, and we didn't even feel the need to touch the 'HDR Expression Enhancer' image-boosting feature. Natural was more than good enough. However, it's not as bright as some of the best TVs here in this list, reaching 820 nits of peak HDR brightness in our tests.
Like the LG C2, it's just phenomenal for gaming. If offers just 9.2ms of input lag, and four HDMI 2.1 ports, all with support for 4K 120Hz, Dolby Vision gaming, and VRR. The webOS smart TV software has been updated for 2023, and it's a big improvement – it's much easier to find what you want to watch, and for image-quality tinkerers to access their favorite settings from a smart 'Quick Menu'.
The C3 has a composite fiber construction that's lighter than the C2. Its panel is thin, though the integrated input section adds a degree of bulk that you won't find on the flagship G3 series. An included aluminum center-mounted stand has a good look and provides solid support for the TV.
It replaces the LG C2 above – but right now, we rate the C2 as the better buy, because the differences in the picture quality and features are fairly subtle and the C2 is cheaper. However, that isn't to say the C3 isn't an excellent TV, and if you want the latest LG for gaming and movies (and don't mind paying more), it's a great option.
Read our full LG C3 review
The best budget TV
The best budget 4K TV, with great brightness and gaming features
Specifications
Screen size:
65-inch, 75-inch, 85-inch, 98-inch
Panel Type:
QLED with mini-LED
HDR:
HDR10, HLG, Dolby Vision, HDR10+
Reasons to buy
+
High brightness
+
Anti-glare screen
+
Affordable price
Reasons to avoid
-
Some backlight blooming
-
No ATSC 3.0 tuner
-
No 55-inch screen option
BUY IT IF
✅ You want a great TV for daytime viewing
The QM8's powerful brightness and anti-glare screen combine to create a picture that holds up well even in rooms with bright lighting. Ideal for daytime sports.
✅ You want high-quality tech for less:
Mini-LED TVs from Samsung and Sony cost a fair bit more than what you'll pay for the TCL QM8, while the performance level is mostly similar.
DON'T BUY IT IF
❌ You're a video perfectionist
While the QM8 has very good all-around picture quality, certain mini-LED TVs like the Samsung QN95C provide superior local dimming, while the best OLED models approach near-picture perfection. They cost more, though.
❌ You want a basic TV
While Google TV does the job for streaming and other functions, navigating its interface and settings can get irritating.
TCL's QM8 Class 4K TVs are the company's only mini-LED TVs for 2023, but the company clearly wanted to offer something special for its flagship line. What's notable about the new QM8 Class sets is they are being offered in screen sizes up to a staggering 98 inches.
Peak light output is also higher than earlier TCL mini-LED TVs, a factor that in many ways lets them compete with similarly featured but higher-cost models from the big-name brands. The QM8 Class does a great job on the local dimming front, and its powerful picture processing upscales regular HD images in a clean manner, while also excelling on motion handling and noise reduction.
The QM8 TVs are a great option for gaming with next-gen consoles as well. Dual HDMI 2.1 ports support 4K 120Hz input while a Game Accelerator feature allows for up to 240Hz VRR gaming at 1080p resolution. TCL's top TV also has a Game Master mode that reduces input lag significantly when active and provides a transparent game bar menu option with gaming-specific settings.
The QM8 has a slim, bezel-free design, with a center-mounted stand that's height adjustable. TCL's backlit remote features a built-in mic for voice commands, and there's also a mic built into the TV itself for hands-free commands. The sets use Google TV as the smart interface, but also work with Alexa and Apple's HomeKit.
Value is a big factor with TCL, and the QM8 Class certainly delivers on that front. You'd have to pay quite a bit more to get better performance from a mini-LED TV than what you're getting here.
Read the full TCL QM8 Class review
An affordable TV with great brightness and gaming features
Specifications
Screen size:
55-inch, 65-inch, 75-inch
HDR:
HDR10, HLG, Dolby Vision, HDR10+
Reasons to buy
+
Deep blacks and strong brightness
+
120 Hz, VRR, and ALLM for gaming
Reasons to avoid
-
Some backlight blooming
-
Upconverted HD images can look soft
BUY IT IF
✅ You want to save money: The Hisense U8H has a combination of features and performance that make it great value for money.
✅ You want a set for daytime viewing: With a high peak brightness output that bests a lot of OLED TVs, the Hisense U8H is handles natural daylight with ease.
DON'T BUY IT IF
❌ You want OLED level performance: The Hisense U8H may beat most OLEDs on brightness, but it still can't compete with the deep blacks an OLED delivers.
❌ You don't want to use a soundbar: While the U8H has adequate audio performance, it would definitely benefit from a soundbar.
Like the TCL above, the U8H series' chief claim to fame is its mini-LED backlight. A major benefit to mini-LED is high brightness – something the U8H series readily delivers.
But high brightness isn't the only thing about the U8H that impresses. It uses a Quantum Dot filter for enhanced color, and the 504 local dimming zones on the 65-inch model deliver deep and detailed blacks. Some backlight blooming – a typical artefact with LED-backlit TVs that feature local dimming – can be seen with challenging material, but that's the exception rather than the norm.
With support for Dolby Vision, HDR10+, and HLG, the U8H series is ready for any HDR format you stream or feed to it, and it also has a Filmmaker mode that provides mostly accurate out-of-box color. Another impressive aspect of the U8H is its extensive support for next-gen gaming consoles: along with 120 Hz display, it offers Variable Refresh Rate (VRR), Auto Low Latency Mode (ALLM), and FreeSync Premium Pro.
There's a lot to say about U8H series, but the key takeaway is that Hisense provides great value here – we slightly prefer the TCL TV above for the price, though.
Read the full Hisense 65U8H review
Best for picture quality
The best TV for sheer image quality
Specifications
Screen size:
55-inch, 65-inch
Panel technology:
QD-OLED
HDR:
HDR10, HLG, Dolby Vision
Reasons to buy
+
Stunning picture quality
+
Good sound quality out of the box
Reasons to avoid
-
Some connection frustrations and foibles
-
Not as bright as Samsung S95C
BUY IT IF
✅ You want class-leading picture: The A95K's QD-OLED screen delivers a stunning picture with outstanding detail and natural processing.
✅ You want dynamic built-in audio: The A95K's Acoustic Surface Audio+ uses the TV speakers to deliver direct, powerful sound that fills a room.
DON'T BUY IT IF
❌ Funds are limited: While the picture justifies its premium price, the Sony A95K is expensive and you can get other OLEDs for less.
❌ You're a Dolby Vision gamer: None of the A95K's HDMI ports support Dolby Vision at 4K 120Hz, which can be found in other QD-OLED and regular OLED TVs.
The Sony Bravia A95K QD-OLED TV is a stunner of a flagship 4K TV. Beautifully designed and offering high-brightness HDR with extreme color depth, it makes full use of its innovative QD-OLED panel.
The Sony A95K is bright for an OLED, and enjoys huge color vibrancy. It can deliver sensationally deep, vivid reds, and glorious greens, and it's very bright too: where most OLEDs aren't ideal for watching in brightly lit rooms, this Sony is up there with the best LED models.
The way Sony's latest picture processing engine gets so much quality out of its new Quantum Dot OLED panel at the first time of asking is mesmerizing, giving AV fans the closest thing yet to a professional mastering monitor in your living room.
In so many ways, Sony's QD-OLED A95K is ahead of the game. When it comes to picture quality, we found that during our testing this TV has the headroom to lift performance above and beyond the mastering norm, and provides a level of visual future-proofing we've not seen before. Unleashed, it is astonishingly good. However, right now it's also rather expensive, and if you're watching streaming services rather than Blu-Rays you might not get the benefit of its impressive QD-OLED panel.
We should also note here that the Samsung S95C below has a next-gen QD-OLED panel that's much brighter, and is superior in some ways, no question. But Sony's image processing and support for Dolby Vision HDR (the most popular advanced kind) makes this the cineast's choice, still.
Read our full Sony A95K review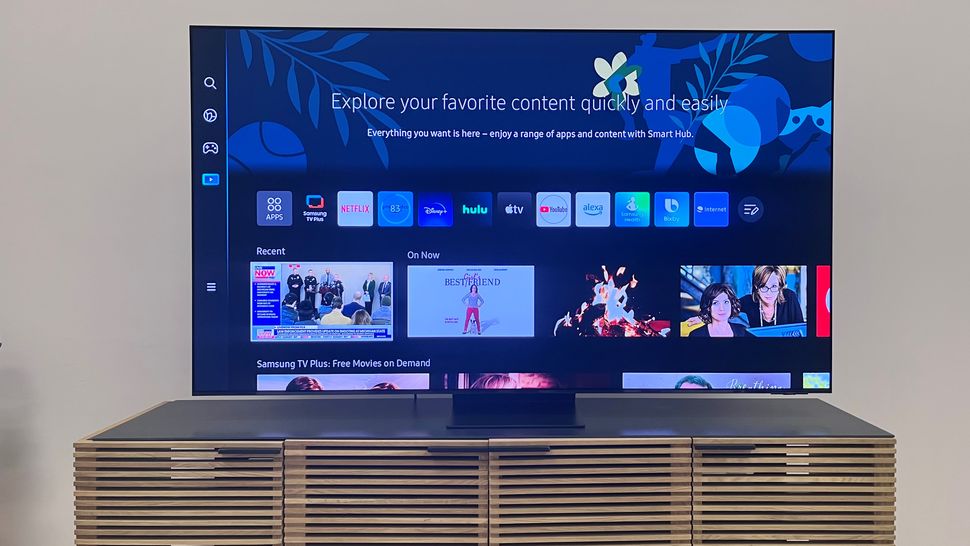 The brightest OLED TV so far
Specifications
Screen size:
55-inch, 65-inch, 77-inch
Panel technology:
QD-OLED
Reasons to buy
+
Spectacular contrast and colors
+
Top-tier gaming support
Reasons to avoid
-
No Dolby Vision support
-
Some presets need tweaking
BUY IT IF
✅ You want a bright OLED picture: The S95C offers OLED quality detail with enhanced brightness thanks to the QD-OLED panel, for the best contrast and visibility.
✅ You want a slim, sleek design: With a miniscule screen trim, ultra-slim rear and external connections box, the S95C is an elegant TV for a classy room.
DON'T BUY IT IF
❌ Mini-LED suits you more: If you have a particularly bright room to deal with, mini-LED may suit you better; even more than the S95C's much improved brightness.
❌ Dolby Vision is a must: Samsung's TVs continue to lack Dolby Vision support and sadly the S95C is no exception.
The Samsung S95C is groundbreaking. It's the brightest OLED TV we've reviewed so far, by a long way – in our testing, it beat previous QD-OLED screens by 40% for peak HDR brightness. We measured it at 1,400 nits – compare that to the 820 nits of the LG C3 and you can see why it's so interesting… and expensive. It's so much brighter, which means it can look closer to real life – and there's an even bigger difference between bright and dark.
That's an astonishing improvement for OLED TVs, and it's not the only thing astonishing here. In our full review, we said the Samsung S95C is "particularly effective in taking high dynamic range video to a whole new level of enjoyment, drama and realism, but also feeds gloriously into the S95C's colors, unlocking new levels of color volume and purity, even in bright color areas, we've never seen before on an OLED TV".
It's also packed with gaming features and HDMI 2.1 connectivity, and we measured a best-in-class 9.2ms response time when gaming. Even the sound is pretty good, though you really should pair this with a proper sound system of some kind.
So why isn't it even more strongly recommended in our list? It's such a shame the lack of Dolby Vision support means we could be getting even better HDR tones from compatible sources, the motion presets didn't handle the 24fps of film as well as we'd like, and Samsung's smart TV platform is more 'fine and functional' than truly 'smart'. But the contrast is like nothing you've ever seen, and overwhelms all objections.
Read the full Samsung S95C review
Best 8K TV
The best 8K TV, delivering whole new levels of detail
Specifications
Screen size:
65-inch, 75-inch, 85-inch
Panel Type:
Neo QLED / mini-LED
Reasons to buy
+
Awesome better-than-4K upscaling
+
Excellent colors and contrast
Reasons to avoid
-
Lacks Dolby Vision support
-
Very little real 8K material to watch
BUY IT IF
✅ You want a vibrant, mini-LED TV: Combining the brightness of mini-LED with Samsung's 8K screen gives a vivid and colorful picture.
✅ You want a gorgeous looking TV: The QN900B features a near-invisible bezel and speakers with a minimalist stand.
DON'T BUY IT IF
❌ You want a simple user interface: The QN900B's software is not the easiest to use and feels a bit more sluggish compared to other smart TV platforms.
❌ Lacks Dolby Vision: The QN900B, like all Samsung TVs, lacks Dolby Vision despite being a flagship 8K TV.
8K might feel a bit like overkill to some, but there's no doubt in our mind that the Samsung QN900B Neo QLED 8K TV is on another level of performance. Samsung's mini-LED QN900B Neo QLED 8K TV offers stunning picture quality, exceptional color and brightness, terrific sound and outstanding blacks – all in a package that's unmatched in terms of design.
For the uninitiated, Samsung's 'Quantum' mini-LEDs are 1/40th the thickness of a regular LED, meaning thousands of smaller LEDs can be packed together in a much tighter fashion, allowing for far more accurate dimming zones and black levels that are much closer to what you get from OLED.
This has one of the most advanced mini-LED screens so far, and the magic trick here is combining it with Samsung's Multi-Intelligence AI upscaling, which can take 4K images and make them look closer to 8K resolution, so there's real benefit in the higher resolution. Put simply, the QN900A is consistently able to produce images that look better than their source.
Getting there costs a lot of money, though, so this certainly isn't for everyone – and Samsung smart TV platform isn't the best, either. And you will be relying on upscaled 4K, remember, because there's practically no 8K content out there, and anything lower than 4K won't look quite as strong. But feed this TV the right high-quality movies and you'll get an amazing experience, beyond what equivalent 4K TVs can do.
Read the full Samsung QN900B review
Best cheap OLED TV
The best cheap OLED TV you can buy
Specifications
Screen size:
48-inch, 55-inch, 65-inch
HDR:
HDR10, HLG, Dolby Vision
Reasons to buy
+
Deep blacks and detailed shadows
+
Accurate out-of-box color
Reasons to avoid
-
Lacks higher-level gaming features
-
Limited brightness
BUY IT IF
✅ You want OLED on a budget: The LG A2 offers the contrast rich picture of an OLED for a fraction of the price.
✅ You want a great TV for movies: Offering great picture straight out of the box, the A2 will delight movie fans.
DON'T BUY IT IF
❌ You want a bright TV: If you have a bright room, you'll want to look elsewhere as the A2 offers limited brightness levels.
❌ You're a gamer: Sadly, the A2 doesn't offer a lot of the features that gamers look for like HDMI 2.1 for VRR and 120Hz support.
LG's A2 series is the company's entry-level OLED sets, but LG hasn't scrimped on the essentials. The picture quality is very strong and delivers the impressive contrast and color we've come to expect from OLED TVs, and while the A2 is not as bright as its more expensive siblings, it still delivers perhaps the most cinematic images you can get for the price, as long as you're not watching in a bright room.
Other than the panel's brightness, the main difference between the A2 and the likes of the LG C2 is that the A2 doesn't have the same gaming features, such as 120Hz refresh rates and HDMI 2.1 support. The HDMIs here are version 2.0b with Auto Low Latency Mode (ALLM). If you're buying a TV for gaming, you'll definitely want the C2.
It also has less advanced image processing than the LG C2 – but it's still at a good level compared to other TVs in the same price range. For movie lovers, the LG A2 offers a lot of bang for your buck. LG's webOS interface is nicer than most, if a little busy, and the subtle contrast is exactly what you hope it would be from an OLED set.
Read our full LG A2 OLED review
The best TV for sport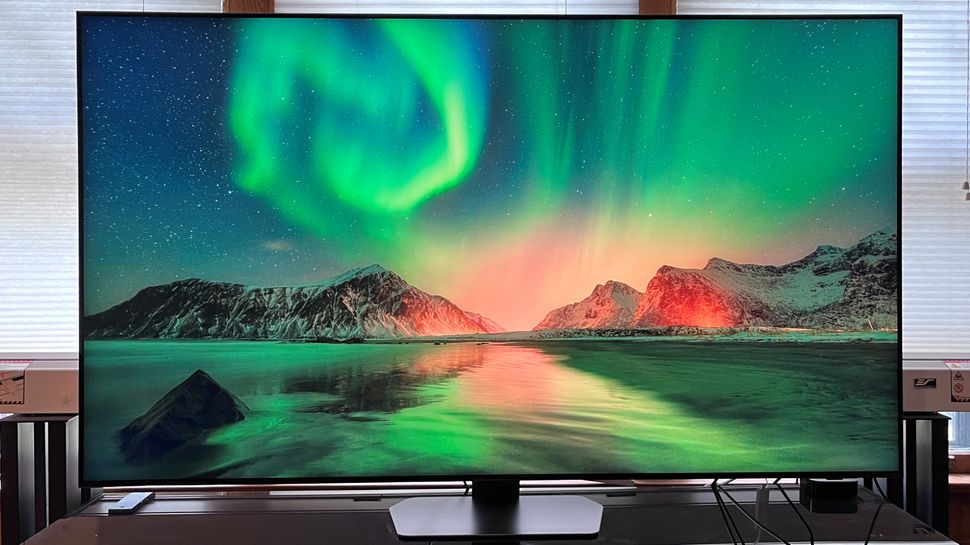 The best TV for sport thanks to big brightness and an anti-glare screen
Specifications
Screen size:
43-inch, 50-inch, 55-inch, 65-inch, 75-inch, 85-inch
Panel type:
Neo QLED mini-LED
Reasons to buy
+
High brightness
+
Anti-glare screen
Reasons to avoid
-
Some backlight blooming
-
Complicated smart TV interface
BUY IT IF
✅ You want a perfect TV for daytime viewing: With high brightness and anti-glare screen, the QN90C is perfect for those with bright rooms.
✅ You want a great gaming TV: With four 2.1 HDMI ports that support 4K 120Hz, VRR and FreeSync and an intuitive cloud based gaming platform.
DON'T BUY IT IF
❌ You want the best TV, money no object: The QN90C offers impressive performance, but the QN95C offers better shadow detail, brightness and black depth.
❌ Your budget is limited: You can get a decent mini-LED TV for less from competitors like Hisense and TCL, although they generally won't offer the QN90C's performance.
Samsung's QN90C series TVs feature a mini-LED backlight, which allows the set to deliver high brightness along with generally more refined local dimming than what you'll get with a standard QLED model that uses a regular LED backlight. And while the QN90C doesn't quite hit the OLED-like heights of the company's flagship QN95C when it comes to rendering the deepest shadows, its performance on that front is nonetheless impressive. Along with its strong brightness, an anti-glare screen makes the QN90C a great TV for viewing daytime sports.
Gaming is a particularly strong point for Samsung Neo QLED TVs, and the QN90C offers up four 4K 120Hz-capable HDMI 2.1 ports for connecting next-gen game consoles. Its Gaming Hub greatly expands the possibilities for gamers with cloud-based services including Xbox, Nvidia GeForce Now, Amazon Luna, Utomik and more.
The QN90C has better than average audio performance for a TV, including an Object Tracking Sound Plus feature to enhance the directionality of effects in movie soundtracks. It also supports the company's Q-Symphony feature, which lets you pair the TV with select Samsung soundbars for a more spacious and dynamic audio experience.
There are definitely budget mini-LED alternatives from brands like TCL and Hisense that can be had for a lot less, but when it comes to features and design sophistication, they won't be able to match the QN90C .
Read our full Samsung QN90C review
The best TV for sound
The best mid-range OLED TV for sound
Specifications
Screen size:
55-inch, 65-inch, 77-inch
HDR:
HDR10, HLG, Dolby Vision
Reasons to buy
+
Acoustic Audio Calibration
+
Strong suite of HDMI 2.1 gaming features
Reasons to avoid
-
Brightness below top OLED TVs
-
Only two HDMI 2.1 ports
BUY IT IF
✅ You want excellent audio: The A80K delivers impressive built-in audio that does a good job with Dolby Atmos effects.
✅ You own a Playstation 5: The Auto HDR Tone mapping feature within the A80K ensures PS5 games with HDR are properly displayed.
DON'T BUY IT IF
❌ You want the brightest OLED screen: Other OLEDs TVs from brands like LG and Samsung offer higher brightness levels than the A80K.
❌ You don't want to make picture adjustments: While the A80K's Cinema mode offers a detailed picture, there is no Filmmaker mode that provides the most accurate out of the box picture.
The Sony A80K is a mid-range OLED TV that delivers a top-tier audio performance thanks to Acoustic Surface Audio+, which uses five actuators – three behind the screen and two at either side – to vibrate the display to produce a full-range sound that's bigger than what you expect from slim TVs.
In our review, we were "surprised at how clear dialogue was and how loud the speakers could get without sounding strained". With such impressive built-in audio, we think this could easily satisfy anyone that doesn't want to fork out for a separate audio system. Although, that's not to say that a Dolby Atmos soundbar wouldn't have improved the audio performance further – but it means you only need to add something if you want to get serious. You get a more full sound than the LG C2, so if you're soundbar-adverse, this is maybe the better choice between the two.
Where the Sony A80K also shines is its picture quality. With rich colour reproduction, deep blacks, detailed shadows and good HDR brightness (for an affordable OLED TV), it stands above the rest. It also offers solid next-generation gaming features, including 4K/120Hz video input, variable refresh rate (VRR) and auto low latency mode (ALLM).
Read our full Sony A80K review
How to choose the best TV for you
How do I choose the best TV for me?
There are tons of things you could consider when buying a new TV, but not everyone needs to get stuck in the technological weeds. Here's the advice our editors tend to give the (many) people who ask this of them in real life.
First, set your budget and your size. Choose a maximum amount you're willing to spend, and the size of TV you want, and then narrow your search to only models that fit both of those criteria. You will find that already you're down to looking at only a handful of options, making it much easier to get a grip on things. If you have quite a high budget, set yourself a minimum budget too to help narrow things – maybe 30% below your maximum budget.
So now you'll need to make a few further decisions. If you're looking at the mid-range or premium end of things, do you want an OLED TV or an LED/mini-LED TV? In sizes of 55 inches and up, LED TVs tend to be brighter than OLEDs, and so are great for watching sports or TV during the day in bright rooms. But for movie nights, OLED TVs are the best, thanks to their unrivalled contrast – they just don't go as bright as LED TVs unless you get the most expensive models.
If you're buying a mid-range set, you'll need to decide if you need a 120Hz screen or not. This is great for gamers (especially those with a PS5 or Xbox Series X), and good for movies, because it can show more natural motion. But if you want to save cash, getting a 60Hz TV might be a better idea, because 120Hz TVs always cost more.
And then, spare a thought to sound. Most of today's thin TVs have weak built-in sound. If you don't mind buying one of the best soundbars too (or if you already have one), then don't worry about this. But if you don't want extra boxes in your setup, then focus on the TVs we've recommended where we mention the audio is stronger. Sadly, it tends to be higher-end sets that do this better – but even then, not all are created equal. Sony and Samsung are usually strong for audio, though, so are a good place to start.
Which TV is the best quality?
That depends how you define quality. We define it as the ultimate mix of picture quality, features, design and price – when recommending the TV that's best for most people at any given price, that's what we're looking for. And that's why the LG C2 is at the top of our list – there are TVs that do individual things better, but nothing else does so much stuff so well, for the same kind of price.
For sheer picture quality, the Sony A95K is currently our choice, for example – but it's extremely expensive, and actually misses some features that the LG C2 (and other more affordable TVs have).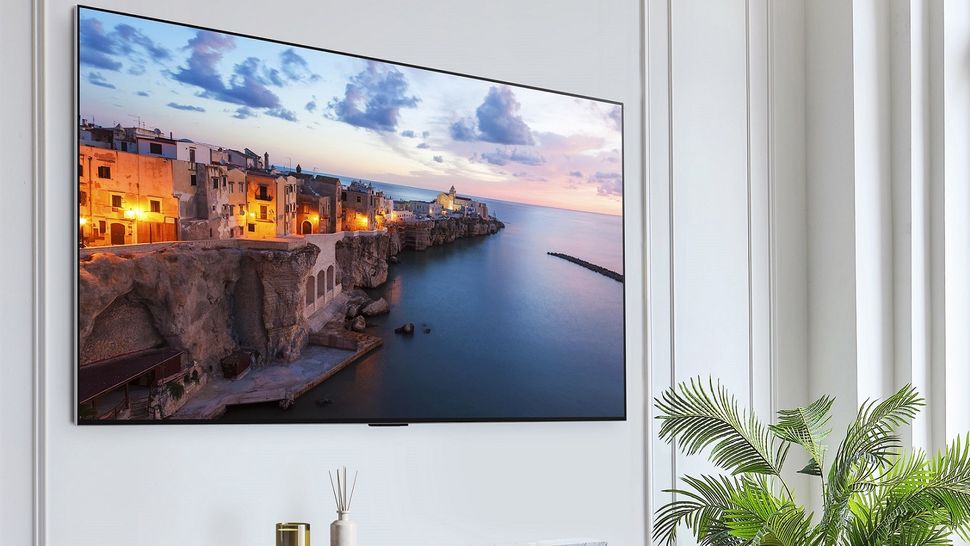 Which brand is best for TVs in 2023?
There's no one brand that does TVs better than the others, but there are definitely some TV makes that excel in certain areas more than their rivals.
Some of the best brands on our list are Hisense, LG, Samsung, Sony, TCL and Vizio. They all tend to be the top-performing brands at the premium end, though all bring out a wide range of models each year.
The LG C2 is at the top of our best TV guide right now with an outstanding picture and although it's expensive, it's excellent value for money. This brand certainly makes excellent OLED TVs – in fact, LG Display makes the OLED panels for most other brands. We like that LG offers a wide range of TVs, including different budgets and sizes – the C2 goes from 42 inches all the way up to 83-inches. LG's webOS is one of our favorites, an easy to use operating system that feels intuitive.
Samsung uses quantum dot technology to bring you brightness and excellent contrast. Like LG, Samsung offers a huge variety of TV sizes and prices. Samsung's smart TV software is Tizen, which we think is good overall. The brand also offers some extras, like its One Connect box with some TVs, and styles that are a little unique – take a look at the various iterations of Samsung's The Frame TVs.
Sony is another major player in the TV space. Its screens boast stunning picture quality and build quality. Although, like other brands in this list, there's a wide range across the board. One interesting difference about Sony is its really pushed its Cognitive XR processor, a processing chip added to its TVs from 2021 that boosts vision and audio performance.
Of course you shouldn't feel hemmed in by these four brands – Panasonic offers excellent premium TVs with a focus on image quality in particular, and Hisense and TCL offer great value in the mid-range and affordable end of the market.
Which is better OLED or QLED?
This is one of the biggest and more contentious TV tech questions of the moment. Luckily we've covered all of the details in our OLED vs QLED guide.
However, if you're looking for a summary we'd say that QLED is a great option for brightness if you'll watch in bright, sunlit conditions; whereas OLED TVs offer better viewing angles and superior contrast for gorgeous movie-like images, as long as you can control the lighting.
Is 4K better than OLED?
Luckily, you don't need to decide whether to go with OLED or 4K – you can have both! 4K refers to the resolution (ie, the number of pixels on the screen), while OLED refers to the panel technology (ie, what the pixels are made from).
So you can have 4K screens that are OLED (almost all of them are, apart from some pricey 8K OLED TVs), and you can have 4K screens that are QLED, mini-LED or other tech.
Is LG better than Samsung?
Both LG and Samsung are excellent TV brands and you can't really go wrong with either. However, there are some areas where one TV maker could be a better option than the other.
An LG TV tops our best TVs guide, but Samsung is the market leader for sales overall. If you're looking for the most impressive picture quality out there, regardless of price, nothing currently beats LG's OLED panels for color and contrast.
But Samsung TV's are incredibly bright, particularly in more affordable models. We also love Samsung's lifestyle sets, like The Frame QLED 4K TV (2022), for combining performance with style. And its cheaper TVs are usually excellent value for money.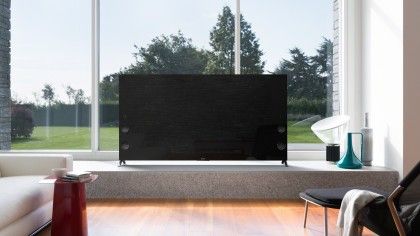 How we test the best TVs
The best TVs are chosen by our writers and editors based on a few main criteria: their overall picture performance including contrast, color saturation and motion handling; the list of features they offer; their sound quality; their design and remote control; and how well their smart TV platform works. We're looking for TVs that are well-built and have the technology to last for the next few years, balanced with their price, of course.
Obviously, there is a level of subjectivity that goes into the review process, however we strive to maintain fairness across brands by testing the same type of content on each screen (HD/SDR, 4K/HDR, games, movies and music) and reporting what we've found the experience to be like.
We test the brightness and color range using a colorimeter, and we ensure that we test 'out-of-the-box' as well as after calibrating the screens ourselves, so that we can tell you what you'll get if you don't tweak at all, as well as what the TVs are capable of in the right hands.
Like our readers, our writers' and editors' room layouts differ and may cause slight disparities in testing, however we make every attempt to question our assumptions and troubleshoot our issues with performance in every review.
Sign up to receive daily breaking news, reviews, opinion, analysis, deals and more from the world of tech.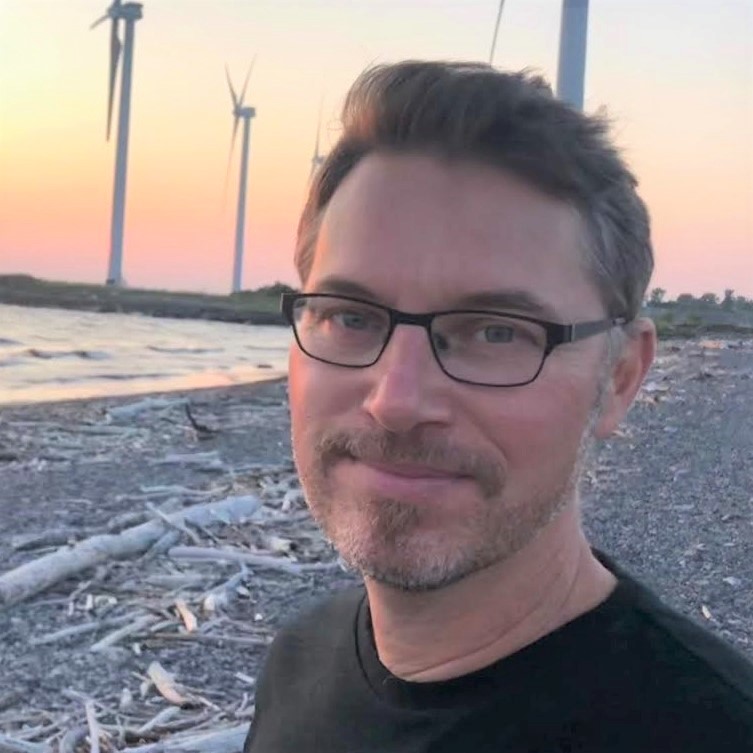 Senior Editor Home Entertainment, US
Al Griffin has been writing about and reviewing A/V tech since the days LaserDiscs roamed the earth, and was previously the editor of Sound & Vision magazine.
When not reviewing the latest and greatest gear or watching movies at home, he can usually be found out and about on a bike.