Editor's Note: March 2023
Huge price drops on OLED TVs towards the end of last year made it a fantastic time to buy – especially the LG C2, which cements its status as our number one pick, when combining image quality, features, size options and price.
Several new OLED models for 2023 have now been announced, though won't be available for several months yet, and will launch with much higher prices that the models current in this list – so 2022's models are likely to be the best buys for a while yet.
Matt Bolton, Managing Editor – Entertainment
The best OLED TVs on the market today deliver beautiful image quality because of the self-lighting pixels that define this kind of technology. What these pixels allow for is rich, precise contrast for HDR in a way that even the best LCD TVs can't match. That means they deliver an incredible cinematic picture that brings you more detail in darker areas of the screen than you'll ever get from an LCD TV.
With one of the best OLED TVs, many of which are among the best TVs on the market, you'll also find a starker contrast between light and dark, which is similar to the laser projection in movie theaters – especially if you buy a larger TV, like one of the best 65-inch TVs or best 75-inch TVs. Big TV brands, like LG and Sony, use OLED tech in their premium TVs. Even Samsung, a TV company that's been holding out on OLED, entered the OLED TV space earlier this year.
We've been testing TVs since long before the first OLED made it to market, and we've seen the technology get better, more popular and more affordable over the years. That means we're in a great position to tell you about the very best OLED TVs for every kind of home and for every budget, as well as telling you which features will really deliver home entertainment heaven.
For more about how OLED TV tech works and why it can be such a big upgrade for your home theater game, read our 'What is OLED?' guide. But here's the short version: OLED TVs deliver more control over how bright or dark an individual pixel can be, so you get stunning HDR and incredibly precise colors.
The best OLED TVs 2023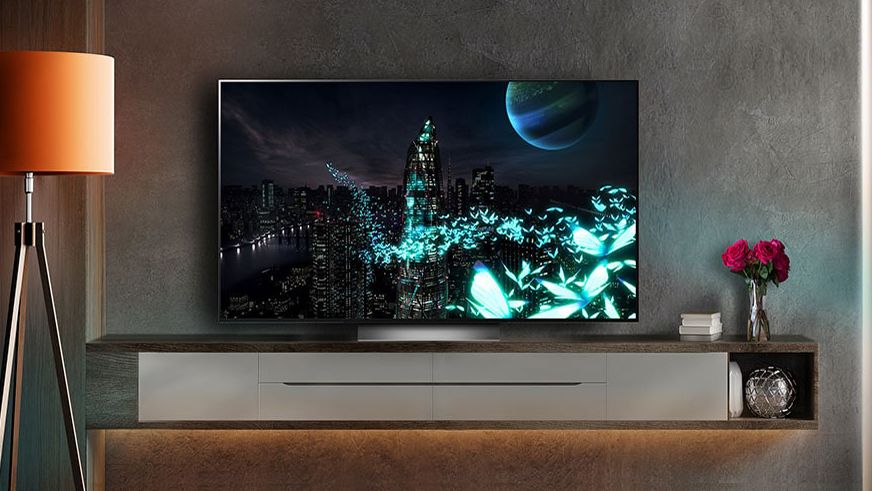 The LG C2 OLED is the best OLED TV for the majority of people. While the LG C1 OLED from 2021 is still a great TV, and the LG G2 and Z2 offer elevated experiences compared to the C2, we wholly believe that the C2 offers the best performance-to-dollar ratio and is the TV to beat even when the 2023 model starts to ship.
Improvements in this model include the new Alpha a9 Gen 5 processor, which is designed to offer better object enhancement and dynamic tone mapping than its predecessor. As well as that, you're getting 'virtual surround sound', with the TV upscaling stereo content into 7.1.2-channel sound. While we weren't convinced by the claims of virtual surround sound, the audio performance is good for a flatscreen TV, and a number of different sound modes means you should be able to find an audio profile that suits your needs.
In addition to those improvements, the C2 OLED carries forward the four separate HDMI 2.1 ports that it inherited from the C1 OLED, meaning it's the perfect companion for the PS5, Xbox Series X and Xbox Series S.
The LG C2 isn't flawless, however. In our tests we found that off-axis color saturation does diminish a bit when you move to the left or right of the screen when compared to the new QD-OLED models. It's also worth noting that LG doesn't support either the IMAX Enhanced or HDR10+ format.
There are, of course, higher resolution OLED TVs out there right now like the LG Z2 OLED, which offers 8K resolution, and the new upgraded LG G2 OLED that has a slightly higher peak brightness, but for the price, we think this is the absolute best TV.
Read our full LG C2 OLED review
LG's A2 series TVs are the firm's cheapest OLED offerings, and while they're not quite as feature-rich as their more expensive stablemates they still deliver a lot of TV for the money. LG's OLED panels are wonderful things with superb color and contrast, and while the panel here isn't as bright as the ones in more expensive LG TVs it's still very good and very clear. It also has LG's webOS smart TV operating system, which we think is the best in the business.
The A2 series is outfitted with LG's α7 Gen 5 AI Processor, which first appeared in the company's 2021 models and provides features such as dynamic tone mapping and 5.1.2-channel sound upmixing. The Dolby Vision, HDR10, and HLG high dynamic range formats are all supported by the A2 series, along with Dolby Vision IQ and HGiG (HDR Gaming Interest Group). Its Filmmaker mode delivers accurate color and motion settings, and also shuts off any automatic processing that would change the picture from the way a movie's director originally intended for it to be presented.
Overall, the A2 series is relatively low on features compared to both LG's other OLED TVs and the best 4K TVs generally. The main differences are in gaming-related specs such as HDMI 2.1 inputs, a 120Hz display, VRR (Variable Refresh Rate), and FreeSync, all of which are available on the company's step-up B2 series TVs. If you don't need the gaming features, though, this is a very impressive and affordable TV.
Read our full LG A2 (OLED55A2) review
The Sony A95K is an OLED TV masterpiece. It masters Quantum Dot OLED technology, combining OLED's black level prowess and peerless light control with brightness and pure color. Sony's excellent Cognitive XR processing engine delivers images so good we were truly shocked during our testing. We'd even say that the Sony A95K delivers arguably the most flat-out beautiful images we've seen from a consumer television.
Not only is the picture a sight to behold, the Sony A95K makes a statement the second we lifted it out of its box. It has a unique design with a full-width metal plate stand that you can sit behind the TV for a minimal look or in front of it for an industrial one. The build quality here is excellent, leaving you in no doubt this is one hell of a premium TV.
Although we'd always recommend pairing your new TV with a soundbar, we found the sound of the Sony A95K to be impressive. This is because it follows previous Sony OLED TVs with Acoustic Surface technology, where the TV's screen essentially doubles up as its speakers.
As you might expect from such a premium experience, it has an eye-watering price tag to match. The 65-inch version will set you back $3,999 / £3,499 / AU$5,995. That's nearly a whole $1000 / £1000 more than some of our other favorite OLED TVs on this list, like the LG C2 OLED and the Samsung 65S95B. So although it's truly deserving of being in our best OLED TV guide for its outstanding picture quality, only those willing to spend a small fortune should consider it.
Read our full Sony XR-A95K review
The Samsung S95B is the first QD-OLED TV we tested – a new technology that combines the per-pixel lighting control and contrast that OLED is famed for, with the rich Quantum Dot color technology that makes Samsung's QLED TVs so coveted.
The S95B is a dazzling debut for this tech, and it's not just about the next-gen screen. As we said in our review: "This TV has had the kitchen sink thrown at it, with Samsung's latest AI-inspired picture processor, a massively comprehensive and re-designed Tizen-based smart system, the latest gaming features, and even, despite the ultra-slim design, a clever object tracking sound audio system."
We loved all of that stuff, but the star remains the image quality, which we said offers a "combination of brightness, black depth, contrast and color that we just haven't seen before on a consumer set. It's something special."
When you throw in sound that follows what's happening on screen, excellent upscaling and detail, comprehensive streaming support, and support for all the latest HDMI 2.1 gaming features (including 4K 120Hz and Variable Refresh Rates), it's absolutely one of the best TVs available today. That said, it's certainly not a cheap buy, and the lack of Dolby Vision (standard on all Samsung TVs) is a shame. But with colors this good, you'll get over it.
Read our full Samsung S95B review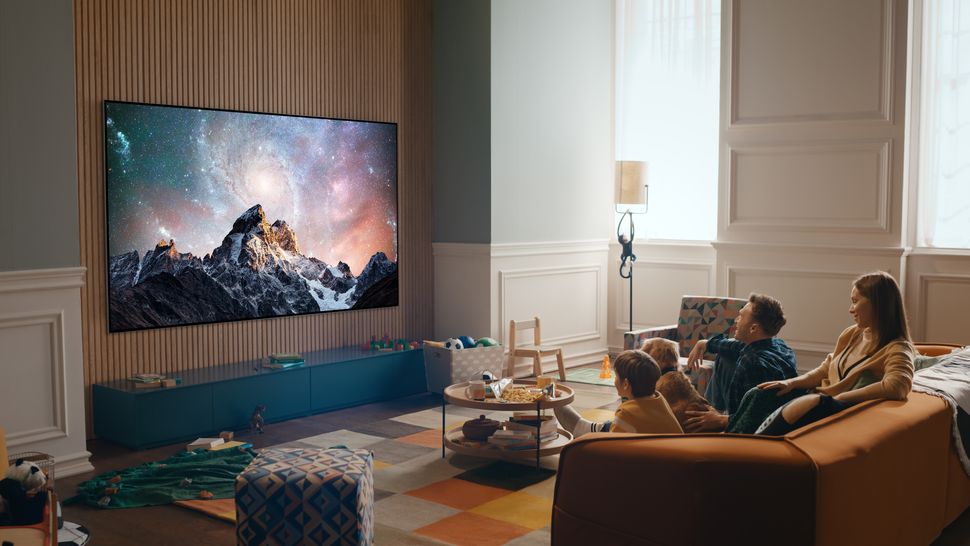 If price isn't a concern for you and you simply want the best OLED TV you can buy at any price point, then the LG G2 OLED is the TV for you. The OLED65G2 uses its extra brightness to make pretty much every frame of any source you care to mention look even more sublime than it has on any LG OLED before.
Although the G2 OLED shares the same 'Gallery' design name as its GX and G1 predecessors, it actually looks completely different: gone is the dark frame and chamfered edges, in is a nifty two-layer effect where a thin black rear 'slab' sits proud of and slightly narrower than a chunkier front tier housing the screen that's encased in a very fetching and opulent-looking silver metal coat.
The quality of the G2 OLED's connections is beyond reproach. In particular, all four of its HDMI ports are capable of handling the maximum 48Gbps of data supported by the HDMI 2.1 standard. This means that hardcore video gamers could simultaneously attach an Xbox Series X, PS5 and cutting-edge PC graphics rig to enjoy full-fat 4K at 120Hz, variable refresh rates and automatic low latency mode switching from all of them. That, plus you'll still have one HDMI left for adding a 4K Blu-ray player or streaming box.
To anyone familiar with LG's OLED TVs over the years, the impact made by the extra brightness the heat sink unlocks is instantly obvious: we found that the extra brightness gives colors more volume and punch, regardless of whether you're talking about a very vibrant, rich tone, or a subtle, mild one.
The end result is an OLED TV so supreme that it just barely misses the mark of our number one spot – only because its price puts it a bit far out of reach for the average TV watcher. Cinephiles, however, should certainly invest.
Read our full LG G2 OLED TV review
The Sony A80K is a mid-range option that delivers all the best things you expect from an OLED TV: detailed blacks and well-saturated color, 4K 120Hz support for gaming and Sony's Acoustic Surface Audio+ tech. It's a compelling, high-performance, though not bank-breaking, OLED TV option.
A new wide color gamut panel for the A80K combines with Sony's XR OLED Contrast Pro, XR Triluminos Pro, and Cognitive Processor XR features to deliver deep blacks and detailed shadows in images, along with rich, fully saturated colors. Overall picture brightness is satisfactory, if a bit below what you'll get from the very best OLED TVs, such as the LG G2 and also the LG C2 series. Still, Sony's mid-tier OLED manages to look great even in well-lit rooms, and it stuns in ones that are dimmed for best-quality movie viewing.
In our tests we were pleasantly surprised by the Acoustic Surface Audio+, which has five actuators – three directly behind the screen, and two at the sides – that vibrate it to create full-range sound, accompanied by two subwoofers for enhanced bass. This is that rare thing, a TV that doesn't have us recommending a soundbar as a must-have: it's impressively loud and does a decent job of Dolby Atmos audio.
The main competitor here will be the LG C2, and the result of the price comparison here depends on which region you're in. The 65- and 77-inch A80K sets cost slightly less than LG's mid-range C2 OLEDs at the same sizes in the US, while the 55-inch version is priced slightly higher than LG's same-size C2. In the UK, the Sony is higher-priced at all sizes.
Read our full Sony A80K review
LG's B-series TVs are among its more affordable models, offering a step up in specification from the even cheaper A series without massively increasing the price.
Inevitably some compromises have been made to get the price down, so the B2 doesn't get the same bright panels as its more expensive siblings. However, it offers a decent specification for a very good price – including an excellent set of HDMI 2.1 gaming features including 120Hz, Variable Refresh Rate (VRR), auto low latency mode (ALLM), and more.
Audio performance isn't hugely impressive, although that's par for the course at this price bracket – you're definitely going to want a subwoofer or surround sound system here – but the picture quality is very impressive with exceptional contrast, great HDR and vibrant, detailed images.
If you're buying a TV for gaming as movie watching, this is one of the most affordable OLED options and it performs very well for the price. It has a significantly better specification than the A2 without costing much more money, and while it'd be nicer still if it were a little brighter we can't fault the picture quality or speedy response times.
Read our full LG B2 OLED TV review
The A90J 4K OLED TV isn't exactly cheap, but we think the performance does justify the fairly hefty price tag. Picture quality from any source is about as good as it currently gets from any 4K screen. In every meaningful department – motion control, contrast, edge definition, detail levels, you name it – we found it incredibly impressive. And for those moments when you're reduced to watching sub-4K content, it's great at upscaling too.
Using the entire surface of the screen as a speaker is still novel and effective, and backing it up with two conventional bass drivers means the A90J sounds fuller, more direct and just, well, better than any alternative that doesn't feature an off-board sound system.
Add in a smart new Google TV interface, the usual Sony standard of build and finish, feet that change position to accommodate a soundbar, an exclusive movie streaming service, and an authentically well-designed remote control – ignoring the inexplicable lack of UK TV catch-up services – we think that the A90J delivers the complete package.
Read our full Sony A90J OLED TV review
Best OLED TVs FAQ
How to choose the best OLED TV for you
If you're looking for the best OLED TV for you, there are lots of things to consider. We'd recommend starting with the basics and deciding what budget you have to work with and what size TV you need.
In our guide above, you won't find dirt cheap TVs, but some are better value than others. Especially those that are a year or two old but don't have significant upgrades worthy of a much higher price tag.
It's important to consider what size TV is best for you, and to do that you'll literally need to measure the space you have to work with. Remember a TV that fills every available scrap of space in your living room might sound like a great idea, but you'll need to consider viewing angles, screen brightness and whether you'll be able to sit a decent distance from the TV to fully appreciate it.
From there, we'd also advise you check out the HDR capabilities of any new TV – we've detailed these under each OLED TV in our guide – and the smart TV platform each offers, whether it's a proprietary one like Samsung's Tizen and LG's webOS or a third-party one like Google TV. It's also worth considering sound. If you're willing to spend extra on a soundbar, don't pay too much attention to the audio on offer. If you'd like an all-in-one cinema system, consider an OLED TV that delivers great audio as well as a fantastic picture.
How much do OLED TVs cost?
The cost of OLED TVs varies hugely depending on what technologies are thrown in with an OLED panel, such as the resolution, processor, build quality, built-in speakers, and more. But suffice to say that entry-level models sit around (or, more recently, just under) the $1,000 / £1,000 / AU$1,500 mark.
More mid-tier OLEDs at larger sizes (65 inches and above) can double that figure, or even triple it – while experimental 'rollable OLED" screens can go for six-figure sums. 48-inch OLED sizes tend to offer only a small discount, and the same goes for the new 42-inch size class that's just recently become available from LG and Sony.
Sales periods like Prime Day or Black Friday can help with this, though the most savings tend to come on models that are a year or two old. It's worth paying attention to these discounted screens, though, as they'll often carry better processing than newly-launched models at the same price.
Should I buy OLED or QLED?
OLED isn't the only option for savvy TV buyers. Samsung's competing QLED televisions outperform for brightness, while the introduction of Mini LED backlights has only improved peak light output and overall contrast – the areas that OLED generally has the upper hand with, thanks to its per-pixel brightness control.
It's a tighter race than ever, then, though it's worth assessing secondary characteristics for OLED and QLED screens. An OLED with a cheap processor may cause more artefacts and video noise, while a QLED with edge-lighting won't get the true benefit of its enhanced color and contrast. Format or feature support can be crucial if you're hooking up your TV to a PC, a games console, or a 4K Blu-ray player too.
What is the lifespan of an OLED TV?
According to LG Display, the makers of the OLED panels that go into every OLED TV on the list - around 100,000 hours. For most folks that's about 10 years of TV watching and far exceeds the 40,000 to 60,000-hour lifespans of most LED-LCD TVs. That said, OLED TVs can experience something called burn-in when a static image is left on the screen for prolonged periods of time - so be sure to change the channel every few days.
Best OLED TV competitors: what else is out there?
OLED is, for many, the premium TV tech of the moment. Though once weighed down by inaccessible price points, a flurry of cheaper mid-range OLEDs and smaller panel sizes has helped bring OLED closer to the mass market.
Samsung and Sony's current TV lineups include QD-OLED hybrids (they combine OLED panels with quantum dot tech, utilising the self-emissive properties of the former and color enhancements of the latter) – we have a separate guide to whether you should buy a Samsung OLED TV, if you want to read more about them.
For those with cash to splash, you'll be choosing between a high-end OLED TV and Micro LED – a self-emissive panel technology that Samsung has leant into in recent times, but which has proved difficult to offer either affordably or at mainstream sizing (88-inch is the smallest we've heard about so far, as of 2023).
It's a more complicated picture than simply OLED, then, though for deep blacks and true-to-life color – at a size you can actually get into the average living room – OLED may still be the best choice.
Is burn-in a problem in OLED TVs?
Burn-in, also known as screen burn or permanent image retention, is a visual artefact that sometimes appears when a TV has shown the same thing in the same place for a long time. It definitely happens on some OLED TVs, but manufacturers have come up with lots of ways to minimise the likelihood of it happening to yours.
There are three main ways in which OLED TVs can minimise the likelihood of burn-in. They can use image analysis to identify static images – TV channel logos, for example – and subtly dim them. They can gently shift the image around by a few pixels, something that your OLED probably does already without you noticing it.
And there's a more brute-force approach, where the TV automatically dulls the brightness of the whole display when it detects a bright and potentially burn-in item. That latter one is the least popular because if it isn't implemented well it can be quite dramatic and quite annoying. More modern TVs with this tech, known as ABL (Auto Brightness Limiting) are much more subtle about it than older ones.
Last but not least, you can take the DIY route. The default modes such as Vivid Mode on some TVs can be ridiculously bright, so changing them or using less blazing settings will make your eyes happy and reduce the risk of burn-in even further.
Ultimately burn-in is all about heat, hence the name. And the best way to reduce the risk of it and perhaps eliminate it altogether is to manage heat better in OLED TVs. And manufactures are doing just that. You'll find clever heatsink technology and heat dissipation design in OLEDs from Panasonic, LG, Sony and more.
We're not saying burn-in doesn't exist. It does. But the advances in OLED TV tech in recent years means it's much less of an issue than it was in early OLEDs, and for most of us it's something we don't really need to worry about too much.
How we test OLED TVs
Why you can trust TechRadar Our expert reviewers spend hours testing and comparing products and services so you can choose the best for you. Find out more about how we test.
When TechRadar tests TVs, the first step is to spend a few days using it for casual viewing for break-in and to assess the out-of-box picture presets. The next step is to select the most accurate-looking preset (typically labeled Movie or Cinema) and measure the white balance (grayscale), gamma, and color point accuracy using Portrait Displays' Calman color calibration software. The resulting measurements provide Delta-E values (the margin of error between the test pattern source and what's shown on-screen) for each category, and they allow for an assessment of the TV's overall accuracy.
Along with those tests, we make measurements of peak light output (recorded in nits) for both standard high-definition and 4K high dynamic range using white window patterns ranging from 1% to 100%. Coverage of DCI-P3 and BT.2020 color space is measured, with the results providing a sense of how faithfully the TV can render the extended color range in ultra high-definition sources. Contrast ratio measurements are also performed.
After calibrating the TV's picture for best accuracy with SDR and HDR sources, we watch a range of reference scenes on 4K Blu-ray discs as well as new Dolby Vision-encoded material streamed from sources like Netflix, Disney Plus, Amazon Prime, and HBO Max. Like our readers, our reviewers' room layouts differ and may cause slight disparities in testing, however we make every attempt to question our assumptions and troubleshoot our issues with performance in every review.