Best OLED TV 2023: stunning sets from LG, Sony, Samsung and more
Best
Contributions from
last updated
The best OLED TVs offer incredible contrast and no light bleed. Here are our top picks
VERDICT
REASONS TO BUY
REASONS TO AVOID
QUICK MENU
1. The list in brief
2. Best for most people
3. Best budget OLED
4. Best for picture quality
5. Best for brightness
6. Best for design
7. Best for features
8. Best for sound
9. Best cheaper gaming OLED
10. How we choose
11. How we test
12. Latest updates
The best OLED TVs on the market today deliver beautiful image quality because of the self-lighting pixels that define this kind of technology. What these pixels allow for is rich, precise contrast for HDR in a way that even the best LCD TVs can't match. That means they deliver an incredible cinematic picture that brings you more detail in darker areas of the screen than you'll ever get from an LCD TV.
With one of the best OLED TVs, many of which are among the best TVs on the market, you'll also find a starker contrast between light and dark, which is similar to the laser projection in movie theaters – especially if you buy a larger TV, like one of the best 65-inch TVs or best 75-inch TVs. Big TV brands, like LG and Sony, use OLED tech in their premium TVs. Even Samsung, a TV company that had previously been holding out on OLED, entered the OLED TV space in a big way in 2022.
We've been testing TVs since long before the first OLED made it to market, watching the technology get better, more popular and more affordable over the years. That means we're in a great position to tell you about the very best OLED TVs for every kind of home and budget, as well as telling you which features will really deliver a great home entertainment experience.
For more about how OLED TV tech works and why it can be such a big upgrade for your home theater game, read our 'What is OLED?' guide. But here's the short version: OLED TVs deliver stunningly deep blacks and incredibly precise colors, and the latest flagship models can compete with some of the best LCD TVs when it comes to picture brightness.
Written by
Matt is TechRadar's Managing Editor for Entertainment, meaning he's in charge of persuading our team to watch the latest movies on gorgeous TVs as well as listen to fantastic speakers and headphones. It's a tough task, as you can imagine. Matt has over a decade of experience in tech publishing, and has been writing about the latest TVs and soundbars since 2017.
The quick list
Want to get straight to the best OLED TV for your needs? Use our quick round-up below to immediately find an OLED that suits you – and you can read more about it by jumping to our full write-ups and explanations using the links.
Load the next 2 products...
Best for sound
The best OLED TV for sound
Sony's clever tech turns the screen itself into a huge speaker here, giving you much clearer audio than the likes of the LG C2. A great pick if you don't want to add a soundbar.
Best cheap 120Hz OLED
The best cheaper gaming OLED
If you want an OLED with 120Hz and VRR for next-gen gaming at the lowest price, this is it. It's still good for TV and movies, but the LG C2 is better – this is for gaming on a budget.
The best OLED TVs in 2023
Why you can trust TechRadar We spend hours testing every product or service we review, so you can be sure you're buying the best. Find out more about how we test.
The best OLED TV for most people
The best OLED TV for most people, while it's still available
Specifications
Screen size:
42-inch, 48-inch, 55-inch, 65-inch, 77-inch, 83-inch
HDR:
HDR, HLG, Dolby Vision
Reasons to buy
+
Beautiful 4K HDR picture
+
4x HDMI 2.1 ports with 120Hz/VRR
Reasons to avoid
-
Lack of cable management
-
No HDR10+ support
BUY IT IF
✅ You're buying your first OLED: This TV showcases everything we love about OLED tech, with excellent contrast levels and vibrant color.
✅ You need lots of HDMI 2.1 ports for gaming: It has four HDMI 2.1 ports that all support 4K 120Hz, so the LG C2 offers unbeaten connectivity options.
DON'T BUY IT IF
❌ You want the absolute best picture: Although impressive, the C2's picture isn't as good as the Sony A95K or Samsung S95C.
❌ You hate dangling cables: Considering the price, it's a shame the C2 OLED doesn't come with cable management options.
The LG C2 OLED is the best OLED TV for majority of people. While the LG C3 is now here to replace it (you'll find it elsewhere in this list), we still believe that the C2 offers the best performance-to-dollar ratio thanks to major price drops since its launch. It remains the TV to beat right now when you balance everything out.
The Alpha a9 Gen 5 processor is designed to offer great object enhancement and dynamic tone mapping, meaning everything looks more realistic and clear. As well as that, you're getting 'virtual surround sound', with the TV upscaling stereo content into 7.1.2-channel sound. While we weren't convinced by the claims of virtual surround sound, the audio performance is good for a TV, and a number of different sound modes means you should be able to find an audio profile that suits your needs.
The C2 OLED carries four separate HDMI 2.1 ports, meaning it's the perfect companion for the PS5, Xbox Series X and Xbox Series S – most TVs only offer two HDMI 2.1 ports at most.
The LG C2 isn't flawless, however. In our tests we found that off-axis color saturation does diminish a bit when you move to the left or right of the screen when compared to new QD-OLED models, such as the Samsung S95C (also in this list). It's also worth noting that LG doesn't support either the IMAX Enhanced or HDR10+ format.
But when you're balancing picture quality, features, sizing options (no other OLED TV model offers the same range of sizes, apart from the C3) and price, the C2 is the option we'd encourage most people to go for.
Read our full LG C2 OLED review
The best budget OLED TV
The best cheaper OLED TV, just not for gaming
Specifications
Screen size:
48-inch (UK), 55-inch, 65-inch
HDR:
HDR10, HLG, Dolby Vision
Reasons to buy
+
Deep blacks and detailed shadows
+
Affordable for an OLED TV
Reasons to avoid
-
Lacks higher-level gaming features
-
Limited brightness compared with top OLED TVs
BUY IT IF
✅ You want a budget OLED TV: The A2 offers OLED picture quality without putting such a big dent into your bank account
✅ You want a great TV for watching movies:
Despite being a budget OLED, the A2 series will delight movie fans with its great overall performance.
DON'T BUY IT IF
❌ You want to watch in a bright room: If you plan to use your TV a lot during the day, a brighter OLED (which basically all the rest) will beat reflections better.
❌ You're a gamer: It provides gaming-related features but lacks major gaming features like 120Hz support.
LG's A2 series TVs are the firm's cheapest OLED offerings, and while they're not quite as feature-rich as their more expensive stablemates they still deliver a lot of TV for the money. LG's OLED panels are wonderful things with superb color and contrast. While the panel isn't as bright as the ones in more expensive LG TVs, it's still very good for the clarity it delivers. It also has LG's webOS smart TV operating system, which we think is the best in the business.
The A2 series is outfitted with LG's Alpha 7 Gen 5 AI Processor, which first appeared in the company's 2021 models and provides features such as dynamic tone mapping and 5.1.2-channel sound upmixing. The Dolby Vision, HDR10 and HLG high dynamic range formats are all supported by the A2 series, along with Dolby Vision IQ and HGiG (HDR Gaming Interest Group). Its Filmmaker mode delivers accurate color and motion settings, and also shuts off any automatic processing that would change the picture from the way a movie's director originally intended for it to be presented.
Overall, the A2 series is relatively low on features compared to both LG's other OLED TVs and the best 4K TVs generally. The main differences are in gaming-related specs such as HDMI 2.1 inputs, a 120Hz display, VRR (Variable Refresh Rate) and FreeSync, all of which are available on the company's step up B2 series TVs. If you don't require gaming features though, this is a very impressive and affordable TV.
Read our full LG A2 review
The best OLED TV for picture quality
The best OLED TV for image quality, if money's no object
Specifications
Screen size:
55-inch and 65-inch
HDR:
HDR10, HLG, Dolby Vision
Reasons to buy
+
Stunning picture quality
+
Good sound out of the box
Reasons to avoid
-
Some connection frustrations and foibles
-
No HDR10+ support
BUY IT IF
✅ You want class-leading picture: A Quantum Dot OLED panel plus Sony's Cognitive Processor XR is truly a match made in picture-quality heaven.
✅ You want room-filling built-in audio: The A95K's Acoustic Surface Audio+ approach of using the screen as the speakers works excellently.
DON'T BUY IT IF
❌ You're a Dolby Vision gamer: No HDMI support for Dolby Vision HDR with games played at 4K resolutions and 120Hz frame rates at the same time.
❌ Funds are limited: While not bad value given just how excellent it is, the A95K is very much at the premium end of the market.
The Sony A95K is an OLED TV masterpiece. It masters Quantum Dot OLED technology, combining OLED's black level prowess and peerless light control with brightness and pure color. Sony's excellent Cognitive XR processing engine delivers images so good we were truly shocked during our testing. We'd even say that the Sony A95K delivers arguably the most flat-out beautiful images we've seen from a consumer television. The new Samsung S95C (also in this list) provides even brighter images thanks to its next-gen QD-OLED panel, but with Sony's refined image processing and support for Dolby Vision HDR, we suspect that cinema lovers will still prefer Sony.
Not only is the picture a sight to behold, the Sony A95K makes a statement the second we lifted it out of its box. It has a unique design with a full-width metal plate stand that you can sit behind the TV for a minimal look or in front of it for an industrial one. The build quality is excellent, leaving you in no doubt this is one hell of a premium TV.
Although we'd always recommend pairing your new TV with a soundbar, we found the sound of the Sony A95K to be impressive. This is because it follows previous Sony OLED TVs with Acoustic Surface technology, where the TV's screen essentially doubles up as its speakers.
As you might expect from such a premium experience, it has an eye-watering price tag to match, coming in at nearly a whole $1000 / £1000 more than some of our other favorite OLED TVs on this list. So although it's truly deserving of being in our best OLED TV guide for its outstanding picture quality, only those willing to spend a small fortune should consider it.
Read our full Sony XR-A95K review
The best OLED TV for brightness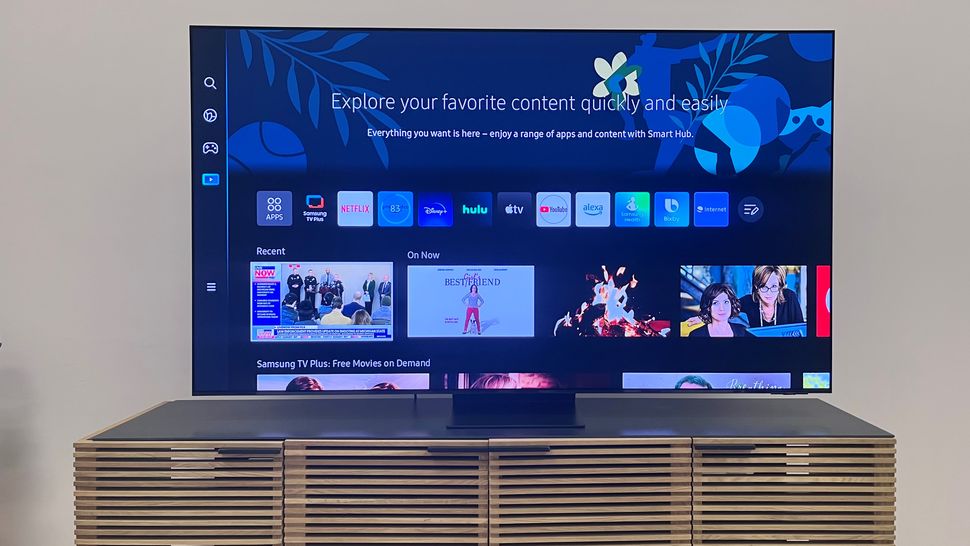 The brightest OLED TV we've tested (so far)
Specifications
Screen size:
55-inch, 65-inch, 77-inch
Reasons to buy
+
Class-leading color and contrast
+
Beautiful ultra-slim design
Reasons to avoid
-
No Dolby Vision support
-
Image needs tweaking to perfect it
BUY IT IF
✅ You want a bright OLED picture: The S95C offers class leading brightness for OLED TVs, thanks to its QD-OLED technology.
✅ You like a slim design: The miniscule screen trim, ultra-slim rear and external connections box make it an incredibly elegant TV.
DON'T BUY IT IF
❌ Dolby Vision is a must: Samsung continues to have no truck with Dolby's popular premium HDR format.
❌ Mini-LED suits you more: If you have a particularly bright room, even the much-improved brightness here won't satisfy your TV needs.
In our measurements, Samsung S95C is the brightest OLED TV we've ever tested (beating the likes of the LG C2 by about 70%), which means that it not only delivers some of the best HDR images to date, it also offers rich, clear and accurate colors that are like nothing else on the planet.
In our full review, we said: "High dynamic range content, for instance, looks vastly more punchy and realistic – especially as the intensity with which bright highlights like shots of the sun, bright lamps, light glinting off metal and glass and so on is delivered without any compromise to the sort of deep, rich, inky black colors that are the foundation of OLED's traditional home theater talents."
It does struggle a bit with its motion processing, it lacks Dolby Vision HDR support, and we recommend tweaking the presets to get the best image, which is why we think a lot of cineasts will prefer the Sony A95K for sheer accuracy to the source. But when it comes to spectacle, or simply having something more visible in a bright room during the day, the S95C is astounding.
When you throw in sound that follows what's happening on screen, comprehensive streaming support, and support for all the latest HDMI 2.1 gaming features (including 4K 120Hz and Variable Refresh Rates), it's absolutely one of the best TVs available today.
Read our full Samsung S95C review
The best OLED TV for elite design
The best OLED TV for wall-mounted class
Specifications
Screen size:
55-inch, 65-inch, 77-inch, 83-inch
HDR:
HDR10, HLG, Dolby Vision
Reasons to buy
+
Gorgeously bright, vibrant pictures
+
Super-thin, wall-mounted design
Reasons to avoid
-
No stand in the box
-
No HDR10+ support
BUY IT IF
✅ You want an OLED that looks physically impressive: The G2's sleek, clean design with minimal bezel means it looks elegant on the wall compared to other OLEDs.
✅ You love gaming as well as movies: As well as its bright pictures being well suited to all sources, the G2 has four HDMI 2.1 ports and every big gaming feature.
DON'T BUY IT IF
❌ You think the C2 or C3 might be good enough:
If money's tight you may feel the extent of the difference isn't enough to justify the price difference – especially since this doesn't come with a stand…
❌ You want HDR10+ support: Some rival TVs support both of the premium HDR10+ and Dolby Vision formats, LG still only supports Dolby Vision.
The LG G2 is first choice for the interior-design conscious, thanks to some very thoughtful physical touches from LG. The look is just part of it: it features a two-layer effect where a thin black rear 'slab' sits proud of and slightly narrower than a chunkier front tier housing the screen that's encased in a very fetching and opulent-looking silver metal coat. But more importantly, it's evenly thin the whole way across (unlike most TVs, which have a thin top and sneak a thicker part near the bottom to house connections and processors), and comes with a custom wall-mounting bracket in the box so it can be mounted flush against the wall, with no unsightly gap at all (it doesn't even come with a regular stand, but you can buy one).
The quality of the G2 OLED's connections is beyond reproach. In particular, all four of its HDMI ports are capable of handling the maximum 48Gbps of data supported by the HDMI 2.1 standard. This means that hardcore video gamers could simultaneously attach an Xbox Series X, PS5 and cutting-edge PC graphics rig to enjoy full-fat 4K at 120Hz, variable refresh rates and automatic low latency mode switching from all of them. That, plus you'll still have one HDMI left for adding a 4K Blue-ray player or streaming box.
Image quality is mostly similar to the LG C2 at the top of our list (they share the same processor), but it's significantly brighter. In our review, we found that the extra brightness gives colors more volume and punch, regardless of whether you're talking about a very vibrant, rich tone or a subtle, mild one. It's not as bright as the Samsung S95C, of course, but if you're looking for an OLED TV mixing super-premium and super-premium pictures (at a premium price, of course), this is excellent.
Read our full LG G2 OLED TV review
The best OLED TV for future-proofed features
The best OLED TV for future-ready features
Specifications
Screen size:
42-inch, 48-inch, 55-inch, 65-inch, 77-inch, 83-inch
HDR:
HDR, HLG, Dolby Vision
Reasons to buy
+
Improved smart TV platform
+
Excellent connectivity and features
Reasons to avoid
-
Not as bright as more premium OLEDs
-
Currently higher-priced than LG C2
BUY IT IF
✅ You want a versatile OLED TV: With a vivid, detailed picture, great gaming features and an array of sizes, the C3 covers a lot of bases.
✅ You like an intuitive smart TV platform: webOS 23 by LG is a much improved, streamlined version of its 2022 smart platform.
DON'T BUY IT IF
❌ You want the brightest OLED TV possible: The Samsung S95C offers a much higher peak brightness than the LG C3.
❌ You want to save money: LG's C2 series OLED TV offers nearly equivalent performance to the C3 in most respects.
The LG C3 is the 2023 replacement for the LG C2 that sits at the top of our list, though because the changes in picture quality aren't huge and the C2 is much cheaper, we still think that's the TV most people should go for.
However, make no mistake that the C3 does deliver even better image quality than the C2. In our review, we noted that the new model is very slightly brighter than the previous version, and also seems to handle contrast better in the processing – but more importantly is even more future-proofed and easy to use.
The smart TV software is excellent and makes it much easier to find what you actually want, while also putting key settings (that you choose) in a Quick Menu, so you can tweak what the TV's doing easily. It's fully equipped for next-gen gaming on all four HDMI ports, with 4K 120Hz, VRR and (this is rare) Dolby Vision gaming for Xbox.
And it throws in new features such as Quick Media Switching, so external devices can change frame rate or you can move between HDMI ports without the traditional TV feeling that the whole thing is about to fall over. And LG's new Wow Orchestra feature means the TV's speakers can work with compatible LG soundbar's speakers, instead of being replaced by them, for even better results – we tested it, and it's impressive.
So while we're steering most people to the LG C2 still, if you want the absolute peak of smart TV features, the C3 should be your pick.
Read our full LG C3 review
The best OLED TV for sound
The best mid-range OLED TV with bigger, richer audio
Specifications
Screen size:
55-inch, 65-inch, 77-inch, 83-inch
HDR:
HDR10, HLG, Dolby Vision
Reasons to buy
+
Incredibly real image quality
+
Built-in sound is above average
Reasons to avoid
-
Less bright than the top OLED TVs
-
Only two HDMI 2.1 ports
BUY IT IF
✅ You want an OLED TV that loves films as much as you do: Serious home theater fans will love the incredible 4K clarity, beautiful light control and peerless color refinement.
✅ You want powerful and immersive built-in audio:
Sound is pushed directly forward into your room and effects are placed with accuracy for a more impactful experience.
DON'T BUY IT IF
❌ You have a bright room: The latest QD-OLED or MLA OLED TVs can provide massively higher brightness.
❌ You want all the latest gaming features:
Only two of the A80L's HDMIs support 4K at 120Hz with VRR, and the TV can't support Dolby Vision at 4K 120Hz at all.
The Sony A80L is a mid-range OLED and direct competitor to the LG C3 (though it's slightly cheaper than that TV in some countries) that delivers all the essentials for an OLED TV: detailed blacks, well-saturated color, and 4K 120Hz support for gaming. The icing on the cake is Sony's Acoustic Surface Audio+ tech, which uses actuators to turn the screen itself into a speaker, combined with two subwoofers for a fuller range. This is that rare thing, a TV that doesn't have us recommending a soundbar as a must-have: it's impressively loud and does a great job of matching the positioning of sounds to what's on the screen.
The image quality is astounding too – especially when it comes to natural-feeling detail. Sony's Cognitive Processor XR is a step above anything else when it comes to creating super-sharp 4K images from streamed content that doesn't feel over-sharpened, and nothing makes sub-4K video look as good. Color and contrast are excellent handled too, especially nuance in dark tones. The one downside is that it isn't very bright – basically, for movie lovers watching in darkened room, it's wonderful, but in a light room it'll get overwhelmed by reflections.
It's a good gaming set too, especially for PS5 owners, thanks to its 'Perfect for PS5' features, which include better handling of HDR and auto mode-switching for different genres when playing on the console. It's a shame that only two of its four HDMI ports support full HDMI 2.1 features, though – you get four HDMI 2.1 ports from most LG TVs, or the Samsung OLED models.
Read our full Sony A80L review
The best cheaper OLED gaming TV
A more budget-friendly OLED TV with 120Hz for gaming
Specifications
Screen size:
55-inch, 65-inch, 77-inch
HDR:
HDR10, HLG, Dolby Vision
Reasons to buy
+
HDMI 2.1 with 120Hz and VRR support
+
Cheaper than almost everything else
Reasons to avoid
-
Lower brightness levels
-
Unimpressive audio performance
BUY IT IF
✅ You want an affordable gaming OLED: Although not as cheap as the LG A2, the B2 offers more gaming features for a bit of extra money.
✅ You want a great TV for watching movies:
The B2 series will satisfy movie fans with its deep shadows and impressive overall performance.
DON'T BUY IT IF
❌ You have a naturally bright room: Although slightly better than the A2, the B2 still struggles with low light output levels compared to all other OLEDs here.
❌ You don't want to add a soundbar: The B2's built-in audio is passably good, but loud action movies will be better served by a soundbar.
LG's B-series TVs are among its more affordable models, offering a step up in specification from the even cheaper A series without massively increasing the price.
Inevitably some compromises have been made to get the price down, so the B2 doesn't get the same bright panels as its more expensive siblings. However, it offers a decent specification for a very good price – including an excellent set of HDMI 2.1 gaming features including 120Hz, Variable Refresh Rate (VRR), auto low latency mode (ALLM), and more.
Audio performance isn't hugely impressive, although that's par for the course at this price bracket – you're definitely going to want a subwoofer or surround sound system here – but the picture quality is very impressive with exceptional contrast, great HDR and vibrant, detailed images.
If you're buying a TV for gaming as movie watching, this is one of the most affordable OLED options and it performs well for the price – but it's dangerously close in price to the LG C2, which is noticeably superior. However, it has a significantly better specification than the A2, including all those gaming features – if you want a next-gen gaming set at these sizes for lowest-possible price, this is the OLED to go for.
Read our full LG B2 review
How to choose an OLED TV
How to choose the best OLED TV for you
OLED TVs tend to be premium TVs, which means you're getting a certain level of features in almost all of them – they're all 4K, they're mostly 120Hz for gaming, for example, and they tend to all have four HDMI ports, and premium smart TV software.
But they're absolutely not all the same. Some are much brighter than others (around twice as bright, in some cases), some have more HDMI 2.1 ports for next-gen gaming, some have better sound systems, and they don't all come in the same size options.
It's important to consider what size TV is best for you, and to do that you'll literally need to measure the space you have to work with. Remember a TV that fills every available scrap of space in your living room might sound like a great idea, but you'll need to consider viewing angles, screen brightness and whether you'll be able to sit a decent distance from the TV to fully appreciate it. The LG C2 and C3 have the widest range of sizes of any TV we feature, so if you need something smaller, that's a great place to start.
When it comes to HDR support, we recommend mostly that people choose TVs with Dolby Vision, because it's the most commonly used advanced HDR format on the best streaming services. Samsung TVs only use HDR10+, which is similar technology, but not as well supported. It's not a dealbreaker that Samsung's TVs don't support Dolby Vision, but as you'll see in our list, we prefer sets that include it.
How much do OLED TVs cost?
The cost of OLED TVs varies hugely depending on what technologies are thrown in with an OLED panel, such as the resolution, processor, build quality, built-in speakers, and more. But suffice to say that entry-level models sit around (or, more recently, just under) the $1,000 / £900 / AU$1,500 mark.
More mid-tier OLEDs at larger sizes (65 inches and above) can double that figure, or triple it when you're looking at the cutting-edge high-end panels. You might also notice that you don't get that much of a lower price with the smaller 42-inch sizes of OLED TV – that's because making them so small relies on relatively new tech, so they're not quite such good value per inch.
Sales periods such as Prime Day or Black Friday tend to include lots of discounts on OLED TV models, though – especially from LG and Samsung.
Should I buy OLED or QLED?
OLED isn't the only option for savvy TV buyers. Samsung's competing QLED televisions outperform for brightness, while the introduction of Mini LED backlights has only improved peak light output and overall contrast – the areas that OLED generally has the upper hand with, thanks to its per-pixel brightness control.
It's a tighter race than ever, then, though it's worth assessing secondary characteristics for OLED and QLED screens. An OLED with a cheap processor may cause more artefacts and video noise, while a QLED with edge-lighting won't get the true benefit of its enhanced color and contrast. Format or feature support can be crucial if you're hooking up your TV to a PC, a games console, or a 4K Blu-ray player too.
What is the lifespan of an OLED TV?
According to LG Display, the makers of the OLED panels that go into every OLED TV on the list - around 100,000 hours. For most folks that's about 10 years of TV watching and far exceeds the 40,000 to 60,000-hour lifespans of most LED-LCD TVs. That said, OLED TVs can experience something called burn-in when a static image is left on the screen for prolonged periods of time - so be sure to change the channel every few days.
Best OLED TV competitors: what else is out there?
OLED is, for many, the premium TV tech of the moment. Though once weighed down by inaccessible price points, a flurry of cheaper mid-range OLEDs and smaller panel sizes has helped bring OLED closer to the mass market.
Samsung and Sony's current TV lineups include QD-OLED hybrids (they combine OLED panels with quantum dot tech, utilising the self-emissive properties of the former and color enhancements of the latter) – we have a separate guide to whether you should buy a Samsung OLED TV, if you want to read more about them.
For those with cash to splash, you'll be choosing between a high-end OLED TV and Micro LED – a self-emissive panel technology that Samsung has leant into in recent times, but which has proved difficult to offer either affordably or at mainstream sizing (88-inch is the smallest we've heard about so far, as of 2023).
It's a more complicated picture than simply OLED, then, though for deep blacks and true-to-life color – at a size you can actually get into the average living room – OLED may still be the best choice.
Is burn-in a problem in OLED TVs?
Burn-in, also known as screen burn or permanent image retention, is a visual artefact that sometimes appears when a TV has shown the same thing in the same place for a long time. It definitely happens on some OLED TVs, but manufacturers have come up with lots of ways to minimise the likelihood of it happening to yours.
There are three main ways in which OLED TVs can minimise the likelihood of burn-in. They can use image analysis to identify static images – TV channel logos, for example – and subtly dim them. They can gently shift the image around by a few pixels, something that your OLED probably does already without you noticing it.
And there's a more brute-force approach, where the TV automatically dulls the brightness of the whole display when it detects a bright and potentially burn-in item. That latter one is the least popular because if it isn't implemented well it can be quite dramatic and quite annoying. More modern TVs with this tech, known as ABL (Auto Brightness Limiting) are much more subtle about it than older ones.
Last but not least, you can take the DIY route. The default modes such as Vivid Mode on some TVs can be ridiculously bright, so changing them or using less blazing settings will make your eyes happy and reduce the risk of burn-in even further.
Ultimately burn-in is all about heat, hence the name. And the best way to reduce the risk of it and perhaps eliminate it altogether is to manage heat better in OLED TVs. And manufactures are doing just that. You'll find clever heatsink technology and heat dissipation design in OLEDs from Panasonic, LG, Sony and more.
We're not saying burn-in doesn't exist. It does. But the advances in OLED TV tech in recent years means it's much less of an issue than it was in early OLEDs, and for most of us it's something we don't really need to worry about too much.
How we test the best OLED TVs
When TechRadar tests TVs, the first step is to spend a few days using it for casual viewing for break-in and to assess the out-of-box picture presets. The next step is to select the most accurate-looking preset (typically labeled Movie or Cinema) and measure the white balance (grayscale), gamma, and color point accuracy using Portrait Displays' Calman color calibration software. The resulting measurements provide Delta-E values (the margin of error between the test pattern source and what's shown on-screen) for each category, and they allow for an assessment of the TV's overall accuracy.
Along with those tests, we make measurements of peak light output (recorded in nits) for both standard high-definition and 4K high dynamic range using white window patterns ranging from 1% to 100%. Coverage of DCI-P3 and BT.2020 color space is measured, with the results providing a sense of how faithfully the TV can render the extended color range in ultra high-definition sources. Contrast ratio measurements are also performed.
After calibrating the TV's picture for best accuracy with SDR and HDR sources, we watch a range of reference scenes on 4K Blu-ray discs as well as new material streamed from sources like Netflix, Disney Plus, Amazon Prime, and HBO Max.
Our final verdicts are based on combining the objective data with our subjective opinions on elements such as how natural the motion processing looks, and then comparing with the key competition to say whether a TV looks like good value or not.
Like our readers, our reviewers' room layouts differ and may cause slight disparities in testing, however we make every attempt to question our assumptions and troubleshoot our issues with performance in every review.
The latest updates to this best OLED TVs guide
21 September 2023
Added more buying advice for each model.
18 August 2023
Confirmed all links to ensure availability of models in list.
26 June 2023
Added this 'latest updates' section, to help readers see what recent changes have been made. Checked the products in the list against our latest reviews.