There's no denying that the best 75-inch 4K TVs are among the kings of the home theater experience. A 75-inch TV can really get the most out of a 4K resolution as can the less standard 8K that's slowly gaining traction in the market. A great 75-inch TV can produce a higher quality picture than what 55-inch and even 65-inch TVs can manage.
Even better, prices have started to fall for 75-inch TVs with some models dipping below the $1,500/£1,500 mark. With Black Friday 2021 coming up soon, expect to see some fantastic Black Friday TV deals popping up now.
Here's just a sample of the best deals we've seen so far:
TCL 6-Series 75-inch Mini-LED 4K UHD Smart TV:  $2,299
TCL 6-Series 75-inch Mini-LED 4K UHD Smart TV: $2,299 $1,299.99 at Best Buy
Save $1,000 - If you're looking for a huge saving on an even bigger display in this week's early Black Friday TV deals, don't miss this huge price cut on the TCL 6-Series. With cutting-edge Mini-LED backlight technology, great upscaling, and Google Assistant, this one's a great choice if you're serious about your picture quality but don't want to break the bank on an LG or Samsung display.
Samsung 75-inch Q80A Series QLED 4K UHD Smart TV: $2,699.99
Samsung 75-inch Q80A Series QLED 4K UHD Smart TV: $2,699.99 $1,699.99 at Samsung
Save $1,000 - Samsung just released early Black Friday TV deals, and we've spotted a massive $1,000 price cut on this 75-inch QLED TV. That's the lowest price we've seen and an incredible deal on a big-screen QLED TV. This 2021 Samsung set delivers a brilliant picture with bright, bold images thanks to Full Array backlighting and a powerful 4K Quantum Processor.
Sony 75-inch X80J Series 4K UHD Smart TV: $1,399.99
Sony 75-inch X80J Series 4K UHD Smart TV: $1,399.99 $1,049.99 at Amazon
Save $350 - One of the most popular early Black Friday TV deals is this 75-inch 4K TV from Sony that's on sale for a record-low price of $1,049.99. The smart TV delivers a cinema-like picture experience thanks to Sony's powerful X1 4K HDR processor and works with the Google Assistant and Amazon Alexa for smart home compatibility and hands-free control.
TCL 75-inch 4-Series 4K UHD Roku Smart TV: $898
TCL 75-inch 4-Series 4K UHD Roku Smart TV: $898 $698 at Walmart
Save $200 - If you're on the hunt for a cheap big-screen TV, Walmart's early Black Friday TV deals include this 75-inch 4K TV from TCL that's on sale for just $698. An incredible price for a feature-rich TV, the TCL set features 4K Ultra HD resolution and comes with the Roku operating system for seamless streaming.
In case you choose to buy somewhere else, do be wary of 75-inch 4K TVs at a price that seems too good to be true. While it may seem like you're getting an excellent deal, an older 75-inch TV could be using older LCD tech that was designed for use on smaller screens. This will likely mean that the size of the TV is just a novelty, and doesn't actually deliver the high image quality that the best 75-inch 4K TVs can definitely provide.
Now you understand what to look for, here's our guide to the best 75-inch 4K TVs you can buy in 2021 – as well as a choice 8K TV for those of you with truly premium tastes. Keep in mind, too, that the OLED TVs in this list will all be at a 77-inch size, rather than 75-inch.
Best 75-inch TVs
The LG G1 OLED is a knockout 77-inch 4K TV that builds on the sleek design of last year's Gallery Series OLED and somehow makes it better.
The real hero here is LG's new OLED evo technology, which updates the panel structure to eke out even more brightness – without increasing blooming effects or, we're told, the chance of burn-in. The LG G1 looks to be a real revolution for the OLED TV maker, then, and certainly offers an upgrade over the cheaper LG C1 OLED – unlike last year, when the CX and GX models were worlds apart in price but effectively offered the same picture performance.
It's an expensive set, and the Dolby Atmos sound system isn't the best for bass – something that will effect all the other LG OLEDs in this guide. But the breathtakingly slim design makes it a real centerpiece television, with the contrast and color benefits of OLED pushed to new, lighting-enhanced heights. The new a9 Gen 4 AI processor is even more capable of smartly upscaling and processing onscreen objects, too, with motion processing in particular getting an upgrade.
Watch out though: the G1 is really designed to be wall-mounted, and it won't come with a TV stand or feet out of the box. You can buy a floorstanding Gallery Stand alongside, or find a third-party solution for placing on a counter, though it might be increasingly tricky to support this screen at a 77-inch size.
Read more: LG G1 OLED TV review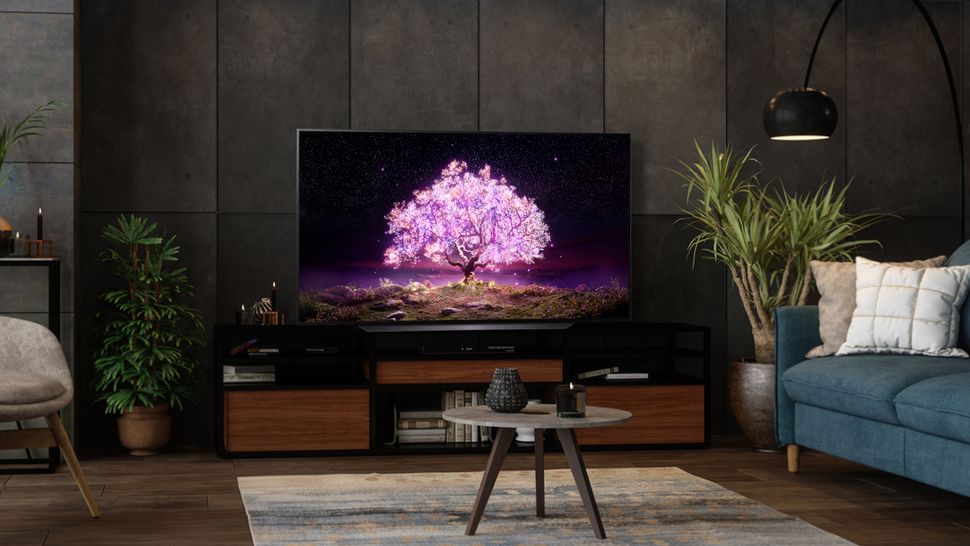 As a follow up to our best TV last year, the LG CX OLED, we had high expectations for the C1 OLED – and yet, it has managed to deliver on all of them, earning its place in our best TV 2021 guide.
That's because LG has made a number of small tweaks to last year's model. It's now using LG's Alpha a9 Gen. 4 processor for better upscaling and virtual surround sound audio, and with four separate HDMI 2.1 ports, it's ready for the PS5, Xbox Series X, Xbox Series S, and whatever next-gen consoles can throw at it. Gamers will also appreciate the new Game Optimiser menu that gives you the option to quickly adjust brightness, contrast and VRR on the fly.
The LG C1 isn't flawless, as we did encounter issues around how the new Alpha a9 Gen. 4 upscales faces, and how reflective the all-glass screen is in the daylight, but the issues are few and far between.
There are, of course, higher resolution TVs out there right now like the LG Z1 OLED, which offers 8K resolution, and the new LG G1 Gallery Series that uses the coveted OLED evo panels that offer better brightness. However, we feel that the LG C1 OLED offers the best blend of price and performance and makes for one of the best TVs to buy in 2021 and beyond.
Read the full review: LG C1 OLED
The Samsung QN900A Neo QLED 8K TV ushers in a new era of television technology in one of the best 75-inch TVs we've seen this year.
It's at a 75-inch size that 8K resolution really starts to come into its own, with the increased detail over 4K Ultra HD coming to the fore.
Unlike the model topping this list, the QN900A comes in an exact 75-inch size, and utilises the Mini LED backlight common across Samsung's new Neo QLED range. It's certainly a notable improvement, with truly stunning picture quality, exceptional color and brightness, and outstanding blacks. And this screen is quite the looker on the outside, too.
For the uninitiated, Samsung's 'Quantum' Mini LEDs are 1/40th the thickness of a regular LED, meaning thousands of smaller LEDs can be packed together in a much tighter fashion, allowing for far more accurate dimming zones and black levels that are practically indistinguishable from an OLED.
And because it takes advantage of Samsung's Multi-Intelligence AI upscaling, the QN900A is consistently able to produce images that looked better than their source. You'll get to benefit from a host of gaming features too, with the latest HDMI 2.1 and eARC features, 4K/120fps and 8K/60fps passthrough, as well as Game Motion Plus and AMD FreeSync Premium Pro for those connecting to a PC.
Read the full review: Samsung QN900A Neo QLED 8K TV
With the OLED806, Philips has delivered a good-looking, well-made OLED TV with an absolute stack of functionality, a unique selling point and periodically splendid picture quality. And it's done all this for a real-world price.
Including every HDR standard isn't unique - Panasonic does it too - but it certainly makes every other rival look a bit petty. A couple of HDMI inputs with full 2.1 specification is no more than next-gen gamers deserve. And the excellent picture quality - balanced and naturalistic, yet vibrant and exciting at the same time - is augmented by four-sided Ambilight for extra immersion and reduced eye-strain.
What with this being an OLED panel, we're entitled to expect clean, deep and lustrous black tones - and, sure enough, that's what we're given. But they're revealing and consistent too, with a deeply impressive amount of detail and variation with them. And they're complemeted at the other end of the spectrum by clear and equally detailed white tones - the Philips doesn't use one of the most recent super-bright OLED panels enjoyed by pricier 2021 models from LG and Sony, but it's capable of punchy and convincing contrasts nevertheless.
Read more: Philips OLED806 review
While TCL's awesome (and inexpensive) 6-Series has been around for a while, it wasn't until 2019 that a 75-inch model came to stores – and even as the price stays the small, the screen definitely goes big.
This TCL TV offers Dolby Vision support, and comes with Roku TV as its smart platform – though this size model is available exclusively to Best Buy in the US.
While TCL's 6-Series didn't impress us quite as much as the other TVs on this list, it is a competitive screen at its price point, offering bright, colorful HDR and exceptionally clear images.
If you have deep pockets and a chequebook ready to go, we'd still tell you to reach deep and shell out for something higher on this list. But if the TCL 6 Series is what's in your budget, it will provide exceptional performance for the price.
Read the full review: TCL 6-Series
The best LG TVs usually feature OLED panels, but the Nano90 is an exception as the flagship 4K LCD from LG last year – offering premium features, excellent processing, and a massive size for a significantly lower price than the 77-inch OLED TVs out there.
LCD is still the cheaper way to go, and you are having to put up with some issues you won't see on OLED: the Nano90 suffers some mild backlight flickering, for one, though the black levels are still very impressive for an LCD set.
The Nano90's wide viewing angles, strong color performance, and reliable webOS smart platform all make it a 75-inch screen that's easy to recommend – that is, if you can't stump up the cash for a (let's admit it, superior) OLED model like the CX above.
Read more: LG Nano90 TV review
At $1,199, the 75-inch Hisense U6G ULED TV is among the most affordable options for a big-screen 4K TV. That's cheaper than the company's previous efforts with the H8G Quantum Series.
There's even a bit less of a price gap between the U6G's 65-inch and 75-inch variants, with the latter's slightly lower price certainly being more palatable to those wanting to go big. And we'd say the larger option is well worth it, especially with the U6G's support for HDR10+, Dolby Vision and HLG formats. These options mean you're getting excellently sharp and colorful image quality for the price.
As for drawbacks, there aren't a ton, but we weren't fans of the remote that shipped with the U6G. It's a little bloated compared to the relatively simple, stripped back designs of Apple TV or Google Chromecast remotes, but it's by no means a deal breaker.
You'll also want to invest in a soundbar, as like most other Hisense TVs, the default speakers aren't the greatest.
Read more: Hisense U6G ULED TV review
Buying the best 75-inch 4K TV for you
Is a 75-inch TV too big for a living room?
While many promotional and marketing images might lead you to believe that a 75-inch TV is too big for a living room, this really isn't the case for lounges of an average size.
So long as you have a table or stand that's accommodating to the TV's large size, and create adequate space for peripherals like soundbars and speakers, a 75-inch TV won't take up as much real estate as you might think.
Do keep in mind that you may have to rearrange the room around the TV for the best possible viewing experience, however.
How far should you sit from a 75-inch TV?
For optimal viewing with a 75-inch TV, we'd recommend sitting roughly 50-60 inches away from the screen for a fully immersive experience. Rearranging the furniture in your room to accommodate this will help, and it could be as simple as slightly adjusting your couch.
How much does a 75-inch TV cost?
The very best 75-inch TVs can vary wildly in price. The LG G1, for example, will run you an eye-watering $4,499 / £4,799 (around AU$6,000), while Hisense present a much more affordable option in the U6G at $1,199 (around £790 / AU$1,470).
The difference in price here seems drastic considering both examples offer excellent picture quality. It all depends on how much you're willing to pay for extra bells and whistles and design sensibilities, such as the G1's wonderfully thin design and best-in-class options for gaming.
Do be extra wary about TV sales that sound too good to be true, though. If you see a 75-inch 4K TV for around $600 / £600, it's probably going to let you down in terms of picture performance with bad backlighting and cheap edge-lit LED panels that produce poor black levels and contrast.
During key sales periods such as Black Friday, of course, those pricing expectations are a little different, so in any case it's worth paying attention to how much a 75-inch TV was at launch.
Some Hisense TVs can have a high launch price and quickly undercut it for a sense of value, and often you can get a good discount at least a few months after release, but in general you should be looking for the largest discount compared to a previous price, rather than just the cheapest 75-inch TV out there. And if you're low on cash, you should probably be opting for a decent 65-inch TV, rather than a half-baked 75-inch one.
Once you get to a 75-inch size, too, 8K TVs really become a smart investment too. That's because the greater number of pixels over 4K (33 million rather than eight million) ensures far greater detail at that size. A 55-inch 8K TV doesn't really make much of a difference, but a 75-inch 8K TV certainly does.
Jamie Carter contributed original reporting to this article.