Editor's note: January 2023
Our guide to the best 75-inch TVs is led by the LG C2 series model, winner of the best TV in the TechRadar Choice Awards 2022. Beyond that, you'll find budget TVs from Hisense, TCL, and also Samsung, along with more premium and pricey sets, including 8K ones (a screen size at which 8K resolution starts to make sense). With many retailers keen to shift stock in the post-Christmas lull, this is a perfect time to find a deal on a truly big-screen TV – our widgets below will show you the latest sales.
Matthew Bolton, Managing Editor - Entertainment
When it comes to getting a cinematic experience, the best 75-inch TVs can deliver something significantly closer to what you'd see at the cinema when stacked up against smaller models.
Having a TV of this size really has its advantages. Not only are details more noticeable thanks to the super-sized image, but you'll typically see brighter images with better contrast and richer colors, too.
In the past it's been prohibitively expensive to buy a 75-inch TV, because it was mostly only the very best TVs that came in these sizes. But that's not always the case these days – in fact, it's fairly easy to spot a good 75-inch TV deal every week that sees some behemoth television screen cut down in price to around what the best 65-inch TVs or best 55-inch TVs would cost.
Our guide has been designed to reflect a variety of prices, including some surprisingly affordable options as well as cutting-edge, ultra-premium home theater monsters, and we're constantly updating it as new models hit store shelves.
Let's get to the sets. Right below you'll find our guide to the best 75-inch 4K TVs you can buy in right now – including the best 8K TVs, because at this size that extra resolution really makes a difference. You'll also find many of the best OLED TVs here, though at 77 inches instead of specifically 75 inches. That's because OLED display panels are made slightly differently.
The best 75-inch TVs 2023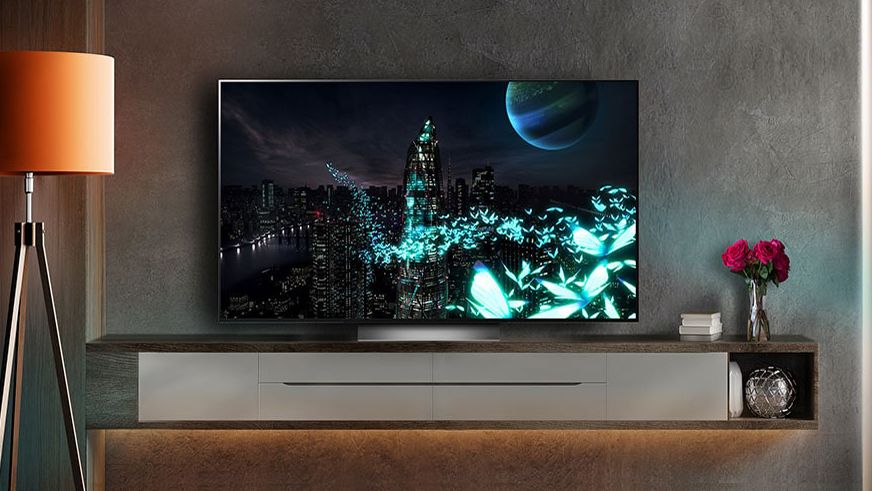 Although 75-inch TVs do look better with an 8K resolution, the LG C2 OLED does a tremendous job of filling up the screen space with its 4K resolution. Because it's an OLED TV, you're getting fantastic black levels and color saturation and all for a price that won't break the bank.
Improvements for 2022 include the new Alpha a9 Gen 5 processor, which is designed to offer better object enhancement and dynamic tone mapping than its predecessor. As well as that, you're getting 'virtual surround sound', with the TV upscaling stereo content into 7.1.2-channel sound. While we weren't convinced by the claims of virtual surround sound, the audio performance is good for a flatscreen TV, and a number of different sound modes means you should be able to find an audio profile that suits your needs.
In addition to those improvements, the C2 OLED carries forward the four separate HDMI 2.1 ports that it inherited from the C1 OLED, meaning it's the perfect companion for the PS5, Xbox Series X and Xbox Series S.
The LG C2 isn't flawless, however. Off-axis color saturation does diminish a bit when you move to the left or right of the screen when compared to the new QD-OLED models and LG doesn't support either the IMAX Enhanced or HDR10+ format.
There are, of course, higher resolution flatscreen TVs out there right now like the Samsung QN900B, which offers 8K resolution, and the new upgraded LG G2 OLED that has a slightly higher peak brightness, but for the price, this is the absolute best TV you're able to buy right now.
Read our full LG C2 review
The Sony X90K is excellent value for money, delivering fantastic performance for its price. It has a full-array LED backlight and features local dimming, which results in deep blacks. Along with the LCD panel's quantum dots, there's enhanced brightness and color here too. During our testing, we really enjoyed watching this TV – especially with a huge 75-inch screen.
Although the brightness here is good, it doesn't shine as brightly as other TVs on the market. Take a look at the Sony XR-77A80K in this guide for a brighter alternative. There are some blooming and uniformity issues with the Sony A90K. But there's also plenty to love, including its video and audio quality, Google TV interface and ATSC 3.0 tuner.
With extensive gaming features, including two HDMI 2.1 inputs and support for 4K/120Hz, VRR, and ALLM, this is also a great 75-inch TV for gamers to consider. This TV is also Perfect for PlayStation 5, a Sony initiative that activates both Auto HDR Tone Mapping and an Auto Genre Picture Mode to optimize the image when a PS5 console is connected.
Although this TV isn't solely for gamers. In our review we wrote that the Sony X90K is perfect if you love watching movies and sports, too: "The X90K series can deliver deep, detailed blacks for movie watching, and its peak light output is high enough to make it a good option for daytime sports viewing as well."
Although this isn't the perfect 75-inch TV, for the price its overall performance is very good and should satisfy even fussy viewers.
Read more: Sony XR X90K review
The 75-inch Hisense U6G ULED TV is one of the best 75-inch TVs for 4K TV buyers on a budget. It's even cheaper than the company's previous efforts with the H8G Quantum Series.
There's even a bit less of a price gap between the U6G's 65-inch and 75-inch variants, with the latter's slightly lower price certainly being more palatable to those wanting to go big. And we'd say the larger option is well worth it, especially with the U6G's support for HDR10+, Dolby Vision and HLG formats. These options mean you're getting excellently sharp and colorful image quality for the price.
As for drawbacks, there aren't a ton, but we weren't fans of the remote that shipped with the U6G. It's a little bloated compared to the relatively simple, stripped back designs of Apple TV or Google Chromecast remotes, but it's by no means a deal breaker. You'll also want to invest in a soundbar, as like most other Hisense TVs, the default speakers aren't the greatest.
Read our full Hisense U6G review
The Samsung BU8500 is an excellent all-rounder for a reasonable price. It's a 4K HDR TV (with the usual Samsung lack of Dolby Vision support) with a trio of HDMI inputs, voice-control, two (count 'em!) remote controls and a Tizen smart TV interface featuring all the apps you want at this sort of money. It's one of the best Samsung TVs for buyers who don't want to spend too much money.
Inevitably some compromises have had to be made to keep the price down. The upscaling isn't as good as you'll find on Samsung's more expensive models, although it's fine for most viewing, and the sound isn't great; we'd definitely recommend investing in one of the best soundbars so it sounds as good as it looks. And while there's compatibility with the ALLM and HGiG aspects of next-gen games console specification, there's no support for AMD FreeSync like there was in last year's Samsung AU9000. But in every significant area of picture-making, the Samsung's never less than competitive – and its backlighting is beautifully implemented, making it feel more expensive than it actually is.
We wouldn't recommend this TV if you want to watch a lot of old, pre-4K content: there are other TVs that deliver better visuals from lower-resolution sources. But if you feed it HD and 4K content this Samsung is one of the best 75-inch TVs for budget-conscious buyers.
Read our full Samsung BU8500 review
8K might feel a bit like overkill to some, but there's no doubt in our mind that the Samsung QN900B Neo QLED 8K TV is simply one of the very best 75-inch TVs when it comes to performance. Samsung's Mini LED-sporting QN900B Neo QLED 8K TV offers stunning picture quality, exceptional color and brightness, terrific sound and outstanding blacks – all in a package that's unmatched in terms of design.
For the uninitiated, Samsung's 'Quantum' Mini LEDs are 1/40th the thickness of a regular LED, meaning thousands of smaller LEDs can be packed together in a much tighter fashion, allowing for far more accurate dimming zones and black levels that are practically indistinguishable from an OLED.
As the LEDs are far smaller, they're able to achieve far more precision and less blooming, so the act of seeing bright areas of the screen unnaturally bleed over into darker spots should be greatly reduced or not evident at all. And because it takes advantage of Samsung's Multi-Intelligence AI upscaling, the QN900A is consistently able to produce images that looked better than their source.
So why did we dock it half a point? Samsung's 2022 TV range sees the introduction of its new Smart Hub UI across its top models. It's a totally revamped interface that's anchored by a Google TV-inspired home screen populated by content recommendations from your various streaming subscriptions and apps.
Unfortunately, the change to a full-screen, content-packed home menu brings about some frustration. No longer can you easily adjust settings and change viewing modes on the fly – you now have to completely leave what you're watching or playing when bringing up said home screen, navigate to a sidebar menu, and then scroll down to a separate settings menu to perform actions that were just a few button presses away before. It's a minor issue, sure, but we just couldn't give it full marks until a fix arrives.
Read our full Samsung QN900B Neo QLED 8K TV review
The Hisense U8H packs in as many features as possible into a set that's very competitively priced. Yes, even the 75-inch version, costing $1,499 / £1,999 / AU$3,999, which we're recommending here.
With a mini-LED backlight, we found the U8H to deliver exceptionally high brightness along with rich color courtesy of Quantum Dots. With support for Dolby Vision IQ, HDR10+ Adaptive, and HLG, the U8H series is ready for all HDR formats, and there's also has a Filmmaker mode that provides mostly accurate out-of-box color.
There's also extensive support for next-gen gaming consoles here too: along with 120 Hz display, it offers Variable Refresh Rate (VRR), Auto Low Latency Mode (ALLM), and FreeSync Premium Pro. If you're looking for a monster screen for gaming, this would be a solid choice.
As with most new TVs these days, audio is only okay, so you'd definitely need a soundbar to pair it with.
Budget TVs keep getting better and better – a bit of good news during a time when people have less money to spend – and the Hisense U8H is a perfect example of that trend, which is why it's our choice for one of the best budget 75-inch TVs you can buy today.
Read our full Hisense U8H review
The Sony A80K offers all the best things you expect from an OLED TV such as deep blacks, superb HDR and well-saturated color, plus features like 4K 120Hz support for gaming and Sony's Acoustic Surface Audio+ tech. It's a compelling, high-performance, though not bank-breaking, OLED TV option. Unlike its main rival LG, Sony prefers to power its OLED TVs with Google TV and Google Assistant via a cleverly hidden mic in the TV remote.
As ever there's an alphabet soup of technologies here: XR OLED Contrast Pro, XR Triluminos Pro, and Cognitive Processor XR. In plain English they deliver superb upsampling, excellent motion processing and impressive picture quality, although the panel isn't as bright as the latest and greatest LG OLEDs. However this Sony punches above its price tag and has some clever innovations such as Sony's Acoustic Surface Audio+, which turns the screen into a speaker. It delivers very impressive Dolby Atmos positional audio without requiring a subwoofer.
This is one of the best 75-inch TVs for gamers too. There are twin HDMI 2.1 inputs that support 4K 120Hz video, variable refresh rate (VRR), and auto low latency mode (ALLM), and there's Auto HDR Tone Mapping for PS5 gaming. In the US there's also a built in ATSC 3.0 tuner, so it's ready for next-gen digital TV broadcasts.
Read our full Sony A80K review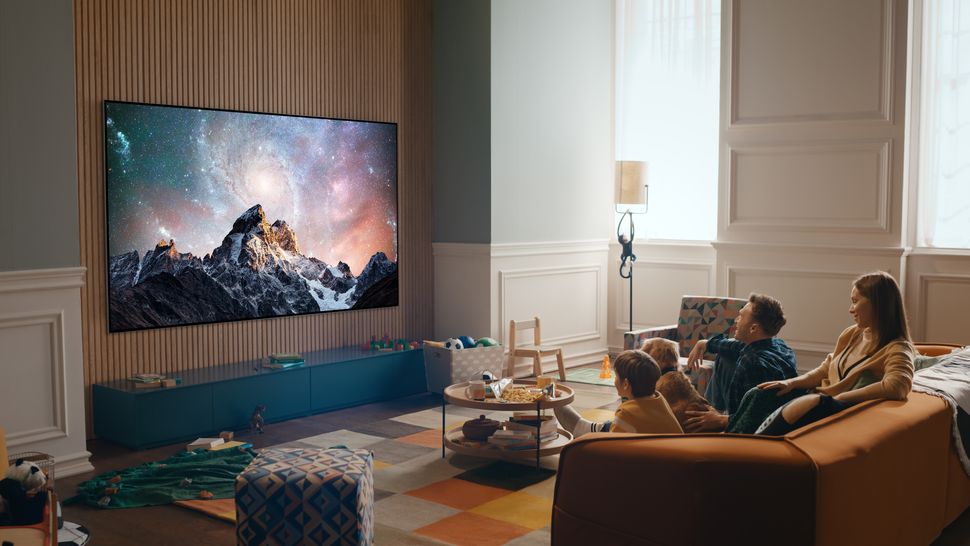 If price isn't a concern for you and you simply want the best TV you can buy at any price point – well, then the best 75-inch TV is the LG G2 OLED. The OLED77G2 uses its extra brightness to make pretty much every frame of any source you care to mention look even more sublime than it has on any LG OLED before.
Although the G2 OLED shares the same 'Gallery' design name as its GX and G1 predecessors, it actually looks completely different: gone is the dark frame and chamfered edges, in is a nifty two-layer effect where a thin black rear 'slab' sits proud of and slightly narrower than a chunkier front tier housing the screen that's encased in a very fetching and opulent-looking silver metal coat.
The quality of the G2 OLED's connections is beyond reproach. In particular, all four of its HDMI ports are capable of handling the maximum 48Gbps of data supported by the HDMI 2.1 standard. This means that hardcore video gamers could simultaneously attach an Xbox Series X, PS5 and cutting-edge PC graphics rig to enjoy full-fat 4K at 120Hz, variable refresh rates and automatic low latency mode switching from all of them. That, plus you'll still have one HDMI left for adding a 4K Blu-ray player or streaming box.
To anyone familiar with LG's OLED TVs over the years, the impact made by the extra brightness the heat sink unlocks is instantly obvious: the extra brightness gives colors more volume and punch, regardless of whether you're talking about a very vibrant, rich tone, or a subtle, mild one.
The end result is an OLED TV so supreme that it just barely misses the mark of our number one spot – only because its price puts it a bit far out of reach for the average TV watcher. Cinephiles, however, should certainly invest.
Read the full LG G2 OLED TV review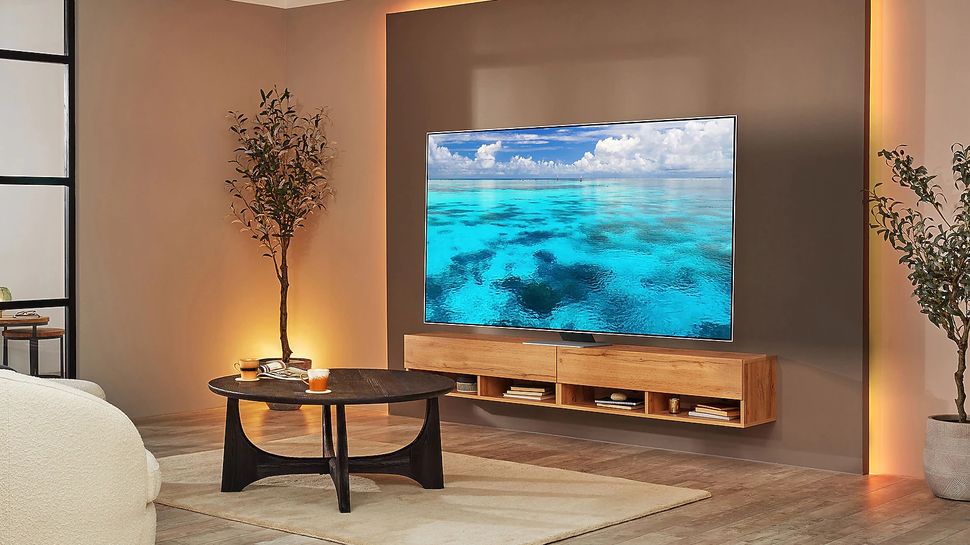 The Samsung QN85B has a very bright mini-LED panel that delivers very impressive HDR and great gaming performance, and while it can't match the deepest blacks of an OLED set you might be surprised by just how close it comes. This is also one of the very best 75-inch TVs for gamers thanks to HDMI 2.1 support across all of its HDMI ports, and there are six speakers inside to give you reasonable spatial audio if you don't have a soundbar.
There are the usual Samsung downsides here – the lack of Dolby Vision HDR, the redesigned Tizen Smart TV interface that's slightly more annoying than its predecessor, the choice of a stripped-down solar remote or a plasticky one that has all the features on it – but this is a very fast, responsive and bright TV that's excellent for watching in daylight, making it a great choice for gaming, sports or just social watching. It's worth noting that like its other mini-LED TVs this Samsung is quite reflective; we have to turn off most of our ambient lighting at night because it casts rainbows across the display, so you might want to take that into consideration if your viewing tastes tend towards the dark and gloomy. Conversely, its very bright panel means it's an excellent TV for daytime watching in brightly lit rooms where dimmer OLEDs may struggle.
The QN85B is very aggressively priced and delivers much of the same experience as Samsung's more expensive models for considerably less cash. If you can live with its relatively minor flaws it's very good value.
Read our full Samsung QN85B review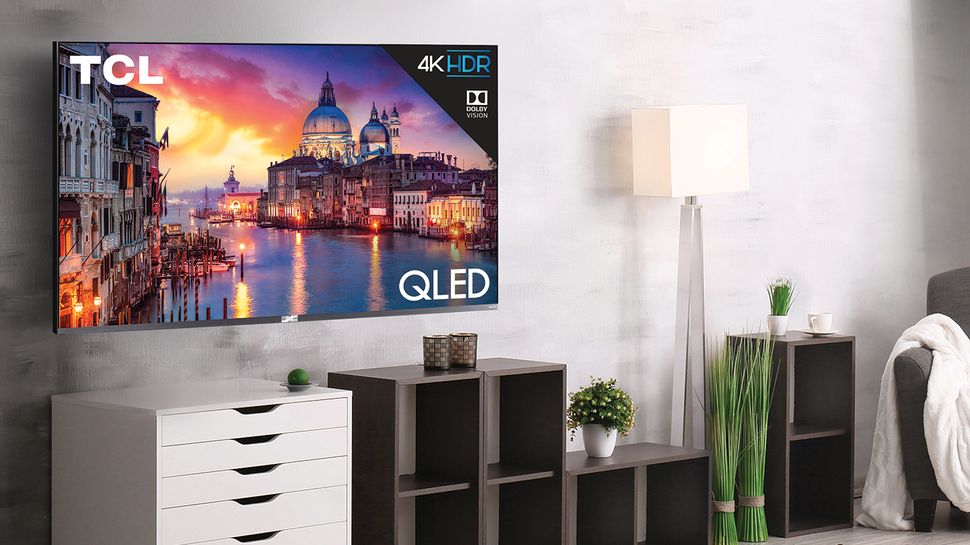 If you're looking for a home cinema system with immersive audio but would rather not have a soundbar, the Panasonic LZ2000 is the perfect solution. It offers superb picture quality and impressive audio that's just as good as a serious soundbar.
This flagship TV has Panasonic's range-topping Master OLED Pro panel, whose heatsink and other proprietary features enable it to deliver higher brightness levels. It has an advanced Dolby Atmos audio system which Panasonic calls 360° Soundscape Pro. The system features upwards-firing and side-firing drivers mounted on the rear of the panel, and there's a forward-facing under-screen array for left, centre and right duties.
There are four HDMI inputs here, including two with High Frame Rate 120Hz video and VRR, and one eARC. Smart TV features are handled by the My Home Screen v.7 software, which is more customisable than most and includes all the key streaming services.
As befits a flagship television, the TX-55LZ2000 is unapologetically pricey - but you certainly get a lot for your money. It's that rare thing: a high-spec OLED TV that sounds as good as it looks.
Read our full Panasonic LZ2000 review
The Samsung Q80B is a mid-range 4K QLED screen. During our testing, we concluded that it's well-suited for everyday TV viewing and does lend itself to console gaming, too.
It's positioned below Samsung's mini-LED Neo QLED models, and offers a more conventional full array backlight with local dimming instead. What that means is it doesn't offer the black-level performance or the HDR precision of its more expensive stablemates, but there's still a lot to love here. Especially if you're looking for a mid-range 75-inch TV.
With four HDMI 2.1 inputs with 4K 120Hz and VRR support, great Game Bar user interface and a comprehensive smart home interface, only serious home cinephiles are likely to feel that they're missing out on anything.
What's more, with the prominence of Samsung's Game Hub, a full page portal to streaming games services, and the fact there's no screen burn risk with QLED, this is a great TV for gamers to consider too.
Read our full Samsung Q80B review
Best 75-inch TVs: FAQ
Is a 75-inch TV too big for a living room?
While many promotional and marketing images might lead you to believe that a 75-inch TV is too big for a living room, this really isn't the case for lounges of an average size.
So long as you have a table or stand that's accommodating to the TV's large size, and create adequate space for peripherals like soundbars and speakers, a 75-inch TV won't take up as much real estate as you might think.
Do keep in mind that you may have to rearrange the room around the TV for the best possible viewing experience, however.
How far should you sit from a 75-inch TV?
For optimal viewing with a 75-inch TV, we'd recommend sitting roughly 50-60 inches away from the screen for a fully immersive experience. Rearranging the furniture in your room to accommodate this will help, and it could be as simple as slightly adjusting your couch.
How much does a 75-inch TV cost?
The very best 75-inch TVs can vary wildly in price. The LG G1, for example, will run you an eye-watering $4,499 / £4,799 (around AU$6,000), while Hisense present a much more affordable option in the U6G at $1,199 (around £790 / AU$1,470).
The difference in price here seems drastic considering both examples offer excellent picture quality. It all depends on how much you're willing to pay for extra bells and whistles and design sensibilities, such as the G1's wonderfully thin design and best-in-class options for gaming.
Do be extra wary about TV sales that sound too good to be true, though. If you see a 75-inch 4K TV for around $600 / £600, it's probably going to let you down in terms of picture performance with bad backlighting and cheap edge-lit LED panels that produce poor black levels and contrast.
During key sales periods such as Black Friday, of course, those pricing expectations are a little different, so in any case it's worth paying attention to how much a 75-inch TV was at launch.
Some Hisense TVs can have a high launch price and quickly undercut it for a sense of value, and often you can get a good discount at least a few months after release, but in general you should be looking for the largest discount compared to a previous price, rather than just the cheapest 75-inch TV out there. And if you're low on cash, you should probably be opting for a decent 65-inch TV, rather than a half-baked 75-inch one.
Once you get to a 75-inch size, too, 8K TVs really become a smart investment too. That's because the greater number of pixels over 4K (33 million rather than eight million) ensures far greater detail at that size. A 55-inch 8K TV doesn't really make much of a difference, but a 75-inch 8K TV certainly does.