Editor's note: October 2022
With many of 2022's new smaller and more budget TVs finally becoming available to buy, we have a new TV at the very top of our list: the hottest 42-inch TV of the year is the LG C2.
This is the very first 42-inch OLED 4K TV to reach the market, and it delivers all the features of its bigger siblings that earned the TV a five-star rating – unlike the 43-inch Samsung QN90A, which lacks some of the key features of its larger siblings.
Like you we're very aware of the ever-increasing cost of living right now, and as a result we've emphasised some of the cheaper options in this update to our buying guide: we want to help you find a great TV no matter what your budget.
Matt Bolton, Senior Editor, TV & Audio
If you're looking for the best 40-inch TVs, you'll find them here. If you don't want to splash out on an enormous 65-inch TV or just don't need something so big then TVs around the 40-inch mark are excellent and very affordable options. They might not have the wow factor of the most massive TVs, but don't underestimate them: there are some absolutely brilliant TVs here.
Smaller sizes no longer means compromising on key features. You should expect 4K resolution and HDR compatibility for superb picture quality, and smart TV features with all the key apps for streaming and binging TV shows and movies. You'll also be able to connect all your game consoles, Blu-ray players and streaming boxes to get even more entertainment options from your 40-inch television.
And the good news keeps on coming, because you'll be able to get all of those things for considerably less cash than you'd pay for a larger TV – and you won't need to worry about a giant screen dominating your space. 40-inch TVs are particularly good for use in rooms such as bedrooms or the kitchen where you want a screen but don't need a full home cinema setup.
The downside is that some advanced features are still rare at this size, because manufacturers are throwing everything at their most expensive models. For example, OLED displays are still exceptionally rare in this sector (small OLEDs are much harder to make efficiently and affordably than larger ones) and most brands' flagship models with the latest in cutting-edge TV tech don't come in small packages.
In this guide we've rounded up the best 40-inch TVs that we've reviewed on our site alongside some impressive 42-inch and 43-inch models too. We've also included some useful tips on what to look for and how to pick the right TV for you.
Best 40, 42 and 43-inch TVs: the list
Our top picks
The LG C2 is the first OLED 4K TV to come in a 42-inch size, finally bringing this premium screen technology to compact TVs. If you're a hardcore movie lover looking for the most cinematic images possible from this size of TV, this is it. The search is over, stop now.
Because each individual pixel generates its own light, you get perfect precision in scenes that contrast light and dark, with true black right next to bright lights. You also get very impressive nuance in dark scenes, bringing out more detail in these moment than LED TVs can manage.
And it's also packed with all of LG's latest and greatest image tech. You get its highest-end image processing, so everything looks totally sharp and natural on the 4K screen, and it also supports HDMI 2.1 on all of its HDMI ports, so there's 4K 120Hz and VRR support for next-gen gaming – this is 100% future-proofed. It's the best small TV for gaming right now, no question.
The sound system isn't as rich as the visuals, so we'd suggest adding a small soundbar, and it's not as bright as the Samsung 43-inch QN90A mini-LED TV… but it's still brighter than the vast majority of the competition. It's expensive, but if you want truly the most advanced 42-inch TV going, this is it. In addition to our overall LG C2 review (below), we've also specifically tested the LG C2 42-inch model for comparison.
Read the full review: LG C2
The V- in the Vizio V-Series TVs has always stood for 'value', but you could easily argue that it should stand for 'versatile' instead, as this is one of the most feature-rich TVs in the budget category. With support for HDR (HDR10, HDR10+, Dolby Vision and HLG) plus Chromecast and AirPlay built-in, the V-Series is a veritable swiss army knife of budget TVs.
Unfortunately, despite all these technologies the V-Series is still a pretty budget-oriented set. We'd describe the picture quality as "fair" because its contrast isn't off-the-charts and its color saturation could use some work too. Its biggest issue is that of awful off-axis viewing (more than 45 degrees) that quickly turns what is a fine and acceptable picture to a really desaturated mess.
If you can stay perfectly in front of it, don't mind less-than-stellar image quality and can deal with a few issues in speed and performance, however, it's an affordable TV series that packs in a lot of the technology that makes the top TVs from LG and Samsung the best in the world.
Read the full review: Vizio V-Series (2020)
With the BU8500 Samsung has set out to deliver a superb all-rounder for a very affordable price, and we think it's achieved exactly that. For a relatively small price you're getting 4K HDR (albeit without Dolby Vision), three HDMIs, voice control, two remote controls and all the apps you might want. It's not up there with the very best TVs that cost many times more, but it delivers much better picture quality than you'd expect at this price. The only real downside is that its speakers are very weedy, but at this price you can afford to add a decent soundbar.
The main corners that have been cut are in processing: the upscaling here isn't as good on lower-resolution sources as Samsung's higher-spec models, and while we didn't find input lag to be a problem the fact that Samsung hadn't published the figures suggests it's going to be a bit more laggy than the best gaming TVs. You'll also lose out on some multi-HDR support, so while you will get HLG, HDR10, and HDR10+ dynamic metadata you'll miss out on Dolby Vision (though this is true of all Samsung TVs). None of the issues are significant enough to be a deal-breaker at this price (and the TV still performs incredibly well) but you might notice a steep picture improvement on larger and more expensive models.
All things considered, though, we think this is a fantastic set for the price. It's superb value for money and one of the best Samsung TVs in terms of bang for buck.
Read our full Samsung BU8500 review
This is the smallest TV with Samsung's high-end Neo QLED TV tech, which combines the colors and brightness that QLED is famous for with a next-gen mini-LED backlight, which means even more lights are squeezed into a thinner panel.
In our testing, its peak HDR brightness blasted well over 1,000 nits, and in some modes it can reach nearly 2,000 nits. Compared to the 700 nits of brightness from the LG C2, you can see this TV is the exception when it comes to punchy, dazzling HDR. And with the localized dimming of its tiny LED lights, its contrast between light and dark is better than the other LCD TVs here, by a huge margin – though the OLED TV still has the edge.
Samsung's excellent image processing means that you'll get super-sharp 4K images, and excellent upscaling. And like other Samsung TVs, it's great for gaming, with very low latency in its gaming mode… but there's a catch here. Most QN90A sizes feature 4K 120Hz and VRR support from next-gen consoles, but not at this size. For gamers, the LG C2 remains the champ. But if you want bright HDR that can be viewed even in a bright sunlit room, this is the pick.
Read the full review: Samsung QN90A
The TCL 4-Series isn't as exciting as the company's 6-Series QLED with Mini LED, but it's surprisingly good value at around $200, and a solid choice in our best TCL TV guide.
The 4-Series is available in two different variations based on its smart platform – either Roku TV or Android TV – but we strongly recommend opting for the Roku model for its smoother performance, usability and security.
Disappointingly, the 4-Series doesn't have all the latest specs (no HDMI 2.1, VRR, ALLM, etc...) but it does support HDR10 and HLG forms of HDR, has a built in 802.11ac wireless antenna and has one HDMI port with ARC, which is great for folks who want to cut down on the number of remotes in their house.
It's not the best TCL TV on the planet, but if you're limited to a 40-inch TV and want to have hundreds of streaming channels at your fingertips, the TCL 4-Series Roku TV is a smart bet and a very good value.
Read more: TCL TV guide
This low-price Hisense TV may be the best way to save some pennies on a new 43-inch TV, although you will have to settle for some compromises.
This is a great value television, and the Roku TV platform is always a joy to use thanks to its sleek interface, well-organised tile icons and broad app support. But as a 4K HDR TV it struggles a little bit with SD or HD; it's best connected to high-resolution sources. We weren't impressed by the audio, either: it's pretty clear where some corners have been cut to keep the price so low.
If you want a cheap TV, though, and aren't put off by some scratchy audio or bungled upscaling, this could be a smart way to watch 4K content on a budget.
Read our full review: Hisense A7200G Roku TV
We're still putting the finishing touches to our longer term Samsung Q90B review, but having spent quality time with it for our initial hands on review we can confidently say that it's a refined and impressive set that delivers flagship-level specifications for a lower price tag. This is a quantum dot mini-LED display with excellent color and contrast, and while it's not quite up there with the best OLED TVs it delivers much better brightness, making it a good option for brightly lit rooms. It struggles a little bit with very dark movies – OLED remains the best choice for that kind of viewing – but for CGI-heavy movies, action movies and colorful TV shows it's superb. It's also very good for gaming, with built-in Xbox game streaming, VRR and AMD FreeSync Pro Premium.
TVs of this size tend to fall down when it comes to their sound, but this model has Samsung's Q Symphony: with compatible Samsung soundbars it becomes part of a wider surround sound system. This smaller model doesn't have the Object Tracking Sound Plus of the larger models, but it does have the Lite version that delivers positional audio for a more immersive experience.
In our hands on review one area we focused on was price, and since it was published Samsung has been pricing more aggressively in some markets: in August 2022 the 43-inch model was down from £1,399 to £999 on the Samsung UK website, although in the US it stayed static at $1,199. With nearly a third off the list price that makes it considerably more competitive.
Read more: Hands on: Samsung QN90B Neo QLED 4K TV review
---
Best 40- to 43-inch TV FAQ
Is a 40-inch TV big enough?
It's worth remembering that 40-inch screens, while once the pinnacle of high-end TV tech, is now a pretty small size compared to what's out there.
These days, 55-inch 4K TVs are standard, with 65-inch 4K TVs quickly growing in popularity. Manufacturers can make bigger screens than ever before, and shoppers are cottoning on to how big TVs can actually get.
A 40-inch TV should come with 4K resolution, but you'll be able to see the benefits more clearly on a larger size. A 40-inch TV is a pretty decent size for a single viewer not sitting too far away, too, but for a family or group of flatmates it's less than ideal.
So don't sell yourself short: definitely do the work of measuring how big a TV you can fit into your intended space, and think over how big a TV you're willing to bring into your home. (To get the best of both worlds, with a small product that offers a massive picture, you might want to consider one of the best projectors too.)
What about 42-inch TVs?
For ease, we've included 40-inch TVs as well as the best 42-inch TVs in this guide. You'll occasionally even get screens listed as 43-inch TVs, but they all sit around roughly the same measurements.
Of course, many things affect the size and scale of a TV screen beyond simply the diagonal length of the panel, including the width of the bezel (the black strip around the screen's edges), built-in speakers, HDMI inputs and connections, as well as the depth of the casing (which often varies in different places).
We could well be seeing in a resurgence in 42-inch TVs, though, with panel-maker LG Display confirming that 42-inch OLEDs are in development. We're yet to hear about any specific timelines, models, or price points, but this compact panel size could result in the lowest OLED TV launch price we've ever seen – and the smart money says we could see these screens start to emerge as soon as 2022.
How to choose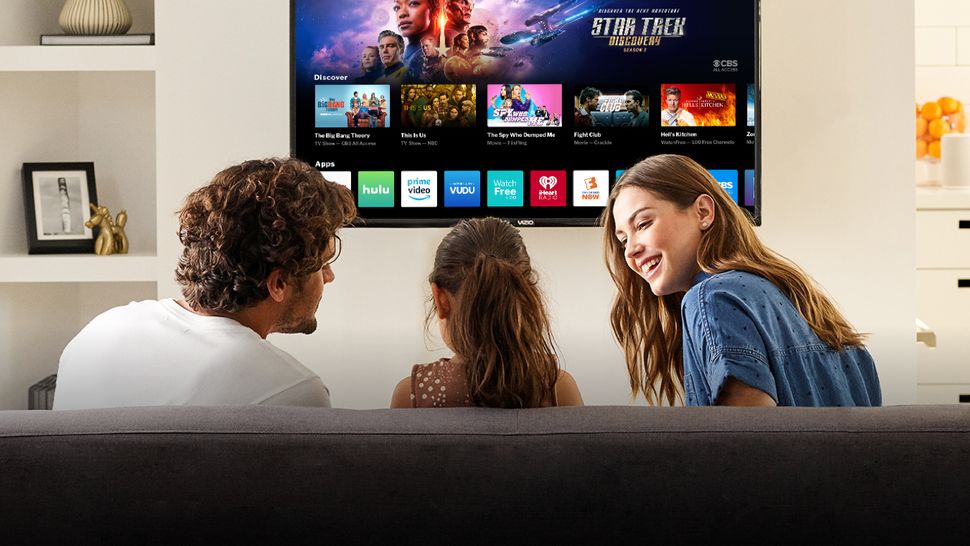 How do I pick out a 40-inch TV?
Not sure how to choose what 40-inch TV is for you? While the options might feel overwhelming, it's worth considering what we think about when recommending TVs here on TechRadar.
Ultra HD vs Full HD: It's a common misconception that you can't see the difference between full HD and Ultra HD/4K on a screen smaller than 55 inches. You can. We recommend picking a TV with 4K Ultra-HD and HDR if you can find one. It makes a big difference.
Operating system: 40-inch TVs didn't always come with a smart TV operating system in the past but they often do now. What you're looking for, ideally, is a well-maintained operating system like Roku TV, LG's webOS or Samsung's Tizen operating system. If you go with a TV that uses a proprietary operating system (basically an operating system exclusive to that one TV) you might have some serious issues down the road.
Inputs and outputs: Multiple HDMI ports are important if you have many devices to hook up to your TV. Don't pick a TV with just one HDMI port. You'll find yourself swapping cables far too often.