BEST 120HZ TVS: QUICK MENU
The best 120Hz 4K TVs are essential for both gamers and movie lovers. The 4K resolution they deliver brings you extra pixels for better clarity and combined with a 120Hz refresh rate, your games and movies play buttery smooth.
If you're a gamer, a 120Hz refresh rate means you'll be able to experience a much smoother and sharper picture compared to TVs without these impressive refresh rates. You're also less likely to experience that nauseating motion blur you may find when you turn quickly within a game. With fast response times and several all-important HDMI 2.1 ports, you'll find that the best gaming TVs are all 120Hz TVs.
Admittedly, some players may not notice a drastic difference when they first use a 120Hz TV with a next-gen console, but we think that refresh rates are crucial for certain games. For example, you'll really be able to see a difference in fast-paced shooters, where quick reflexes and frame pacing counts. Meanwhile, 24fps movies can play without the frustrating judder you may have noticed on some cheaper TVs, if you have a source that can deliver this, such as an Apple TV 4K (2022).
Several of our top picks below feature a 144Hz refresh rate, but they also support 120Hz. This isn't an essential upgrade over 120Hz in our opinion – read our guide to whether 144Hz TVs are a big deal for why – but the option is there for hardcore PC gamers who might want to try it. Most of the best TVs are in this list, because it's the higher-quality TVs that tend to also include 120Hz support. This also means that 120Hz 4K TVs don't come cheap, but it's worth investing and future-proofing your TV.
Written by
Matt is TechRadar's Managing Editor for Entertainment, meaning he's in charge of persuading our team to watch the latest movies on gorgeous TVs as well as listen to fantastic speakers and headphones. It's a tough task, as you can imagine. Matt has over a decade of experience in tech publishing, and has been writing about the latest TVs and soundbars since 2017.
The quick list
Want to cut to the chase and find out which 120Hz TVs are the best? Below, you'll find a roundup of our choices. You can also jump to a more detailed write-up of every TV for more information, based on our in-depth reviews.
Load the next 3 products...
Super-bright OLED
The best super bright 144Hz OLED
This is the brightest OLED TV to date, thinks to its QD-OLED panel. It's a gamer's dream, but also offers the best contrast of any TV on the planet right now.
Most flexible mini-LED
Best mid-range 120Hz TV with four ports
With mini-LED tech and four HDMI 2.1 ports with 4K 120Hz, this is a future-proof TV with dazzling HDR pictures. It's got other great gaming features, too.
120Hz OLED for PS5
An ideal 120Hz OLED TV for PS5
A 'Perfect for PS5' TV, this gives you OLED picture quality at the lowest price if you want all of Sony's best tricks, including an advanced HDR mode just for PS5. Plus 120Hz, naturally.
The best 120Hz TV for most people
The LG C2 is the best TV available for most people right now, in its price bracket. It's available as a 42-inch model, making it the smallest 120Hz TV here. That means it's ideal for gamers who want to fit the best tech into the smallest space. Whichever size you plump for you get a fully-equipped suite of four HDMI 2.1 ports, with support for 4K 120Hz (including Dolby Vision gaming at 120fps – still a rare feature), VRR (including FreeSync and G-Sync), and ALLM.
All models at 55 inches and above also feature a new brighter OLED panel, which means you get even better HDR performance, while a smart image processor subtly improves detail and texture in images. We were so impressed with the color saturation and subtle nuance in dark scenes during testing that we called it "one of the best OLED panels we've ever seen." But we did find that while the 42-inch and 48-inch models deliver the same excellent image quality, their panels are not as bright – but they're also basically the only 120Hz TVs available at that size, so they're certainly bright enough!
The LG C3 is now available, which is the newer replacement for this TV – but price drops (and a relatively small improvement in features and picture quality) mean that we think the C2 remains the best-value buy.
Read our full LG C2 OLED TV review
The best mid-range 120Hz TV for PS5
The Sony X90K is an excellent value TV, delivering top performance for the price. It has a full-array LED backlight, which features local dimming, and that means impressively deep black tones. Paired with the LCD panel's quantum dots, there's enhanced brightness and color – although it's not the brightest TV on the market.
It really shines as a 120Hz gaming TV, especially for PS5 owners. The X90K has a fantastic suite of gaming features, which is why it's in second place in this guide. Aside from 4K 120Hz video support (available only on two of the set's four HDMI inputs) it has both variable refresh rate (VRR) and auto low latency mode (ALLM). Input lag as measured by our 4K test meter was 13.8ms, a very good result.
The Sony X90K is also what's known as a Perfect for PlayStation 5 TV, which means when you're connected to the PS5, an Auto HDR Tone Mapping feature gets activated, along with an Auto Genre Picture Mode that optimizes the image for gaming.
This is a fantastic 120Hz gaming TV, especially for the price, and even fussy viewers should be satisfied with the performance on offer here.
Read our full Sony X90K review
The best 120Hz TV for image quality
The Sony A95K is probably the ultimate pick here for home theater aficionados – its image quality is arguably the best you can get today, when you combine its brighter-than-average QD-OLED screen with Sony's refined and natural image processing.
And as a 120Hz set, it's tempting to gamers too. Because it's a Sony TV, it also has the exclusive-to-PS5 Auto HDR Tone Mapping feature, which is basically Sony's own proprietary Dolby Vision setup for its own gaming tech.
During our testing, we were also impressed by the Sony A95K's super fast response, which means you won't see any gaming motion blur. Input lag isn't as low as some TVs in this list, measuring just under 17ms with 1080p 60Hz sources and 9.4ms with 4K 120Hz sources. However, unless you're a pro gamer this is unlikely to affect your performance.
All in all, this TV is impressive for all kinds of reasons, its beautifully polished performance, stunning picture and exceptional build. It's not the best gaming TV, but if you want gaming – especially for a PS5 – alongside all of those qualities that make this such a high-end set, then it's a solid choice.
Take a look at the Samsung S95C in this guide if you're after a TV with a similar top performance that fares better in respects to gaming other than PS5, with 10.4ms lag and support for FreeSync and G-Sync on all four HDMIs, and with even brighter OLED results. But when it comes to movies looking as refined as possible, this remains our top choice.
Read our full Sony A95K review
The best value 120Hz TV in the US
TCL's 6-Series TVs are known for their combination of impressive picture quality and high value, and the latest version of the company's flagship not just continues that tradition, but improves upon it. Available in 55- to 85-inch screen sizes, the new 6-Series arrived in late 2022, and it offers not just movie fans but gamers on a budget a great big-screen option.
In the 6-Series, mini-LED tech enables high brightness, while a quantum dot layer enhances color reproduction, and full array local dimming processing creates deep and detailed shadows. The set features Dolby Vision IQ to make high dynamic range images look good in both dim and well-lit environments, and HDR support extends to HDR10+ and HLG.
For gamers there is a pair of HDMI 2.1 inputs, with onboard support for 120Hz, Variable Refresh Rate (up to 144Hz), and Auto Low Latency Mode (ALLM). FreeSync Premium Pro is also supported, making TCL's flagship an obvious choice for gaming.
The only real negative here, which is common among more affordable TVs, is that the audio performance isn't stellar: there's virtual Dolby Atmos but we really think you're going to want a soundbar so the TCL sounds as good as it looks. And if you want four 120Hz-capable HDMI ports in a similar mini-LED TV, check out the Samsung QN85B.
Read our full TCL 6 Series Roku TV (2022) review
The best value 120Hz TV in the UK
The Samsung Q80B is a mid range 4K QLED screen that we consider to be a fantastic all-rounder, because it's well-suited for everyday TV viewing and supports high frame rate 120Hz gaming on all four HDMI ports.
The Q80B uses a full array backlight instead of mini-LED, so it's not quite as good for contrast. This means it doesn't offer the black level performance of the Samsung QN85B or TCL 6-Series – but it's impressive for the kind of TV it is.
However, with four 120Hz-compatible HDMI inputs, useful Game Bar user interface, and a comprehensive smart TV system, only serious home cinephiles are likely to feel shortchanged. That's why we still rate it for UK buyers at the price – though in the US, the TCL 6-Series costs the same, so we'd steer you towards that one.
Indeed, the prominence of Samsung's Game Hub, a full page portal to streaming games services, given it's clear that's where its key appeal lies. QLED, after all, is impervious to screen burn, which translates nicely to anxiety-free gaming sessions. There's also ALLM (Auto Low Latency Mode), Nvidia G-Sync and FreeSync Premium Pro support for gaming.
The set also has an above-average Dolby Atmos compatible sound system. In our Samsung Q80B review we wrote: "Picture quality, particularly if you're a bright room viewer, is impressive, and audio is immersive enough to stave off any additional soundbar purchase, at least until funds allow."
Read our full Samsung Q80B review
The best cheap 120Hz OLED TV
LG's B-series TVs are among its more affordable models, with a step up in specification from the even cheaper A series – specifically, this is the cheaper model that gets you 120Hz support. The B2 doesn't get the same bright panels as its more expensive siblings, but it offers a decent specification for a very good price – two HDMI 2.1 ports for 4K 120Hz, Variable Refresh Rate (VRR), auto low latency mode (ALLM), and more.
Audio performance isn't amazing, which is par for the course at this price bracket – you're going to want a soundbar or surround sound system here – but the picture quality is very good with exceptional contrast, great HDR and vibrant, detailed images.
If you're buying a TV for gaming as movie watching, this is one of the most affordable OLED options and it performs very well for the price. It'd be nice if it were a little brighter we can't fault the picture quality or speedy response times – and you could always get the C2 if you want that brightness.
Read our full LG B2 OLED TV review
The best super bright 144Hz OLED TV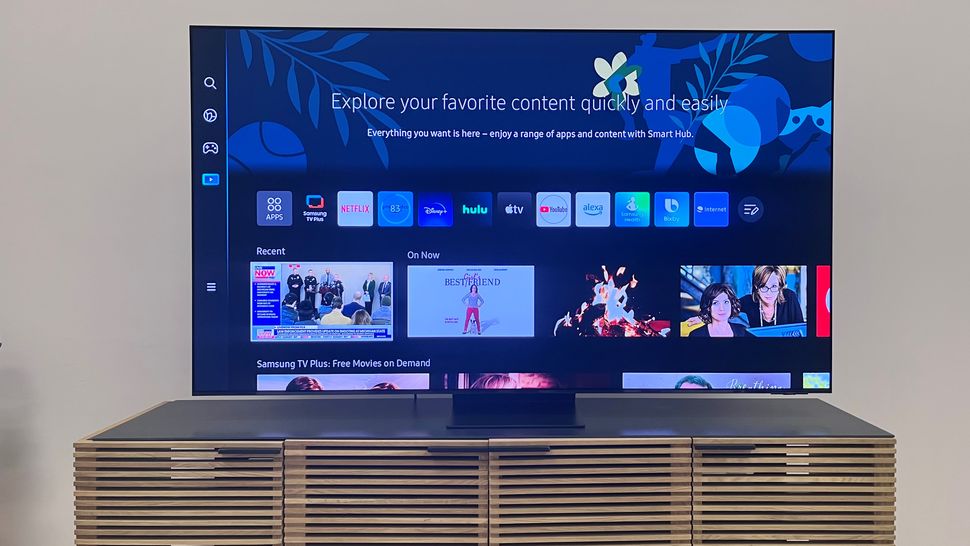 The Samsung S95C is the company's second generation QD-OLED TV and outguns the previous-gen S95B TVs by a long shot, especially when it comes to brightness. The S95C models have close to 40% more brightness than its predecessors, taking HDR movies and games to another level. During our testing, we measured peak brightness to be as much as 1,400 nits on a white HDR window covering 10% of the screen. While the set can't sustain these levels for long before having to start dimming, most video and gaming content changes regularly enough not to noticeably trigger the dimming setting. This is around 70% brighter than the LG C2 – this thing is incredible.
We didn't find many issues with the set, but we did notice some. One was that the S95C's default 'Standard' picture preset can cause colors to look slightly desaturated in places, although this can be improved by toning down the dynamic tone mapping setting. Another gripe of ours was the lack of a Dolby Vision HDR format. As we said in our review: "The S95C's 4K resolution is backed up by support for the HDR10, HLG and HDR10+ HDR formats. This is fine so far as it goes, but Samsung's continuing refusal...still frustrates. Especially given how widespread content mastered in Dolby's premium HDR format is."
Where the Samsung S95C really shines is its gaming features. With support for HGiG HDR system, Auto Low Latency Mode switching, a refresh rate that extends to 144Hz and an incredibly fast response speed of 9.2ms, the set is ideal as a gaming monitor. The S95C also supports ultra-wide aspect ratios of 21:9 and 31:9 that some PC titles have.
Read our full Samsung S95C review
The best mid-range Samsung 120Hz TV
The Samsung QN85B is packed full of high-end TV features but at a competitive price. It features mini-LED technology (the company refers to this as Neo QLED) and a Neo Quantum Processor 4K, which makes the picture quality beautifully bright and colorful. Like the Samsung S95C though, the QN85B does not support Dolby Vision – instead supporting HLG, HDR10 and Adaptive HDR10+.
With HDMI 2.1 features across all four of its HDMI sockets and compatibility with 4K 120Hz, the Samsung QN85B is a worthy companion for next-generation consoles. It also has support for ALLM, VRR and FreeSync Premium Pro, raising the set's gaming capabilities to the next level.
When it comes to audio, the QN85B has six small speaker drivers that are powered by 60 watts. Samsung have also included its 'Object Tracking Sound' technology to follow on-screen action more closely.
While the picture quality of the Samsung QN85B is impressive – its brightness levels dazzle and not at the expense of reduced white-tone detail – black tone performance is lacking. As we said in our review: "The multitude of dimming zones (there are 720 by all accounts, in a 40 x 18 array) means the zones that are not being illuminated are good and black, but the drive for deeper-than-expected black tones also results in some crushing of detail in darkness." Backlighting controls do help to offset this somewhat though.
Read our full Samsung QN85B review
An ideal 120Hz OLED TV for PS5
This mid-range OLED from Sony packs an impressive punch, with excellent HDR and colour saturation and the deep blacks only OLED can deliver. Despite the relatively low price tag it's an excellent performer with the usual Sony alphabet soup of tech: XR OLED Contrast Pro, XR Triluminos Pro and Cognitive Processor XR. Upscaling and motion processing are excellent, and while the panel isn't quite as bright as some of its OLED rivals such as the very latest LGs it's still quite happy in daylight as well as exciting in darker rooms.
In addition to the 120Hz video there are twin HDMI 2.1 ports with variable refresh rate (VRR) and auto low latency mode (ALLM), and there's Auto HDR Tone Mapping for PS5 gaming. In the US there's also a built in ATSC 3.0 tuner, so it's ready for next-gen digital TV broadcasts.
This Sony is an excellent option for buyers who want the deep contrast of an OLED TV but don't want to pay top dollar for the tech: it's considerably less expensive than the flagship A95K model but delivers an inviting and exciting picture no matter whether you're streaming or gaming. The LG C2 is more flexible overall, though.
Read our full Sony A80K review
How to choose the best 120Hz TV
Choosing the best 120Hz TV for you isn't too different from choosing any other TV – it just means that you've settled on one crucial element already (whether you want a 60Hz screen or a 120Hz screen), which means you'll be buying more from the premium end of things.
But the other questions remain open. For example, do you want an OLED or an LED TV? We've written a an OLED vs LED vs LCD guide that covers the tech types in depth, but in summary, LED has a backlight whereas OLED pixels produce their own light.
OLED might seem like the better, cooler type of tech – and in many ways it is – offering excellent contrast and viewing angles, but you might get better brightness and/or a cheaper price with an LED or mini-LED TV. Response times do tend to be better with OLED TVs, too, which means if you're after the best TV for gaming, we'd usually suggest you pick OLED – unless you play during the day in a bright room, in which case a mini-LED would be preferable.
HDMI 2.1 ports are very important, because this is what's required to receive a 4K 120Hz signal from your console. All 120Hz TVs will include at least one, and having two is quite common. But some LG and Samsung TVs comes with four HDMI 2.1 ports, and if you're a hardcore gamer, we strongly recommend choosing one of these.
It might seem like an obvious consideration, but bear size in mind when you're looking for a new 120Hz 4K TV. If you're going to be using it as your main screen, you'll need to be sure it fits into the space you have available. If it'll be in a second room specifically for gaming, you might not want to go for the biggest available size but instead choose a small display, like the LG C2, which is available in 42 inches.
And don't forget sound. A lot of TVs don't have great built-in speakers, but some are better than others. If you'll play mostly with a headset, then that's no problem either way. If you already own one of the best soundbars, or are happy to buy one, then that solves the problem too. But if you don't want any extras, look out for TVs we've mentioned as including great audio.
120Hz panel: why does it matter?
Do refresh rates really matter enough to justify buying a new television set? We'd argue that without an advanced television, the upgraded hardware in your new Sony or Microsoft console becomes superfluous. All that power won't translate into better performance unless your TV can support it.
Hertz, or refresh rate, determines the number of frames that your television can display per second. Because both the PS5 and Xbox Series X can generate 120 frames per second (fps) in 4K UHD resolution, you need a television panel that works up to 120 Hertz to make that mode work.
Your current 4K TV likely can only support 60Hz/4K. That worked perfectly well with the Xbox One X and PS4 Pro, both of which could hit 60FPS in 4K for some games. Yet if you upgrade to the latest console, your frame rate can't substantially improve unless you play at a lower resolution like 1440p. So you won't see the performance boost you might be expecting.
With a higher max Hz in 4K, you'll see a smoother and sharper output on the television with less nauseating motion blurring when you turn the camera quickly in-game. This is particularly handy for fast-paced shooters like Call of Duty where you need to turn on a dime and react quickly to threats. But the visual boost from increased frames isn't limited to any one genre of game.
That's why we'd strongly recommend buying one of the televisions in this guide if your budget can afford it and a next-gen console.
HDMI 2.1: What does it do?
HDMI 2.1 is a more powerful data transfer standard that improves your television's capacity to handle high refresh rates and resolutions simultaneously. That said, this new standard also adds two other important gaming features by default: Variable Refresh Rate (VRR) and Auto Low Latency Mode (ALLM).
VRR is a tool that enables your TV to automatically adjust its Hz based on the output from your gaming console. While the Xbox Series X and PS5 offer a 120Hz 4K maximum, individual games' frame rates will fluctuate and drop based on what's happening on screen. The more frames you drop, the more tearing and stuttering you'll see as the television tries to adjust.
With VRR activated, your television will adjust its refresh rate on the fly so it never deviates from the game's fps output. That way, even if the game performance is struggling, the gameplay will remain smooth and seamless.
As for ALLM, it detects when you're playing a video game and adjusts your TV settings on the fly to reduce input lag as much as possible. It's a simple but essential feature that ensures you don't need to switch manually from Game to Cinema mode over and over.
If you're looking to buy a new television for gaming, HDMI 2.1 future-proofs your set so it can handle the latest in console tech for years to come.
For more on the differences between refresh rate, input lag and refresh time, read our guide: Input lag and monitor speed explained.
Why are 120Hz devices important?
It's worth noting that, just as 4K TVs require 4K sources to output in native 4K, a 120Hz TV will need 120Hz gaming or video to really get the most of out of its capabilities.
Many of the best streaming devices will come with 120Hz as standard, as with the Apple TV 4K (2021) or Nvidia Shield TV – though many more budget models and streaming sticks may be capped at 30fps or 60fps. So it's important to make sure that every link in the chain can match the specs you're hoping to utilise in your screen.
Confused about 120Hz and 120fps? Don't be. The former refers to the number of frames a game outputs while the latter refers to how many frames the associated screen can display.
How we test the best 120Hz TVs
We review TVs with a range of different content. Of course, next-gen gaming takes priority in this guide, but we imagine you'll also want to know what movies and TV shows are like to watch as well.
We use a Leo Bodnar 4K HDMI Video Signal Lag Tester to test the input lag, and a colorimeter to test the brightness levels and color accuracy. We connect a latest-gen game console to ensure that features such as 4K 120Hz support or Dolby Vision gaming work as advertised.
As well as testing for all of the key specs you need in a gaming TV, like refresh rates and HDMI connections, we're also looking for good picture quality, vibrant colors and viewing angles to suit all kinds of rooms.
Sound is less of a priority with most gaming TVs as you'll get the best experience from gaming headphones or a soundbar, but it's always good to know you'll get a decent built-in experience. Which is why we've also detailed what it was like to listen to these TVs without additional devices, too.
As we've reviewed many TVs over the years – and many of the best gaming TVs – all of our testing isn't done in isolation, but takes into account the performance and specs of every TV that's come before it.