The new Apple TV 4K (2022) was announced on October 18 at an event that also saw the release of new iPad and iPad Pro models from the company.
Not to be confused with Apple TV (the app on Apple devices and smart TVs) or Apple TV+ (the streaming service), the Apple TV 4K is a streaming set-top box that links to your home network using either a Wi-Fi or Ethernet connection.
New Apple TV 4K (2022) features
- Powerful A15 chip plus increased storage
- Support for HDR10+ high dynamic range
- New Siri remote control with USB-C charging
The Apple TV 4K (2022) is slightly smaller than the previous version and features the same A15 Bionic chip used in recent model iPhones and the iPad Mini (6th generation). According to the company, this enables speed boosts that elevate CPU performance by 50 percent and GPU performance up to 30 percent over the previous Apple TV 4K.
Another key update is HDR10+ high dynamic range support. This addition lets the Apple TV 4K better compete with other streaming boxes and sticks like those available in Roku and Amazon's Fire TV family. HDR10+ is similar to Dolby Vision HDR – which the Apple TV 4K also supports – in that it's a dynamic format used to optimize picture contrast on a scene by scene or frame by frame basis.
The Apple TV 4K (2022) will be available in two configurations: one with Wi-Fi and 128GB internal storage and a step-up version with 256GB internal storage and both Wi-Fi and Ethernet connectivity.
Apple TV 4K (2022) news and updates
May 27 2023 – 5 more upgrades we want to see from the Apple TV 4K
May 20 2023 – 6 upgrades for Apple TV 4K we need to see at WWDC 2023
January 21 2023 – We review the Apple TV 4K (2022)
October 10 2022 – Apple launches lower-priced next-gen Apple TV 4K with A15 Bionic chip and HDR10+ support.
July 27 2022 – Apple TV 4K Disney+ app updated with Dolby Atmos support.
July 20 2022 – Evidence found in tvOS16 beta points to future 8K video support.
July 14 2022 – The public beta of tvOS16 is now available to download.
June 28 2022 – Mark Gurman at Bloomberg reports that Apple is working on a new Apple TV model with an upgraded A14 processor and more memory.
June 24 2022 – Developers testing iOS 16 discover code relating to a new version of the Siri Remote used for the Apple TV.
June 7 2022 – As WWDC comes and goes without any major tvOS announcements, we worry about the future of the Apple TV platform.
May 25 2022 – Analyst Ming-Chi Kuo says that Apple is working on a new cheaper model of Apple TV, due for launch some time in 2022.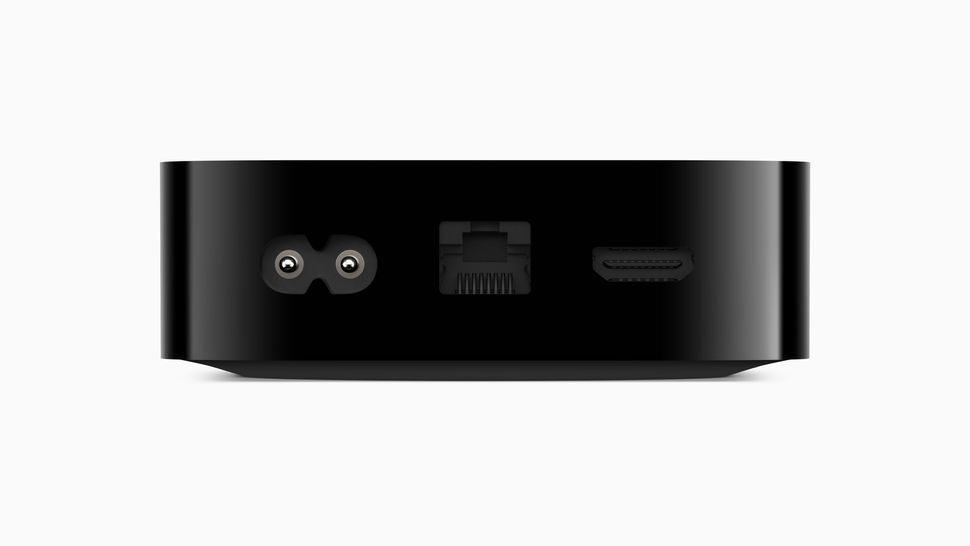 Apple TV 4K (2022): price and release date
The Apple TV 4K with Wi-Fi and 128GB storage sells for $129 / £149 / AU$205, while the Wi-Fi plus Gigabit Ethernet with 256GB storage version sells for $149 / £169.00 / AU$240.
Prices for the Apple TV 4K (2022) are notably lower than for previous versions, making this Apple's least expensive 4K streaming box yet.
Both models are available to purchase now, and will be available on November 4, 2022.
Apple TV 4K (2022): features
The Apple TV 4K (2022) has an HDMI 2.1 output with support for 4K video at up to 60 frames-per-second. Dolby Vision, HDR10+, HDR10, and HLG high dynamic range formats are supported, along with Dolby Atmos and Dolby Digital Plus audio.
Both Apple TV 4K (2022) models provide Wi‑Fi 6 and Bluetooth 5.0 wireless connections. The step-up 256GB version also has a Gigabit Ethernet connection plus support for thread mesh networking, which is used by the new Matter smart home device standard. (Thread mesh networking support is not provided on the 128GB Apple TV 4K.)
The Siri remote included with the Apple TV 4K features a built-in mic for voice control and now features a USB-C port for charging (earlier versions used Apple's proprietary Lightning connector.)