The best VPN service 2018
Let's face it, now is a fantastic time to get a VPN. Just like ever other bit of tech out there, providers are falling over themselves to give you discounts and special offers on the very best VPN services in the name of Black Friday. And considering most tie you into a term of at least a year or so, that means cheap VPN use for the foreseeable future if you strike now.
So what are you intending to use your new VPN service for? Are you trying to catch a TV show or sporting event that your country of residence just isn't showing? Are certain websites you visit getting blocked out by a country or place of work? Or is it simply as an extra layer of encrypted security? VPNs - or Virtual Private Networks - are so versatile you can use them for all these purposes and more. And we're here to tell you about the best VPN in 2018.
Our list of top 10 VPN services makes your life a lot easier by narrowing down the hundreds of providers out there and cutting to the chase with a rundown of the elite VPN options out there and giving you some key information and specs on each VPN listed. We're perpetually going through the process of testing and retesting the best (and worst!) VPNs regularly too, so you can be sure the recommendations on this page are current and can be trusted.
So if you're thinking of signing up for one and want to find out which is the best VPN to choose, we'll make sure that you install the right one and avoid the ones that can be potentially be downright dangerous - and we can recommend a few of those Black Friday VPN deals, too.
If you're purchasing from outside the US, please note that most VPN services are global and will usually charge in US Dollars, so we've listed prices accordingly. However, when you click through to the actual deals, you may find the prices automatically displayed in your home currency as direct price conversions.
What's the best VPN service?
The best VPN service right now is ExpressVPN. It's the best all-round option for speed, privacy and unblocking websites. A close number two is IPVanish which is another very reliable VPN that we like a lot - particularly the way it handles P2P and torrenting. And the third best VPN in 2018 is VyprVPN - amazing for speed in particular. Read more about these VPN services and more below!
The best all-round VPN service for speed, privacy and unblocking
Number of servers: 2,000+ | Server locations: 148 | IP addresses: 30,000 | Maximum devices supported: 3
Wide range of secure VPN apps
Superb 24/7 live customer support
Ultra fast VPN servers in 94 countries
30 day money back guarantee
Only supports 3 connections
[Save 49%] ExpressVPN Special Deal - Get 3 months free with an annual plan on Techradar's #1 rated VPN. ExpressVPN delivered outstanding performance in our speed tests and excellent customer support plus a 30 day money back guarantee.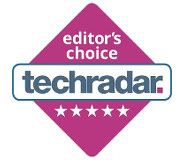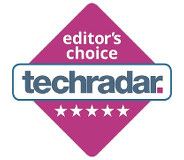 ExpressVPN offers access to more than 2,000 servers in 148 locations across 94 countries, alongside an excellent range of tailored clients, with some great efforts for mobile and desktop on the software front. You get native clients for Windows, Mac, Linux, plus iOS, Android and even BlackBerry (albeit a couple of models) on the mobile front.
But that's not all, add routers (they do their own firmware), VPN browser extensions and DNS content unblocking for a wide range of streaming media devices and Smart TVs, giving you a very extensive VPN solution.
What's also really helpful is that there are loads of web-based tutorials which are easy to follow to help you get up and running with the service. ExpressVPN's website also offers live chat support, with agents staffed 24/7 to answer any questions you may have about their service.
You also get P2P support, a kill switch (to help your IP stay concealed if your network drops), and very solid overall performance levels.
Downsides? The ExpressVPN service supports just three simultaneous connections per user, and their service comes with a premium price tag. But if you want a reliable, ultra fast and highly secure provider, ExpressVPN may be a great fit. While they don't have a free trial option, ExpressVPN has a 'no hassle', industry leading 30-day money back guarantee if you aren't happy with the service. The packages available are: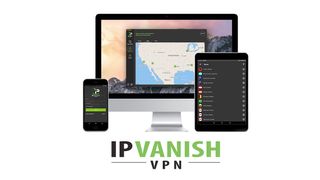 Awesome for torrenting and other P2P traffic
Number of servers: 1,000+ | Server locations: 60+ | IP addresses: 40,000+ | Maximum devices supported: 10
No traffic logs
Excellent download speeds
Configurable software
No free trial
While many VPN services try to stand out with their free plans and cheap commercial products, IPVanish talks more about service quality. It's "the world's fastest VPN" says the website, boasting 40,000+ shared IPs, 1,000+ VPN servers in 60+ countries, unlimited P2P traffic, ten simultaneous connections, a no logs policy and more. They've now added 24/7 live chat support, too.
The price is still going to be an issue for some – it is more expensive than the average VPN, but IPVanish's high speeds, choice of locations and excellent client are hard to beat (although in our latest look at the Windows client, we did find it potentially susceptible to the odd network issue, perhaps more so than rival software). If you're after quality, take the plunge with this VPN service, and if somehow you end up unhappy with the service there's a 7-day money-back guarantee.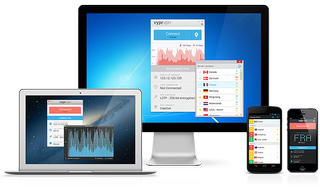 Great for performance and security
Number of servers: 700+ | Server locations: 73 | IP addresses: 200,000+ | Maximum devices supported: 3-5
Very fast performance
Good value annual plans
Powerful, configurable clients
Monthly plans are dearer
This VPN service is based in Switzerland, where there are favourable privacy laws, and it's a very well-specified service boasting 73 server locations and unlimited data usage.
There are also some great extras from VyprVPN such as auto-connect options to make things easy for you, a kill switch, and you get bolstered security courtesy of the firm's proprietary Chameleon protocol and VyprDNS. Note that on the logging front, some logs are maintained (connection times, IP addresses).
VyprVPN also offers a commendably wide range of clients and its Windows software benefits from an easy-to-use interface. Perhaps the best news, though, comes on the performance front - this VPN is certainly speedy.
One point you should be aware of is that VyprVPN doesn't do refunds at all, but there is a 3-day trial. In terms of what's on offer here, you can subscribe either monthly or annually to a Basic or Premium plan (you get three connections with the former, and five with the latter). The packages available are: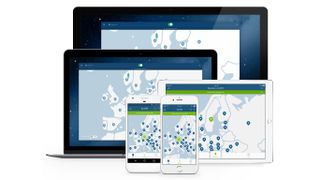 Number of servers: 4050+ | Server locations: 60+ | IP addresses: N/A | Maximum devices supported: 6
Quality mobile and desktop clients
Up to six devices
Good performance
Special offer: Until November 30, Nord VPN is knocking a faintly ridiculous 75% off the price of its 3-year plan. That means it's down to $107.55 (roughly £84.25), which is the equivalent of an effective $2.99 (£2.35) per month.
Despite being based in a country located in Central America - hardly a tech hub - NordVPN's current products match or beat the competition in just about every area.
You get over 3,500+ servers in 60+ countries, 2048-bit encryption, 6-device support as standard, strong DNS leak protection, an automatic kill switch, optional dedicated IP addresses, encrypted proxy extensions for Chrome and Firefox browsers, with payment options that include Bitcoin, PayPal and credit cards.
There's also a SmartPlay feature which can be used to get around geo-restrictions and unblock a large number of streaming services.
Performance was good, too, with impressive speeds on short connections, and some very palatable results with longer distances. And you also benefit from a tight privacy policy here, as well.
NordVPN has four service options available: a monthly subscription, as well as one and two-year plans, and an excellent value three-year special offer as mentioned at the outset. If you want to give the service a whirl before you commit, NordVPN provides a nifty three-day free trial which is rather hidden away on the website – find it here. The packages available are: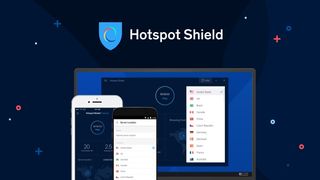 Fantastic VPN service for browsing online privately
Number of servers: 2,500+ | Server locations: 25 | IP addresses: N/A | Maximum devices supported: 5
Low price
Great download speeds
7-day trial
Few server locations
AnchorFree's Hotspot Shield Premium manages to provide all the necessary VPN service features at an attractive price with the option of getting a lifetime license. It supports private browsing, allows "access all content", and supports up to five devices.
Performance results in our tests were excellent, with latency showing only a marginal increase, and both upload and download speeds were a little faster once connected.
We'd like more configurability and a wider range of locations, but Hotspot Shield Premium's high speeds and low prices have a lot of appeal, and the 7-day trial makes it easy to test the service for yourself.
As usual, the best value-for-money is the 1-year subscription (note that you will be billed in US dollars), unless you want to commit to the lifetime plan. Further note that of late the free version of Hotspot Shield has been dogged by controversy over redirecting traffic to partner sites including online advertising firms, but the Center for Democracy & Technology didn't level these accusations at the paid product (and the provider has denied the allegations anyway).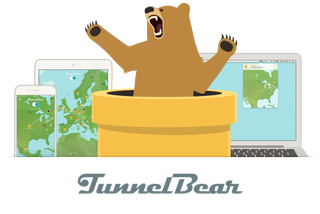 If you want an easy-to-use VPN service, you got it
Number of servers: ~1,000 | Server locations: 20+ | IP addresses: N/A | Maximum devices supported: 5
Extremely user-friendly
Wide range of client software
Transparent privacy policy
Long-distance connections can be slower
TunnelBear is a Canadian-based VPN service which is notable for a number of reasons, perhaps the foremost of which is its emphasis on ease-of-use. You get a wide range of clients, covering both desktop and mobile devices thoroughly, and the software is highly user-friendly.
Even the website steers clear of using jargon, and talks about how a VPN works in simple layman's terms. As you might guess, though, expert users might find the lack of details rather off-putting – and more importantly, there aren't many low-level options to tweak your connection either. So this is really designed with beginners in mind.
In terms of coverage, TunnelBear offers servers in 20+ different countries across the globe, and gives you up to five simultaneous connections. This provider is strong on the privacy front, as well, clearly and concisely explaining its policies, and again not drowning you in jargon (of the legal variety in this case, rather than the technical kind).
Performance is also impressive over shorter hops and solid to the US, although really long-distance connections such as Singapore can see speeds drop considerably (that's not unusual for VPNs, though).
TunnelBear even offers a free service, and while that normally limits you to just 500MB of traffic per month, with TechRadar's special offer you can up that to a far more useful 5GB. Paid plans give you unlimited data and can be had for a reasonable $4.16 per month.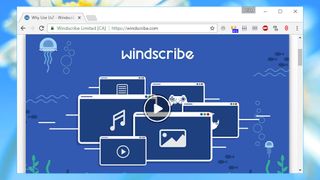 A VPN service which gives you unlimited connections
Number of servers: 348 | Server locations: 50 | IP addresses: N/A | Maximum devices supported: Unlimited
Unlimited device connections
Free plan with 10GB of monthly data
Clear and detailed privacy policy
Only average speeds
Windscribe is a quality VPN service which has native Windows, Mac and iOS clients – an Android client was recently launched, but labelled as being potentially unstable, so use it at your own risk for now. What you do also get is a range of browser add-ons, which come highly rated (and also block ads).
One of the main attractions here is the fact that Windscribe's commercial plan allows for unlimited connections, so no matter how many family members or devices you've got, you'll be covered.
This provider also has a commendably clear privacy policy, and the Windows client is easy enough to use. Performance, however, is only average, so don't expect blazing speeds – but what you'll get is certainly palatable.
There's a free plan available and it gives you a generous 10GB of monthly data, although you can only use one device with it, and there are limits on the amount of data you can download.
The paid-for Pro plan gives you unlimited data and devices as mentioned, and you can subscribe either monthly, or annually for a cheaper rate – namely $9 or $4 a month respectively. However, with TechRadar's current special deal, you can get these plans for half price The packages available are: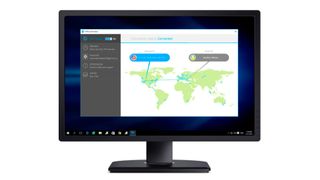 A great all-round VPN service
Number of servers: 1000+ | Server locations: 70+ | IP addresses: N/A | Maximum devices supported: 5
Impressive speeds
Great range of clients
Bitcoin supported
Not good for torrent users
KeepSolid boasts some impressive performance levels, with our testing showing that the VPN barely affected download speeds (compared to the rates we got with the VPN turned off).
This provider offers a wide range of clients, with coverage for Windows, Mac, iOS, Android, Linux and Windows 10 Mobile, and setup instructions are provided for further devices.
Do note, however, that this VPN service doesn't support torrents across the majority of its servers, so it isn't a good choice for file sharers. (Only five servers support torrents: Canada, France, Luxembourg, Romania, and a single location in the US).
There are also some flies in the ointment on the privacy front, with some session logging taking place (although that isn't unusual), and we also found evidence of DNS leaks.
KeepSolid offers a seven-day trial, and a seven-day money-back guarantee to boot, with a choice of three price plans, including a lifetime option which could work out very cheap in the long run. The annual subscription is also nicely competitive. The packages available are: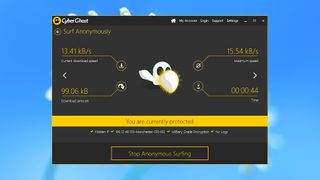 Feature-packed clients and impressive configurability
Number of servers: 1109 | Server locations: 44 | IP addresses: N/A | Maximum devices supported: 5
Clients have plenty of smart features
Good performance levels
Torrents are supported
Some irritations with the interface
CyberGhost is a Romanian/German-based outfit that caters for in excess of 10 million users, and offers a diverse range of feature-packed clients, including native software for Windows and Mac, along with iOS and Android.
While those clients have some niggles in terms of their interfaces, there are a number of very neat options here, including the ability for the VPN to kick in when you launch specific apps.
Those who enjoy a bit of peer-to-peer file sharing will also be glad to hear that torrents are supported on most of its servers. And it's good to see that performance is speedy enough, or at least we found that in our testing.
In terms of being able to try the service out before you buy, there's a free plan, although with some restrictions: you can only connect one device at a time, it may run slower than the full commercial service, and it displays adverts (among other limitations).
The good thing is there's no limit on data usage. Also, if you do commit to a full subscription, there's a 30-day money-back guarantee if you're not satisfied.
There's a good choice of plans with four possible selections, including a highly affordable two-year offer. The packages available are:
Another highly user-friendly VPN
Number of servers: N/A | Server locations: 30+ | IP addresses: N/A | Maximum devices supported: N/A
Really easy-to-use
14-day money-back guarantee
Unlimited free account
Not much in the way of settings
ZenMate is another of the VPN services which try to pitch to novices, with the website avoiding any technical jargon and explaining everything in clear and simple terms.
And naturally that carries through to the software. ZenMate's Windows client is supremely easy-to-use, and it's highly streamlined – just click a couple of buttons and you're off. It's also dead easy to set up, which never hurts.
But as ever, where software is designed to be as simple as possible, expert users will likely be frustrated at the lack of controls available. For example, you can't choose your own security protocol (the service uses L2TP only), or indeed specify a particular city for a server location; you can only pick by country.
Still, if you can accept the limitations here – and that won't be a problem if you aren't very tech-savvy and are new to the world of VPNs – ZenMate offers a solid option, even if performance levels aren't the best compared to rival providers.
It's also worth noting there's a 14-day money-back guarantee if you're not happy with the service, and ZenMate has a free offering although that only operates via browser add-ons (and it restricts speeds and choice of servers).
There are three subscription plans offering monthly, 6-monthly or yearly billing – but note that TechRadar readers can currently benefit from a special offer for a yearly plan charged at effectively $4.99 per month for a one year sub:
VPN services: what will they let me watch?
As well as keeping you safe and sound while browsing the web, VPNs are also handy for catching your favourite TV shows and live sports while you're out of the country. If you've ever tried to stream something on your tablet while on holiday only be told that rights restrictions mean you can't then this is for you! Changing your IP address to your homeland will get around the problem.
We've produced individual guides on how to watch certain shows and events:
Best VPN service for your exact needs
The best VPN service for Android
The winner here is ExpressVPN – in our tests it came out on top when used with an Android phone or tablet. You can use ExpressVPN on your other devices too, but the Android app is extremely user-friendly, so it's ideal for anyone who hasn't used a VPN before. For more experienced users it's also great as there are plenty of advanced options to play with. There is a free trial available on Android as well, though it only lasts for 24 hours!
The best VPN service for torrenting
Our overall number one best VPN ExpressVPN is the place we'd turn if you want to protect yourself while downloading torrents. Whether you're using Windows or Mac, ExpressVPN's powerful encryption and tunnelling features make it a no-brainer. As does the company's British Virgin Island location when it comes to maintaining your anonymity. And don't forget that we've wangled that 15 months for the price of 12 deal for TechRadar readers, too.
The best VPN service for Kodi
If you want a streamer's dream of a VPN service for use with Kodi, then look no further than IPVanish. This provider's excellent performance and speeds will help you make the most of streaming, and hopefully to avoid any buffering nastiness. You also get an excellent native client for Windows with an intuitive interface, yet some good depth in terms of advanced settings. There is no free trial, but you benefit from a 7-day money-back guarantee.
The best VPN service for China
If you're visiting China, or you live in the country, then your best bet for a sterling VPN service is ExpressVPN. As you may be aware, China has some pretty heavy internet censorship that's only getting more difficult to get around. ExpressVPN proactively monitors its network to ensure that accessibility in China is maintained. And having server locations in the likes of Hong Kong, Japan and Taiwan also makes ExpressVPN the go-to VPN service if you're in China.
The best VPN service for Mac
Our number one VPN for Apple computers is ExpressVPN, which offers an excellent Mac app which is dead simple to use (there's also a quality iOS app to complement it, should you also use an Apple mobile device). You also get a speedy VPN service, and quality customer support, which never hurts. There's no free trial, but ExpressVPN argues its 30-day money-back guarantee is better than any trial, because it's a no-hassle guaranteed refund that lets you experience the full service.
The best VPN service for Netflix
If it's Netflix streaming you're keen on – and maybe accessing content you wouldn't otherwise be able to view (although note you do so at your own risk, as Netflix expressly forbids this) – then our top pick once again is ExpressVPN. That's because the VPN provider offers speedy performance for slick streaming, and supports viewing Netflix in a number of countries (not just the US). And if you're dipping your toe into the VPN waters for the first time, then ExpressVPN's 30-day money-back guarantee should be an attractive bonus.
The best VPN service for Canada
IPVanish comes top of our rankings for the best VPN to use in Canada, whether you're a resident or just visiting. For starters, the provider boasts an impressive array of servers in Canada, 42 of them to be precise, which will certainly help in the quest for a fast and stable connection. In our tests, we found this VPN gave us a substantial increase in download speeds compared to our normal rates, which is very impressive indeed. There's no trial, but subscribers can make use of a seven-day money-back guarantee if they're not satisfied.
The best VPN service for Chrome
If you want a simple solution to ensure safe and private browsing, then you can add an extension to your Chrome browser – and our favorite in this case is ExpressVPN. The extension is super easy to use and has some handy little features such as DNS leak prevention and a kill switch. It's fast and Chrome users can have confidence in ExpressVPN's security as well - its privacy policy is attractive with no logging of traffic data or online activity.
The best VPN service for iPhone and iOS
We'd choose the ExpressVPN app for iOS if you own Apple devices you want to stay protected on. This is our recommended best VPN service for iPad and iPhone largely because of its consistently fast performance, huge server network and wide array of access to streaming services such as Netflix and Hulu. We also liked how easy it was to download, install and set up the ExpressVPN app - it takes merely a single tap to turn on and off the VPN at your will.


VPN services: what actually are they?
VPN is one of those tech terms and has gained a lot of traction in recent years as the internet has diversified and grown to even bigger levels.
VPN stands for 'virtual private networking', which is a popular internet security method. The latter involves technologies that aim to add a layer of security to both private and public networks. These include broadband and internet hotspots.
A VPN (virtual private network) is therefore a secure and private solution within the wider internet itself that allows users – whether they are individuals, or part of an organisation, or business – to send and receive data while maintaining the secrecy of a private network.
That means you could use one to create a secure "tunnel" into your company network to enjoy access to private internal systems, but also means you could browse in complete privacy online and access content you might otherwise not be able to get such as Netflix or BBC iPlayer.
All the traffic that passes through your VPN connection is secure and cannot, in theory, be intercepted by anyone else, making it the safest mainstream way to browse the web privately (but not always anonymously).
Just bear in mind though that VPN setups are only as secure as the weakest link in the entire chain. So if your device has already been compromised with malware already, using a VPN won't save you from being spied upon, although a good antivirus could.


VPN services: what can I use them for?
If there's one worry when it comes to using technology and the internet, it's privacy. By using a VPN, you can, in theory, prevent your internet service provider (ISP) and government from seeing your internet history.
VPNs have also emerged as a popular tool in the freedom of speech movement. You're able to avoid censorship within organisations and from third-parties. For example, if you have a view that goes against the priorities of your employer, you don't have to worry about them finding out.
People also use VPN technology to "geo-spoof" their location. This results in users customising their location settings to be able to use overseas services. A great example of this is watching a TV programme or online product that's only available in a specific country, perhaps due to legal or licensing issues.
You can resort to a VPN to protect yourself from hackers too. If you're outside and sign up to use a public internet hotspot - perhaps in a cafe or library - there is the chance someone could try to break into your device. This can lead to you losing valuable data, such as passwords.
This technology is also emerging as a popular force in the world of business. When you're traveling around for meetings all the time, it's normal to connect to third-party networks. With a VPN, you can access your firm's intranet without the worry of being targeted by cyber criminals.
Many VPN services - there are about 400 of them on mobile and desktop - offer different pros and cons, so if you're looking to access Hulu or BBC iPlayer from a different region, dial into your office network or simply stay safe and secure online, you'll find a service tailored precisely to your needs.
Furthermore, a VPN can be used to avoid having your internet connection throttled, and that's certainly relevant at the moment given what Verizon is up to over in the States. According to reports, the ISP has capped Netflix streaming at 10Mbps, and also throttled video on its unlimited plans meaning that smartphone viewers can't achieve a better quality than 480p.
One provider, NordVPN, reckons that some users have seen their Netflix streaming speeds triple by employing a VPN to bypass Verizon's throttling. That's certainly food for thought.
It's also interesting to note that while phishing remains a major danger online, a VPN can help protect you against malware or con tricks when web browsing.


Free vs. paid VPN: Which is truly better?
Some companies now offer a basic service that won't cost you anything at all. Are the free VPN services as good as their paid-for counterparts then? Not so fast.
As you'd expect, there are catches, and they typically start with a data cap. Avira Phantom VPN's free plan limits you to 500MB a month, PrivateTunnel offers 2GB, whereas ZPN has a generous 10GB allowance - not bad at all.
Free products also typically have usage restrictions. Most companies don't want you to soak up all their bandwidth on torrents, so ZPN is typical in blocking P2P.
Hide.me's 2GB free plan also has some common limits. There's "best effort" bandwidth, which means paying customers have speed priority and you get what's left. And the choice of locations is limited to three: Canada, Netherlands and Singapore.
Hola's free-for-personal-use plan doesn't have the same kind of restrictions, but even here there's a catch. The service routes traffic through its free users rather than dedicated servers, so signing up allows others to (securely) share a small part of your bandwidth and resources.
Then there's the adverts and the session limits (CyberGhost) and the general lack of service level agreement: free means that it doesn't come with any implicit warranties.
Free plans are fine for simple needs, then - maybe protecting your laptop's wireless hotspot traffic on the occasional trip - but if you're looking for anything more advanced, a commercial product is best.
The immediate benefit is that you know your personal data remains safe, even if you're on a public Wi-Fi hotspot. Local snoopers might be able to see the connection, but there's no way to find out what it is or where it's going.
VPNs also give you a new digital identity in the shape of an IP address from another country. This makes it harder for websites or anyone else to track you, allows some people to bypass government censorship, and helps the rest of us avoid those "not available in your country" messages on YouTube or other streaming sites.
Best of all, despite the low-level network technology involved, you don't need to be any kind of expert to make VPNs work. For the most part, all you have to do is choose the country where you'd like an IP address, click Connect to start, Disconnect when you're done - and that's it.


VPN service: how to choose yours
Choosing a VPN service can be tricky if you are not well versed in the technical lingo used by the service providers.
There are several factors to consider when you're choosing a paid VPN. Here are six tips.
1. Does the plan have servers in every country and region you need? Having more than one server in a country can help spread the load, but doesn't guarantee improved performance, so don't assume a plan with 500 servers will automatically beat another with 100.
2. Check the number of simultaneous connections supported. Typically, this is 3-5, which allows you to have a PC, mobile and tablet connected at the same time. But beware, many companies say this is for a single user only, and they all have fair usage policies to prevent people hogging resources. If you let the entire family download and stream videos separately then you'll run into trouble.
3. Some providers list the connection protocols they use. OpenVPN and IKeV2 are good choices, fast and secure. You might see SSTP and the older PPTP, as well as protocol options (TCP or UDP for OpenVPN). You don't need to understand the low-level details, but having the extra choice can help the service make faster and/or more reliable connections.
4. All VPN companies say they don't log whatever you're doing online, but inevitably they collect a little data. Some services record the day your account logged on, the amount of data you used, and delete anything else when the session closes. Others add items like your incoming IP address and the server you used, and keep the data for months, even years. If you're concerned, check the Privacy Policy and Terms of Service to find out more.
5. It's important to consider the client, the software which handles your connections. These all have a list of servers and a Connect/ Disconnect button, but could you use more? Some clients display server load and ping time in the interface, helping you choose the right server. Regular users might appreciate a "Favourites" system to save and recall specific servers. If you know what you're doing, having access to low-level network settings will help you tune the whole system.
6. Finally, there's the price. Beware of apparently cheap deals: these may have restricted features, exclude taxes, be discounted for the first billing period only, and renew automatically, so that apparent one-off £3.99 might become almost £10 next month. Look for a 'Pricing' link, read the small print, and if possible use something like PayPal where it's easy to check and cancel a subscription yourself.
Once you've found what looks like a good VPN candidate, be sure to take it for a trial before you spend any big money. But a short trial can only tell you so much, so once that's expired, pay for a month, run as many tests as you can, then upgrade to a better value plan (usually yearly) if you're still happy.


VPN services: how we test them
Our comparisons started by looking at each provider's range of plans
We were looking for features, value, and clear and honest pricing. Free ways to learn more about a service - free plans, trial periods, refund periods - were important, and we also looked for companies which maintain your privacy when you signed up (no email address required, trials available without credit cards, Bitcoin available as a payment option).
The official product pages never tell you everything you need to know, so head off to the Privacy Policy and Terms and Conditions pages to find the real details. Does the company log more data than you'd expect, or keep it for a long time? When might it share information with others? Are there any restrictions on who can sign up? (Some providers say you must be 18 or over, or that the service is for personal, non-commercial use only.) Any other catches?
VPN performance is difficult to measure as there are so many variables, but we used multiple techniques to try and get a feel for each service's abilities. We first used speedtest.net to measure the latency, upload and download speeds for a distant connection (typically UK to California), repeated the test immediately with the VPN turned off, and looked at any changes.
We followed this up with a much shorter connection (typically UK to Netherlands) to see a more typical peak performance, ran a second benchmark to confirm our results, and ran some general browsing tests - including streaming HD video - to look for other problems.
VPNs will always give you a new IP address, but some services may have DNS or other leaks which give clues about your identity. We visited IPLeak.net and other privacy sites to look for problems.
In terms of the client and interface, we were looking for good server selection tools (by country, region, server, speed, with filters, a Favourites system, perhaps with server load or ping time displayed), with plenty of configuration options, but also a client which stays out of the way until it's needed.
Finally, we weighed up these individual factors, came up with an overall score, and narrowed these down to the 10 best VPNs around. All the software in the top five scored at least 70 points out of 100.