Getting the best VPN has become a must for anybody wanting to stayer safer and more anonymous online. In a time where it feels like you're being tracked and monitored more than ever, using a VPN service is an easy way to ensure that everything you do in your digital life is hidden from view.
But the best VPNs are more than just a cybersecurity tool. Because they can effectively trick your laptop or mobile device into thinking it's in another location entirely, they have become game-changing software for streamers and anybody getting to get around online censorship and blocked apps.
In this article we explore everything you could possible want to know about VPNs. What they do, how they work, the devices they work on and how to go about choosing the ideal one for you.
And because our experienced cybersecurity experts have just completed our regular retesting of all the best providers out there, you can also discover 2022's best VPN services with summarized reviews of our favorite 15 just a short scroll down the page.
Best VPN services in 2022 - our top 3
1. ExpressVPN - best VPN service in 2022 (opens in new tab)
ExpressVPN takes top honors in our VPN testing. It offers fast speeds, security smarts, supreme ease-of-use, 24/7 customer support, and even free cloud backup. It's a little pricier than some of the competition, but you can try it for 30-days risk-free to see why we rate it so highly.
2. NordVPN - the biggest name in the business (opens in new tab)
With rapid server speeds, extra privacy perks like 'Double VPN' encryption, and independently audited no-log policy, NordVPN is a very close runner-up. It's jam-packed with features, and, despite the quality on offer, the pricing gets really reasonable if you sign up for a multi-year plan.
3. Surfshark - easy to use VPN that's great value (opens in new tab)
It may not have the same server variety or OpenVPN speeds as the two top VPN services above, but Surfshark is still full of features and excellent at unblocking restricted apps and services. At less than $2.50 USD/£2/$AU3.50 per month it's a reasonably priced option that's super simple to use - and right now, it's throwing in an extra two month free.
What is a VPN?
Short for Virtual Private Network, VPNs are a program or app that allow you to use the internet via secure, encrypted tunnels. So for many, getting a VPN service will be all about privacy - you may want to use them to help keep your online life completely anonymous from prying eyes of your ISP (handy for keen torrenters) or even your government.
But because the best VPNs also let you change your IP address to one in a completely different city or country, these services have taken on a much wider use. VPNs are fantastic for streamers, for example, who want to have access to a whole world of shows and films, or want to watch a sporting event somewhere you ordinarily can't.
While if you're on holiday and find your favorite app is banned (think about some of the internet censorship in Cuba, Turkey, China - even Canada), an online VPN will let you use the internet in the way you've become accustomed.
The best VPN services for 2022:
(opens in new tab)
Get TechRadar's #1 rated VPN risk-free and with 3 months extra free (opens in new tab)
ExpressVPN has been top of the VPN pile for some time now, and it's easy to see why. It combines doing the basics brilliantly - fast connections, loads of server choice, watertight security, powerful unblocking - with a hunger to continually innovate with its features and added extras.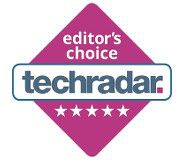 (opens in new tab)
Servers, connections and apps: ExpressVPN gives you the choice of over 3,000 servers in 160 locations across 94 countries. Its five simultaneous connections will be more than enough for most subscribers (although admittedly most other VPN services on this list permit more) and in addition to fantastic apps on Windows, Mac, Android, iOS and Linux (and dedicated extensions for Chrome and Firefox), it's also really easy to use on the likes of Apple TV, Roku, Amazon Fire Stick, smart TVs, PlayStation and, Xbox.
Security and privacy: In addition to industry-standard encryption and 256-bit encrypted DNS, Express's very own open-sourced Lightway protocol is now fully available on all apps and has increased speed and reliability even further. Alternatively, you can still choose the classic OpenVPN set-up, although support for IKEv2 and L2TP/IPsec has now been dropped.
Usability: Away from the numbers and specifications, it's in our real-life testing where ExpressVPN really shines. We love just how easy to use this service is. That might seem obvious, but not every VPN provider out there has worked out how to make its tools intuitive, regardless of what device you're using it on. From desktop and mobile, to TV streamers and browser extensions, ExpressVPN is a really easy to set up and operate for both pros and inexperienced users.
Performance: ExpressVPN is fast. Really fast, with fantastic connection speeds across servers in multiple countries. And that's even when we're using the default OpenVPN protocol in our tests - they get even quicker with the aforementioned Lightway option turned on. True, it does get outpaced by a few providers like TorGuard and Hide.me, but the peaks of 630Mbps we saw in our speed testing will be more than enough for 99% of users.
Streaming: For many people looking for a VPN, it all comes down to how good a service is at unblocking banned websites/services and getting around TV streaming hurdles. So we check to see whether they can unblock geo-restrictions that stop you watching services like Netflix, Hulu, Amazon Prime Video, BBC iPlayer and Disney+ from abroad. ExpressVPN unlocks them all admirably, and has really risen to the challenge laid down by Netflix in its ongoing mission to stop VPN use altogether.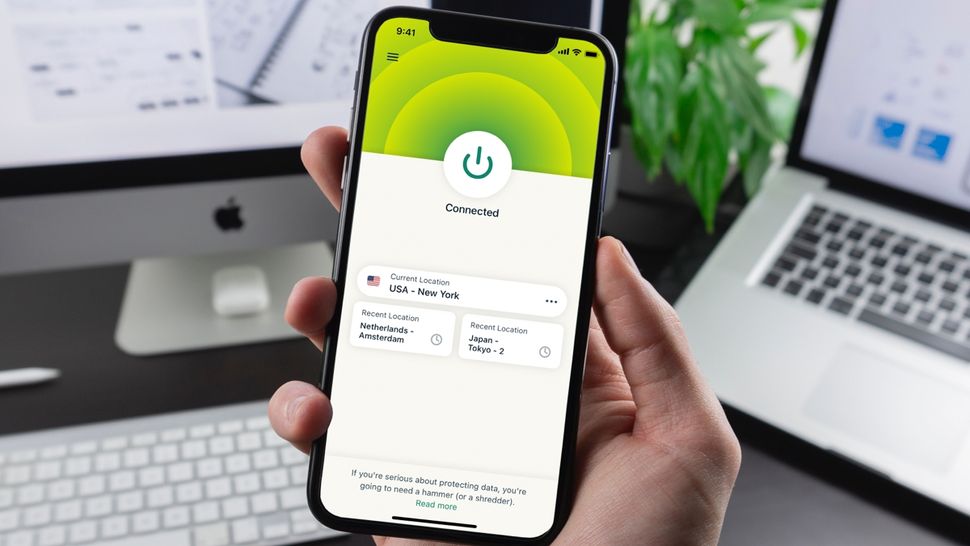 (opens in new tab)
Features: ExpressVPN goes above and beyond. Bitcoin payments, P2P support, kill switch, DNS leak protection, solid and reliable performance and a clear no-logging policy that's been verified by independent auditors. It's all there and the company is constantly innovating, too, giving its users the benefit of more general online security presence like the cookie-blocking Threat Manager, and a Parallel Connections feature that decreases your connection time - there always seems to have been something new and shiny added to the service every time we test it.
Customer support: It's really worth knowing about this VPN provider's excellent levels of customer support. Its support website is stuffed with detailed guides and tutorials to get you up and running. And if you do have any trouble, 24/7 live chat support is on hand to answer your questions. It really works, too - we consistently get helpful responses from a knowledgeable support agent within a couple of minutes of posting our questions.
Price: We believe that 'reassuringly expensive' is probably the apposite phrase here. ExpressVPN is certainly more expensive than many of its main competitors - especially if you only want it for one month, for which you'll pay $12.95. But the annual plan ($6.67 a month) becomes much more attractive when you see that it includes an extra three months free and a free subscription to cloud backup provide Backblaze (opens in new tab).
Anything else?: It would be remiss of us not to talk about ExpressVPN's rather 'exciting' week in August 2021. First, it announced that it had been acquired by Kape Technologies, the company that owns CyberGhost and PIA below and has a somewhat controversial history. Then a couple of days later it was revealed that its CIO had been fined for previous hacking allegations. TechRadar's view is that neither incident feels particularly major - although we understand why they rattled a few cages in the VPN world - and we don't see any current reason to stop recommending this provider on this basis.
Should you get it: We don't mask the fact of how highly we rate ExpressVPN. It's very simple... it is the best VPN you can get in virtually every scenario. And if you're not sure, you can always take advantage of ExpressVPN's quibble-free 30-day money back guarantee that you can use like a free trial – not that we imagine you'd need to use it.
TechRadar readers get three extra months free when you sign up for an annual plan, as well as a year of unlimited Backblaze cloud backup (worth $60).
(opens in new tab)
Probably the most recognizable name in the VPN business and now a veteran of 10 years, NordVPN more than lives up to its lofty reputation. It excels in pretty much every area that you'd wish to care about when choosing your new service and is only a shade behind ExpressVPN in our overall VPN review scoring.
Servers, connections and apps: Nord actually betters ExpressVPN on pure server count, cranking things up to an eye-watering 5,000+ (in 60 countries), while also allowing for one more simultaneous connection at six.
Security and privacy: The levels of security NordVPN has to offer have been impressing us for some time now. Offering AES-256 as standard, you also have the option to turn on its Double VPN system where all your internet traffic is encrypted not once, but twice. Handy to know where your internet anonymity is paramount like when you're on public Wi-Fi or, perhaps, torrenting.
We also admire Nord's dedication to putting the tarnishing news of historic data breaches behind it. It now brings in PricewaterhouseCoopers to carry out a thorough audit of its no-logging policy every year.
Performance: The provider's custom NordLynx protocol has certainly been an eye-catching development in the last year or so. It has helped to make Nord's connection speeds some of the fastest we've recorded and more reliable, even from servers that are further afield.
Usability: For the most part, NordVPN is a cinch to set up and operate. But we do have the odd quibble - just little things like the destination cities not being listed in alphabetical order or searching through menus for specialist task functions left us wishing for tweaks. That's especially the case when it comes to its otherwise effective mobile apps. But, these are pretty minor minus points and, as with any VPN reviews you'll find on the internet, we understand that this ultimately comes down to personal preference.
Streaming: NordVPN has traditionally been a very strong tool for unblocking a wide variety of apps and streaming services, including WhatsApp, YouTube, Disney+, HBO Max, BBC iPlayer and more. And after some iffy months, we're starting to see it firing on all cylinders once again when it comes to getting you access to global Netflix catalogs.
(opens in new tab)
Features: Like its main competitor above, other features include strong DNS leak protection, kill switches (application-specific and system wide), proxy extensions for Chrome and Firefox browsers, and payment options that include Bitcoin, PayPal and credit cards. It's also helping lead the charge as VPNs become more like traditional virus protection with included tools like Threat Protection - although we personally think that this much-promoted feature still feels poorly implemented in its current iteration, with hard-to-find settings and inconsistency across platforms.
Customer support: Not only are NordVPN's troubleshooting articles plentiful, these tutorials are also really useful. And there's always chatbot and excellent live customer support on hand 24/7 if you're still struggling.
Price: NordVPN has a few options available included monthly subscriptions and an excellent value two-year special offer (see below). If you want to give the service a whirl before you commit, NordVPN provides a 30-day money back guarantee.
Should you get it: As we say, there really isn't much between Nord and its fiercest rival ExpressVPN. While the odd niggle that we've explained may put of some, they're pretty trivial and Nord's more attractive pricing (and very visible sponsorship campaigns) may just attract you Nord's way.
---
(opens in new tab)
If Surfshark grabs a whole lot of attention with its market-busting pricing, it has continued to impress reviewers like us with a clear ambition to improve its service, performance and feature set. So while value is the asset that will make Surfshark stand out most when you're considering a new VPN, there's way more to like about Surfshark than mere dollars and cents.
Servers, connections and apps: Outside of sheer pricing, one of the most attractive feathers in Surfshark's cap is that fact that you get unlimited connections on a single subscription. So if you plan to use your VPN on your laptop, desktop (compatible with Windows, Mac and Linux), tablet, a couple of mobile phones (iOS and Android both covered) and Amazon Fire TV Stick for watching overseas TV, the one account will cover you on all of them simultaneously. And theoretically you could even let friends and family members use your sub, too.
Security and privacy: When it comes to keeping you and your online identity secure, Surfshark is all business. It has now added the new protocol in town WireGuard to its OpenVPN UDP and TCP and IKEv2 options. In addition, Surfshark boasts a private DNS and an extra security blanket via a double VPN hop. However, thorough as our testers are, we have noticed the odd issue with Surfshark's kill switch. The result is far from lethal, but it doesn't quite reach the levels of perfection that Express has attained.
Performance: In the past, we've used speeds a bit of a stick to beat Surfshark. But the provider appears to have gone some way to rectifying this, with our latest speed testing showing WireGuard speeds that got as punchy as 790Mbps. But while that protocol betters what we found from ExpressVPN and NordVPN, Surfshark's OpenVPN pacing still remains down - the maximum 150Mbps is among the very lowest we recorded in our latest evaluations.
Usability: When you first head to its website, Surfshark's laid-back and playful branding takes software that may be a bit intimidating to newcomers and makes it really accessible and user-friendly.
So if you're somebody who is easily bamboozled and, ultimately, put off by complicated menus and myriad options, Surfshark - like ExpressVPN above - could be the ideal VPN for you. It keeps its interface completely stripped back and free from complication. All you'll really see are options for 'Quick connect' and 'All locations', accompanied by a Settings icon, and nothing else at all really. Whether that level of detail (or lack thereof) is a boon or a drawback entirely depends on your perspective.
Streaming: We found it successfully gets to grips with unblocking geo-restricted access to Netflix, BBC iPlayer, Disney+ and others. In fact, in recent weeks, Surfshark has been right up there with Nord in terms of how effectively it unblocks a multitude of international Netflix catalogs (including the US).
(opens in new tab)
Customer support: Much like the two providers above, Surfshark offers speedy and helpful live chat support in case you run into any issues.
Price: Sign up to Surfshark's two-year plan and the effective monthly cost comes in at less than $2.50 USD / £2 GBP / $3.50 AUD. That's a marked difference from the VPN services sitting above in this guide (although PIA below is now giving it a run for its money). It also offers a 30-day money back guarantee, giving you plenty of time to give it a try before committing for a longer period.
Anything else?: It always feels like this company is trying to raise its game, and in May 2021 it let independent security consultants Cure53 complete a security assessment to "to thoroughly examine and evaluate the security posture exposed by the Surfshark server" - it ultimately confirmed that there was "a very solid security premise at Surfshark". And the latest innovation is Surfshark One - a fully featured internet security suite based on the Avira antivirus engine.
Should you get it: We'd certainly say that a place in the top three out of the 200+ VPNs we've reviewed is a ringing endorsement and the above 'negatives' are unlikely to put off the bargain hunters among you. It's a very capable VPN at an extremely attractive price point.
---
(opens in new tab)
It may not be quite the fastest VPN or the most powerful, but Private Internet Access (often stylized as simply PIA) is still an extremely capable VPN provider with more than enough features - and some fantastic pricing to boot - to justify a place on your shortlist.
PIA's most notable claim of recent VPN reviews is a huge increase in PIA's server count - the latest we were told is around 10,000, which puts it way ahead of the rest when it comes to pure server numbers. That sure sounds impressive, but it wouldn't be worth a thing without quality VPN clients and a wealth of security smarts. Thankfully, PIA offers a healthy mix of privacy features and security protocols (including WireGuard) - this extends to its first rate Chrome extension, which adds in the option to block location access, third-party cookies, website referrers and more.
Whether you're intending to use your VPN mostly on Windows, Mac, Android, iOS, Linux or maybe a mix (there's support here for up to 10 simultaneous connections), they're all reliable, easy to use, with more features than most. That's not just us saying that either, as the user reviews on the App Store and Play Store are generally really positive.
And PIA keeps continues to improve. Among an impressive features list are a recently added SmartDNS - another string to its bow in helping you watch region-restricted content - excellent kill switch, browser extensions with extra privacy perks, open source apps and a live chat support service that we found genuinely helpful when we used it.
For eager streamers, PIA largely impresses. In our tests, we found that it successfully unblocks US Netflix from abroad (but no other foreign catalogs unfortunately) and the likes of Amazon Prime Video and Disney Plus. Strangely though, we had no joy when trying to access BBC iPlayer from outside the UK.
Speaking frankly, PIA isn't currently close to appearing on our list of the fastest VPNs. It isn't the slowest around and won't significantly hold you up for most 'normal' web activity. But for gamers looking for an edge, streamers who hate the merest hint of buffering and torrenters not wanting to hang around, maybe you should go from one of the better/faster options on this list.
Should you get it: Private Internet Access does plenty to stand out from the crowd and has an army of very satisfied customers. The pricing beats a lot of the competition - often throwing in free extra months or additional security licenses when you sign up for more than a year - and we can't imagine what features you'd feel like you're missing. The speed point is worth noting if that's important to you, but otherwise you're good to go.
---
(opens in new tab)
Proton VPN is the one of the biggest improving providers in recent tests, and is definitely deserving of its place within our five top VPN services. It feels like in the last couple of years, Proton has been a VPN company on a mission - its server network has shot from a few hundred to nearly 2,000 (still less than most, but heading in the right direction) and it has made notable improvements to its clients and apps, adding new features and support.
The most significant of those in recent times was WireGuard, which has now been fully rolled out. That bodes well for Proton's future proofing, and our speed testing witnessed some of the most eye-catching OpenVPN speeds around, too. In short, you don't have to worry about waiting to be connected if you're in a hurry to turn on Proton VPN, and then afterwards you can just leave it working in the background knowing it shouldn't slow down your internet connection.
Proton has really improved its streaming skills, too, becoming a reliable provider for getting around geo-restrictions when you're abroad. It breezed past BBC iPlayer, aces Amazon Prime Video and netted us access to foreign Netflix catalogs without much trouble at all - that's in a year where other Netflix VPNs have encountered problems. Although it should be noted that this is only the case if you have a Plus subscription - you won't get this functionality from its free tier.
The very fact that Proton is based in Switzerland, instantly makes you just feel safer - a country that's famed for having some of the most enhanced online privacy laws in the world. And that's only enhanced by terrific kill switches, the opportunity to pay by Bitcoin and a growing number of P2P servers for torrenting.
There's still room for some improvement, of course. We'd love to see Proton take a leaf out of Surfshark's book and make the apps and clients feel a bit friendlier and less technical. We find its support articles a tad over complex, and while we welcome its new live chat support, there were some times of the day where nobody was available.
We also feel just a little bit irked that the 30-day money back guarantee works on a pro-rata basis - if you use it for 15 days, say, you'll only get a 50% return. Feels like poor form, although at least Proton has a very useful free VPN if you do want to give it a try without any cost whatsoever.
Should you get it: So Proton VPN isn't perfect, but it is on the rise and challenging the top of our VPN podium. It still doesn't have that many servers or locations, and it's quite expensive if you need all the features we've described here. This is a powerful and trustworthy service, though, and if that's your top priority, we'd recommend you take a look.
---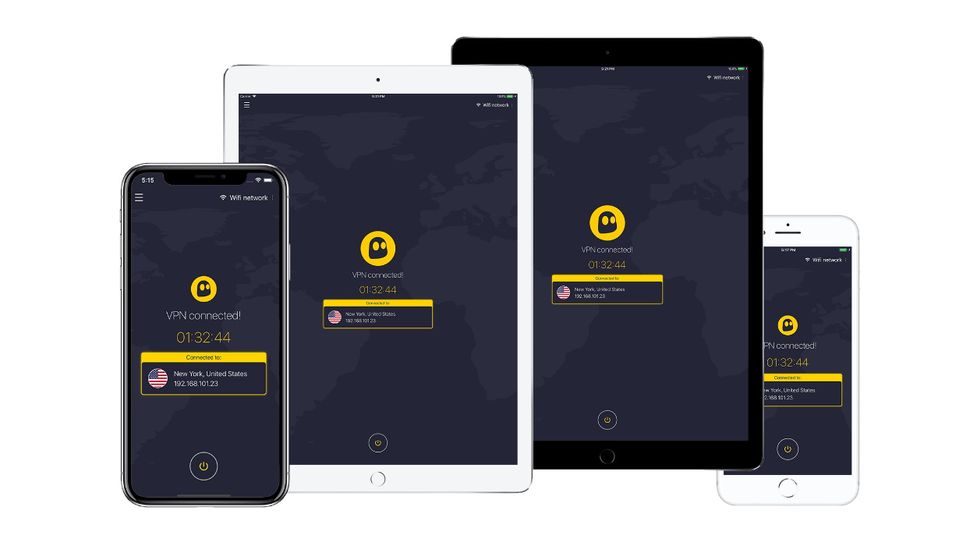 (opens in new tab)
VPN service CyberGhost has been a firm favorite of ours for some time now. The company covers the basics well, with around 8,000 servers spread across 90-odd countries, apps for Windows, Mac, iOS and Android, torrents allowed and speedy live chat support.
CyberGhost shines no matter what device you're planning to use it on. Beneath its clean, easy to follow interface lies a sea of fantastic features and functionality. It will quickly connect you to the right server for you if you're specifically looking to stream or torrent, for example.
And extra touches like its Smart Rules panel shows that the engineers at CyberGhost have really put some thought into the user experience. It allows you to automatically connect to your preferred server launch a particular app (such as your default browser in incognito mode) when you boot up your computer. A genuinely useful added bonus.
We need to spend just a bit of time mentioning the speeds CyberGhost demonstrated in our most recent tests. When we jumped on to the WireGuard protocol, we witnessed connection speeds that beat the likes of NordVPN. And it was equally impressive on OpenVPN, too.
Website unblocking has historically been another strong suit of CyberGhost's, and we're glad to report that it has upped its game again in our streaming tests. We got access to US Netflix, BBC iPlayer, Amazon Prime and Disney Plus through its servers. And while we couldn't get access to exclusive Netflix content in regions like Canada and the UK, that isn't unusual of even the best VPNs in 2022.
To break into the hallowed top five, we'd like to see CyberGhost clean up a few of the rough edges we've witnessed. Not having a privacy privacy audit or a great support site really does matter these days, the Windows app keeps shtum when it disconnects, and it irritates us that once you've registered your seven devices, you then have to deregister one before you're able to use CyberGhost on another computer, phone or other gadget.
Should you get it: With a better-than-standard 45-day money back guarantee and fair pricing (especially if you're willing to commit), CyberGhost is still well worth a closer look. With parent company Kape showing more and more ambition in this cybersecurity field (we mentioned its purchase of ExpressVPN above), you're in the hands an organization that continually seeks to push the envelope.
---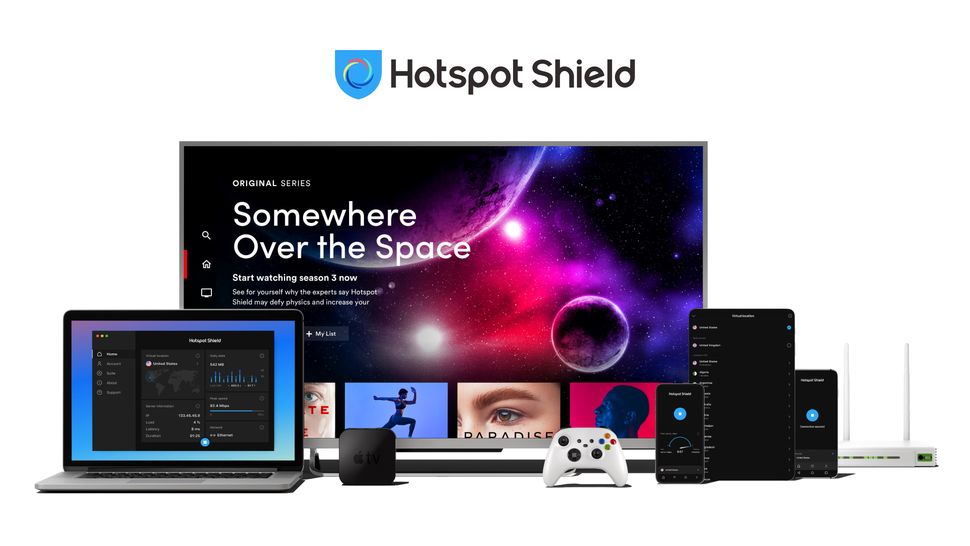 (opens in new tab)
Hotspot Shield's premium VPN gives you full access to 1,800+ servers in more than 80 countries, support for connecting up to five devices, 24/7 customer support and, unlike its popular free version, absolutely no ads at all. It's yet more evidence that taking the plunge and paying just a few dollars a month gets you a far superior VPN experience.
As well as being able to run the service on devices where you can use its native Windows, Mac, Android or iOS apps, Hotspot has added functionality to support use on routers, Linux and TV streamers, too. A SmartVPN feature - that let's you select websites on which the VPN will be bypassed - is another welcome addition, especially if you only really wanted to keep your VPN on when shopping, banking, streaming, etc.
If you really just want a VPN to help you stream more varied content, Hotspot unblocks most of the major streaming services. And while it's had a checkered past with Netflix recently, we're now able to use Hotspot to gain access to US Netflix from abroad.
Amazingly for this provider, its major downside now is performance. Up until the last year or so, this had been a major selling point for the provider, with Hotspot Shield's proprietary Catapult Hydra protocol helping to deliver some of the fastest and most consistent download speeds around. But it has rather 'stood still' in this regard of late, and services with WireGuard or that have their own proprietary protocols (like ExpressVPN's Lightway or Nord's NordLynx) have now overtaken Hotspot when it comes to outright speed. In fact, it now lingers towards the bottom of the pile in this regard.
To springboard back up to the top of this chart, we'd also like to see Hotspot bring in some independent auditors to verify its logging practices. Especially as the provider does admit to logging VPN sessions, bandwidth, domains accessed and IP addresses. All of these are reasoned out on Hotspot's website, but we'd welcome an auditor's view on things. There's also room for improvement on its iPhone VPN app, which just doesn't quite match the high quality desktop or Android experience.
Should you get it: Hotspot Shield is one of the best-priced premium VPNs on the market. And if you try it and still aren't impressed, then there's a generous 45-day money back guarantee that will let you get your money back without issue. Without the market-leading speeds, it no longer ranks among the top 5 VPNs around, but it will still work perfectly well for most users.
---
(opens in new tab)
This is the first time that Hide.me has broken into our top 10 VPN list. Although it's been around for a decade, we reckon it's one to watch and, with the speeds and improved streaming performance we've witnessed in our testing, we wouldn't be surprised if it just keeps climbing.
So what does Hide.me do well? Land on its website and you immediately feel like this is a provider that means business. There's none of the playfulness that we see from the likes of Surfshark or Tunnelbear, just reassuringly straight messages about its mission and features.
In an industry that gets quite complicated with holding companies and complexed webs of who-owns-who, Hide.me remains independently run. We imagine that's what gives it the latitude to innovate its own custom technologies and make the product so highly configurable.
To the average user, that means a few crucial plus points. For one, both its WireGuard and OpenVPN protocols delivered some of the very fastest server speeds that we witnessed in our latest tests - it maxed out at an remarkable 900 and 415Mbps respectively. We realize that speed isn't everything, but it feels like a provider that's showing it walks the walks. And those OpenVPN speeds are faster than we saw providers like PIA above manage with WireGuard switched on.
It's pulled the rabbit out of the hat when it comes to streaming, too. We had success unblocking US Netflix, which isn't a given these days, as well as the likes of iPlayer in the UK and overseas Amazon Prime libraries.
Prices are middling and there's that usual 30-day money back guarantee in place. And don't forget about the 10GB/month free plan, if you want to look before you leap.
So what's currently holding Hide.me back? Well, while we admire the provider's no-nonsense approach, the flip side of that coin is that the clients and apps feel just a little bit intimidating for somebody that's dipping their toe into the VPN waters for the first time. We'd like to see an update to its historical security audits (the one quoted on site appears to date back to 2015 - that's ancient history in this field), and we did spot a few potential kill switch issues that impact security with OpenVPN and usability with WireGuard.
Should you get it: You can probably tell from the above write-up that we're in two minds on Hide.me. There's no denying the improvements its developers and architects have made and on the whole we recommend it. But there are still just a few too many niggles for it to join the upper echelons.
---
(opens in new tab)
IPVanish has been a reliable performer in our VPN tests for years. The service has some impressive stats: 40,000+ shared IPs, 2,000+ VPN servers (and growing) in 70+ locations, unmetered P2P traffic, unlimited simultaneous connections and 24/7 customer support. On the subject of support, we really like that you can access it directly from your Android or iOS app on mobile.
When you're using it on a computer, there's something about IPVanish that just feels comforting. It's probably the reassuring graphs and charts that do it. But rest assured, it's not just about looks as IPVanish has the security smarts (AES-256 encryption, kill switch, DNS and IPv6 leak protection) to fit the bill as a great choice for the privacy conscious.
In contrast, the Android and iOS apps feel a bit more fiddly to use. There's no denying the settings, options and configurability of its Android VPN app are plentiful, but sometimes it all feels a bit over complicated compared to the simplicity of what's on offer from the likes of ExpressVPN or Surfshark. And the apps don't seem to get updated or refreshed that often either.
With the likes of Nord, Express and Hotspot all rolling out their own proprietary security protocols, IPVanish was beginning to look a little bit left behind in terms of modernization and speeds. Enter WireGuard - the service added the option over the last year and speeds have, predictably, gone through the roof. The same can't necessarily be said of its OpenVPN speeds though, where IPVanish is middling.
If streaming's your thing, IPVanish doesn't claim to be your best friend. It certainly struggles to unblock Amazon Prime Video, but most other services are possible. It even unlocks US Netflix now, something seemingly beyond its grasp in previous testing.
Should you get it: If you like the idea of IPVanish's unbarred simultaneous connections, the immense WireGuard connection speeds, the power and configurability of its apps, and aren't put off by the past iffiness we've experienced with streaming, then take the plunge with this VPN service. And if somehow you end up unhappy you're protected by a 30 day money-back guarantee.
---
(opens in new tab)
Windscribe take a very wry view of the VPN industry at large, seriously unimpressed by overblown marketing speak and added features that it sees as merely grandstanding. Thankfully, it comes up with the goods when it comes to its own product.
From a beginner's perspective, you you get clients for Windows, Mac, Android, iOS and Linux, for instance, as well as slick browser extensions for Chrome, Firefox and Opera. A single subscription covers unlimited devices, too, so you can get them all connected with a Windscribe plan.
While seasoned users will revel in some of Winscribe's more advanced features that you just don't find anywhere else. Take, for example, the ability to use OpenVPN setup files from other providers to connect to their servers from Windscribe's app. Quite niche, perhaps, but we like that Windscribe is thinking outside the box.
Streaming Netflix, Amazon Prime Video, BBC iPlayer and YouTube via Windscribe is also possible. That makes the provider a sound option for streamers that want to watch overseas content or their own programming from abroad.
The network has locations in 110 cities spread across more than 60 countries, but its 400-odd servers in total are far fewer than what most other providers have on offer. WireGuard is now fully operational and works reliably, although speeds are definitely lower than what we recorded in our tests for most of the providers above. It maxed out, for example, at 490Mbps in the US - certainly not slow, but some way off the 790Mbps of Surfshark.
And unfortunately, there's no 24/7 support, so any questions you have might not get answered for a while. That seems like a big miss these days, with all of the big competition offering an on the spot advisor to pick up queries. Similarly, it's high time it joined the likes of ExpressVPN and NordVPN and got an independent eye in to verify its privacy policy.
Should you get it: Windscribe doesn't tick every available box, but the service does have a lot of interesting features. If you're looking for a new VPN, use the free plan to find out what Windscribe can do for you. The free tier limits you to ten locations but gives you a generous 2GB-10GB data allowance a month - so why not grab the free extension, give it a whirl and see whether you think it's worth investing in a fully paid plan.
---
(opens in new tab)
You can't accuse StrongVPN of being vague when it comes to its name. Unlike premium services such as CyberGhost and Windscribe, there's no doubt left in anybody's mind what StrongVPN is all about.
StrongVPN offers a litany of protocols (L2TP, SSTP, OpenVPN, IPSec and IKEv2) including the super speedy WireGuard on all of its apps, and an impressive roughly 60,000 VPN IP addresses.
Outside sheer brawn, StrongVPN takes something of a minimalist approach, favouring strength over style. But what it does, it does with aplomb. For starters, you have to applaud the decision to include the ability to connect up to 12 of your devices at any one time. So that will cover your desktop, laptop, mobile, tablet, streaming device and...well, a fair few more.
And if your primary aim is to find the perfect piece of software to help you stream all your favorite services, we found that StrongVPN easily unblocked streaming sites like Netflix, Disney+ and Amazon Prime Video from overseas (although we had no luck with BBC iPlayer).
But it comes up short in other areas - read up and down this page and the 900-odd servers, 50-something cities and 30 countries perhaps feels somewhat behind what the others on this list offer. Our latest set of speed tests weren't overly encouraging - even with WireGuard turned on. And there are overdue improvements to be made with its support site and lack of audits.
But see for yourself - StrongVPN still has a lot going for it, as well as that familiar 30-day money back guarantee. And, as an extra added perk, it will throw in 250GB of free secure cloud storage from the reputable SugarSync when you sign up for one of StrongVPN's already-reasonable annual plans.
---
(opens in new tab)
You could say that Mullvad is our pick of the 'expert' VPNs. This isn't a service that grandstands to the average user - we'll say straight off the top that you can keep on scrolling if streaming foreign TV shows is your priority - it's simply an open, transparent VPN provider that's well engineered and sincerely seems to have your online anonymity at heart.
So how does it go about this? For a start, it doesn't take any of your personal details. Not one. No email address, name, country – the unique account ID you get when you sign up is enough. In fact, you can even pay by cash if you want to, with the website confirming: "Just put your cash and payment token (randomly generated on our website) in an envelope and send it to us." And crypto is accepted, too.
There's an independently audited privacy policy in place, industrial strength encryption (AES-256 GCM, 4096-bit RSA certificates with SHA512, perfect forward secrecy), DNS and IPv6 leak protection, port forwarding, and much more to keep your private details private. And WireGuard has been rolled out across platforms, too, which has made Mullvad one of the very fastest providers around in our latest testing.
What it boasts in security, it lacks a little in UX. Its mobile VPN apps could certainly do with some spit and polish to make them more user friendly, and they lack some of the key features (e.g. split tunneling, multi-hop VPN, etc) that you get on the desktop version. And if you do get stuck or confused, there's no live chat support like most premium VPNs now provide, and Mullvad's support pages are lacking in detail.
Honesty, 'regular' consumers and folk who won't benefit from the immense speed may end up finding Mullvad more annoying to use and weaker than most of the competition, which is why we can't push it any higher in our top VPN chart right now. But for those whose main reason for getting one is to keep their online lives as secret as possible, then Mullvad would make a worthy companion.
---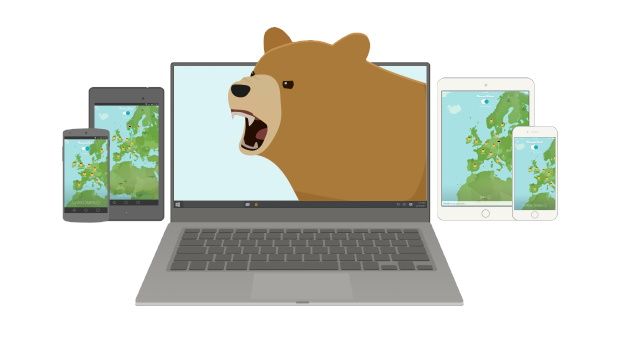 (opens in new tab)
TunnelBear is a Canadian-based VPN service with a strong emphasis on ease-of-use and bear-related humor. Fortunately, usability does get priority over the bear pun, though sometimes it's a close-run thing...
The focus on a product that's simple and effective is actually quite refreshing in a forest of other VPNs that claim to have every tiny feature under the sun. Whether you're going to be using TunnelBear on desktop or generally on its very attractive mobile apps for Android or iPhone, this provider makes using a VPN an absolute doozy.
TunnelBear scores plus points for privacy, too, with the company hiring independent specialists to run a public security audit on its servers, systems and code. If only all other providers were that brave.
While we're on the subject of other providers, however, TunnelBear does come up short in a few areas of direct comparison. There's support for starters, with not a lot of online articles and a complete omission of live chat support present. You can't pay by PayPal for your subscription (although Bitcoin users have that option) and it's very surprising these days not to see a money back guarantee available if you're dissatisfied. And where's WireGuard? So if you really do like the look of this provider, we'd suggest giving the underpowered free version a whirl first.
And streamers bear-ware (wow, it really rubs off) as this VPN has its struggles in its attempts to unlock foreign streaming catalogs. It isn't capable of unblocking BBC iPlayer or Disney+ and while our latest testing did provide some more success with US Netflix exclusives, we'd want to see a bit more consistency before we can whole heartedly recommend it as a string streaming VPN.
But if you're happy with the basics, there's plenty to like here.