The best free VPN of 2023
VPN
Contributions from
last updated
I test virtual private networks every day. Here are my top free VPN picks right now.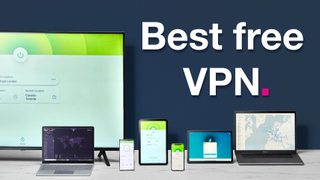 (Image credit: Future)
One of the most popular security apps in the digital age, the best free VPN protects your information from cybercriminals, makes your browsing more anonymous, and even lets you stream shows from other countries—all without costing you a penny.
I've reviewed hundreds of VPN services in my years in the industry, and I constantly test leading services to make sure my rankings are always accurate. I've also compared the pros and cons of a free vs premium VPN to help you pick the right service—analyzing speed, server locations, unblocking capability, privacy, and security.
Unfortunately, even the best free VPNs come with restrictions, and any service that says it doesn't should immediately be treated with caution. It typically means the service will be turning a profit in some other way, usually with invasive advertising or by selling your data to third parties—defeating the privacy purpose of a VPN.
Ultimately, this renders most of them practically useless for unblocking content, and can give you a false sense of security. The best free services exist to give you a taste of the full product, and often limit both your speed and the amount of data you can use.
The top three paid VPNs
Paid VPNs offer so much more than their free counterparts, and even the best free VPNs are limited versions designed to entice you into upgrading to a premium subscription.
However, if you want to get the best VPN services for free, take advantage of money-back guarantees and see how they compare with the top free options. Try all of them together and you'll get 90 days of premium protection at no cost whatsoever.
The best free VPNs in 2023
Let's deep-dive into my top free VPN picks for today.
PrivadoVPN Free has been nipping at Proton's heels for a long time, and with recent updates, it's finally de-throned the long-standing Swiss champion. With a dedicated geoblocking team, it's one of few VPNs that can reliably unblock popular streaming services like Netflix and BBC iPlayer—most paid services can't say that.
Privado's free option offers plenty of customization and security features, like a kill switch and always-on VPN to protect your data at all times and cut your internet use if your VPN connection drops.
The free platform even offers split-tunneling, so you can access local services while streaming your favorite shows abroad. You can even control your encryption protocol, and switch to WireGuard for a faster, more secure VPN experience.
▶ Try PrivadoVPN - the best free VPN
With its 865 Mbps download speeds, PrivadoVPN's free servers are just as fast as its paid-for ones. This knocks Proton VPN's free servers out of first place for the fastest free VPN with 740 Mbps. The higher server count also means that PrivadoVPN's servers are less likely to become congested, too.
However, if the data tap runs dry, you then get unlimited data via its "over-quota" mode, where you'll be placed on a speed-restricted server offering only 1 Mbps. While this might seem slow, it's still plenty for day-to-day internet use, and most users won't likely need more than 10 GB every month. In a recent discussion with Privado's engineers, they revealed the majority of its free subscribers only use around 4 GB of data per month.
PrivadoVPN is one of the only VPN providers to handle its own bandwidth and transit routes. This means you get fantastic speeds and almost no server congestion—it's a free service with a truly premium feel.
The choice of 13 locations over 10 countries beats most free services, including Proton VPN's free plan which only offers 3 countries. Here's a quick list of the free server locations:
United Kingdom
United States (4 locations)
Canada
France
Germany
Netherlands
Switzerland
Mexico
Brazil
Argentina
The apps are easy to use and reliable, but the service has some issues and limits. PrivadoVPN Free only supports a single connection, so if you install it on your laptop and your phone, you can only use one at a time.
Overall, PrivadoVPN Free is an excellent service that blows the competition out of the water. Its streaming results are a standout feature, and if paying for a VPN just isn't an option, PrivadoVPN gives you a premium service without a premium cost—or any cost for that matter.
---
Proton VPN Free used to top my free VPN charts, thanks to its mix of features, power, and app quality. While it may have lost its place, it's still a remarkable service that doesn't pile on the limits and restrictions to nag you into upgrading. This is a free VPN you could use long-term.
There are no data limits with Proton, for instance. While almost all other free VPNs might allow you 500 MB to 10 GB a month, Proton VPN Free offers unlimited data. That's convenient, but it's also a big privacy plus because you don't have to choose where you use the VPN when data's running low. If you feel there's a risk, or you're unsure, then just get connected—Proton VPN Free is always available.
Proton hasn't punished free users by omitting key features, either. Some free providers drop the kill switch, WireGuard, and maybe even support, but Proton VPN Free has all the core privacy features you need to stay safe online.
▶ Download this great VPN direct from the Proton VPN website
There are still significant limits. You only get access to three locations, for instance: USA, the Netherlands, and Japan. Although you can install Proton VPN on as many devices as you like, you can only connect one at a time. There's no access to Proton VPN's specialist streaming servers, no P2P support, or bonus extras such as ad and malware-blocking—to use them, you'll have to upgrade to a premium plan.
None of this prevents Proton VPN Free from doing its central job, though, and much better than most of the competition. Its well-engineered, open-source, and audited apps are easy to use, but also stuffed with useful tweaks, tools, and technologies. The service previously topped my free VPN speed charts but has since been knocked off of its pillar by Privado. Speeds of 740 Mbps are nothing to scoff at, as some premium providers aren't that fast. However, the limited number of services comes with a high potential for congestion, so those speeds may not always be available.
Most of Proton's services come with free options, including its highly acclaimed ProtonMail service. Plus, on June 28, Proton Pass was launched to give people access to reliable password management through its security toolkit.
In an effort to combat censorship around the world, Proton launched the VPN Observatory to monitor spikes in VPN usage. The Observatory will act like a canary in the coal mine, signaling to the world when sudden acts of censorship have taken place.
Proton VPN Free may not be quite right for everyone. If you absolutely must have a location in the UK, for instance, or some other country not on Proton's very short list, then PrivadoVPN and Windscribe have more than 10 countries to choose from.
For most users, Proton VPN Free delivers just about everywhere. It's fast, secure, has excellent features, and it's also effortless to use.
---
Windscribe Free VPN is a quality Canadian service whose appealing mix of features more than justifies its place in the top three.
The data allowance is a little more restricted than my two top VPNs, at a strict 10 GB a month. That's enough to protect a lot of online activity, though, and Windscribe Free VPN has its own plus point as compensation. Most free plans restrict you to only one connection, but Windscribe has no limits: you can install and use it on as many devices simultaneously as you need.
The network is another highlight, with Windscribe Free VPN users able to choose from 14 locations across 11 countries. That beats PrivadoVPN Free (10 countries), Proton VPN (3 countries), and many others.
▶ Put Windscribe to the test for free
Windscribe's premium service was one of the few VPNs that maxed out the speed testing line in my latest round of tests, and my previous testing has shown it's an above-average free service when it comes to performance, which is thoroughly commendable.
Recent revamps of the apps have made them a bit more simple in their design, but I dislike how cluttered they feel. Even still, it's a step in the right direction, and the new server location search function is incredibly helpful.
There are some surprising plus points, too. Although Windscribe Free VPN doesn't include the specialist Windflix dedicated streaming servers, I found the service still successfully unblocked UK Netflix and BBC iPlayer. I like that it doesn't disregard content unblocking for non-paying customers.
Put it all together, and while Windscribe Free VPN can't quite match Proton VPN and PrivadoVPN, it gets very close, and the service could well be the right choice for some people but when you consider that all of these services are free, why would you pick anything other than the best?
---
Atlas VPN Free first caught my eye with its impressive data allowance. Not the 10 GB you get with its Windows VPN, Android VPN, and iOS VPN—although that's not bad—this is all about the Mac VPN users, who can get an outstanding 2 GB a day.
The service isn't as generous with its locations. There are just three: the Netherlands, Los Angeles, and New York. You're able to connect a couple of devices simultaneously, though (our top two free VPNs only allow one), and my speed tests found Atlas VPN Free reached an above-average 320 Mbps. Factor in the P2P support, and Atlas could be a smart torrenting choice.