Best free antivirus in 2023
Best
Contributions from
last updated
Free antivirus software offers protection against malware, but is it enough?
VERDICT
REASONS TO BUY
REASONS TO AVOID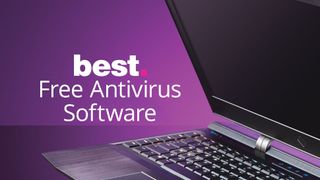 When it comes to the best antivirus software several have a free option that will work just fine for most people. They stop malware from downloading to your computer and some include extra security tools like a firewall or system scanner.
Developers like to offer free antivirus so they can collect data from the devices they're running on to help improve their security platforms. It's also a great way to inundate you with popup ads and messages encouraging you to upgrade to a paid subscription or invest in one of its partner's apps.
Over the years, TechRadar has tested dozens of antivirus software and has great IT and cybersecurity experts on its team to help collect all the info needed to help you find the best free antivirus solution for you.
Best paid antivirus software
Free is great – but sometimes a paid option is a better bet.
Paid antivirus subscriptions give you a lot more in your security tool bag. Often higher-tiered solutions have features like spam filters, parental controls, system scans, and advanced firewalls. This makes them more suitable for those who want a bit of extra security. We also recommend paid antivirus software for families with younger, click-happy kiddos that don't recognize potential malicious links and websites. Here are our top three antivirus software picks.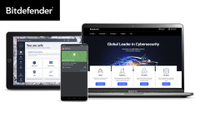 1. Bitdefender Total Security: the absolute best in malware protection
Bitdefender stops threats so quickly you won't have time to realize you were ever in any danger. It comes with safe banking tools and a VPN, plus it's simple for even beginners to use.
Bitdefender does have a free antivirus program, but it doesn't have the extra security tools above. Luckily Bitdefender Total Security has a free trial to let you fiddle around with all the extras before buying. Try it free for 30 days.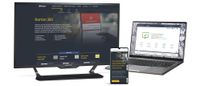 2. Norton 360 Select: stops malware plus includes identity theft protection
Norton 360 detects and blocks all types of threats, including ransomware. It uses smart technology to recognize and stop new threats that haven't yet been identified or cataloged.
Norton 360 comes with LifeLock that both monitors your identity and helps you restore it if it's stolen. To help protect you against identity theft in the first place, Norton stops malware that cybercriminals use to get to your information. Try Norton 360 risk-free with its 60-day money-back guarantee.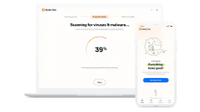 3. Avast One: a long list of features plus an excellent gamer mode
Avast One piles on the features to give you the best all-around security suite. You get high-level ransomware protection and unlimited VPN access.
You can use the Avast One Free program to get a feel of how the program works, but it's worth getting the full program and taking advantage of its advanced privacy and protection tools. You can try Avast One out risk-free with its 30-day guarantee.
The problems with free antivirus software
With budgets getting tighter, we understand the appeal of free antivirus software. While there have been great changes in free subscriptions, the most notable being they now offer real-time malware protection, they are still minimal compared to a full antivirus security suite.
There are some exceptions, but most free antivirus programs don't offer web protections. This means they won't stop malware from downloading if you accidentally click on a malicious link. They will snatch it before it has a chance to infract your computer, but we feel better than a threatening file doesn't get that far into the process.
Web protections are also important for reducing the risk of phishing schemes, one of the most prevalent and dangerous threats to consumers right now. This is because phishing scams are the gateway to identity theft. Paid antivirus software has web protections to stop you from visiting web pages that have phishing schemes on them, and most have additional phishing nets to keep these scams from getting into your email inbox.
Other missing tools from free antivirus software are firewalls, which protect you when connected to public wifi, password managers, which help protect your online and physical identity, and access to a VPN. A virtual private network (VPN) shields you from being tracked online and gives you added privacy from cyber snoops.
Free antivirus is a good place to start, but we really do recommend eventually upgrading to one of the best antivirus software for your best chance of fighting malware.
The best free antivirus software in 2023
Impressive protection and lots of extras
Specifications
Operating system:
Windows, Mac, Android, iOS
Features:
Gaming mode, password manager, VPN
Reasons to buy
+
Great virus protection
+
Works on all devices
+
VPN access
Reasons to avoid
-
Lots of popup ads and messages
-
Sneaks in unwanted extras
-
Causes system slowdown
Use if:
✔️ You are a gamer: the gaming mode of Avast One is amazing. Once set, it recognizes when you're playing and suspends non-essential tasks to give you all the power and protection without lag.
✔️ You want added privacy: Avast is the only free antivirus software that includes a VPN. It's limited, but it is there.
Don't use if:
❌ You want to avoid popup ads: you get a lot of messages and alerts with Avast. To avoid these, stick with Microsoft Defender.
❌ You don't want your computer to drag: Avast causes apps to open and web pages to load slower. Bitdefender is a better solution to avoid this.
Bottom line ⭐⭐⭐⭐⭐
🔒 Avast One has high protection scores from top antivirus test labs and in our own in-house evaluations. It comes with so many extra tools that others reserve for paid subscriptions, which is why it's our top pick for free antivirus.
Want to know more?
Check out our Avast One review to learn details of what we found during testing and the benefits of the paid Avast One offerings.
Avast is one of the most known and used antivirus solutions worldwide. Along with Avira and AVG, Avast falls under the same company umbrella as Norton, so it has a lot of resources at its disposal. It recently released its newest antivirus offering, Avast One, including a free version.
Recent protection tests by AV-Test and AV-Comparatives rank Avast high on their list and among the few with the best malware detection rates. Our in-house tests consistently mirror these findings, flagging, blocking, and placing test malware fils into quarantines. This shows us Avast handles threats correctly. We even used a ransomware simulator to make sure Avast stops this type of dangerous malware, and it did.
▶ Try Avast One, our top free antivirus pick
Avast One works with Windows and Mac computers and on Android phones and tablets. You can't use a single program to protect all three, but you can download the specific version on each device. Since this is a free service, there isn't a way to manage them all under one account.
Even though it is a free program, Avast One gives you some great advanced security tools that most antivirus software reserves for paid subscriptions. For example, Avast includes an automatic gaming mode to mute popups and reduces system load when you're firing up a processor-hungry game. This keeps you safe while freeing up all available resources for gameplay and pausing functions that could create lag or buffering.
There's a password manager, too, which is an undeniably good addition to your security portfolio, plus Avast gives you access to its VPN. This virtual private network (VPN) shields your online identity and movements so they can't be watched, intercepted, or traced back to you. There is a monthly usage cap with the free version, but it's enough for casual searching, social media browsing, or sending email.
Less impressive is the slight negative effect Avast has on software launch times, and its slightly popup-heavy attitude. Most free antivirus overwhelms you with messages encouraging you to upgrade to its paid subscription, but Avast has more than we'd like to see. Another sneaky motion to be aware of, Avast will download its browser and automatically set it as your default browser unless you disable this feature. This is done on the installer, but the permissions are in small text that's easy to miss.
Swipe to scroll horizontally
Avast test results

| Features | Notes | Rating |
| --- | --- | --- |
| Protection | High-rated malware protection | ⭐⭐⭐⭐⭐ |
| Performance | Creates some slowdown, plus lots of popup messages | ⭐⭐⭐ |
| Ease of use | Easy to run scans, but other features are trickier to use | ⭐⭐⭐⭐ |
| Advanced tools | More tools than any other free programs | ⭐⭐⭐⭐⭐ |
| Customer support | Live support is always available for every user | ⭐⭐⭐⭐⭐ |
---
Quick malware detection and full threat scrubbing
Specifications
Operating system:
Windows, Mac, Android
Reasons to buy
+
Real-time protection
+
Securely deletes threats
+
Low use of resources
+
Works on Android
Reasons to avoid
-
Scans are slow
-
Not many extras
Use if:
✔️ You want fast protection: Bitdefender is so efficient it blocks and scrubs threats before you realize what's happened.
✔️ You need an antivirus that doesn't use too many resources: this software is light on your system and doesn't create noticeable lag.
Don't use if:
❌ You want quicker scans: this antivirus takes a long time to finish both virus and system scans, though it doesn't cause lag while doing so.
❌ You need extra protections: Bitdefender free doesn't come with anything more than real-time malware protection. For other tools like a VPN, check out Avast.
Bottom line ⭐⭐⭐⭐½
🔒 Bitdefender is our top, paid antivirus software pick because of how well and fast it blocks threats. Its free version is basic but still impresses with its level of overall security.
Bitdefender Total Security is our top pick as the best antivirus software, so it makes sense to put Bitdefender Antivirus Free in this guide. You get the same level of malware protection with the free antivirus as you do with the paid subscription, including real-time detection and web protection.
With the Bitdefender browser extension enabled, this antivirus stops malicious files before they have a chance to start the download process. The threat is not only blocked but scooped up and scrubbed clean so there isn't a way for it to accidentally attack your system in the future.
▶ Try Bitdefender Antivirus free, the fastest malware-blocking software
Web protection also blocks you from accessing webpages that are known to hide threats on them. These could be malicious downloads or phishing schemes designed to trick you into providing personal and financial information.
If a threat does sneak in, Bitdefender can usually scoop it up quickly and neutralize it. However, if you already have a malware attack on your computer, Bitdefender isn't the best for dealing with it. For current malware on your computer, we recommend using Malwarebytes.
Malware removal tools are specifically designed to fight against threats and remove them from your system. This allows an antivirus program, like Bitdefender, to then protect your computer from future attacks.
Bitdefender Antivirus Free doesn't come with any other security tools. It doesn't have a firewall, no system scanners, or a VPN. These are available with paid subscriptions, though, and we recommend using one of Bitdefender's higher-tiered options for the best system security. Regardless, you won't experience the same slowdown that other antivirus software creates because Bitdefender doesn't use much of your device's resources.
Swipe to scroll horizontally
Bitdefender test results

| Features | Notes | Rating |
| --- | --- | --- |
| Protection | Quickly recognizes and stops malware in its tracks | ⭐⭐⭐⭐⭐ |
| Performance | Doesn't take up unnecessary resources | ⭐⭐⭐⭐⭐ |
| Ease of use | A few extra steps during install, but a breeze after that | ⭐⭐⭐⭐ |
| Advanced tools | No other tools or features are included | ⭐⭐ |
| Customer support | Doesn't have live support, but the online support library is impressive with video tutorials and a community message board | ⭐⭐⭐ |
---
Malware blocking for iOS and Android devices
Specifications
Operating system:
Windows, Mac, Android, iOS
Features:
Phishing protection, built-in VPN, system scanner
Reasons to buy
+
Decent malware detection
+
Unexpected list of features
+
iOS protection
Reasons to avoid
-
Quite a few popups when running
-
Some impact on system performance
Use if:
✔️ You need antivirus for your iPhone or iPad: Avira works with iOS and has a high malware detection rate with this operating system.
✔️ You want more than just basic protection: this free antivirus comes with phishing detection, a system scanner, and a VPN to protect you from more than just malicious downloads.
Don't use if:
❌ You need everything ready from the get-go: the tools you need have to be turned on for Avira to work correctly. Bitdefender is set up for you.
❌ You don't want annoying ads: other than Microsoft Defender, all free antivirus has popups. Bitdefender has the second least.
Bottom line ⭐⭐⭐⭐
🔒 Avira antivirus and AVG are essentially the same programs, but Avira is a bit more advanced and includes a few more tools.
Want to know more?
Our Avira antivirus review breaks down the differences and similarities between this software and AVG and why Avira is the better pick.
Avira Free Security does a good job at stopping malware attacks and comes with a few extra protection tools, which is why it earns a spot on our best free antivirus list. Like Avast and AVG, Avira falls under the same corporate umbrella as Norton but it tends to look, feel, and run more like AVG than the other antivirus solutions. One advantage that Avira has over both Avast and AVG is that it has an iOS app to protect iPhones and iPads.
The dark mode interface and tool icons look similar to AVG. It's clean and easy to find the settings and tools you need. This is important because Avira needs a lot of tools turned on or set up before you can use them.
▶ Try Avira Free Security on your Windows, Mac, Android, or iOS device
Some of the tools Avira includes are also similar to AVG. For example, you do get a system scanner that will find old files, outdated software, and other vulnerabilities on your computer, but require you to manually take care of them unless you upgrade to a paid subscription. One tool Avira includes that AVG doesn't is a built-in VPN. You're limited to only 500 MB per month, which isn't a lot at all when you compare it to the best VPNs, but it is there.
Avira also has phishing protections that check out emails and attachments to see if there is anything fishy or threatening in them. If you enable the Avira browser extension, its web protection will alert you if you attempt to visit a site that has a phishing scam associated with it.
If there's one thing we'd change, then it's the tad overeager badgering - although popups and advertisements are very common to free products, and that doesn't prevent us from recommending Avira Free Antivirus.
Another downfall is that Avira is rather heavy on your system. Even third-party testing labs showed that running Avira caused apps to open slower and webpages to take longer to load.
Swipe to scroll horizontally
Avira test results
Features
Notes
Rating
Protection
Stops both known and new malware
⭐⭐⭐⭐⭐
Performance
Causes lag especially when loading webpages or downloading files
⭐⭐⭐
Ease of use
Intuitive and cool dark mode design, but almost everything needs to be turned on
⭐⭐⭐
Advanced tools
Tools include a fi