If you choose to use any of the Malwarebytes security solutions, we highly recommend using backup antivirus software to make up the difference where this software falls short.
Pros
+

Easy to use

+

Powerful anti-exploit module

+

Works with other antivirus tools

+

Fast VPN
Cons
-

Below-average detection rates

-

Not all test labs evaluate this program

-

Skimps on features
Why you can trust TechRadar We spend hours testing every product or service we review, so you can be sure you're buying the best. Find out more about how we test.
Please note
This is our round-up review of all malware protection software offered by Malwarebytes for 2023. Here you will find a breakdown of all three offerings. These include:
(a) Malwarebytes Free, a top-notch malware removal tool
(b) Malwarebytes Premium, its antivirus solution that helps protect your computer from threats once they are removed, and
(c) Malwayrebtyes Premium + Privacy. The gives you the same protections found in lower-tiered software but is bundled with Malwarebyte's VPN for additional privacy and s security while online.
Malwarebytes has been the top malware removal tool for close to 20 years. It is really thorough at finding existing threats on your devices and removing them. It has uninstall protections so malware can't remove the program while it cleans, and most threats can't block you from accessing the Malwarebytes website and downloading the program to use.
It's fairly new to the antivirus software scene, but that doesn't necessarily make Malwarebytes ineffective at protecting against future threats. It has a few advanced features that are handy to have and options that include some additional privacy tools, too,
Malwarebytes Free is the basic offering. it is the malware removal tool we highly recommend for infections already on your machine. It doesn't do much more than that, but there are advantages to having it on your computer and mobile devices.
The first paid program offered by this company is Malwarebytes Premium. It includes the malware removal tool found in the free version but adds antivirus protections, including malicious URL blocking and real-time protection reports. You get the option of protecting a single device, or five depending on the package you choose.
For a little more money, you can download Malwarebytes Premium + Privacy. The only difference between this and the Premium package is unlimited access to a VPN. A virtual private network (VPN) shield's your online movements so they can't be tracked or traced back to you.
How well does Malwarebytes protect against potential online threats coming through? We tested and evaluated it, compared it to other antivirus software, and checked out its features to see how it works. We looked at other independent antivirus test labs to see what they discovered and compared them to our own data. Keep reading our in-depth review to learn if Malwarebytes is right for you.
Plans and pricing
Obviously, it doesn't cost anything to use Malwarebytes Free, but you're left open to attacks if you stop there. That's because it's limited to only malware removal. Malwarebytes Free is perfect for grabbing threats that are already running rampant on your machine. You need to download the program on each device that needs cleaning, and there isn't a way to connect them under one account.
Malwarebytes Premium starts at $45/yr for a single device, though for $35 more you can protect 5 total devices. You can still use the malware removal tools since these are included with the subscription, but you also have access to Malwarebyte's Brute Force and Uninstall protections. Both of these are helpful in ensuring the antivirus, and its malware tools, remain on your device instead of being deleted by malware.
Malwarebytes Premium + Privacy is the other paid subscription option. It comes in at $60/yr for a single device or $100 to protect 5 devices. The biggest difference between the two paid subscriptions is Malwarebytes Premium + Privacy gives you unlimited access to its VPN.
Compare Malwarebytes Subscriptions
Swipe to scroll horizontally
| | Malwarebytes Free | Malwarebytes Premium | Malwarebytes Premium + Privacy VPN |
| --- | --- | --- | --- |
| Operating system | Windows, macOS, iOS, Android | Windows, macOS, iOS, Android | Windows, macOS, iOS, Android |
| Max number of devices | 1 | 5 | 5 |
| Starting price | FREE | $44.99/yr | $79.99/yr |
| Virus removal | ✔️ | ✔️ | ✔️ |
| Uninstall protection | ✔️ | ✔️ | ✔️ |
| Brute Force protection | ❌ | ✔️ | ✔️ |
| Browser Guard | ❌ | ✔️ | ✔️ |
| VPN | ❌ | ❌ | ✔️ |
Malwarebytes Free
If you find your computer is running slower, apps are opening or closing on their own, or you're having a hard time navigating to the pages you want, you're probably infected with malware. If you haven't been using an antivirus program, chances are you'll have a hard time downloading one to clean up the threats. This is because most malware is designed to redirect you away from other websites.
If you are fortunate enough to get an antivirus program installed, often it misses current malware infections. Your best bet is to use Malwarebytes Free. This is a malware removal tool and not antivirus software. It uses uninstall protections to both get the download onto your device and prevent threats from blocking you from using it. What's more, very few threats can hide from Malwarebytes. It's that good at finding and removing malware.
When you first install Malwarebytes, you're given a limited trial of its paid program, Malwarebytes Premium. This lets you take advantage of real-time security, including ransomware protection, Security Advisor to give you points on how to better protect your entire device, and Play Mode which redirects resources from the security suite to your computer as you play games or watch movies online.
Malwarebytes is compatible with Windows, Mac, Android, and iOS devices. You have to download the program on each one, and there isn't a way to connect them through a single account., It's possible to set the program to conduct a scan of your phone or computer every few days. Or, you can manually run scans when you're ready. If you forget, Malwarebytes will give you a little popup message to remind you how long it's been since your last malware scan.
Mobile apps
The free Android app, like its desktop cousin, removes existing malware but can't prevent new infections.
There's a small bonus in a Privacy Audit, which shows you which apps can monitor your calls, track your location or exploit other permissions you might not realize you've given away. That's not worth a lot - you can find other apps to do the same, for free - but we're happy to see it here. And with a Play Store rating of 4.5, it looks like most users are happy, too.
Malwarebytes free iOS offering is simpler, with just a couple of functions: ad blocking for Safari, and automatic filtering of fraudulent texts.
Malwarebytes is supposed to be about malware protection, of course, and recent Windows testing shows it's far less effective at this than most of the top competition.
Final verdict
Malwarebytes Free isn't a great antivirus tool, but it could be helpful in a few situations. Use Windows Defender's real-time protection, for instance (a fair choice as it outperforms some commercial apps), then run a daily Malwarebytes scan to catch everything else. You won't have the protection you'll get from the best suites, but you'll be safe from most threats, and this setup won't cost you a penny.
Malwarebytes Premium
One of the best perks of using Malwarebytes Premium is you get the best malware removal tools, plus real-time antivirus protection to keep your system clean. This includes security against hackers and ransomware. The Brute Force protection starts up when it suspects someone is attempting to guess your login information.
Malwarebytes Premium includes URL monitoring to keep you away from fake websites or those that are known to harbor malware files or phishing schemes. You also have some customization options with Malwarebytes Premium. These include setting up specific scans to run during the best times for you.
While it's a great idea to combine malware removal and antivirus together, does it really work? We tested Malwarebytes and compared it to other antivirus software. Other test labs have done the same. Here's what we found.
Protection
To start with, Malwarebytes hasn't allowed third-party test labs like AV-Comparatives and AV-Test to evaluate its software until recently, and it only allows its Windows version to be tested, so there isn't any data on how it protects on Mac. It hasn't been consistently tested, either.
Malwarebytes was most recently tested by AV-Test in April 2023 but was missing from AV-Comparatives' March and April 2023 test results. However, there is enough history, including results within the last year, to get a clear picture of how well Malwarebytes does.
In short, it's not the best. On average it blocks a good number of threats, but its overall score from both test labs places it just below average for overall protection. We tested Malwarebytes too and came away with similar results.
Part of this shortfall is that Malwarebytes doesn't tap into the same threat databases as other antivirus software, though they are open for it to do so. Instead, it relies on user feedback from clients using the program to gather information on the threats and create its own database.
When a user encounters new threats, Malwarebytes take note once it is identified and neutralized, updated its database, and sends out a report to other users so that their program will recognize the threat, too.
Our first test involved apps we designed to simulate malware that exploits common Windows tools to create processes, download malicious files, and generally behave in a suspect way. Malwarebytes ignored the behavior and allowed the files to download. It blocked them all on launch, or when they were ready to open, keeping us safe.
That's a good end result, but others are more cautious. For example, Trend Micro spotted our test app's dodgy-looking actions and closed their processes before they could download anything. Bitdefender also detected some of the behavior and stopped the potential threats in their tracks before having a chance to download. In both of these cases, if anything was missed, malicious files were still spotted either during the download process or shortly afterward and removed before the malware could start working.
As a second, more high-stakes test, we pitted Malwarebytes against a simple ransomware simulator of our own creation. As the engine wouldn't have seen this before, we would see if its behavior monitoring alone could detect the threat.
The results weren't good, with Malwarebytes doing nothing at all as our simulator encrypted thousands of test documents.
Other vendors score much higher on this test. Trend Micro and Bitdefender not only spotted our simulator by its actions alone, but they also killed the process and recovered the handful of lost files, ensuring we didn't lose a byte of data.
We normally don't treat failing this test as a major black mark, because our test is a single sample, not even real malware, and it's unsafe to draw big conclusions from so little data.
In this case, though, it does broadly match what the labs are saying: Malwarebytes simply doesn't deliver the protection you'll get from the best vendors, and that has to be a concern.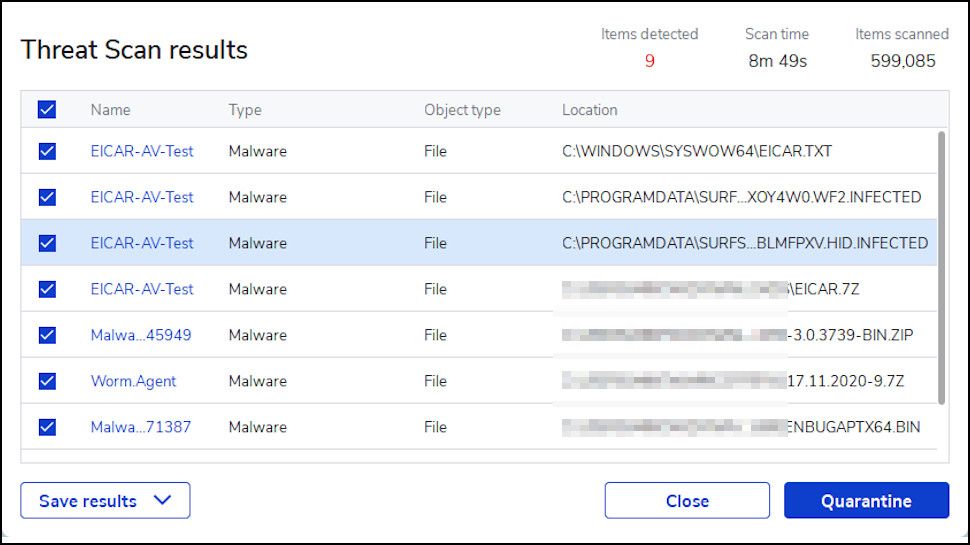 Performance
When it comes to being user-friendly, Malwarebytes is good in this area. It runs in the background and protects you immediately, with everything turned on and ready to go the moment it is installed.
When you need to run an on-demand scan, that's as easy as double-clicking the Malwarebytes icon, hitting the Scan button then waiting for the results. It's all very straightforward, and even the least technical of newbies will feel at home right away.
Malwarebytes' main Scan feature quickly checks memory, startup items, and key areas of your file system. It made sensible choices on our test system, examining enough areas to be useful, but not so many that we were kept waiting for results, and completed in a speedy 7 minutes 25 seconds. (If you're in a real hurry, a Quick Scan checked RAM and startup objects in as little as 5 seconds on our review system.)
Scan times overall proved reasonable, with Malwarebytes checking our 50GB of test data in 25:18 minutes for the first scan, and 21:18 for the second. That's similar to many other vendors, although some speed up later scans by only checking new and changed files (Bitdefender took 50 minutes for scan #1, for instance, but dropped to 50 seconds by scan #2.)
There is a Custom Scan that lets you choose items you'd like checked, including specific files and folders, and gives you a little control over how they work (whether it should scan inside archives, and what to do with potentially unwanted programs, for instance.) It's a welcome touch, although doesn't begin to match the high level of control you'll see with more geek-friendly products from Avast, Avira, and others.
You're able to scan files, folders, or drives from the right-click Explorer menu. Unfortunately, the Windows client can't handle simultaneous on-demand scans, so try this when it's running a regular scan and you'll be told you must wait. This isn't a critical issue - Malwarebytes' engine still picks up threats as they appear, even if another scan is running - but it's a hassle that you don't get with the best antivirus.
Extra features
If you're hoping for a pile of bonus features - or any extras at all - then you're out of luck. There's no specialist banking protection here, no password manager, none of the items you might get with some packages. This focus on the fundamentals does at least keep Malwarebytes easy to use, though, and if you don't need that kind of extra, you might appreciate its simplicity and lack of clutter.
Final verdict
Malwarebytes Premium is a likeable security app which will make your PC a little safer, but it's not the full antivirus replacement claimed on the website. Grab a copy of the free version, maybe, but run it alongside another antivirus app to ensure your safety.
Malwarebytes Premium + Privacy
Malwarebytes Premium + Privacy is, well, the name tells you everything: it's the commercial Malwarebytes Premium plus the company's VPN product, Malwarebytes Privacy.
Privacy uses Malwarebytes' own apps (Windows, Mac, Android, and iOS are supported), but these connect to Mullvad's network underneath. That's fine with us; it's a solid VPN with excellent speeds and a strong focus on privacy.
The network looks a little small with 400+ servers in 30+ countries. They're well spread, though, with thirteen locations in the US alone, so there's a good chance you'll have a server near you.
The apps are basic in the extreme, but there are technical pluses underneath. Malwarebytes Privacy connects via the fast and secure WireGuard protocol, for instance, and its apps include a kill switch to protect you if the connection drops.
Malwarebytes Privacy
Malwarebytes Privacy has a simple but familiar interface. The dashboard displays your current location; you can choose another from a simple text list, then connect and disconnect with a click. Easy.
Desktop notifications tell you when you're protected and when you're not, and the dashboard updates to display your new IP, and highlight its location on a world map.
Switching servers is convenient as there's no need to close the active connection, first. Just choose a new location from the list and the app reconnects.
The app is missing several common features. There's no Favorites system to group your most commonly used locations. No ping or load figures to help you choose the best servers. You can't switch protocols, either: it's strictly WireGuard-only.
Look a little further, though, and you'll find plenty of useful technical touches. The app can automatically connect when you access insecure networks, for instance. A kill switch protects your identity by blocking internet access if the VPN drops. Support for split tunneling enables controlling which apps use the VPN and which don't, and a flexible multi-hop system can route your traffic through two VPN servers to extract privacy. We were impressed, briefly, until we spotted another big omission.
Performance
While most VPN apps try to connect to your nearest server by default, Malwarebytes Privacy doesn't have an 'Automatic' or 'Fastest' option. It seems to choose Sweden as a default, wherever you are, leaving you to choose your preferred location manually.
Connection times were reasonable, at around 5 seconds. And the WireGuard protocol is made for excellent performance, with UK download speeds reaching 780Mbps. We've seen faster - Surfshark reached 960Mbps in recent testing.
The core VPN engine scored well in some areas. If you're connected to location A and switch to location B, for instance, most VPN apps close the first connection, leaving you unprotected until they establish the new one. Malwarebytes Privacy seems to use a temporary kill switch, blocking internet traffic for just those few unprotected seconds until the VPN is restored. Smart.
Unfortunately, the actual kill switch was less useful. We sometimes found that when the kill switch was on, the app couldn't connect: it blocked our internet access so thoroughly, it couldn't even get online itself. Not so smart.
The bad news continued with our final unblocking tests, too, with Privacy failing to get us into BBC iPlayer, US Netflix, Amazon, or Disney+.
Final verdict
Malwarebytes Premium + Privacy looks cheap, adding a VPN for just $20 more, and speeds are great, but poor unblocking results and assorted technical troubles make it impossible to recommend. Check out a specialist VPN provider, instead - you can get a better service for under $40 a year with the best value long-term contracts.
We've also highlighted the best antivirus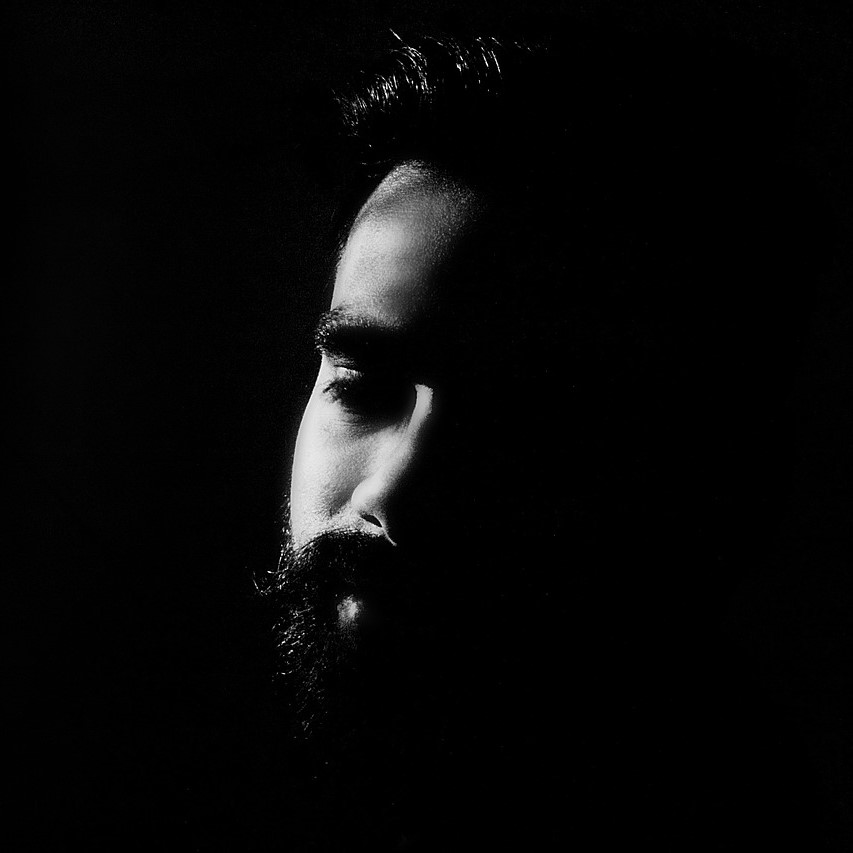 Mike is a lead security reviewer at Future, where he stress-tests VPNs, antivirus and more to find out which services are sure to keep you safe, and which are best avoided. Mike began his career as a lead software developer in the engineering world, where his creations were used by big-name companies from Rolls Royce to British Nuclear Fuels and British Aerospace. The early PC viruses caught Mike's attention, and he developed an interest in analyzing malware, and learning the low-level technical details of how Windows and network security work under the hood.