Surfshark's Windows kill switch needs a tweak, but otherwise the service is incredibly fast, stuffed with advanced functionality, has likable and user-friendly apps, and unblocked every one of our test streaming platforms. A must for your VPN shortlist.
Pros
+

Blistering WireGuard speeds

+

Unblocks Netflix, iPlayer, Amazon Prime, Disney Plus

+

Security and no logging audits

+

Loads of features

+

Speedy and helpful live chat support

+

Unlimited simultaneous connections

+

Cheap long-term plans for the first deal
Cons
-

Poor OpenVPN performance

-

Some Windows kill switch issues in extreme situations

-

Servers for some locations are hosted on other continents
Why you can trust TechRadar We spend hours testing every product or service we review, so you can be sure you're buying the best. Find out more about how we test.
Surfshark review - quick menu
Surfshark is one of the best VPN services, comes crammed with features, runs on almost anything, and has some of the best download speeds around.
The network has 3,200+ servers distributed across an impressive 160+ locations in 100 countries.
Apps are available for Windows, Mac, iOS, Android, and Linux (full GUI) devices, plus Chrome, Firefox, and even Edge extensions, and you can even check out a website unblocking Smart DNS system for games consoles, smart TVs, and more.
Whatever you're using, there's no need to worry about annoying 'simultaneous connection' limits—you can install and run Surfshark on as many devices as you like.
The service is excellent on the technical essentials, including strong AES-256-GCM encryption, WireGuard, OpenVPN, and IKEv2 support, an audited no-logs policy, and a kill switch that'll protect you if the VPN connection drops.
▶ Try one of the best cheap VPNs around with a 30-day money-back guarantee
There's real depth here. Android apps can see through most VPNs by requesting your physical location, but not Surfshark—a GPS Spoofing feature enables it to return the coordinates of your chosen VPN server.
Oh, there's also ad and malicious URL blocking, P2P support on most servers, MultiHop VPN, split tunneling, the company's own zero-knowledge DNS servers, and 24/7 support via email and live chat if anything goes wrong.
Surfshark - what's new?
Updates since our last review include the results of a no-logging audit by Deloitte, which confirmed Surfshark is living up to its promises (more detail below.)
Logging into Surfshark recently got easier, too, with new support for logging in via your Google, Apple, or Microsoft accounts.
There's also a Dynamic MultiHop feature that passes your traffic through two VPN servers for even more privacy protection. Surfshark previously supported a very basic form of multihopping—although you could only choose from a short list of a few fixed locations. Dynamic MultiHop drops all those restrictions, and you're now free to use any Surfshark location for both your entry and exit servers.
Surfshark's browser extension now includes CleanWeb 2.0. Not only does this block regular banner ads, it can now remove video ads and cookie pop-ups, too.
New support for dedicated IPs means you can have access to an IP address that only you use. That helps to unblock websites and avoid annoying CAPTCHAs (and other security hassles). Well, that's the theory: Surfshark didn't have any dedicated IPs available at review time. When they're back in stock, expect to pay from a mid-range $3.75 a month.
As usual, there's a host of smaller but still important app tweaks across the range, new support for Siri shortcuts, faster Android connection times, and a whole lot more.
Surfshark pricing
As you'll see courtesy of our dedicated Surfshark price and deals guide, the service's monthly plan is more expensive than some at $12.95 (most VPNs ask $10-$13 for monthly billing.)
Paying for a year upfront cuts the cost to a cheaper-than-most $3.99 a month, but that's just for the first term. It rises to $4.98 on renewal.
Surfshark's 24-month plan offers the best value at $2.39 a month, but only for a single term. It renews as the $4.98 a month annual plan.
That initial price beats most of the competition—with a few exceptions. Private Internet Access' three-year plan is priced at only $2.03 a month, for instance, and it renews as a three-year plan, with no big price hike.
Surfshark's 7-day free trial for Android, iOS, and Mac gives you some time to sample the service for yourself. I'd like something for Windows users, too, but it seems unfair to complain when many providers have no trials at all.
Whichever plan you go for, Surfshark offers plenty of ways to hand over your cash, with support for credit cards, PayPal, cryptocurrencies, Amazon Pay and Google Pay.
But if, after all this, you sign up and find the company isn't for you, no problem—you're protected by a 30-day money-back guarantee.
Privacy and security
Surfshark's privacy features start with the VPN basics: secure protocols (WireGuard, OpenVPN UDP and TCP), AES-256-GCM encryption, and a kill switch to block internet access and prevent identity leaks if the VPN connection ever fails.
There's little low-level detail on the site about Surfshark's use of encryption, but our system's OpenVPN connections delivered excellent protection with AES-256-GCM on the data channel, while the control channel has an RSA-2048 handshake with a strong ECDHE-RSA-AES256-GCM-SHA384 cipher for Perfect Forward Secrecy.
Surfshark's excellent privacy policy explains its no-logging status clearly with in-depth details on the data it does (and doesn't) collect. If you'd rather not trawl through the details, concise summaries are available, too.
The key points you need to know are that Surfshark's servers only collect a tiny amount of data during a session: your user ID and connection time. These are deleted within 15 minutes of you disconnecting and, otherwise, the service doesn't log your visited IP addresses, browsing history, session information, network traffic, or anything else that could link you to an internet action.
To get a feel for how a provider treats privacy, I used the Blacklight privacy inspector to check the trackers and third-party cookies used on its website. Blacklight reported 9 trackers and 10 third-party cookies, mostly from Google, Twitter, Facebook, and Microsoft. That's well above average, and Hide.me, Mullvad, and Proton VPN used no trackers at all in their last tests.
Logging policy
Privacy policies are important, but I don't think customers should have to take a VPN provider's words on trust. That's why I'm happy to see that Surfshark has put its service through no less than three independent security audits.
The first two saw cybersecurity experts Cure53 (one of the most in-depth auditors around) inspect Surfshark's servers, backend infrastructure, VPN configuration, and browser extensions for security issues.
The process uncovered some security vulnerabilities, but that's no surprise with an auditor as thorough as Cure53, and Surfshark fixed these before they were made public. Overall, the audits delivered a positive verdict on Surfshark, talking about its 'strong security posture' and how the company had a clear understanding of the challenges presented by VPN security.
In the most recent audit, Surfshark asked Deloitte to verify its no-logs policy. The auditors looked at Surfshark's servers, their configuration and deployment, and its related infrastructure, and even interviewed employees to properly understand its internal processes.
Surfshark passed the audit, with Deloitte concluding that its server setup and management "is properly prepared, in all material respects, in accordance with Surfshark's description of its no-logs policy."
It's great to see a provider put itself through this level of scrutiny. Surfshark clearly understands the transparency value of audits, and that gives me hope there will be more on the way.
Windows apps
Launching Surfshark's Windows app pointed me to the regular login form where I could enter my email and password, and convenient new options to log in using a Google, Apple, or Microsoft account.
A 'Log in with code' displays a simple 6-digit code. If you're already logged into Surfshark on another device, enter the code into that app (Settings > My Account) and the new device automatically logs you in. It's quick and easy, especially on devices that don't have full keyboards.
Surfshark's Windows app looks a little more complex than most—sporting tabs, icons, lists, and more—but it works much like any other VPN. There's a Connect button to access your nearest server, a location list showing other servers, plus a Settings icon which leads to some useful extras.
WireGuard connections are quick, and happen in just a couple of seconds, with OpenVPN taking a more mid-range 8-10 seconds. But the app keeps you informed, with desktop notifications letting you know exactly when you're protected (and when you're not).
The well-designed location picker simplifies your server browsing by displaying countries and cities in the same list. That means no switching tabs or expanding countries to view individual cities—just scroll down, and every location is visible at a glance. Surfshark spoils the effect a little by not sorting the cities alphabetically, but apart from that it works well.
Locations don't display ping times by default, but you can add them with a click once you've figured out how (it's a cryptic icon in the 'Locations' header.) A Search box allows you to find specific locations with a few keypresses (typing 'atl' is enough to display Atlanta), and there's a Favorites system to save your top locations for later.
A Static IP list lets you connect to locations in Germany, Japan, Netherlands, Singapore, UK, and the US, to receive a fixed IP from each one (that is, your IP will be from the country you choose, but it'll be the same every time you connect).
That could be handy in some situations, but beware if you use it for security—perhaps to get access to an IP-restricted network. This is a static IP, but it's not a dedicated IP, just for you; any other Surfshark customer can be allocated the same IP address, so the IP alone isn't a guarantee of your identity.
The 'Rotating IP' feature takes a very different approach, regularly assigning you a new IP address without you having to reconnect. Surfshark says your IP switches every 5 to 10 minutes, but in my tests, I saw IP changes within seconds. This might cause issues with some apps, but it didn't affect my browsing or streaming.
A MultiHop tab passes your traffic through two VPN servers, ensuring that even if the exit server is compromised, an attacker still won't have your real IP. There are 12 routes available, where the first server is your initial connection (options include US, Canada, UK, Singapore, Germany, France, Netherlands, and Australia), and the second is where you'll appear to be to the outside world (France, Germany, Hong Kong, Netherlands, Portugal, Singapore, Sweden, UK, US).
A MultiHop tab passes your traffic through two VPN servers, ensuring that even if the exit server is compromised, an attacker still won't get their hands on your real IP. The tab includes some prebuilt routes you can choose immediately: connect to San Francisco via Sydney, say, or the Netherlands via Singapore. But Surfshark's new Dynamic MultiHop means you're now able to create a custom route by choosing whatever combination of locations you need from the full location list.
You might be wondering about the impact that routing your traffic through an extra server has on your performance—and I've got you covered.
A regular UK to San Francisco connection averaged downloads of 960 Mbps on mytest system. Using MultiHop to connect from my UK location, to the nearest UK server, then to San Francisco, cut speeds to 230 Mbps.
Taking a worst-case example of going from the UK to Australia, then San Francisco, saw speeds average only 70 Mbps.
Although there's clearly potential for big drops in speed here, these are over some seriously long distances. If you're jumping from your home to a neighboring country, then another neighboring country, it's likely you'll see far less impact. However, even if you need to use my all-around-the-world approach, it's still fast enough for most browsing and streaming tasks.
Surfshark's Bypasser panel enables specifying applications, websites and IP addresses that bypass the VPN (an expanded version of the split tunneling feature you'll see with providers like ExpressVPN). If using Surfshark causes issues with a particular website or app, adding it to the allow list should solve the problem.
Alternatively, you're able to set the Bypasser to route only your chosen apps through the VPN. That may be more useful if you're only using Surfshark for one or two tasks, for example torrenting: set up your torrent client to connect via the VPN and everything else will use your regular connection.
There are plenty of configuration options, and they all worked well for us, plus it's great to see a VPN provider deliver this level of split tunneling support on the desktop. (Many VPNs have split tunneling-type systems on Windows—ExpressVPN, Hotspot Shield, NordVPN, Private Internet Access, ProtonVPN—but several reserve the feature for their mobile apps).
Surfshark's CleanWeb feature blocks ads, trackers, and malicious links. I tested this with 156 common trackers and CleanWeb blocked 101 (64.7%.) I've seen better—Windscribe's ROBERT feature blocked 147 trackers and ProtonVPN managed 149—but it's enough to be useful.
I also checked CleanWeb's malware-blocking abilities by trying to access 440 of the latest malicious URLs. The results were below average at around 26% (CyberGhost, PrivadoVPN, and Private Internet Access all blocked more than 90%.) CleanWeb still offers a handy layer of protection, certainly, but I'd recommend you run it alongside a specialist antivirus or internet security app for maximum safety.
Elsewhere, a NoBorders mode aims to get online in China and other countries where VPNs are commonly blocked. The app should turn NoBorders on automatically if it detects any network issues, but you can enable it manually, too.
Kill switch
The Surfshark kill switch is on hand to block your internet connection if the VPN drops—and it's more versatile than most, with two options.
Enable the 'Hard' kill switch and you can't access the internet at all, ever, without the VPN being connected. That's highly secure, but not always convenient.
The 'Soft' kill switch blocks your internet if the VPN drops by accident, but doesn't activate if you manually disconnect. Naturally, this isn't as secure, but it does mean that you can choose whether you need to be connected or not.
Most providers support one kill switch type or the other, so it's good to see Surfshark give users the choice. (Even if you think you know which option you prefer now, there's always the chance that might change later.)
The kill switch handled my main tests well. When I tried any conventional way to close the VPN connection, the app displayed a notification to warn me that my internet was blocked, and my traffic was never exposed.
My tests didn't stop there, though. Ramping them up, I found that, in the worst-case scenario where Surfshark's Windows service closed, the app prompted me to restart the service (and gave me a button to do just that.) However, the app didn't seem to notice that the VPN had dropped and continued to display a 'Protected' message. This isn't ideal—you could carry on using your device for hours and think you were safe, when in fact the VPN had failed and you weren't protected at all.
It's important to keep this in perspective. I use more extreme tests to see just how bulletproof a kill switch is, but these aren't situations you're likely to see in real life. Although this looks like a flaw with the app, it's not a major one, and you might use Surfshark for years without ever experiencing that kind of service failure.
MacOS and Mac apps
Surfshark's Mac app looks very much like the Windows version, though it does have a few small but significant differences. The Location picker doesn't have a Recent list of your last connections, for instance, and for some reason, the app doesn't mention your kill switch status on the main Connect window.
I didn't spot any major app differences in real-world use. Connection times were speedy, and the VPN didn't drop at any point.
Mac users miss out on one or two Surfshark features. In particular, there's no Bypasser to enable choosing any apps or websites you don't want to pass through the VPN.
There's still plenty of functionality here, though: static IPs; the new Dynamic MultiHop VPN; WireGuard, IKEv2, and OpenVPN support; the kill switch, and CleanWeb's ad and malware blocking.
The app even has a handy feature that isn't available on Windows—the ability to auto-connect to the VPN whenever you access untrusted networks.
That's a much better spec than I often see elsewhere and, on balance, Surfshark's Mac offering is a well-judged mix of power and ease of use.
Surfshark mobile apps
Mobile VPN apps can be far more basic than their desktop cousins, but Surfshark's Android version is surprisingly similar. Sure, it rearranges the interface a little to work better on smaller screens, but otherwise, it has the same protocol support, kill switch, static IP, Multi-Hop, and other features that we saw on the desktop.
The Android app outperforms the desktop editions in some areas as it includes both the 'auto-connect on accessing untrusted networks' feature (available on Mac, but not Windows), and the split tunneling Bypasser system (available on Windows, but not Mac).
You get a couple of more mobile-specific features, one of which is an 'Override GPS location' to match your device's GPS location with your connected VPN server, making it more difficult for apps to see where you really are. And a 'use small packets' option may improve performance with some mobile networks.
If any of this doesn't work as it should, you can send bug reports and raise (or browse) tickets from within the app (no need to open your browser and waste time hunting for the right area of the support site).
It's much the same story with Surfshark's iOS VPN app: the look and feel are very similar, and you still get the kill switch, the choice of protocols (OpenVPN, IKEv2, WireGuard), and more.
Small but welcome recent additions include new ways to automate and manage your VPN connections, such as Siri shortcuts and an iOS 16 lock screen widget.
It's a surprisingly capable setup, as software for Apple's mobile OS is often short-changed for features in comparison to other platforms.
Put it all together and these are impressive apps, well implemented, straightforward to use, and a refreshing change for anyone tired of losing VPN functionality on mobile devices.
Surfshark performance
I measured Surfshark's performance from a US location and a UK data center with a 1 Gbps connection, giving me plenty of scope to see just what the service could do.
First, I installed the latest Surfshark app on my test systems, connected to my nearest location, and checked download speeds using performance testing sites including SpeedTest (the website and command line app), Cloudflare, and Measurement Lab. I collected at least five results from each site using WireGuard, repeated each test again with OpenVPN, and ran the full test set in both morning and evening sessions.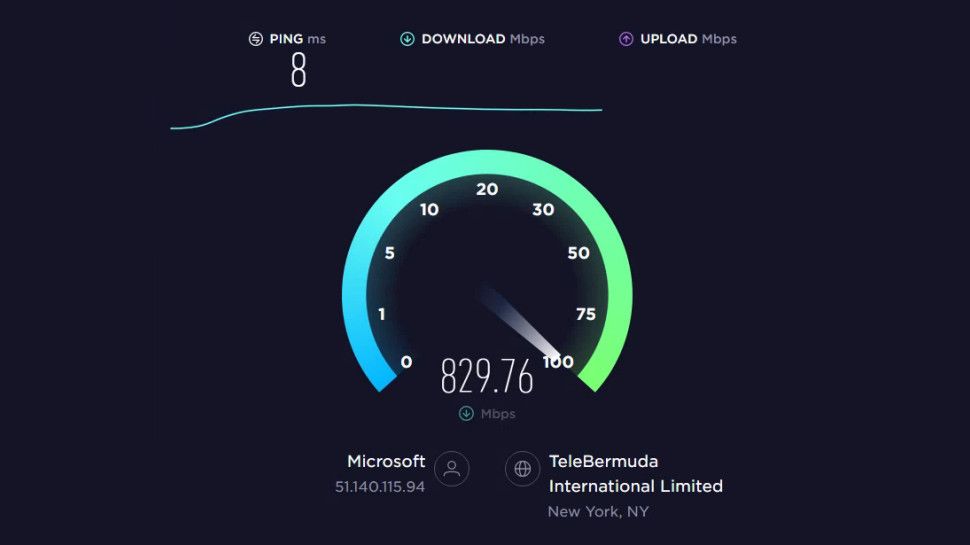 Surfshark's WireGuard speeds were spectacular at 760 Mbps in the UK and 950 Mbps+ in the UK—all I could expect from our 1 Gbps test connection. That puts Surfshark equal first in our speed tests alongside the likes of NordVPN, IPVanish, and Windscribe.
Surfshark uses WireGuard by default and the chances are you'll never need anything else. But if it can't connect, or you're setting the service up on a router or some other device, you might need to use OpenVPN. I found Surfshark's OpenVPN connections were horribly slow at 120-130 Mbps in the US and 80-90 Mbps in the UK. That's enough for streaming and general browsing tasks, but bad news if you need it for a router or any heavyweight tasks.
Virtual locations
Many VPNs use virtual locations, servers which provide you with an IP address for one country but are physically located in another. This is common with smaller countries, where hosting the servers elsewhere gets you better speed and reliability, and can also help with privacy (for example, most VPNs now host their India servers elsewhere to avoid the country's upcoming data logging laws.)
Virtual locations won't work for everyone, though. If your VPN says it supports Hong Kong, but it's a virtual location and the servers are actually based in New York, then that's inevitably going to impact your speeds.
I think it's important for providers to be completely transparent about their use of virtual locations. Surfshark does better than some, highlighting virtual locations in its app, but it won't tell you where they're really hosted.
That's probably the most important detail, so I ran some tests to find out.
The results were interesting. Ideally, I like to see virtual locations as close as possible to the country they're representing, to minimize any performance hit. Surfshark does this occasionally, for example, by hosting its Cambodia location with Hong Kong servers, but many of its virtual locations appear to be served from the same countries. Amsterdam seems to be the real home for everyone from Algeria, Andorra, and Armenia, for instance, to Egypt, Ghana and Nigeria, while Florida looks after servers for the Bahamas, Argentina, and Bolivia.
This may be a plus for some users. If you're in or near Amsterdam, say, having nearby servers for so many locations could improve your speeds. But if you're a frequent flier who spends a lot of time in these 'virtual countries', Surfshark might not always deliver the performance you expect.
Netflix and global stream unblocking
If you're tired of VPNs that vaguely hint about their unblocking abilities, but never make any real commitment, you'll love Surfshark. The company not only promises to unblock Netflix, but it also names a bunch of other services it supports: "Prime Video, Disney Plus, BBC iPlayer, HBO Max, Hulu, Hotstar, YLE Areena, AbemaTV, and many others."
This isn't just overblown marketing-oriented confidence, either. I was able to access Netflix in the US, UK, Australia, Canada, and Japan without the slightest hassle.
The good news continued in the UK, with Surfshark getting us into BBC iPlayer, ITV, and Channel 4. It allowed me to stream Australia's 9Now and 10 play from the UK just as easily, and a final success with both US Amazon Prime and Disney Plus gave Surfshark a perfect 100% record in our unblocking tests.
That's a great result that puts Surfshark right up there with the very best unblocking VPNs. At the moment, that includes ExpressVPN, NordVPN, Private Internet Access, ProtonVPN, PureVPN, and Surfshark, all of which have got us into every one of our test streaming sites.
Surfshark customer support
If Surfshark doesn't work for you, the support site has setup and installation tutorials, troubleshooting guides, FAQs and other resources to point you in the right direction.
The content is well-organized. Clicking 'Get Started' takes you to a Tutorials page with articles on setting up the apps, getting the service working on other platforms and using its various features.
These aren't the horribly basic "Download and run the installer" guides you'll get from lesser VPNs, either. For example, the "How to set up Surfshark on Windows" article includes a video guide, step-by-step installation advice with screenshots, plus first steps guidance on choosing locations and getting connected, and basic explanations of all the main features.
If this isn't enough, Surfshark's support is available 24/7 via live chat. We tried this while attempting to diagnose a connection issue, and had a friendly reply in under 60 seconds. So, if you're struggling to find something on the website, it might be worth opening a chat session—the problem could be sorted out quicker than you might think.
Surfshark review: verdict
I had some small issues with the apps and the Windows kill switch, but Surfshark excels everywhere else, providing market-leading speeds, top-notch unblocking, and an array of advanced features for a very fair price. Great value and an absolute must for your VPN shortlist.
TechRadar rating: ⭐⭐⭐⭐½
Subscribe if:
✔️ Speed is everything: with WireGuard, Surfshark soars to the top of our speed charts, making it an ideal pick for anyone who's into gaming, streaming, or hopping into video calls.
✔️ You want plenty of streaming options: few VPNs can match Surfshark when it comes to unblocking power. The service can access Netflix, Prime Video, Disney Plus, BBC iPlayer, and many more.
✔️ You want a VPN that proves its commitment: Surfshark goes above and beyond vague promises of total security with three independent audits—and the results have always been great!
Don't subscribe if:
❌ You're using OpenVPN: unfortunately, Surfshark's OpenVPN speeds were less than impressive. You'll still be able to browse the web and watch content, but not for activities that are more resource-intensive.
❌ You need an infallible kill switch: I noticed a few hiccups with the Windows version (like the app not realizing that the VPN connection had dropped) that could be a red flag for folks who need an airtight kill switch.