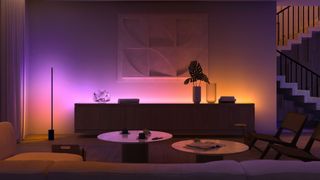 (Image credit: Philips Hue)
There are few names as synonymous with smart homes as Philips Hue, thanks to its highly successful line of colorful smart lights. Founded by Philips in 2012, the company has gained a glowing reputation for making some of the best smart lights, including its remotely-controlled smart bulbs, light strips, and lamps.
You can customize the ambiance of any room in your home from your smartphone with Philips Hue's super user-friendly app, whether you want to set up lighting routines, sync your lighting with your favorite music or mimic the sunrise as you wake in the morning.
Philips Hue's lights are compatible with major smart home ecosystems such as Amazon's Alexa, Google Assistant, and Apple HomeKit.