When it comes to office chairs, comfort is key. After all, you'll likely be sitting in your chair for several hours a day, so it's important to invest in one that will support your body and help you avoid discomfort or injuries. But with so many options available, it can be difficult to know which chair is the best choice for you.
That's where this guide comes in. We've done the research and compared the top office chairs on the market to help you find the perfect one for your needs. Our picks are based on factors laid out in our How we test: Office Chairs documentation including elements such as ergonomics, adjustability, build quality and personal testing by our team.
Best office chairs: How did we choose them?
Why you can trust TechRadar Our expert reviewers spend hours testing and comparing products and services so you can choose the best for you. Find out more about how we test.
Looking for the best office chair? We've got you covered with our top picks! Our thorough research included comparing relative specs, available features, build materials, and customer feedback from various online forums and reviews. We also considered factors such as support, warranties, and overall value proposition to bring you the best options.
We've reviewed and compared top brands to bring you the most highly recommended and trusted office chairs on the market. Whether you need a chair for your home office or a professional workspace, we've got you covered with the best choices available.
---
Best Office Chairs [US]
The best office chairs of 2023 in full
This iF award-winning Design throne from Branch is one of the best office chairs available. It's comfortable enough for work and luxurious enough for play, making it a terrific option for work-from-home professionals. This chair is much more affordable than many gaming and office chairs we've tested.
You can adjust the seat height from 16.5 to 20.5 inches, which should cover most users. Unlike other lumbar support that pushes your back to arch unnaturally, this one offers the support it needs without forcing you to assume a weird position. The armrests have a beautiful form and provide enough support through thin padding where your arms rest.
The Branch Verve has levers for seat tilt, depth, and height adjustments. To adjust the lumbar rest, you must reach both arms back and push them up or down accordingly. The loose-weave fabric seat cover isn't robust enough to withstand a cat's scratches.
Read our full Branch Verve Review

The OdinLake Ergo Plus Model A743 is a premium office chair with a built-in footrest, highly adjustable armrests, and an adjustable seat for a high comfort level. The built-in lumbar support is nice, while the mesh is comfortable and breathable. The chair also has a smooth reclining mechanism that uses wires to keep a smooth and consistent recline.
The unique built-in leg rest can tuck away under the seat when not being used, allowing for maximum flexibility. When in use, the leg rest can be extended at any increment, making it fit the user perfectly. The Dynamic Lumbar Support, with C-Shape back support, follows the user with any reclining, keeping the lower lumbar supported.
Read our full OdinLake Ergo Plus Model A743 review

The Flexispot Ergonomic Chair BS11 Pro is of surprisingly high quality for the price tag. With the integrated neck rest, breathable material, and ability to fine-tune settings such as tension and seat position, this chair is well worth the money.
This chair offers great customization and all-day support. As with most ergonomic chairs, this chair is odd to sit in at first, but after a moment, our back formed to the chair, providing comfort and relief.
One thing we wish this chair had is adjustable lumbar support. However, the support given with just the mesh backing is not terrible.
If you're a TechRadar Pro reader and you're looking to make a purchase of $500 or more, you can now enjoy a sitewide discount of $50 by using the code TR50 at checkout!

Read our full FlexiSpot Chair BS11 Pro review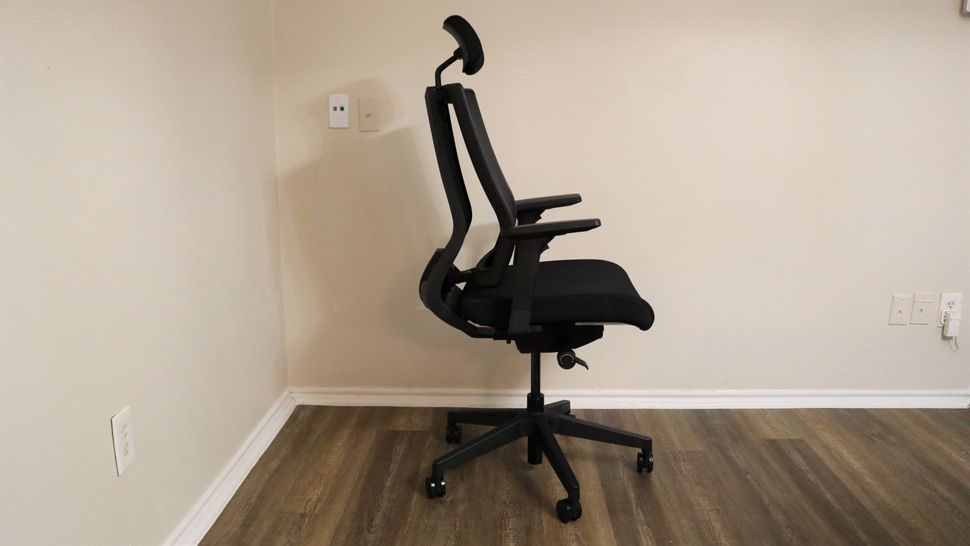 (opens in new tab)
In addition to standing desks, Vari also makes office furniture, including various office chairs. The company's Task Chair is available with or without a headrest, and if you choose the black finish, you'll only need to pay an additional $20. However, both the Vari Task Chair with Headrest and Vari Task Chair is a bit pricier if you choose the grey finish.
Vari has designed its Task Chair with ergonomics in mind to help you maintain proper alignment and reduce muscle strain while working. The headrest, chair back, seat, armrests, and seat back tilt and tension are all adjustable, so you can comfortably configure this office chair. The Vari Task Chair supports up to 300lbs (136kg), and its casters work on both carpeted and wood floors. The chair's reinforced mesh back allows for breathability while a pivoting ergonomic backrest provides maximum lumbar support.
Just like with the Vari Standing Desk, its Task Chair can be assembled in only a few minutes, and no tools are required to put it together. Once assembled, the chair has a height range of 38-inches to 43-inches while the seat has a height range of 17-inches to 22-inches.
Upgrading your current office chair is also easy with Vari, as the company provides 30-day risk-free returns, free delivery, and buy now, pay later at checkout.
Read our full Vari Task Chair review

The X-Chair X2 K-Sport Mgmt Chair is a premium office chair with a unique design. While other ergonomic office chairs feature a mesh back to keep you cool while working, the X-Chair takes things up a notch by also using mesh for the seat. This helps keep your whole body cool while also making the chair quite easy to clean.
X-Chair offers plenty of optional extras like a headrest, an extended width seat, rollerblade style rubberized casters, and armrests that rotate a full 360 degrees for those that want to make the X2 their own. At the same time, the company's heat, massage, and cooling modules slip into the X2's Dynamic Variable Lumbar support and can be charged with an AC adapter or using a USB cable. The X2 is certainly an investment, but those who spend a long time sitting at their desk each day will appreciate its comfort and adjustability.
Read our full X-Chair X2 K-Sport Mgmt Chair review

The Branch Ergonomic Chair (opens in new tab) aims to deliver premium features at a palatable price, and it certainly has the appearance of a piece of furniture that punches above its weight in terms of price bracket.
It's a smart-looking office chair sporting features that you'd expect from a premium model in terms of comfort and having many adjustable elements. It's possible to adjust not just the height of the seat but also the tilt tension – it tilts back up to 20 degrees, and as with many higher-end models, the backrest and seat pan are linked, so they tilt together for a more comfortable, better-supported sitting experience (you can lock the tilt level in wherever you want, too).
Furthermore, you can adjust the lumbar support, seat pan depth, and armrests, giving plenty of opportunity to get the Branch Ergonomic Chair feeling just right.
This office chair also has an aluminum base, a breathable mesh weave on the backrest, and a high-density foam cushion on the seat pan – making sure things are comfortable even for long sitting sessions.
The one niggle we've seen with online feedback is the occasional owner not getting on with the lumbar support and complaining that it's rather hard-feeling plastic rather than cushioning. However, the good news is that Branch has been listening to buyers, and the Ergonomic Chair now incorporates an "additional layer of cushioning" between the mesh back and lumbar support.
Overall, the Branch Ergonomic Chair represents a great value proposition, and the company's customer support also seems like a valuable strength.
Read our full Branch Ergonomic Chair review
We've also featured the best business projectors and the best portable projectors
---
Best Office Chairs [UK]
Best Office Chairs in the UK
The Herman Miller Aeron is still the best office chair available as long as money is no object. This chair is costly and has an incredible reputation preceding it. This chair is remarkably comfortable, futuristic looking, and classy in design.
While it doesn't have a headrest like other Herman Miller models, this chair is still one of the best thanks to the mesh backing, adjustable seat, and lumbar mechanism. This chair's mesh caresses your backside in a way that is unlike most other chairs that have padded seating.
All in all, this chair is absolutely an indulgence and a hit to the wallet, but if you can afford it, you will not be disappointed.

Flexispot's BS11 Pro is a quality built, comfortable, ergonomic chair that is all around a great option for the price. Where it lacks in ease of setup, it makes up for in its all day comfort and lengthy warranty. The BS11 Pro focuses heavily on ergonomics by way of helping correct posture and avoid slouching.
As with most ergonomic chairs, the first few minutes of sitting in this chair feels as though you are almost fighting against the chair. Though, once you get use to it, you realize the chair is actually helping correct your posture and keep you from slouching.

If you're a TechRadar Pro reader and you're looking to make a purchase of $500 or more, you can now enjoy a sitewide discount of $50 by using the code TR50 at checkout!
Read our full FlexiSpot Chair BS11 Pro review

The Herman Miller Sayle is marketed as a gaming chair, though it can be used as an office chair just the same. It is a cheaper option than the beloved Herman Miller Aeron, while still being quite comfortable overall.
This chair has ventilated seats to keep you cool and comfortable during long uses. Additionally, there are adjustable armrests, an adjustable lumbar support built in.

HAG's SoFi 7500 task chair is genuinely an incredible chair. It's hard to find anything negative to say about it. The price is reasonable, the chair is wildly comfortable, the looks are modern and inviting, and the ergonomics are impressive. All around, this chair receives glowing remarks from anyone and everyone who tries it.
The SoFi 7500 task chair can be outfitted with or without armrests, neckrest, a foot base, casters, foam seats, and more, making this a near custom chair at the price of an off the shelf ergonomic chair.

This chair is incredibly cheap for what is offered. The Sihoo M18 Office Chair is an ergonomic chair at its core, with a triple relaxation back support, a w-shape cushion, tilt and tension control, and an overall ergonomic design.
Especially when compared to other ergonomic chairs, this chair is unbelievably cheap. And while it may not have the company prowess, 12 year warranty, or ultra-premium feel, if you are looking for a budget chair that still cares about ergonomics, this is the chair you should consider.

The Capisco Puls is the most unique office chair we have seen. This chair stands out anywhere it sits, and for good reason. This quirky chair can be sat on a vast number of different ways, all of which bring great benefit to the user. Users of this chair swear that it has helped their back pain, and other muscular pains disappear after just a few days of using this chair.
If you want to be able to sit in your chair in a variety of different ways, need to be able to sit backwards in your chair, or like to change up how you sit frequently, this chair is absolutely worth checking out.
---
How to use and take care of your chair
With years of experience and expertise in his field, HON Company's Product Senior Manager, Jeremy Tinkler, gave us some insightful tips on promoting better posture and overall health while also taking care of your chair by maintaining and prolonging the overall lifespan.

How should we sit on our chairs? According to the experts?
There are a variety of factors that can create a more comfortable and productive workspace. Starting with the position of your legs, once you are sitting, leave at least two fingers' width of space behind your kneecap and your seat with knees at a 90-degree angle to allow a better sit. Varying between sitting and standing while at your desk increases blood supply and also fosters productivity. When sitting down, sit back into the lumbar of your chair and adjust the manual lumbar portion (if your model has one) - this reduces lower back discomfort. The position of your arms can create shoulder stress, and adjusting your chair arms to a proper height and width will enable your shoulders to relax and reduce shoulder strain. Use the adjustable height feature of the chair to raise or lower the seat and allow the keyboard to sit on the desk to decrease wrist or arm discomfort.
Lastly, a quality office chair is equipped with a variety of features to help you work comfortably throughout your day. Use every component to your benefit to find what sitting position works for you.
How should we be cleaning our chairs?
From thoughtful material choice to engineering and durability, quality office chairs are designed to withstand years of sitting with proper cleaning and maintenance. There are different techniques for the materials your chair features; most office chair companies have a "how to care for your chair" page on their website or in the documentation sent with the chair.
Every type of material has its own tricks, but there are a few rules for cleaning seating casters, chair glides, fabric, plastic parts, and the base. The easiest way to maintain the casters is by routinely cleaning your floors since the dust and lint degrade their function over time. Casters can be cleaned with mild soap and water with a soft cloth. Chair glides can attract dirt build-up and should be waxed or cleaned with a household cleaner and wiped off with a clean, dry cloth. The chair base may be cleaned by applying mild soap and water or non-abrasive cleaner to a clean, dry, and lint-free microfiber cloth.
All plastic surfaces are properly cleaned by applying warm water and mild soap or an ammonia-based foam glass cleaner solution to a lint-free microfiber cloth and gently wiping the surface to remove dust. After spot-cleaning the surface, it is essential to dry it with a new, clean, lint-free microfiber cloth. Regarding fabric, a cleaning sponge can remove dirt and grime from surfaces by gently scrubbing the dirt away and cleaning the sponge as it becomes dirty.
What is the difference between office chairs and gaming chairs?
Regarding style and design, most gaming chairs are heavily inspired by race car bucket seats, oversized frames, support cushions, gaming logos, and bright or distinctive colors. Office chairs are designed to blend into a business or work-from-home environment and usually feature subtle colors, flatter seat cushions, and a mesh or padded backrest. Regarding ergonomics, both gaming and office chairs feature options to optimize your comfort, but office chairs usually provide far more adjustable features to adjust the armrest, tilt tension and locking, seat height and depth, lumbar support, and more. Gaming chairs often offer more flexibility in the reclining options, having most chairs recline back and feature a headrest pillow for extra gaming support, which office chairs won't typically feature.
Frequently Asked Questions
Office chair vs normal chair - What's the difference?
Office chairs are more than just a place to sit while you work. They are designed to be comfortable and supportive, which is vital if you spend hours sitting at a desk daily.
Office chairs are generally height adjustable, ensuring you're positioned correctly at your workstation. The best office chairs offer even more adjustments, allowing you to fine-tune your seated position. While it may seem like an expensive luxury, you might find that a good office chair makes you more productive.
Typical chairs may or may not offer the same features as office chairs, but they generally emphasize aesthetics over practicality and comfort. They also tend to cost less as well.

What should I consider when shopping for an office chair?
Some important factors to consider when shopping for an office chair include ergonomics, adjustability, build quality, and price. Make sure the chair is comfortable and supports your body properly, and look for features like adjustable lumbar support, armrests, and seat height. Consider the materials used in the chair's construction and the overall durability of the design. And don't forget to factor in your budget when making a decision.

How to choose the best office chair for you
Finding the best office chair for you depends on several factors. First, you need to decide how much you're prepared to spend. Long hours sitting in the wrong position can cause back, and shoulder pain so looks at it as an investment in your health.
Next, decide which adjustments and support features are essential to your comfort and look for a chair that caters to those requirements. Look for a product you can test at a local retailer or with a money-back guarantee. It's essential to test drive your chosen chair before buying.
Material
The importance of the material of your chair is sometimes undervalued. However, the difference between leather and mesh-backed chairs is significant. Some common choices are vinyl, leather, mesh, and ultra (synthetic) leather.
Vinyl is standard for workplace chairs and is incredibly easy to clean. Because of this, it's shared on factory floors or healthcare, as it is simple to wipe off dirt and germs.
Leather has stood atop the list as the "premium" option for quite some time. Leather is timeless, luxurious, and easy to clean as well. One downside is that while timeless, this material is not always comfortable for long periods.
Ultra (synthetic) leather is one step away from leather, as it looks the same but is manufactured. In addition to the look, synthetic leather is hypoallergenic and more breathable than leather. But, the downside is that it historically does not last as long on average as a leather counterpart.
Mesh fabric chairs have become increasingly popular recently, especially in the ergonomic realm. Meshes' most significant benefit is breathability, as the entire backing is an interlaced mesh that allows air to flow freely. These are also pretty easy to clean, and when sat in, the mesh conforms to your back, helping with comfort and ergonomics.
Size
There are three main sizes to consider for office chairs. Petite, standard, and ample office chairs. In short, they are exactly as they sound. Petite is more minor, designed for shorter individuals and smaller office spaces if space is limited. Standard is a typical size built for someone between 5 and 6 feet tall. Lastly, there is a larger size offered, the big office chair. These are made for those taller than 6 feet and can fit people up to 500 pounds on average.
Lumbar and Back Support
When sitting for long periods, lumbar and back support is significant for overall health. A chair with proper lumbar and back support can dramatically help with back pain by aligning your spine and reducing tension. Ergonomic chairs are designed to provide that lumbar support to help with these issues.
Adjustability
Depending on the chair, some adjustments can be made to customize the fit to your liking. Some chairs have one or no adjustments. Others have dozens. These can range from the depth of lumbar support to the tension for how easy it is to recline. Different adjustability settings may be desired depending on the use of the chair.
Cost
The cost is still a dominant factor in choosing any office chair. Finding a balance of cost efficiency, material, and features is essentially what any chair purchase comes down to. Some manufacturers of higher-end chairs have a prominent pre-owned market, allowing the best of both worlds - high-end and cheaper.

Are more expensive office chairs always better?
Not necessarily. While it's true that you often get what you pay for, there are plenty of high-quality office chairs available at a variety of price points. Do your research and compare different models to find the one that offers the best value for your money.

Can an office chair help prevent back pain?
A well-designed office chair can help reduce the risk of back pain and other musculoskeletal issues. Look for chairs with adjustable lumbar support and a contoured seat to help maintain good posture and support your body.

Can an office chair be used for gaming?
Some office chairs are also suitable for gaming, as they offer comfortable seating and good back support. Look for chairs with features like adjustable lumbar support, armrests, and headrests to help keep you comfortable while gaming.

How long should an office chair last?
The lifespan of an office chair can vary depending on the quality of the materials and how often it's used. In general, you can expect an office chair to last for several years with proper care and maintenance. Look for chairs with a good warranty to give you added peace of mind.
---