How we test, review and rate on TechRadar Pro: Office Chairs
Independent, authoritative testing - it's our promise to you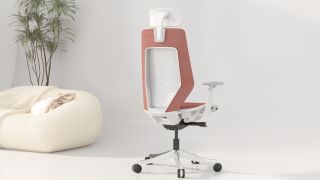 (Image credit: Flexispot)
Our mission is simple: to be the source of professional-grade tech buying advice, offering everything you need to buy and maximize the tech you and your business rely on.
We take great satisfaction in our impartiality and meticulous review-testing procedure, examining the products we choose in great depth. We keep our reviews current and well maintained if the product in question is still available.
We have assembled an international team comprised of the best technology journalists on the planet, who approach their work not merely as industry experts, but also as individuals who use these technologies in their professional lives as gig operators, freelancers, side hustlers, and leaders in both large and small businesses. The professional is always kept in mind during our testing process.
Our editorial independence is backed by the weight of the world's largest technology publisher, Future Publishing, which means we can tell you what we think of a product without fear or favor.
Visit our About Us page to learn more about TechRadar Pro.
Our reviews guarantee
This is our promise to you:
We do not take payment for product reviews. Ever.
We select products for review based on what we believe our readers would want to know.
We'll tell you what we think, not what advertisers want you to hear.
We say it as we see it. Our expert reviewers love technology and want you to love it too. If it's garbage, we'll warn you.
If a product doesn't meet our high standards, we'll tell you why not.
We'll test products in real life, with a minimum acceptable number of days of testing required before we write our reviews to ensure every product has been thoroughly dissected.
If you think we're not living up to our promise, please email the editor in chief and we'll endeavor to put it right.
---
If you want to know more about our testing philosophy, check out our overall "how we test" page on TechRadar.
---
How we test: office chairs
To begin our review process for office chairs, we first consider the key features that are most important for our readers. This includes comfort, adjustability, durability, lumbar support, and weight limit. We also consider additional features, stability, ease of assembly, and price.
Once we have identified the features we want to evaluate, we begin sourcing and testing the chairs. This involves reaching out to various manufacturers and retailers to request samples and then setting up the chairs in our office to try them out for ourselves.
During the testing phase, we use various methods to assess the chairs. This includes adjusting the chair to different heights and positions, evaluating its stability and ease of use, and examining its build quality and durability. We also consider additional features such as lumbar support, overall comfort, and adjustability.
In addition to these specific evaluation criteria, we also consider the type of office chair being tested. Some chairs have built-in lumbar support, some have highly adjustable arms, and others are a bit more rigid and less adjustable. We also consider each chair's ergonomic height range, maximum weight capacity, and any available customization options.
Once we have completed our testing, we compile our notes and observations into comprehensive reviews. This review includes a detailed breakdown of the chair's key features and our overall assessment of its performance. We also include a pros and cons list to help readers easily understand the strengths and weaknesses of the chair.
Overall, our goal is to provide our readers with the information they need to decide which office chair is right for them. We strive to be thorough, objective, and fair in our reviews, and we hope our efforts help our readers find the perfect office chair for their needs.
Swipe to scroll horizontally
| Header Cell - Column 0 | Weight (in %) |
| --- | --- |
| Comfort | 40% |
| Adjustability | 20% |
| Durability | 15% |
| Weight Limit | 10% |
| Stability | 5% |
| Ease of Assembly | 5% |
| Price | 5% |
Why should you trust us?
At TechRadar Pro, we are committed to providing our readers with accurate and unbiased reviews of the products we test. Our team of reviewers has extensive experience in evaluating a wide range of products, and we take pride in our thorough and objective approach to testing.
When it comes to office chairs, we understand that these pieces of office furniture can be a significant investment for many people. That's why we go to great lengths to ensure that our reviews are as comprehensive and accurate as possible. We source and test various office chairs from manufacturers and retailers and use several methods to evaluate their key features and performance.
We strive to provide our readers with the information they need to make informed decisions about these important purchases. We hope that our readers find the perfect office chair for their needs.
What we look for
Comfort
For those looking at quality office chairs, it is because we spend a lot of time in those office chairs. Because of this, comfort is paramount. If a chair is uncomfortable, there is no real desire to use it, especially not for long working days. Comfort extends to adjustability and lumbar support. However, not all comfortable chairs have those features. There is no quantitative data we pull or test for a "comfortable" rating outside of daily use for an extended period before review.

Adjustability
Many office chairs can recline. However, usually, the best office chairs have many areas that can be adjusted to fit the ergonomic needs of individual users. This can include armrests, headrests, thigh rests, lumbar support, side supports, and adjustable seats. Each adjustment area can subsequently make the chair more comfortable for a user. We put any and all adjustable areas of a chair to the test by having several team members customize it to their liking. We also test the extremes to see how far each element can adjust.

Durability
We understand that a quality office chair is a big investment for individuals. Especially now, as so many people are working from home, the importance of a quality office chair has only increased. If something is going to cost a large sum of money, one factor we will test is durability. If the chair does not last, breaks easily, or has pronounced wear and tear, then we will consider that for our final scoring.

Weight Limit
Overall, the weight limit is not a large portion of our testing, however, it is worth noting. A lower weight limit, or one that is closer to our actual weight, can sometimes indicate that over time the chair will slowly break down. It is important to get a chair designed for your weight (or preferably a wide range including your weight and heavier) to allow for longevity in the chair's durability.

Stability
Many of the chairs we test have adjustments that can be made to lean the chair back, adjust the base, adjust the arms, adjust the height, etc. One of the areas we test is how stable all of those elements in conjunction end up being. It's great that these chairs can make a dozen adjustments. Still, if none of them are stable, if the chair is wobbly, or if we feel like we are falling out of the chair anytime we sit in it, those are usually not great findings for a chair with a large pricetag, designed as something we sit in for most of the working day.

Ease of Assembly
We have seen a handful of chairs delivered mostly, or even fully assembled. Though what we usually experience is a bit of assembly is required. We consider this for our scoring, though it's relatively low due to the overall functionality of the chair. Even if the chair takes a bit to assemble, if it is the most comfortable chair, with great lumbar support and is very stable, that chair will probably rate rather high. However, there will be a disclaimer notating the troublesome setup.

Price
Price needs to be considered for our scoring. We have learned in our testing that most expensive does not always mean best, and, subsequently, cheapest does not mean worst. With that being said, while there are outliers, we have noticed that a good majority of the chairs align with their pricing brackets for the most part.
---
Are you a pro? Subscribe to our newsletter
Sign up to the TechRadar Pro newsletter to get all the top news, opinion, features and guidance your business needs to succeed!