Best laptops for working from home in 2023
Best
Contributions from
last updated
Find the best laptops for working home, the office, and everything in between
VERDICT
REASONS TO BUY
REASONS TO AVOID
Best WFH Laptops: Quick Menu
The list in brief
1. Best overall
2. Best MacBook
3. Best for data entry
4. Best Chromebook
5. Best for gaming
FAQs
How to choose
How we test
The way we work - and where we work - may have evolved, but finding the best laptop for working from home doesn't need to be a challenge.
The best WFH laptops need to offer reliable performance for enhanced productivity. You'll also want great portability for those days when you're commuting and working in the office. But with so many options out there, how do you know which one to choose?
Having tested all the best business laptops for a range of fields - from data entry to creative industries - we've gone hands-on with the best laptops for working from home.
As part of our review process, we've benchmarked the performance of processors and GPU, and compared display panels and size for when you need pin-sharp resolutions and color accuracy. We've also assessed overall portability, so whether you're using your laptop to WFH, WFO, or a hybrid mix, you'll find the one that helps you get the job done.
The quick list
You need to choose the best laptop for working from home that can handle your daily workload when you don't have access to your work computer. So, we've gathered the best ones for every user and budget below. Take a look at our top picks right here, and be sure to click "Read more below" to dig deeper before you hit buy.
Best laptop for working from home overall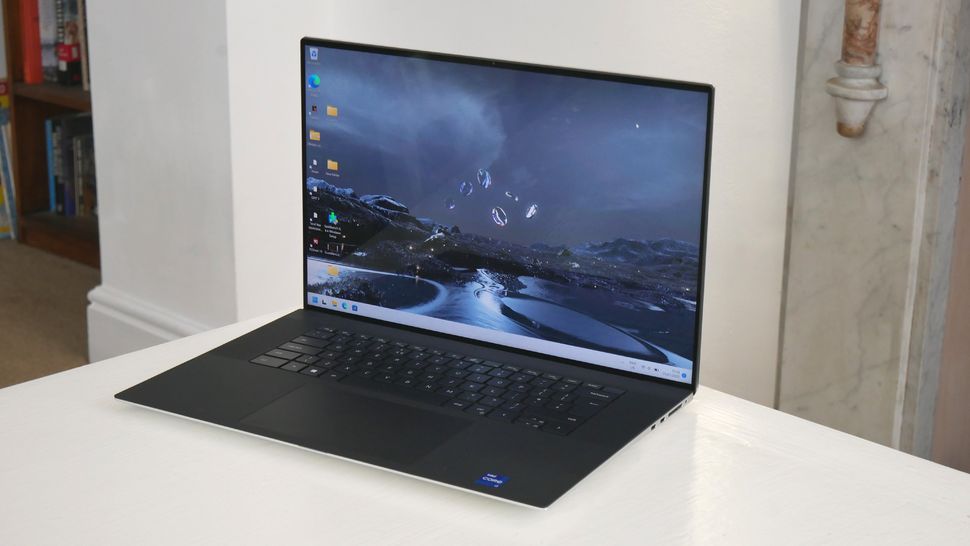 Sleek, powerful, in a beautiful, if familiar, design
Specifications
CPU:
12th Gen Intel Core i5 - i9, 13th Generation Intel® Core™ i9-13900H
Graphics:
Intel UHD Graphics – NVIDIA GeForce RTX 4080
Screen:
17in, 1920 x 1200
Ports:
4 x Thunderbolt 4 (USB Type-C) with DisplayPort and Power Delivery, 1 x Universal audio jack, 1 x SD-card slot
Connectivity:
Intel Killer Wi-Fi 6 1675 (AX211) 2x2, Bluetooth 5.2
Reasons to buy
+
Sleek design and build quality
+
Great trackpad
+
Long lasting battery
+
Massive 17-inch screen
Reasons to avoid
-
Limited port options
-
Expensive upgrades
While it may not offer high-end gaming specs, you can plough through a day's work comfortably and in style. The Dell XPS 17 is a beautiful machine offering a massive 17-inch screen. But it's not just a sleek-looking machine, it packs power under the hood with 12th and 13th Gen Intel processor options and up to 64 GB of DDR5 RAM.
Though we didn't find it as portable as some other options in our lists, it isn't unwieldy either. With an aluminum chassis and frame, ultra-slim bezels, and carbon fiber palm rest, this machine looks and feels great. The large trackpad, we found, is also one of the best on a Windows laptop for those times you're away from a desk and doesn't have your mouse with you.
As CPU performance goes, we found this laptop capable of tearing through everything from video encodes to 3D renders with ease. And with the full 32GB RAM, we felt it unlikely most users will run out of memory, which makes multi-tasking a breeze. Overall, the specs gives the device a wide range of uses, from basic office tasks to more creative endeavours like photo and video editing.
Battery life is quite impressive, coming in at 10+ hours for lighter workloads, especially when you consider what it's powering. Along the edge, you'll find 4 USB-C Thunderbolt 4 ports, a full-sized SD card slot, and an audio jack. We'd love to see ports for USB Type-A, HDMI, and maybe LAN connections, but Dell chose to sacrifice these additional ports to keep this machine as thin and sleek.
Read our full Dell XPS 17 review
Best MacBook for working from home
Apple's flagship laptop is tailor-made for creators
Specifications
CPU:
Apple M2 Pro (12-core) – Apple M2 Max (12-core)
Graphics:
Up to 38-core integrated GPU
RAM:
Up to 96 GB unified memory
Screen:
16in, 3456 x 2234
Storage:
512 GB – 8 TB SSD
Ports:
3 x Thunderbolt 4 (USB-C), HDMI, SDXC card
Connectivity:
Wi-Fi 6E (802.11ax), Bluetooth 5.3
Reasons to buy
+
Upgraded M2 chips
+
20 hours battery life
+
Incredible screen
Apple continues to push the boundaries of speed and efficiency with its silicon chips, and this machine offers its latest and best M2 chipsets. With an incredible 20 hours of battery life, you could go without needing a charge for a couple of days worth of work.
This machine is a refinement instead of redesign of the 2021 model. You'll find 3 USB-C Thunderbolt 4 ports, an HDMI port that now supports 8K at 60 Hz, an SDXC card slot, and an audio jack. The best-in-class Liquid Retina XDR 16.2-inch screen with 120 Hz ProMotion adaptive refresh rates is stunning. Knowing how important conference calls are when working from home, we ran some tests on the FaceTime HD webcam, and found it did a good job of producing clear footage, even in low-light conditions.
Performance-wise, this proved during our tests that it can pump out impressive performance without draining the battery, especially with the M2 Pro and M2 Max-equipped ones. That's while staying virtually silent. Crucially, we found the MacBook Pro 16-inch doesn't throttle its performance when on battery power either. Throughout our time with the MacBook Pro, we used it plugged in and on battery, and didn't notice any change in performance, even when running complex video editing tasks.
The base model M2 offers plenty of power at a decent price point for what you're getting. Like many Apple products, there are options to add extra horsepower but expect to pay a pretty penny for those performance increases.
Read our full MacBook Pro 16-inch (2023) review
Best WFH laptop for data entry
A great business laptop with a fantastic keyboard experience
Specifications
Graphics:
Up to NVIDIA GeForce MX550 2GB GDDR6
Screen:
16in 16:10, 1920x1200
Storage:
Up to 2TB M.2 2280 SSD (one drive)
Ports:
Optional Smart card reader, 2 x USB-A 3.2 Gen 1, RJ45, 2 x Intel Thunderbolt 4, 1 x HDMI 2.0, Headphone / mic combo, SIM card slot
Connectivity:
Intel Wi-Fi 6E AX211 2x2 AX, Bluetooth 5.1 or above, Fibocom L860-GL-16 4G CAT16, 4G/LTE (CAT4)
Reasons to buy
+
16-inch 16:10 screen
+
Long battery life
+
Durable MIL-STD 810G rating
+
Great keyboard
Reasons to avoid
-
Clunky trackpad experience
-
Limited Thunderbolt 4 ports
The newest addition to Lenovo's ThinkPad T series of laptops, the T16 offers an enjoyable work experience with a beautiful display, long-lasting battery, great keyboard, and durable design. Well-balanced in size and weight and offering a rich feature set, the Lenovo ThinkPad T16 will meet the needs of many looking for a great work from home laptop.
The ThinkPad T16 will be a favorite for those who need to view and work with large amounts of data. We liked the laptop's large 16-inch 16:10 display, providing an extra bit of screen real estate that gave us a few extra rows of viewing space in spreadsheets and documents during testing. Pair that with a full keyboard and numpad, and you have a machine built for data entry, accountants, and those needing to interact with large quantities of data simultaneously.
Whether we were working on spreadsheets, responding to emails, editing photos, or conducting virtual meetings, the ThinkPad T16 never skipped a beat. When we threw benchmark tests at the T16 to see how it would handle more demanding tasks, we scored just above 7,500 for the standard multi-core test - lower than higher-end laptops, but it fared well as a business laptop and performs excellently for everyday business needs.
Made for durability, the T16 passed MIL-STD 810G durability testing and is ready for expeditions beyond your desk or couch. Lenovo has also built great security features such as ThinkShield, camera shutter, fingerprint scanner, and Windows Hello for facial recognition and Self-Healing BIOS.
We did find the trackpad experience a bit clunky, and the limited Thunderbolt 4 ports is a shame. But overall, we were quite pleased with the general performance, and enjoyed using it as our daily driver over several weeks.
Read our full Lenovo ThinkPad T16 Gen1 Laptop review
Best Chromebook for working from home
The top Enterprise Chromebook with excellent security features
Specifications
CPU:
12th Gen Intel Core i3 - i7
Graphics:
Intel Iris Xe Graphics
Screen:
13.5in, 1920x1280
Ports:
2 x Thunderbolt 4 USB-C, PD, DisplayPort 1.4, 1 x SuperSpeed USB Type-A, 1 x Stereo headphone/microphone combo jack, 1 x HDMI 2.0
Connectivity:
Intel Wi-Fi 6E AX211 (2x2), Bluetooth 5.3
Reasons to buy
+
Great performance
+
Beautiful display
+
Optional 5G/LTE connectivity
Reasons to avoid
-
Expensive
-
Enterprise security costs extra
Not everyone needs Windows, and if you're in the market for an enterprise-grade machine, the HP Elite Dragonfly has plenty to offer that makes it worth considering. By offering 12th Gen Intel vPro processing options, HP provides IS/IT departments the ability to provide multi-layered security for employees' hardware. After testing out the kit, we can confidently say this is easily the best Chromebook for business we've tried.
With up to i7-1265U processing power, 32 GB of RAM, and Iris Xe graphics, the HP Elite Dragonfly Chromebook offers plenty of computing power for all-day work. It's one of the most powerful Chromebook we've ever tested, scoring high in our Kraken and Jetstream 2 tests. It also proved fast and snappy with just about any workload we threw at it. Aside from benchmarks, the Elite Dragonfly Chromebook is fast and snappy, handling just about any workload. In our experience, Google apps ran buttery smooth, and there was nothing in the way of serious slowdowns.
The only major criticism we have is its relatively few ports. But these days that feels like criticizing a laptop because it doesn't have an optical disc drive. It's the trade-off for having a thin laptop. And at least you get two Thunderbolt 4 ports along with an HDMI 2.0 output.
HP includes a year-long subscription to Parallels for Chrome OS for those still needing to run legacy Windows apps. While this laptop gets pricey at the top end of the SKUs compared to its Windows counterparts, it has plenty of reasons to consider it a viable work-from-home laptop.
Read our full HP Elite Dragonfly Chromebook review
Best WFH laptop for gaming
Work hard, play hard
Specifications
CPU:
13th Gen Intel Core i9
Graphics:
NVIDIA GeForce RTX 4090
Screen:
18in, 16:10, 2560 x 1600
Ports:
1 x 3.5mm Combo Audio Jack, 1 x HDMI 2.1, 2 x USB 3.2 Gen 2 Type-A, 1 x USB 3.2 Gen 2 Type-C support DisplayPort, PD, G-SYNC, 1 x 2.5G LAN port, 1 x Thunderbolt 4 support DisplayPort, G-SYNC
Connectivity:
Wi-Fi 6E(802.11ax), 2*2 + Bluetooth 5.2
Reasons to buy
+
Premium specs
+
Impressive screen
+
Built for high-end graphics
Reasons to avoid
-
Short battery life
-
Heavy with power supply
-
Loud fan
The Asus ROG Strix SCAR G834JY boasts an incredible array of specs that promise to make this machine rocket to the top of wishlists. While built with gamers in mind, we can see this machine used by 3D designers, video editors, and other graphics-intensive workloads to rip through a day's worth of work and not break a sweat.
The G834JY has a 13th Gen Intel Core i9-13980HX processor and an NVIDIA GeForce RTX 4090 Laptop GPU. RAM tops at 64 GB of DDR5-4800 MHz memory and comes equipped with 2 TB of PCIe 4x4 configured in RAID 0. During our rigorous testing process, we found this to be a muscular machine which tears through heavy-duty apps and top-end titles with surprising grace.
We really liked this laptop's screen. Asus has added an enormous 18-inch QHD+ 16:10 (2560 x 1600, WQXGA) Dolby Vision HDR screen with a 240 Hz refresh rate. The resolution is fantastic, even if not 4K and the colour reproduction, which covers 100% of the DCI gamut, is superb, with complete consistency corner-to-corner. This machine also boasts a 4 speaker Dolby Atmos sound system.
If there's a downside, it's the lack of connectivity compared to other WFH laptops. There's only one Thunderbolt 4 port and a single USB 3.2 Gen 2 Type-C port. But you will find two USB 3.2 Gen 2 Type-A ports, HDMI 2.1 FRL, 2.5G LAN, and a 3.5mm Combo Audio Jack. Battery life, we found, was ok - gaming and resource-intensive apps drain it quick (but not as quick as many gaming laptops. On a mains adapter, we discovered it ran cool and quiet, lasting for about an hour longer running less demanding workloads than it did when we subjected it to the PC Mark test.
However, what you gain in speed and an incredible viewing experience, you lose in portability. Weighing in at 6.83 lbs for the laptop and close to 2.5 lbs for the 330W power brick, this machine totals over 9 lbs. But for those looking for a device to power their next creative project, the Asus G834JY makes a pretty compelling case for one of the best work from home laptops.
Read our full Asus ROG Strix SCAR 18 review
Best WFH laptops: FAQs
What makes the best laptop for working from home?
The flexibility to work from literally anywhere makes working from home an incredibly attractive proposition. Your home workspace may be a dining room table, a standing desk, or a lounge chair by the pool, and the machine you choose could be the difference in your productivity.
While the best Working from Home laptops aren't any different than the best business laptops, there are a few things you'll want to consider to help you make the right decision. First and foremost, the type of work will dictate the machine's specs. Are you replying to emails, writing articles, and doing data entry, or does your work require graphics and processing intensive power such as compiling code, 3D modeling, 4K video editing, and graphic design?
Your usage needs will dictate CPU, graphics card, RAM, screen size, and storage space requirements, along with considering your connectivity options based on what peripherals you'll need to connect such as monitors, keyboards, external storage drives, and networking. Additionally, IT departments may require certain security features only specific laptops offer.
The best working from home laptop will provide the right balance of processing power, battery life, viewing experience, operability (think typing and port location), and connectivity.
Are there other operating system options besides Windows?
Of course! Besides Windows, other options exist, such as Mac OS, Chrome OS, and Linux. There are others available as well that run modified mobile OS systems. Be mindful that while many business applications offer various builds to run on different operating systems, some are limited to only running on certain systems. We recommend compiling a list of required software and checking the developers' websites to ensure each application is supported on the laptop(s) you're looking at.
Can business laptops be used for working from home?
In short, absolutely. Business laptops these days have been used for working from home in many cases or a wide range of different jobs. Everything from accounting to journalism, graphic design, or project management. Fundamentally, nothing is challenging about using a business laptop to work from home, especially if it is to work for the business that gave you the laptop. The one issue could potentially be accessing a secure network, but even that is not a limitation of the laptop but rather a limitation put in place by the business. Part of the beauty of a laptop is the ability to bring it with you anywhere.
What makes a great setup for working from home?
There's a lot to consider when setting up your home office space. You'll want to first choose the setting for you to do your best work. Is that your dining room table, a standing desk in a room with a door you can close, or do you need to move from location to location? You'll also want to consider lighting, both natural lighting from windows and room lighting, to create an optimal workspace and viewing experience.
Also, consider how you're connecting to the internet. Do you have a powerful enough Wi-Fi router or need to hardwire via ethernet? What about adding a second or third, monitor? Is your setup ergonomic and functional for a full day's work? Taking time to consider all your requirements upfront will help you create the optimal work-from-home space that offers all the benefits of working remotely and keeps you productive.
How to choose the best work from home laptops for you
When choosing which WFH laptop is best for you, there are a range of factors to consider.
First, you'll want to ensure a compatible operating system. Some companies prefer Windows machines, others run in the Apple ecosystem. From there, you can figure out which if the best laptops on your list will be right for your role.
Next, consider the type of work you'll be performing. This dictates everything from the type of keyboard and trackpad experience you need to how fast the laptop needs to be. The best Chromebooks may be ideal if you're always connected to the internet and happy to use online apps, but they'll struggle with heavy-weight apps for content creation like the best video editing software. For more resource-intensive tasks, you'll want to check the laptop's CPU, GPU, and RAM - generally speaking, the bigger the better. While these may cost more, you should see greater efficiency and productivity as your chosen WFH laptop zips along at a snappy pace.
Screen size and resolution will be an important consideration, particularly for those looking for the best laptop for photo editing, the best video editing laptop, or other creative pursuits. For the best color accuracy, you'll want to look for a 4K panel with wide color coverage across Adobe RGB, sRGB, or DCI-P3.
Portability is big factor - particularly if you're in a hybrid role where you'll need your laptop at home and in the office (or anywhere else, for that matter). In this instance, you may want to seek out the best Ultrabooks, which are thin and slim and easier to cart around. Although in some cases, you'll sacrifice ruggedness for size and weight. As part of this, check the ports, inputs, and connectivity, as you may need to add the best laptop docking stations if you're connecting multiple peripherals, meaning more weight (and less space) in even the best laptop bags.
Finally, find the best WFH laptop for your budget. These machines come in a range of forms, so you'll find plenty of choice whether you're looking for a budget model or a premium or high-end device.
How we test the best laptops for working from home
We've tested a massive range of devices for all kinds of businesses and industries, including the best laptops for graphic design, the best laptops for programming, and the best MacBook Pros.
We know that buying a new laptop can be a huge investment, so we test out every laptop, using them as our daily driver to see how they perform in real-world environments - and who will benefit most from them. We also evaluate design, dimensions, and build quality. While you may typically use these laptops for working from home, we want to make sure they're light enough and rugged enough to handle occasional days in the office or on the commute. As part of these extensive tests, we also assess comfort for prolonged use. A good-sized keyboard, trackpad, and screen resolution are important here, as are optional extras like Dell's carbon fiber palm rests.
To test performance, we use a mix of real-world tests and synthetic benchmarks to find our how powerful these WFH laptops are. This sees us running various apps to evaluate loading speeds, while noting any issues we find.
For business laptops, especially, we want to see outstanding webcam and microphone performance, so we'll test these with a series of tests, as well as in our day-to-day meetings.
Battery life is critical - even for those laptops for home working. As such, we track how long we can use the device before it requires a recharge, while also running our own battery life benchmark. This sees us play 1080p movie on loop until the battery dies. Alongside this 'movie test', we run the PC Mark 10 battery life benchmark, replicating real-world usage like web browsing and document creation.
Finally, we take all results and compare its price to its competitors, to ensure it offers the best value to customers.
Learn more about our testing process in How we test laptops and desktops: our reviewing process explained.