Having the best laptop power bank or battery charger in your portable arsenal is a good idea, especially if you do a lot of traveling or you like to squeeze in some more work while commuting to and from the office. Really, these days, you shouldn't go anywhere without one.
While the battery lives of many of the best laptops are now longer than ever, longevity still depends on how demanding the tasks they're handling are. And, it's not like you can just find an outlet anywhere – even big-name coffee shops like Starbucks are making outlets inaccessible to patrons.
The good news is that many laptops today are designed with USB-C charging available. So, just like regular power banks for smartphone-dependent teenagers, laptop battery chargers have fast become an integral part of any professional's setup, specifically those who work remotely or enjoy working at a cafe. And, just like regular power banks, they come with a variety of port options – some even come with an AC outlet for those whose laptops do not offer USB-C charging.
Getting a portable laptop battery charger or power bank isn't as straightforward, however. You should check to see what laptops the chargers support, as some laptops still come with proprietary chargers, and make sure that it has the right connector to plug your laptop in. You'll need to consider how much power they supply, as particularly power-hungry laptops, such as gaming laptops, may not work with them. Finally, check how large their internal batteries are, as this will dictate how many times the charger can charge a laptop, and their overall size, as you don't want to have to lug around a large and heavy charger.
As complicated as that sounds, you will find that the ideal laptop charger or power bank for you is worth all the effort. Besides, we've gathered the best portable laptop chargers 2022 has to offer to save you time and from all the hassle. Take a look at our top picks below.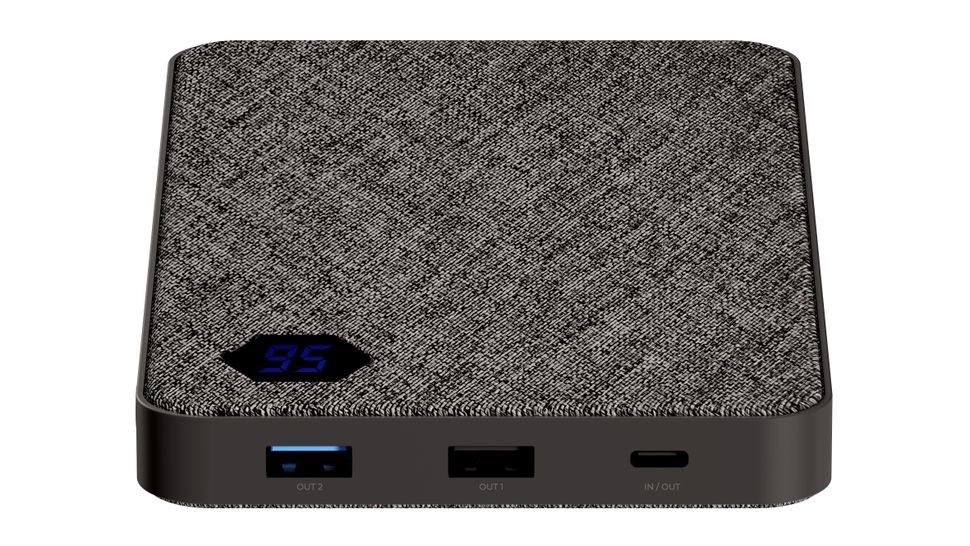 The Einova Ultra Fast Powerbank keeps things simple, compact and reliable, which is really all you want from a laptop power bank you want to travel with. At 6.75 x 4 x 0.63 inches and 0.498kg, it's thin and relatively lightweight. Combine that with its 74Wh power, and you've got a device that not only keeps things portable for jet-setting creatives and remote working professionals but is TSA-approved as well. It even has an easy-to-read LCD display to let you know just how much juice it has left.
More importantly, unlike other so-called laptop chargers out there that fail to work at times, this one's incredibly reliable, capable of charging your laptop every single time. And, that's while charging your other portables as well with its 3-port selection. It may only have the standard 20,000mAh capacity, but that's a full laptop charge and a half, definitely more than enough to last you while you're in between outlets. Best yet, it's under $100, cheaper than most of the offerings on this list.
If you're looking for a portable laptop charger that gives you the best value for your money, you've got a winner here.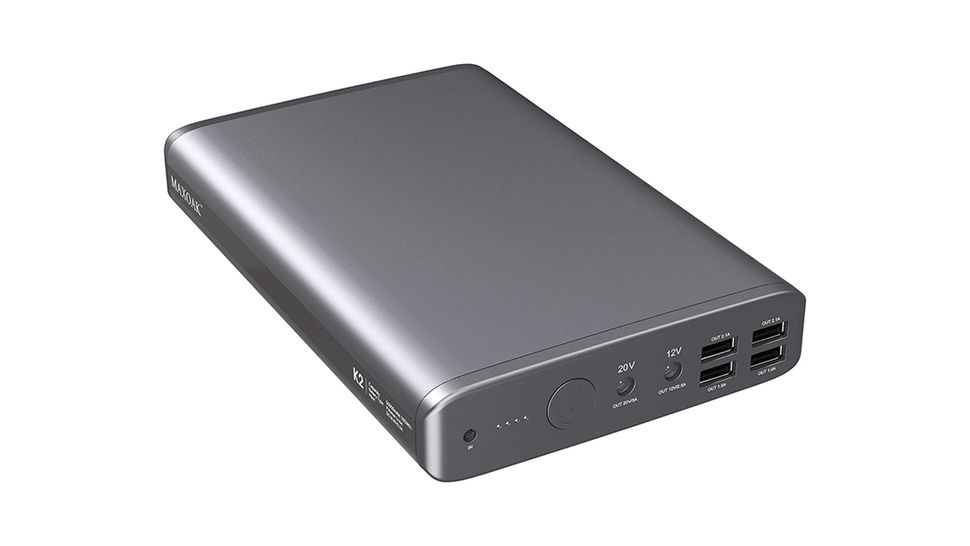 Laptop power banks are a tricky thing. Most of them are only compatible with specific portables, depending on the available output port as well as the transfer rate of energy. Luckily, you've got the MaxOak Laptop Power Bank. With a maximum power of 130W and two DC outputs – not to mention, a variety of DC adapters included – this power bank is compatible with many laptops. That makes it useful for households with multiple types of laptops and devices. Unfortunately, this isn't TSA approved, due to its 185Wh, which is over the 100Wh TSA standard. However, it's great for road trips, campings and train rides.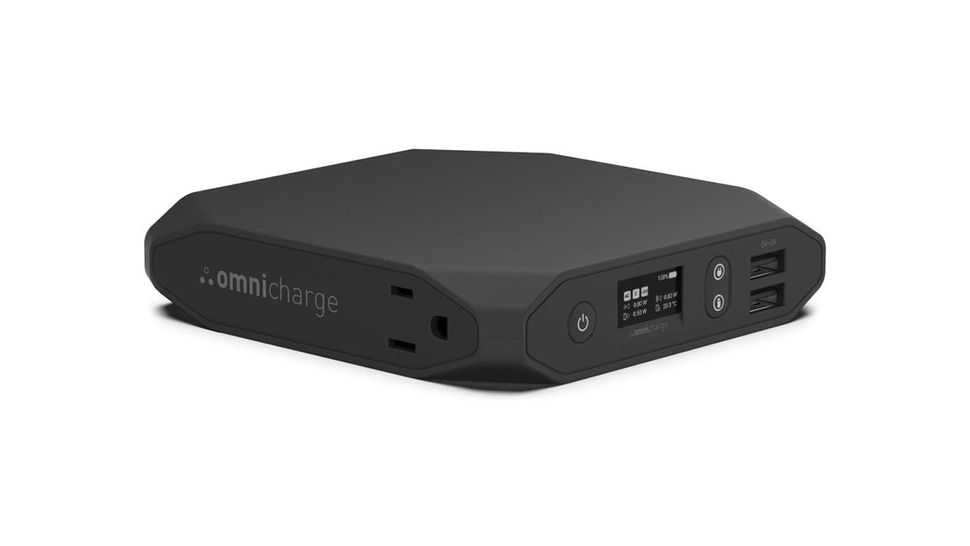 With just 70wh, the OmniCharge 20+ 20000mah is TSA-approved, making it an excellent companion for work trips abroad and if you have long layovers. It's compatible with 60W USB-C laptops like the MacBook Pro 13-inch and Dell XPS 2-in-1, but with its 100W AC outlet, it's great for other laptops and other tech gadgets like DSLRs as well. Finally, it features passthrough charging, so you can charge it while simultaneously powering to devices via the AC or USB-A ports. It is a bit more expensive than the MaxOak Laptop Power Bank. However, it's versatility does make it worth the higher price tag.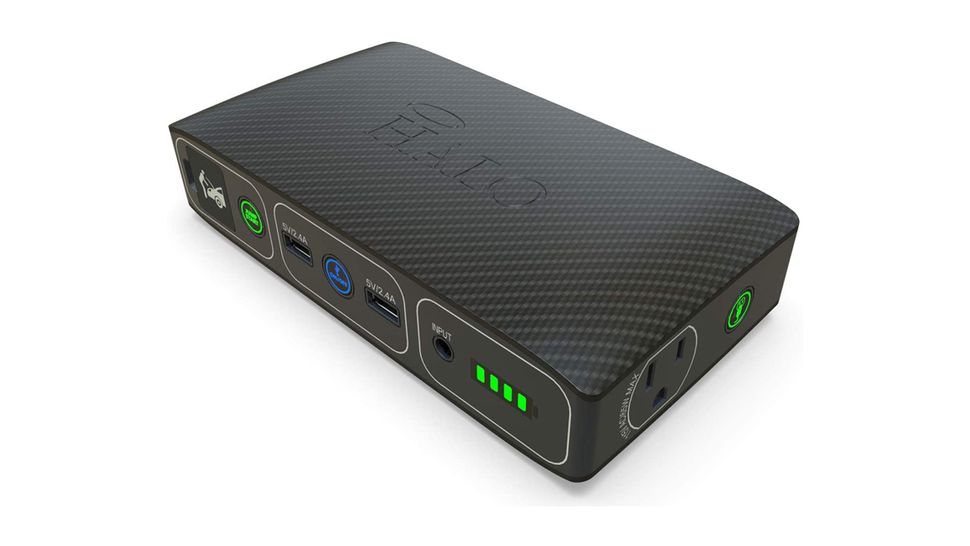 The HALO Bolt 58830 isn't just a portable laptop charger, although it is an effective one thanks to its AC outlet. Great for laptops that draw up to 60W of power, this portable charger is also designed to jumpstart a car. It even has its own jump start port and comes with its own set of jumper cables. And, unlike other portable laptop chargers, which only come in one or two colors, this one comes in seven different colors/design patterns, making it ideal for folks who don't care for the minimalist approach. Unfortunately, it doesn't have a USB-C port, which the AC outlet should take care of most of your laptop charging needs.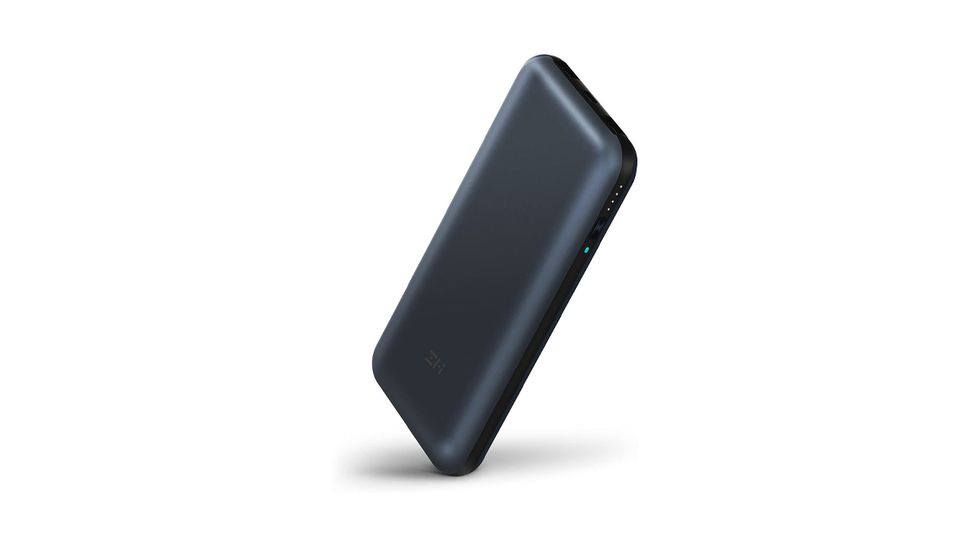 For MacBook Pro and MacBook Air users that only require up to 30W of power and utilize USB-C charging, the ZMI USB PD Backup Battery & Hub is a terrific option to consider. It doesn't have an AC outlet, but its USB-C port lets you charge your older MacBook units. ZMI also promises HP Spectre x360 13-inch and Samsung Chromebook Pro compatibility. Thanks to its two USB-A ports, you can charge your other devices as well. More importantly for travelers and digital nomads, it boasts a svelte and lightweight design – at 405 g, it's a lot lighter than the iPad Air.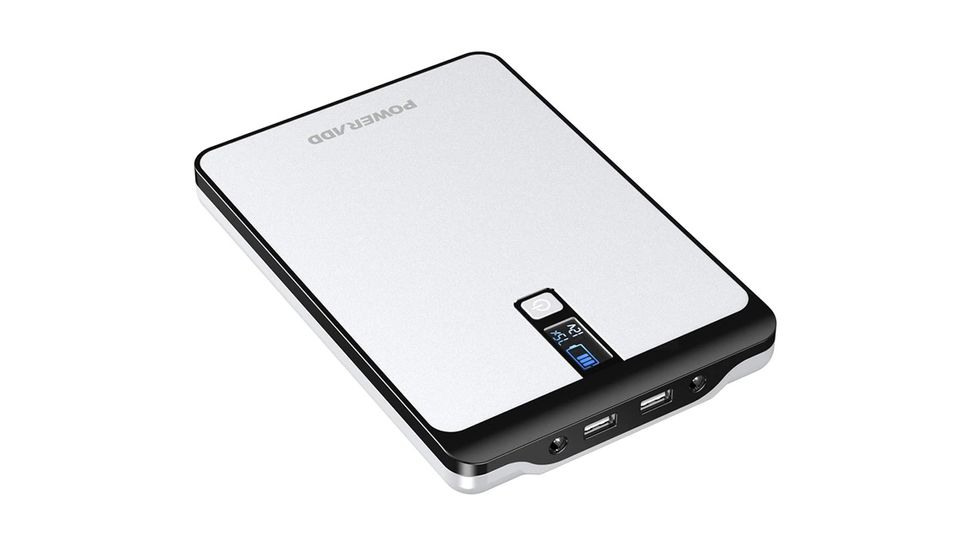 The POWERADD Pilot Pro might be as versatile as laptop chargers come. It comes equipped with a LCD display showing important information like battery level and voltage. It also has two USB outputs and a DC output to accommodate a whole host of devices, from smartphones and tablets to power-hungry laptops. The charger also comes with 10 different connectors making it compatible with most laptops. It also has fast-charging and has built-in safety features like over-charge, over-temp and short-circuit protection.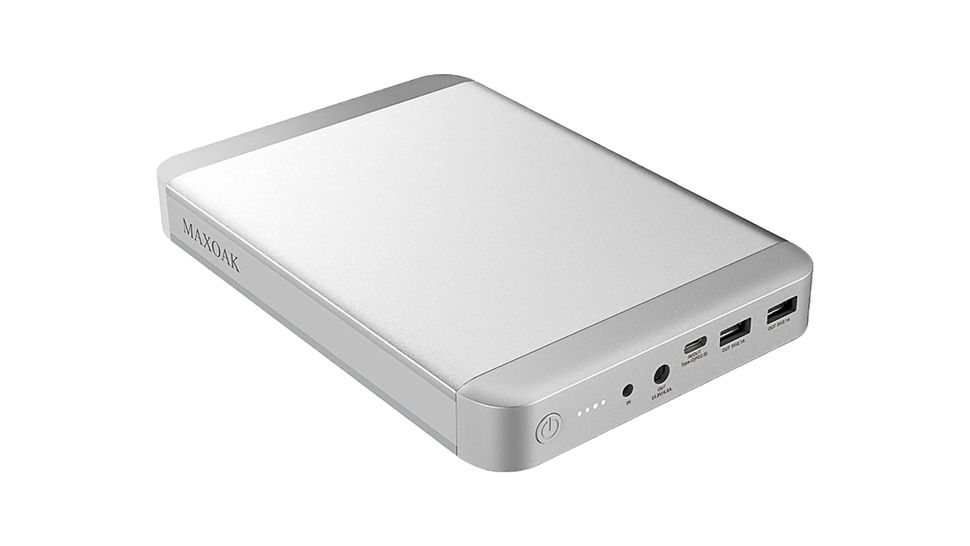 For anyone who's bought into the Apple ecosystem or has multiple Apple devices, the MaxOak Type-C Power Bank is the perfect portable solution. Via its DC port and included Magsafe 1 and 2 cables, this laptop charger can power up any Apple laptop from 2006 to 2018. And, its PD 2.0 Type C port not only covers any of the newer USB-C only macbooks, but can also charge any laptop equipped with a USB-C port. The type-C port can also be used to charge the power bank, if you happen to misplace the Maxoak's charger. If that's not enough, it fits right in aesthetically with its silver aluminum shell and rounded edges.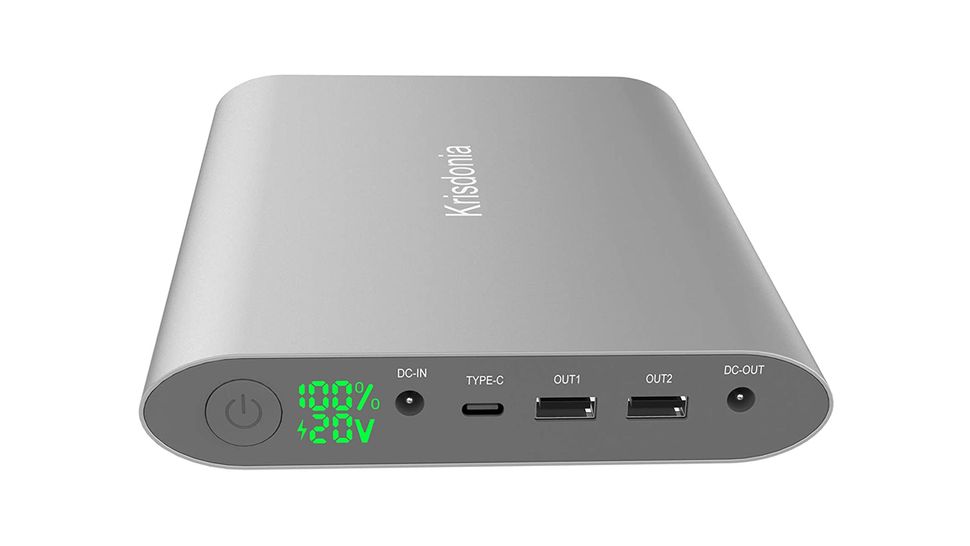 This incredibly high capacity laptop power bank might have too much power to take on a flight. However, it's ideal for long road trips. It's also incredibly versatile, with 28 different laptop connectors and a Magsafe 2 adapter to accommodate just about any laptop under the sun. The laptop charger also has a passthrough function that can be easily turned on and off, as well as a LED display that shows the voltage and current battery level. Unfortunately, even though it is the highest capacity charger on this list at 50,000mAh capacity, it can fully charge in 6-8 hours – charging overnight, therefore, is obligatory.
The Voltaic Systems V88 Portable Laptop Power Bank has all the necessary features that any great laptop power bank should have including four outputs, passthrough functionality, and an easy to read LCD display for monitoring the battery level and voltage. It's fairly versatile, as it includes 10 laptop adapters that should cover most user's needs. At 88Wh, it's also airplane-friendly. What makes the Voltaic power bank unique, though, is that it's solar-optimized. This means that it works with solar chargers and solar panels when traditional power sources are not available. While those do have to be purchased separately, this feature does make the Voltaic Systems V88 particularly useful for those going off-grid.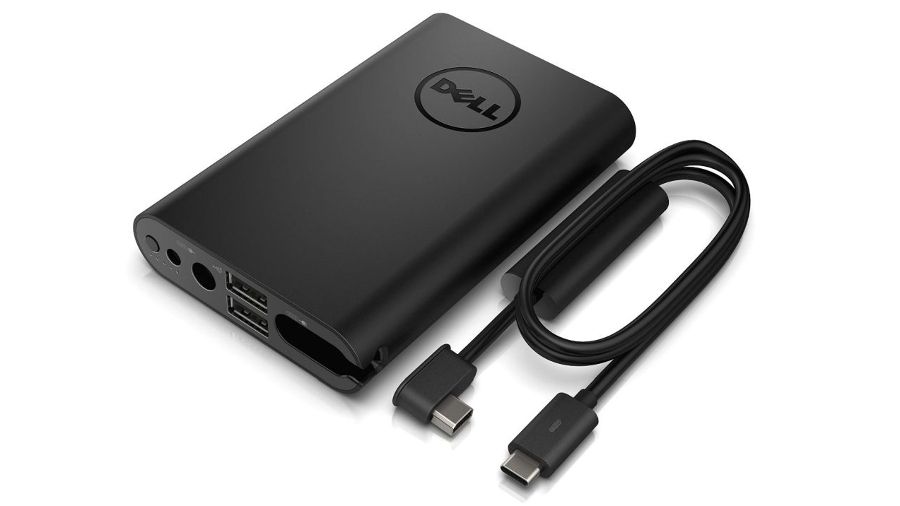 Dell sells the Power Companion with various battery capacities. It is more compact than the RAVPower models, and the unit looks like a Dell power brick that charges your laptop. When you're at your desk, you can daisy-chain to recharge the Power Companion and your Dell laptop by connecting your Dell charging brick to the Power Companion, and then connecting it to your notebook.
Dell's Power Companion is a far sleeker battery pack if your office relies on Dell Inspiron, Latitude, XPS or Venue laptops and tablets, with the added benefit that it has extra USB ports should you need them.