The best tablet 2023: the top tablets you can buy right now
Best
Contributions from
last updated
These are the best tablets to buy right now
VERDICT
REASONS TO BUY
REASONS TO AVOID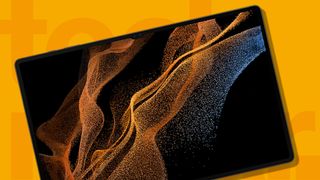 (Image credit: TechRadar / Samsung)
Whether you're looking for one of the best iPads or one of the best Android tablets, here you'll find our shortlist designed to help you find the best tablet to suit your needs.
Tablets run the gamut of serving as superb portable media players, to productivity powerhouses that deliver unique selling points like modular accessories (think magnetically-detachable keyboards) and, in some cases, even stylus support; granting a level of versatility and flexibility that even the best 2-in-1 laptops can't match – especially when you fold pricing into the equation.
As if often the case, there's no one perfect tablet for everyone; the iPad Pro 2022, for example, might be the most powerful iPadOS device out there, but you might find an iPad Air does everything you need and weighs significantly less, which means you'll be saving money and getting exactly the tablet that's ideal for you by opting for the cheaper Air. In fact, it might be that all you really need is one of the best cheap tablets.
We've tested every major tablet and used them in everyday life for an extended period of time. And, we know what to look for and what's worth your time and money.
Below then are the best tablets around. With a focus on performance, software, screen quality, battery life, and how well they interact with accessories, our list will guide you to the right choice – as well as the best value for your money.
You won't find any of the best Windows tablets here currently, simply because we prefer the selection of iPads and Android tablets that are available. But that might change, as this list is updated regularly thanks to new tablets coming out all the time, so check back often to see what's new.
The Samsung Galaxy Tab S9 series just dropped, and we're yet to review it fully. The Galaxy Tab S9 Ultra will very likely find a place on this list when we're done, but you can look at our hands-on Galaxy Tab S9 Ultra review before that. We're expecting an influx of new iPads in September or October though, so this list will probably see a shake up then.
This may also be the time to pick up one of the best power banks too, to keep you juiced up all day long.
The best tablet 2023
Why you can trust TechRadar We spend hours testing every product or service we review, so you can be sure you're buying the best. Find out more about how we test.
We've tested every tablet included here extensively, so you know you can trust our recommendations and know that each entry has earned a place on this list.
The best iPad by far
Specifications
Dimensions:
280.6 x 214.9 x 6.4mm
Resolution:
2048 x 2732 pixels
Storage:
128GB/256GB/512GB/1TB/2TB
Rear camera:
12MP + 10MP + LiDAR
Reasons to buy
+
Beautiful mini-LED screen
+
Future-proof M2 chip
Reasons to avoid
-
128GB is small for the price
-
Battery life isn't huge
The iPad Pro 12.9 (2022) is – as of 2023 – Apple's ultimate tablet, and one which packs laptop-class power, thanks to an M2 chipset. Arguably this is overkill, since almost nothing you'd do on a tablet can even tax the M1 from the previous generation, but it certainly makes this future-proof.
In most other ways this is much like the iPad Pro 12.9 (2021), including having a massive 12.9-inch screen that uses mini-LED to create a superior picture than you'll find on smaller iPads.
It's also remarkably thin and light for all the tech on offer, and has handy features like Face ID, capable cameras, and of course support for accessories like Apple's Magic Keyboard and the Apple Pencil 2 – the latter of which is better than ever here, thanks to hover-detection, which makes this even better for drawing on than other iPads.
Yes, the iPad Pro 12.9 (2022) is very expensive, and it's probably overkill for most users, but if you want a superpowered slate, this is it.
Read the full iPad Pro 12.9 (2022) review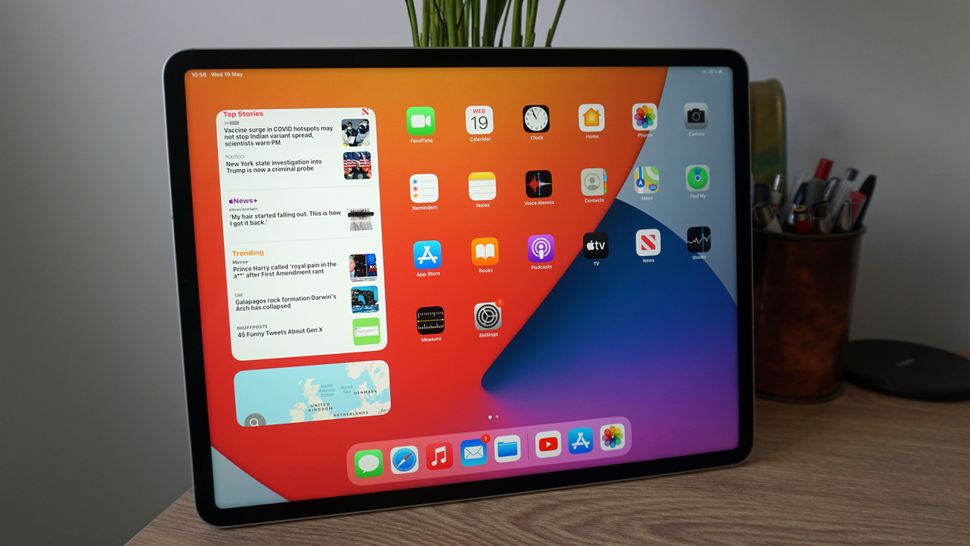 A top pro tablet
Specifications
Dimensions:
280.6 x 214.9 x 6.4mm
Resolution:
2048 x 2732 pixels
Storage:
128GB/256GB/512GB/1TB/2TB
Reasons to buy
+
Phenomenal power
+
Fantastic display
Reasons to avoid
-
The most expensive tablet
-
Lackluster color options
The iPad Pro 12.9 (2021) is a spectacular tablet, with its headline feature arguably being the M1 chipset that powers it. This chipset was lifted straight from Apple's top-end 2021 Macs, so you're truly getting desktop power in a tablet here.
We were blown away when we tested the tablet – the chip was great for tasks like photo and video editing, as well as gaming. But that's not all this tablet has going for it. For the first time in an iPad, it also has a mini-LED screen, with a remarkably high 1,600-nit peak brightness, a 120Hz refresh rate, and a 2048 x 2732 resolution. It's crisp, bright, vibrant, and all-round impressive.
The iPad Pro 12.9 (2021) also has a long-lasting battery, a decent camera, a premium aluminum design, and support for the Magic Keyboard and Apple Pencil 2 – these are sold separately, but turn it into a real productivity machine, and we used them non-stop in our testing period.
So, if you want to get some proper work or creation done on a tablet, or you're just a big tablet gamer, the iPad Pro 12.9 (2021) will be the perfect device. If your needs are lighter then you might find this too expensive and too big, if you somehow need more oomph, the M2 Pro is there, ready and waiting.
Read the full iPad Pro 12.9 (2021) review
The best Android tablet
Specifications
Dimensions:
326.4 x 208.6 x 5.5mm
Resolution:
1848 x 2960 pixels
CPU:
Snapdragon 8 Gen 2 for Galaxy
Rear camera:
13MP (wide) + 8MP (ultrawide)
Front camera:
12MP + 12MP
Reasons to buy
+
Samsung multitasking is better than iPad and Pixel Tablet
+
Gorgeous display and blazing performance
+
Value is surprisingly good compared to iPad Pro
Reasons to avoid
-
Same price as a Macbook Air (M2)
-
Faster charging would have been nice
-
Flimsy keyboard and no easy S Pen storage
Much like its predecessor, the Samsung Galaxy Tab S9 Ultra is the ultimate Android tablet. Its 14.6-inch display takes full advantage of the new OneUI operating system that plays nicely the included S Pen stylus and optional keyboard. So it should make for a great device when it comes to artwork, editing documents, taking notes, and other productivity tasks.
With a 1848 x 2960 resolution and smooth at a 120Hz refresh rate, that display is also big and beautiful, as well as being rather slick. The Snapdragon 8 Gen 2, up to 16GB of RAM, and up to 1TB of storage means under the hood the Galaxy Tab S9 Ultra makes a worthy argument as a laptop replacement.
In our review, we were very impressed with both the performance and the slick software. Samsung's OneUI software makes this feel like a real laptop with enhanced multitasking capabilities that you simply won't find on Google or Apple tablets. And Qualcomm's powerful chip keeps everything feeling smooth. The only issue os this is a double-edged sword in that the Galaxy Tab S9 Ultra feels like a laptop without quite doing everything a true laptop can. Yet as a big, powerful tablet, the S9 Ultra is unmatched.
Read our full Samsung Galaxy Tab S9 Ultra review
A more affordable version of the iPad Pro
Specifications
Dimensions:
247.6 x 178.5 x 6.1mm
Resolution:
1640 x 2360 pixels
Reasons to buy
+
Speedy performance
+
Great design
Reasons to avoid
-
Limited storage
-
Quite pricey
Apple's latest iPad Air has a lot more in common with the iPad Pro than with the company's entry-level slates. And, when we tested the thing, we had to keep checking which tablet it actually was.
There's an all-body display, M1 chipset, Apple Pencil compatibility and long-lasting battery. Oh, and of course it runs on Apple's iPadOS which is a supremely useful tablet operating system. On test, its performance is very close to the iPad Pro range, which is impressive when you consider its list price.
This is one of the best tablets we've tested, and the iPad Pro and Galaxy Tab S8 Ultra only beat it in a few ways, like with their bigger screens, extra storage space and high-res displays. But if you don't have the money to stretch for those two premium tabs, this mid-range alternative could be great for you.
Read the full iPad Air (2022) review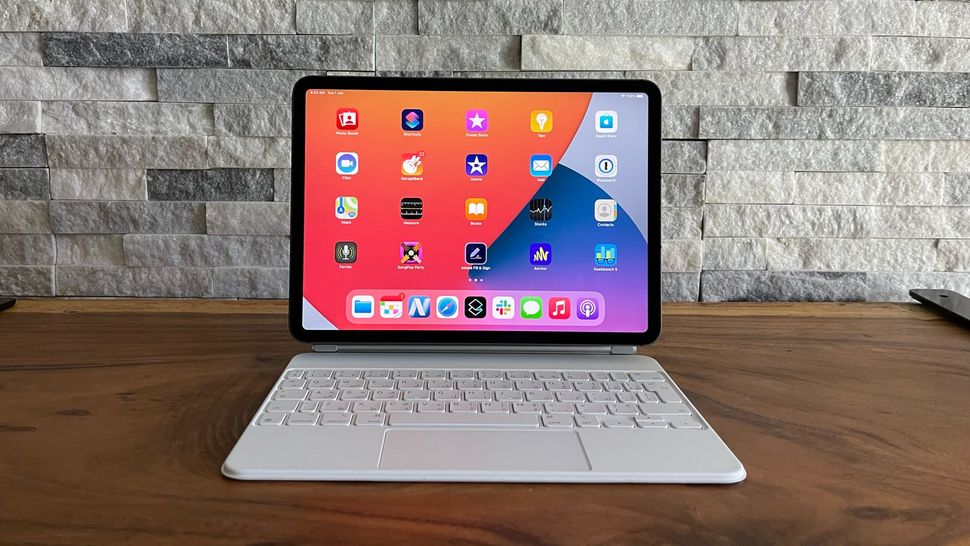 The second best 11-inch iPad
Specifications
Dimensions:
247.6 x 178.5 x 5.9mm
Resolution:
1668 x 2388 pixels
Storage:
128GB/256GB/512GB/1TB/2TB