The best Android phones 2023: top Google-powered phones for every budget
Best
Contributions from
last updated
We've tested and ranked the best Android phones in 2023
Best Android phones: quick menu
1. The list in brief
2. Best overall
3. Best value
4. Best budget
5. Best mid-range
6. Best battery life
7. Best alternative flagship
8. Best foldable
9. FAQs
10. How we test
The best Android phone is hard to define, because Android is the phone OS that can be everything for everybody. Is the best Android packed with cutting edge technology? Or is it a serious bargain compared to the most affordable phones the iSheep settle for? It's Android, so everybody is right. Android is everything, and we have phones on our list for everybody, in every price range.
The Galaxy S23 Ultra is arguably the best phone right now, but if you want the best Android phone for Android-ness, then the Pixel 8 Pro is the phone to buy. That doesn't mean Samsung gets left out, mind. In fact, after the amazing Galaxy S23 Ultra, the affordable Galaxy A54 gives you the best of what Android has to offer at an amazing price. You get Samsung's screens, Google's software power, and a great design that holds its own against the sweetest flagship phones.
It's not all about Samsung and Google in the Android world, either, as OnePlus fans surely know. The OnePlus 11 keeps its place on our list of the best Android phones, and OnePlus trumps the competition in the foldable department, too, thanks to the excellent OnePlus Open.
All of these Android phones are fun to use yet powerful at the same time. In this guide, we've included something for everyone, from budget-friendly handsets to popular, kitted-out flagships. However, if you're after the former, you may be better off sifting through the Google-powered in our best cheap phones guide.
Quick List
Best foldable
The OnePlus Open boasts a superior design, display, and set of cameras to its main competitors from Google and Samsung, making it the best foldable phone in 2023.
Read more below
The best Android phone in 2023
Why you can trust TechRadar We spend hours testing every product or service we review, so you can be sure you're buying the best. Find out more about how we test.
Below, you'll find full write-ups for each of the best Android phones in our list. We've tested each model extensively, so you can be sure that our recommendations can be trusted.
The best overall Android phone
The best overall Android phone
Specifications
Release date:
February 2023
Dimensions:
163.4 x 78.1 x 8.9mm
OS:
Android 13 w/ One UI 5.1
CPU:
Snapdragon 8 Gen 2 Mobile Platform for Galaxy
Storage:
256GB / 512GB / 1TB
Rear camera:
200MP (wide) + 10MP (telephoto, 3x optical) + 10MP (telephoto, 10x optical) + 12MP (ultrawide, 120-degree)
Reasons to buy
+
Phenomenal cameras
+
Bespoke Snapdragon 8 Gen 2 chipset
Reasons to avoid
-
Faster charging would have been nice
-
Seriously expensive
The Galaxy S23 Ultra offers up a familiar face that, at a glance, looks identical to its predecessor. A familiar squared design plays host to a tweaked display that offers a greater flat surface area, giving the S Pen stylus more room to work with. The front and back now sport the latest and most resilient Gorilla Glass Victus 2, and all the mod-cons from its predecessor – including IP68 dust and water resistance, and 45W wired charging – remain.
On the inside, however, there are some bigger changes, like the new 'Snapdragon 8 Gen 2 Mobile Platform for Galaxy' that Samsung and Qualcomm have collaborated on; purpose-built to offer rival-beating performance
A familiar-looking rear four-camera rear array hides a new 200MP lead sensor that offers 16-to-1 pixel-binning, with the aim of advancing the S23 Ultra's 'Nightography' abilities for everything from general snaps, to portrait photography, to videos of the night sky using the new Astro Hyperlapse mode and in practice, although imperfect, you'll be hard-pressed to find an alternative phone with the same level of consistency, quality and confidence across its various sensors.
While the starting price (in the US, at least) remains consistent with the Galaxy S22 Ultra's base price, Samsung has doubled the entry-level storage to 256GB, while the top-tier model can be had with 12GB of RAM (up from 8GB on the base version) and a whopping 1TB of storage.
Read our full Samsung Galaxy S23 Ultra review
The best value Android phone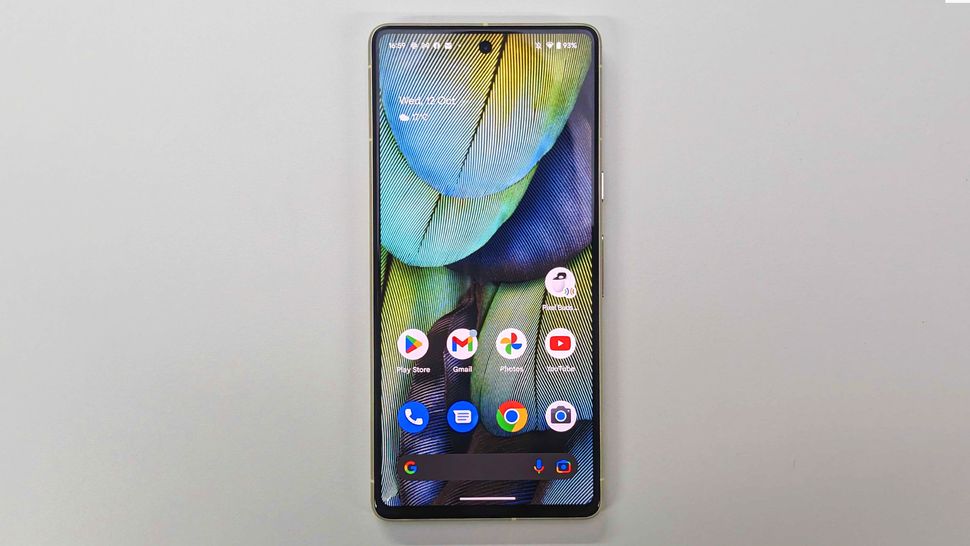 The best value Android phone
Specifications
Release date:
October 2022
Dimensions:
155.6 x 73.2 x 8.7mm
Rear camera:
50MP (main) +12MP (ultrawide)
Reasons to buy
+
Relatively compact size
+
Clean software
Reasons to avoid
-
Poor battery life
-
Slow charging
While you might expect the Pixel 7a to be our pick for the best value Android phone, Google has given the Pixel 7 such good discounts throughout the past year that it's now worth paying a little bit more for. Even though the Pixel 6a is still on sale at a great low price, for better durability, wireless charging, and much better photography, the Pixel 7 is worth the money.
The Pixel 7 looks like the Pixel 6 and the Pixel 8, but there are different color options every year, and we like the lemongrass hue offered for this phone. The camera bar is metal and tinted depending on the color you buy, and it has a great look for a budget device. Plus, it is rated IP68 for water resistance, which is a huge improvement over the previous model.
With the Pixel 7 you're getting the same 50MP main camera as the Pixel 7 Pro, as well as a similar 12MP ultra-wide. You also get the same 10.8MP punch-hole selfie snapper, plus 4K video recording up to 60fps and support for 10-bit HDR video capture for better colors, brightness and contrast. While the hardware is interesting, the Pixel camera experience is really more about the processing and software, which is here supported by Google's competent Tensor G2 chip.
The Pixel 7 has a Full HD+ resolution and 20:9 aspect ratio, and it runs at up to 1000 nits in normal use, and can push to 1400 nits at its peak (25% brighter than that of the Pixel 6's display) for better visibility in bright surroundings. We had no trouble getting the phone to last all day, and ended most days at around 15% battery.
Read our full Google Pixel 7 review
The best budget Android phone
The best budget Android phone
Specifications
Dimensions:
165.1 x 76.4 x 8.8mm
RAM:
3GB (US)/4GB (UK/AU)
Storage:
32GB (US)/64GB (UK)/128GB (AU)
Rear camera:
50MP (wide) + 5MP (ultrawide - UK/AU-only) + 2MP (macro) + 2MP (depth)
Reasons to buy
+
5x camera zoom crushes it
+
New useful S Pen features
Reasons to avoid
-
'Ultra' expensive
-
Slower charging
If you're looking for a capable smartphone that won't break the bank, look no further than the Samsung Galaxy A13. Put simply, it's 'good enough' in most of the areas that matter for a smartphone (from the camera to the battery life), and its super-low price (which will continue to drop) makes it a tempting value-for-money deal.
On the design front, the Galaxy A13 feels like a phone that's going to last, and it offers a 6.6-inch, 2408 x 1080 LCD screen that does a decent job with websites, photos, videos and games. It's suitably bright, vivid and crisp, and while there's no support for HDR or anything above a 60Hz refresh rate, we didn't have any real complaints in this regard.
There's no doubt that spending a bit more money is going to get you a phone camera that captures significantly better pictures, but at the same time, the Samsung Galaxy A13 isn't going to let you down if your expectations aren't sky-high. Similarly, when it comes to performance, you'll be able to run everything you want to run, but you're going to have to put up with slower speeds than you'd get from a more expensive handset.
Regarding battery life, we tested the Galaxy A13 with an hour of video streaming at a low volume, and with the screen set to maximum brightness – that knocked the battery level down by 10%, suggesting around 10 hours of playback in total. Dim the screen and you'd be able to stretch that out further, so you'd be okay for watching films on long-distance trips.
Ultimately, then, if you want value for money and you want Samsung, then the Galaxy A13 is definitley worth considering. Mind you, there are plenty of competing phones (like the Moto G53 5G and Nokia G42 5G) even at this low price point.
Read our full Samsung Galaxy A13 review
The best mid-range Android phone
The best mid-range Samsung phone
Specifications
Dimensions:
158.2 × 76.7 × 8.2mm
Rear camera:
50MP (wide) + 12MP (ultra-wide) + 5MP (macro)
Reasons to buy
+
Modern Samsung Galaxy aesthetics
+
Nice camera system improvements
Reasons to avoid
-
A little thick and heavy
-
No wireless charging
The A54 is essentially a 'lite' version of the Standard Galaxy S23, bringing lots of 'S-range' features to a lower price point. It's not the absolute cheapest phone Samsung makes by some distance, but it is unquestionably mid-range, and definitely worth considering if you're on a budget.
The phone measures 158.2 × 76.7 × 8.2mm and weighs 202g, so we'd call it medium-sized. It's not so big that it's uncomfortable to use, so long as your mitts aren't massive. It's also undeniably attractive; adopting the floating camera design language found on the S23 series. Other colorways are similarly pretty.
The Samsung Galaxy A54 also boasts one of the best-looking screens you'll see on a phone for this price. It's a vibrant, colorful 6.4-inch Super AMOLED panel, with a FHD+ resolution, 120Hz refresh rate and 1,000 nits max brightness, marking some nice upgrades over its predecessor.
The main camera is an optically stabilized 50MP f/1.8 sensor, which is joined by a 12MP ultra-wide and a 5MP f/2.4 macro sensor. The snappers take photos that are bright and colorful, which makes shots of wildlife, food, landscapes or people 'pop'. There's good dynamic range for a phone at this price and pictures are sharp too, as long as you take them on the main camera.
The Galaxy A54 may lap same-price rivals in the camera and display departments, but it falls behind on performance. The chip here is the Exynos 1380, which is a home-brewed piece of mid-range kit from Samsung – and, while capable, doesn't measured up to similarly-priced rivals.
The 5,000mAh battery is on the big side, though we see lots of mid-rangers pack this kind of power. That bright screen and 5G require a lot of juice, and we found that the phone comfortably lasted a day between charges, but no more.
So, on the whole, the Samsung Galaxy A54 gives you some surprisingly top-end specs for its price in some departments, but in others it's weaker than its rivals.
Read our full Samsung Galaxy A54 review
The best Android phone for battery life
The best Android phone for battery life
Specifications
Release date:
October 2023
Dimensions:
162.6 x 76.5 x 8.8mm
Storage:
128GB/256GB/512GB/1TB
Rear camera:
50MP (wide) + 48MP (ultra-wide) + 48MP (telephoto)
Reasons to buy
+
Great materials and matte finish
+
Stellar battery life
+
Incredible seven years of updates
Reasons to avoid
-
Android settings and features are confusing
-
AI features feel creepy and impersonal
-
Cameras don't beat the iPhone 15 Pro
In truth, when it comes to selecting the Android phone with the best battery life, there's no outright winner, but the Pixel 8 Pro is a truly excellent phone w