The best cheap phones 2023: top budget smartphones in the US
Best
Contributions from
last updated
We've tested and ranked the best cheap phones in 2023
Best cheap phones: quick menu
1. The list in brief
2. Best cheap Samsung
3. Best cheap iPhone
4. Best cheap Pixel
5. Best phone under $300
6. Best cheap camera phone
7. Best display on a budget
8. Best cheap phone for durablity
9. FAQs
10. How we test
The best cheap phones offer a smart way to save money without compromising too heavily on features or quality. Given the sheer number of smartphones available in 2023, though, some affordable models just aren't worth your attention, so we're here to help you distinguish the treasure from the trash.
The very best phones (think the iPhone 15 Pro and Samsung Galaxy S23 Ultra) may get the well-deserved media attention, but cheaper handsets are often better value for most people. And, while companies typically only have one or two flagships, they often release a larger selection of affordable handsets, which means there are plenty of capable models to choose from.
If you do your research, you might even find an affordable device with flagship features, like a 120Hz refresh rate, great cameras, and a modern design sans the flagship price tag.
We've tested and reviewed a huge number of smartphones over the years, both iPhones and Androids, so we know exactly which cheap phones offer the best value in 2023, and which ones aren't worth your money. We've rounded up all the best cheap phones for you below, along with the best phone deals available for each model. Happy bargain-hunting!
Quick List
Best cheap phone for durability
If you want a reasonably-priced phone that can take a beating and will continue to be supported for years to come, the Nokia XR20 is for you.
Read more below
The best cheap phones in 2023
Why you can trust TechRadar We spend hours testing every product or service we review, so you can be sure you're buying the best. Find out more about how we test.
Below, you'll find full write-ups for each of the best cheap phones in our list. We've tested each model extensively, so you can be sure that our recommendations can be trusted.
The best cheap Samsung phone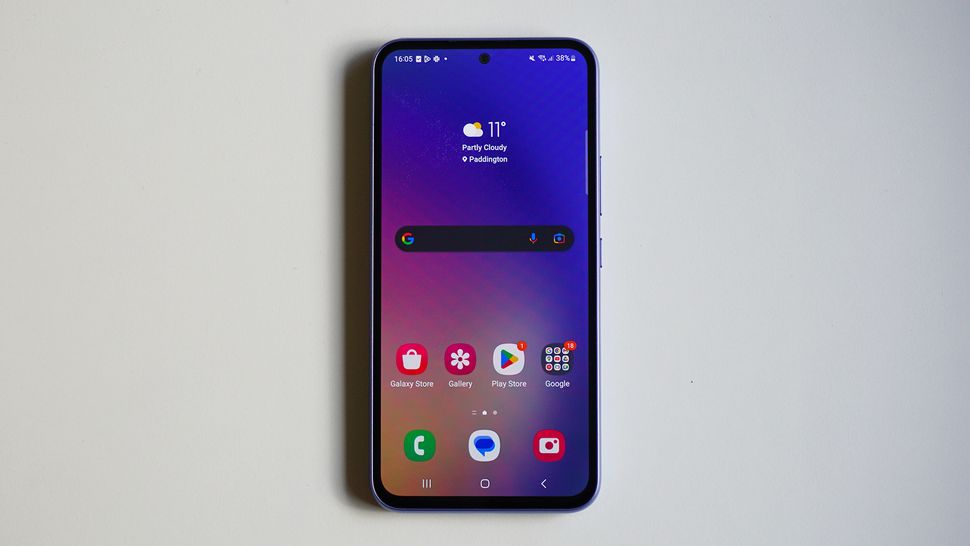 The best cheap Samsung phone
Specifications
Dimensions:
158.2 x 76.7 x 8.2 mm
Rear camera:
50MP + 12MP + 5MP
Reasons to buy
+
Good cameras for the price
+
Good-looking screen
+
Looks more expensive than it costs
Reasons to avoid
-
No wireless charging
-
A little thick and heavy
Samsung's Galaxy A54 is a slightly updated version of the 2022 A53 that's made for 2023 needs and sensibilities. It looks a lot like the Samsung Galaxy S23 and S23 Plus, and you may be tempted to think it's one of those much better phones. Hold it, and you'll quickly be disabused of that notion. It's a little heavier than the more expensive phones, and the bezels are not as thin.
Noting that it costs half as much as the S23 line though, you should be happy enough to pocket the rest of that cash. That additional thickness also goes toward hosting its 5,000 mAh battery, which means it'll last all day according to our testing (with 23W fast charging to get it back up and running quickly). The cameras are even fairly decent and perform well in good light.
Finally, Samsung's four years of software updates and five of security updates mean you can keep this phone for a while with confidence that it'll be supported almost as well as an iPhone.
Read our full Samsung Galaxy A54 review
The best cheap iPhone
The best cheap iPhone
Specifications
Release date:
September 2021
Dimensions:
146.7 x 71.5 x 7.7mm
Storage:
128GB / 256GB / 512GB
Rear camera:
12MP (main) +12MP (ultrawide)
Reasons to buy
+
Strong battery life
+
Powerful internals
Reasons to avoid
-
No 120Hz screen
-
No Ceramic Shield on rear
Despite being over two years old, the standard iPhone 13 remains on sale at Apple, with the arrival of the iPhone 15 having brought its price down to an extremely reasonable $599 in 2023 (you'll likely find it cheaper elsewhere, too).
The iPhone 13 didn't prove a game-changer for Apple's series of smartphones, but it remains an important iteration that offers better battery life, a better processor and a better camera setup than its predecessors. If you're looking for a fast and capable smartphone, and don't need the extra features of a pricier Pro model, then the iPhone 13 continues to be a top choice.
The highlight of the iPhone 13 is its battery life. Previously, iPhones hadn't been synonymous with strong battery life, but during our testing, we were hard-pressed to run the iPhone 13 out of juice. The phone's A15 Bionic chipset, meanwhile, is incredibly powerful, and paired with 4GB of RAM, it's capable of running multiple apps and tasks quickly and efficiently.
Read our full iPhone 13 review
The best cheap Pixel Phone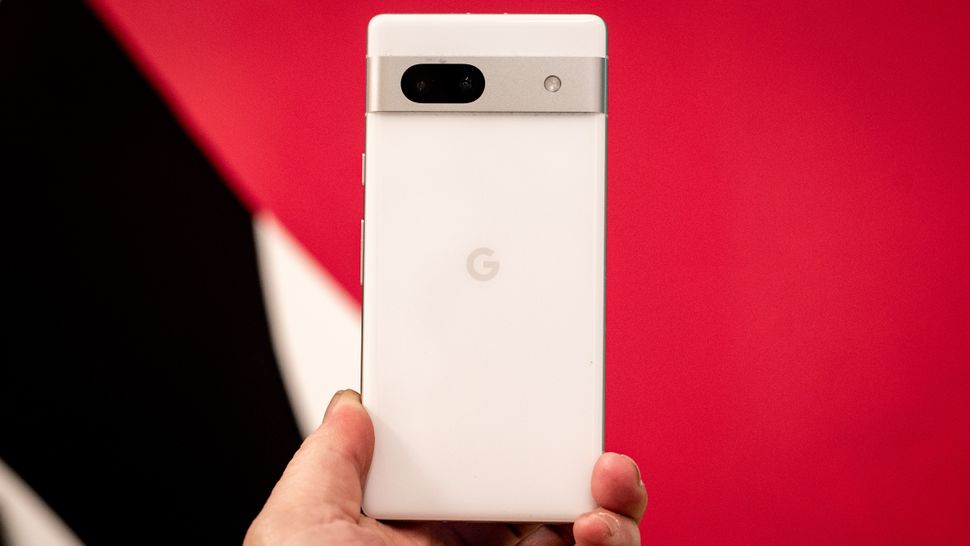 The best cheap Pixel phone
Specifications
Dimensions:
152 x 72.9 x 9 mm
Reasons to buy
+
Fantastic photos with the powerful Google camera
+
Great performance from Google Tensor G2
+
Good price
Reasons to avoid
-
Shorter support than Apple and Samsung
-
Middling battery
-
Too expensive for the compromises
The Pixel 7 and Pixel 7 Pro are quite pricey and powerful smartphones, and so the Pixel 7a steps in for those who'd prefer a cheaper option. The 7a offers almost everything the Pixel 7 does – but it's cheaper at $499.
The Pixel 7a has a pleasant-looking display, the camera is amazing (at 64MP, it has the highest megapixel count of any Pixel phone), and its a really compact phone, too, at a comfortable 6.1-inches.
Certainly, there are flaws. We've found that the Pixel 7 doesn't have all-day battery life and is supported for fewer years than Samsung or Apple options. However, slick Android software and Google's thoughtful AI features have an audience, and the Pixel 7a is one of the nicest and most inexpensive ways you can get onboard.
Read our full Google Pixel 7a review
The best phone under $300
The best phone under $300
Specifications
Dimensions:
165.1 x 76.4 x 8.8mm
RAM:
3GB (US)/4GB (UK/AU)
Storage:
32GB (US)/64GB (UK)/128GB (AU)
Rear camera:
50MP (wide) + 5MP (ultrawide - UK/AU-only) + 2MP (macro) + 2MP (depth)
Reasons to buy
+
5x camera zoom crushes it
+
New useful S Pen features
Reasons to avoid
-
'Ultra' expensive
-
Slower charging
If you're looking for a capable smartphone that won't break the bank, look no further than the Samsung Galaxy A13. Put simply, it's 'good enough' in most of the areas that matter for a smartphone (from the camera to the battery life), and its super-low price (which will continue to drop) makes it a tempting value-for-money deal.
On the design front, the Galaxy A13 feels like a phone that's going to last, and it offers a 6.6-inch, 2408 x 1080 LCD screen that does a decent job with websites, photos, videos and games. It's suitably bright, vivid and crisp, and while there's no support for HDR or anything above a 60Hz refresh rate, we didn't have any real complaints in this regard.
There's no doubt that spending a bit more money is going to get you a phone camera that captures significantly better pictures, but at the same time, the Samsung Galaxy A13 isn't going to let you down if your expectations aren't sky-high. Similarly, when it comes to performance, you'll be able to run everything you want to run, but you're going to have to put up with slower speeds than you'd get from a more expensive handset.
Regarding battery life, we tested the Galaxy A13 with an hour of video streaming at a low volume, and with the screen set to maximum brightness – that knocked the battery level down by 10%, suggesting around 10 hours of playback in total. Dim the screen and you'd be able to stretch that out further, so you'd be okay for watching films on long-distance trips.
Ultimately, then, if you want value for money and you want Samsung, then the Galaxy A13 is definitley worth considering. Mind you, there are plenty of competing phones (like the Moto G53 5G and Nokia G42 5G) even at this low price point.
Read our full Samsung Galaxy A13 review
The best cheap camera phone
The best cheap camera phone
Specifications
Dimensions:
163 x 75.4 x 8.8mm
CPU:
Snapdragon 8 Plus Gen 1
Rear camera:
50MP + + 8MP + 2MP
Reasons to buy
+
Lots of processing power
+
Fast to charge
+
Good cameras for the price
Reasons to avoid
-
Poor battery life
-
Awkward to hold
If you're after a speedy phone with capable cameras that doesn't demand a premium price tag, then the OnePlus 10T – a worthy mid-range Android phone – could be for you.
This phone had an unduly high starting price at launch, but in 2023, it's become a much more affordable proposition. The OnePlus 10T has a good-looking screen, a powerful chipset and fast charging, and on the back, you're getting a 50MP Sony IMX766 sensor. We've previously heaped praise on this sensor, as it's good for low-light photography, and you get an 8MP ultra-wide lens and 2MP macro sensor on the the OnePlus 10T, too.
The lack of zoom is disappointing – with no telephoto lens, you're relying on digital zoom when you close the distance, which caps out at a measly 10x. However, at such a low price in 2023, the OnePlus 10T can be considered one of the best affordable camera phones.
Read our full OnePlus 10T review
The best display on a budget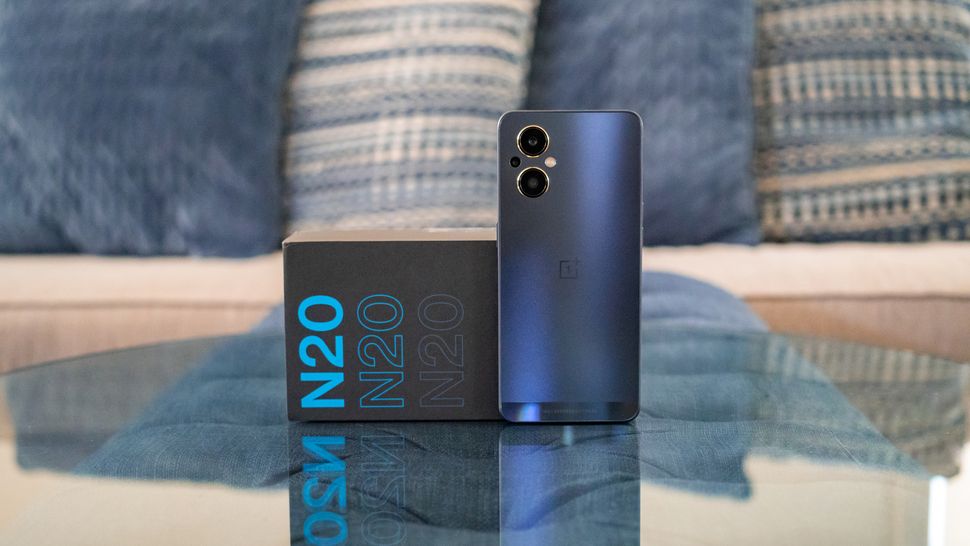 The best display on a budget
Specifications
Dimensions:
159.9 x 73.2 x 7.5 mm
Storage:
128GB, expandable up to 512GB
Rear camera:
64MP + 2MP + 2MP
Reasons to buy
+
Stellar processing performance
+
OLED display worthy of a $600+ phone
Reasons to avoid
-
Cameras are only average
-
The vibration motor is weak
Once in a while, you come across a smartphone that punches above its weight. For those who are looking for something that's less than $300, that phone is the OnePlus Nord N20, which we found to be an easy recommendation for budget-minded consumers looking for a cheap Android phone.
Our tests show that this offering from OnePlus delivers a slick performance, which is admirable considering the price. But, it also comes with an OLED display that we found to be bright and punchy – and even worthy of a $600 phone. It also improves readability. And, it single-handedly makes up for the fact that the camera system is really nothing to write home about.
The OnePlus Nord N20 is a solid performer for playing games, consuming media, and, of course, making calls. In fact, you'll barely notice that you're using a mid-range phone. And, if you're happy to compromise on the camera features, you'll love it for your daily needs.
Read our full OnePlus Nord N20 5G review
The best cheap phone for durability