You'll want to own the best camera phone if you're someone who loves to create content on the move, but today's array of highly capable camera phones means you don't necessarily have to spend a fortune for the privilege.
Camera phones have come a long way since their humble beginnings, and while they still can't quite live up to the best cameras (especially APS-C and full-frame mirrorless cameras), top-notch mobile snappers can still deliver high-quality footage and images for you to treasure, show off or even sell.
Some mobile cameras, for instance, have optical zoom lenses that use folded optics to let you see distant subjects (including the moon) clearly. Others use computational techniques to help improve the snaps you take from the main camera, while a handful have image stabilization so impressive you'd think the footage was shot using a gimbal.
It's worth nothing, too, that different phones offer different strengths. The best Samsung phones offer more lenses and sensors than their competitors, while the best iPhones optimize the scene and lighting. If you want unique lenses, the best Huawei phones are a good option. And while it's true that the best phones overall invariably deliver the best mobile photography, there are cheaper models out there that also take great photos – good news for newbie content creators who are on a tight budget.
We've tested every noteworthy smartphone camera around, so we know which phones take the best pictures and videos. Our process involves a lot of photography (and videography), so we know which devices are best for selfies, night photography, zoom shots, or getting up close with macro mode.
Below, you'll find a list of the best camera phones we've tested. Each entry includes a link to the model's full review, alongside a brief breakdown of their specs. The Google Pixel 7 Pro and iPhone 14 Pro Max both rank highly at the moment, with the Samsung Galaxy S23 Ultra currently occupying the top spot.
The best camera phone 2023
Why you can trust TechRadar We spend hours testing every product or service we review, so you can be sure you're buying the best. Find out more about how we test.
The Samsung Galaxy S23 Ultra is the reigning best camera phone because of it's incredible versatility. It boasts so many lenses and features that there is simply no photo it can't shoot. Other devices may produce slightly better images in some situations, but the Galaxy S23 Ultra can handle every situation well, from close-ups to night photos to ultrazoom distances.
While the 12MP ultrawide and dual 3x and 10x 10MP telephoto sensors on the back of the S23 Ultra feel decidedly familiar, the phone shrugs off the primary 108MP resolution sensor seen on previous entries in the series and replaces it – for the first time on a Samsung phone – with a whopping 200MP primary camera to deliver a consistently impressive photography experience.
Such a change in hardware can sometimes result in a drop in quality for some manufacturers, but much as with Google's move to a new 50MP primary sensor on its Pixel 6 series and Apple's shift from a 12MP to a 48MP primary sensor the year after, with the iPhone 14 Pro line, it's clear that Samsung's camera team ensured that the output from the S23 Ultra's 200MP Adaptive Pixel Sensor offers just as consistent and impressive an experience as its predecessor, right out of the gate.
For users who want to get more granular with the Ultra's photography experience, the Expert RAW mode – integrated into the camera UI – supports an output of up to 50MP. The Ultra also lets you snap 200MP stills (as jpegs), if you want to play with the full sensor's available detail.
Samsung also continues to work closely with big social brands like Snap, TikTok and Instagram to ensure that the S23 Ultra benefits from higher fidelity image and video quality, as well as tighter integration with creative features within each social app, something rival Android phone makers miss out on.
Read our full Samsung Galaxy S23 Ultra review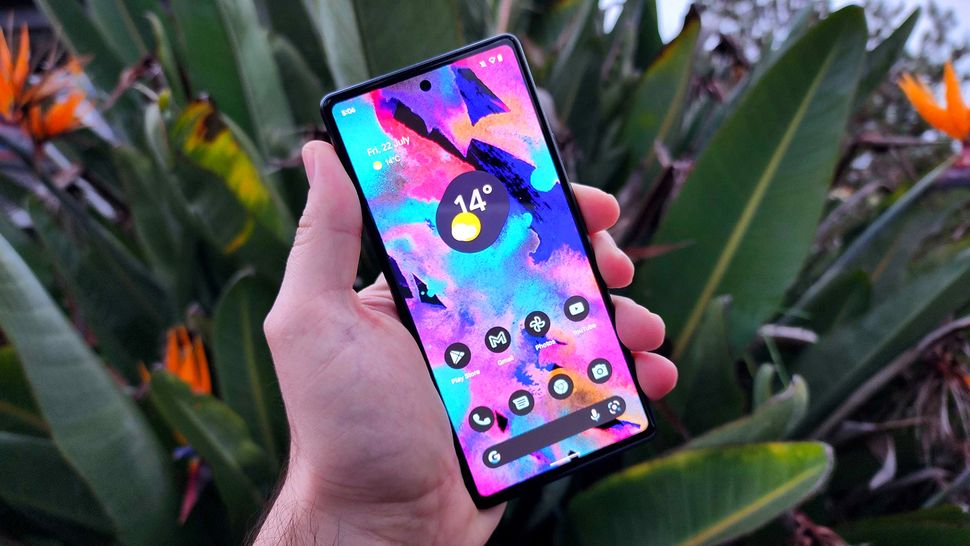 If you're on the hunt for a great photography experience on a relatively modest budget, look no further than Google Pixel 6a.
Sure, the snaps you'll capture on this phone won't match those taken by the standard Pixel 6 in terms of vibrancy or detail, but they'll beat out nearly any other handset hovering around the $449 / £399 / AU$749 mark.
Instead of using the Pixel 6 and 6 Pro's 50MP main camera, the Pixel 6a gets a 12.2MP f/1.7 one, which sits alongside a 12MP f/2.2 ultra-wide snapper with a 114-degree field of view. There's no optical zoom here, either, and digital zoom only goes up to 7x, so don't expect to capture long-distance shots.
However, Google's AI scene optimization, which can tweak pictures depending on the setting to make them appear more attractive, is a real game-changer for the Pixel 6a, and the phone boasts plenty more AI-based features, too. Magic Eraser, for instance, is basically a version of Adobe's Content-Aware Fill tool. It lets you click on unwanted elements in the background of snaps and will use AI to remove them and fill in the background. It's a fun tool to play around with and, depending on the photo, it can lead to some truly impressive results.
On the front there's an 8MP f/2.0 selfie snapper, which is a little low-res compared to front cameras on rival devices, but the camera performs just fine.
Read our full Google Pixel 6a review
The Google Pixel 7 Pro takes amazing photos with ease, night and day, but it also takes the photo experience further than ever before – it actually made our photos from older phones look better. For now, that's something you can only do with a Tensor G2-enabled phone like the Pixel 7 Pro; in fact, there are quite a few things the Pixel 7 Pro can do that none of its competitors even attempt.
The Pixel 7 Pro listens better – literally. It recognizes speech more accurately, making Google Assistant more useful. It doesn't just make photos better, it makes them more clear, and more inclusive, using Real Tone technology to enhance skin tones. It will soon make phone calls sound better.
We wish that the battery life were more impressive, and the Macro Focus mode wasn't as magical as many other Google Photos features. The phone delivers on some amazing promises, even if it can't keep them all.
Read our full Google Pixel 7 Pro review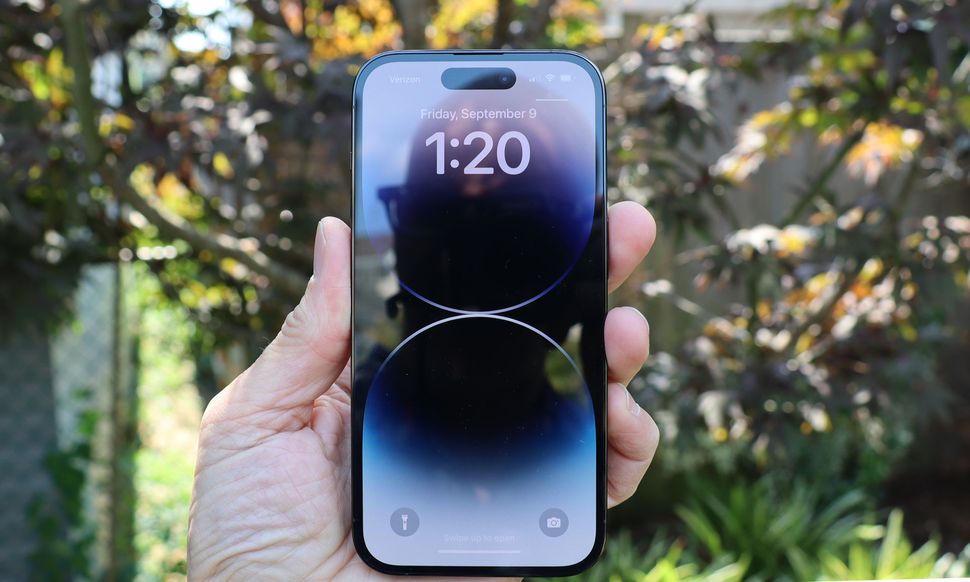 Apple's iPhone 14 Pro and Pro Max both use the same cameras, so we've lumped them together on this list - the main difference between them is the screen size. Both phones have a 48MP main camera joined by a 12MP ultra-wide and 12MP telephoto which supports up to 3x zoom. There's also a front camera with a resolution of - you guessed it - 12MP.
Apple's cameras shine in their AI processing, which can tweak images to make the most of them, as well as the dynamic range they offer. They're also great for video recording with a few fun modes like focus pulling to help you record cinematic shots.
We've also found low-light photography reliably great on iPhones, with the large sensors second to none for night-time shots. If Apple loses points, it's that 3x zoom just doesn't cut the mustard compared to some of the competition.
Read our full iPhone 14 Pro review and iPhone 14 Pro Max review
The Samsung Galaxy S22 Ultra reigned supreme as the best camera phone of 2022 for being a downright beast.
For starters, it offers a vast array of lenses. These include two 10MP telephoto lenses: one is f/2.4 with a 36-degree field of view (FOV) and the other is f/4.9 with an 11-degree FOV. There's also a 12MP ultrawide with a 120-degree FOV, and then there's the 108MP main wide camera (f/1.8) with an 85-degree FOV.
It's not just the lenses that help here, though, with the software helping out massively. Samsung improved on optical image stabilization, digital image stabilization, and image processing with the S22 Ultra, and you'll notice this particularly when zooming in.
There are 3X and 10X zoom lenses with real optical zoom, giving you more clarity at distance than the competition. Samsung has also pulled off a remarkable feat with its digital zoom enhancement. Normally we laugh at digital zoom features, but the Space Zoom on the Galaxy S22 Ultra is no joke. You can take real photos with less pixelation that are great for sharing.
Read our full Samsung Galaxy S22 Ultra review
Our favorite older camera on a phone remains the iPhone 13 Pro and iPhone 13 Pro Max. Both have the same cameras, and their key difference is the phone screen size, so we've bundled them into one. The iPhone 13 Pro and iPhone 13 Pro Max are stunning camera phones, each packing a 12MP f/1.5 main sensor with big 1.9µm pixels, a 12MP f/1.8 ultra-wide, and a 12MP f/2.8 telephoto, with 3x optical zoom.
While they don't have the lens numbers or optical zoom length of some phones on this list, their performance is sublime. And, while they lack a dedicated macro lens, they're still competent at taking close-up photos.
Low light performance particularly impressed us in our tests, and that's something that iPhones are known for, but whatever type of shot you're aiming for, the iPhone 13 Pro or Pro Max should be able to do it justice. Apple's smart AI optimization is also out in force here, with the company's Deep Fusion used to tweak your pictures to make them as wonderful as possible.
The new Photographic Styles feature and Cinematic mode both impress too, though we suspect they might not be massively used by most buyers. But with an improved Portrait mode, the return of ProRAW, and a great point-and-shoot experience, the iPhone 13 Pro and iPhone 13 Pro Max are photography beasts. Time will tell if they can be tamed by the next generation of Apple iPhone.
Read our full iPhone 13 Pro review and iPhone 13 Pro Max review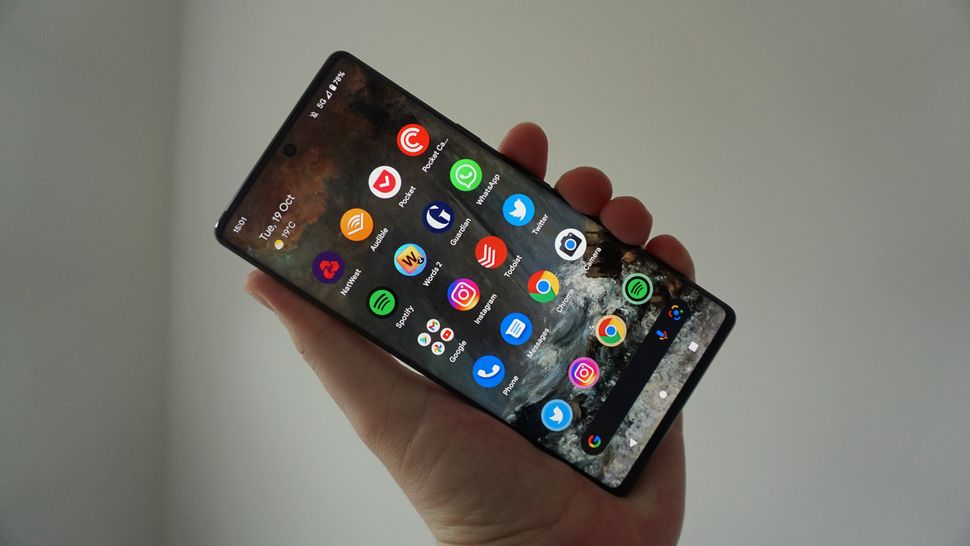 Google has a habit of delivering excellent photography experiences on its phones, and the Google Pixel 6 Pro is no exception. In fact, its hardware and software both saw huge upgrades from the Pixel 5, so much so that you should just forget its older phones if you're a photo fan.
The phone has a 50MP f/1.9 main sensor with 1.2µm pixels, and in our tests we found it capable of taking excellent photos, with good detail, and colors that were true to life. That's joined by a 12MP f/2.2 ultra-wide camera with a 114-degree field of view, and a 48MP f/3.5 telephoto snapper which offers 4x optical zoom, both of which performed well in our tests, if not quite as well as the Samsung above.
But the Pixel 6 Pro also benefits from software that you won't see on rival handsets, such as a Magic Eraser that can remove unwanted aspects from photos, Motion mode for long exposure shots, and Real Tone, which more accurately captures the skin tones of people of color. Using these modes, you can take incredible pictures, and that's why the handset is number three on this list. Google's reliance on software has paid off big time.
Read our full Google Pixel 6 Pro review
The Google Pixel 7 is a (slightly) more affordable alternative to the Pixel 7 Pro, which we're currently calling the best Pixel camera phone.
While the Pixel 7 lacks the 48MP telephoto sensor that remains exclusive to the Pixel 7 Pro, you're still getting the same 50MP main camera as that phone, as well as a similar 12MP ultra-wide (although unlike on the Pro, this sensor lacks autofocus, and thus there's no new Macro Focus mode on the standard 7).
What's more, you also get the same 10.8MP punch-hole selfie snapper across both the standard and Pro models, plus 4K video recording up to 60fps and support for 10-bit HDR video capture for better colors, brightness and contrast.
While the hardware is interesting, the Pixel camera experience is really more about the processing and software, which here are supported by that Tensor G2 chip.
Read our full Google Pixel 7 review
The camera on the Oppo Find X5 Pro is both one of its strong suits and one of its weak suits, as it depends on which lens you're using. The main 50MP f/1.7 snapper is superb, as is the 50MP f/2.2 ultra-wide one. Both cameras are capable of taking bright, detailed, colorful pictures. But switch to the 13MP f/2.4 telephoto camera and things go downhill, with its 2x optical zoom being dwarfed by most rivals.
Still, if you're not overly interested in zoom shots then the Oppo Find X5 Pro comes highly recommended for photo fiends, and it's helped out by its MariSilicon X neural processing chip, and by the company's collaboration with camera brand Hasselblad.
This collaboration brings tweaks to Pro photography mode, and also a dedicated XPan mode that recreates the experience of using Hasselblad's cult classic camera. You can also record video with excellent stabilization at 1080p, or without that perk at 4K, and there's a capable 32MP selfie camera on the front.
Overall, this isn't quite the most comprehensive or versatile camera setup you'll find on a phone, but for most photo types and even for video, the Oppo Find X5 Pro does an exceptional job. If Oppo wants to compete with Samsung or Apple in those top spots though, it'll need a better zoom solution in the future.
Read our full Oppo Find X5 Pro review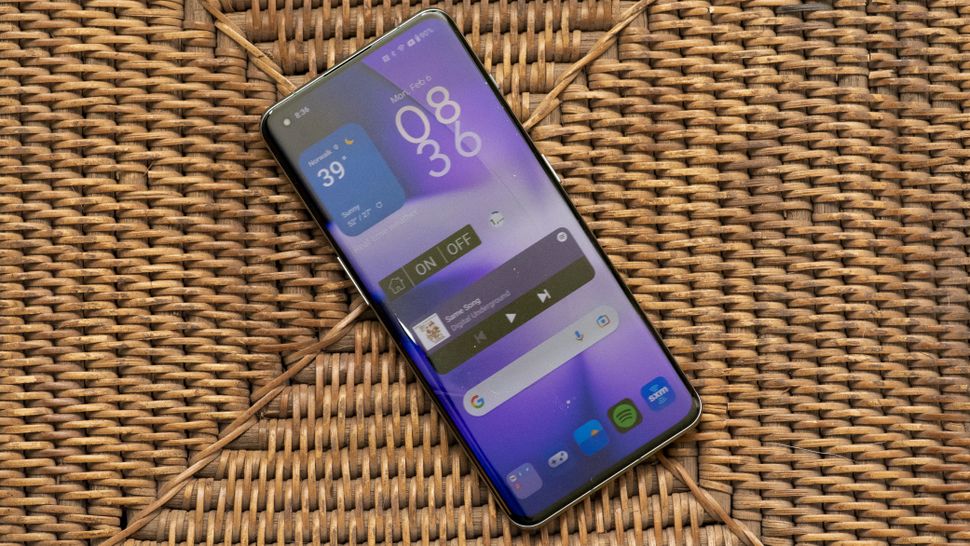 There's no doubt the cameras on the OnePlus 11 are for a specific type of photographer. Have you heard of Hasselblad cameras? The ones used by both professional magazine photographers and astronauts in space? That's the look and feel that OnePlus is going for, and you can't have it any other way with these phones.
That means you shouldn't expect amazing telephoto shots, or super-close macro photography. The longest lens sees only 2x, compared to the 3x lens on Samsung's Galaxy S23 series. The iPhone 14 gets no telephoto whatsoever, while the Pixel 7 Pro gets a 5x zoom lens, but then you're looking at an additional $100 to $200 for the benefit of Google's more advance optics, relative to the price of the OnePlus 11.
Where the OnePlus 11 excels, though, is portrait and landscape photography. Photos have a rich, natural look to them that the iPhone and Pixel can't match. While Apple and Google are looking for accuracy and reality, the OnePlus 11 gives the artistic feel of a real, prime photography lens.
Read our full OnePlus 11 review
How we test camera phones
We've fully reviewed every phone on this list and that includes extensively testing all of their cameras, so we know exactly how they perform. That allows us to look beyond specs and create a ranking based on how these camera phones are in practice. We've also considered price, value and features when deciding on a ranking.
What should I look for when buying a camera phone?
When choosing a camera phone you should consider the types of photo you want to take. If you want to photograph wildlife or other things you can't easily get close to then a telephoto lens is essential, while for landscapes a good ultra-wide is your friend. Check out our reviews to see how camera phones perform in practice too, as some sound better than they are.
Which phone has the best camera?
The best camera phone changes regularly, but our current top pick is the Samsung Galaxy S23 Ultra. That doesn't mean it will be the best choice for everyone, though; consider what you actually need from your camera phone before choosing one.