Singling out the best iPhone in 2023 can be tricky. With so many different options at different price points, where do you begin? A model from the new iPhone 14 line – that's the standard iPhone 14, the big-screened iPhone 14 Plus, the iPhone 14 Pro or the iPhone 14 Pro Max – might seem like the no-brainer choice, but there are plenty of exceptional older models to consider, too.
Fortunately, we're on hand to help you sift through the myriad options. We know every single iPhone inside and out, so you can be confident that our recommendations are based on expert knowledge, in-depth analysis, and intelligent comparisons between other iPhones and rival phone-makers.
We've looked at key factors such as screen quality, performance, camera quality, and battery life in our testing, so you can find the best iPhone for your needs. We've ranked them all below, with links to our in-depth reviews included alongside a quick overview of each model.
Once you've trawled through our findings, head over to our iPhone 14 deals roundup if your heart is set on picking up one of Apple's latest iPhones. Alternatively, our best iPhone deals page has a list of discounts currently available on older iPhone models. Finally, don't forget to see what Apple promo codes can be used with your purchase.
The best iPhone 2023
Why you can trust TechRadar We spend hours testing every product or service we review, so you can be sure you're buying the best. Find out more about how we test.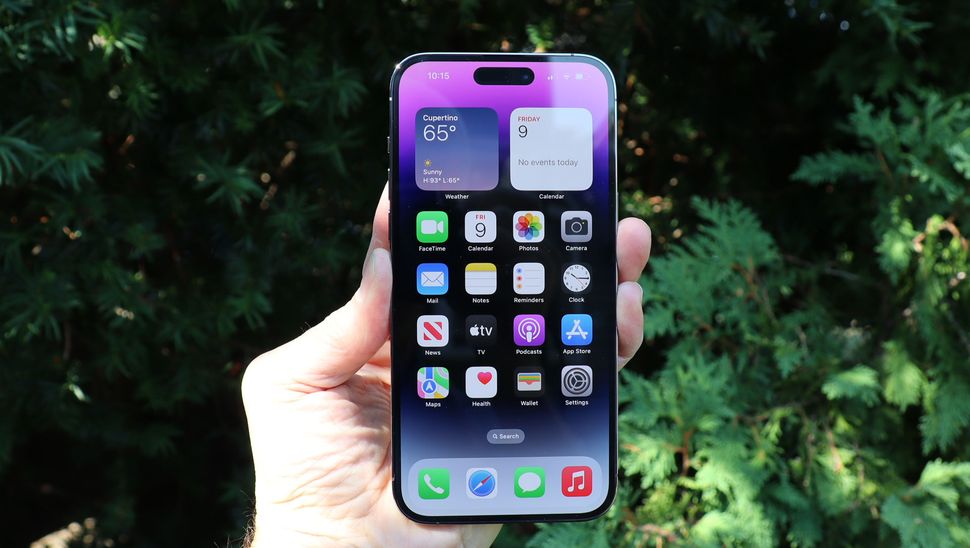 The latest everything iPhone brings a higher resolution camera, better battery life, more performance, all-new functionality and, at last, no notch to the table.
The iPhone 14 Pro Max takes over as the new head of the household in Apple's iPhone portfolio, offering the same sizeable 6.7-inch 120Hz display as last year but granting it more power efficient always-on functionality and ditching the long-standing notch in favor of the new Dynamic Island.
The iOS 16-based (out the box at least) user experience offers a number of new features, and works with the Dynamic Island to offer adaptive functionality from this new display element that breaks away from the bezel.
For the iPhone 14 generation, only the iPhone 14 Pro and Pro Max get a taste of Apple's latest and greatest mobile silicon – the A16 Bionic – which delivers class-leading performance and improved power efficiency over its predecessor.

That chipset also supports the new triple camera array, which for the first time showcases a 48MP quad-pixel lead sensor that offers superior photography and video capabilities than its predecessor, as well as 2x lossless optical zoom, without the need for an additional sensor. This main snapper comes accompanied by an improved ultrawide and a familiar 3x telephoto camera – that's arguably one of the 14 Pro/Pro Max's weakest bits of hardware.
Provided you're okay with its large size and big price tag (which is pricier year on year in markets like the UK and Australia), there's no greater iPhone than the new iPhone 14 Pro Max.
If the iPhone 14 Pro Max is too big or too expensive for your tastes, the standard iPhone 14 Pro is the perfect antidote.
The latest Apple A16 Bionic chip underpins one of Apple's best iPhones ever, not to mention it's now one of the most powerful phones on the market. While the 6.1-inch screen size remains from its predecessor (the iPhone 13 Pro), like the 14 Pro Max, this generation of Pro shrugs the notch in favor of the new Dynamic Island – a smart new cutout within the display that houses the Face ID components but also adapts to offer a range of functionality, from music playback controls to connecting AirPods and more.
While ProMotion tech means visuals can range from 10Hz to a super-smooth 120Hz in general use, a new 1Hz mode enables always-on display functionality, paired to smart new lock screens, courtesy of iOS 16.
The rear triple camera is now fronted by a 48MP main sensor that takes better stills and video than any of its predecessors while also serving as the most versatile iPhone camera to date; narrowing the gap with key camera rivals, from the likes of Samsung and beyond.
Provided you can swing the high asking price, the 14 Pro operates as one of the most capable phones on the market, while also being more pocket friendly than the Pro Max.
The iPhone 13 Pro Max is the best and most exciting of Apple's iPhone 13 range, with the battery life being an unexpected highlight. This thing can last and last, and while it's not quite up there with the very longest-lasting phones, it's easily got some of the best battery life on an iPhone to date.
There's also a whole lot of power here, with Apple's A15 Bionic chipset providing significantly better performance than previous iPhones, as well as many of the best Android phones. That said, we mostly know this thanks to benchmark scores – in the real world, most users will struggle to truly tap into its potential.
The camera has also seen an upgrade, with low-light shots particularly impressing, and the new macro mode opening the iPhone range up to a whole new type of photography.
In practice, the hyped Cinematic mode and 120Hz screen didn't impress us as much, and we're pleased that this is the last Pro with a notch (now that the iPhone 14 Pro and 14 Pro Max have introduced the Dynamic Island), but overall this is a fantastic upgrade for Apple's Max line, and it's still one of the very best iPhones.
While fans were made to wait a little longer for the fourth member of Apple's 2022 iPhone 14 series, the iPhone 14 Plus replaces the mini entry from the previous two generations, instead dragging the slider the other way and offering a super-sized iPhone experience that, in recent years, was exclusive to the line's Pro Max entries.
As such, you get a 6.7-inch display, similarly to the 14 Pro Max, however the rest of the phone's sensibilities are more closely tied to the standard iPhone 14, with the same dual 12MP rear cameras and enhanced A15 Bionic chip lifted from the previous year's iPhone 13 Pro, as well as a repeat of the notch instead of the 14 Pro line's flashy new Dynamic Island.
The display is still 60Hz too, but better cooling and more modest display tech twinned with the Plus' large battery means it delivers some of the best iPhone battery life ever. Apple claims it's also easier to repair... in places.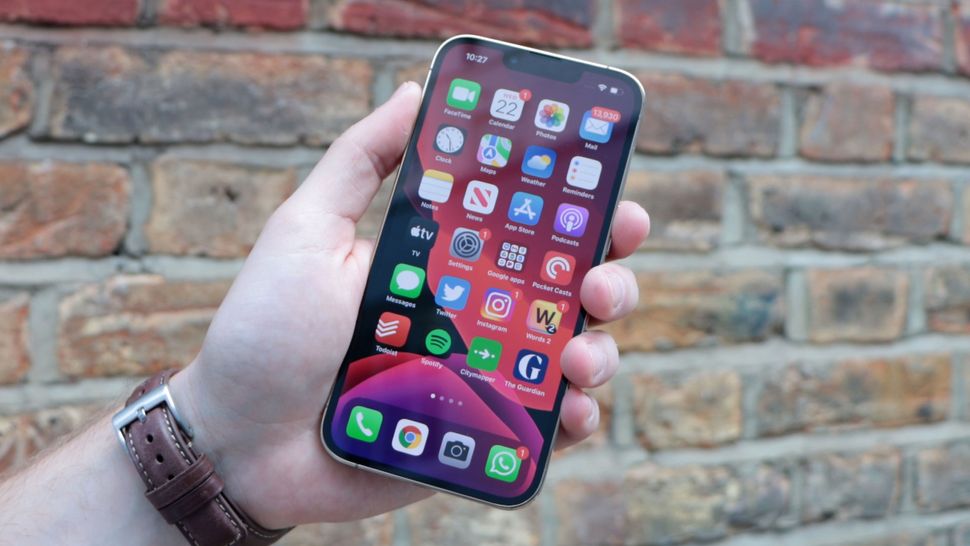 The iPhone 13 Pro has most of the same strengths and weaknesses as the iPhone 13 Pro Max, with its battery life being a highlight in our tests, if not quite as good as the Max model, and its A15 Bionic chipset providing stunning amounts of power.
Eagle-eyed users might notice that the iPhone 14's most notable upgrades borrow from the 13 Pro; with the same lead 12MP camera and the enhanced five-core GPU variant of the A15 at its heart.
Provided you can get a good 13 Pro deal that undercuts the 14, you get the same lead camera and chip but also gain a 120Hz ProMotion display, faster charging, better battery life, a better camera system, more memory and a nice finish, to name but a few benefits.
Speaking of the camera, the 13 Pro debuted macro mode; for taking clearer photos of tiny subjects. Elsewhere, you also get that 120Hz screen, and a slightly refined design – including a smaller notch, compared to the 12 Pro.
Collectively, these factors mean this is still an outstanding iPhone for those who want a relatively compact 6.1-inch display, or don't want to spend as much as the iPhone 13 Pro Max costs. Hopefully, now that its successors are here, pricing will continue to drop, too.
Apple made an interesting move with its iPhone 14 lineup, splitting chipsets between the standard and Pro models. As such, the base iPhone 14 uses the same A15 Bionic chipset as the previous year's iPhone 13 Pro (the one with a five-core GPU).
In real-world use, this differentiation will make very little difference, with superb performance and benchmarking results that stand strong against most Android rivals.
Along with the chip, Apple has also pulled the 13 Pro's superior 12MP main camera onto the iPhone 14, while the notch (which was made smaller with the 13 series) now plays host to a new slicker, autofocus-capable 12MP front-facing camera.

Apple also added SOS satellite functionality and car crash detection to the whole iPhone 14 range, so if you're likely to find yourself out in the wilderness without signal more than the average user, this might be what sets the 14 apart from its predecessor.
The five launch colors also include a tasteful pastel purple that the iPhone 13 lacks.
While the iPhone 14 line is now here, one big omission is a new mini iPhone, making the iPhone 13 mini the last of its kind right now.
The iPhone 13 mini is arguably still the best small phone on the market, thanks to a gorgeous compact design and some great hardware under the hood.
Its 5.4-inch Super Retina XDR OLED screen is smaller than many smartphones, but that means the phone fits comfortably in your hand and is easy to use single-handed. It looks great too, being notably brighter than the iPhone 12 mini before it.
The camera is similarly improved year on year, with a 12MP f/1.6 wide camera packing 1.7µm pixels for better low-light performance, paired to a 12MP f/2.4 ultra-wide camera with 120-degree field of view. Low-light performance is remarkably good on this camera too. What's more, it's all backed up by Apple's A15 Bionic chipset
The iPhone 13 mini is small yet mighty and still one of the only worthwhile options for small phone lovers.
The iPhone SE (2022) is the best cheap iPhone, as well as being the first – and at the time of writing, only – mid-range iPhone to support 5G.
That's a major selling point, and a second big selling point is the presence of the same A15 Bionic chipset as you'll find in the iPhone 13 range, meaning this has more power than most Android flagships, despite costing far less.
With a slim, lightweight build and a compact display and design, too, the iPhone SE (2022) is also a great choice for anyone who wants a smaller iPhone – though it can't quite match the iPhone 13 mini there.
Its design is, at this point, very dated, mind, thanks to big bezels above and below the display, and it's more expensive than its predecessor, despite still being affordable. If not for those issues, this iPhone might rank even higher.
The iPhone 13 wasn't the biggest yearly iPhone upgrade we'd ever seen when it arrived in 2021, but almost every aspect of it is a little better than the iPhone 12, which means it's still a brilliant iPhone overall.
In our review, we found that the phone's battery life, in particular, was improved, with the iPhone 13 making it through every day that we used it without needing a top-up before bed.
We were also impressed by the design, which includes a smaller notch, and by the sheer amount of power that this phone still has to offer, which comes as a result of its A15 Bionic chipset. Apple claimed this had a 50% faster CPU than the competition at launch, and while that's hard to confirm, this is certainly a speedy phone.
The lack of a 120Hz screen, which saw its iPhone debut on the iPhone 13 Pro and Pro Max, is a shame, and it's doubly upsetting that even its successor doesn't move past 60Hz. Even so, this is still a superb device with plenty of life left in it.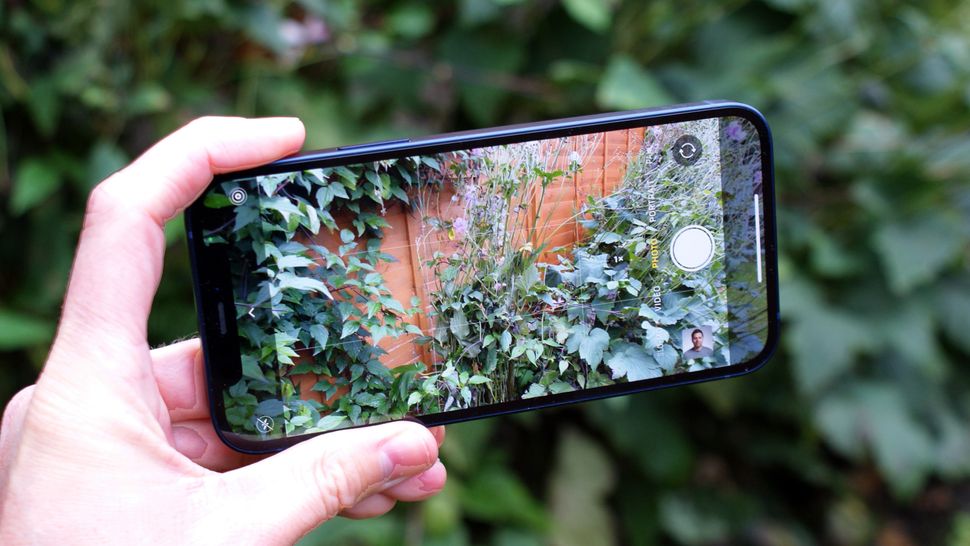 With the iPhone 14's arrival, the iPhone 12 is now the most affordable full-screen iPhone Apple sells in-house.
It's still relatively future-proofed, courtesy of 5G support and the addition of MagSafe connectivity, which lets you to attach accessories like chargers, wallets and battery packs, magnetically.
We found the camera was a little too similar to the previous year's iPhone and the battery life remained merely okay, but there's no denying that the iPhone 12 is a superior beast to the phones that came before it.
Design-wise, the iPhone 12 also marked a return to some of the stylings of the iPhone 4 or 5, and that's actually a good thing, feeling comfier in your hands. There's also the overdue switch to a colorful OLED display, which reminds us again that Apple knows how to create a stylish-looking and future-proofed device.
How to choose the best iPhone for you
A lot of iPhones are quite similar to each other, so choosing which one to buy mostly just means seeing what's different between them and finding the right fit.
All iPhones are powerful, and Apple supports them for a long time, so age and chipset needn't be a big deal, but if you don't want to upgrade for a long time then a newer model with a faster chipset is ideal.
Bigger factors, though, include the screen size – and bigger isn't always better here. If you want something compact that you can easily slip into a small pocket, then consider one of the mini or SE models. But if you plan to do a lot of gaming or video-watching, then something larger would be better.
Resolution and refresh rate are also worth paying attention to for the optimal visual experience – the higher the better in both cases, so ideal options will have things like a 120Hz refresh rate and a resolution above 1080p.
Camera quality and battery life are important considerations, too, and you can't get a full picture of these just from a specs list, so read our full entries above (or click through to our detailed reviews) for insights into how these factors are on each phone.
What is the best iPhone?
The best iPhone is usually one of the latest numbered models, but which one specifically will depend on your needs. If you want a big screen, go for a Pro Max (the latest and greatest is the iPhone 14 Pro Max). For top specs in a smaller size, pick a Pro, and if you want to save some money, then get a standard model or the latest SE.
Which iPhone is the best value for money?
Right now, the iPhones that offer the best value for money are the iPhone 13 Pro and iPhone 13 Pro Max – provided you can find either model for a cut price, that is. The iPhone SE (2022) is also good value, and is worth considering if you're on a tighter budget.
How we test
We've reviewed every phone on this list, so for each, we've passed our expert verdict on them after extensive testing. This testing saw us use each phone as our main handset for at least a week, and often longer.
In the process, we would explore various use cases, including calls, texts, social media, video streaming, gaming, taking photos and more, with some heavy use days and other lighter ones.
In short, we use our iPhones just like you would – but we make sure to test every key feature, as well as running benchmark tests, checking how long they take to charge, and more.
From that, we've then ranked each handset, factoring in price, value, and how they compare to each other, with a particular focus on their screens, designs, battery life, performance, and cameras.