The best cheap tablets are surprisingly accomplished devices, keeping their prices low while often offering large screens, respectable performance, and even sometimes supporting accessories, like keyboards and styluses.
Of course, these aren't going to have the top-end power or silky smooth 120Hz refresh rates of the best tablets, but they're also a lot more affordable.
So if you're not a power user, then you don't necessarily need to invest in one of the best iPads or best Android tablets – you can choose a cheaper model instead.
These are typically fine for streaming, social media, light work, and creativity tasks, and often games too, though they all have compromises, so it's worth checking that the slate you're considering is suited to your needs.
To help with that, we've listed all the best cheap tablets below, and we've included an overview, a specs list, and pros and cons for each, so you can quickly get a sense for what they offer. Of course, if you want to dive in deeper you can also click through to our reviews, as we've extensively tested each of these slates, and put them through a full review. That's why we're so confident of our choices.
And if none of these stand out, make sure to check back soon, as we'll be updating this article whenever another notable cheap tablet is released.
The best cheap tablets 2023
Why you can trust TechRadar We spend hours testing every product or service we review, so you can be sure you're buying the best. Find out more about how we test.
The new champion of the best cheap tablets, the Apple iPad 10.2 (2021) offers everything its older model did and more. That includes a gorgeous 10.2-inch screen that now has True Tone technology so its colors and brightness automatically adjust to suit the light. That feature proves especially useful for outdoor use, where you might be faced with bright sunlight.
There's also the new and handy Center Stage feature when taking video calls which means the camera keeps you in frame at all times. We found this made a big difference. iOS 15 keeps things running well with easier-to-use multitasking features and the ability to place widgets anywhere on the screen.
Elsewhere, the battery life is the same at 10 hours. There's no Face ID, but for a cheap tablet, it's hard to fault how well this one works.
Read the full review: iPad 10.2 (2021)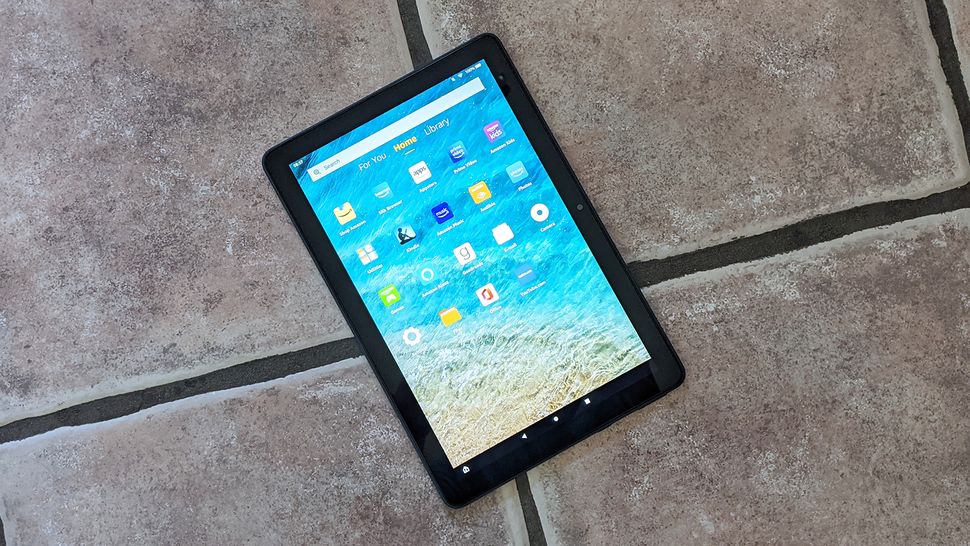 The best of the Amazon Fire tablet range, the Amazon Fire HD 10 Plus might not be the cheapest but it offers a lot for the price tag. This includes a 10.1-inch display with a 1920 x 1200 resolution which we found made watching films or videos while on the move look pretty good - and with decent stereo speakers it sounds good too.
Battery life is about 12 hours, so you won't have to worry about finding a power source too often either. Elsewhere, you've got a choice of 32GB or 64GB of storage depending on your budget, plus you can go for wireless charging too for added convenience, and its lightweight build means it's ideal for extended use. We found the chipset and cameras were both a bit basic, but overall it packs a lot in for the price.
Read the full review: Amazon Fire HD 10 Plus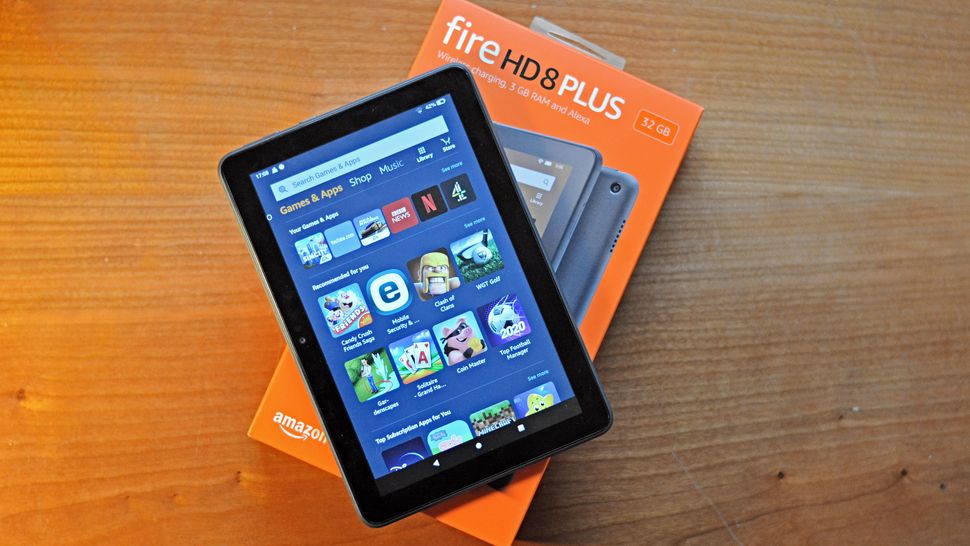 The Amazon Fire HD 8 Plus is essentially the Amazon Fire HD 8 (2020), but just made a little bit better, so it's no wonder it's one of the best cheap tablets. It has more RAM at 3GB, supports wireless charging (so you can use it with an optional dock that brings it close to an Echo Show), and comes with a speedier charger than the standard Fire HD 8.
Beyond that, it's much the same as its cheaper sibling. But that in itself makes it faster than the previous generation of the Amazon Fire HD 8, as well as giving you much more storage to play with.
The Amazon Fire HD 8 Plus still isn't the fastest of slates in our tests, but it holds its own for what it costs, and if you want a tablet and smart display all in one it's a top choice – though for just the tablet part you might want to consider the standard Fire HD 8 (2020) instead.
Read the full review: Amazon Fire HD 8 Plus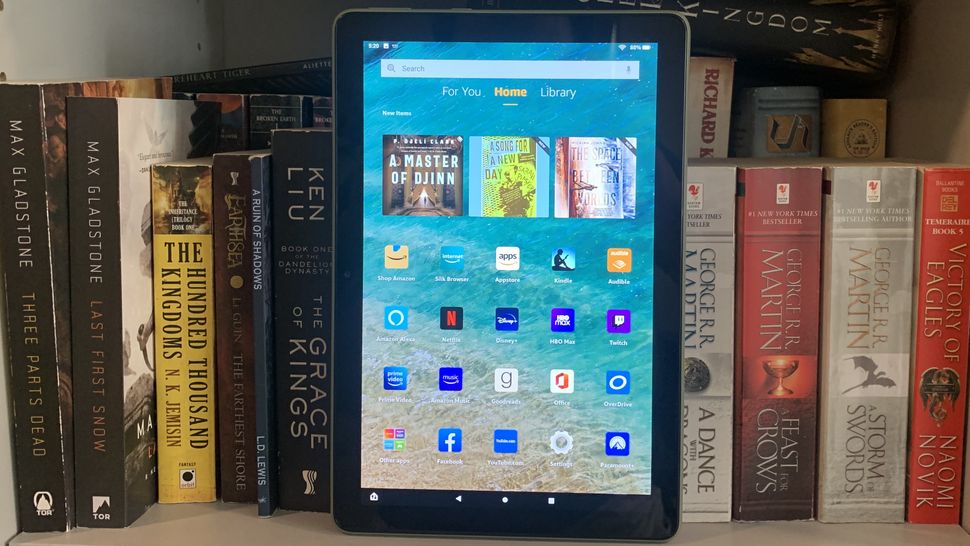 With a decent sized screen and a resolution of 1920 x 1200, the Amazon Fire HD 10 (2021) is ideal for watching films while relaxing. That's its biggest strength really as we found it was occasionally slow when running basically any kind of software, and its rear camera is still only 5MP, albeit an improvement on the earlier model. Still, for messing around with friends, it'll do.
There's no wireless charging but nor would you really expect it from such an inexpensive tablet. Given how cheap this slate actually is though, it still delivers lots for your money, including good battery life, so you can have a movie marathon wherever you are, without needing to charge it up halfway through. This isn't one for power users, but nor would we expect it to be.
Read the full review: Amazon Fire HD 10 (2021)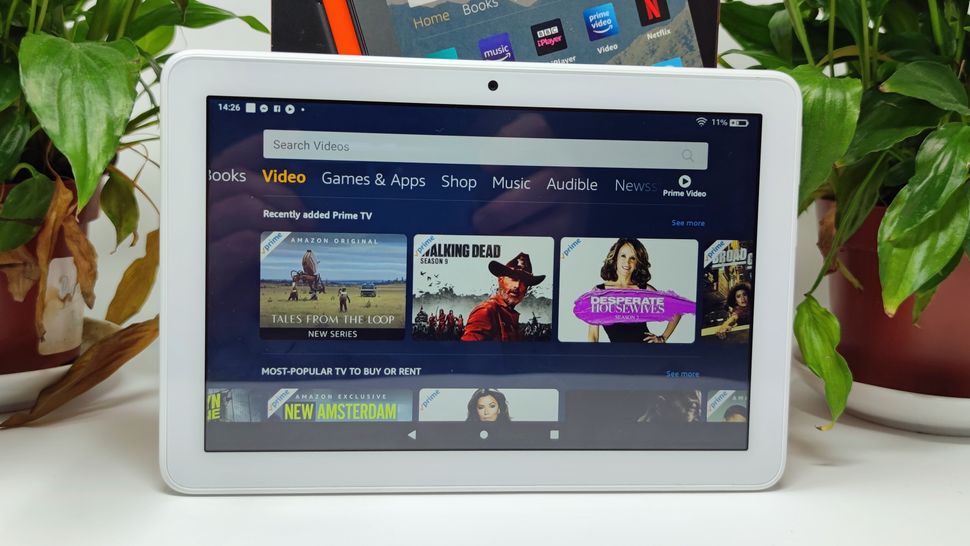 The Amazon Fire HD 8 (2020) is 30% faster than its predecessor, has twice as much storage, slightly better battery life, and finally makes the move to USB-C (where the previous model uses micro USB), but otherwise it's very similar.
So if you're shopping for your first Amazon slate or have a much older one then this is a good upgrade - which is why it makes our list of the best cheap tablets. However, you might want to think twice about upgrading from the previous model.
Other highlights of the Amazon Fire HD 8 (2020) include a 3.5mm headphone port and a cleverly positioned front camera – which is at the top when you hold the slate in landscape, as you likely will during video calls. Plus, of course, it's very, very cheap. That said, it suffers from some typical cheap tablet problems - we weren't impressed with the screen quality, and found that it feels as cheap as it is.
Read the full review: Amazon Fire HD 8 (2020)
The Samsung Galaxy Tab A 10.5 is the South Korean firm's answer to Apple's best cheap tablet, which you've seen above. If you're looking for an Android iPad rival on a budget, this is the slate you should consider. With Google's Android operating system providing plenty of flexibility, coupled with a large HD display, the Tab A 10.5 is great for movies and web browsing.
It also benefits from long battery life in our experience, so you can indulge in a movie marathon. It's not the most powerful slate around and we found its size makes it slightly less portable than some, and overall we'd give Apple's cheapest iPad the edge, but for media and basic app use around the house this is a strong choice.
Read the full review: Samsung Galaxy Tab A 10.5 (2018)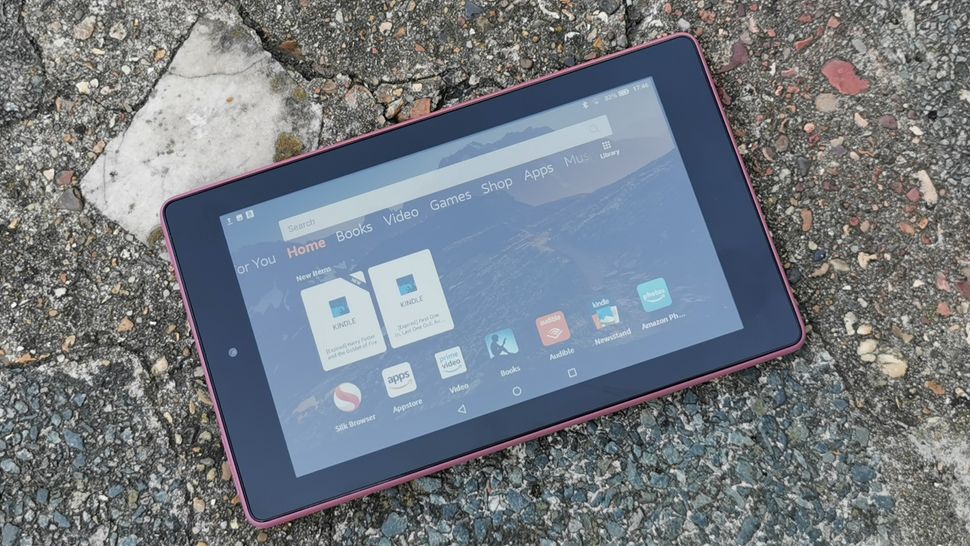 Notice the lack of 'HD' in the name of the Amazon Fire 7, compared to the other Amazon slates on this best cheap tablets list? That's because the screen quality of the tablet is, well, not HD.
That's a compromise you'll have to make if you're wanting Amazon's latest super-cheap device, as it won't grace your eyes with a stunning display or slick performance. However, we found there was enough power under the hood to get you through basic tasks, like streaming content or shopping. We also found in our review that it was great as a Kindle device, if you want your Kindle to also come with Alexa and the internet and the best books of all - movies.
One thing we were disappointed with is the battery life, as even cheap tablets often last a long time, which this one doesn't. But, it's hard to be too mad when this costs so little.
Read the full review: Amazon Fire 7 (2019)
How to choose the best cheap tablet for you
There are always compromises on cheaper products, so in choosing one of the best cheap tablets it's important to identify where the corners have been cut, and whether those things matter to you. Equally, if anything in particular is very important to you, be it the battery, screen or anything else, make sure that the tablet you're considering performs well there.
There are also variables that apply no matter how much you're spending. For example, you might want something relatively small, light and portable, such as an 8-inch screen and a weight of under 400g.
Or maybe you want a big, immersive 10-inch display. Operating systems are worth considering too, with the options typically including Apple's iPadOS, Android, and Amazon's Fire OS.
You're not going to get a master of all trades at a low price, but it's very possible to find the balance you need.
What is the cheapest good quality tablet?
All of the tablets above are cheap and good quality, but for one of the very cheapest options, consider the Amazon Fire 7 (2019) or the Amazon Fire HD 8 (2020).
How we test cheap tablets
We only include tablets that we've fully reviewed in this best cheap tablets guide. That means that we've used every entry extensively and delivered a final verdict on them. That process includes testing every key feature and using them as our main tablet, just like a typical buyer would.
This allows us to easily rank and compare different tablets, factoring in their specs, performance, price, value, age, screen quality, battery life, and any other factor worth considering.
With that information we know exactly which ones to include and which to exclude, and whenever a new cheap tablet is released, we'll compare it to the other entries in this list before deciding if or where it should be placed.