The best ereader for 2023: top ebook readers for all budgets
Best
Contributions from
last updated
The best ereaders are perfect for reading and productivity too
VERDICT
REASONS TO BUY
REASONS TO AVOID
Best ereader: Quick menu
The list in brief
1. Best overall
2. Best budget
3. Best mid-range
4. Best Kindle
5. Best note-taker
6. Best premium
7. Best color screen
8. Best durable
9. Best for kids
Choosing the best ereader for your needs isn't as simple as just finding an e-ink tablet that fits your budget. While money is definitely the most important consideration, it would be good to answer a few more questions before choosing one.
Questions like: is a waterproof device important to you? Do you prefer to hold and operate your ereader in one hand? Do you need to borrow library books (particularly if you live outside the US), or would you prefer an ebook subscription service instead or buy directly from an ebook store? Do you read a lot of comics and graphic novels that are better on a color screen? Do you need to take notes in margins or require something for research and journaling?
Yes, there are several factors to consider when dropping some money on an ereader. And while Amazon's Kindles might be the most popular brand, they may be for everyone.
Once you've figured out what exactly you want from your reading device, you can use our list of the best ereaders below to find what's right for you and your budget. We also have suggestions for the best tablets and best Kindles, if you have a more specific idea in mind.
Whatever your needs are, all ereaders use similar E Ink technology which, at the time of writing, is the Carta 1200 screen for black-and-white models. This display is responsive, and text on the screen has good contrast to make reading in any lighting condition easy . While color ereaders exist, they're hard to recommend with the current E Ink Kaleido 3 screen technology as colors are muted and look washed out. There is hope, however, with a new display called E Ink Gallery 3 set to debut on the PocketBook Viva some time soon. Until then, below are our best options.
Written by
Sharmishta is TechRadar's APAC Managing Editor and spends most of her free time buried in a good book. It's how she got into ereaders in the first place – going digital due to a lack of space to store her books and being able to carry her entire library with her wherever she went. She's been testing ereaders for about six years now, has appeared on Singaporean radio twice to speak about these tablets, and has a soft corner for the Kobo Libra 2 and the Kobo Elipsa 2E. That said, she can't take her eyes of the gorgeous screen on the Amazon Kindle Scribe and commends Onyx for its color note-taking tablets.
The quick list
Want to cut to the chase and find out which ereaders are the absolute best? Below, you'll find a roundup of our choices. You can also jump to a more detailed review of each ereader further down the page, and our price comparison tool will help you find the best deals.
Best overall
Best for most people
The Kobo Libra 2 is almost two years old now and we think it's still the best ereader for most users. Its asymmetrical design and page-turn buttons are good for one-handed use and it offers excellent bang for buck. 32GB of storage, Bluetooth connectivity and waterproofing too.
Best budget
Best budget ereader
The 2022 edition of the Amazon Kindle base model ereader is lighter than any previous iteration. But it's not as cheap as its previous siblings. Still, despite a small markup in price, it's the best ereader for anyone on a tight budget or looking for a small, pocketable Kindle.
Best mid-range
Best mid-range ereader
With a body made mostly from recycled plastic and a 6-inch screen that's clear, crisp and responsive, this ereader also offers waterproofing that the base Kindle model doesn't. There's also audiobook support here. In fact, it's a very worthy upgrade to the original Kobo Clara HD.
Best Kindle
Amazon Kindle Paperwhite (2021)
Best Kindle
The latest Kindle Paperwhite is bigger and better than ever before. The 2021 release boasts a bigger 6.8-inch screen and a bigger battery. It was also the first Kindle to get a USB-C charging port. And, if you have the extra cash, the Signature Edition also gets you wireless charging capabilities.
Best note-taker
Best note-taking ereader
A 10.3-inch note-taking ereader is expensive, but you'll find it useful if you're a researcher or do a lot of journaling. Even students might find it useful. You can scribble in the margins of books purchased from the Kobo Store or create notes from scratch, with a plethora of writing tools at your disposal.
Best premium
Best premium ereader
It's that screen! Amazon has used the same E Ink Carta 1200 screen on its first ever note-taking ereader and yet made it look brighter than any others. It's got a 300ppi resolution as compared to the 227ppi on competing ereaders. A metal finish rounds up the luxurious reading experience on a large screen.
Load the next 3 products...
Best color
Best color ereader
Some books need to be read in color, even digital ones. While the Onyx Boox Nova Air C will display colors, they appear washed out... the screen tech hasn't evolved enough yet. Still, even a little is great. And it's a full Android 11 tablet, so you have the Play Store to download any reading/writing app.
Best durable
Best durable ereader
It's got a great design that makes it stand apart from the crowd and boasts a speaker too. While the latter doesn't have great sound quality, it's the screen that's the standout here. It's got an anti-scratch coating that not a lot of other ereaders boast, in addition to the IPX8 waterproofing rating.
Best for kids
Best for kids
While the obvious choice a kid-friendly ereader would be the Amazon Kindle Paperwhite Kids, it isn't available in all markets. The Kobo Nia, however, is more widely available and is cheaper too. Borrowing books is easy if OverDrive support is available at your local library, but keep in mind the Nia is not waterproof.
The best ereader for 2023
Why you can trust TechRadar We spend hours testing every product or service we review, so you can be sure you're buying the best. Find out more about how we test.
Below you'll find full write-ups for each of the best ereaders in our list. We've tested each one extensively, so you can be sure that our recommendations can be trusted.
The best ereader overall
The best ereader overall
Specifications
Screen type:
E Ink Carta 1200
Battery life:
up to six weeks
Reasons to buy
+
Excellent value for money
+
32GB storage
+
Audiobook support
Reasons to avoid
-
Erratic trickle charging of battery
Buy it if
✅ You want a mid-range ereader with plenty of features: The balance between price and feature set is really good, offering excellent bang for buck.
✅ You want to operate your ereader in one hand: The page-turn buttons and asymmetrical design makes it easy to hold the Libra 2 in one hand and read.
✅ You want a relatively open ecosystem: Other than its audiobooks, Kobo doesn't lock you into its own platform, allowing you to easily sideload files.
Don't buy it if:
❌ You want a fresh design: There's not a lot that's wrong with the Libra 2, but its design is feeling a little dated now.
Despite newer models on the market, the Kobo Libra 2 is still the best overall ereader you can get because it offers great bang for your buck. We gave the Kobo Libra 2 full marks in our review, which should really say all you need to know, and we haven't changed our minds since testing it in 2021. It's a fantastic all-round champion that should be your first port of call when buying an ereader.
While the snappy and super responsive E Ink Carta 1200 screen is now available on several ereaders, the Libra 2 performs better than the competition released at around the same time. You get tons more storage as the default is 32GB here, something most other mainstream ereaders don't offer. The screen refreshes super fast, and the huge battery lasts weeks on end.
We also love the asymmetric design with the page-turn buttons. These kinds of ereaders are really comfortable to hold and use in one hand, making the likes of the Kobo Libra 2 perfect for the daily commute. And the 7-inch screen is the sweet spot in terms of size – not too small, not too big and perfectly portable. IPX8 waterproofing rounds up its physical characteristics.
Adding to its value-for-money outlook is the fact that, in several markets, you can borrow books from a local library that supports OverDrive, saving you the cost of having to buy new ebooks. Or you can sign up to Kobo Plus if you're in Australia, the UK, the US or New Zealand directly from the device if you'd prefer an ebook subscription service.
Kobo devices also can read more file types, including the popular ePub format that Kindle can't handle natively. And you can sideload more fonts onto a Kobo without any issues, including Amazon's fonts like Bookerly.
Read our full Kobo Libra 2 review
The best budget ereader
Best ereader for tight budgets
Specifications
Screen type:
E Ink Carta 1200
Battery life:
Up to four weeks
Reasons to buy
+
Well priced
+
Good battery life
+
Much-improved screen
Reasons to avoid
-
6-inch screen can be small for some
-
Lacks grip without case
-
Reliant on Amazon services
Buy it if
✅ You want a compact ereader: At 6 inches, the Kindle can fit into any bag, even a large pocket, so you can take it anywhere.
✅ You're budget-conscious: It might be more expensive than its predecessor, but it's still well priced considering it's got more features than the older model.
Don't buy it if:
❌ You want a larger screen: As portable as it is, you may find a 6-inch screen too small as you could be turning pages frequently, thus eating into the battery life.
❌ You don't want to spend extra on a case: There's not a lot of grip here, which could make this small ereader feel insecure in your hand. A case will help add that grip.
It took Amazon about five years to update the base Kindle model, but what an absolutely fantastic upgrade the 2022 edition is! A different blue color than the usual black is an option and, like the Kobo Clara 2E, is partially made from recycled plastics.
Design refresh aside, the screen is way better now than the older Kindle models, with the latest E Ink Carta 1200 tech adding snappier responses, clarity and, more importantly, a 300ppi resolution (a massive jump from the older 167ppi) that really makes everything on screen pop. The display even supports a dark mode.
However, there's still no way to change light hues here, and it also misses out on any kind of waterproofing. We also found that the smooth rear panel makes the 2022 Kindle a little insecure in the hand, and you'd likely want a case to get some grip. Plus the 6-inch screen could be too small for anyone who likes the font size on the larger side, which means you're turning pages quite often, eating into the battery life. Still, the small size makes it very portable indeed.
While we think the waterproofing and the additional features of any Kobo ereader make the Clara 2E a more worthwhile option for a small-sized ereader, the Kindle is cheaper in comparison and it would be remiss of us to leave it out of this buying guide.
Read our full Amazon Kindle (2022) review and find out how it compares in our Amazon Kindle (2022) vs Kobo Clara 2E guide
The best mid-range ereader
The best eco-friendly mid-range ereader
Specifications
Screen type:
E Ink Carta 1200
Battery life:
Up to four weeks
Reasons to buy
+
Audiobook support
+
Waterproof
+
Made with recycled plastics
Reasons to avoid
-
Inconsistent battery life
Buy it if
✅ You like eco-friendly products: Environmentally-conscious readers will be glad to know this ereader is made from a lot of recycled plastic, including some that were bound for our oceans.
✅ Features matter to you: It might be another 6-inch ereader, but you get waterproofing, Pocket and OverDrive support, and much more for your money.
Don't buy it if:
❌ You want good battery life: While you can get up to four weeks of battery life between charges, its performance can be a little inconsistent.
The Kobo Clara 2E gets the latest E Ink Carta 1200 screen tech, plus doubles the internal storage space to 16GB as compared to the older Clara HD. Where the predecessor had no waterproofing, the 2E carries an IPX8 rating, so you can read in the bath or the pool and not worry too much.
Kobo says the body is made out of recycled plastic, 85% of it to be precise, 10% of which were ocean-bound plastics. It was the first eco-conscious ereader to hit shelves.
Other updates over the older model include the now standard USB-C charging port and Bluetooth connectivity so you can listen to audiobooks (albeit only those purchased from the Kobo Store). All the other usual Kobo perks are here: adjustable light temperature, OverDrive support for library books, wide font and file support, and a very streamlined user interface that makes it easy to navigate through the device's features.
While we found the battery life a little inconsistent, it could just have been teething issues on our review device only, or easily fixable via a firmware update. Overall, though, it's a huge upgrade over the older Clara HD and worth every penny if you're after a very portable and capable ereader that isn't caught up in a closed ecosystem like Amazon's.
Read our full Kobo Clara 2E review
The best Kindle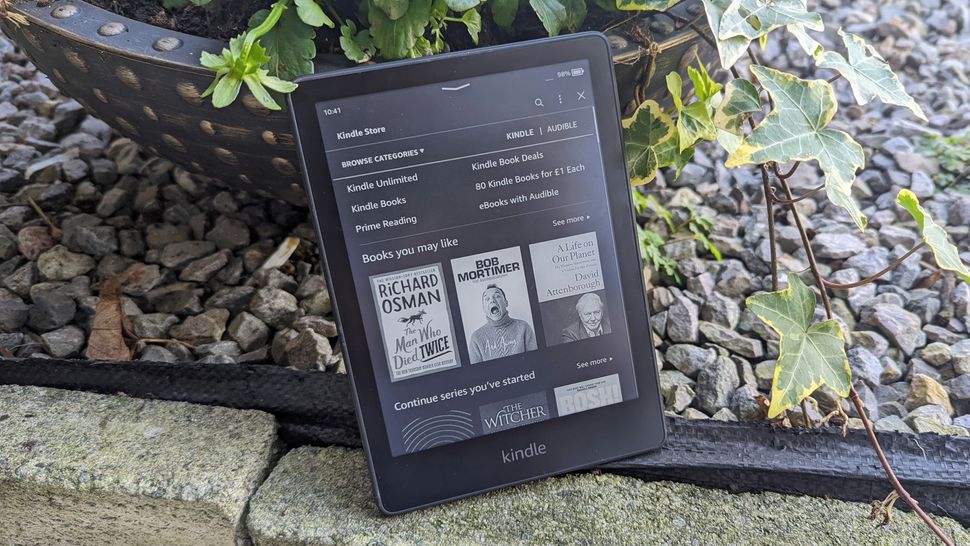 The best ereader for those within the Amazon ecosystem
Specifications
Battery life:
up to ten weeks
Reasons to buy
+
Fantastic display
+
Excellent reading experience
Buy it if
✅ You predominantly source titles from the Kindle Store: If you're already locked into Amazon's ecosystem, the Paperwhite offers a good balance between price and feature set.
✅ Screen size matters: A bright and larger screen means your reading experience is better any time and anywhere.
Don't buy it if:
❌ You have your own collection of ePUBs: While you can sideload the epub file format now to a Kindle, you still have to jump through a hoop or two.
❌ You've got a tight budget: Opting for a smaller screen will save you money and get you similar features too.
We still think the Kindle Paperwhite is the best Kindle you can buy, thanks to its water-resistant design and crisp, bright E Ink display. The basic Kindle 2022 is catching up fast, but the Paperwhite's 6.8-inch display is a great size for reading on as compared to a 6-inch tablet.
We like the adjustable warm light for reading in the dark, and the slim design with a flat face is appealing and easy to read.
At launch this only had 8GB of storage, but in 2022 Amazon added a 16GB model to the mix, making it all the more desirable. Or you can shell out for the 32GB Paperwhite Signature Edition if you have the cash to spare. The Signature Edition also adds wireless charging, a unique ereader feature. We don't think that's terribly necessary though, so we rate the standard Paperwhite higher once you factor in the price.
Even the standard Paperwhite is a little pricey for a Kindle, but perhaps a refreshed model will see more features added without the price hiking up, thus adding more value for money. Even so, the Paperwhite is an excellent ereader, and our pick of the best Kindle, particularly if you're already embedded in Amazon's ecosystem (aka already subscribed to Kindle Unlimited and Audible).
Read our full Amazon Kindle Paperwhite review
The best note-taking ereader
A large-screen ereader with versatile writing tools
Specifications
Screen type:
E Ink Carta 1200
Battery life:
up to four weeks
Reasons to buy
+
Very versatile writing tools
+
Excellent handwriting recognition
+
Decent value for money
Reasons to avoid
-
Dated design
-
Sleepcover sold separately
Buy it if
✅ You take a lot of notes or are into journaling: The note-taking features here are par excellence, particularly the Advanced Notebook option, which makes it the perfect replacement for pen and paper.
✅ You want your scribbles exported as typed text: While handwriting recognition is available on other models, Kobo does it well... just as long you're not scribbling badly.
✅ You want a rechargable stylus: Kobo's updated stylus can be charged via USB-C, making it lighter and longer lasting.
Don't buy it if:
❌ Writing is a superfluous feature: Considering its feature set, the Elipsa 2E offers good value for money, but only if you will make full use of its writing capabilities.
❌ Looks matter: It might have great features, but the Elipsa 2E is just another plastic tablet.
If you can't decide between a tablet or an ereader, the Amazon Kindle Scribe might be a tempting option, but Kobo Elipsa 2E wins here for a few simple reasons.
It offers a bit more open ecosystem than a Kindle, with plenty of file and font support, plus the usual Kobo perks of Dropbox connectivity (to transfer your notes and ebooks wirelessly), OverDrive support (to borrow library ebooks) and the baked-in Pocket app to read long-form web articles offline.
And, if you will make full use of its extensive writing tools, there's a lot more value for money here than the Kindle Scribe or the Onyx Boox Note Air series tablets.
Its 10.3-inch screen is great for reading, particularly if you're into comics and graphic novels (albeit displayed in black and white), and an upgraded processor means it's a lot faster and more responsive than its predecessor (we're replacing the original Kobo Elipsa with the new model on our best ereader list for that reason).
Our only gripe with the new Elipsa 2E is that it no longer ships with a sleepcover like the older model did, meaning you're spending a little extra to ensure the redesigned Kobo Stylus 2 – which is also better than the older pen Kobo made – is stowed away securely at all times.
Read our full Kobo Elipsa 2E review
The best premium ereader
A great ereader for a luxurious reading experience
Specifications
Screen type:
E Ink Carta 1200
Battery life:
up to six weeks
Reasons to buy
+
Premium reading experience
+
Adjustable backlight
+
Writing capabilities
Reasons to avoid
-
Expensive
-
Mediocre writing features
Buy it if
✅ You want a bright screen: With an ambient light sensor on board, the Scribe's screen is hands-down the best ereader display on the market.
✅ You deal with a lot of MS Word and PDF files: You can edit both Microsoft Word files and PDFs easily, then export back to your computer.
Don't buy it if:
❌ You need a full writing suite: As lovely as the screen is to write on, the Scribe's writing features are comparatively limited.
❌ Money is tight: Getting the best reading experience possible means shelling out a decent chunk of change, especially if you throw in the optional sleepcover too.
If money is no object and you want the most luxurious reading experience a digital ebook reader can give you, then the Amazon Kindle Scribe takes over from the Kindle Oasis. That's because the Oasis is now aging, lacking the speed of the newer, larger model.
The metal body of the Kindle Scribe is reminiscent of the Oasis, but lacks the two page-turn buttons on the larger bezel, but that 10.3-inch screen is just beautiful to read on. Admittedly it's not quite as portable and can feel heavy when held in one hand, it's still marvelous to use... and write on.
Yes, like the Kobo Elipsa 2E, the Scribe ships with a stylus for writing and drawing. At launch, its writing capabilities were very limited, but Amazon has slowly but steadily been expanding its flagship ereader's features, so much so that you can actually read Microsoft Word documents on it. Signing on documents in PDF format is a breeze – just email it to your associated Kindle email address. And the stylus glides beautifully over that bright screen – it's hands-down the best writing experience according to our review. That said, we'd still recommend the Kobo Elipsa 2E as the better writing tablet.
No matter how wonderful the writing experience and how great it is to read on, the Scribe is expensive. So you could still opt for the Kindle Oasis for a premium reading experience if your main criteria is digital reading and portability, but there's no getting away from the fact that the large screen has some serious oomph.
Read our full Amazon Kindle Scribe review
The best color ereader