Editor's Note: January 2023
The ereader market has been quietly heating up this year, with new models from Kobo and Amazon, and a new trend developing in the form of 10.3-inch E Ink writing tablets. In the meantime, Amazon gave the base Kindle a major screen boost, giving the cheapest Kindle a competitive edge, while Kobo is looking into using more recycled materials in its newest models. There's also advances being made in new color E Ink screens, so we're hoping to see more ereaders adopting the Gallery 3 screen tech this year.
Sharmishta Sarkar, APAC Managing Editor, TechRadar
It might be a popular brand, but the best ereader isn't automatically a Kindle. Instead, it depends on more specific questions like where are you located and what kind of existing library you have. Love comics and graphic novels? You'll want a color ereader. Have a vast collection of EPUBs or prefer to borrow from your local library, perhaps Kobo is the way to go if you live outside the US. Well, you get the drift.
Whatever your needs are, all ereaders use similar E Ink technology, so they all display crisp text and fonts that look better on a grayscale screen (we're still waiting for color e-ink devices that pop). This screen tech also substantially increases battery life when compared to the likes of an iPad.
From there, you need to consider if you want an ereader that can take a dip in the bath or pool, such as the Kobo Libra 2 and Amazon Kindle Paperwhite, and whether you want a reader with physical page-turn buttons.
It's useful to consider what part of the world you're in too, with some services from Amazon and Kobo only accessible in select regions. Kobo has partnered with Walmart to sell devices and content in the US, but you cannot subscribe to the Kobo Plus unlimited plan if you live in the States. However, Kobo Plus is available in Australia and New Zealand, while Kindle Unlimited is available in most markets.
You also don't have to rely on paid services for ebooks either. Public libraries around the world offer ebook lending options through numerous apps and services. You just need to check with your local branch. Both Kobo and Kindle let you borrow from local libraries, but on Kindle that only works in the US.
Once you've got that far, read on and we're here to guide you through the best ereaders around. We also have suggestions for the best tablets and best Kindles, if you have a more specific idea in mind.
The best ereader for 2023
Why you can trust TechRadar Our expert reviewers spend hours testing and comparing products and services so you can choose the best for you. Find out more about how we test.
Despite newer models on the market, the Kobo Libra 2 is still the best overall ereader you can get because it offers great bang for your buck. We gave the Kobo Libra 2 full marks in our review, which should really say all you need to know, and we haven't changed our minds since testing it in 2021. It's a fantastic all-around champion that should be your first port of call when buying an ereader.
While the snappy and super responsive E Ink Carta 1200 screen is now available on several ereaders, including the next-best Amazon Kindle Paperwhite, the Libra 2 performs better than the competition. You get tons more storage as the default is 32GB here, something most other mainstream ereaders don't offer. The screen refreshes super fast, and the huge battery lasts weeks on end.
We also love the asymmetric design with the page-turn buttons. These kinds of ereaders are really comfortable to hold and use in one hand, making the likes of the Kobo Libra 2 perfect for the daily commute. And the 7-inch screen is the sweet spot in our books – not too small, not too big and perfectly portable. IPX8 waterproofing rounds up its physical characteristics.
Adding to its value-for-money outlook is the fact that, in several regions, you can borrow books from a local library that supports OverDrive, saving you the cost of having to buy new ebooks.
Kobo devices also can read more file types, including the popular ePub format that Kindle can't handle natively. And you can sideload more fonts onto a Kobo without any issues, including Amazon's fonts like Bookerly. We wish that Kobo Plus was available for all of our readers, but even without that subscription service, we think the Kobo Libra 2 is the best ereader you can buy right now.
Read our full Kobo Libra 2 review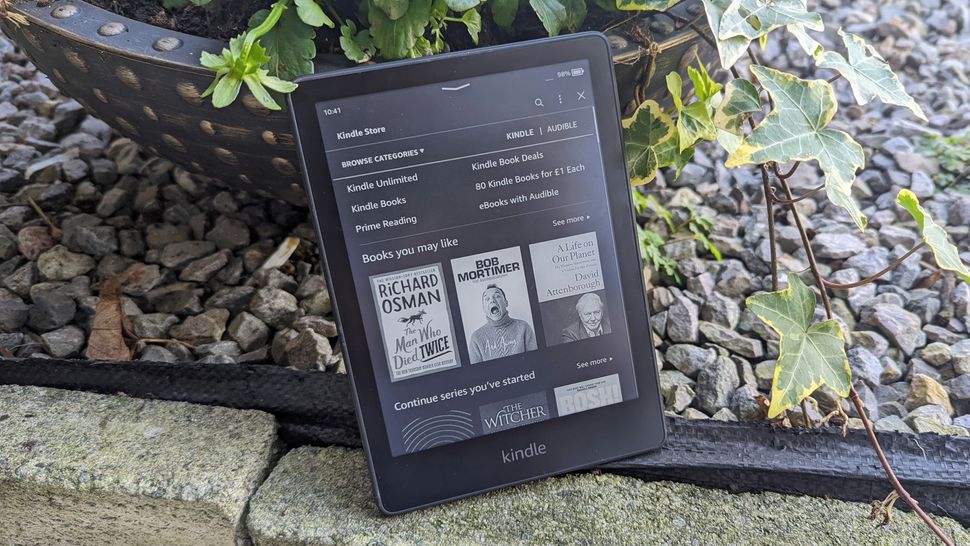 We still think the Kindle Paperwhite is the best Kindle you can buy, thanks to its water-resistant design and crisp, bright E Ink display. The Kindle 2022 is catching up fast, now with more storage than the Paperwhite, but the latter's 6.8-inch display is a great size for reading on as compared to a 6-inch tablet, keeping it at a higher spot than the latest Amazon Kindle.
We like the adjustable warm light for reading in the dark, and the slim design with a flat face is appealing and easy to read. We even think the upgrades are worthwhile for the right buyers. You can double the storage, or even quadruple it with the Paperwhite Signature Edition. The Signature also adds wireless charging, a unique ereader feature.
The Paperwhite is a little pricey for a Kindle. but perhaps a refreshed model will see more features added without the price hiking up, thus adding more value for money. Even so, the Paperwhite is an excellent ereader, and all around our second favorite pick.
Read our full Amazon Kindle Paperwhite review
It took Amazon about five years to update the base Kindle model, but what an absolutely fantastic upgrade the 2022 edition is! A different blue color than the usual black is an option and, like the Kobo Clara 2E, is partially made from recycled plastics.
Design refresh aside, the screen is way better now than the older Kindle models, with the latest E Ink Carta 1200 tech adding snappier responses, clarity and, more importantly, a 300ppi resolution (a massive jump from the older 167ppi) that really makes everything on screen pop. The display even supports a dark mode.
However, there's still no way to change light hues here, and it also misses out on any kind of waterproofing. We also found that the smooth rear panel makes the 2022 Kindle a little insecure in the hand, and you'd likely want a case to get some grip. Plus the 6-inch screen could be too small for anyone who likes the font size on the larger side, which means you're turning pages quite often. Still, the small size makes it very portable indeed.
While we think the waterproofing and the additional features of any Kobo ereader make the Clara 2E a more worthwhile option for a small-sized ereader, the Kindle is cheaper in comparison and it would be remiss of us to leave it out of this buying guide.
Read our full Amazon Kindle (2022) review
The Kobo Clara 2E gets the latest E Ink Carta 1200 screen tech, plus doubles the internal storage space to 16GB as compared to the older Clara HD. Where the predecessor had no waterproofing, the 2E carries an IPX8 rating, so you can read in the bath or the pool and not worry too much.
Interestingly, Kobo says the body is made out of recycled plastic, 85% of it to be precise, 10% of which were ocean-bound plastics.
Other updates include the now standard USB-C charging port and Bluetooth connectivity so you can listen to audiobooks (albeit only those purchased from the Kobo Store). All the other usual Kobo perks are here: adjustable light temperature, OverDrive support for library books, wide font and file support, and a very streamlined user interface that makes it easy to navigate through the device's features.
While we found the battery life a little inconsistent, it could just have been teething issues on our review device only, or easily fixable via a firmware update. Overall, though, it's a huge upgrade over the older Clara HD and worth every penny if you're after a very portable and capable ereader that isn't caught up in a closed ecosystem like Amazon's.
Read our full Kobo Clara 2E review
If money is no object and you want the most luxurious reading experience a digital ebook reader can give you, then the Amazon Kindle Scribe takes over from the Kindle Oasis. That's because the Oasis is no aging, lacking the speed and clarity of the newer, larger model.
The metal body of the Kindle Scribe is reminiscent of the Oasis, but lacks the two page-turn buttons on the larger bezel, but that 10.3-inch screen is just beautiful to read on. Admittedly it's not quite as portable and can feel heavy when held in one hand, it's still marvelous to use.
While the Kindle Scribe excels as an ereader, it falls remarkably short of being a worthwhile writing tablet. Although it ships with a stylus (there are a couple options for the pen to choose from), the templates are limited, no additional brush types are available, and there's no way to convert your handwritten notes into text for export. That said, the Kindle Scribe is the best E Ink device to write on as the stylus just glides over the screen so very smoothly. If only it had more to offer as a digital notetaker...
As just as ereader, no matter how wonderful the experience, it is expensive. So you could still opt for the Kindle Oasis for a premium reading experience, but there's no getting away from the fact that the large screen has some serious oomph.
Read our full Amazon Kindle Scribe review
The PocketBook Era is the best PocketBook yet. It looks gorgeous and far nicer than other ereaders. And although it feels heavier than other 7-inch ereaders, the weight is well-distributed. The display looks good with an additional layer on the latest E Ink Carta 1200 display also adding scratch-resistance. Low on-screen contrast is a downside but you learn to live with it and, honestly, it won't bother you for the most part.
Elsewhere, the PocketBook Era has a built-in speaker that you'll probably rarely use, although Bluetooth connectivity will let you pair a set of wireless headphones if you're listening to audiobooks (or music – yes, you can load it up with MP3 files but this takes up a lot of storage). We're big fans of its long-lasting battery life, although decent performance is mildly hampered by a clunky interface.
There are four physical buttons on this device, sitting right at the edge of the larger bezel, and they're snappy enough to work well. However, the positioning of the buttons can be a little tiring on the fingers.
Its unique chassis shape and metallic trim make PocketBook Era an attractive ereader, even if it's flawed, and it would be remiss of us to not include it here as an alternate to the likes of the Kobo Libra 2 or the Kindle Oasis.
Read our full PocketBook Era review
If you can't decide between a tablet or an ereader, the Amazon Kindle Scribe (listed above) might be a tempting option, but Kobo Elipsa wins here for a few simple reasons.
Firstly, it's easily available in several markets around the world, offers an open ecosystem with plenty of file and font support, plus the usual Kobo perks of Dropbox connectivity (to move your notes to wirelessly), OverDrive support and the baked-in Pocket app to read long-form web articles offline.
It also offers a little more value for money than other competing E Ink digital notetakers as it ships with both the stylus and the sleepcover (unlike the Kindle Scribe, where you buy the cover separately). There are more writing templates and brush types available here than on the Kindle counterpart and it works remarkably well as just an ereader too, albeit a large one.
Where it suffers is the laggy stylus response, which can be a little annoying as you're waiting a split second to see your work on screen – the lag is very noticeable. And where the Kindle Scribe has a smooth like butter writing experience, the Kobo Elipsa does feel a little scratchy in comparison. But hey, the Elipsa is a couple of years older than the Scribe, so give it some leeway.
Read our full Kobo Elipsa review
When it comes to color-screen ereaders, it's hard to recommend any particular one as they colors on all of them look rather washed out. That's not the fault of the ereader; that's just the tech. However, if you ask us, we'd pick the Onyx Boox Nova 3 Color over, say, the likes of the PocketBook InkPad Color because of its screen size and operating system.
The 7.8-inch display is a good size for comics and graphic novels, while Android 10 gives you access to the Google Play Store. So even though you don't have access to a book store on the Onyx, you can download the Kindle or Kobo app and log into your account or sign up for one. And viola, access to plenty of ebooks right there!
The Nova 3 Color also comes with a Wacom stylus, so you can make notes or doodle to your heart's content, just remember that you can't add notes to any ebooks you have saved in the 'library' tab of the device.
As good as the Nova 3 Color is as an E Ink tablet, it is expensive and not widely available, which is a real shame. So if you're keen on a color ereader, we'd suggest holding on for a while longer as E Ink, the company that makes the e-ink screens for ereaders, has a new tech called Gallery 3 which promises to offer 300ppi of resolution for colors and support about 50,000 hues. It's a much improved screen that promises saturated colors, so here's hoping we see more mainstream ereader makers (here's looking at you, Amazon and Kobo) will adopt the tech in 2023.
Read our in-depth Onyx Boox Nova 2 Color review
---
Kindle or Kobo: what is the difference?
The decision to buy a Kindle or a Kobo may be largely regional. Kobo devices are now sold through Walmart in the US, and the retail giant also sponsors the Kobo book and audiobook online store. If you want to take advantage of the great Kobo Plus subscription service, you can't do that in the US, and that diminishes the Kobo value considerably. However, in countries like Australia and Singapore, a Kobo makes a lot of sense as they're more widely available and several public libraries have adopted OverDrive support to allow users (or members) to borrow ebooks directly from their device.
Amazon Kindle tablets work globally, and the Kindle Unlimited book subscription service is available in the US, UK, Germany, France, Italy, Spain, India, China, Japan, Brazil, Mexico, Canada and Australia.
Amazon has its own store for books, and it owns Audible, an audiobook distributor that has a good subscription plan. Amazon books and Audible content only work with Kindle however. While the Kobo Store also gives you access to a plethora of ebooks and audiobooks (and Kobo Plus is available in Australia and New Zealand), titles can be a little more expensive as compared to the Kindle Store.
Kindle or Kobo: can I borrow books?
Borrowing books
Both Kindle and Kobo ereaders allow you to borrow books from your local library. At the moment, Kindle devices only support library borrowing from American libraries, so if this is your primary source of reading material, choose wisely.
Kobo devices work with the OverDrive service that lets you borrow in regions including the US, UK, Australia, New Zealand and Singapore (amongst others). If you want to own your books, the Amazon marketplace is much larger than Kobo, and has a huge self-publishing component for finding independent authors.
Kindle or Kobo: what file types can I use?
File support
If you don't plan on getting your books from the manufacturer's service, you'll want to take note of which file types are supported. Some authors will sell books independently in .epub format, and Amazon Kindle devices don't support that, though you can use a software to convert files.
Both device makers allow you to send files to your ereader. With Amazon, you can set up a Kindle email address and send files directly to your tablet. They will show up in your library. The more premium Kobos have Dropbox support to transfer files wirelessly, and the open ecosystem means there's far more file support here than on a Kindle, including the more popular .epub format.
Fonts
You'll find that the Kindles have some custom fonts designed by Amazon, with Bookerly and Ember being the most popular ones. We found that the list of fonts on Kindles is extensive enough that we didn't find the need to sideload more, but you can if you need to.
Kobo devices also have their own set of default fonts, but there's no rule against sideloading more, including Amazon's own custom ones like Bookerly. And sideloading is as easy as plugging your Kobo ereader into a computer and moving your desired font to the device's fonts folder.
Audiobooks
Both the Kobo and Kindle devices are fairly locked down when it comes to audiobooks. You need to get your audio content from the device maker directly. Once you have audio titles, all of our favorite ereaders come with Bluetooth built in, so you can listen with wireless headphones.
Kindle or Kobo: which one should I buy?
Pretty much everything else about the two platforms is competitive, including pricing, so the choice of device ultimately rests on where you live and how you plan on getting your books.
If you plan on buying books from the device maker's service, both devices are great. We like the Kobo hardware and software a bit better, but the Amazon Kindle library is much larger.
If you'd like to borrow free books from your library, the Kobo is the better choice for more regions. Kindle devices can borrow from public libraries, but that service only works in the US currently. Kobo devices can borrow in the US, Canada, UK, Australia, New Zealand, Denmark, Finland, Norway, Sweden, Taiwan, Hong Kong and Singapore.
What is the difference between an ereader and a tablet?
If you already own a tablet – whether an iPad or an Android – do you really need another device for reading digital books? An ereader has limitations, but for reading it can be far superior to a more extensible tablet.
1. E Ink technology
The main difference between an ereader and an iPad you will notice immediately. The ereader screen is almost always grayscale, using special E Ink technology that is very crisp and specialized for fonts and text. It refreshes relatively slowly that you can see it draw, and it sometimes leaves a trace (ghosting) that needs to be refreshed.
E-ink screens also don't flicker like a normal screen, making it more comfortable to read for a longer period of time.
2. Battery life
While you might hope to get a day of use out of your iPad, an ereader tablet measures battery life in weeks. Because the screen only refreshes when you turn the page, it draws very little power. Our favorite ereaders have a backlit screen, but those LED lights don't use much battery. If you read for 30 minutes a day or so, you can get a few months of battery life with our top pick devices.
3. Blue light filter
While dark mode has become quite common in recent times and many modern electronic screens automatically adjust their displays depending on ambient lighting, there's no filter to reduce blue light. The best ereaders, however, use front lights with a white to yellow hue that's better for the eyes (and your sleep pattern) as compared to phones and tablets.
4. Affordable and convenient
If you are mostly reading books, an ereader tablet is a bargain over an iPad. The base model Amazon Kindle 2022 is a bare fraction of the price of an iPad or a Samsung Galaxy Tab, while large-screen ereaders like the Kindle Scribe and Kobo Elipsa can be had for an equivalent price or for not that much more than a base model iPad (depending on where you live). If books are your main thing, stick with an ereader and save money versus a tablet.