The best Kindle is the perfect solution for enjoying those books and magazines while on the go. All Kindle rely on an E Ink display that's far better suited to reading than type of screen you'll find on your iPad or other tablets. So, they're a must for every book lover who wants to travel light and/or consume titles more sustainably, it's the way to go.
What's more, while these ereaders are purpose-built to read books on, but they actually support a number of different file types, including PDFs. So you can use them to read studies, reports, and personal documents. Select models will even let you listen to music from your Audible audiobook library.
Because the grayscale panel only refreshes when you switch pages, every Kindle's battery life can be measured in terms of weeks and months, rather than hours. Even the least expensive Kindle can last for six weeks under general use. And, thanks to books taking up very little storage space, even the paltry 8GB on the Kindle Paperwhite can hold thousands of books without a problem.
We have tested most Kindle models that has been released so we're just the experts to help you find the best Kindle for your specific needs. Each of the entries in our list below offers a sharp screen, weeks of battery life, and the best reading experience you can have on a tablet.
Before you dive into our picks, remember we haven't included any Kindle Kids or Paperwhite Kids devices. That's because they're the same Kindle devices below, but you also get a child-friendly book cover case, along with a year's subscription to Amazon Kids Plus. Kids Plus isn't the expansive library we'd hope for, but it can provide tons of extra content if you don't have a big library already.
The best Kindle 2023
Why you can trust TechRadar We spend hours testing every product or service we review, so you can be sure you're buying the best. Find out more about how we test.
Because of the way we read, the Amazon Kindle Paperwhite is the Kindle we need. We read in the bathtub, by the pool, and at the beach, among other spots. If you're going to get wet, the Kindle Paperwhite is water resistant and can even handle a little salt water. That makes it worth the price premium, though we still wish we were getting more.
Specifically, more storage. The upgraded Kindle 2022 got a storage bump that endowed it with twice the storage of the Paperwhite, and it's silly that the more expensive Kindle is saddled with only 8GB of space. That's plenty for books, but we have a huge Audible library to tote as well, and a subscription that adds titles monthly.
For reading, though, the Paperwhite can't be beat. The screen is bright and crisp, and it can shift to warm mode at night for sleepy eyes. It lasts weeks and weeks on a single charge, more than enough to leave the USB-C cord at home while on vacation. For avid readers on the go, the Kindle Paperwhite is the easy top pick.
Read the full Amazon Kindle Paperwhite review
When Amazon gave the base model Kindle an upgrade near the end of 2022, it produced what may be the best bargain-priced Kindle ever. Keep an eye on that price, too, because Amazon loves to put this ereader on sale whenever it throws a Prime Day type of party.
It used to be that settling for the base model Amazon Kindle meant you'd be staring at a display that wasn't as sharp and crisp as the best ereaders. With the Kindle 2022 upgrade, Amazon has given even bargain hunters the same crisp e ink display that you'll find on the more expensive models. You even get double the storage.
That makes the Kindle Paperwhite a very tough sell, especially for so much more money. The Kindle 2022 isn't water resistant, and the screen isn't quite as bright as the paperwhite, but if you plan on staying dry, this is a great ereader to buy at any price. It just happens to be cheap.

Read the full Amazon Kindle (2022) review
The Kindle Scribe is the only Kindle to buy if you want a gigantic screen, and the difference really is huge. Compared to even the 7-inch Kindle Oasis, the Kindle Scribe is a much larger page, allowing you to blow up text to your heart's content without leaving only a few words on the screen.
Unfortunately, the eponymous pen features on the Scribe are a bit lacking, so this is more of a giant Kindle that can take notes, and not a note taking specialist. If you're into journaling or doodling, or if you want to take notes in your electronic textbooks, the Kindle Scribe can handle the job, but we wish it worked harder.
For its big screen alone, which doesn't sacrifice sharpness to grow, we like the Kindle Scribe. It's expensive, but not as costly as an iPad or as much as pricier e ink tablets that run Android. Just like any Kindle, the battery lasts forever, it holds tons of books and audiobooks, and it's a joy to read.
Read the full Amazon Kindle Scribe review
The Kindle Paperwhite Signature addition was harder to recommend before the base model Kindle got a huge storage upgrade. Now that the cheaper ereader leaves the Kindle Paperwhite in the dust with twice the storage, the Paperwhite Signature seems like a necessary upgrade if you plan on storing a lot.
That means audio, not books, because you'll be able to fit thousands of books on a standard Kindle Paperwhite. If you listen to audiobooks or podcasts from Audible, you'll want more space, and the Paperwhite Signature Edition isn't a terrible deal for the upgrade it offers.
In addition to quadruple the storage, 32GB versus 8GB on the original Paperwhite, you also get wireless charging. If you're using Bluetooth headphones and downloading with Wi-Fi more often, you'll use up that extra long Kindle battery much faster, so wireless charging is convenient. It's not a key selling point, but it's not a bad touch.
Read the full Amazon Kindle Paperwhite Signature Edition review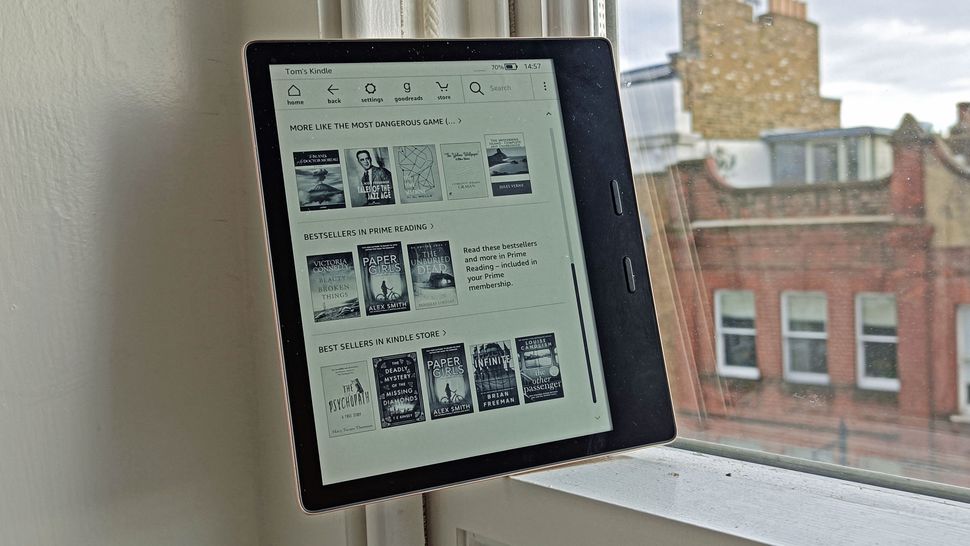 This is the luxury Kindle, the fancy model, and it isn't hard to see why Amazon needs the Kindle Oasis in the family. The other Kindle devices feel cheap in comparison. They are all plastic, while the Oasis is a premium metal shell that feels great to hold.
The Kindle Oasis used to be the only water resistant model, but now the Paperwhite is also safe in the bath or by the beach. Unless it's a very fancy beach, in which case you'll want to show off with the Oasis. It has a larger, brighter display than the other Kindle ereaders, so it will stand out.
It also has page turn buttons, which is a nice feature if your hands are wet. The design is different from other Kindle devices, with a pronounced grip on the back that makes it easier to hold. Overall, it's a premium device, and you can't get more on a Kindle unless you go for the much larger Kindle Scribe.
Read the full Amazon Kindle Oasis review
How to choose the best Kindle for you
The basic Amazon Kindle 2022 is a fine ereader, and will likely be enough for most people. It has the same sharp display as the best Kindle ereader you can find, so every Kindle excels at reading text and print.
If you like to read in the bath, or if you take your Kindle to the beach and get close to the waves, you'll want a Kindle Paperwhite. That device can get wet, even with salt water. So can the Kindle Oasis, but that's a much more expensive, premium device than most folks will need.
All Kindle ereaders can hold thousands of books, but if you plan on using your Kindle for audiobooks, you should upgrade to a model with 16GB or more storage.
How we test the best Kindles
We read. We read a lot, and we read every day. We use our Kindle devices to read books from Amazon, and we also use accounts from our local libraries to load free ebooks onto our Kindle. We also have a selection of documents and files that we use to test the clarity of the Kindle display, and the ease of transferring our own files.
We are also avid audiobook fans, and keep a subscription to Audible that feeds us new books monthly. We use our Kindle for listening to books, and occasionally for reading and listening at the same time, depending on content.
We read at all times of day, on the train, by the bed, in the bath, and wherever we find the time. We love to read, and we test our Kindle devices doing what we love.