The best portable monitors 2023
Extend your laptop's real estate with these portable displays
VERDICT
REASONS TO BUY
REASONS TO AVOID
Best Portable Monitors: Quick Menu
1. The list in brief
2. Best portable monitor overall
3. Best cheap portable monitor
4. Best gaming portable monitor
5. Best monitor for MacBooks
6. Best 4K portable monitor
7. Best touchscreen for creatives
8. Best with built-in battery
9. Best triple portable monitor
10. Best 17-inch portable monitor
11. Best OLED portable monitor
12. How to choose
13. How we test
The best portable monitors are the perfect solution for anyone who has wished for a bigger display or more screen real estate while on the go. Since regular computer monitors are far too bulky to take on the road, these slim displays are the only way to go outside of buying a larger laptop. And, even that won't offer as much extra space as this.
When considering one of these portable monitors, that grab-and-go quality that sets it apart from the best computer monitors is key. If it's too big or heavy, then that defeats the purpose. Even if you're not a road warrior but have limited desk space, it's worth using one of these displays for your workflow.
With that in mind, we've used our expertise and personal experience to narrow the various options out there to what we think are the best ways to expand your laptop's available screen space right now. That includes considering the dimensions and weight as well as resolution – after all, some people are ok with 1080p while others want a crisper 4K – and connectivity. Factors like the quality of the stand, touchscreen capability, among others are also taken into account.
Whether you're doing productivity work or graphic design, working on one of the best laptops may feel very limiting so having that extra screen can make life much easier. You can have multiple windows, tabs, and apps open without having to switch between them, allowing you to work faster and be more organized.
Since most of these portable monitors connect using just a USB cable, they're incredibly easy to integrate into your setup. And, no matter what your needs, there's something that will fit your needs whether that's a bigger screen, higher resolution, or even better color accuracy. You might even find something that can compete with the best 4K monitors.
The quick list
When it comes to the best portable monitors, finding the right one for your needs is the key. You wouldn't want to end up, after all, with a work-focused display when what you really need is a gaming one, or vice versa. That's why we gathered the best ones below for every need and even budget. While we haven't written the reviews for most of our picks, our Reviews and Buying Guides Editor has already tested quite a few of them herself, so you can rest assured that they've been tried and tested by us.
Load the next 4 products...
The best portable monitors 2023
Why you can trust TechRadar We spend hours testing every product or service we review, so you can be sure you're buying the best. Find out more about how we test.
The best portable monitor for most people
1. Asus ZenScreen OLED MQ13AH
The best portable monitor for most people
Specifications
Connectivity:
USB-C, Mini HDMI
Reasons to buy
+
Great color coverage and accuracy
+
Bright OLED screen
Reasons to avoid
-
Somewhat pricey
-
Stand is a bit of a hassle
There are many things about the Asus ZenScreen OLED MQ13AH that makes it a worthy top recommendation if you're seeking a portable monitor for productivity and casual use. It's a bit on the small side, but at least that means it's the perfect size of that 1080p resolution. And its 1.08-pound weight means that you'll hardly feel it in your backpack when traveling or commuting.
In terms of performance, you'll be hard-pressed to complain. It's got 100% DCI-P3 color gamut and a color accuracy of Delta E < 2, delivering excellent color performance. It also has a bright panel, topping at 360 nits, so you won't have to squint through your eight-hour workday – although we wish the display itself isn't so glossy and prone to annoying reflections.
The only complaint we have about its design is that its stand, which moonlights as its case, isn't the most convenient to use. Hardly a big deal, if it wasn't for the fact that it's also not the cheapest option.
The best cheap portable monitor
2. ViewSonic VA1655
The best cheap portable monitor
Specifications
Connectivity:
2x USB-C, Mini HDMI
Reasons to buy
+
Very affordable
+
Intuitive and deep OSD menu
Reasons to avoid
-
Not the most accurate colors
-
Kickstand a bit flimsy
Though a little slim on special features – it has a built-in stand, of course, and for travel purposes, it comes with its own travel case. It also has portrait mode for reading documents and coding, as well as two 0.8W speakers, but that's about it. However, if you don't really need anything fancy, it's the best one out of all the budget portable monitors you'll see on Amazon.
This 15.6-inch 1080p display is a little dim, with its brightness topping at 250 nits, but it has two USB-C ports, one of which has 60W power delivery (plus a mini HDMI). It's also very light, one of the lightest options on here, coming in at only 1.5 lbs – an advantage if you're a digital nomad on an extended trip around the world.
We're still working on testing and reviewing this display, but ViewSonic's budget monitors haven't failed us yet, and this one is also very highly reviewed by verified customers on Amazon.
The best portable monitor for gaming
3. Asus ROG Strix XG16AHPE
The best portable monitor for gaming
Specifications
Connectivity:
USB-C, Micro HDMI
Reasons to buy
+
Fast refresh rate
+
Built-in battery
Reasons to avoid
-
Limited tilt angles with included stand
-
A bit pricey
There aren't a lot of portable monitors geared towards gamers. Luckily, Asus has us covered with its line of ROG portable gaming monitors. There's a few of them worth looking at, but if you want the best, we suggest going for the Asus ROG Strix XG16AHPE, which we've gamed on ourselves (although we are still working on a review for it).
This 15.6-inch version comes with a versatile built-in kickstand that gives users the option to switch from landscape to portrait mode, which comes in handy if you're also a coder. Though only a 1080p panel, it does come with a 144Hz refresh rate, which makes it ideal for fast-paced titles, as well as Nvidia G-Sync support.
There is a built-in battery, which also makes this a worthy proposition if that's important to you, but it's small and only gives you up to two hours of use (less if you're gaming). There are speakers built-in as well, though you'd want to rely on a gaming headset instead.
The best portable monitor for MacBooks
4. LG Gram +view 16MR70
The best portable monitor for MacBooks
Reasons to buy
+
Light for the size
+
Great color coverage
Reasons to avoid
-
No OSD Menu
-
Only USB-C connectivity
If you're a MacBook user who is a photographer, videographer, or graphic designer by trade, we recommend checking out our best portable monitor for creatives suggestion further down this list. However, if you're more of a business or productivity power user needing to extend your MacBook's display, then the LG Gram +view 16MR70 is the ideal choice.
The LG Gram line is known for its super-lightweight nature, and you can expect the same from this portable monitor, sitting at only 1.45 pounds for a 16-inch display. It's, in fact, lighter than many of the smaller options on this list. Naturally, it works beautifully with the MacBooks, especially with its two USB-C ports. And while its color accuracy isn't anything to write home about, it does offer DCI-P3 99% color gamut, which is a nice concession.
While we have yet to get our hands on this display for a proper review, which we plan on doing soon, it's been positively received by Amazon customers. It's currently enjoying a 3.4 out of 5 rating, with some reviewers declaring it an impressive portable monitor despite its minor flaws.
The best 4K portable monitor
5. UPerfect True 4K
The best 4K portable monitor
Specifications
Connectivity:
2x USB-C, Mini HDMI
Reasons to buy
+
4K resolution!
+
Lots of ports
Reasons to avoid
-
Limited orientation with stand
-
Doesn't save brightness settings
What makes the UPerfect Tru 4K portable monitor such a must for those seeking 4K in a portable package is its blinding 600 nits of brightness to go along with that UHD resolution. While the HDR support is not Vesa-certified, its 1500:1 and 100% Adobe RGB more than make up for it, providing a vibrant and dynamic image.
If only you didn't have to reset the brightness every time the screen is manually powered off. It's a minor quibble, but considering how much power this screen takes – you'll need somewhat powerful hardware to make use of that higher resolution – and the fact that your laptop is as likely to be on battery power than not, it is worth noting.
The other minor issue is its cover, which also functions as its stand. As a cover, it's fine. But, as a stand, it can sometimes be a little flimsy, a regular issue with portable monitors. That said, at least there are more than enough ports on hand.
The best touchscreen monitor for creatives
6. Asus ProArt Display PA148CTV
The best touchscreen portable monitor for creatives
Specifications
Connectivity:
2x USB-C, Micro HDMI
Reasons to buy
+
Excellent color accuracy
+
Touchscreen functionality
Reasons to avoid
-
Contrast ratio a disappointment
-
No battery
Content creators who often travel for work don't always have the convenience of having access to a screen real estate big enough for a comfortable creative workflow. Luckily, some manufacturers have seen to it that they too have options in the portable monitor scene, and the Asus ProArt Display PA148CTV may be the best one we've seen and tested.
Though we haven't done the review on it just yet, one of our Computing editors has had a proper hands-on experience with the monitor, and it truly delivers in color coverage and color accuracy. With 100% sRGB and 100% Rec. 709 color gamut, as well as Calman verified color accuracy, this is truly better for video and photo editing than all others on this list. That's without mentioning its other features that simplify your workflow.
First is its touchscreen capability, which allows you to make adjustments to your work directly onto the screen. Then there's the built-in integrated dial you'll find in the rear of the monitor. It works seamlessly with several Adobe editing software, allowing you to fine-tune your work while minimizing your use of the trackpad or mouse.
The best portable monitor with built-in battery
7. Asus ZenScreen Go MB16AP
The best portable monitor with built-in battery
Reasons to buy
+
Built-in battery
+
Large feature set
You might not feel comfortable with spending quite the asking price of the Asus ZenScreen Go MB16AP since it is pretty pricey. However, that's probably the biggest strike against it. Outside of that and the fact that it is a bit on the chunky side, there's much more to love than not.
While we haven't reviewed it here at TechRadar just yet, one of our Computing editors has already put this display through its paces, and it truly does deserve to be on every top portable monitors list. To start, it comes with a built-in battery that can last up to three and a half hours on a single charge. That alone is pretty impressive. But, it also comes with wireless connectivity, though it only functions through screen mirroring.
As far as the panel itself goes, it's not right for any serious photo or video editing but good for productivity work with a 1080p resolution and bright enough 220 nits. Colors look good for most regular work as well as streaming. But, the star of the show here is not the screen but the features, especially the battery, making this perfect for the digital nomad who needs extra screen real estate.
The best triple portable monitor for laptops
8. Oiiwak Triple
The best triple portable monitor for laptops
Specifications
Connectivity:
2x USB-C, HDMI per screen
Brightness:
400 nits (max)
Reasons to buy
+
Double the extra screen real-estate
+
Premium build quality
Reasons to avoid
-
Expensive
-
Port locations could be an issue for some
Sometimes double the screen real estate is not enough, and that's where the Oiiwak Triple portable monitor comes in. The name is confusing, as it doesn't actually have three screens – it just gives you two more for that triple-display setup. Offering two 14-inch 16:10 screens attached to an aluminum alloy tray, it is the perfect companion to anyone who just can't get enough space for their digital workflow.
It does come at a price as you would expect when there are twice as many panels as usual. And the port locations aren't ideal if your laptop has all its own ports on one side. After all, you have to connect each screen separately. This, however, does mean that you can use one screen for one device and the other for another.
We are still in the process of testing and reviewing it, but we already feel confident enough in its capabilities to add it to this list. Since this is a hefty portable monitor compared to the others, that aluminum alloy tray, made for 13 to 16-inch laptops – it's stretchable – and its kickstand are sturdy as rock, fixing one of the issues many other portable monitors have.
The best 17-inch portable monitor
9. Intehill 4K
The best 17-inch portable monitor
Specifications
Connectivity:
USB-C, DisplayPort 1.4 Mini, HDMI
Reasons to buy
+
4K natural resolution
+
USB-C, HDMI and DP
Reasons to avoid
-
Backlighting somewhat center-focused
-
Heavy
This 17.3-inch 4K model from Intehill is a bit of a unicorn as there just aren't a lot of portable monitors at this size with this resolution. Thankfully, it's also a good looking one. Just be aware that you'll have to spend a hefty sum for this larger display as well as buy a PSU separately, that is unless you have a Thunderbolt port which can fully power it.
While we found its backlighting to be somewhat center-focused during our testing, the color coverage is good for most with 100% Adobe RGB and 93% DCI-P3. HDR is on offer as well though its 400 nits is not quite bright enough for strong results – not to mention that it didn't quite hit its advertised peak brightness when tested.
Back on the plus side, there's plenty of connectivity on hand with the ability to use either USB-C, mini-DisplayPort, or a full-fledged HDMI port. The Intehill 17.3-inch Portable 4K monitor also comes with Vesa mounts as well as a smart case that doubles as a stand.
The best affordable OLED portable monitor
10. Innocn 15A1F
The best affordable OLED portable monitor
Specifications
Connectivity:
2x USB-C, Mini HDMI
Reasons to buy
+
Magnetic support arm
+
OLED display with contrast
Reasons to avoid
-
Not bright enough for HDR
-
Doesn't come with a cover or case
Graphic designers and videographers may want to look elsewhere. But, for everyone else interested in a portable OLED monitor and on a budget, the Innocn 15A1F should be in the running.
That might seem strange considering that the colors here are pretty spectacular. When tested, we found the monitor to have a fairly wide color gamut to the tune of 176.3% sRGB and 124.9% of DCI P3. Plus, OLED panels offer a very consistent image across all sections. All this makes for a vivid display. However, it is held back for professional work somewhat by its 1080p resolution at 15.6 inches. And, it doesn't quite have the brightness to fully take advantage of true HDR. That said, it still looks great.
And, while it doesn't come with a carrying case – you'll have to get one separately to keep the monitor from getting scratched up – it is well built and comes with a magnetically attached support foot that solves the problem that we find with a lot of portable screens by keeping it steady on its feet. We also appreciated the inclusion of both USB-C and Mini HDMI connectivity.
How to choose the best portable monitor for you
Choosing portable monitor hinges on your use case and to what device you are connecting. The very concept of a portable monitor makes the most sense with a USB-C-equipped laptop.
That's the most reliable way to connect a portable monitor and ensures both compatibility and plenty of bandwidth for any resolution a portable monitor is likely to offer. That said, many mobile screens also support old-school USB-A connectivity. Just be aware that it will require software and drivers, which could present a problem depending on your device to drive the display.
For most mainstream Windows PCs, that should be fine. For everything else, it could be more problematic. Running over USB-A can also limit resolution and color fidelity due to lower bandwidth. That said, some portable monitors support micro HDMI and even VGA.
Speaking of bandwidth and resolution, most portable monitors are 15.6-inch panels with a 1080p resolution of 1,920 by 1,080 pixels. But more compact models with 11-inch screens are available.
Battery or no battery is another critical question. You can get portable screens both with and without. Screens without a battery are cheaper and lighter. However, if you're using a mobile screen away from the mains, they will drain your laptop's battery pretty fast.
The final significant factor is brightness. If you plan to use your portable display outside, you want as much of that as humanly possible. Most are limited, only topping out at a little over 200 nits. Aim for the brightest you can get while considering that more glowing screens will use up even more battery when powered by your laptop.
How we tested these portable monitors
We've tested various monitors to arrive at the best portable monitors for you. We evaluated the monitors across many aspects, starting with how premium the design and build felt, how lightweight the monitor was, the screen size, and whether it offered full HD or 4K resolution.
We considered how many types of connections (USB-C, USB-A, VGA, etc.) the monitors supported and the number of connectivity ports they had. We looked at the display brightness and the viewing angle width.
Importantly, we assessed how minimal the latency was and how good the display looked, in terms of the color accuracy and saturation. We also analyzed how ergonomic the monitor stand/cover was and what type of user the monitor would be best suited for.
Best for creatives
6. Asus ProArt Display PA148CTV
Best touchscreen monitor for creatives
Its 100% sRGB, 100% Rec. 709 color gamut, and high color accuracy make this a great touchscreen monitor for creatives.
Sign up to receive daily breaking news, reviews, opinion, analysis, deals and more from the world of tech.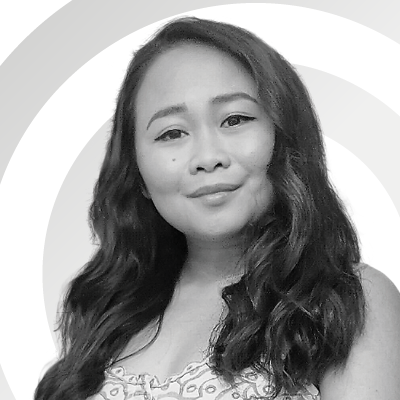 Computing Reviews and Buying Guides Editor
Michelle Rae Uy is the Computing Reviews and Buying Guides Editor here at TechRadar. She's a Los Angeles-based tech, travel and lifestyle writer covering a wide range of topics, from computing to the latest in green commutes to the best hiking trails. She's an ambivert who enjoys communing with nature and traveling for months at a time just as much as watching movies and playing sim games at home. That also means that she has a lot more avenues to explore in terms of understanding how tech can improve the different aspects of our lives.