If you're short on space but big on demand for extra screens, it may be worth considering investing in a portable monitor. There are some really good ones around, and they don't have to cost an enormous amount of money.
For those who have complicated workflows when doing productivity work or graphic design, having that extra screen can really help organize it. You can keep all your apps and tabs visible at the same time and don't have to go scrolling to find what you're working on. And, they're incredibly easy to set up since most portable monitors connect using just one USB cable. They come in a few different resolutions and sizes as well, so no matter your needs, you'll find something that works, even if you want one that can go head-to-head with the best 4K monitors.
These displays are much slimmer and lighter than traditional computer monitors. And, because they're that much more portable, some can even be attached directly to the back of your laptop to flip open when you need them.
To narrow the list of portable monitors, we compared them across numerous aspects, like their size, weight, display type (1080p or 4K), and connectivity options (USB-C, USB-A, VGA, micro HDMI, etc.). We also looked at their latency, design, and stand, and checked for touchscreen functionality, among other features.
Whatever you need a second screen for, we've gathered our top picks here to help you find the one that's most appropriate for you. And, if you're in the market for a more traditional solution, check out the best monitor deals to find the best prices.
---
The best portable monitors of 2022 in full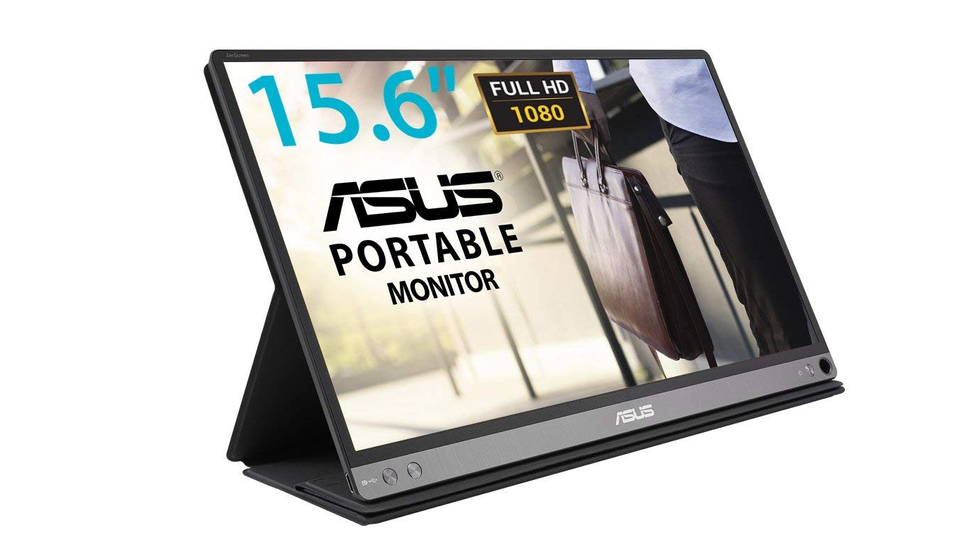 The Asus ZenScreen MB16A Portable Monitor is one of the nicest-looking USB monitors we have seen, and it comes with several features and design considerations that make it an incredibly handy device and one of the best portable monitors.
However, it is heavy on the wallet, with the ZenScreen proving more expensive than many other portable monitors on this list. Nonetheless, the build and image quality of this screen makes it well worth the extra money. Fans of Asus' ZenBook laptops should be particularly interested in this device, as it has a design that compliments Asus' high-end laptops nicely.
The monitor is slightly larger than an iPad Pro, but it weighs only 800g and is super comfortable to carry around.
Read our full Asus ZenScreen MB16AC Portable Monitor review.
The Intehill 4K portable monitor is a well-constructed monitor with a plethora of ports. However, there is no PSU in the box - as shocking as that may be.
While it lacks a kickstand, the magnetic support and cover almost make up for it, making this monitor usable as is, without necessarily needing an added accessory.
This 17.3" screen boasts a 4K resolution and features accurate IPS hardware.
To power this display (if not running via a single Thunderbolt) a 30-45W USB-C charger will need to be sourced, but once that is taken care of, this monitor is fairly easy to work with.
The I1601P portable monitor from AOC is a fantastic little kit, especially for someone looking to equip themselves for the new world of hybrid working.
This monitor is extremely slim and light and fits snugly into a laptop case or backpack sleeve. We also love the stand, which attaches to the front and back of the screen with magnets that anchor the I1601P in place - and it doubles as a screen cover.
The 15.6-inch full HD IPS display is extremely easy on the eye, which means long working sessions don't result in undue strain, despite the relatively small screen size. And the display boasts an impressively wide viewing angle, too so that it can function well even on a crowded office desk.
AOC has prioritized portability and ease of use above all else, and the result is a display that anyone can set up and start using in a matter of seconds; it's a case of plugging in a single cable, and off you go.
Read our full AOC I1601P portable monitor review.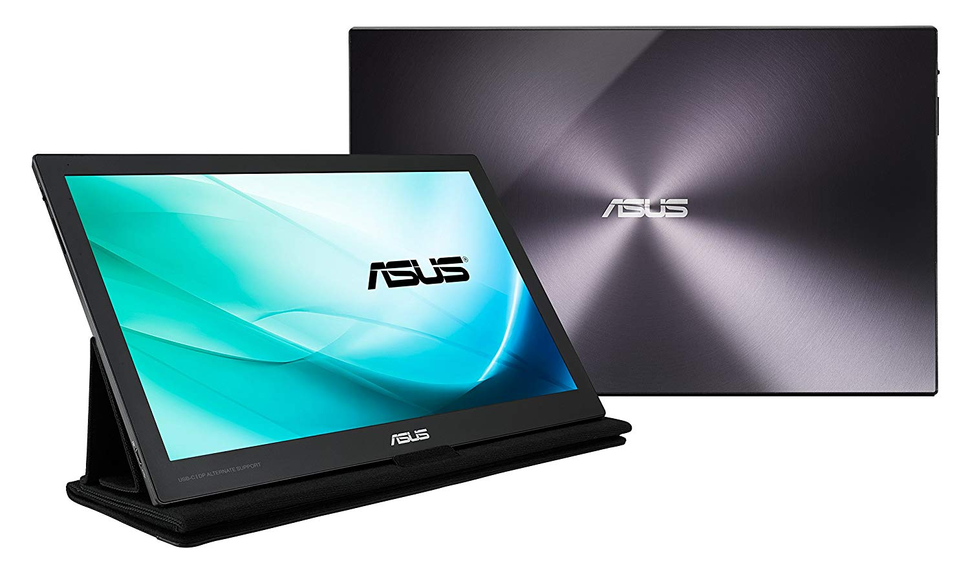 The Asus MB169C+ is not quite as portable as Packed Pixels, but its 15.6-inch size makes using it feel more like using a regular monitor. It has a healthy pixel resolution of 1,920 x 1,080, perfect for streaming full HD video, working with two applications side-by-side, and even gaming if you have a sufficiently powerful laptop.
The MB169C+ is incredibly simple thanks to its USB-C connection, which uses a single cable to transmit video, sound, and power. It also comes in a handy protective sleeve that doubles up as a carrying case. Although Asus' portable monitor is a little dimmer, it uses in-plane switching (IPS) display, which brings decent viewing angles, making it perfect for watching videos with a friend.
Read our full Asus MB169C+ portable monitor review.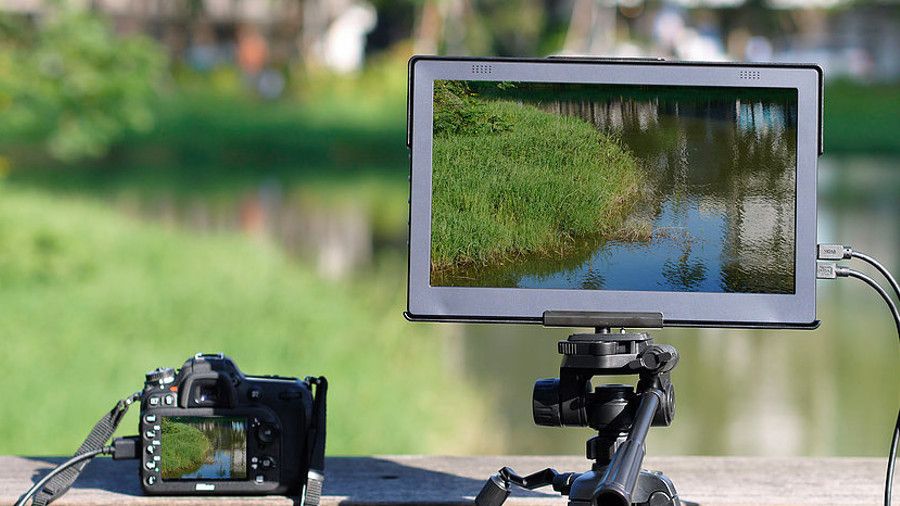 Aimed at photographers who need a monitor to take on shoots, the Gechic 1101P features an IPS display like the Asus MB169C+. However, this one is smaller at 11.6 inches and more portable, allowing it to be easily attached to a tripod or SLR camera while out in the field.
This full HD display supports 16.7 million colors which can easily be tweaked using the monitor's onboard color temperature settings, allowing you to get it as close to your camera's display as possible.
Compared to the other portable monitors on this list, the 1101P has a bland design, but it's well-connected and features support for VGA, micro HDMI, and mini DisplayPort. These make it suitable for several different use cases – from previewing photos and videos shot on a camera to being used as a normal portable monitor with your laptop.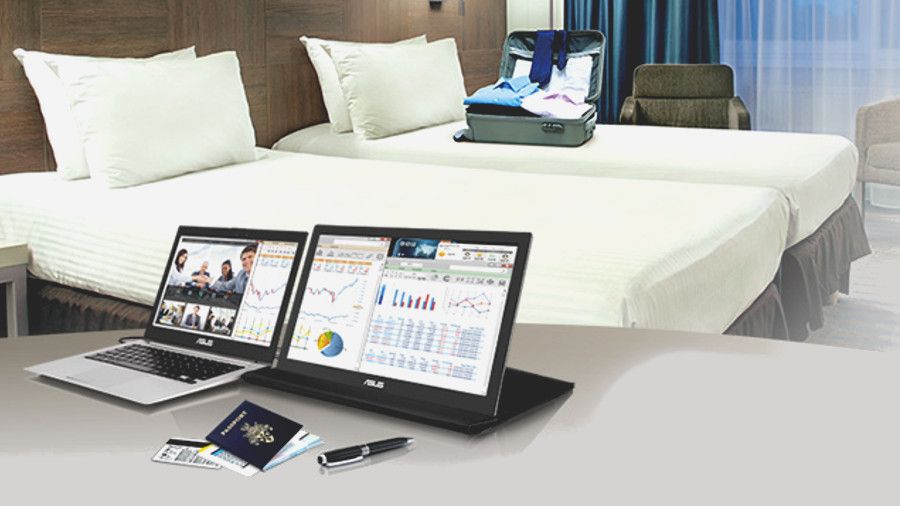 If you like the sound of the Asus MB169C+ but do not have a laptop with a USB-C connection, then the Asus MB169B+ could be one of the best portable monitors for you.
This one also connects to your laptop with a single cable, except it uses a regular USB-A port. It works with USB 2.0 and USB 3.0, though you will experience noticeably more latency with the former due to its slower data transfer rate.
Still, it features the same alluring slim, and lightweight design. It weighs just 800g, so it is quite comfortable to carry around. And thanks to Asus EzLink tech, which offloads the graphics processing from the PC to dedicated hardware in the monitor, you can even hook up five of them if your laptop has enough USB ports.
Digital nomads and traveling creatives will have more than enough pixels and features to work from anywhere with this 4K OLED touchscreen portable monitor. InnoCN has opted for a 4K OLED display so content creators can have a true-to-life color with low latency, six digits contrast ratio, and the deepest blacks possible while on the go. At the same time, the device's integrated battery is capable of powering smartphones and tablets.
Unlike some portable monitors on this list, the InnoCN Pu15-PRE comes at a premium. However, its 15.6-inch panel, aluminum frame, and three-year warranty help justify its cost. The included TPU sleeve protects this portable monitor while in transit and also doubles as a stand, but it does make the monitor a bit heavy.
Read our full InnoCN PU15-PRE 15.6-inch 4K OLED touchscreen portable monitor review.
Also check out the best full-sized monitors.
---
How to choose a portable monitor for you
When choosing a portable monitor, it all hinges on your use case and to what device you are connecting. The very concept of a portable monitor makes most sense with a USB-C equipped laptop.
That's the most reliable way to connect a portable monitor and ensures both compatibility and plenty of bandwidth for any resolution a portable monitor is likely to offer. That said, many portable screens also support old-school USB-A connectivity. Just be aware that will require software and drivers, which could present a problem depending on the device you are using to drive the display.
For most mainstream Windows PCs, that should be fine. For everything else, it could be more problematic. Running over USB-A can also limit resolution and colour fidelity due to lower bandwidth. That said, some portable monitors support micro HDMI and even VGA.
Speaking of bandwidth and resolution, most portable monitors are 15.6-inch panels with 1080p resolution of 1,920 by 1,080 pixels. But more compact models with 11-inch screens are available.
Battery or no battery is another key question. You can get portable screens both with and without. Screens without a battery are cheaper and lighter. However, if you're using a portable screen away from the mains, they will drain your laptop's battery pretty fast.
The final really important factor is brightness. If you are planning on using your portable display outside, you want as much of that as humanly possible. Most are quite limited in that regard, only topping out at a little over 200 nits. Aim for the brightest you can get while taking into account that brighter screens will use up even more battery when powered by your laptop.
The best portable monitors: How we test
We've tested various monitors to arrive at the best portable monitors for you. We evaluated the monitors across many aspects, starting with how premium the design and build felt, how lightweight the monitor was, the screen size, and whether it offered full HD or 4K resolution.
We considered how many types of connections (USB-C, USB-A, VGA, etc.) the monitors supported and the number of connectivity ports they had. We looked at the display brightness and the viewing angle width.
Importantly, we assessed how minimal the latency was and how good the display looked, in terms of the color accuracy and saturation. We also analyzed how ergonomic the monitor stand/cover was and what type of user the monitor would be best suited for.