EDITOR'S NOTE: February 2023
This month we have looked at our top-rated monitors and have determined those best for MacBook Pros.
While many monitors will 'work' when plugged into a MacBook Pro, getting a video signal is only half the story as you will be sitting in front of it for hours, so you need to take ergonomics and ease of use into account as well. For instance, models featuring a built-in USB or Thunderbolt hub cut the clutter on your desk and streamline your workflow without distractions.

-Collin Probst, B2B Hardware Editor
The Apple MacBook Pro has a great display. Still, a multi-screen configuration is necessary for some tasks, which is why we brought together the best monitors for Apple's M1-powered mobile workstation. Before impulse buying, you need to take into account the issue of screen size and image quality. The latter is especially important if you use your MacBook Pro for photo editing or video editing on a second display. That leaves FHD and QHD cheap monitors out of the equation, as you want something as close as possible to the MacBook Pro´s superb Liquid Retina XDR screen.
The new breed of USB-C monitors offers more than just a USB-C port to connect to. USB-C connectivity delivers faster transfer speeds and is capable of transferring video, data, and power all at the same time with a single cord. Apple's new M1 Max and M1 Pro processors increase the number of external displays you can connect to a MacBook Pro up to four versus one on the previous generation. USB-C brings in many other benefits, like hubs for expansion, and its smaller, reversible connector is more portable and much easier to use than with older cables.
Without much ado, please find the models we consider the best monitors for the Apple MacBook Pro. With Cyber Monday deals live now, you'll find some at a discount.
The best monitors for MacBook Pro 2023
Why you can trust TechRadar Our expert reviewers spend hours testing and comparing products and services so you can choose the best for you. Find out more about how we test.
This Dell monitor has the perfect size for an office desk (opens in new tab), measuring 27 inches. The colors look great out of the box, and the display is bright enough for most types of work. It allows adjusting its display height, swivel, pivot, and tilt for the ultimate comfort and ergonomics.
When it comes to image reproduction, the results are excellent thanks to its SDR 30-bit mode. Each pixel can be constructed from more than one billion shades of color. Designers may wish to calibrate it to improve graphics work results, but suffice that its panel covers +99% of sRGB and +95% of DCI-P3.
It has ample connectivity options: two USB-C ports (one downstream, one upstream), three USB-A connectors for plugging peripherals, one DisplayPort, and one HDMI port. Using it via USB-C, it can power your MacBook Pro and display its video with just one cord. Although more advanced monitors are available, for most MacBook Pro users, this one from Dell is the better choice. Dell´s trademark three-year warranty is just the icing on the cake.

Multitasking is easy with this 34-inch ultrawide monitor from LG. Its 5K resolution lets you view multiple apps on your screen simultaneously without hindering functionality, like a full-size 4K video, plus an ample 5:9 work area at the side. It is a good monitor for most uses and has wide viewing angles making it suited for office collaboration.
It has a good build quality, with the excellent addition of a plastic strap at the pole to help with cable management. Its ergonomic adjustment options are a tilt and limited height, without swivel. Luckily, its VESA mounts extend this further.
Technically, it sports a 5120x2160 pixels resolution, a 33% larger screen than 4K monitors. This is what some call "5K2K" -5000 horizontal pixels and 2000 vertical pixels-, while others dub it "WUHD" for Wide Ultra HD, or - to complicate matters - "2160p". Its only drawback: its refresh rate is fixed at 60 Hz, and you can't fiddle with it.
At the back, it offers an excellent selection of ports: One USB-C Thunderbolt 3 port with 85W of power delivery and DisplayPort Alt Mode, one DisplayPort 1.4, and two HDMI ports (limited to 3440x1440 due to HDMI being v2.0).
Many PowerMac users complain that if you set the resolution over 1440p, "everything is too small even to see." This Mac OS limitation can be fixed by installing a clever piece of open-source software (opens in new tab). LG provides a three-year warranty on parts and labor, which is very convenient due to its price.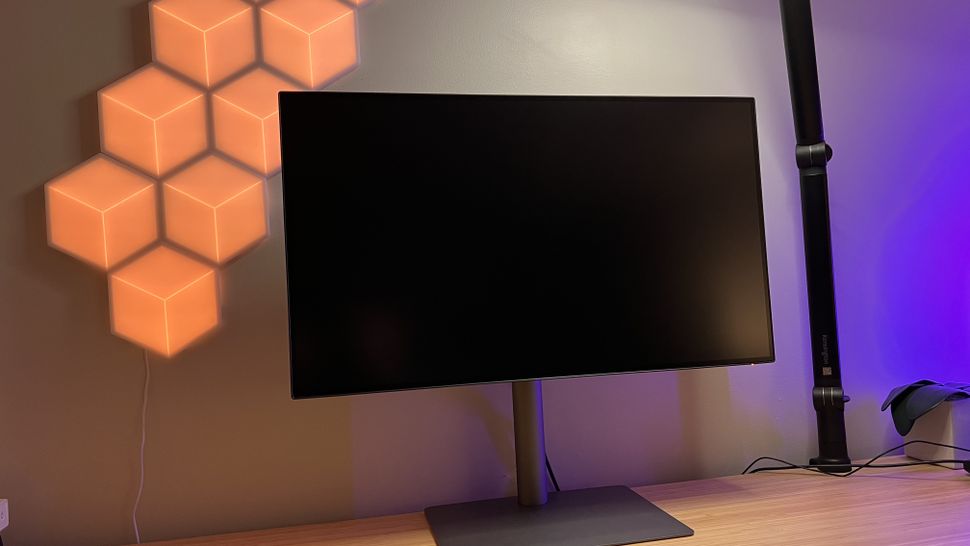 The BenQ PD3220U is a top pick for Macbook Pro users in need of a high-quality display. It offers a 32-inch 4K resolution display with a 60Hz refresh rate, making it perfect for multitasking and professional-grade photo and video editing. The monitor also features 100% coverage of the Adobe RGB color space, providing accurate color representation for creative work. In addition, the BenQ PD3220U has a USB-C port for easy connectivity with your Macbook Pro, as well as a built-in KVM switch that allows you to easily switch between multiple devices. The monitor also comes equipped with a range of connectivity options, including HDMI, DisplayPort, and mini DisplayPort, giving you the flexibility to connect to a variety of devices.
One of the standout features of the BenQ PD3220U is its support for HDR content. The monitor is compatible with HDR10, allowing you to experience high dynamic range content in all its glory. The display also boasts a high contrast ratio, resulting in deep blacks and vibrant colors that really pop.
Another notable feature of the BenQ PD3220U is its ergonomic design. The monitor is height adjustable, allowing you to find the most comfortable viewing position. It also has a pivot function, allowing you to switch between landscape and portrait orientation depending on your needs. The monitor is also VESA mount compatible, so you can easily attach it to a wall or monitor stand.
Overall, the BenQ PD3220U is a top choice for Macbook Pro users looking for a feature-packed and reliable display. Its 4K resolution, wide color gamut, and support for HDR content make it ideal for creative professionals, while its ergonomic design and connectivity options make it suitable for a variety of use cases.

Read the full review of the BenQ PD3220U 4K UHD Monitor

The Apple Studio Display is a monitor designed for creative professionals, specifically those already invested in the Apple ecosystem. It has a 27-inch 5K resolution display with a pixel density of 218 PPI and supports one billion colors, making it a great choice for tasks such as photo and video editing. It also features a P3 wide color gamut and 600 nits of brightness. The monitor has a sleek design and is available with a tilt-adjustable stand or a VESA mount adapter, although the stand does not have height adjustability unless you pay an additional $400. The display is also compatible with Apple's True Tone technology, which adjusts the white balance to match ambient lighting conditions, although this feature can be turned off for professionals who require high color accuracy. The screen is reflective, but upgrading to the nano-texture screen can minimize reflections. The Apple Studio Display is expensive, starting at $1,599, and may not be suitable for those outside of its target market of creative professionals.

Your MacBook Pro will look like part of the same family next to this Asus monitor due to its modern, space-age-inspired design. With a bezel only 0.1cm thick at the top and bottom, it is beautiful to look at and very thin. Its firm sundial base allows tilting it smoothly. However, this design means your options for ergonomic adjustment are limited.
Packed with an IPS panel with a contrast ratio of 100,000,000:1 that renders colors beautifully, covering 100% of the sRGB color space, video creators and graphic designers will love its deep blacks, bright whites, and highly accurate colors, along with its 178-degree wide viewing angle. Extended work sessions won't hurt your eyes thanks to its blue light filtering and anti-flicker design.
At the back, it features every port you might need: one Displayport 1.2, one HDMI 2.0 port, and a USB-C port that delivers DP over USB C for 4K. With a single cord connected to the MacBook Pro, you will enjoy 4K video and data transfer to the USB 3.1 ports in the back. This monitor features impressive speakers eliminating the need for external speakers and the associated extra desk clutter. This monitor comes with a 3-year warranty and an affordable price, making it our winner for thinner wallets.
---
How we choose the best MacBook Pro monitor
When selecting the best monitors for the MacBook Pro, we prioritized displays with USB-C connectivity and a minimum resolution of 4K. This ensures compatibility with the laptop's USB-C ports and provides the high resolution necessary for modern software and user productivity. We also avoided full HD and Quad-HD monitors, as their lower resolutions are insufficient for today's needs.
Frequently Asked Questions
What is the minimum resolution for the best monitors for MacBook Pro?
We recommend looking for monitors with a minimum resolution of 4K, as this is currently the gold standard for high-quality display.

Are there any specific connectivity options that I should look for in a monitor for my MacBook Pro?
USB-C connectivity is a great option to look for in a monitor for your MacBook Pro, as it allows for easy connectivity with the laptop.

Is it worth it to splurge on an expensive monitor for my MacBook Pro?
It ultimately depends on your needs and budget. If you are a professional who relies on accurate color representation and high resolution for tasks such as photo and video editing, investing in a high-quality monitor may be worth it. However, if you are a casual user, you may be able to find a more budget-friendly option that still meets your needs.

Are there any monitors that are specifically designed for use with the MacBook Pro?
Some monitors, such as the Apple Studio Display, are designed specifically for use with Apple devices and may offer features such as compatibility with Apple's proprietary technologies. However, there are also many high-quality monitors from other brands that are compatible with the MacBook Pro.

Can I use a monitor with my MacBook Pro even if it is not specifically designed for use with Apple products?
Yes, you can use a monitor with your MacBook Pro even if it is not specifically designed for use with Apple products. Just be sure to check that the monitor has the necessary connectivity options (such as USB-C, HDMI, or DisplayPort) and that it is compatible with your MacBook Pro's operating system.