Best laptops for programming in 2023
Best
Contributions from
last updated
Find the best laptop for programming at home, in the office, and on the go
VERDICT
REASONS TO BUY
REASONS TO AVOID
The best laptop for programming is focused on high-performance, pure comfort, and total portability - whether you're a programmer working at home, in the office, or on the move.
Best laptop for programming: Quick menu
1. The quick list
2. Best overall
3. Best for Windows
4. Best Surface
5. Best portable
6. Best large screen
7. Best workstation
8. Best Chromebook
9. FAQs
If you're running and testing code, you need enough performance so your workflow isn't at the mercy of your laptop's limitations. Like any of the best business laptops, if you're on the hunt for a top programming laptop, you'll want a fast processor and RAM that won't lag when you're working multiple projects. A high-capacity SSD is also essential, so you don't have to wait too long to load projects and files.
To help you find the right machine, we've gone hands-on with the best laptops for programming. Each device has been put through our comprehensive testing process, detailing both benchmark test results and our real world experiences.
As part of this process, we've compared all the important specs like CPU, GPU, display, and storage. But we've gone much further, evaluating battery life, security features, portability, and overall design - so whether you're working from home, the office, or on-the-move, these programming laptops will last. Our round-up includes a broad range of MacBooks, Chromebooks, and Windows laptops for programming on your preferred platform.
Quick list
Best Chromebook
7. HP Elite Dragonfly Chromebook
For an enterprise-level Chromebook for programming, you can't go wrong with the HP Dragonfly. It features extra security features, impressive power, and there's even a 5G configuration.
Best laptop for programming overall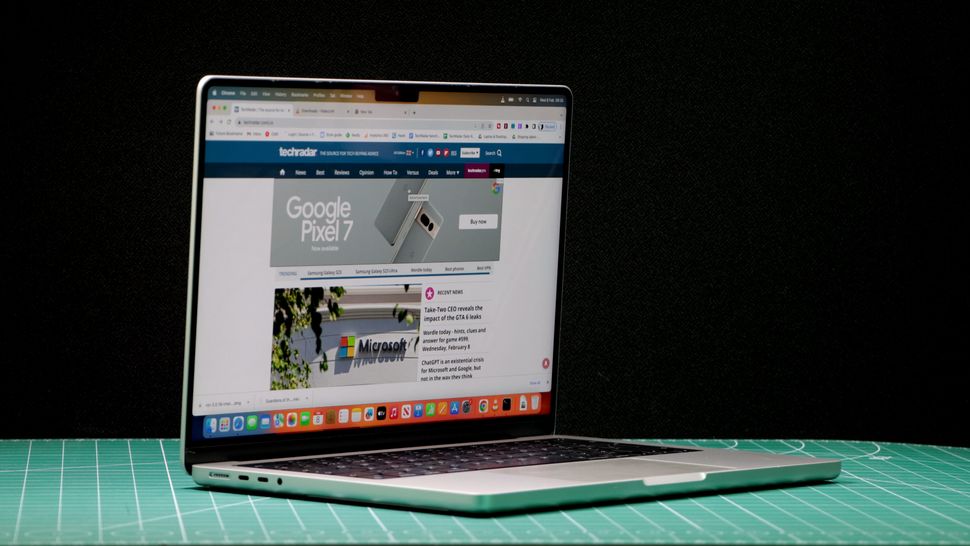 The top choice
Specifications
CPU:
Apple M2 Pro 10-core – M2 Max 12-core
Graphics:
Integrated 16-core – 30-core GPU
Screen:
14.2-inch Liquid Retina XDR display
Reasons to buy
+
New M2 Pro and M2 Max chips
+
Almost 20-hour battery life
+
The best screen on a laptop
Reasons to avoid
-
Screen may be a bit small for some
-
Expensive
The MacBook Pro 14-inch (2023) is brilliant for creative workflows but also terrific for programming. Taking the MacBook Pro to the ultimate level, this M2 Pro- or M2 Max-powered laptop blows the rest away with breathtaking power, an equally breathtaking battery life, and an XDR display with 1600 nits of peak brightness. The SD card slot, an HDMI port, and three Thunderbolt 4 ports help ensure you have all the necessary peripherals.
The MacBook Pro 14-inch (2023) is an incredibly powerful laptop with exceptional battery life. Along with a stunning screen, excellent speakers, and a built-in microphone, this is a workstation you don't need to plug anything else into.
The boosted specs of the MacBook Pro 14-inch (2023) make this an awesome laptop, and after falling behind, Apple's back is on top when it comes to display, with the screen of the 14-inch MacBook Pro being the best you'll find on a laptop right now.
However, the MacBook Pro 14-inch is likely overkill for many people. If you're not chucking complex workloads at it, the MacBook Air (M1 or M2) remains your best laptop.
Read our full MacBook Pro 14-inch (2023) review
Best for Windows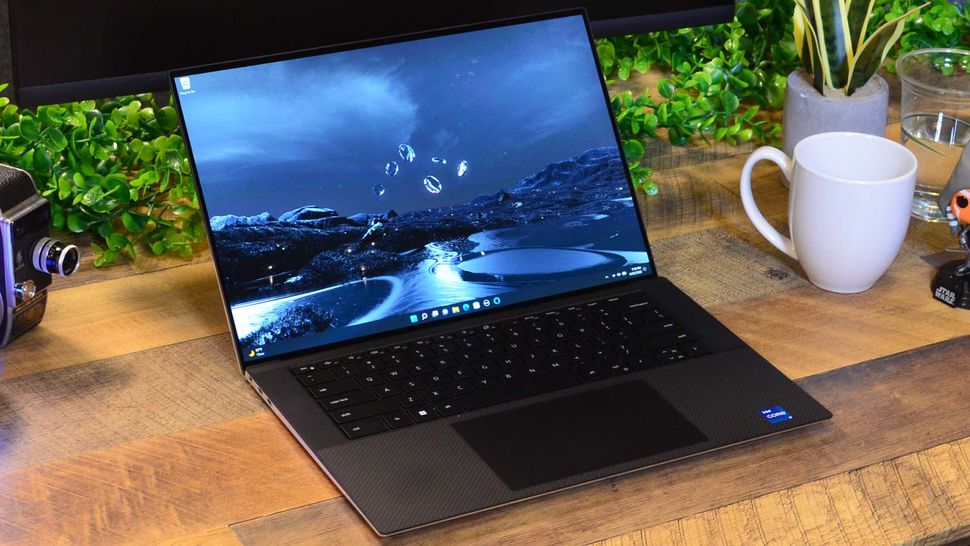 Powerful performance across the board
Specifications
CPU:
Intel Core i7-12700H
Graphics:
Nvidia GeForce RTX 3050 Ti Mobile
Screen:
15.6-inch 3.5K (3,456 x 2,160p), 60Hz, OLED, 400 nits, non-touch
Storage:
1TB PCIe NVMe M.2 SSD
Reasons to buy
+
Gorgeous design
+
Great to type on
+
Powerful performance
+
Outstanding battery life
Reasons to avoid
-
Won't double as a gaming laptop
-
Starts expensive and price soars with better specs
"Laptop perfection" is how we described the 2022 iteration of the Dell XPS 15. High praise for the sleek, solidly built device, with its brushed CNC aluminum chassis and comfortable carbon fiber palm rests that make it a joy to type on.
Performance is excellent, the Windows machine running on 12th-gen Intel chips and up to RTX 3050 Ti graphics. With portability in mind, we were also impressed with the all-day battery life - a feat we thought impossible on an Intel Alder Lake chip.
However, the portable nature of the device is offset by a serious lack of connectivity. With three USB Type-C ports, there isn't much room for much else, especially USB Type-A peripherals. So you may need to carry a separate docking station if you want to connect a lot of devices.
As an alternative, you could opt for the 2023 model. But during our tests, we felt it fell short compared to its "perfect" predecessor.
Read our full Dell XPS 15 (2022) review
Best Surface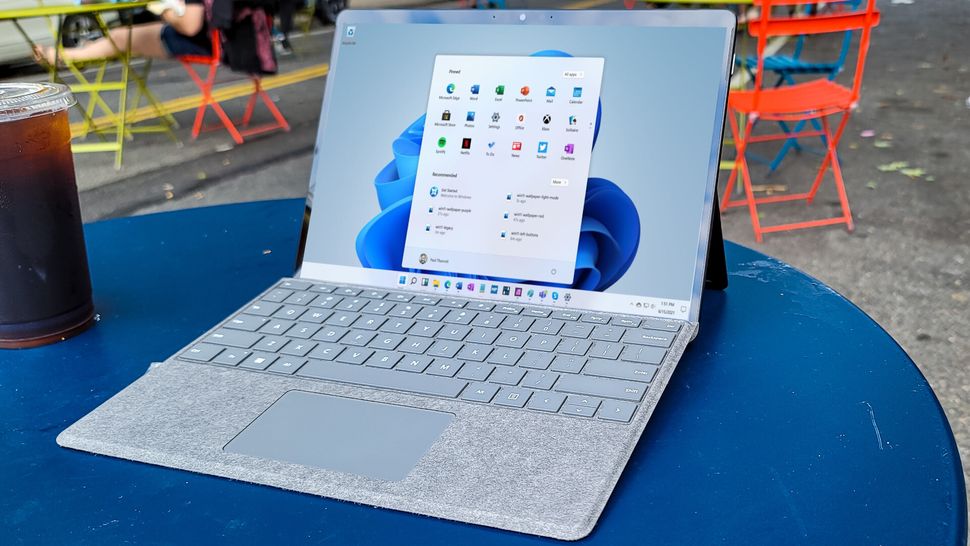 A Surface with 5G mobile internet
Specifications
CPU:
12th Gen Intel Core i5 – Microsoft SQ 3
Graphics:
Intel Xe Graphics – Microsoft SQ 3 Adreno 8CX Gen 3
Screen:
13-inch 2880 x 1920 PixelSense Flow Display
Storage:
128GB – 1TB removable SSD
Reasons to buy
+
Big responsive screen
+
Built-in 5G option
+
Faster processors
Reasons to avoid
-
ARM introduces some system compatibility and stability issues
-
You'll pay extra for the keyboard and pen you want and probably need
Microsoft's Surface Pro 9 5G builds on the design changes introduced by the Surface Pro 8 for an even more powerful and portable experience.
As a 5G system, the Surface Pro 9 5G stands ready to keep you connected at home and on the go without needing a Wi-Fi connection. In other words, this is an ideal laptop for programmers on the move - for example, a freelancer or someone working across multiple locations and field offices. It also comes with the new Windows 11 operating system pre-installed and one of the best webcams we've used on a laptop.
On the other hand, the machine is ARM-based, so it won't run apps like Adobe Creative Cloud. For solid programming work, however, the CPU and RAM ensures an easy performance. With its bigger screen, nested and slim pencil, and day-beating battery life, the Surface Pro 9 5G moves Microsoft's Surface line in the right direction, but the custom ARM chip brings a host of hiccups.
Read our full Surface Pro 9 5G review
Best portable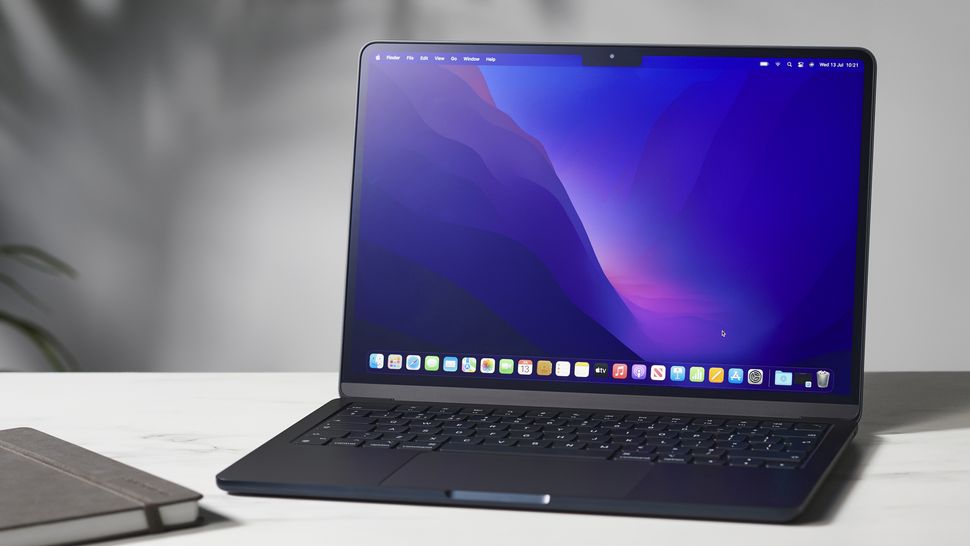 Slim, sleek, and lightweight
Specifications
Graphics:
Integrated 10-core GPU
Screen:
13.6-inch, 2,560 x 1,664 Liquid Retina display (backlit LED, IPS, 500 nits brightness, wide color P3 gamut)
Reasons to buy
+
Great new design
+
Very good performance
+
Long battery life
+
Larger screen
Reasons to avoid
-
Much more expensive than previous model
-
New colors are a bit tame
-
Previous model is much better value
If portability is most important when looking for a programming laptop, Apple's slimline, lightweight Macbook Air is absolutely worth consideration. It's so good, in fact, we named it the best Macbook overall.
The laptop's impressive M2 chip delivers optimal performance and long battery life for when you're on the go. In fact, our benchmark tests showed real similarities between the MacBook Air and MacBook Pro 13in when it comes to performance. Yet, a sleek new design offers a larger, brighter screen than its 13in predecessor.
So, think of it as an upgrade to the Macbook Pro 13in and it starts to make a lot of sense as a device. In practice, we found the laptop thin, light, and completely silent when in use - although expect the fans to kick in under seriously heavy workloads, like 8K video editing.
It's not the cheapest laptop for programming by any means. However, the Macbook Air's premium price-tag reflects the premium performance, portability, and, of course, Apple's always beautiful aesthetics. Newer Macbook Air models are available, but we found they just don't compare to the M2 2022 model.
Read our full Macbook Air (M2, 2022) review
Best large screen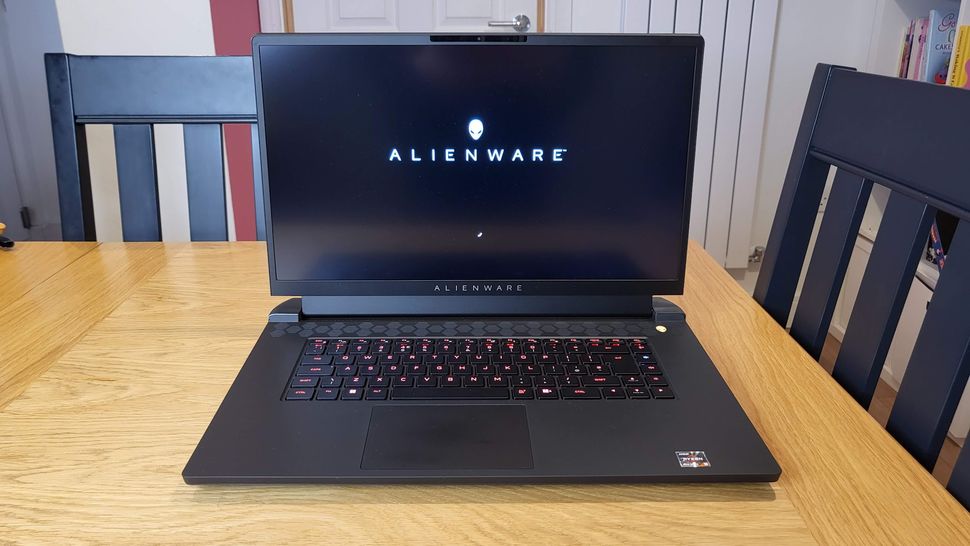 For when you need a big screen
Specifications
CPU:
Octa-core AMD Ryzen 9 6900HX 3.3GHz (4.9GHz boost), 16 threads
Graphics:
12GB AMD Radeon RX 6850M XT (discrete), AMD Radeon 680M (integrated)
Screen:
17.3" 3840 x 2160, 120Hz, 3ms refresh
Storage:
1TB M.2 PCIe NVMe SSD
Reasons to buy
+
Pin-sharp design with clever cooling
+
Fantastic performance
+
Excellent, generous screen
Reasons to avoid
-
AMD Advantage spec is quite pricey
-
Slightly limited battery when gaming
-
Heavy, bulky chassis
For a programming laptop with a large screen, the Alienware m17 R5 AMD Advantage is hard to beat.
When we tested out the machine, we found it to be a beast of laptop for gamers - and that means it has all the top-end specs you need to code without performance issues. In our benchmark tests, we quickly discovered the device sliced merrily through almost everything we threw at it, and its high-resolution screen looked magnificent while doing it.
Design-wise, it's a stunningly well-constructed laptop, the chassis is tough, with just the right amount of RGB lighting and some very clever design touches, like the clever cooling paths and well-laid out ports. The keyboard feels great, although the lack of numpad may put off some. It's even upgradeable, up to a point.
If there are downsides, it's the m17's weight - the price paid for a solidly built laptop with a 17in display - and its unspectacular battery life. Here, portability comes second to performance. For an Intel-based 17in laptop for programming, the Dell XPS 17 is an excellent alternative.
Read our full Alienware m17 R5 AMD Advantage review
Best workstation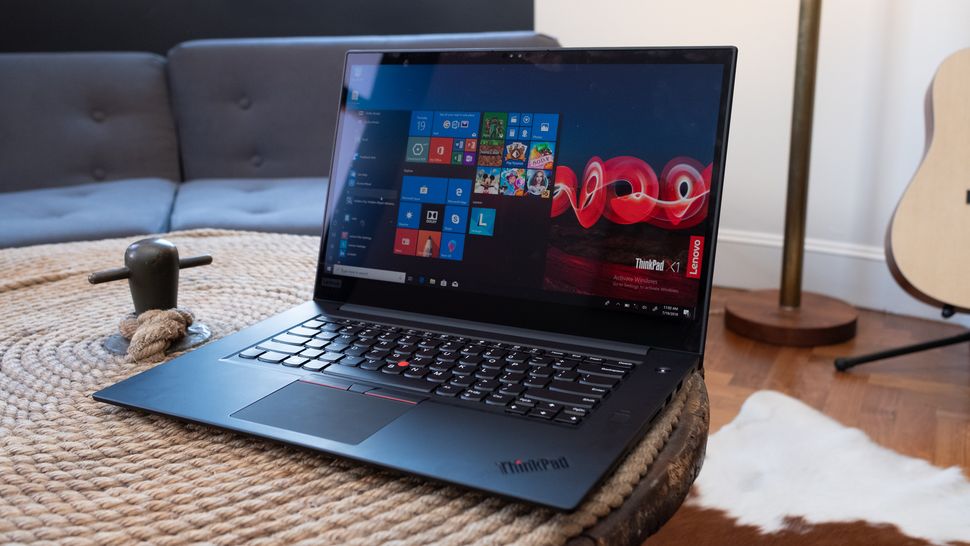 Performance over portability
Specifications
CPU:
Up to 8th-generation Intel Core i7
Graphics:
Nvidia GeForce GTX 1050Ti with Max-Q design
Screen:
15.6" FHD (1920 x 1080) – 15.6" 4K UHD HDR (3840 x 2160) multi-touch
Reasons to buy
+
Extreme mobile workstation
+
Multiple configuration options
+
Robust carbon-fiber and aluminum package
Reasons to avoid
-
More power than some users will need
-
Heavy
-
Battery life could be better
If you have the funds for an unstoppable workhorse, then Lenovo's ThinkPad X1 Extreme mobile workstation is the best laptop for programming.
This laptop gets our vote as one of the best Lenovo laptops for many reasons. It has several configurations on hand, depending on your needs and budget. Still, at its most basic, it's already pretty powerful, packed with a solid graphics card in a robust carbon-fiber and aluminum package that will survive any office or field.
The only negative? This is far from a budget choice. As a full mobile workstation, this is for professionals, with a business focus. But you get what you pay for, and the Lenovo ThinkPad X1 Extreme has a price tag to match its power.
There are multiple updated options for the ThinkPad X1 Extreme (Gen 4 / Gen 5), now equipped with up to 11th - 12th Gen Intel Core processors and spec bumps. We'll post an updated review after we have tested the new models.
Read our full Lenovo ThinkPad X1 Extreme review
Best Chromebook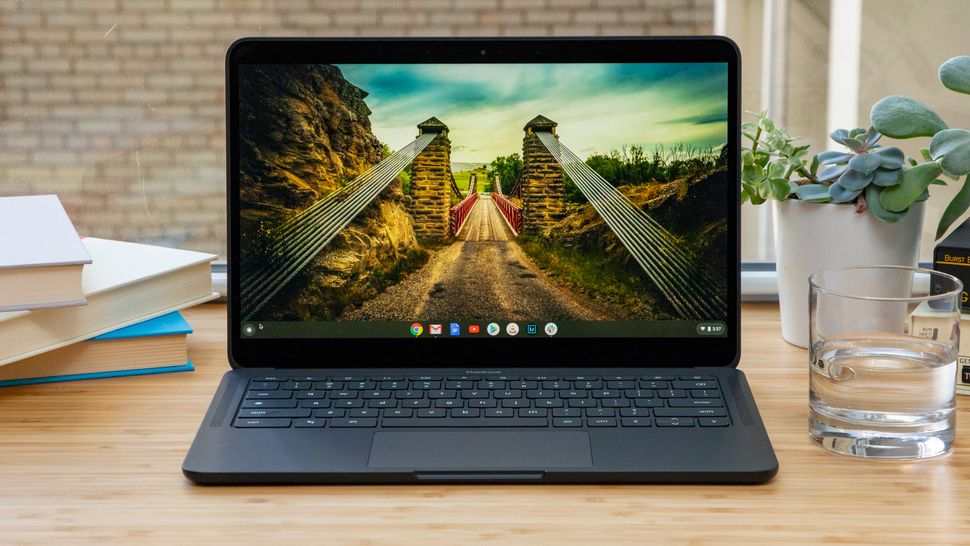 An enterprise-level Chromebook
Specifications
CPU:
Intel Core i5-1245U with vPro
Screen:
13.5-inch QHD+ display
Reasons to buy
+
Outstanding performance
+
Optional security features
+
Beautiful display
Reasons to avoid
-
Very expensive for a Chromebook
-
Enterprise security is a premium feature
The best Chromebook for business right now is the HP Elite Dragonfly. It has amazing performance, a beautiful design, and reasonable battery life. The Intel vPro security capabilities, which go above and beyond what you'll find in the consumer market, are unique to this Chromebook.
Additional security measures in the entry-level configuration make it more than capable as one of the best laptops for programmers regardless of the task. Thanks to this raw power, this Chromebook is phenomenal for programming. The Elite Dragonfly Chromebook has the option of 5G/LTE connectivity. Programmers on the go, then, will get a lot of value from those faster mobile connections. Additionally, the comfortable keyboard is great for all-day use.
HP's Chromebook is gorgeous inside and out, and between the security features, performance, and connectivity options, you'll be hard-pressed to find a better Chromebook for your business.
However, this Chromebook starts at more than a grand, easily the most expensive.
Read our full HP Elite Dragonfly Chromebook review
Best laptop for programming: FAQs
What is a programming laptop?
A programming laptop is designed for rapid, consistent code testing and boasts impressive processors and RAM. Just as important as what's under the hood, the laptop must be easy and comfortable. A quality keyboard is a must for typing all that code. A display that won't strain your eyes after hours of use is also essential. And if you spend most of your time traveling on the road, consider the best thin and light laptops for better portability, such as one of the best Ultrabooks.
All in all, programming laptops focus on a few main components. Regardless of the brand, if these four elements are high in a laptop, there's a good chance it will perform well as a programming laptop.
Processors
RAM
Keyboard
Storage speed
Do you need a powerful laptop for programming?
Programming is one of those tasks that does not demand high-powered devices. However, a programmer can benefit greatly from a high-powered machine. Therefore, answering this question takes more than just a yes or no. Programming is possible on medium to slower devices, where the problem lies in loading and editing the projects. So, if you have large or complicated programs you are working on or do not have the time to sit and wait for your computer to render your projects, we suggest a more powerful laptop.
If you choose more power, you will be able to run your workflow smoother and faster, and you'll be able to test your projects live much faster.
Which laptop processor is best for programming?
The Macbook Pro is our pick for best programming laptop - and the Dell XPS 15, Microsoft Surface 9 Pro, and Macbook Air are all worthy contenders, as are the others in our round-up. We've tested, reviewed, and rated all of these machines to ensure they perform well and deliver what you need.
Generally, the newest and best laptops will always run well for programmers. However, if you want to spend a little less, any processor that is an 8th-generation intel processor or beyond should be able to operate for you. If you are an Apple fan, we have seen both Intel and Apple silicon work great for programming.
What laptop screen size is best for programming?
As mentioned above, this question is hard to answer without knowing more details. Essentially, it is up to personal preference. We have individuals on our team that swear by different-size screens for many reasons. This also can change based on whether you use an external monitor as your main display. The portable route would be to pick up something with an 11 - 14 inch display. This keeps the device maneuverable on a train, in a coffee shop, or on the go while still giving enough screen real estate to get work done. A 15-inch screen or larger becomes quite cumbersome, but at the same time, it grants significantly more space to see your work.
How much RAM do I need for programming?
Depending on the level of programming you are doing, different levels of RAM will be needed. For basic programming, 4GB of RAM is manageable. As file sizes get more complex or even larger, this laptop with only 4GB RAM may take longer to process. However, it can still get the job done in most basic jobs.
As the jobs get more complex in emulators and virtual machines and simply massive projects, it's usually best to choose a laptop with upwards of 8 - 16GB of RAM or more.
How to choose the best laptop for programming
When choosing which laptop for programming is best for you, there are several variables to consider.
First and foremost, where do you plan on using this device? If your primary use will be at a desk, plugged into a whole setup with an external monitor(s), keyboard, and mouse, things like screen size and keyboard matter a little less. However, those elements become more important if you use this laptop at a coffee shop, on the train, at multiple workspaces, or even on the couch.

You'll want to consider the laptop's battery life. An all-day battery means you won't have to lug around a charger everywhere. But if you're mostly going to have your setup in one place, then a lower battery capacity will be fine too. If you work with many space-consuming files, opt for a laptop with high storage. Otherwise, you'll have to carry an external hard drive around with you as well. Lastly, look for the connectivity ports, security features, display, and pricing.
Focus on the laptop's internals for laptops that will be used with peripherals. This includes the processor, RAM, and internal storage. Everything else can be enhanced with desk peripherals, i.e. a nice keyboard, external storage drives, a quality display, and so on.
For laptops that will be used on the go frequently or consistently, elements such as the keyboard and screen, as well as the trackpad and storage, become very important as that will be your full workstation. You'll also want to decide whether you want a Windows, macOS, or Chromebook device - as all offer very different experienced and capabilities.
How we test the best laptop for programming
We've tested hundreds of laptops and computers for broad business use, from the best laptops for engineering students to the best video editing PCs, to help you find the device that's right for you.
Our testing process is rigorous. Whether we're exploring the ins and outs of the best laptops for photo editing, or assessing the pros and cons of the best workstations, we use a combination of tasks to see how each device compares to the competition - and what it offers users.
These tests are a mix of benchmark and real-world applications that allow us to spot where some laptops shine above others and give us insight for our scoring and overall review of a given laptop. A few of these tests, in no particular order, include:
BatteryBar
YouTube playback
GeekBench
CrystalDiskMark
Novabench
3DM Timespy
Browserbench Speedometer 2.0
Passmark
We also consider overall ease of use, our real-world experience using these laptops as daily drivers during our testing, and the overall feel of these elements coming together to create a laptop for programming.
To test the best laptop for programming, we've looked at various aspects, like CPU, GPU, portability, storage, and design. We evaluated their overall performance and what kind of users they'd be best suited for. We analyzed their battery lives, security features, and display, and checked if they included additional accessories. We also considered their connectivity ports, weight, and pricing, among other things.
Are you a pro? Subscribe to our newsletter
Sign up to the TechRadar Pro newsletter to get all the top news, opinion, features and guidance your business needs to succeed!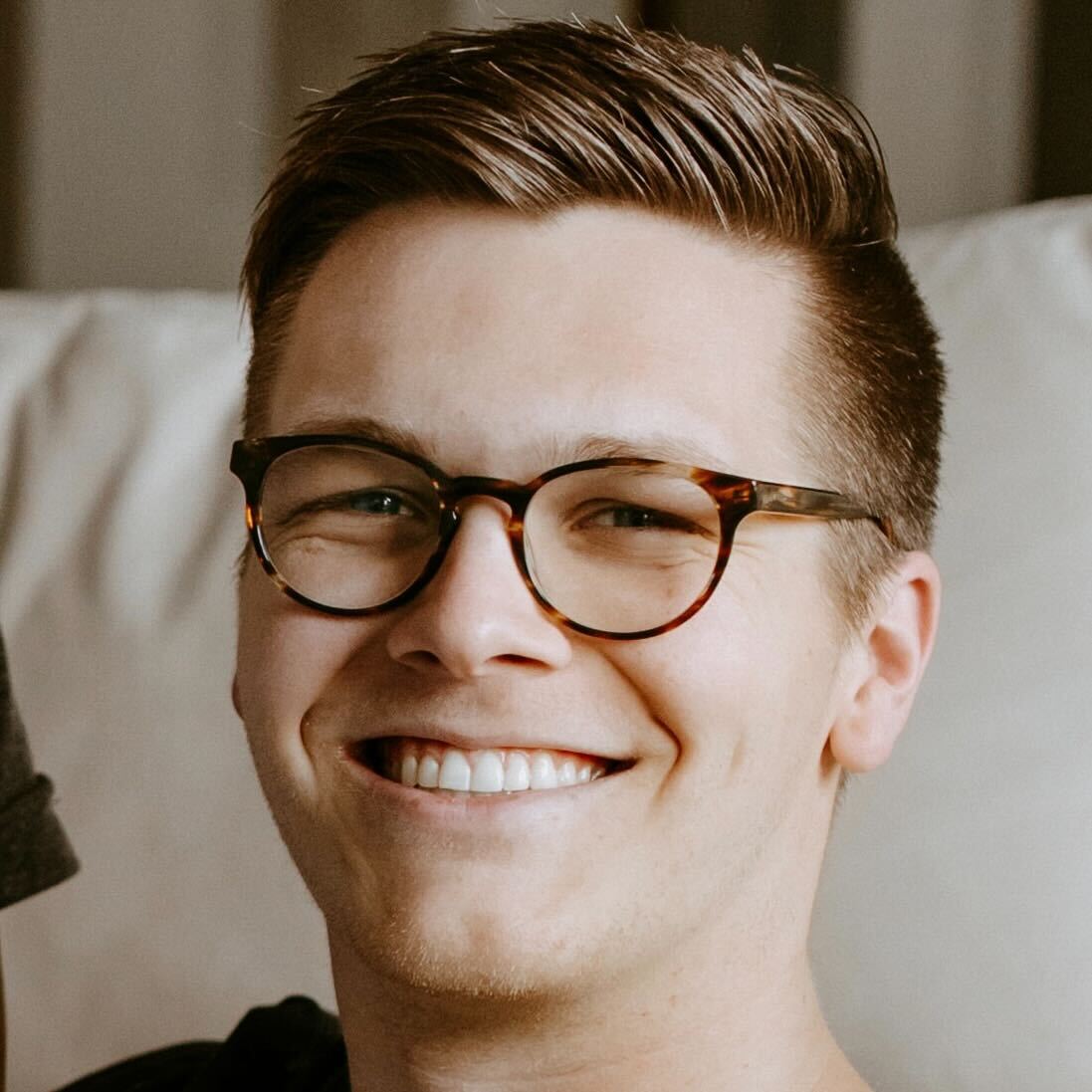 B2B Hardware Editor, TechRadar Pro
Collin is the B2B Hardware Editor for TechRadar Pro. He has been in journalism for years, with experience in small and large markets, including Gearadical, DailyBeast, FutureNet, and more.
Collin is an experienced individual who has an abundance of knowledge when it comes to all things professional hardware. He is the go-to subject matter expert for TechRadar Pro and focuses on standing desks, office chairs, business laptops, "pro" monitors, and other similar topics. With his in-depth understanding of these areas, Collin can provide invaluable insights and advice to readers looking to make informed decisions about their hardware investments.