The best workstations in 2023: top PCs for professionals
Put business first with the best workstation for your organization
VERDICT
REASONS TO BUY
REASONS TO AVOID
Quick menu
1. Best overall
2. Best all-in-one
3. Best Windows
4. Best Intel
5. Best Microsoft
6. Best mini
7. Best mini on a budget
8. FAQs
9. How to choose
10. How we test
The best workstation is key for professionals who rely on powerful and efficient systems for their work.
Workstations are specialized desktops that go beyond the best computer for the mainstream market since they are designed to handle demanding applications and tasks, making them indispensable for a variety of professionals, including designers, engineers, financial analysts, and researchers.
When looking for the best workstation for your organization, it's important to consider various factors that contribute to a seamless and productive workflow.
This includes evaluating not just traditional desktop workstations, but also the best mobile workstation and best all-in-one computer options. The best photo editing PC, for example, demands high graphical capabilities with the best graphics card and best processor configurations on the market
Our expert review team has rigorously tested a wide array of enterprise-grade hardware, and our analysis focuses on overall performance speed, graphical capabilities, noise levels, cooling systems, and connectivity options. We also assess the physical attributes of each machine, including size and suitability for various workspaces, ensuring that our recommendations cater to a diverse range of professional needs and preferences.
The best workstation in 2023
Why you can trust TechRadar We spend hours testing every product or service we review, so you can be sure you're buying the best. Find out more about how we test.
Below you'll find full write-ups for each of the entries on our best workstation list. We've tested each one extensively, so you can be sure that our recommendations can be trusted.
Best workstation overall
Apple's most powerful workstation just got even better
Specifications
Communications:
Wi-Fi 6E, Bluetooth 5.2, 2x10Gb Ethernet
Dimensions (W x D x H):
21.8 x 45.0 x 52.9 cm
Reasons to buy
+
Very, very fast
+
Cheaper than previous generation
Reasons to avoid
-
Not enough RAM
-
Limited expansion capabilities
One of the biggest complaints about the previous Mac Pro model was that it was still Intel-based when all other Apple computers had moved to its acclaimed in-house CPU range. Thankfully, Apple listened, making the Apple Mac Pro one of its most powerful computers yet – and highly so.
As one of the best workstations currently on the market, this isn't just extremely powerful. It's also future-proof, which is only right since you're spending good money for it. We conducted our own testing and the results pretty much confirmed Cinebench's benchmarking: Apple's workstation was at least 2.5 times faster, and was nearly three times faster in some real life tests we performed.
Apple is keeping that cheese grater look that we've come to love since its unveiling, especially since it's fitted with a unique cooling system to maximize airflow and keep the noise down.
That's not all; one look at its specs, and you'll see that this is a creative professional's ultimate tool. Just be prepared to feel broke after that trip to the Apple Store. Expect our review of the Apple Mac Pro 2023 to go live later this year.
Read our full Apple Mac Pro review
Best all-in-one workstation
A fantastic all-in-one solution
Specifications
Graphics:
AMD Vega 64 (16GB HBM2 RAM)
Communications:
Gigabit Ethernet, 802.11ac Wi-Fi, Bluetooth 4.2
Dimensions (W x D x H):
65 x 20.3 x 51.6cm
Reasons to buy
+
Most powerful Mac ever
+
Excellent design
Reasons to avoid
-
Very expensive
-
Non user-upgradable
The Apple iMac Pro is the most powerful PC that Apple has ever made, so if you love the design of Apple's devices, while using its software, then the iMac Pro is an excellent workstation.
Its all-in-one form factor gives you plenty of space on your desk. All the powerful internal components are tucked away behind the 27-inch display, resulting in a sleek machine that's bound to grab eyeballs in any office or studio. It weighs 21.5 pounds (9.7kg), so it won't be too cumbersome to move it around.
It is very expensive, which turns some people off, but if you're a game designer, architect, or professional photographer, then the iMac Pro is undeniably a solid purchase. The cost will feel justified if your existing workstation wastes a lot of time rendering videos and 3D images or compiling codes.
Read our full Apple iMac Pro review
Best workstation for Windows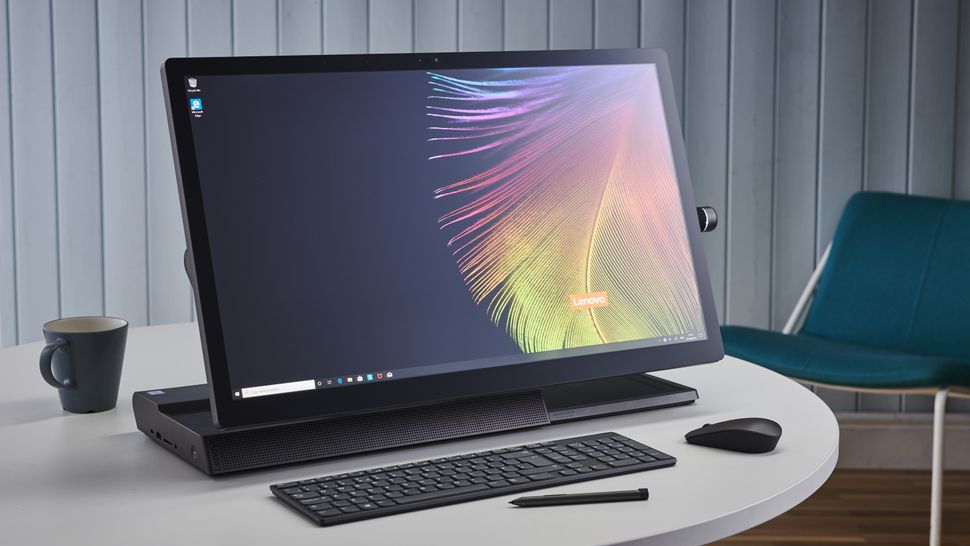 A great iMac alternative
Specifications
CPU:
8th-generation Intel Core i7-8700
Graphics:
AMD Radeon RX 560 4 GB
Storage:
1 TB 5400 RPM + 256 GB PCIe SSD
Communications:
802.11ac Wi-Fi, Bluetooth 4.0
Display:
27" 4K UHD (3840 x 2160) IPS Multi-touch
Reasons to buy
+
Good price
+
Stylus included
Reasons to avoid
-
Older components
-
Screen not great in direct light
Lenovo's latest all-in-one offering isn't as powerful as Apple's premium AIO, the iMac Pro, or even the recently updated iMac, which now offers a 9th-generation Intel Core configuration. After all, at this point, the 8th-generation chips and Radeon RX 560 graphics are beginning to show their age.
However, it is still plenty powerful to meet the needs of professionals who can't afford Apple's more pricey machines. During our own review process, we found the workstation offered a strong alternative to the iMac and Surface Studio 2, chiefly due to a competitive price-point and some genuinely innovative design quirks that show Lenovo wasn't happy to merely copy Apple and Microsoft when it built its all-in-one PC, but to blaze its own trail.
Most all-in-one PCs are monitors with a computer behind the screen, but the Lenovo Yoga A940's computer segment is built into the base of the stand.
The 27-inch screen boasts a 4K resolution with 100% Adobe RGB support and Dolby Vision, all of which make the visuals on the screen bright and vibrant. Adobe RGB support is vital for digital artists, photographers, and other professionals who require accurate colors.
Read our full Lenovo Yoga A940 review
Best Intel workstation
Small, but powerful workstation
Specifications
CPU:
Intel Core i9-11900KB
Graphics:
Asus RTX 3060 12GB Mini
Storage:
500GB Sabrent Rocket 4.0 SSD
Communications:
Wi-Fi 6E, Bluetooth 5.2
Dimensions:
357 x 189 x 120mm
Reasons to buy
+
Smaller than a gaming PC
+
Excellent gaming performance
+
Great expansion capabilities
Reasons to avoid
-
On the expensive side
-
You could build a gaming PC of similar size
For a long time, Intel's NUC has been synonymous with small and compact. But to accommodate the performance levels that Intel's NUC 11 Extreme, it's sacrificed size in the pursuit of power.
Despite the increased size, it's still technically a small form-factor PC - and our benchmarking shows it's one that packs a punch when it comes to performance. In our tests, the NUC 11 Extreme crushed all benchmarks. We found it easily capable of letting you run resource-hungry apps or play games at high and ultra settings without issue. It's also a very powerful workstation for creative professionals working on everything from 3D rendering to video processing.
The Intel NUC 11 Extreme (Beast Canyon) isn't perfect across the board. There's no water-cooling, so you're reliant on fans keeping the machine running cool. And while the specs in the compact workstation are good, it won't be able to provide enough space and power for the absolute top-of-the-line GPUs.
However, we were big fans of the upgradeability of the machine. If you're keen to customize, or have the workstation grow with your workload and uses - for example, switching out one full-size graphics card for another, it's a great option.
Read our full Intel NUC 11 Extreme (Beast Canyon) review
Best Microsoft workstation
This workstation is an artist's dream come true
Specifications
Graphics:
Nvidia GeForce GTX 1060 - GTX 1070
Communications:
802.11ac Wi-Fi, Bluetooth 4.0, Xbox Wireless
Display:
28-inch 4,500 x 3,000 PixelSense display
Reasons to buy
+
Powerful
+
Nothing like it
Microsoft has produced a brilliant all-in-one workstation that rival's Apple's iMacs for power and desirability. If you're wedded to the Windows 10 ecosystem, then this is a great alternative to the iMac Pro. Versatile and forward-thinking, Microsoft's all-in-one puts the iMac to shame by introducing an all-in-one that can not only replace your lingering desktop tower, but your Cintiq as well.
There's hardly any change in the physical design of the workstation, and even the wireless peripherals haven't changed since the first Surface Studio was released. However, the display has been upgraded and is 38% (515 nits) brighter and has 22% (1,200:1) more contrast.
Our own review process proved the Surface Studio 2 excels at rendering 3D graphics ,as well as multitasking and at processor-intensive tasks, like encoding video and rendering dense, complex spreadsheets. However, if you're not working on digital art generation or illustration, there are many more powerful and affordable options out there for content creators.
The base has received an update with a USB-C 3.1 port in addition to its existing USB 3.0 ports, replacing the old model's mini DisplayPort.
Read our full Microsoft Surface Studio 2 review
Best mini workstation
Same size workstation, way more power
Specifications
Graphics:
Up to integrated 16-core GPU
RAM:
8GB - 16GB unified memory
Storage:
256GB - 512GB SSD
Communications:
Wi-Fi 6e (802.11ax), Bluetooth 5.3
Dimensions (W x D x H):
1.41 x 7.75 x 7.75-inches (3.58 x 19.70 x 19.70 cm)
Reasons to buy
+
More powerful than ever
+
Compact design
+
New lower price
Powered by the incredibly powerful M2 chip, the Apple Mac mini is a performance-driven workstation with, as the name suggests, an impressively small footprint.
Sure, it might look like the previous iteration - the design hasn't changed - but you'll find a lot more under the hood compared to the Mac mini M1. We conducted several similar tests on the Mac mini as we did with the MacBook Pro 16-inch, including editing 8K movie files. The results were close.
As with Apple's popular laptop, the new Mac mini delivered outstanding performance. Running synthetic benchmarks, such as Cinebench, which puts the chip under heavy graphical and computational loads, again showed just how close the new MacBook Pro 16-inch and Mac mini are aligned. While it does use fans to cool the machine, we found it wasn't reliant on these, and, pleasing, maintained near-silent running.
It's a shame the system isn't upgradeable, but as a powerful, portable mini PC, the Mac mini delivers. Opt for the M2 Pro version and you have an impressive workstation that almost rivals the Mac Studio.
Read our full Apple Mac mini review
Best mini workstation on a budget
A mini workstation without the premium
Specifications
Graphics:
Radeon RX Vega 8
Communications:
Wi-Fi 6E, Bluetooth 5.0
Dimensions:
6.6 x 4.7 x 1.5 inches (168 x 120 x 39 mm)
Reasons to buy
+
Outstanding performance
+
Superb value for money
+
Great expandability despite tiny footprint
+
Dual-channel memory
Reasons to avoid
-
No card reader
-
USB 2.0 ports
-
Only 500GB SSD
-
Noisy
-
Extra SSD slot is SATA only
The Beelink GTR5 is probably the most powerful workstation PC in this form factor (sub 1L), bettering any Intel NUC we've seen in this price range. It comes with a minimum of 32GB of RAM and packs one of AMD's most powerful mobile CPUs, the Ryzen 9 5900HX, an 8-core beast with 16 threads, onboard Radeon Vega 8 graphics and a total of 20MB cache.
Despite a relatively affordable price tag, it does come with some unexpected features like Windows 11 Pro, a fingerprint scanner and a plethora of ports (including three graphics ones that support 4K 60Hz). It's not all perfect though; it lacks the sort of global after sales support that bigger players can offer, it has no card reader and it is noisy.
In spite of all this, we have no qualms giving it a recommended award, it truly deserves its place on this buying guide as one of the best business PC/workstation PC/mini PC on the market when it comes to sheer specifications.
Read our full Beelink GTR5 review
Best workstations: FAQs
What is a workstation?
We asked Anu Herranen, Director of New Product Introduction, Advanced Compute and Solutions at HP Inc. for the ultimate definition.
A workstation is a high-performance computing device that has been purpose built for demanding professional workflows. It is not a single form factor in the same way that a desktop or notebook is – it can take almost any form factor. If mobility and agility are the most important factors for the device you need, you might choose a notebook, but if you need performance tuned to a specific workflow, a workstation will always be the best option.
Workstations are designed for professional workflows and are more powerful than a general PC. For example, a data scientist, visual effects professional, engineer or software developer all have different needs in terms of data processing, performance, operating systems, keyboard shortcuts, storage, display and connectivity. They are built for managing those high intensity but diverse workflows.
The technology that makes that possible is not always immediately obvious when looking at devices. Some vendors use copper and other software in their products to completely redesign the efficiency of the thermals in mobile workstations. That includes giving users complete control over the type of performance and acoustics for specific workflows, with artificial intelligence often called in to intelligently manage behavior based on the type of work being done.
That means generation on generation, CPU and GPU performance improvements on devices mean they are smaller and run cooler, which is important in terms of comfort and reliability on high performance workstations.
Another important factor is certification. Certified ISV (Independent Software Vendors) application is crucial, as it ensures the hardware and software work better together. Workstations are the only PCs that offer certified professional applications. Having certification is critical, as it isn't enough to just know that your software applications will run on your workstation: you need a hardware solution that has been tested, proven and certified by ISVs to deliver peak performance for your key applications. This ensures a wholly compatible experience between hardware and software that is stable and designed to perform, allowing you to work with confidence.
What is ECC and why is it so important?
Error Correction Code (ECC) is a type of RAM memory technology which is used in workstations and servers to detect and correct errors that can occur in data storage and processing. It is valued by professionals and businesses with critical data because it helps to ensure the reliability and accuracy of that data, particularly in applications such as servers, scientific computing and financial systems. It can automatically detect and correct memory errors so it has a major role to play in combatting data corruption.
In computer memory, data is stored as a series of bits, which are either 0s or 1s. Errors can occur when bits are incorrectly read or written due to various factors such as electrical interference, thermal noise, or manufacturing defects. These errors can result in data corruption, system crashes, or other serious consequences.
ECC works by adding extra bits to the memory data, which are used to detect and correct errors. When data is written to memory, the ECC system calculates a checksum or parity value based on the data and stores it along with the data. When the data is read back from memory, the ECC system checks the checksum or parity value to ensure that the data has not been corrupted. If an error is detected, the ECC system can correct it on the fly by using the additional information stored in the ECC bits.
How does it differ from DDR5 on-die ECC?
On-die ECC and regular ECC supported modules are not the same. While DDR5 DRAM components will feature on-die ECC to correct bit errors within the chip, this technology is not able to correct errors outside the chip or those that occur on the bus between the module and memory controller housed within the CPU. ECC enabled processors, like Intel Xeons, feature the ECC algorithm that can correct single or multi-bit errors on the fly. However, additional DRAM bits must be available to allow this correction to occur.
For DDR4, a memory module transmits data 64-bits at a time. ECC supported DDR4 modules feature an extra 8 bits per 64-bit rank, also referred to as 72-bit or x72. DDR5 splits the memory module into two 32-bit addressable subchannel regions to increase efficiency. To enable ECC, each 32-bit subchannel adds an extra 8-bit DRAM component to become 40-bit, for a total of 80-bits per rank instead of 72-bits. Consumers with PCs and laptops will ultimately experience better data integrity with on-die ECC as the potential for corruption increases with the lithography shrinks and capacity and speed increases. For workstation and server users, ECC class modules will always be a requirement (ECC Registered, ECC Unbuffered, ECC Load Reduced). The increase in the number of DRAM require to enable a DDR5 ECC class module will also increase the costs as compared to DDR4.
Using ECC memory can significantly improve the reliability and uptime of computer systems, particularly in high-availability applications where data accuracy and integrity are critical. However, ECC memory is typically more expensive than non-ECC memory and may require special hardware support, so it is not always used in all computer systems.
How to choose the best workstations for you
When evaluating the best workstation for yourself, start by considering the work you need it for. What kind of apps and software will you primarily run on it? Do you need it for incredible graphics performance, or for analyzing huge data sets in a few hours? Do you need it to perform well while managing multiple intensive apps simultaneously?
You'll then want to consider the workstation's design, size, and weight. If you use any of the best standing desks or an L-shaped desk or your office or home office, these typically offer plenty of surface space, so, you can opt for the larger (and usually more powerful) form factor. If you think you might need to move your setup around, then a lightweight and portable workstation will be ideal.
Also, look out for the ports and connectivity if you plan to have a multi-screen setup, along with other specifications like the storage, display, and cooling system.
How we test the best workstations
Our team of expert reviewers have gone hands-on with a wide range of hardware for professionals, from identifying the best MacBook Pro to the best laptops for video editing. But whether it's reviewing a content creator's dream machine or the best mobile workstation, we undertake the same rigorous testing process.
We evaluated various aspects of different workstations to arrive at the best ones. Performance is essential, so we looked at how the workstations ran different types of applications — from the best video editing software and other graphics-heavy programs to large data sets.
We analyzed numerous specs, like RAM, CPU, display, graphics, and storage, to assess what kinds of users the workstation would be best suited for. For example, while nice to have, a color-accurate screen is far more important for designers and creatives than other professionals.
We looked at the connectivity ports the workstation had, whether the fans were noisy, and checked the optimization of the cooling system. We also examined the size, weight, and design of the workstations and included computers of varying builds in our list.
Today's best deals
Are you a pro? Subscribe to our newsletter
Sign up to the TechRadar Pro newsletter to get all the top news, opinion, features and guidance your business needs to succeed!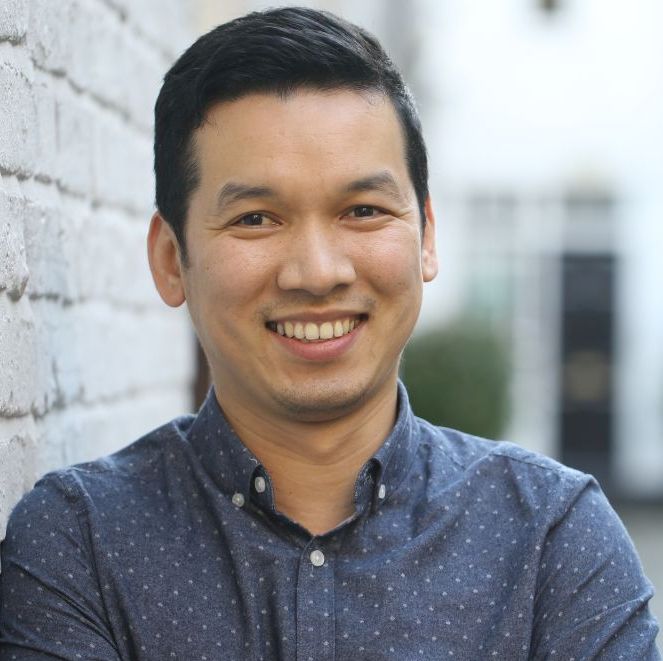 Managing Editor, TechRadar Pro
Désiré has been musing and writing about technology during a career spanning four decades. He dabbled in website builders and web hosting when DHTML and frames were in vogue and started narrating about the impact of technology on society just before the start of the Y2K hysteria at the turn of the last millennium.