Selecting the best business computers for your specific purposes is no easy task, and many factors must be considered. To give you a helping hand, this guide offers a rundown of the best business desktop PCs money can buy.
Laptops and smartphones are essential business tools and are becoming more powerful and feature-rich every year. Still, while they are suitable for people who travel for work, they cannot compete with the best business computers for specific tasks.
For starters, desktop PCs offer more performance value than the best business laptops and are usually cheaper. Also, unless you're buying an all-in-one computer, these business computers are relatively easy to open up and upgrade, making them far more future-proof than laptops or smartphones, which can sometimes become outdated after only a few years.
This makes the best business computers a wise financial decision for your office. And while traditional desktop PCs are excellent in an office, we've also listed some of the best all-in-one PCs. Like Apple's iconic iMac, these devices have computing components built into a screen. What you sacrifice in upgrade flexibility, all-in-ones are easier to set up, take up less space on a desk, and look fantastic. Aesthetics might not be your primary concern when buying a business computer, but they will make almost any office or studio look clean and modern.
We've compared the best business computers across numerous aspects, from their CPU and graphics power to the RAM and storage. We looked at how well they handled different apps, what types of businesses they're best suited for, and the overall ease of setting them up, among other aspects.
We've also included our exclusive price comparison tool, which will search the web for the best deals, so once you've found the best computers for your business needs, you can buy in confidence, knowing you're getting the best price. Complete your setup with one of the best business monitors or one of the best monitors.
---
The best business computers of 2023 in full
To help narrow down your search for the ideal system for your business, here are TechRadar Pro's top business desktop PCs.
Apple dropped a surprise update to it's popular Mac mini boasting a new M2 chip and a lower price than the M1 (2020) model. For businesses looking to maximize ROI, look no further than the Apple Mac mini M2. Offering incredible performance and a lower price point, it's a machine that's hard to beat.
With Apple claiming 1.9 times better CPU performance and 2.6 times faster GPU performance over the M1 model, we are keeping the Mac mini at the top of our best computers for the business list, especially when we compare it to more expensive machines or less powerful ones.
Read the full review: Apple Mac mini, M2 (2023)

The iMac saw both a design update and a chipset update with the newest iMac. Moving from Intel to Apple silicon boosted performance to easily outpace the pro model iMacs, swiftly making them redundant. This new AIO from Apple is clean looking with a very simple design while packing impressive performance under the glass.
More people are working from home, and this seems like the best all-in-one PC to invest in without being forced to make considerable space in your existing area. If power is at the top of your list, this is the best business PC for you.
The iMac 24-inch M1 is a highly productive computer with an excellent webcam and improved internals.
Read the full review: iMac (24-inch, M1 2021)

If you're looking for an incredibly powerful, yet stylishly designed, all-in-one PC that's not made by Apple, then Microsoft's brilliant Surface Studio 2 will be for you. It comes at a price, but for build quality and performance, you'll not want to look any further, especially if you work in the creative industry.
The Surface Studio 2 primary audience is visual artists with its huge touchscreen display that has seen its brightness and contrast ratio specs bumped considerably from its predecessor. While the Studio 2 provides plenty of power for general office use, for the price, businesses who don't need specific drawing functionality will find better value elsewhere.
Visually, the Microsoft Surface Studio 2 is a stunning machine and a significant upgrade from the Surface Studio. We love that Microsoft decided to keep the same Gravity Hinge design and major components in the base.
Read the full review: Microsoft Surface Studio 2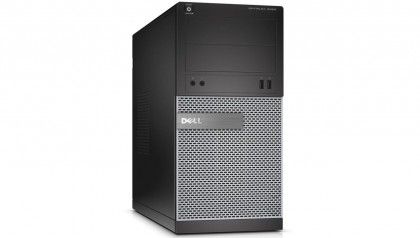 For such a small form factor, the Dell Optiplex 7000 Micro offers an impressive desktop option for businesses, clinics and those short on space. With optional mounting brackets, we can see this machine fitting in a variety of office spaces – under desks, on the back of rolling carts, or only taking up the space of a book on your desktop.
With support for up to 4 independent displays and 12th Gen Intel processors with vPro security features, we think this little machine will be a favorite of IT professionals and end-users alike. Ports along the front and back offer flexible connection options in a sleek profile. We only wish Thunderbolt ports were included.
Read the full review: Dell OptiPlex 7000 Micro PC

We found the Dell OptiPlex 7400 all-in-one to provide plenty of power in the space of just a monitor due to its 12th Gen Intel Core processors. With plenty of ports for peripheral devices and a large 24-inch touchscreen, you'll find the OptiPlex 7400 suited to tackle a variety of workloads.
We found the design and ergonomics to be sturdy, sleek, and flexible, though we wish there was a bit more range of motion in the stand design. If you're really looking for flexibility, it offers a VESA mount so you can customize your workspace to tailor to your specific needs.
With a responsive 10-point touchscreen, built-in web camera, and speakers this all-in-one will get the job done.
Read the full review: Dell OptiPlex 7400 All-in-One
---
The types of desktop PCs
A recent development in the desktop PC world has been a modest diversification of the system case. The typical business PC comes in a mini-tower box, probably best suited under or beside your desk.
But a smaller case would be a better choice if space is at a premium. Dell, for example, delivers its Optiplex models in the mini tower, 'thin' desktop, and 'compact' small form factor sizes, each offering the same computing power but in a different case.
Three other formats that have grown in popularity are:
1. All-in-one, or AIO, combines the monitor with the base unit. The move to power-efficient components, the falling price of LCD panels, and the ubiquity of touch functionality make AIO an increasingly popular choice for businesses. The all-in-one PC resembles a slightly larger than normal LCD display containing the processor, hard drive, and memory built into the screen casing. The end result is a very elegant, clutter-free desktop PC.
2. Ultra-small form factors, known as nettops or mini PCs, borrow many of their designs (and components) from laptops. They are laptops without a screen, input peripherals, and battery.
3. HDMI dongles inspired by tablets and smartphones often share parts with the latter. These are usually used for display signage or in niche markets. They are usually not powerful enough for most tasks, but things will likely improve with the expansion of Thunderbolt technology.
Workstation vs Desktop PC: What is the difference?
TechRadarPro Q&A with Anu Herranen, Director of New Product Introduction, Advanced Compute and Solutions at HP Inc.
The main thing here is that you must ignore the form factors. In this case, the question would be, what is the difference between a (regular) desktop PC and a desktop workstation? The answer is that the workstation has been developed for a specific professional workflow.
It is not just about the raw performance of a device's processor or other components. It is about how well they perform in specific tasks relevant to the work they are designed to do. Do they make that system easier and faster and remove unnecessary complexity so you can focus on the task and be more productive and creative?
Usually, data scientists will not emphasize the color accuracy of a display. Still, they will care about having a device that can process huge data sets for hours without crashing mid-way. A graphic designer or VR developer, on the other hand, will care about processing jobs quicker by managing how power is split between the CPU and GPU, depending on the task.
You also need to get beyond the box. What software stack or operating system does the workstation need to run? Does the workstation need to run the full Adobe creative suite? Are the keyboard and other input devices optimized for the user's needs? Examples might include a VR headset or a set of separate programmable keys.
Security and manageability in workstations are also designed to work seamlessly across the whole stack and conform to specific requirements defined by role and managed by IT departments. Devices are often configured to get the best out of a given software. They may even carry certifications that guarantee performance for certain software, such as those from Autodesk.
All of this adds up to a curated experience – a device dedicated in every way to a workflow and ready to go out of the box, saving days of configuration time.
The final key difference is that workstations are very expandable – designed with upgrading in mind. Whilst that is true of many PCs, workstations are engineered with this capability in mind. A workstation is designed to be a device that can expand with your needs over a long period of time.
How to choose the best business computers for you?
When choosing the best business computers for yourself, start by assessing the nature of your business, the number of computers you need, and the operating system.
If you're in architecture, graphic design, or any other field that demands the use of resource-intensive apps, then you'll want to opt for powerful computers with impressive graphic capabilities. But if your work primarily involves using an internet browser or data entry, an entry-level computer should work perfectly well.
How much RAM you need will depend on how resource-heavy the apps you use are and whether you do a lot of multitasking. The more apps you run simultaneously, the more RAM you'll want for a smoother experience.
You'll want to evaluate what operating system works best for you. If your employees are used to working on Windows, sticking to that is more efficient than switching to a new system.
Consider the size of the machines if you don't have a lot of desk space or want a neat workplace setup. You'll also want to consider the pricing of the computers and whether the seller offers discounts on bulk purchases.
The best business computers: How we test
To test the best business computers, we first looked at their specifications, like the CPU, graphics, RAM, storage, connectivity, and dimensions. We considered the types and sizes of businesses they'd be suitable for and whether the tech configurations were expendable.
We assessed how well they handled multiple apps simultaneously, how smoothly they ran resource-heavy apps, and how easy the setup process was.
We evaluated the dimensions and weight of the computers to check whether they take up a lot of desk space and are light enough to be moved around easily. We also considered whether the computers had dual monitor capabilities, ports for external displays and swift wireless connectivity.