The best business monitors make working from home on any budget simple and easy. They offer excellent image quality and features to reduce eye strain, such as blue light filtering. We've also got some great picks for creative professionals.
The monitors on this list offer large screens and high resolutions, giving you plenty of workspaces to have multiple applications and windows open simultaneously. These should help improve your productivity. We've also included monitors with ultra-wide 21:9 (or even higher) aspect ratios, giving you more space to work on.
Suppose you work in the creative industry where color and image accuracy is paramount, such as photo editing or video editors. In that case, you'll need a monitor supporting various industry standards.
Sometimes you need to consider your workspace as a whole. The best business monitors can blend seamlessly into the background, making them a great partner in your home office.
Here we feature the best business monitors - but also check out our feature on everything else you need to set up your home office - including the best office chairs and the best laptop for working from home.
For general use, check out our pick of the best monitors.
We've also featured the best 5K and 8K monitors and the best portable monitors.
---
The best business monitors
The best business monitors of 2023 in full:
Why you can trust TechRadar We spend hours testing every product or service we review, so you can be sure you're buying the best. Find out more about how we test.
BenQ's PD3420Q is a phenomenal monitor we have loved working on since we plugged it in. The massive real estate screen makes other monitors feel narrow and small compared. We can easily fit three web pages side by side, one massive video timeline, photo editing software with reference next to it, or large spreadsheets. This monitor has boosted our productivity thanks to the content we can comfortably place on the screen.
To make things even better, the IO on this monitor is incredible and has a built-in KVM allowing it to work for many devices. At one time, we had this monitor connected to a MacBook Air (M1) and a Mac Mini (M1), and zero issues were switching a mouse and keyboard and the display from device to device. Overall, this monitor is a phenomenal choice for productivity
Read our full BenQ PD3420Q review

The Huawei MateView carves out a novel tall-screen niche in a world of widescreen monitors. Its 3:2 panel format delivers many vertical pixels - 2,560, to be exact - which can be handy for certain workflows, including document editing.
It's also based around a quality IPS panel with 500 nits of peak brightness and excellent color fidelity, thanks to 98% coverage of the DCI-P3 gamut. It's not a pro-grade panel, to be sure. But it can certainly turn its hand to some light content creation.
With a native resolution of 3,840 by 2,560 pixels, it also sports top-notch decent pixel density by desktop monitor standards of 156DPI. So fonts are super crispy, and image detail is ultra sharp. There's also plenty of desktop working space.
Another major highlight is USB-C connectivity with 65W power delivery plus a USB hub. It makes all the difference for ease of connectivity thanks to the single-cable laptop docking it enables. You won't want to return to that rat's nest of cables you used to plug into your laptop.
If the Huawei MateView has a weakness, albeit a minor one, it's the stand's limited tilt and height adjustability. The base itself doesn't swivel, and there's no support for rotating into portrait orientation.
Read our full Huawei MateView review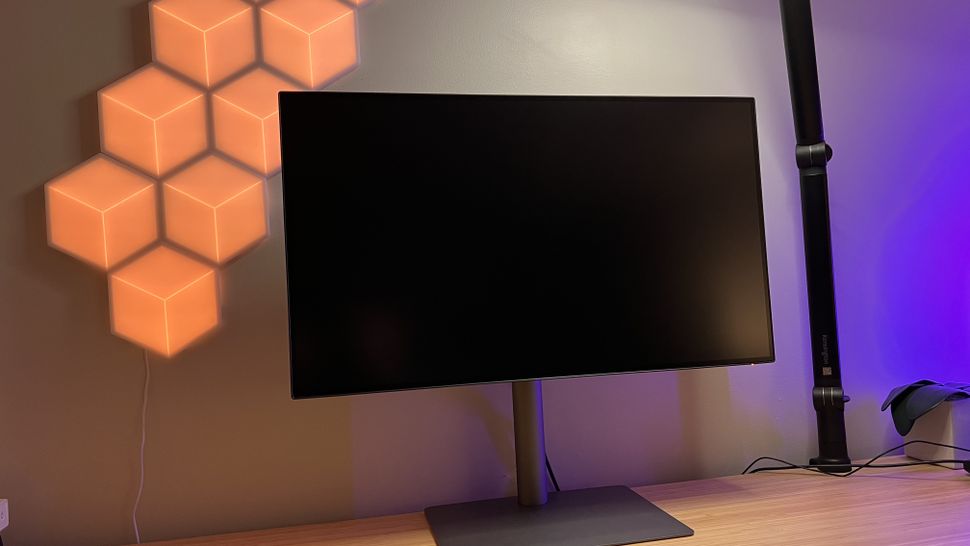 If you're after a premium 4K panel with great features and image quality, the BenQ PD3220U should be on your list. Thanks to a glorious 32-inch 4K panel, it's a productivity beast that delivers excellent desktop working space and a tight pixel pitch for sharp fonts and great image detail. That's a nice combination.
Connectivity is another strong point thanks to USB-C with Thunderbolt 3 support for high bandwidth and 85W power delivery. So, you can connect your laptop with a single cable, charge it, and drive the display. The PD3220U also sports a KVM switch allowing you to use multiple PCs with one display. There's also a USB hub with USB-A and USB-C ports, so all your connectivity needs are covered.
The Thunderbolt / USB-C port even supports daisy chaining. So you hook up a laptop via a single cable and drive dual monitors. That's a nice trick.
The IPS panel is also very high quality and rated at 94% coverage of the DCI-P3 gamut. It's not a true pro-grade panel. And HDR support is limited to signal processing; there's no local dimming and only 300 nits peak brightness. But it is accurate enough for SDR workflows for the web and would be a very nice tool.
Read our full BenQ PD3220U review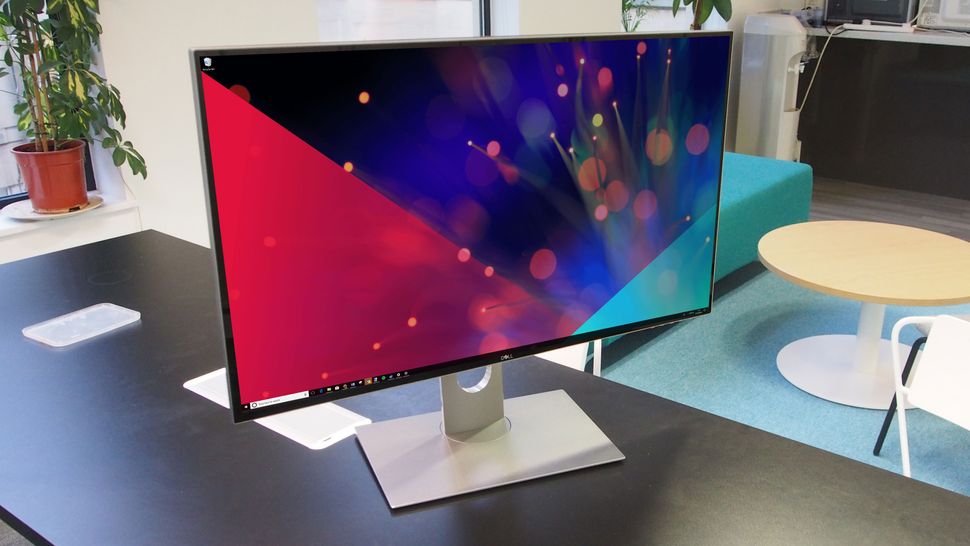 The Dell UltraSharp UP3218K is the best business monitor we've ever tried. However, it won't be for everyone. The massive 32-inch screen and 8K resolution make it perfect for photographers and video editors. The amount of screen real estate that high resolution offers makes it an excellent productivity tool. The screen is professionally calibrated, so it looks fantastic out of the box, but be warned: this is a costly monitor. Depending on your business, this will be a brilliant buy or an expensive folly.
Read our full Dell UltraSharp UP3218K review

The expansive Dell U2723QE 4K monitor does more than just provide a great viewing experience, its built-in hub also provides a solution for those needing to expand their connectivity options in a sleek, ergonomic package.
We appreciated the wide range of built-in color settings (sRGB, Rec. 709, DCI-P3 and HDR) that allowed us to quickly adjust the monitor for optimal viewing across a wide variety of scenarios. The Low Blue Light output also meant we were not experiencing as much eye strain.
What we really liked though, was the built-in hub that provided plenty of connectivity through a single cable. The U2723QE provides additional ports for daisy-chaining a second monitor using USB-C or DisplayPort connections. Also included are KVM, Picture-In-Picture (PIP), and Picture-By-Picture (PBP) if you need to see or control multiple computers.
Read our full Dell UltraSharp U2723QE 4K USB-C Hub review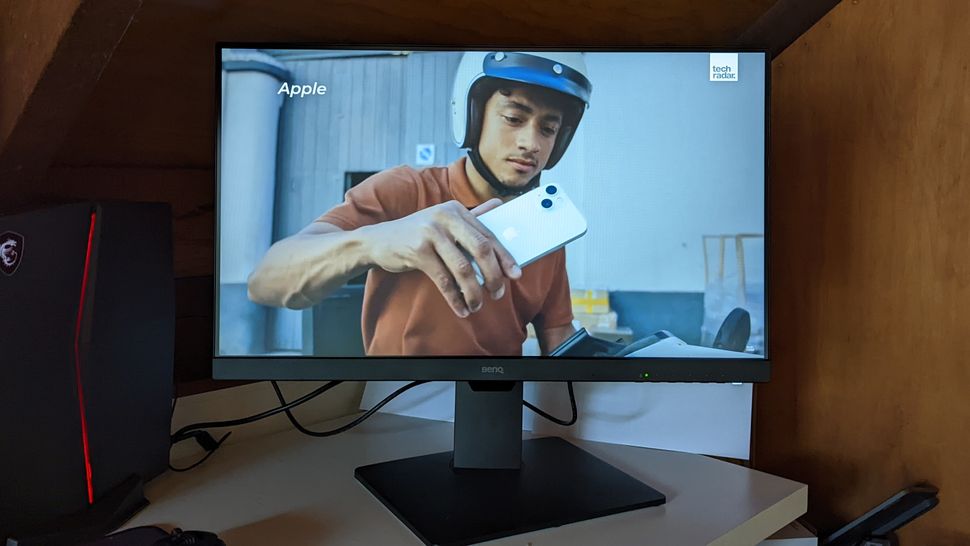 BenQ designed the GW2785TC specifically for business in a handful of ways. First of all, the built-in Mic is perfect for quick meetings, especially for those where cameras don't need to be on. Second of all, the IO on this laptop is outstanding. Plenty of ports to plug in your work laptop and personal laptop, creating a comfortable multi-use space with almost no effort. Finally, there are different viewing modes through BenQ Eye-Care. This feature allows for auto-dimming, lowered color saturation to protect your eyes from high color and contrast, a reading mode that filters out the blue light, especially in the evenings, and code mode. Coding mode has a day and night specification; both are designed to make code pop, making it faster to code since you can see your lines much easier than before.
Read our full BenQ GW2785TC review
Also Consider
If you're looking for a monitor cut above the 4K norm, then you've got the MSI Prestige PS341WU. Showing up any impeccable 4K monitor is no easy feat. Still, this monitor does so with the huge 5K2K native resolution (and 21:9 ultrawide aspect ratio) of its luscious 34-inch IPS screen. It doesn't come cheap, but it does have a great feature set to make up for that, including a Nano IPS panel with DCI-P3 color gamut, HDR support, and comprehensive connectivity. All that packed in a beautiful white aesthetic, and you've got yourself one of the best business monitors currently available.
Read our full MSI Prestige PS341WU review.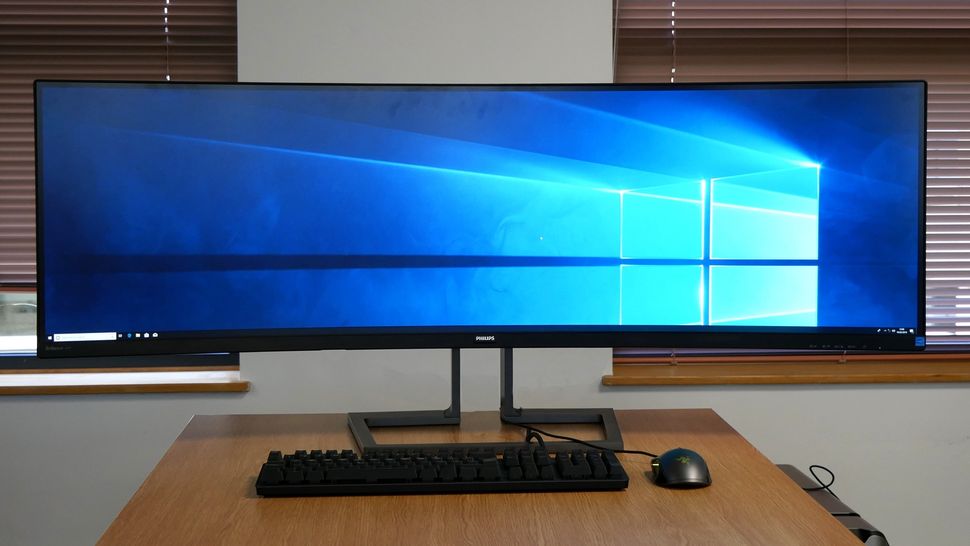 You'll want an ultra-wide monitor if you're looking for an excellent productivity monitor that offers you vast amounts of space to work on without resorting to multiple monitors. The Philips Brilliance 499P9H takes ultra-wide to an extreme, offering a huge 32:9 aspect ratio over 49 inches of the screen. It gives you a colossal desktop to work on, which makes it an excellent choice for people who work with multiple apps open at once. It's a huge monitor that won't fit on everyone's desk, but it can save you space, as it means you don't have to have multiple monitors hooked up to your PC at once.
Read our full Philips Brilliance 499P9H review.

The 32-inch Crystal Pro monitor from Monoprice offers a beautiful 4K, 16:9 at 60 Hz minimalist display for an affordable price. With its highly adjustable stand, stunning display, and USB-A hub, Monoprice has created a highly productive monitor all while keeping it affordable.
That being said, there are some drawbacks such as needing to remove the monitor for the stand for portrait orientation, an external power brick, and a frustrating HDMI display experience. However, once dialed in, this monitor is sleek and offers a highly productive user experience.
Read the full Monoprice 32-inch CrystalPro 4K review
---
Best Business Monitors FAQ
What's the difference between TN, VA and IPS panels?
We put that question to Brett Barbour, VP at US monitor vendor, Viotek.
Modern LCD monitors are made with different types of panels: IPS, TN or VA. Professionals in different fields may prefer one panel type over the other, because each panel type comes with their own strengths and weaknesses.
There are plenty of articles out there that can give you a more complete rundown of the pros and cons of each panel type. We won't go into detail here, for brevity's sake, check the table below.
But is it really a con? Not really. Unless you're a professional eSports gamer, we contend that you won't be sacrificing much by choosing a VA monitor. For general office work, call centers and standard business settings, a VA monitor is plenty fast with deep, rich colors that workers will enjoy experiencing.
If you're a graphic design firm or professional photography studio, you may prefer the color accuracy of an IPS monitor. But for now, if you want a curved monitor, VA panels are your only choice.
Swipe to scroll horizontally
TN, VA and IPS panels compared

| Panel Type | Strength | Weakness |
| --- | --- | --- |
| TN (Twisted Nematic) | Faster response time | Less-than-optimal image quality & bad viewing angles |
| VA (Vertical Alignment) | Solid image and color quality with higher contrast ratios | Slightly slower response time |
| IPS (In-Plane Switching) | Superior color accuracy with consistent viewing angles | Contrast ratio not as inherently good as VA panels |
Business monitors: here's what to look for
What should we be looking for when buying a monitor for business purposes. Alistair Round, Product Manager Commercial Displays, NEC Display Solutions Europe GmbH, replied extensively below.
A good business monitor should support what your business needs: productivity. The screen size is the first thing to think about here; the larger the screen estate, the more documents you can view simultaneously, meaning fewer mouse clicks and fewer opportunities to get distracted. You can also view more columns and rows on your spreadsheet without scrolling. A 27" monitor is becoming popular, giving more than ample screen area, but if your workspace is at home, you might find a 24" is more practical and will perfectly complement your laptop screen.
If you have the space available, multiply your active screen area with a dual-screen setup. Ensure both displays have DisplayPort-OUT functionality to enable daisy-chaining on a USB-C signal. DisplayPort-OUT combined with USB-C is the most effective solution for multi-screen environments at home or in the office.
Supporting open office standards in hot desking and "bring your own device", plus business-critical home working, USB-C enabled desktop monitors are fully future-proofed. Just a single cable connects your monitor to a laptop or tablet, managing audio, video and power as well as charging your device for an all-in-one communications hub. You can keep your workspace free of clutter, no multitude of cables and no docking station required.
Depending on the type of documents you're working on, a higher resolution will give more pixel free detail. For standard office documents, spreadsheets and the like, look for 1080p Full HD resolution which will offer you an excellent viewing experience with your text characters in sharp focus.
It's important to remember that the monitor is simply an interface between the user and the PC, what's truly important therefore is the person sitting in front of the screen. User well-being cannot be overlooked, it is an important aspect of that all-important productivity. A good range of ergonomic adjustment will allow for individual set up whilst features to reduce the blue light effect and flickering will protect the user's eyes.
One last point, businesses will also have an eye on reducing costs so eco features to reduce power consumption will be interesting, moreover, high quality and reliability will ensure long lifecycles, meaning you will not have to repair or replace your assets any time soon.
Which business monitor is best for you?
When deciding which business monitor to use, you'll want to consider price, screen size, color accuracy, and connectivity options. For example, consider whether your priority is a high-resolution screen or an ultrawide panel that would suit you best.
Consider issues like color coverage via various important gamuts, including sRGB, Adobe RGB, and DCI-P3. You may also want to look at productivity improvements such as parallel monitor use, portability, and the number of USB connections.
What type of monitor is best for office work?
When it comes to the best monitor for office work, there are a handful of factors to consider. First off, and potentially one of the most important factors, is the panel type. The three main panel types are TN, VA, and IPS. While all of these have their strengths and weaknesses (see earlier FAQ response), the display that would be best for office work would be the IPS panel. This is due to the balance between color, brightness, and viewing angles.
If you are in a specialized role that focuses on content creation or any other role that has high-resolution graphics or other visual content, check out our best monitors for photo editing, the best monitors for video editing, the best 5K / 8K monitors, and our best monitors for digital design.
Which monitor is best for long working hours?
When working long hours staring at a monitor, the screen size and overall picture quality are two important factors for the monitor itself. Manufacturers now include Low Blue Light features to reduce eye strain when using monitors all day.
Regarding resolution, 1080p is the standard monitor resolution, with 4K resolution rapidly growing in popularity. For looking at text, webpages, and spreadsheets, 1080p will get the job done. However, higher resolution panels (4K and above) will help with eye strain and allow more content to be displayed on the screen. However, the price tag and power needed to run some of those are unnecessary for the standard business monitor.
Lastly, two more elements worth looking into would be a monitor backlight and a monitor stand. Monitors put off a lot of light; if they contrast with a dark background, your eye strain can increase due to the large contrast in brightness from your environment to your monitor. Adding light of some kind behind your monitor to help reduce the contrast can help your eye fatigue during long working hours, especially if those hours extend to when it is dark outside. Monitor risers or monitor stands help bring the monitor to a more ergonomic height. Just putting the display at the right height can help you stay comfortable for longer working sessions. The right distance away from your eyes, the right height compared to your height (whether sitting or standing, if you have a standing desk), and the right monitor orientation can make a massive difference. The standard best practice is to have the monitor about an arm's length away from your eyes, have the top of the monitor at eye level, and have your primary monitor directly in front of you. This slightly changes if you have dual monitors, depending on how much you use each monitor. If you are running multiple monitors, check out our list of the best monitors for a dual setup.
What is the best size monitor for business?
Depending on the business, department, and task, this answer could drastically change. On average, though, we see business professionals opting for a 24 - 27-inch monitor due to the reasonable pricing and the quality of the panels for the price. If you are working on wide webpages, long text documents, large spreadsheets, or need multiple windows open, a 27-inch monitor or larger one might be better. A larger screen size paired with higher resolution means more real estate viewing.
How we tested the best business monitors
We review monitors based on a number of factors including price, design, and performance. We consider the size of each display, along with panel type, resolution, refresh rate, color coverage and HDR support. We also consider connectivity, including HDMI, DisplayPort, USB-C and wireless interfaces.
Pixel density and color accuracy are particularly important for digital design monitors, but so are ergonomics, so we assess stand adjustability and stability. Finally, build quality and value for money are judged against competitors in the market.
Read more on how we test, rate, and review products on TechRadar.
---