Editor's Note: July 2022
We're rounding the halfway mark on 2022, and this year's best ultrawide monitor models are starting to fill up store shelves, both the physical and digital kind. It's also a time to wave goodbye to some discontinued monitors, like the BenQ EX3510R, which was one of our favorite ultrawide monitors on this list. Fortunately, BenQ has released the EX3410R, which is a slightly smaller but more capable ultrawide than the EX3510R. It is much faster, both in refresh and pixel response, and has slightly better contrast and brightness as well. Best of all, it's a good deal less expensive, so you're getting a much better value any way you look at it.
- John Loeffler, US Computing Editor
Getting the best ultrawide monitor you can afford will probably feel like a bit of a flex for a lot of people, a way to make a statement more than serve a purpose. In a world dominated by 16:9 aspect in TVs, film, and displays of all kinds, it makes sense to ask what the purpose of a 21:9 aspect (or even wider) computer monitor is beside some niche use cases.
Sit down with one for five minutes though and we guarantee that you'll be hooked, just like we were. There is nothing quite like having the expansive real estate of an ultrawide monitor, making an ultrawide the best monitor for getting things done, hands down.
If you're the type of person who has tabs upon tabs across several browser windows, all the best 4K monitors in the world can't give you that extra room to breath on a desktop the way the best ultrawide monitors can, even when the ultrawide is a 1440p display.
If you're looking for the best monitor for photo editing or the best monitor for video editing, then an ultrawide is almost a requirement in order to lay out all your various software and monitoring tools. Sometimes 16:9 just can't cut it.
Still, there are a lot of ultrawide monitors out there, so it can be a challenge to find the right one for your needs and budget. Many of the best 1440p monitors are ultrawides, but this also makes them more expensive as a result. Even the best 144Hz 4K monitors debuting this year can come in at a lower price point than a really good, but not best-in-class, ultrawide.
Still others, especially gamers who might have the best gaming PC around and are looking to put the finishing touches of a gaming setup with a statement piece, are drawn to ultrawide monitors for various reasons. We feel compelled to caution you though that an ultrawide doesn't always make the best gaming monitor, since many of the best PC games that you want to play don't actually support the 21:9 ultrawide resolution.
That's changing fast though as the popularity of ultrawides has taken off and manufacturers from BenQ to Samsung and Alienware have introduced a number of ultrawide monitors in recent years.
We've tested many of these monitors ourselves, and we've pulled together our picks for the best ultrawide monitor for different budgets and needs to help make your research and shopping experience quick and as stress-free as possible. Every ultrawide monitor on this list has been tested by TechRadar's team of experts to ensure that these truly are the best ultrawides on the market, and not just because the manufacturers say so.
Even better, we've pulled together the best monitor deals on ultrawide models using our price comparison tool to help you get the best price on the monitor you want.
Best ultrawide monitors 2022 - Chosen by our experts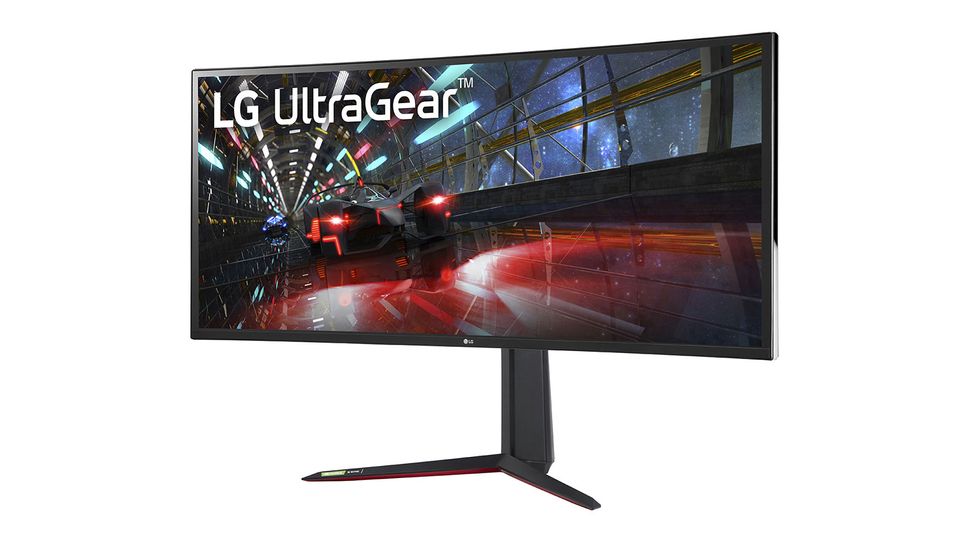 It's hard not to be impressed by the LG UltraGear 38GN950. If you're looking for the ultimate gaming monitor, this is certainly the one to beat, with a 144Hz refresh rate that can be easily overclocked to 160Hz, 1ms response time, spectacular image quality, and many other gaming features like G-Sync, an ultra-wide aspect ratio and DisplayHDR 600.
During testing, the 21:9 ultra-wide aspect ratio certainly delivered the 'wow' factor. Games feel much more cinematic on this display, offering not just a super-immersive experience, but also a tactical advantage. The Microsoft Flight Simulator certainly greatly benefits from it as it allowed us to keep an eye on landmarks and runways without pressing a button to switch views.
Playing at 144Hz and 160Hz, we found, results in an enjoyable experience without screen tearing. Meanwhile, the DCI-P3 98% color gamut support makes it a good option for photographers and video editors.
Read our in-depth LG UltraGear 38GN950 review
---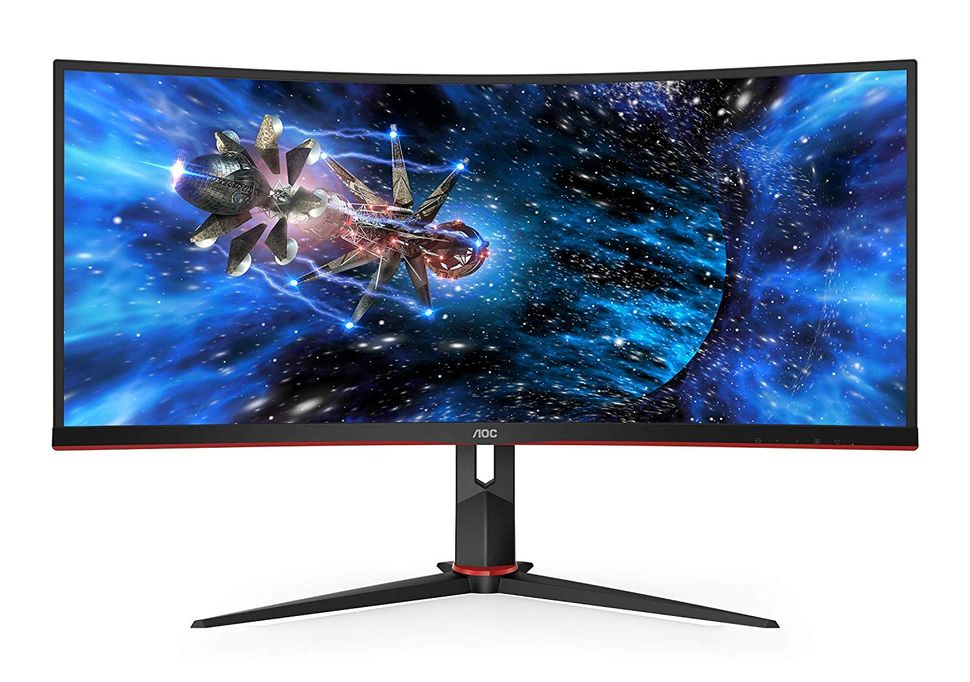 There's no arguing with this monitor's exceptional performance. This 'frameless' monitor works hard to provide best-in-class performance, rather than advertising its gamer-centric nature via sharp angles and aggressive RGB lighting. Though if you are looking for gaming features, it boasts a 144Hz refresh rate, 1ms response time and 1440p resolution for immersive gaming that looks incredible as well.
The AOC CU34G2X's performance is also impressive. Its curve doesn't feel too overwhelming when leaning in close and offers one of the most immersive gaming experiences we've had. Out of the box, the hues and shades are gorgeous, not needing any adjustments for color balance. Meanwhile, its 144Hz refresh and 1ms response time have proven to be effective at minimizing screen-tearing even during intense battles.
This is among the best ultrawide monitors for gaming. And, with a $450/£450 price tag, you're certainly getting a lot of value for your money.
Read our in-depth AOC CU34G2X review
---
The BenQ EX3410R is an excellent ultrawide gaming monitor with lots of features, a stylish design, and great 144Hz performance. Its 1ms pixel response makes it a fantastic option for esports players who need to better see the battlefield and react quickly.
Surprisingly, the speakers on the BenQ EX3410R are actually very good, and while they're not going to compete with a high-quality soundbar with woofer and Dolby Atmos, they are more than enough for the vast majority of people out there.
The only real knock we have against it is that while it does have good color coverage, it doesn't have enough for the needs of creative professionals, so this is really a gamer's gaming monitor, rather than something that creatives who are also gamers can gangpress into doing double duty.
Check out the full BenQ EX3410R review
---
Go big with the Samsung Odyssey Neo G9. The 21:9 aspect ratio is great and all, but if you love games like Final Fantasy XIV, you're going to need more screen real estate for your buttons and meters. Luckily, this behemoth offers that coveted 32:9 aspect ratio, which gives you a whole lot more room to spread out.
It's more than just the size as well. It also packs the most impressive tech we've seen and used in a gaming display, turning up everything its predecessor, the Odyssey G9, offers to 11. It now comes with Samsung's new Quantum Mini LED tech that allows this panel 2,048 local dimming zones for the most impressive and stunning HDR we've ever seen.
Unfortunately, because of its size and tech, you need a seriously powerful PC to take full advantage of it. But, then again, if you're buying a monitor that costs as much as this one does, you better have the gear to back it up.
Read our in-depth Samsung Odyssey Neo G9 review
---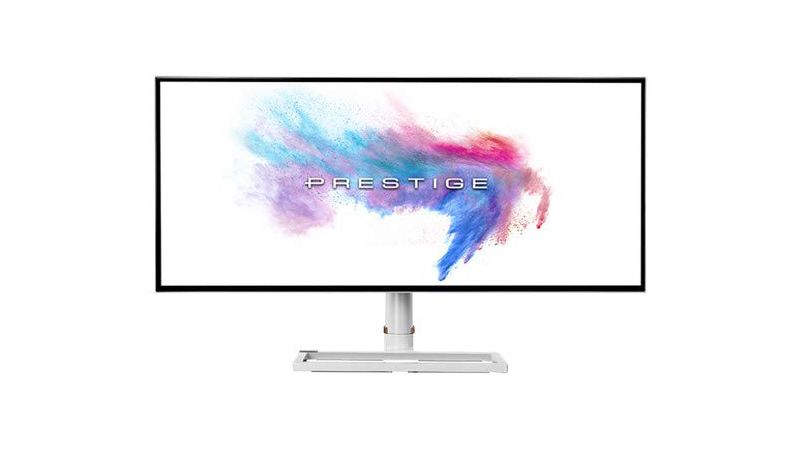 If you're looking for a monitor that's a cut above the 4K norm, then you've got the MSI Prestige PS341WU. Showing up any impeccable 4K monitor is by no means an easy feat, but this monitor does so with the huge 5K2K native resolution (and 21:9 ultrawide aspect ratio) of its luscious 34-inch IPS screen.
It doesn't come cheap, but it does have a great feature set to make up for that, including a Nano IPS panel with DCI-P3 color gamut, HDR support, and comprehensive connectivity. During our testing, it delivered superb image quality, colors that absolutely pop, and viewing angles that are about as good as they get. And, that's right out of the box.
In addition, it comes with 100% of the sRGB gamut and 98% of DCI-P3 color coverage that make it a solid choice for color-critical content creation. All that packed in a beautiful white aesthetic, and you've got yourself one of the best ultrawide monitors of 2020.
Read our in-depth MSI Prestige PS341WU review
---
The Alienware AW3418DW has been one of the best ultrawide monitors for years now. With an incredibly reliable, color accurate display and a high refresh rate, this Alienware gaming monitor has definitely earned its gaming classic label.
Apart from the immersive aspect ratio that fills your vision, it offers a gloriously smooth gameplay right out of the box. This is thanks to the 100Hz refresh rate and G-Sync technology, which delivered high frame rates without screen tearing during our testing.
If you want smooth, high-frame-rate games with an immersive vision-filling aspect ratio, and plenty of game-specific features, this is the best ultrawide monitor for you. It's still a bit expensive, as you may expect from an Alienware product, but you really are getting what you're paying for. And, just like any other product from the alien-themed manufacturer it looks amazing sitting on your desk.
Read our in-depth Alienware AW3418DW review
---
Even non-creative professionals can get a lot out of an ultrawide monitor, which means there's certainly a place for the BenQ EW3880R. This display is just as great for work as it is for media consumption, touting a subtle curvature that increases immersion, that ultra HD resolution in 21:9, and eye-comfort features that boosts productivity.
Its ability to display four, full-sized A4 documents, huge spreadsheets and large graphical working areas makes it a productivity dream. Plus, during testing, its Ultra HD 3,840 x 1,600 resolution kept everything crisp and in sharp relief on test while its evenly lit panel married with the matte screen kept fatigue after prolonged periods of work at bay.
As for media consumption, the built-in 2.1 sound system is seriously impressive – not to mention, space-saving since you won't be needing a pair of external speakers. It's expensive and not quite gaming-friendly. However, if you have the money to spend on a premium display for work and entertainment, it's definitely a winner.
Read our in-depth BenQ EW3880R review
What to look for in the best ultrawide monitors
How we test the best ultrawide monitors
Testing monitors in general is more involved than you'd think. It isn't as simple and straightforward as setting it up, using it for a day, and taking down notes. A monitor is an investment, whether you're looking to get the traditional 16:9 aspect ratio or need the screen real estate an ultrawide monitor can offer, so we take great pains to ensure that anything we recommend is worth your hard-earned money.
To do so, we use it as our main monitor for at least a week, utilizing it for our day-to-day workloads, watching movies and shows with it, and playing our favorite AAA games on it if it's a gaming monitor. This way, we can gauge its real world performance.
We also test very specific things like refresh rates, response times, and viewing angles. We use a colorimeter to check its color reproduction, color accuracy, and uniformity. We check to see just how smooth, clean, and artifact-free its image quality is as well as how good its marquee features like HDR, adaptive sync technology, RGB lighting, and curvature.
Of course, we note its design, aesthetic, and other physical features like how thin its bezels are, how good its port selection is, and how durable its build is. We then gather all that information and compare it to its price tag, to see if it's a great value to consumers.
What's the difference between ultrawide monitors and standard monitors?
The difference between ultrawide monitors and regular monitors mainly lies in their aspect ratios. Standard monitors have an aspect ratio of 16:9, whereas ultrawide monitors have an aspect ratio of 21:9 making them, as their name states, much longer horizontally. The extra length is great if you need to keep a lot of things onscreen or just like watching or creating 4K videos.
It's important to note that as impressive as ultrawide displays are, their resolutions aren't always supported by modern tech. If you're looking for a monitor to connect to your PS5 or Xbox Series X, you're probably better off with a standard monitor because the traditional resolutions are supported on those consoles.
Is an ultrawide monitor good for gaming?
This very much depends on whether the game you want to play in 21:9 supports that resolution, and not every game does. A game like Elden Ring did not support ultrawide resolutions at launch, and so those with ultrawide monitors had to either deal with letterboxing along the sides of the display to frame a 16:9 aspect, or the game would stretch a 16:9 frame into 21:9, noticeably distorting the visuals.
Some games like Final Fantasy XIV do support 21:9 aspect, however, and when this is the case a game world can feel even more expansive and immersive as a result.
Today's best ultrawide monitor deals