There are few gaming monitors out there more luxurious than the Samsung Odyssey G9. The massive 49-inch monitor rocked a massive 5,120 x 1,440 resolution with a 240Hz refresh rate and even backed it up with an HDR 1000 rating. However, 2021 is a whole new year and now we're getting the Samsung Odyssey Neo G9, which takes everything that the Odyssey G9 did and turns it up to 11.
We're talking about better lighting, an HDR 2000 rating and a move to Mini-LED technology, which makes the Samsung Odyssey Neo G9 one of the most advanced gaming monitors we've ever seen. However, not only will you need one of the best gaming PCs – probably something like the RTX 3080 as a minimum – the Neo G9 is even more expensive than it was last year.
But it's largely worth the added cost if you can afford it. The display is genuinely the best we've ever used, with amazing color and black levels that you simply won't find in most other gaming monitors. Playing games on this thing is truly a luxurious experience, which makes the mind-blowing price tag feel at least a little justified.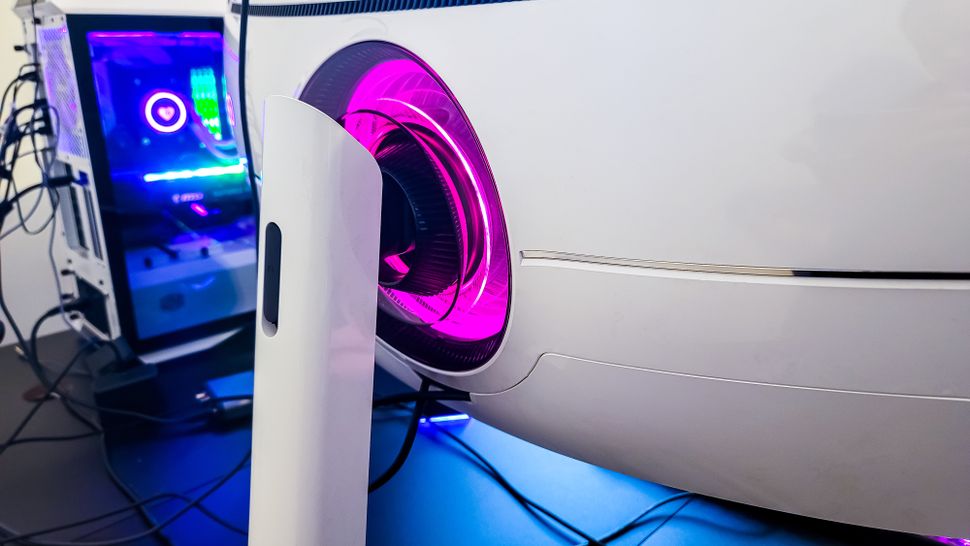 Pricing and availability
The Samsung Odyssey Neo G9 is available now for a blistering $2,499 (£1,749, AU$2,999).
This is, by far, one of the most expensive gaming monitors on the market, but it does bring a lot to the table that other gaming monitors simply can't match. To our knowledge, this is the only gaming monitor with an HDR 2000 rating, which means it knocks the socks off of even the Asus ROG Swift PG27UQ, and it provides the best HDR we've ever experienced, including TVs we've seen.
So while the price has been bumped up by a lot over last year's $1,479 (£1,289, AU$2,799) model, it actually makes sense when you consider all the flashy new tech that Samsung has thrown in here. The Odyssey G9 was already the king of ultrawide gaming monitors, but the Samsung Odyssey Neo G9 takes it to a frankly absurd level that is perfect for the type of gamer that demands nothing but the best experience money can buy.
It's definitely a case of "if you get sticker shock looking at the price tag, it's probably not for you". It's something we probably would never fork over money for, but we definitely have had fun in our time with it, and are not looking forward to sending it back to Samsung.
For something a bit less grandiose, consider the Odyssey G7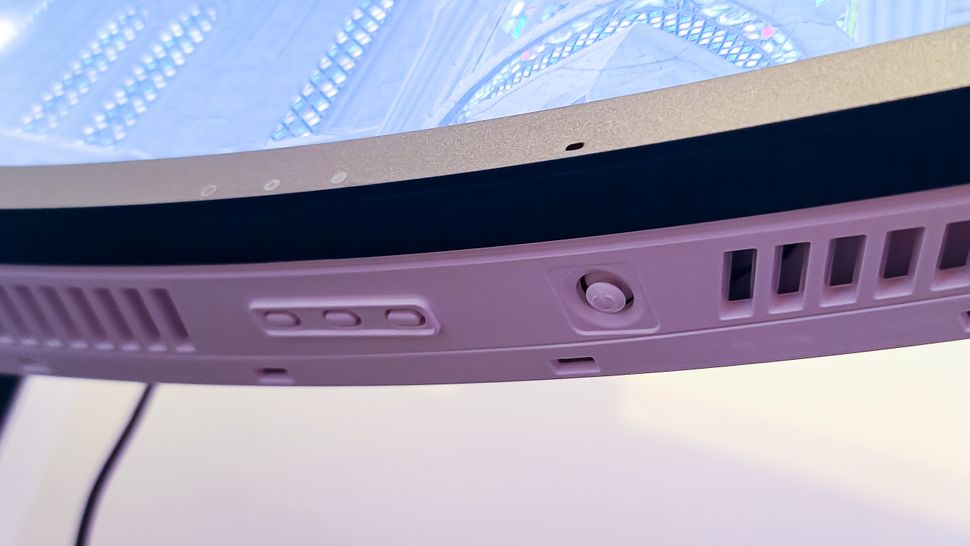 Design
The Samsung Odyssey Neo G9 is big. And while that is pretty obvious from the fact that it's a 49-inch ultrawide monitor, it doesn't hit until you take it out of its box to set up on your desk.
We're lucky enough to have a pretty large 61-inch desk, and even with that it takes up nearly the entire length of it, leaving just enough room for our PC on the side. But, that gargantuan size definitely works in its favor when you're just looking for an immersive gaming experience.
When we're sitting in front of the Samsung Odyssey Neo G9 and playing games – mostly Final Fantasy XIV, let's be real – the game takes up nearly our entire field of view, making it extremely easy to lose ourselves in the moment. Distractions basically don't exist unless you really want them to, and when we're grinding in a desperate last bid to get our relic weapon before Endwalker drops in November, it's definitely a blessing to be able to focus so entirely on the game.
Bezels are definitely still visible, especially along the bottom, but because the screen is so big, it's not something you're going to notice on a day-to-day basis. Plus, the only logos you'll find on the front of the display is the Nvidia G-Sync logo, which we would rather not be there. But hey, at least the monitor has G-Sync.
Just like the last monitor, there's a little joystick/button combo thing slightly right of center on the bottom of the display. You can press in to open the on-screen menu, where you can change all the usual things you'd want to mess around with on a monitor. You can also flick it to the sides to quickly switch inputs or flick it up and down to quickly change some display settings like brightness and contrast.
Next to the little joystick thing, there are three recessed buttons. You can use these to save specific settings for up to three different games, which is useful if you're constantly switching between different types of games – like if you find yourself switching between a competitive FPS like Paladins to a rich and beautiful RPG like Cyberpunk 2077.
The back of the monitor looks pretty much identical as last year, with an all-white colorway with some futuristic designs etched in. Also returning is the RGB circle around where the stand mounts in the back. The cables go into a little compartment in the bottom of the display, and you get a huge plastic panel that you can slide into it to hide where all the cables go in.
Unfortunately, that's also where the biggest issue in this monitor's design arises. Likely because of how heavy this monitor is – and trust us it's very heavy, the stand doesn't really have any channels you can use to hide cables. That makes cable management a little bit harder, which is definitely a shame with a monitor of this class. Because anyone who is going to fork over the cash for a monitor of this caliber is probably going to take their desktop appearance pretty seriously – obviously not us, though.
Now, of course, you can use another stand with this monitor, as it has a standard VESA-compatible mount. However, the massive weight of the monitor gets in the way again, and you're going to have to make sure you get a stand that can handle it. Honestly, we'd recommend just mounting it on your wall – and when we spoke to Samsung about this display its representatives told us the same thing.
As far as how many ports are there, though, you get a disappointingly standard array. There are two USB Type-A ports, one USB Type-B cable (to enable the USB passthrough), two HDMI 2.1 ports and one DisplayPort. Samsung includes both an HDMI 2.1 cable and a DisplayPort cable, though if you want to take full advantage of the 240Hz refresh rate you're going to have to use HDMI 2.1, as the refresh rate will be limited to 120Hz over DP.
It's just a bit disappointing that the display inputs are so limited especially given that one of the coolest things about this monitor is its ability to basically emulate two 27-inch 1440p monitors, which would be even more useful with a wider array of connected devices. It would be nice, for instance, to have our PS5, 2 ports for our PC and our Nintendo Switch, so we could easily swap between all of our devices. Oh well, maybe something for next year's model (if there is one).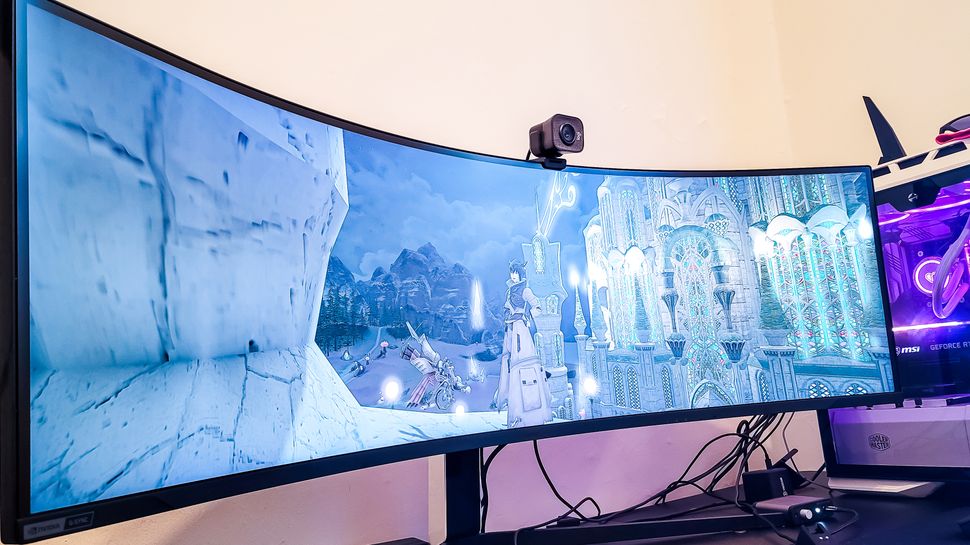 Performance
It's hard to overstate just how much this monitor will blow you away the first time you use it. Samsung was somehow able to double the peak brightness over the 1,000 nits in last year's model to 2,000 in the Samsung Odyssey Neo G9. That gives it an HDR 2000 rating, which is the best HDR you'll find outside of just playing your PC games on a top-end OLED TV.
That alone would be impressive, but it also includes Samsung's new Quantum Mini LED tech, which is behind its latest QLED TVs. So, the Samsung Odyssey Neo G9 has 2,048 local dimming zones, which is a massive improvement over the measly 10 dimming zones in last year's model.
In games like Destiny 2, which is our go-to game to test HDR, the monitor is absolutely stunning. HDR really is a luxury addition, but you'll never want to give it up when you get it, and the move from the HDR 400 displays we're usually testing – gaming monitors really need to get their stuff together – an HDR 2000 display like this really is in a whole other world of brightness and color.
Because the Samsung Odyssey Neo G9 isn't just big and it's not just a high resolution, it's also brighter and more colorful than anything you've probably ever seen. And, when you combine that with the high refresh rate, it's kind of a piece of gaming heaven that you'll definitely want to be part of. But with that high refresh rate and the high resolution, you run into one giant problem: performance.
The Samsung Odyssey Neo G9 has a 5,120 x 1,440 display, which is pretty much 4K. Reviewing this display, we're using a gaming PC equipped with an Nvidia GeForce RTX 3090, and even then there are not many games where we're locked at 120 fps on this display, much less 240.
For instance, in Deathloop, we're usually hovering around 110 fps, with it often dipping down to 100 or 90 fps. That's still a fast frame rate, don't get us wrong, but we're pretty far off from being able to totally saturate this display.
Still, with a monitor that costs as much as the Neo G9, you're going to want to give it some room to grow in the future, and it will be a long time before this monitor's performance is considered standard.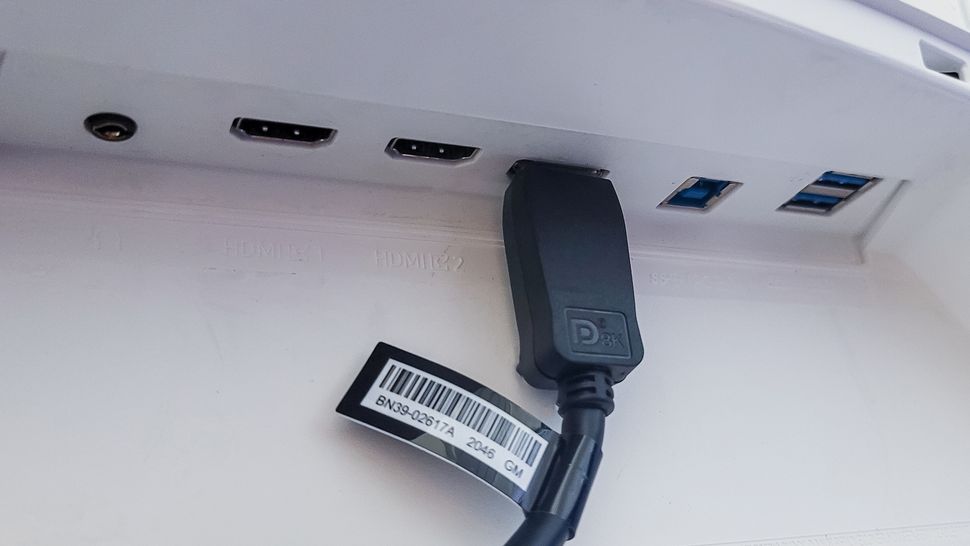 Buy it if...
You don't want to compromise
With a 5,120 x 1,440 resolution, a 32:9 aspect ratio, 240Hz refresh rate and HDR 2,000 the Samsung Odyssey Neo G9 is basically the gaming monitor to end all gaming monitors. This is what you get when nothing but the best is acceptable.
You play a lot of MMO and other UI-rich games
If you play a game like Final Fantasy XIV where more screen real estate means more space for buttons and meters, the Samsung Odyssey Neo G9 is great for that.
You want the latest tech
The Samsung Odyssey Neo G9 is the most top-end gaming monitor that exists right now, and it's not just because it's a big screen. With Mini LED and HDR 2,000, this really is a cutting-edge display.
Don't buy it if...
You're on any kind of budget
The Samsung Odyssey Neo G9 costs $2,499 (£1,749, AU$2,999). That's it, that's all we have to say about that.
You have a smaller desk
Even our giant 5-foot long desk is barely big enough to contain this absolute beast of a gaming monitor. If you have any kind of shortage of space, you're probably better served by another display.