Editor's Note: October, 2022
We've already approached several monitor vendors, such as Dell, Viotek, Monoprice, NecSharp, Samsung, and IIyama, about their 5K and 8K monitor releases. Some have confirmed they don't have plans to launch monitors with 5K and 8K resolutions this year, while at least two have confirmed they will launch 4K+ monitors in 2022. So for now, Dell's UltraSharp UP3218K joins Sharp's 8M-B32C1 as the only 8K displays on the market.
Luke Hughes, Graduate Junior Writer
5K and 8K monitors have finally hit the shelves, which means it's time for some of us to upgrade and future-proof our setup. That isn't to say, of course, 4K is on its way out. Just the opposite, 4K panels are now only starting to become the standard, and 1080p and 1440p displays are still quite common. However, many creative professionals will greatly benefit from a 5K or 8K monitor investment.
If you're a content creator, videographer, or graphic designer, one of the best 5K and 8K monitors should appeal to you despite their exceedingly high price tag right now. These displays will not only deliver incredibly sharp and highly detailed images, but they'll also offer a lot more screen real estate – enough, in fact, to run a video project in 4K and still have all your apps and tools on display and readily accessible simultaneously.
While there are only a few available options out there at the moment, we've still gathered the best 5K and 8K monitors for you. They're the perfect next step for creative professionals. From ultrawide panels to curved monitors that offer deeper immersion, here are our top picks.
Choosing the best 5K or 8K monitor for you
Why you can trust TechRadar Our expert reviewers spend hours testing and comparing products and services so you can choose the best for you. Find out more about how we test.
For 5K monitors (that's 5,120 × 2,880 pixels), you've got a choice of regular 16:9 aspect ratio, or ultrawide monitors with 21:9 (or above) aspect ratios. Ultrawide monitors are a great choice if you want a multi-monitor experience, but with just a single screen.
Meanwhile, monitors with a regular aspect ratio are generally better for design work as high-DPI modes in Windows and macOS allow for working in scaled resolutions, which lets users zoom in to manipulate images in incredible detail while rendering pin-sharp text and UI elements.
However, ultra-wide monitors present an intriguing alternative that ignores pixel scaling to instead give professionals acres of screen space for positioning windows, stretching out video-editing timelines and watching cinematic video as it was intended.
When it comes to 8K monitors (that's 7680 × 4320 pixels), your choice is far more limited, as currently there's only one "affordable" 8K screen out there: the Dell UltraSharp UP3218K (opens in new tab).
The good news is that this is an excellent monitor in its own right (as long as you have the budget, and the equipment to power it) - and we're sure we'll see more 8K screens in the future.
Also check out our list of the best monitors (opens in new tab).
---
The impressive Phillips 499P9H is one of the more feature-packed ultrawide monitors available today. Its VA panel is 8-bit, rather than IPS and 10-bit, and only supports the DisplayHDR 400 standard - so while it looks fine to the untrained eye, it's less suited to professional photo and video-editing work compared to its rivals. That's where our gripes end - this mammoth monitor features plenty of connectivity options including a USB Type-C interface for hooking up a MacBook or other machine, and it goes further than rivals by including a pop-up webcam with Windows Hello Support for snappy face-ID login. The icing on the cake is its adaptive sync support, which makes it suitable for light gaming at 60fps if you have a capable AMD graphics card.
This 49-incher is a new breed of ultrawide monitor pitched at productivity die-hards looking to replace their multi-monitor setup. It sports a capacious 5K resolution that gives you the equivalent of two 2,560 x 1,440 displays, making anything from design work to word processing and watching video more practical and enjoyable in the absence of bezels. Its plentiful connectivity options include two bottom-facing HDMI ports, alongside DisplayPort, two USB 3.0 and a USB-C port that carries power and video, making the LG a good fit for owners of modern MacBooks. Handily, two more USB 3 ports and an audio jack can be found on the monitor's right-hand side. While it has decent sRGB coverage, it's lacking in the superior DCI support of its rivals.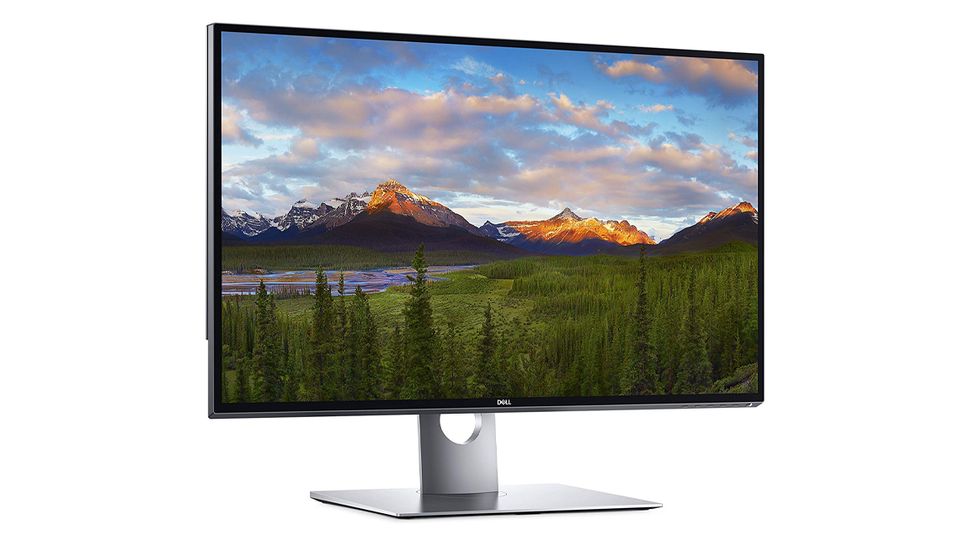 Two years after first clocking eyes on it, we're still salivating over the first 8K monitor to hit the shelves. The UP3218K justifies its cost in ways other than its sheer pixel count, which is so huge that finding content to take advantage of it is no easy task. The monitor is adequately bright, features stellar build quality (it's surprisingly heavy), and its color reproduction is the best in the business. If you absolutely must have the sharpest screen that money can buy, this is it - but beware that it requires two DisplayPorts to run - so pairing it with a beefy GPU is a must.
Dell's ultrawide monitor is the most business-like in design and function on our list. Its stand is chunkier than the LG's 49WL95-W's and features a circular cable tidy hole for added convenience. This model places its two USB downstream ports along its bottom edge rather than around the side, and it also features a USB Type-C port. That's positioned alongside two upstream regular USB ports used for hooking up two PCs and using them with a single keyboard and mouse (courtesy of KVM). Handily, Dell's Display Manager software makes it easy to better utilise that massive display by managing up to six windows at once.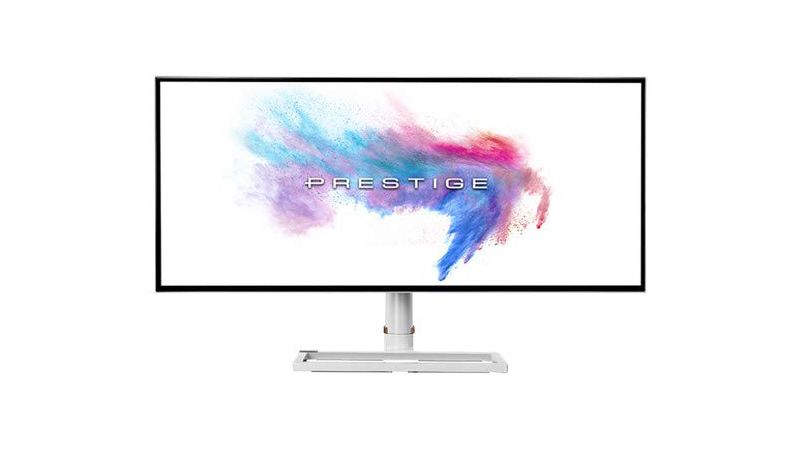 If you're looking for a monitor that's a cut above the 4K norm, then you've got the MSI Prestige PS341WU. Showing up any impeccable 4K monitor is by no means an easy feat, but this monitor does so with the huge 5K2K native resolution (and 21:9 ultrawide aspect ratio) of its luscious 34-inch IPS screen. It doesn't come cheap, but it does have a great feature set to make up for that, including a Nano IPS panel with DCI-P3 color gamut, HDR support and comprehensive connectivity. All that packed in a beautiful white aesthetic, and you've got yourself one of the best 5K monitors available.
The closest thing to an official Apple monitor until the Cupertino company's 6K Pro Display XDR comes out, this 5K monitor is a thing of beauty (and not just because of how bright it can go). It comes equipped with an IPS panel and covers 99% of the DCI P3 gamut, making it an ideal choice for photographers or video editors seeking the best color accuracy. It uses a single USB-C port to transfer video and data the same time, which makes for a tidy setup; on the flip side its port selection is limited to three Thunderbolt 3 USB-C ports located around the back - so get your dongles at the ready.
Professionals can be gamers too, which is why the CRG9 may prove an enticing option for you. Its 5K display, flaunting Quantom Dot (QLED) tech and 1.07 billion colours, is simply gorgeous - and the monitor also sports VESA DisplayHDR 1000 tech backed up by 1,000 nits of pure room-illuminating brightness. For gamers, the addition of adaptive-sync tech will smoothen out frame rates all the way up to the panel's 144Hz refresh rate. It goes without saying that you'll need a beefy GPU to make the most out of this enticing ultrawide. Oh, and deep pockets will be required - as this is one expensive monitor.
---
Curved monitors and resolutions beyond 4K
Curved 4K monitors exist in much smaller numbers than their flatter counterparts.

To date, however, no curved monitors have a resolution higher than 4K. The size of the market and higher cost of materials means that it is not commercially viable to push for curved 5K or curved 8K monitors.
Brett Barbour, VP at US monitor vendor, Viotek, explains an interesting alternative: the option of adding two 4K curved monitors.
"Working professionals across many fields can benefit from the extra space afforded by curved monitors – especially if they need (or just want) multiple monitors. Positioning two 27-inch curved monitors side-by-side, for instance, can deliver solid immersion and a more comprehensive field of view than two 27-inch flat monitors, which would just push the end of the screen farther away from you."
Placing two 27" monitors side-by-side, with their low side bezels, could provide a comfortable viewing experience that feels natural. And it would do this while taking up less space than two 27-inch flat-screen monitors.
Sometimes, a single curved monitor can even replace a couple of flat ones. A wave of "superwide" monitors has recently hit the market. With a 49-inch screen size (horizontal), that's the equivalent of two 27-inch screens in a single monitor."
Barbour did warn that there are other factors to bear in mind.

"Possibly another aesthetic preference, but depending on the placement, a curved monitor might not look as good hanging on a wall due to the curve. A flat-monitor can sit flush against the wall it is mounted on, whereas a curved monitor doesn't.
More importantly, though, some VESA mounting kits might not be able to connect to the back of the curved monitor. After all, most VESA mounts are flat. To deal with this, some manufacturers might offer the means to overcome this issue. This solution might include extension post screws with some of their models, as seen with manufacturers like LG and Viotek, or it might involve including a mounting adapter. But if your curved monitor doesn't come with these solutions, you'll have to hunt some down at your local hardware or electronics retailer."