The best budget gaming PCs are more than capable of giving you a great gaming experience. If you're limited on funds, obviously, you do have to make compromises. You can't expect to play your PC games at the highest resolution and speediest refresh rates, especially those AAA and indie titles that can be very demanding to a system.
Luckily, not all of us need the most powerful hardware on Earth to play the latest titles. Not everyone needs a gaming PC powered by an RTX 3090 Ti or even an RTX 3080. And, if you can keep your expectations in line, then an excellent yet inexpensive pre-built gaming PC should give you an immersive gaming experience.
A desktop PC with a 1080p or a 1440p graphics card, for example, is much more affordable and will still give you sharp visuals and a smooth gameplay. This is the kind of gaming PC you should be looking for if you're on a budget.
Another advantage to that is, you'll probably have enough money in your account to build your gaming setup. After all, your gaming experience is only just as good as your gear, and you'll need the best gaming keyboard, best gaming mouse, and the best gaming monitor as well. And, you won't get those if you blow all your money on a premium gaming PC.
The question is, which budget gaming PC is worthy getting? With so many options to choose from, you might end up with a crappy system if you don't do your research. Lucky for you, we've tested more than our share of budget gaming PCs as well as cheap graphics cards and cheap processors that usually go into such systems. And, we gathered the best value options for you on this list.
You can get some incredible gaming for less than you think. Our top picks of the best budget gaming PCs should help you make the right choice for your needs and budget.
The best budget gaming PC 2023
The Acer Predator Orion 3000 comes in a wide range of configurations, the most powerful of which will be out of most budget gamers' price range. However, the base configuration is much more accessible at below $1,000, coming with a GTX 1660 graphics card and Intel Core i5 processor, backed up by 16GB of RAM. This model is no longer available directly from Acer, but can still be picked up from retailers and should provide more than enough graphical oomph for gaming at 1080p, even in a post-RTX 3000 world, without needing to compromise too much in the graphical settings menu.
Despite being a powerful gaming PC with good potential for piecemeal upgrades further down the line, the Predator Orion 3000's chassis isn't oversized like some gaming rigs; it's been thoughtfully designed to fit beside a monitor or beneath a desk, and the vented front and side panels mean that thermal performance is excellent. It's got that much-desired 'gamer aesthetic' too, thanks to RGB lighting and a big, triangular power button that is very satisfying to press.
The Omen 25L's rectangular black metal design isn't going to turn heads anytime soon. That's at least offset by its glass panel, but only barely. However, if you're not too concerned about looks, this is among the best budget gaming PCs to hit the shelves in 2022 that won't make a sizable dent in your bank account.
With a number of AMD configurations on hand, it's perfect for gamers who prefer Team Red. But those that are loyal to Nvidia's RTX line can partake as well, as you can configure it to have up to an RTX 2070 Super GPU. Still, it's the price we can't get over here – kitted out, the Omen 25L costs as much as many of the premium gaming PCs in their mid-range configuration, only HP's offering has more memory and a lot more storage capacity thanks to a multi-drive setup.
If looking good matters to you as much as power, then you might love the MSI Trident 3 10th, especially if you're partial to a gaming-leaning aesthetic. The angular tower is roughly the same size as a home console, meaning that it won't take up too much room on your desk and could even slot into a TV stand if you'd prefer to use a controller for some couch gaming instead. It comes with an included removable base if you'd rather mount it upright, too.
It's not all looks either. This small gaming PC touts plenty of power under the hood for less than its rivals, with 10th-generation Intel Core processors and the best Nvidia RTX and GTX graphics. It's even cheaper than many of the gaming PCs on this list, with its Intel Core i7 + RTX 2060 Super +16GB RAM configuration setting you back much less than an HP Omen 25L with equivalent specs. If you're trying to maximize your limited space and budget, this is the best budget gaming PC for you.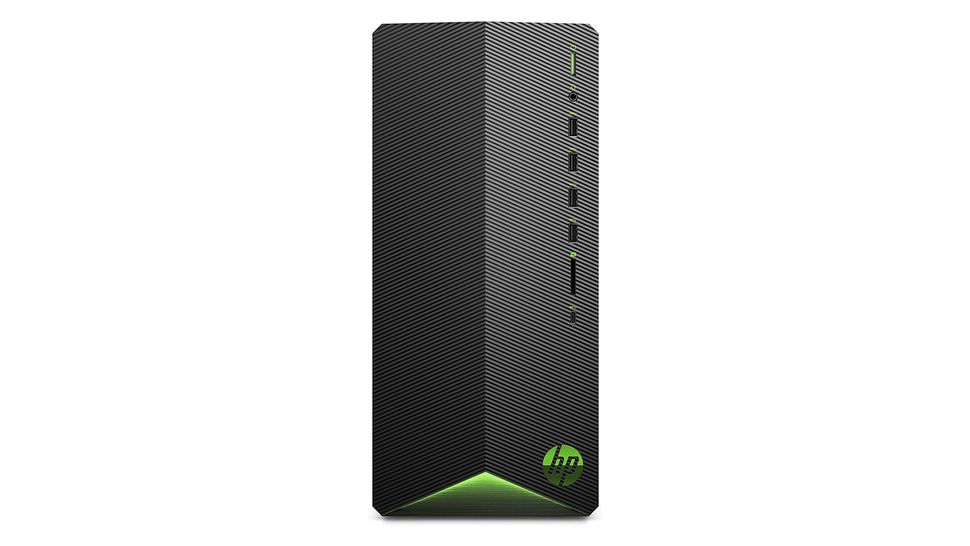 Trimming that gamer aesthetic look to the barest minimum, the HP Pavilion Gaming Desktop fits just at home in any office environment as it does in someone's game room thanks to its compact chassis and refined LED lighting along the base. So, if you're looking for a machine on which you can both play and work, this is just the ticket – taking out two birds with one stone and giving you even more savings.
It isn't going to be an ultra-kitted-out machine, obviously, although if you shell out a little more for the higher configurations, you can score one with an RTX 3060 that will offer some more graphical oomph for playing the latest games. However, its lower configurations should be capable enough to see you through 1080p gaming, provided you're willing to drop your graphical settings a bit.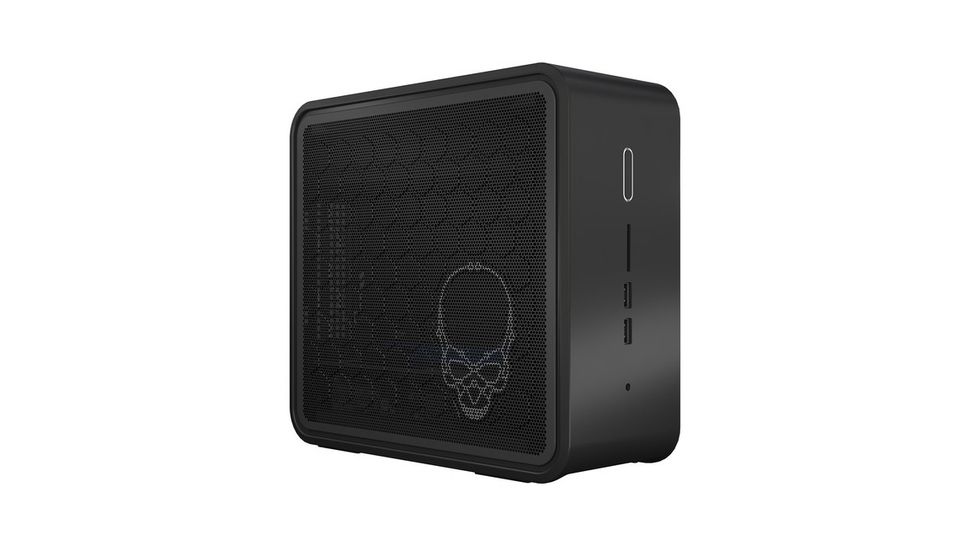 Intel's NUC has come a long way from its humble beginnings. For example, while the previous Hades Canyon didn't come with a RAM or storage, the newer Ghost Canyon has both. In fact, not only does it have more offerings now in terms of specs, but it's also highly configurable so you can personalize it to your liking before hitting that buy button.
With 9th-generation Intel Core chips, up to 64GB of memory and up to 4TB dual storage, we're all for it. The only catch is that it's pricier now as well. The lower configurations are still quite affordable, however, and among the best budget gaming PCs for the budget-conscious. Bear in mind, though, that many NUCs run on integrated graphics running off the CPU, which won't offer the same level of performance as a dedicated graphics card. Still, iGPUs have come a long way in recent years, and are now a viable way to game at lower settings.
How to choose the best budget gaming PC for you
Finding the best budget gaming PC for you can be a difficult prospect, as there's a huge range of manufacturers with an even huger range of configurations available. We look at all different kinds and compare them to other PCs in their class, considering everything from price to performance to build quality.
Be sure to consider what you personally need when it comes to gaming on a PC. If you're planning on mostly playing 2D indie games or esports games (such as League of Legends and Valorant), you likely won't need a super-powerful machine since these titles are usually well-optimized to run on lower-end hardware. On the other hand, if you want to play graphically-demanding triple-A games, you're going to need to spend a bit more to get the best performance.
Resolution is an important factor here too; is the screen you'll be using a 1080p full HD monitor, or a 4K 120Hz display? If you're gaming at a higher resolution, you'll need a more powerful GPU in order to keep your framerates looking steady without compromising significantly in the graphical settings.
Is it hard to find a good budget gaming PC?
Due to a global chip shortage spurred on by the Covid-19 pandemic and other factors like droughts and power outages, it was hard to find a budget gaming PC for a while. GPU and CPU prices were sky-high for a good portion of 2022 due to things like supply chain issues and scalpers gouging the market. However, the market seems to have finally calmed down enough that a rig like this can actually be considered affordable.
We've observed AMD and Nvidia GPU prices continue to decrease - although AMD's are falling faster - which is good news for everyone. AMD graphics cards are consistently nearing MSRP (Manufacturer's Suggested Retail Price) which means it will hopefully be easier to get your hands on affordable gaming PC parts, and therefore cheaper pre-built gaming PCs. We may not be in the clear just yet, but the market change is hopefully indicative of it becoming easier to find the best budget gaming PC at wallet-friendly prices.
Is it cheaper to build or buy PC?
Ultimately, it's always going to be more expensive to build a budget gaming PC than it will be to buy one, since manufacturers will get OEM pricing on components that they order in bulk, which will really make a difference on the lower end of the price scale.
But pre-built PCs are often built with the careful mix of components to maximize performance at that price point. This often means that if you want to upgrade one component, you might need to upgrade other components along with it in order to avoid a performance bottleneck in one part of your system, which can potentially make upgrading the PC a more expensive proposition down the road.
Is a $500 gaming PC worth it?
It depends on what you mean by "worth it." What you want to play and at what kind of performance and quality settings is going to make a major difference on whether a $500 gaming PC is up to the task.
If your primary goal is to play modern AAA titles at 1080p at reasonable settings at a reasonable frames per second (averaging 30 or more fps), then a $500 gaming PC can probably give you that and possibly a bit more, depending on the game.
If you want to play something at 4K with 60 fps, then no, you're probably better off buying a PS5 or Xbox Series X|S, assuming you can find one at MSRP. Of course, this limits you to only playing the games available on that platform, and remember that you'll need to pay a regular subscription for online play too.
How we test budget gaming PCs
Why you can trust TechRadar Our expert reviewers spend hours testing and comparing products and services so you can choose the best for you. Find out more about how we test.
Here at TechRadar, we believe in rigorously testing every piece of hardware that passes through our hands. If it fails to impress during testing, we'll always let you know; we won't recommend you buy any product that falls short of the performance median for its price range.
Our testing process varies from product to product, but we're always sure to run the most appropriate tests considering the target purpose of whatever we're reviewing. This means we're always sure to run plenty of gaming tests on a gaming laptop, or editing benchmarks for a desktop workstation PC. We also always examine the build quality of a product to see whether it aligns with the attached price tag.
If you want to know more about how we test and rate the computers in this guide, check out our explainer on how we test laptops and desktops to learn more.
Today's best budget gaming PC deals