EDITOR'S NOTE: October 2022
With the announcement of the RTX 4090 and RTX 4080 during Nvidia GTC 2022 on September 20, we can officially say that our best graphics card list is about to get some major shake ups in the next few months, especially since AMD teased its major RDNA 3 graphics cards announcement, set for the first week of November. All of this is coming as graphics card prices were already falling due to the cryptobubble bursting earlier this year, and with Black Friday 2022 right around the corner, we're expecting to actually see some cheap graphics card deals this year for the first time since the current generation of GPUs launched back in 2020.
- John Loeffler, Computing Editor
The best graphics card is going to give you blazing fast performance in both gaming and content creation, but what makes it the best isn't just its raw performance. What good is a graphics card that has marginally better performance but costs twice as much?
And even though getting your hands on the best Nvidia GeForce graphics cards and the best AMD graphics cards has gotten easier, finding the best GPU for your rig can still be very expensive. Fortunately, prices are starting to come down considerably from their highs of the last couple of years, making now a great time to buy a new graphics card.
Figuring out where to start can be a challenge though, so we've pulled together our top picks ranging from the most premium options to the best cheap graphics cards on the market to make your buying decision easier than ever.
So whether you're looking for one of the best 1440p graphics cards, the best 4K option, or you're on a tight budget and just want the best 1080p graphics card, we've got you covered. So whether you're building the best gaming PC around or you're just checking out components options for a new prebuilt gaming rig, you've come to the right place.
We've tested nearly all of the best GPUs from leading brands like MSI, Gigabyte, and Asus, along with Nvidia and AMD reference cards to pull together our super list of the best graphics cards on the market today that will let you play the best PC games and work with cutting edge video editing and 3D rendering software with ease.
Where to buy the best graphics cards right now
Our picks for the Best Graphics Cards of 2022
Is AMD no longer the king of great value GPUs? The Nvidia GeForce RTX 3060 Ti threatens that claim with its price to performance ratio. One of the newer arrivals in the RTX 3000 line, this graphics card punches way above its weight class, delivering a performance that could rival the RTX 2080 Super while keeping its price tag incredibly affordable for most people. That's with impressive ray tracing included. We've never seen 1080p gaming to be this good or this affordable.
And, if you plan on gaming in 4K, you can even do that, if just barely. You'll have to make some compromises on settings and skip the ray tracing. With that said, there's little else to fault with the 3060 Ti. It stays cool as a cucumber and, for those who like to display their PC's innards, is quite stylish. This is, indeed, the best graphics card for most people.
The best graphics cards that have come out over the last couple years have had one thing in common: they're really expensive. This has a lot to do with the graphics card shortage we've all been dealing with, but it's also because Nvidia and AMD had been ignoring the budget graphics card world for too long.
Luckily, the Nvidia GeForce RTX 3050 is finally here. While it's way more expensive than 50-series graphics cards from Nvidia have been in the past, this GPU is much more affordable than pretty much anything else in the current generation.
The Nvidia GeForce RTX 3050 is more than capable of playing pretty much any game you throw at it at high settings, just as long as you keep the resolution at 1080p. And, esports gamers will love this card, as it is affordable(ish) and can run games like Overwatch and League of Legends without breaking a sweat.
You can't beat the Nvidia GeForce RTX 3090 when it comes to performance. With a whopping 24GB of RAM, no game or, more importantly, heavy graphics project will suffer performance issues. In fact, we were even able to get some 8K performance at 60 fps out of the 3090. It is an incredibly expensive unit, and quite large too, so it will probably be too much GPU for most users.
The Nvidia GeForce RTX 3090 is, in essence, a replacement for the Titan so it's meant more for the creative user tackling intensive 3D and video rendering than for the avid gamer. Even so, it comes with a massive reduction in price compared to the Titan, making it a bargain for creative professionals used to shelling out a lot of money for the tools of their trade.
With the Nvidia GeForce RTX 3080, 4K gaming just became a lot more accessible. Before, you had to shell out more than $1,000/£1,000 for the RTX 2080 Ti to get playable frame rates. However, with this new generation of Nvidia graphics cards, the price of 4K gaming has dropped nearly half, thanks to the RTX 3080.
When it comes to sheer power, the RTX 3080 boasts one of the largest generational leaps in GPU history, delivering a 50-80% performance boost over the RTX 2080 and a 20-30% boost over the RTX 2080 Ti, all while keeping the same price point as the RTX 2080. And, while it still comes at a premium compared to other GPUs of this generation, it's still both an absolute powerhouse of a graphics card and a great value. We wouldn't recommend it, however, if you tend to play games at a lower resolution.
The AMD Radeon RX 6950 XT is without question the best AMD graphics card ever, and this is especially true when you consider its fantastic price point compared to its fantastic gaming performance, which often rivals the RTX 3090, especially if you aren't worrying about full-on ray tracing performance.
There are some places where the RX 6950 XT lags though, especially in terms of creative performance. It doesn't have any tensor cores either, so its ray tracing performance will lag behind comparable RTX cards.
But you simply cannot argue with this price, and had AMD launched the Big Navi line-up of graphics cards with this as its flagship card, the entire story of this generation of graphics cards might have been rather different. This is a premium card though, so you'll definitely want to consider whether dropping a bunch of money on a premium graphics card this close to the anticipated launch of the next generation of cards is a good idea, but if you're going to go for a premium card right now for pure gaming purposes, then this should be at the top of your list.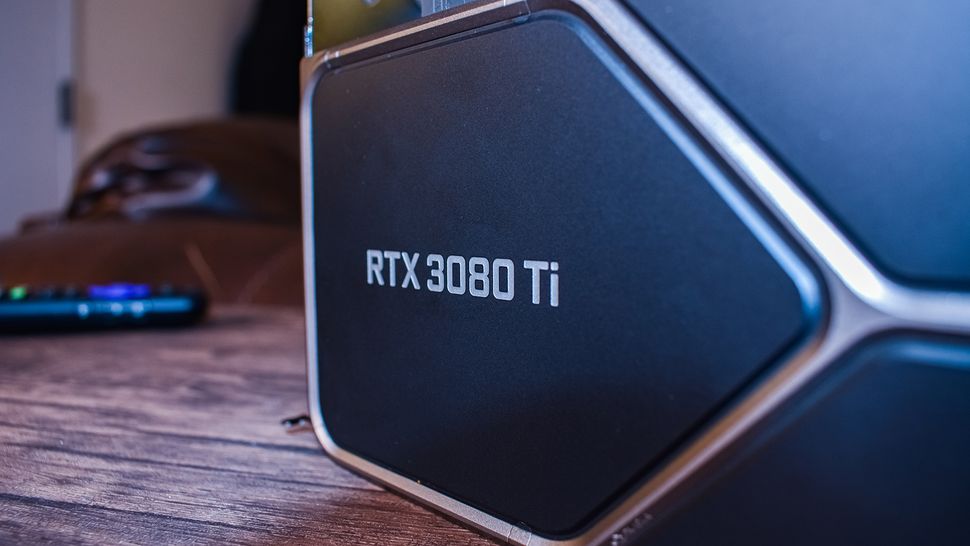 There's a new Nvidia champion in town, and it takes power and performance to an even more accessible price point. The long-awaited RTX 3080 Ti delivered the same level of performance as the RTX 3090 during our tests – an impressive feat in its own right – while dropping the price by a few hundred dollars, making all that sheer power more accessible than ever.
It continues what the RTX 3080 has started – to take 4K gaming into the mainstream arena – with its breathtaking 4K at 60fps performance. It also stays cool under pressure. And, like many of the other 3000 series GPUs, it's quite a stunning-looking card to boot. Of course, it's still among the more expensive of Nvidia's offerings and requires a good amount of power to function properly. But, this is still the best graphics card on the market right now, especially if you care about ray tracing.
Read the full review: Nvidia GeForce RTX 3080 Ti
The best graphics card on the market for most people, the Nvidia GeForce RTX 3070 delivers excellent performance. It's on par with the RTX 2080 Ti even without costing an arm and a leg, bringing 4K gaming to the mainstream market for the first time. Before this card, 4K gaming was out of a lot of people's budget.
The RTX 3070 does exactly that without forcing you to compromise on settings for most games. Yes, with this reasonably priced card powering your PC, you can play your favorite AAA games in 4K at high settings without its performance suffering. A cheap price tag plus 4K gaming on quality settings equals great value, and that's why the RTX 3070 tops our list. We also appreciate the fact that it doesn't have the same massive cooler that the RTX 3080, which allows it to have a smaller form factor.
AMD has offerings at all price points. When it comes to its mid-range options, the AMD Radeon RX 6700 XT is the best. We found it to be an excellent 1440p graphics cards, expertly bringing Team Red's RDNA 2 architecture to a more approachable level, price-wise. That's not all. While it's not the best graphics card for it on the market, it can do ray tracing and give you a taste of it.
It's an Nvidia GeForce RTX 3060 Ti rival. However, it is closer to the RTX 3070 in price, which makes it a harder sell for the more budget-conscious. Still, we cannot deny its superb 1440p performance. And, if you're more of an AMD fan, it's still an excellent contender. You probably should get comfortable messing with your BIOS though.
If you think AMD is still stuck in the budget and mid-range markets, think again. The AMD Radeon RX 6800 marks AMD's return to the high-end graphics card market, and it's a premium ace without the incredibly premium price. This GPU delivers a solid 4K gaming performance and impressive ray tracing at 1440p, while being a better value than its direct rival, the RTX 3070, thanks to its VRAM.
We found its ray tracing to be a wash at 4K due to its lack of features, especially those around upscaling. However, if you're happy to play games at 1440p with ray tracing on, it can more than handle whatever game you throw at it. Plus, AMD's Smart Access Memory technology will make it even faster. As long as you're comfortable playing around in your BIOS.
If you're after the Nvidia GeForce RTX 3090, you're going to want one with a cooler that's more than powerful enough to handle the full brunt of the power on offer. The MSI GeForce RTX 3090 Gaming X Trio has not only the cooling power to handle this GPU at its stock settings but enough oomph to overclock it to make it even more powerful. For a GPU that already laughs in the face of all PC games at 4K, this extra power is just icing on the cake.
Thanks to its stronger performance and more potential for overclocking, the MSI GeForce RTX 3090 Gaming X Trio knocks the Founders Edition off its pedestal. That's without mentioning its sick RGB lighting strip along the side. This is still an RTX 3090, however, so be prepared to pay a steep price for all that.
How to shop for the best graphics card
How we test the best graphics cards
When it comes to the best graphics cards, it's incredibly important to make sure we're testing everything on an equal playing field. That's why, whenever a new graphics card comes out, we test it in a suite of around 11-12 games and across several resolutions, all on current drivers.
That means that we re-test all current-generation graphics cards whenever a new one comes out. And we make sure that all of the cards are tested on the same hardware, which means the same processor, with the same memory at the same speed, on the same motherboard, with the same SSD. That way, we can be sure that we're measuring how the graphics card itself is performing, and we can more reliably compare it against its rivals.
We also make sure to log how much power its consuming and the temperatures it reaches under load, to make sure we can recommend it to people that may be concerned about high temperatures in their PCs.
Finally, we take a look at the features that each graphics card offers, though usually these don't really change generation-to-generation. However, the performance while enabling something like ray tracing definitely can change.
How to choose the best graphics card for you
The truth is that right now buying a graphics card is harder than ever. You'll rarely find one available on a store shelf, and when you do it'll be gone within seconds. So, really, the GPU you should buy in 2022 is whatever you can get your hands on (and you can afford).
You should probably avoid spending more than twice the retail price for a graphics card – a $1,000 RTX 3060 isn't worth it for instance – but if you need a graphics card right now, just be ready to get whatever comes in stock.
If you already have a pretty good graphics card, though, like if it's from the last 5 or so years, you might want to wait until the current global supply situation starts to normalize. Yeah, you might have to wait longer to get ray tracing, but if you can still play games, you're probably fine waiting.
When the best graphics cards are readily available again, you can be more discerning about your choice. Since you would have more options across different price ranges, you must decide how much you're willing to spend.
Of course, you also need to consider your graphical demands as well. You shouldn't settle for what you can afford right now if it's not powerful enough to handle your daily needs. You're better putting it off for a bit and saving up until you can afford the GPU that's the right fit.
As for which one that is, you need to take a look at the vital specs: GPU memory, GPU size, Thermal Design Power or TDP, and ports and power connectors are all important. As are the number of teraflops (or GFLOPS) it has since that indicates the theoretical performance of that graphics card.
If you want the best ray tracing experience, Nvidia is still the king of the castle. However, we're sure that AMD will be upping its ray tracing game in order to compete. If you're into VR games and experiences, you should also make sure that it supports VR as well.
Which graphics card is best for gaming?
Generally speaking, the best graphics card for gaming is going to depend on several factors. Things like what kind of games you like to play, what resolution you play at and whether or not you care about fancy features like ray tracing and DLSS are incredibly important.
For example, if you just want to play all the latest games at 1080p with high settings, you can get by with an Nvidia GeForce RTX 3060 or an AMD Radeon RX 6600 XT. But if you want to play everything totally maxed out with ray tracing at 4K, you're probably going to want to go for something like the RTX 3080 Ti instead.
What is the best brand for graphics cards?
The age-old question of whether Nvidia or AMD is the best brand for graphics cards will likely never go away. Right now, both GPU manufacturers are basically on equal ground, and what will ultimately be right for you probably won't be right for someone else.
Generally, if you like ray tracing, Nvidia will probably have the edge for you and in the past AMD was better for people on a budget.
Is RTX better than GTX?
Deciding what's better - RTX versus GTX - ultimately comes down to what you'll be using your graphics card for. If you like playing the newest game releases that feature ray-tracing technology, you'll want to get an Nvidia RTX graphics card. These graphics cards feature RT Cores that allow for real-time ray-tracing up to 6x faster than other GPUs, creating stunning in-game visuals with movie-like lighting.
Nvidia GTX graphics cards, on the other hand, can massively improve game performance. These graphics cards feature Turing architecture that take up less power and give you higher frame rates per second. GTX cards are great for competitive gaming as well as immersive experiences, and also adapt well to retro games with fantastically rendered pixel art.
If you're looking for a more visually impressive gaming experience, the Nvidia RTX line of graphics cards is going to be the choice for you. If visuals are less important than game performance, you're going to want an Nvidia GTX graphics card instead.
Today's best graphics card deals