The best graphics card in 2023: top GPUs for all budgets
Best
Contributions from
last updated
What's the best graphics card for the money right now?
VERDICT
REASONS TO BUY
REASONS TO AVOID
Quick Menu
1. The list in brief
2. Best overall
3. Best Nvidia
4. Best cheap AMD
5. Best Intel
6. Best performance
7. Best gaming
8. Best 'cheap' creative
9. Best 'cheap' 4K gaming
10. Best cheap Nvidia
11. How we test
12. Today's best graphics card deals
Finding the best graphics card for your needs can be a challenging task given the incredible variety of options available, with both online and in-store retailers offering a wide range of GPUs from a dozen or more manufacturers, making it essential to discern which is the top contender for your for what you need.
With recent releases from brands like AMD, Nvidia, and even an emergent Intel in the graphics arena, the best GPU crown is being hotly contested by all sides this year, so it's crucial to see past the alluring marketing claims and understand the true value of a product.
We've been testing and reviewing graphics cards for years now here at TechRadar, and our collective experience covers the spectrum from the best cheap graphics card that offers bang for your buck, to the best 4K graphics card suitable for creative tasks, machine learning, and of course, unparalleled gaming experiences.
Our expertise is rooted in comprehensive testing of numerous GPUs over the years, and I've personally tested and retested all of the GPUs of this generation and last several times in recent months as new releases continued to come in. Well we're here to leverage all that time and energy (literally) into helping you find the best graphics card for your hard earned dollar.
Whether your goal is to find the best 1440p graphics card, the best 1080p graphics card for some solid budget gaming, or just want the best graphics card for creative content, this guide's only job is to lay out the data we've got so you can make the right buying decision for your needs and budget.
Written by
John has been working with computers since he was a teenager, long before he ever started writing about computer hardware or working on his Master's degree in Computer Science. Needless to say, he knows computers inside and out, and he has personally tested (and retested) all of the graphics cards on this page, regardless of whether he wrote our original review, and has validated the results you'll find here.
Today's best early Black Friday graphics card deals
Why you can trust TechRadar We spend hours testing every product or service we review, so you can be sure you're buying the best. Find out more about how we test.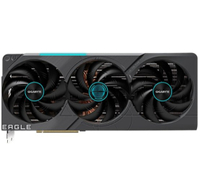 Gigabyte GeForce RTX 4080 Eagle OC: was $1,239.99 now $1,059.99 at Best Buy
The RTX 4080 is one of the best graphics cards going, but it's MSRP is ridiculous, so this deal on the Gigabyte Eagle OC variant brings the price on this exception GPU more in line.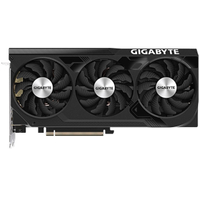 Gigabyte Windforce GeForce RTX 4070: was $549.99 now $549.94 at Newegg
So this card is only technically discounted for its list price by five cents, which is nothing really, but its list price is noticeably cheaper than the base Nvidia RTX 4070's $599.99 MSRP, so you're still getting one of our best reviewed graphics cards of the year for a healthy discount.
The Quick List
Load the next 3 products...
Best 'cheap' creative
The best 'cheap' graphics card for creatives
The RTX 3090 is still a premium card years after it launched, but you can often find these card at a substantial discount now.
Best 'cheap' 4K gaming
The best cheap 4K gaming card
The 4070 Ti has major gaming chops and can handle 4K very well thanks to faster GDDR6X memory.
Best cheap Nvidia
The best cheap Nvidia graphics card
The RTX 4060 is a fantastic card that's easy to find under $300/£300, which is less than some RTX 3060s sell for.
The best graphics card in 2023
Below you'll find full write-ups for each of the best graphics cards in our list. We've tested each one extensively, so you can be sure that our recommendations can be trusted. If you want to learn more about GPUs before you buy, check out our what is a graphics card page for more details.
The best graphics card overall
The best graphics card overall
Specifications
Core Clock:
1,295 MHz (2,430 MHz Boost)
Memory Clock:
19.4 Gbps effective
Outputs:
1 x HDMI 2.1, 3 x DisplayPort 2.1
Power Connectors:
2 x 8-pin
Passmark 3D Graphics Score, As Tested:
28,430
GeekBench 6 Compute (Avg), As Tested:
148,636
PugetBench for Photoshop, As Tested:
1,578
HandBrake 1.6, 4K to 1080p (FPS), As Tested:
168
Average 1080p Gaming FPS, As Tested:
111
Average 1440p Gaming FPS, As Tested:
86
Average 4K Gaming FPS, As Tested:
56
Reasons to buy
+
Better rasterization than RTX 4070
+
Improved ray tracing performance
+
16GB VRAM and AI cores
Reasons to avoid
-
Only marginally than the RX 6800 XT
-
Ray tracing and upscaling still lag behind Nvidia
-
Still power hungry
Buy it if
✅ You want to play at 4K: This card has serious 4K gaming chops, especially at this price.

✅ You don't want to completely sacrifice ray tracing: AMD is finally offering both great rasterization and ray tracing performance.

✅ You're tired of Nvidia's GPU price inflation: The RX 7800 XT isn't cheap, but its price is far more reasonable than Nvidia's RTX 4070.
Don't buy it if:
❌ You are looking for the best creative GPU: The introduction of AI accelerators certainly help this card, but Nvidia still dominates creative workloads.

❌ You want the best ray tracing and upscaling possible: If ray tracing and upscaling are your bag, then the RTX 4070 is going to be the better buy here.

❌ You're on a tight budget: While this card is much cheaper than its direct competition, it's still not close to what anyone would call 'cheap'.
The AMD Radeon RX 7800 XT was AWOL for most of 2023, coming nearly a year after the announcement of AMD's flagship RX 7900 XTX and RX 7900 XT cards, but that just made it all that much sweeter when it finally launched and gave gamers everywhere the midrange graphics card they've been waiting for years now.
Powered by AMD's RNDA 3 GPU architecture, the RX 7800 XT avoided Nvidia's stubbles this generation and shipped the card with 16GB of GDDR6 VRAM and a wide enough memory bus to allow 4K textures to load quickly and render efficiently. That means that even though AMD is technically marketing the RX 7800 XT as a 1440p graphics card, it is more than capable of gaming at 4K.
If our testing, the RX 7800 XT battled the previous graphics card champion, the GeForce RTX 4070, to an effective Rocky-style draw (while coming up about 2% better in overall gaming performance). While the RTX 4070 has better ray tracing, the RX 7800 XT is a very capable ray tracer in its own right, with absolutely outstanding rasterization performance, so you're not missing out on anything like you were in the last generation AMD cards.
To top it all off, the RX 7800 XT has a much lower MSRP than Nvidia's rival card, making this card a no brainer when it comes to offering outstanding performance at a great price. If there's a caveat here, it's that the 7800 XT's gen-on-gen performance isn't as good as some might have hoped for, but even with that its performance still makes it Best-in-Class as far as we're concerned.
The best Nvidia graphics card overall
The best Nvidia graphics card overall
Specifications
Core Clock:
1,920MHz (2,475MHz Boost)
Memory Clock:
21 Gbps effective
Outputs:
1 x HDMI 2.1, 3 x DisplayPort 1.4
Power Connectors:
1x 16-pin
Passmark 3D Graphics Score, As Tested:
35,030
GeekBench 6 Compute (Avg), As Tested:
158,093
PugetBench for Photoshop, As Tested:
1,777
HandBrake 1.6, 4K to 1080p (FPS), As Tested:
206
Average 1080p Gaming FPS, As Tested:
112
Average 1440p Gaming FPS, As Tested:
88
Average 4K Gaming FPS, As Tested:
52