The best cheap graphics card is the one that will give you satisfying gaming performance without breaking your wallet in half, and that is a surprisingly hard thing to come by.
Most of the best graphics cards are high-end kit, with GPUs like the Nvidia GeForce RTX 4090 taking all the (well-deserved) accolades, but even more afforable fare like the Nvidia GeForce RTX 4070 still comes in at close to $600 / £600. That's a lot of cash that not a lot of people have laying around, especially at a time like this.
Fortunately, there are some great graphics cards out there at reasonable prices if you're willing to keep your expectations in check, and with advances in DLSS and FSR upscaling tech from Nvidia and AMD, respectively, you don't have to sacrifice high-quality graphics card playable performance.
But not every graphics card is capable of these latest technologies or worth picking up even if they are, so it can honestly be tough to find the right card for your gaming needs and budget.
Fortunately, we've extensively tested all the best cheap graphics cards out there and we've pulled together a list of all our top picks for every need from the big three graphics card makers, including the best Nvidia graphics cards, the best AMD graphics cards, and even a surprising entry from newcomer Intel, to help you make the right choice for your rig on a tight budget.
The best cheap graphics cards 2023
As far as budget graphics cards go, you really can't go wrong with the AMD Radeon RX 6600 XT. It might not be able to put out the kind of 1440p performance that even the RX 5700 XT was able to, but for 1080p performance, you can easily get solid frame rates on max settings for your favorite games.
And while it does feature ray tracing, even at 1080p ray tracing will absolutely tank any graphics card's performance. Thankfully, with AMD's hardware-driven Radeon Super Resolution, you should now be able to get playable frame rates at 1080p even with ray tracing turned on, and AMD FidelityFX Super Resolution built into many games will offer even better performance still.
This is still an objectively expensive card, seeing as its starting retail price is $380 / £329 / AU$499, but, at this point, this is the best graphics card by value among this generation of cards that you're going to find that is actually worth buying.
Read the full AMD Radeon RX 6600 XT review
The Nvidia GeForce RTX 3050 is one of the few Nvidia graphics cards from the Ampere era that is anything close to being considered a budget graphics card, and for what it is, it's a solid choice for 1080p gaming.
It also comes with a lot of features that AMD cards simply don't have, like machine learning-enabled Deep Learning Super Sampling (DLSS) technology, and tensor cores to not just play games at fast frame rates, but also to handle creative workloads that even the best AMD graphics cards will stumble over.
Still, it's expensive for an Nvidia xx50-series card, with the GTX 1050 and GTX 1650 launching for nearly half the price of the RTX 3050. Such is the state of the industry though, and with graphics card price inflation being what it is, this is probably the lowest price you'll pay for a graphics card with this kind of performance and advanced features.
Read the full Nvidia GeForce RTX 3050 review
The AMD Radeon RX 6600 isn't that far behind the RX 6600 XT when it comes to performance, but this slimmed down version of the Navi 23 GPU is a much more appealing option for a dedicated capital-B Budget Build.
Featuring some very respectable 1080p performance and support for features like AMD Radeon Super Resolution, this card can easily play the best PC games at 1080p with frame rates north of 30 fps, if not closer to 60 fps on some medium-lift games, on high or maximum settings.
All the while, this graphics card is a good bit cheaper than AMD's XT variant, so if you're looking to get the best performance at the lowest price, with an emphasis on price, than this is the card you need to be considering.
Read the full AMD Radeon RX 6600 review
We're still wrapping up our Intel Arc A750 review as of this update, but the performance we've seen in our tests merits the inclusion of this card on our list, if for no other reason than its extremely attractive price.
On most modern games, the A750 can easily go toe-to-toe with the likes of the Nvidia RTX 3060 or the AMD RX 6600, and its XeSS upscaling technology is generally pretty effective in games like Returnal. In that title, the A750 manages to get about 75 fps on average at 1080p on epic settings with ray tracing fully enabled using the XeSS Ultra Performance preset. It was also able to maintain a floor of 35 fps, which is very playable. It was even able to get about 54 fps on average in Returnal on max settings with XeSS Ultra Performance at 1440p, with a slightly lower floor of 28 fps.
Across all the titles we were able to run, the A750 came in second with an average fps of 75, right behind the RTX 3060's average 79 fps and ahead of the RX 6600's 72 fps average.
Unfortunately, there is a major caveat, in that some games, like Tiny Tina's Wonderland, simply wouldn't run properly and couldn't be tested. This points to the ongoing issues with Intel graphics drivers, and given the unpredictability of which game will or will not run on Arc Alchemist architecture, buyer definitely beware here. Intel is constantly improving its drivers and support for more and more games are being added, but there's no guarantee at this point.
However, if you're not picky and willing to take a bit of a chance, those games that can run on the A750 generally run very well, which makes the substantially lower price of this card versus the competition a reasonable trade off for a number of gamers out there.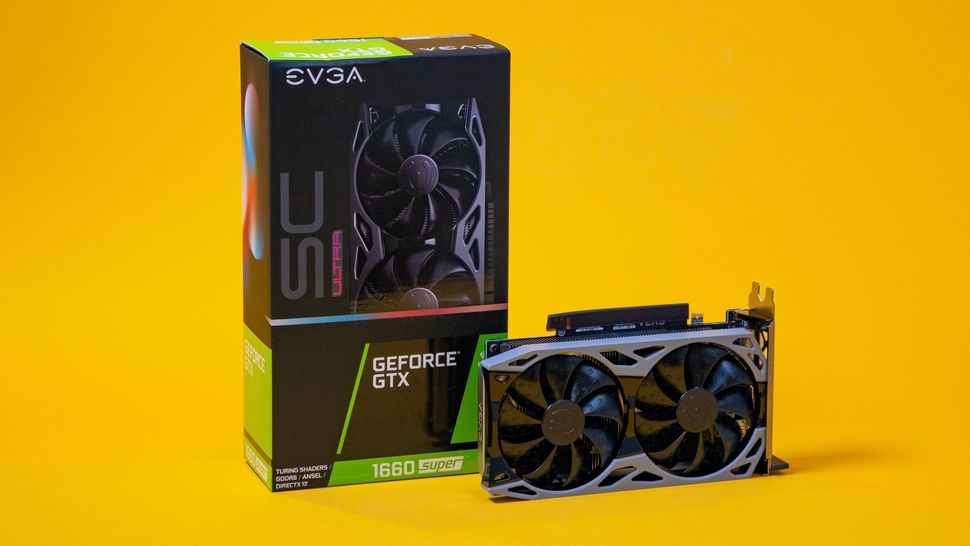 Replacing the Nvidia GeForce GTX 1660, the Nvidia GeForce GTX 1660 Super is absolutely one of the best cheap graphics cards on the market right now. It is able to crank out nearly 80 FPS on Middle Earth: Shadow of War on Ultra graphics settings at 1080p and even managing a decent 54 FPS at 1440p. This is incredible considering it comes in at under $250 (£200, AU$400).
Still, the Nvidia GeForce GTX 1660 Super does have its drawbacks. It still goes with a DVI port in lieu of a second HDMI port (or even a USB-C) and while it does have a DisplayPort, you won't be running several displays with this card. It also lacks ray tracing cores, but you're going to be hard-pressed to find another graphics card that's as good as the Nvidia GeForce GTX 1660 Super for the price.
Read our full review: Nvidia GeForce GTX 1660 Super
How to choose the best cheap graphics card for you
How to choose the best cheap graphics card for you
So how do you find the best cheap graphics card, exactly, when you might not have a whole lot to go on? To help you narrow things down a bit, there are a couple of things to consider that will help making your search a good deal easier.
First and foremost, understand that it's very likely that you'll need to keep things to 1080p, with only occasional dips into 1440p territory, if you want anything near 60 fps. If all you're looking for is above 30 fps, than you might be able to get some games to play at 1440p.
Second, ray tracing is going to be very hard to pull off at this price point, at least effectively. AMD FSR will help, but not on the same scale as Nvidia's DLSS, and even DLSS is not going to ray trace high quality scenes very well. In a lot of ways, you will have to make a choice between ray tracing on the one hand and quality textures and models on the other, since you won't be able to have both in the price range that we're talking about.
That said, look at your system and honestly assess its capabilities, because if you've got 8GB RAM, a processor that's a little older, and a slow SSD (or even an HDD), then you're definitely better off looking at not just last-gen graphics cards but last-last-gen graphics cards, since even the most advanced GPU you can fit into your case and effectively power won't be able to run at full tilt if it is being bottlenecked by a slow CPU or slow RAM with insufficient capacity.
Fortunately, there are graphics cards out there that will greatly help the performance of that kind of system, but its likely that it won't be an AMD RX 6000-series or Nvidia RTX -3000 series card.
How much should I spend on a cheap graphics card?
For the most part, there are very few graphics cards that you can get under $200/£200/AU$300 that are worth upgrading your rig with, but we are tossing aside the definition of "cheap" if we suggest spending anything more than $400 / £400 / AU$600 on a budget graphics card.
With that price range, you have a number of options that are worth the price, and so you should let your budget determine what card it right for you in that range.
How long do cheap graphics cards last?
If you purchase a new graphics card, then even a cheap one will continue to run very well for several years, if not longer, depending on how hard you run it.
If you're talking about how long will it be before the minimum requirement for the best PC games no longer include your graphics card, it will likely be about as long as your card will actually operate before it is so obsolete that developers no longer support it.
All in all, you can expect to get at least three to four years of useful gaming life off the best cheap graphics cards on the market today.
How we test cheap graphics cards
Why you can trust TechRadar We spend hours testing every product or service we review, so you can be sure you're buying the best. Find out more about how we test.
When it comes to chosing the best cheap graphics cards, it's not enough to look at benchmark scores and just pick whichever is the highest scorer.
If you're looking to buy a new graphics card that is more affordable than the obscenely expensive high-end cards or even their midrange siblings, you really need to look at its price-to-performance. You're really looking for how much performance can you squeeze out of every dollar or pound spent of that graphics card, and so we apply a pretty simply formula.
After we've collected all of our benchmark scores for all of the different graphics cards that we test, we simply divide those scores by the card's MSRP, and it gives us exactly how many points or frames per second each card puts out relative to its cost. These scores are then comparable across the entire range of graphics cards we test, giving us a very clear indicator for which cards are a great value and which cards are not, even if the latter are the most powerful graphics cards on the planet.
We also go off of subjective experience. Having tested the cards ourselves, we can get a real sense of where the cards fit into the budget market. And looking at cards in a target range of under $400 / £350 / AU$600 MSRP, we can see which cards offer the best performance per dollar/pound spent.
While we don't strictly choose based on that metric, it can serve as a helpful guide to picking which cards you should look at more closely versus which ones are clearly not worth further consideration.
Today's best cheap graphics card deals