Editor's Note: June 2023
New GPU announcements may have been minimal at the AMD keynote at CES 2023, with Dr. Su focusing on Team Red's new X3D chips instead, but we're bound to get new AMD graphics cards around March/April.
For now, we've got the best AMD graphics cards 2023 has to offer so far, with the AMD Radeon RX 7900 XTX leading the charge.
John Loeffler, Computing Editor
The best AMD graphics cards deliver excellent performance while keeping things affordable. AMD has always been reliable at offering affordable GPUs and has managed to stay relatively budget-friendly with its latest lineup. That's despite the fact that it has started producing some powerful models that can handle any graphically demanding tasks.
The company has always made pocketbook-friendly GPUs. So, if you don't have the funds to acquire the most powerful AMD GPUs, most of which are among the best graphics card on the market, there are a number of viable alternatives to choose from. And, ones to rival the best Nvidia GeForce graphics cards for much less, price-wise.
We've managed to get our hands on most of AMD's offerings over the years, putting each one through its paces in real-world scenarios to see how they measure up. And, we're here to help you find the right AMD graphics card for you, no matter your need or budget.
These are our top picks of the best AMD graphics cards for your consideration. No matter if you're playing PC games on Ultra, doing some video editing or working up some 3D designs, you can find an AMD graphics card that's more than capable and is ideal for you.
The best AMD graphics cards 2023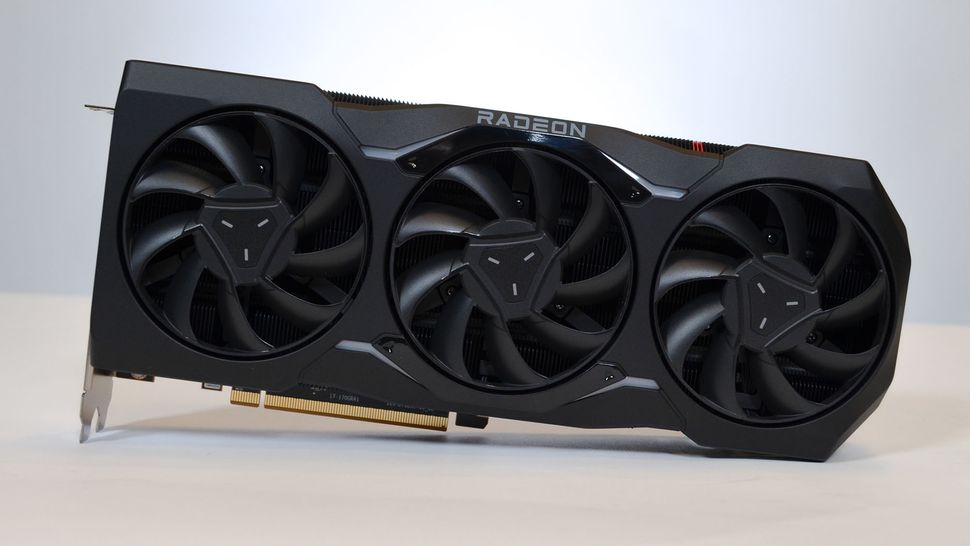 The AMD Radeon RX 7900 XTX had a lot to prove when it hit the scene at the end of 2022, but it succeeds brilliantly in being the most powerful gaming GPU on the market for under $1,000 while outperforming Nvidia's RTX 4080 overall, which costs 20% more.
The new 2nd-gen ray accelerators in the RX 7900 XTX makes 4K gaming on ultra settings with ray tracing a reality on an AMD card, something that the last flagship AMD card, the RX 6950 XT, couldn't quite accomplish. It's not without faults, including falling behind the Nvidia RTX 4000-series in terms of ray tracing (while still beating out the RT performance of the Nvidia RTX 3090) and some uneven creative workload performance, but overall, this is the one graphics card we would recommend to just about anybody who are looking to finally upgrade their GPU after years of graphics card shortages.
While many people are in the market for a graphics card that can run their favorite AAA titles in 4K at 120Hz, many more are just looking for solid 1080p performance in a price range they can afford. Luckily, the AMD Radeon RX 6600 more than fits that bill. It won't set you back an arm and a leg for the price of entry. Additionally, it won't require you to upgrade your PC's power supply either.
Our testing shows that it can deliver 60 fps in games like Horizon Zero Dawn in 1080p. And, while we did experience an ok 45 fps with Metro Exodus with ray tracing turned on, that's still fairly impressive considering that ray tracing is still Nvidia's domain.
If you're on a budget, we highly recommend this GPU. It's affordable without you having to go back a generation or two and it does what it's supposed to well. However, if you're hoping to eventually move up to 1440p gaming, we suggest saving a little extra and going for the AMD Radeon RX 6700 XT.
Read our full AMD Radeon RX 6600 review
Despite AMD's past focus on budget graphics, the AMD Radeon RX 6800 proves that you don't need an Nvidia GPU for high-end gaming. In fact, this graphics card is more than capable of delivering 4K performance, beating out some similarly specced models from the competition.
For instance, when we pitted the RX 6800 against the Nvidia GeForce RTX 3070 – one of the best mid-tier GPUs out there – we found the AMD card to be up to 27% faster in many of our benchmarks. Of course, its ray tracing isn't quite as well implemented as the 3070, which seems to work better when gaming in 1440p. But, in terms of sheer power, the RX 6800 comes out ahead.
It is a little more expensive than the RTX 3070. But, in terms of value, this GPU is probably AMD's best option for most people wanting solid 4K or great 1440p gaming.
Read our full AMD Radeon RX 6800 review
The AMD Radeon RX 6600 XT is possibly the best option in the company's lineup if you're looking for a GPU for 1080p gaming. It might not be the cheapest but it's still affordable so you don't have to splurge for that power. And, it can handle just about anything at 1080p with aplomb. It also offers great thermal performance and doesn't consume too much power.
Its fiercest competition is the Nvidia GeForce RTX 3060. And, while the 3060 is $50 / £50 cheaper, we found the 6600 XT to perform ten to fifteen percent better in most of our testing. That difference in pricing and performance does make choosing between the two a bit more difficult than it should be.
While its ray tracing leaves a bit to be desired – an ongoing theme with AMD cards – the inclusion of Radeon Boost, a software feature that prioritizes performance over image fidelity, will appeal to competitive gamers.
Read our full AMD Radeon RX 6600 XT review
If you're looking to upgrade your GPU but are not quite ready to spend your way into 4K gaming, something like the AMD Radeon RX 6700 XT might be the perfect graphics card for you. It won't set you back an entire paycheck even if it's still a hefty sum, costing just slightly under $500 / £500, which is slightly less than a Nvidia GeForce RTX 3070.
In our testing, we were impressed that it was able to deliver 60+ fps at 1440p for just about every title we threw at it. However, we did see a significant drop in frame rates when we turned on ray tracing. That said, it does support ray tracing. And, if you're willing to turn the resolution down to 1080p, you can experience ray tracing while still getting solid performance.
Read our full AMD Radeon RX 6700 XT review
Though most AMD graphics cards are great thanks to their value to power ratio, there are a few AMD models that have the muscle to compete for space in the high-end GPU market. The AMD Radeon RX 6800 XT is one of those cards with its robust 4K performance.
Yes, its ray tracing isn't as good as the Nvidia GeForce RTX 3080. And, its performance lags a little behind in some instances as well. But, in others, it actually outperforms the RTX 3080, specifically when running on DX11. In our testing, we found the 6800 XT to be up to 9% faster in certain games such as Assassin's Creed: Odyssey and Grand Theft Auto V. If you're looking for a GPU from Team Red to work or play in 4K, then consider the AMD Radeon RX 6800 XT.
Read our full AMD Radeon RX 6800 XT review
Designed with 1080p gaming in mind, the AMD Radeon RX 5500 XT is plenty powerful for gamers on a budget. Sure, it's far from the most powerful graphics card out there as it's been around for awhile. But, it's got enough juice for its price point, making it an easy choice when put up against something like the Nvidia GeForce GTX 1660 for the value.
When we tested the 5500 XT, not only were we impressed by how little power it needed to run, but also how we were able to run most games at 60fps, though it did struggle with more demanding titles like Red Dead Redemption 2 and Metro Exodus. Since it can't quite keep up on the highest settings of AAA titles, we recommend this card for someone wanting to put together a budget build and willing to turn down some settings when playing.
Read our full Radeon RX 5500 XT review
How to choose the best graphics cards
How we test the best graphics cards
Why you can trust TechRadar We spend hours testing every product or service we review, so you can be sure you're buying the best. Find out more about how we test.
When it comes to the best graphics cards, it's incredibly important to make sure we're testing everything on an equal playing field. That's why, whenever a new graphics card comes out, we test it in a suite of around 11-12 games and across several resolutions, all on current drivers.
During this process, we re-test all current-generation graphics cards whenever a new one comes out and ensure that all of the cards are tested on the same hardware – the same processor, the same memory at the same speed, the same motherboard, and the same SSD. That way, we can be sure that we're measuring how the graphics card itself is performing, and we can more reliably compare it against its rivals.
We also make sure to log how much power its consuming and the temperatures it reaches under load, to make sure we can recommend it to people that may be concerned about high temperatures in their PCs.
Today's best AMD graphics card deals