You'll find all of this week's best cheap gaming laptop deals all neatly laid out and compared right here on this page. Looking for something on a shoe-string budget? Perhaps you have a little more change to spend to get something with a little more power. Well, no matter what you're looking for we've got cheap gaming laptop deals for all types of gamers here. This week especially we've got some fantastic sub-$700 machines in particular which are just perfect if you're looking to buy your first rig or just want something for casual use.
You'll find machines from all the top brands featured on our list this week - Acer, Dell, Lenovo, Asus, and MSI to name just a few. We always find our cheap gaming laptop deals recommendations from trusted retailers like Best Buy, Amazon, and Newegg, and we're also very careful to curate only the top picks so that you won't get a machine that isn't worth your hard-earned cash here.
Prices start at $589 but we're going to be ranging all the way to $1,000, for those of you looking for something a little beefier this week. We've also thrown in a few honorable mentions just beyond our $1,000 budget too - many of which we've reviewed on our best gaming laptop buyers guide, just to give you some high-end options. While we're still waiting for those RTX 3000 cards to become commonplace on laptops, you'll find plenty of recent graphics cards and processors in abundance here alongside generous helpings of RAM and fast SSD storage. We've heavily curated our list to show only good gaming laptop deals for the price, so feel confident when browsing.
Just below the list of our top picks, you'll also find some recently updating buying advice. This leverages our expertise here at TechRadar and aims to give you a little more guidance if you're unsure about what laptop to buy or how much to spend. It'll also give you a quick overview of which retailers offer the best deals, and which times of the year are especially good for sales.
This week's best gaming laptop deals
Cheap gaming laptop deal of the week
Gaming laptop deals under $700
Gaming laptop deals under $800
Gaming laptop deals under $900
Gaming laptop deals under $1,000
Gaming laptop deals over $1000
Frequently asked questions
Where should I look for cheap gaming laptops?
Generally speaking, the most reliable retailers that have plenty of options and the best prices are Best Buy and Amazon, although Dell and HP often have great sales on Holiday events like Black Friday. You might get lucky on Ebay or another auction site, but we definitely recommend picking up your cheap gaming laptop from one of the big official retailers, as you're sure to be getting a decent warranty, as well as the latest components more or less.
Newegg, B&H Photo, and Adorama are also worthy mentions, and definitely worth a quick comparative glance. They don't tend to price match quite as well as Amazon and Best Buy however, unless they're doing a closeout deal.
Here are some quick links to the best gaming laptop deals retailers, in case you want to head over to their sites and check them out yourself.

What should I look for in a cheap gaming laptop?
This is completely subjective, depending on what type of games you want to play and what kind of level of performance you want. Specs-wise, we'd recommend determining the level of specs you need by checking out the recommended and minimum system requirements of your favorite or upcoming games. This can give you a general idea of what you need, as well as stop you from buying that new gaming laptop that's not going to be able to play new releases.
Just for good measure however, we'd recommend the following as a minimum if you're strictly on a budget:
Minimum - Intel Core i5 (9th gen) / AMD Ryzen 5 (3rd gen) processor or later
Minimum - Nvidia GTX 1050 / AMD RX 560x graphics card or later
Minimum - 8GB of RAM
Optional - 512GB solid-state drive
Optional - 120Hz refresh rate display monitor
Anything lower than the above and you'll tend to struggle with modern games at 1080p settings. You can, of course, get away with lower-level or older components if you're just planning on playing older games, but for new releases, definitely consider the above as a bare minimum.
How much should I spend on a cheap gaming laptop?
Again this is completely subjective based on your requirements, but in our opinion the best bang for the buck machines tend to sit around the $700 to $900 price range.
You can of course go lower but you'll often encounter machines that simply aren't designed for gaming or quite frankly up to the task. It can be tempting to pick up a cheaper ultrabook with a Core i7 or Ryzen 7 processor and tons of RAM but remember these don't come with the dedicated graphics card or cooling requirements you'll need for proper gaming.
When's the best time to pick up a gaming laptop deal?
Luckily for gamers on a budget, gaming laptop deals tend to be a weekly feature over at most of the big retailers so there's always plenty to chose from. That said, there are definitely high points throughout the year, namely big sales events such as Black Friday, Cyber Monday, and Amazon Prime day which can yield great results for those willing to wait.
Our top tip - do your research. Narrow down which model and specs you want and check-in at your favorite retailers each week. Alternatively, let TechRadar simply do all the work for you and become a regular visitor to this page or our dedicated deals feed.
The best cheap gaming laptops of 2021
The Acer Nitro 5 is squarely aimed at the portable PC gamer who doesn't need every bell and whistle on their machine and might not be able to afford them even if they did. Still, it packs some quality hardware under the hood with specs ranging from the Core i5-10300H GTX 1650 variant, all the way to machines with a Core i7-9750H and RTX 2060 inside. The design has a rather generic gaming laptop aesthetic, however, and the bezel on the display is definitely on the thicker side. Cheap gaming laptops don't generally tend to feature bezel-less designs though, unlike similarly priced ultrabooks.
Read our full review: Acer Nitro 5
If you're looking to save some cash on your next gaming laptop, the Dell G3 15 will provide a competent gaming experience while costing much less than the competition. The laptop comes equipped with more than serviceable Nvidia graphics behind a fine, 1080p display, almost betraying its awfully affordable price point. Just don't expect an overly fancy design or aesthetic - these come with a plastic chassis. For cheap gaming laptops, the G3 range offers a variety of different builds and specs, so it's worth checking out different configurations before you settle.
Read the full review: Dell G3 15
The MSI G563 Thin is one of the cheap gaming laptops to beat, alongside the Nitro 5 and Legion 5. It generally sits comfortably in the lower price brackets alongside its aft mentioned competitors but somehow manages to pack everything into an attractive, part metal chassis - a rarity at this price point. Specs are around the ballpark you'd expect with an entry-level machine - starting at a 9th Gen Intel Core i5 CPU and an Nvidia Geforce GTX 1650, 8GB of RAM and a 256GB SSD. MSI state this design has thin bezels, although don't expect too much with the display on the baseline model - it's still got a chunky bottom bezel and runs at a fairly pedestrian 60Hz.

The Dell G5 15 is Dell's shot at providing a slightly more up-market gaming laptop versus the entry-level G3 15. That said, the baseline models barely retail for more than the G3 so it really comes down to personal taste which one you go for if you're on a budget. The G5 15's do have a higher potential spec, however, and you'll also be getting a 120Hz to 144Hz display on the more expensive configurations, albeit in a slightly bulkier and still fully plastic chassis. Note - The listed specs here are for the standard Intel equipped machine, although there is also a special edition featuring exclusively AMD components.
Read the full review: Dell G5 15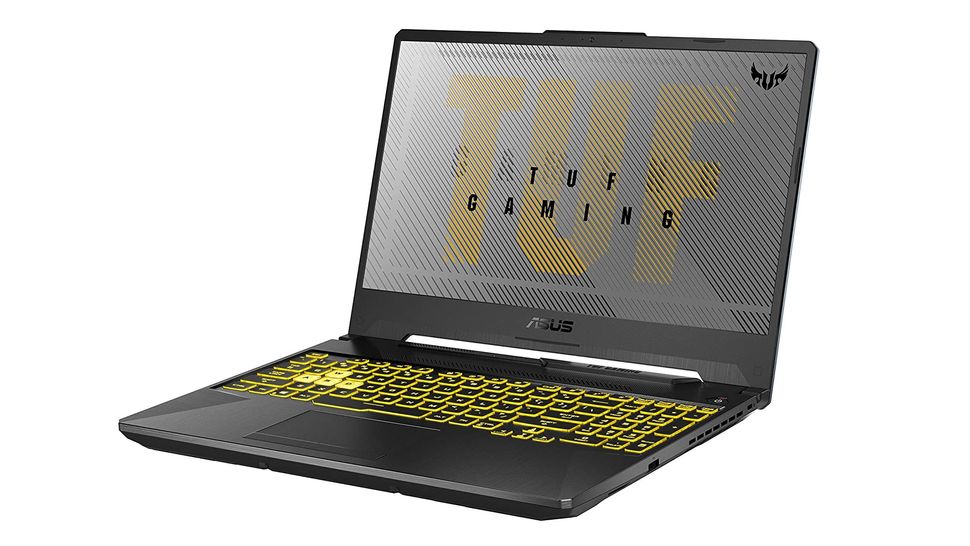 One of the shining lights in the mid-range cheap gaming laptop market is the ASUS TUF A15, which debuted earlier this year complete with the latest 4000 series AMD Ryzen processors. It's pretty chunky and features a fairly no-nonsense aesthetic that's decidedly budget in outlook in our opinion but we can't argue with the level of specs on offer for the money here. It's currently one of the cheapest ways to pick up an RTX 2060 equipped laptop, which retails for around $999, although you can opt for a baseline version that packs a GTX 1660Ti and goes for around $850. Overall you should expect excellent performance for the money here, although the cooling could be a little better as this laptop runs fairly hot and the fans are quite loud.
Read our full review: Asus TUF A15
The HP Pavilion 15 is the slightly more budget-focused gaming laptop range from HP (the other being the long-serving OMEN laptops). As is the standard fare with cheap gaming laptops, the HP Pavilion is a decidedly no thrills, fairly stripped back affair that focused on packing in as many up-to-date components as possible for the money. This year's iteration comes with the latest processors from both Intel and AMD, although you tend to be able to find last year's components still available at many retailers for a cut down price. Probably the main selling point for the HP Pavilion 15 is its design, which will appeal to those who want a slicker, thinner chassis over the normally bulky laptops at this price point.

---
Not quite what you're looking for? Maybe our other laptop articles will have what you need.
If you're buying a gaming laptop, you don't want to clutter it with all your everyday computing needs. For something cheap and portable, check out our favorite cheap laptop deals from this week. If you want to even cheaper, check out the best laptops under $500. You can also add extra port functionality to your gaming laptop with these awesome USB-C hubs and docks, or take control of your gaming experience for less with our top picks of the cheapest Xbox One controller deals.