Editor's note: February 2023
For now, last year's gaming laptops still dominate the top entries in our list, with the Asus ROG Zephyrus G15 holding onto the top spot for its fantastic mix of performance and price. The HP Victus 15 is especially a choice pick for the best budget gaming laptop right now, coming in well under $1,000/£1,000 and putting out some pretty impressive performance for the price.
However, we'll be testing a slew of new gaming laptops in the coming weeks, as many just launch at CES 2023. You should, therefore, see new entries on this guide in the next few weeks.
Christian Guyton, US Computing Editor
Getting the best gaming laptop doesn't mean putting a massive hole in your bank account. While you can certainly drop a lot of money to get the most kitted-out gaming laptop that money can buy, there are plenty of laptops ready to give you a great gaming experience for less, especially if you don't really need to game at ultra settings.
The current cost of living crisis has driven up the cost of tech in general. However, that doesn't mean that it's harder to find the right gaming laptop for your needs and budget. Depending the types of PC games you're playing, you may something more expensive with better specs or you can easily go for something cheaper with lower-end specs.
With CES 2023 in full swing, we're also getting more options from top gaming laptop makers. Acer just launched its Helios 18 and Helios 16 laptops equipped with shiny new RTX 4000 mobile GPUs and MSI has new Titan, Katana, Pulse, and Raider gaming laptops for 2023. Meanwhile, Asus just announced new ROG Strix SCAR laptops, some of which will be powered by the Intel Core i9-13980HX, the world's most powerful mobile CPU. And, we cannot wait to test those out for you.
In the meantime, we've got all the best gaming laptops we've already reviewed and tested below. No matter what you need in a gaming laptop, we have options that fit it right here. if you're a fan of online games, be sure to upgrade to one of the best wireless routers as well for that fast online gaming experience.
The best gaming laptops 2023
Why you can trust TechRadar Our expert reviewers spend hours testing and comparing products and services so you can choose the best for you. Find out more about how we test.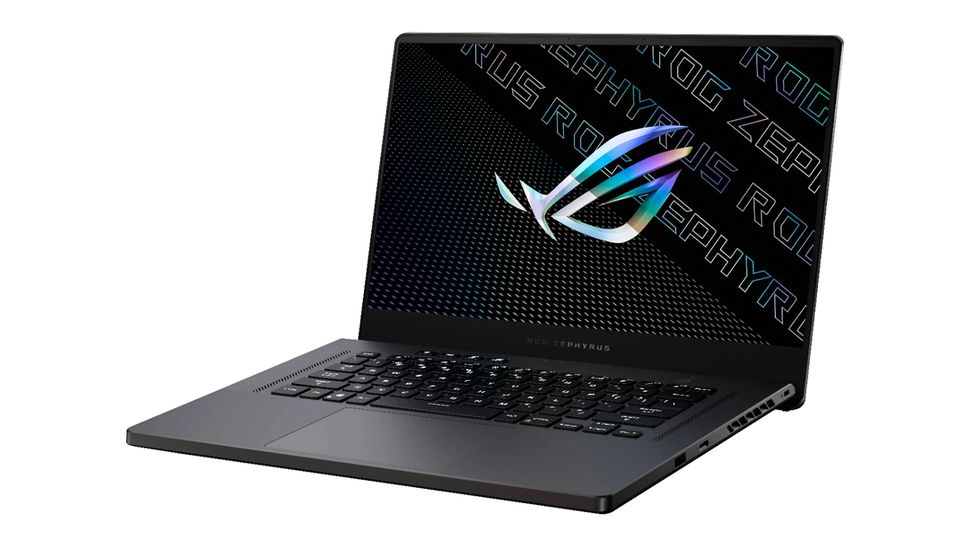 It's not quite so new and shiny anymore, but the Asus ROG Zephyrus G15 is still the best of the best. The Asus 'Republic of Gamers' brand has produced some truly excellent gaming laptops (you'll see a few more if you keep scrolling) but this is the definitive pick.
A high-end AMD Ryzen processor, choice of Nvidia RTX 3000 GPU, a great screen, and generally fantastic design mark the Asus ROG Zephyrus G15 as a top-notch gaming laptop that can comfortably power through all the latest games. It also packs some truly legendary battery life, lasting about eight to nine hours during our rigorous testing process, which puts it up alongside the long-lasting Asus TUF Dash F15.
All this great performance is wrapped up in a robust chassis with a stylish design, an aesthetic that manages to look good and doesn't scream 'I'm a gamer!' to everyone within a ten-mile radius. To cap it all off, while this isn't a budget machine, it offers an absolutely stellar price-to-performance ratio. So if you want a high-performing gaming laptop that's competitively priced to boot, nothing beats this one.
Read the full Asus ROG Zephyrus G15 review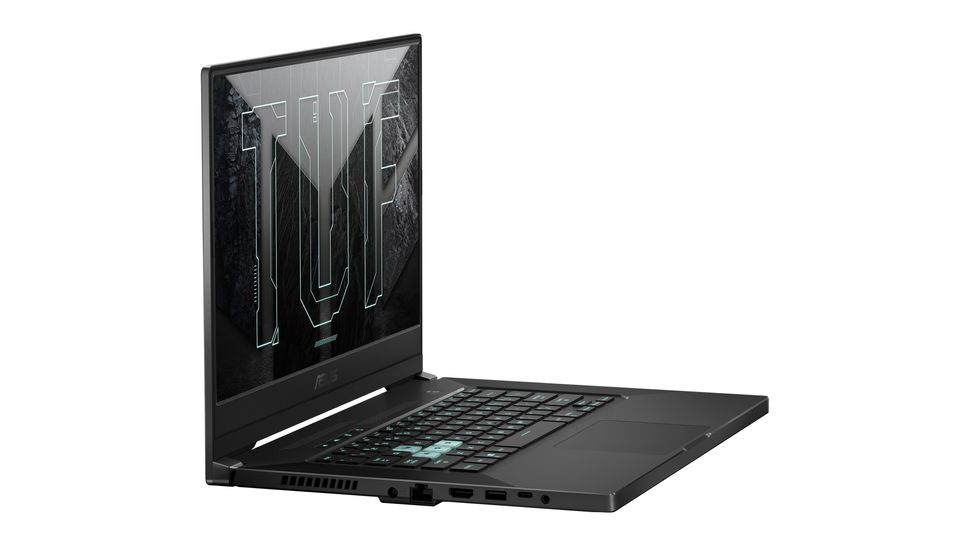 The Asus TUF line is no stranger to affordable excellent performers. Last year's Asus TUF A15, for instance, was simply brilliant while keeping things accessible to budget-conscious gamers. In our view, this is the best gaming laptop you can buy if you're on a budget, as while it's more expensive than the MSI GF63 above, it has more powerful, and more recent, components, while still keeping the price impressively low. So, it brings in Intel Tiger Lake processors, Nvidia GeForce RTX 3000 mobile GPUs, and up to a 240Hz 1080p display without costing a fortune.
Naturally, its legendary chassis is back, keeping things light, thin, and military-grade durable. At under an inch thick and less than 5lb, this is a gaming laptop you want with you wherever you need to go. As is its long battery life, this time around nearing 10 hours, so you have the juice to last you an entire workday if you also want to use it for work.
Read the full Asus TUF Dash F15 review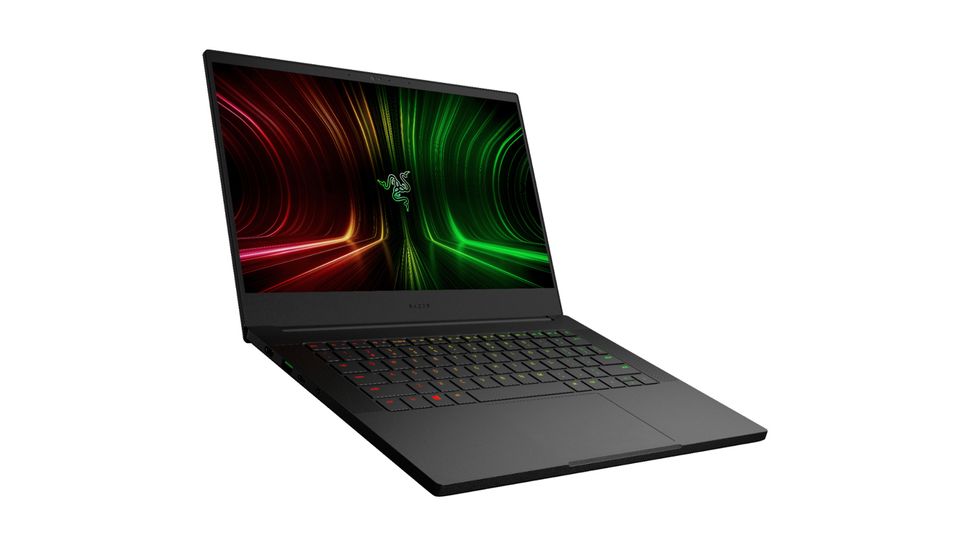 Sure, it might be very expensive (the version we tested and reviewed costs $2,600), but the new Razer Blade 14 is just a thing of beauty; a compact, quiet, durable, and powerful gaming laptop that ticks just about every box. Top-notch internal components are joined by an incredibly bright and vivid screen, with the classic machined metal chassis that has come to define the aesthetic of the Blade laptop line.
Gaming performance is solid across the board, with the RTX 3070 Ti model we reviewed capable of hitting 60+fps in the majority of games at 1440p resolution. It's also surprisingly quiet for a gaming laptop, with the fans not reaching the same roar of many of the others on this list. Even the battery life is solid. Well, solid for a gaming laptop - it's not going to give any ultrabooks reason to worry!
Read the full Razer Blade 14 (2022) review
A fantastic laptop that delivered astounding performance across the board during our tests, the Lenovo Legion 7 (Gen 6) has proven itself already worth its steep price tag – even if it's not exactly something most people can afford. This is a pricey behemoth, to be sure, and with only about three hours of battery life.
Still, this is the best gaming laptop if you're ok with something you wouldn't want to travel with. Its gaming performance is superb – especially at the specs we received for our review. You're also getting a bunch of RGB lighting options and a bunch of ports – three USBs, three USB-C, an HDMI 2.1 and two DisplayPort 1.4 ports – so you'll never need a separate hub for your peripherals. And, if you're an RGB fan, it comes with a bunch of RGB lighting options across multiple different components.
Read the full Lenovo Legion 7 (Gen 6) review
MSI's laptops and desktops run the gauntlet from impressive to lackluster, but the GF63 Thin definitely sits in the former category. It's far from the most powerful gaming laptop on this list, but with some very competitive pricing, it's an excellent choice for any gamer on a budget. When we reviewed it, we found that it also feels quite well-constructed, despite the sensible price tag.
That price is kept low by wisely employing some slightly older components, like the 11th-gen Intel Core i7 processor and the PCIe 3.0 SSD, but these are paired with an Nvidia RTX 3000 GPU that still offers excellent gaming performance. It's not quite as flexible a laptop as some of those found on this list (many of which can easily pull double duty for demanding content creation work), but if you're just looking for a straightforward 1080p gaming system, this is the one for you.
Read the full MSI GF63 Thin (2022) review
Corsair only broke into the gaming laptop space this August, and we have to say we're seriously impressed with the manufacturer's first attempt. The Corsair Voyager a1600 is a laptop that stands out from the crowd, from its big, beautiful 16:10 screen to the bar of touch buttons (and a tiny LCD display) that rests above the keyboard.
That keyboard is great too - it uses Cherry MX Ultra-Low Profile mechanical key switches, a rare sight in gaming laptops, which feel absolutely incredible to play games with. This is a fully AMD-powered gaming laptop too, with the excellent Radeon RX 6800M graphics card and a powerful Ryzen 9 6900HS processor.
One other nifty feature is seamless 'Slipstream' connectivity, which allows you to instantly connect compatible Corsair peripherals (say, a wireless headset or mouse) without the need for a plug-in dongle. The touch bar and included software are also geared towards streamers, so if you're waiting for your big break on Twitch, this could be the laptop for you.
Read the full Corsair Voyager a1600 review
The Alienware X14 is one of the thinnest and lightest gaming laptops we've ever tested. At just over half an inch thick and under 5 lb of heft, it's easy to slip into your bag and forget it's even there. Plus, because it can charge off of a USB-C cable, you don't have to worry about hauling around a huge charging brick the way you will with many other gaming laptops.
It does peak at just an RTX 3060 for a GPU, but that's more than enough when you're just looking to do some gaming on the go. Plus, the 1080p display is perfect for that graphics chip. The Alienware X14 is a bit lacking when it comes to battery life and the webcam, but it's not enough to keep us from singing this laptop's praises. We highly recommend it, as long as you have the money for it - just bear in mind that you might want to invest in a laptop cooling pad, as this bad boy can run hot.
Read the full Alienware X14 review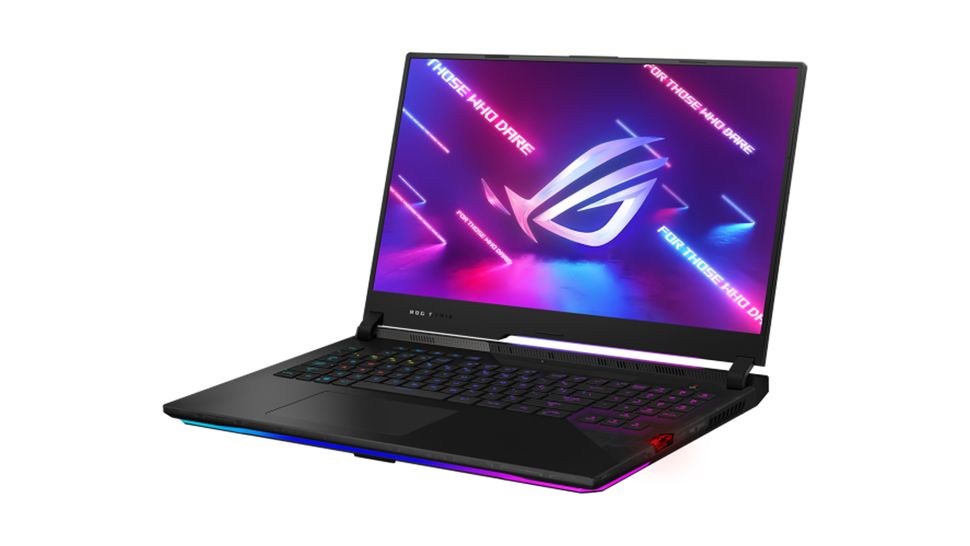 One of the best gaming laptops that money can buy, the Asus ROG Strix SCAR 17 G733 barely breaks a sweat. That excellent performance is due to the impressive specs it's kitted out with, combining the best of what AMD, processor-wise, and Nvidia, on the GPU side, has to offer. Sadly, it also put out of most people's reach, price-wise.
If you can afford it, however, there are a few other things you'll love about it. That design is unapologetically gaming-esque, with its resplendent RGB lighting that allows it to light up like Christmas and its optical mechanical keyboard that's simply one of the best we've experienced on a laptop, gaming and otherwise. This is among the best of the best out there, and a worthy consideration if you're not limited by your budget.
Read the full Asus ROG Strix SCAR 17 G733 review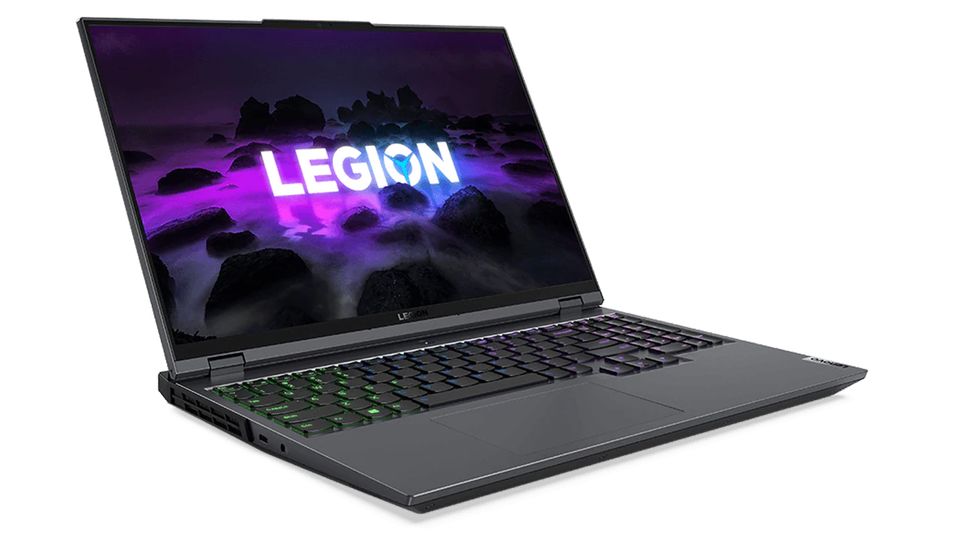 Hands down one of the best gaming laptops we've tested, the Lenovo Legion 5 Pro comes with all the makings of a nearly perfect portable for gaming. Its incredible performance is matched only by that gorgeous QHD IPS screen with up to 500 nits of brightness, Dolby Vision, and up to a 165Hz refresh rate. It can certainly go toe-to-toe with its better-known peers, including Razer's and Alienware's premium offerings.
That's while having a more reasonable price that allows it to be a better value – something that budget-minded gamers can appreciate. It also boasts admirable battery life and a full-sized keyboard. Of course, it also comes with hardware controls that make a noticeable impact on performance for both battery life and graphics performance. It isn't the most portable or the longest-lasting, but it's an appealing option.
Read the full Lenovo Legion 5 Pro review
If you're after something a bit different - or you're a content creator who wants a laptop for gaming too - then the Asus ROG Zephyrus Duo 16 is an incredible (if expensive) choice. The 16:10 main display is joined by the delightful ScreenPad Plus, a secondary touchscreen that elevates out of the chassis when you open the lid, creating a laptop that's reminiscent of a certain beloved handheld console.
Nintendo DS references aside, the Asus ROG Zephyrus Duo 16 is also an absolute monster of a system thanks to its Ryzen 9 6900HX processor and RTX 3080 Ti graphics card, backed up by a whopping 64GB of DDR5 RAM. It's great for gaming and watching movies, in no small part due to a set of powerhouse speakers that provide shockingly good room-filling audio.
Read the full Asus ROG Zephyrus Duo 16 review
How to choose the best gaming laptop for you
Choosing the best gaming laptop is easy when you've got deep pockets or have a couple of thousand dollars to spare. It's when your budget is more limited that getting a great gaming laptop becomes trickier.
Lucky for us, we're getting plenty of more affordably-priced CPUs and GPUs that don't compromise on power. The latest internals are more capable yet also cheaper than ever. That means that gaming notebooks under $1000 can be just as capable as any gaming PC while keeping things portable and space-saving.
Still, some components are more powerful or cheaper than others. While it's no longer a hard and fast rule, AMD's offerings are generally more affordable, which means that AMD Ryzen-powered laptops tend to be slightly cheaper.
In terms of graphics cards, Nvidia is still king when it comes to performance, although which RTX card you should go for depends on the type of gaming experience you want. The RTX 3060, for example, is a terrific mid-range contender with lots of power for 1080p gaming. However, if you want that 4K goodness, an RTX 3070 or higher is the way to go.
Consider the RAM as well. Other things to look at are the amount of storage, type of display, and type and variety of ports. Take a look at the battery life as well, especially if you plan on gaming on the go. Know that just because something is premium doesn't automatically mean it'll deliver a long battery life – the Alienware laptops are a cautionary tale. And, of course, since you do have to like how your gaming notebook looks, think about the design and whether or not you want RGB lighting.
Whichever one you pick however, we guarantee one of our picks below will let you dive into your favorite games, from the best cheap PC games to the best laptop games and the best PC games – all without tethering you to a desk.
How we test gaming laptops
Testing a gaming laptop isn't as easy as you might think. But, then again, neither is narrowing down your options and choosing the best one for you, which is why we take our job seriously. Even if that means gaming for hours on end – hey, someone's gotta make the sacrifice, right?
In all seriousness, we put every gaming laptop we test through its paces to make sure it delivers as promised and is worth your hard-earned case. That means that on top of playing the latest and hottest games on it, noting things like gaming and thermal performance, we also run synthetic benchmarks like PCMark 10, 3DMark and Geekbench 5 as well as battery tests.
Because a gaming laptop is only as good as its peripherals, we take a look at how smooth and fast the display is, how comfortable and responsive its keyboard is, whether or not there are enough ports on hand, and how good its overall design is. We also test its webcam, in case users want to utilize it for game streaming.
We then take everything we've learned about the gaming laptop and compare it to its price – whether or not it's performance and features are worth that price tag, and whether or not it offers the best value to customers.
Which laptop is best for gaming?
At a base level, you're going to need a gaming laptop that runs the newest game releases, whether they're AAA or games that require lower graphics settings. Ideally, you'll want to pick a gaming laptop with a decent graphics card - it doesn't have to be as advanced as the Nvidia GeForce RTX 3070, which can play even the most graphically intense games at the highest settings, but you'll want something that can play any and every game you might play.
RAM is crucial in the best gaming laptops as well, as it makes sure there aren't performance issues within the laptop. The last thing you want is for your game to sputter or freeze in the middle of important action sequences or cutscenes, so you'll want a gaming laptop with plenty of RAM to tackle those high-intensity games.
Screen size should also factor into your gaming laptop decision. If you're someone who likes having the biggest screen to see as much as possible of your game, you're going to want a bigger screen, ideally something from 16- to 17.3-inches. If you're okay with having a standard size screen, you may be able to get away with getting a gaming laptop with a screen anywhere from 14 to 15.6 inches.
If you travel a lot you're going to want to consider how heavy the gaming laptop is, as well as any necessary accessories you'll need to pack. Travelling often will also mean you need to make sure your gaming laptop has a decent battery life, otherwise you'll be trekking from outlet to outlet on your journey.
How much RAM do I need for gaming?
There are many gaming laptops that start you off with an 8GB DDR4 memory, which is the minimum these days. However, that might not be enough for a speedy performance.
If you play a lot of demanding AAA titles, at least 16GB is recommended for the smoothest experience. If you can afford to splurge, a 32GB memory will give you the smoothest, most immersive experience.
Is it worth it to get a gaming laptop?
Absolutely. Gaming PCs are no longer incomparable, thanks to mobile devices getting smaller yet also more powerful. If you need something that's space-saving and/or portable yet powerful enough to tackle your favorite games, no matter if those are not-so-demanding games or the most graphically-intensive titles, one of the best gaming laptops is worth considering.
Today's Best Gaming Laptop Deals