EDITOR'S NOTE: JUNE, 2022
With CPU and GPU prices continuing to fall as the chip shortage wanes and manufacturers are able to kick production back into gear, building a PC from scratch is starting to look more attractive to some. Still, these pre-built PCs are all great choices for anyone who just wants to unbox exactly one thing and start gaming without having to mess about with screws and fan cables.
With the cost-of-living crises in full swing, we took a look at the entries on this list to determine whether they're all still good value for money. We reckon they are, since a standalone high-end graphics card like the RTX 3080 is still difficult to find at RRP, but we noted that some of the more affordable models listed here are no longer in production at the original manufacturers.
While the GTX versions of the Lenovo Legion Tower 5i and Acer Predator Orion 3000 can still be picked up at some third-party retailers, Lenovo and Acer have phased them out in favor of newer RTX 3060-equipped models, which are obviously a bit more expensive. With that in mind, we're working towards an overhaul of this list next month, complete with some spicy new reviews. Watch this space.
Christian Guyton, Computing Editor
Finding the best gaming PC can be a daunting task. There are a ton of options available from numerous brands, and you might not be sure of exactly what you're looking for - other than top-notch game performance at a reasonable price, anyway. But there's good news: we're here to help you narrow down your options and choose a desktop gaming powerhouse that will meet all your needs.
While people enjoy building their own PCs from scratch with their personal choice of the best graphics cards and best processors, this can be a difficult process nowadays due to component shortages and the potential pitfalls in building a gaming rig. You may not get the same satisfaction when buying a pre-built gaming PC, but you'll be able to jump into the best PC games without any assembly required.
Besides, buying a gaming PC with all the essential parts doesn't mean you can't upgrade what's inside your tower later on. Most pre-built gaming PCs retain the option for you to swap out individual components on a whim, perfect for when you decide your system needs some more storage or a graphics card upgrade.
Whether you're looking for the best budget gaming PC or have a bit more money to burn, we can help you find the perfect gaming rig for your needs. We've tested some of the best gaming PCs on the market and narrowed down our top picks so you can get to gaming as soon as possible. We've even got a price comparison tool to help you weigh your options and stay within your budget.
Best gaming PC 2022
Whether you love or hate the MSI MEG Aegis Ti5's insane Transformer-esque chassis, you cannot deny its raw power. This unique-looking premium piece of kit from MSI gives the best Alienware gaming PCs a run for their money on the design front, and it doesn't slouch on the specs either.
Its highest configuration features an Intel Core i9, the RTX 3080, and a whopping 128GB RAM. That means that whichever model you go for, you will be blown away by its performance.
Of course, that only means that you should only invest if money isn't an issue (or if you love that gamer aesthetic it's playing up hard); otherwise, be prepared to burn a massive MEG Aegis Ti5-shaped hole in your pocket. Still, for the money, this just might be the best gaming PC you're going to find if you want to really stand out from the rest.
Read our deep dive for more info: MSI MEG Aegis Ti5 review
---
The Acer Predator Orion 3000 is superbly built, with an attention to detail that's practically unrivaled and a tidy, compact design that makes it much more portable and easy to move around than many of its competitors. Its RGB lighting is also something to behold, made even better by the FrostBlade fans and light bars on the side.
While the higher-end configurations don't sit in the budget department, the more affordable versions offer absolutely incredible value for money, with performance-per-dollar beating out most other gaming PCs. That's why it takes the top spot on our best budget gaming PC list, and is a worthy inclusion here.
An easy-to-upgrade chassis means that this is a gaming PC that could last you for years, with performance in the base model making it easily capable of playing the latest games at 1080p or even 1440p right now. It's certainly a compelling purchase for gamers who care just as much about aesthetics as they do about performance.
Check out our full Acer Predator Orion 3000 review
---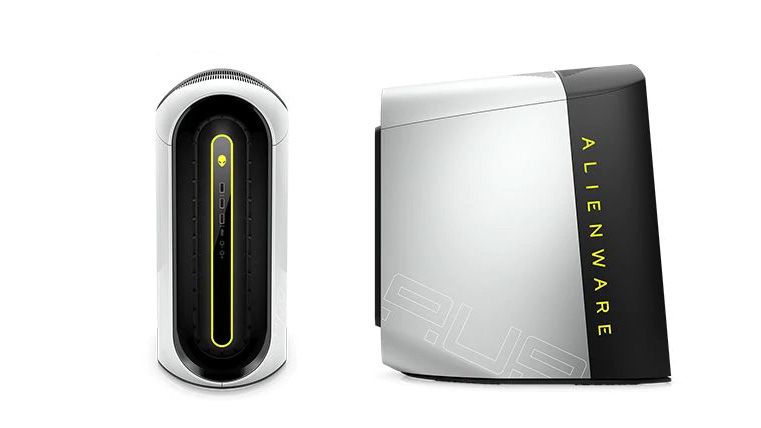 With AMD's solid campaign to win the CPU and GPU markets with a gaming-focused approach, it's no surprise that many of the best PCs are switching over to Team Red. Our favorite Alienware Aurora gaming desktop PC line is among them, fitting its R10 models with AMD's powerful yet affordable Ryzen CPUs.
Not only do these deliver brute strength when it comes to gaming, but they also tout affordability, giving budget gamers a chance to partake in what those with souped-up rigs experience every day without burning a hole in their pockets. This is one of the best gaming PCs around, bar none – especially if you do have the cash to spring for the next-generation model, which rocks configurations touting the RTX 3090 GPU for 8K resolution gaming.
Learn more in our Alienware Aurora Ryzen Edition R10 review
---
Those new to PC gaming or those on a budget will appreciate the entry-level configurations that the Lenovo Legion Tower 5i brings to the table. It's an affordable point of entry and is highly capable at handling the most popular esports and AAA titles available at 1080p, and is customizable enough to get some beefier hardware if you have the cash.
Though the most basic model uses an Nvidia GTX 1660 that lacks more modern GPU standards like ray tracing and DLSS, when you are ready to upgrade to the more robust specs, its black tower chassis is effortless to open and easily maneuverable for upgrades. If you're just starting your journey through the world of PC gaming, you'll be hard-pressed to find a better option than this.
Learn more with our Lenovo Legion Tower 5i review
---
Some might say that the Corsair One i300 is a bit of an overkill, and for most non-competitive gamers, that's probably accurate. However, this gorgeously-designed mini PC for gaming is just the ticket for players who need (or want) the absolute best in a compact design.
Whether you're gaming competitively or you just happen to have a lot of cash to burn and want to future-proof your gaming setup. It comes with some of the very best components money can buy with its high-end configuration capable of handling any game at 4K – and any content creation workflows, for that matter, if you're hoping to catch two fish with one worm.
Learn more in our Corsair One i300 review
---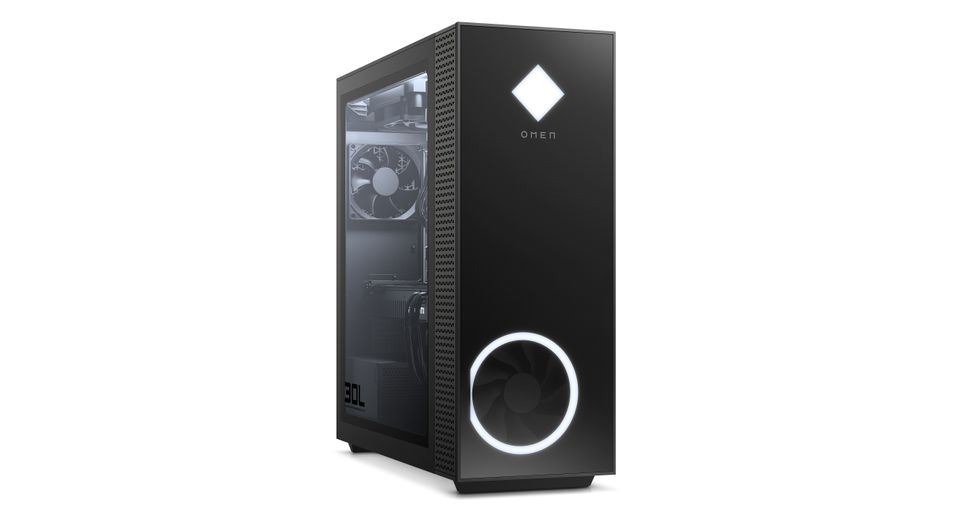 The HP Omen 30L can come kitted out with some serious hardware, and it delivers on performance despite some tight internals that had us worried about airflow. There are other things to love as well – its few RGB zones, fair pricing, and elegant design are much appreciated as well.
While the system does allow for customization, its tight confines may make it hard to do a lot of expansions, and there's very little that can be done to add to the cooling.
Read the full HP Omen 30L review
---
What makes the CLX Scarab so special is how customizable it is. Depending on your budget, you can get the most basic of builds just to get you gaming or you can get a maxed out machine with such stellar parts as an Nvidia RTX 3090 and a 12th Gen Intel Core i9.
Just be prepared to spend if you plan on getting a more powerful configuration. Additionally, since it is custom, you're also at the whims of the worldwide supply chain so if you want a part that's in short supply, you may have to wait a little longer for your PC. However, if you're willing to wait, you'll get something that can be personalized in a lot of different ways.
Read the full CLX Scarab review
---
How to choose the best gaming PC for you
When it comes to finding the best gaming PC, your main concern is finding the right balance between your budget and gaming performance. Work out how much you're willing to spend first, then start investigating what the best specs you can get for that price is.
If money is no object (or at least if you're willing to take the time to save up the money) then you can't go wrong with our top powerhouse picks, the MSI MEG Aegis Ti5 and the Alienware Aurora Ryzen Edition R10. Both pack powerful CPUs (you can also upgrade these to the latest-gen Intel Core and AMD Ryzen processors, though remember that you'll need to stick with the same brand or replace the entire motherboard) and come with Nvidia RTX 3080 graphics cards, which is just shy of the best GPU you can get, the Nvidia RTX 3090. Both have some excellent customization options as well so you can tinker around with the specs to your liking.
If you do have to mind your budget somewhat, then the Acer Predator Orion is a great choice, since it has a wide range of customization options, that can give you excellent performance for the price. There's also the Lenovo Legion Tower 5i with an RTX 3060, which is one of the best gaming PCs you can find for 1080p and 1440p gaming at a great price.
How we test gaming PCs
A gaming PC is a big purchase that shouldn't be taken lightly, which is why we don't take our testing lightly either. Testing gaming PCs is always a comprehensive undertaking for us, using it to play not only the latest or hottest games but also older yet still demanding titles as well, noting things like performance – especially in gaming – as well as noise and thermal efficiency. We also run synthetic benchmarks like PCMark 10 (opens in new tab), 3DMark (opens in new tab), and Geekbench 5 (opens in new tab).
Furthermore, we take a look at its design, things like availability of ports, expandability and upgradability, RGB lighting, and accessibility that its chassis offers. Build quality is an important factor in comparison to the asking price, so if any piece of hardware feels cheap or flimsy in an expensive product, it's going to get marked down. For good measure, we'll also check how it does with daily tasks, because most of us don't only use our gaming PCs for gaming; it serves as our everyday computer as well.
We then take everything we've learned about the gaming PC and compare it to its price – whether or not its performance and features are worth that price tag, and whether or not it offers the best value to customers.
For more information about our process, see how we test.
Is it better to build or buy a gaming PC?
Whether to build or buy a gaming PC, that is the question. For some PC gamers, building a system is the only way to go, as this lets you customize your rig to very precise specifications. Unfortunately, finding the individual components you need to build a PC is getting tougher than ever. As much as you might want to build a custom gaming PC, you might not actually be able to do so.
If that's the case, then there's absolutely nothing wrong with buying a gaming PC. No, you might not be able to precisely customize it to your liking, but if what you want to do is play your favorite PC games, then buying one of the best gaming PCs you can afford will simply make the whole process easier.
What should you look for when buying a new gaming PC?
Since building your own PC can be pricey and/or a bit of a hassle, buying the best gaming PC you can afford definitely makes the whole process easier. And with some recent offerings from companies like HP and Dell, you don't even necessarily have to spend a fortune either. Still, it's always good to go in knowing what you're looking for within your budget.
Whether you're playing the best PC games or the best free games to save a bit of coin, your priority should be choosing something that manages to be affordable to you without compromising on performance or scrimping on vital features like a healthy port selection and appealing RGB lighting.
That could very well mean a pricey desktop PC that will see you through 4K gaming, or one of the best budget gaming PCs that will give you a smooth 1080p gaming experience. Don't worry so much about the frills and the design unless your budget is flexible or you've got deep pockets.
Make sure that there's also enough speedy RAM and fast storage. These days, an 8GB DDR4 memory is the minimum, but upgrade to 16GB if you can. Plenty of SSD storage is ideal as well, since many top titles take up a lot of space, although you can always get an additional drive later down the line.
Finally, make sure you have enough money for quality peripherals as well. After all, a gaming PC is only as good as its peripherals. Only when coupled with the best gaming monitor and the best gaming keyboards will yours be the stuff of legends.
Should you get a gaming PC or a next-gen console?
There may not be a clear answer to settle the gaming PC vs next-gen console debate, but there are a few key things you should consider before buying either one. Both pieces of technology will flawlessly play the biggest game releases, but consoles like the PS5 still have exclusive games like Horizon Forbidden West that can't be played anywhere else.
Next-gen consoles are also an all-in-one package with the console and at least one controller in the same purchase. Gaming PCs require a tower, monitor, keyboard, and mouse - most of which all have to be purchased separately. The cost for PC gaming accessories only goes up when you want to get things like the best gaming keyboard, best gaming mouse, and best PC gaming headsets.
Both next-gen consoles and gaming PCs have been affected by component shortages, making it difficult to find consoles as well as newer PC gaming parts. If you can get these items for retail price it won't be as much of an investment, but it has become increasingly difficult to find reasonable prices amongst scalpers. Stock often sells out fast as well, making it hard to get your hands on either technology.
So, is a gaming PC better than a next-gen console? Not necessarily, especially if you don't have the room to devote to all the aspects of a PC gaming rig. However, the best gaming PC will run on-par with the newest next-gen consoles so it's ultimately about the gaming experience you're looking for - choosing between a next-gen console or gaming PC is a win either way.
Today's Best Gaming PC Deals