The best gaming PC isn't necessarily the most powerful and most kitted-out option on the market. That means that you don't have to break the bank to get a gaming computer that lets you enjoy the latest titles. Depending on your gaming demands and budget, the ideal one for you might just be an affordable one for 1440p gaming.
Building your own PC isn't necessarily the best route for everyone, although many hardcore gamers will tell you differently. If you're on a tight budget, a casual gamer, or someone who hasn't built a desktop computer before, a prebuilt gaming PC might be the best PC for you. You'll also have a better chance of getting the best graphics card or the best processor that is a little harder to get on its own due to stock shortage.
There's also the advantage of having more stability in a system that has undergone fairly rigorous testing from an OEM manufacturer like Dell, Alienware, or Lenovo. You're guaranteed that out of the box even the best budget gaming PC will be ready to play the best PC games from the get-go.
Given that there are so many options out there from literally dozens of brands from HP to Maingear, we brought our top picks together in one place, keeping in mind different needs and budget. We've tested many gaming PCs from every major manufacturer, so we know which ones to recommend, whether you want the most premium model or a great budget option offering a fantastic value for both 1080p and 1440p gaming.
The best gaming PC 2023
Why you can trust TechRadar Our expert reviewers spend hours testing and comparing products and services so you can choose the best for you. Find out more about how we test.
The Acer Predator Orion 7000 is a gaming PC that delivers beauty and power in spades, which makes it a top choice if you're not strapped for cash. Its high-end specs guarantee a smooth gaming experience and has seen us through completely maxed out sessions - including 4k resolution, HDR, ray-tracing, and 120fps - of Final Fantasy VII Remake without breaking a sweat. It even performed at max 256fps with all those settings turned on.
Of course, being this powerful does have some drawbacks -- namely, the loud fans that go on overdrive when you're playing on Ultra. However, on the plus side, we found that its well-constructed cooling system keeps running smoothly without turning into a furnace. The fan noise doesn't bother us anyway, especially when we've got a decent headset on.
All that power is packed in a chassis that's built for practicality, as it can be popped open without the use of tools, comes with an elegant cable management system, and boasts an excellent port selection. However, the chassis is just as gorgeous as it is practical, boasting gorgeous RGB lighting that makes it a stunning addition to you gaming setup.
Read our full Acer Predator Orion 7000 (2022) review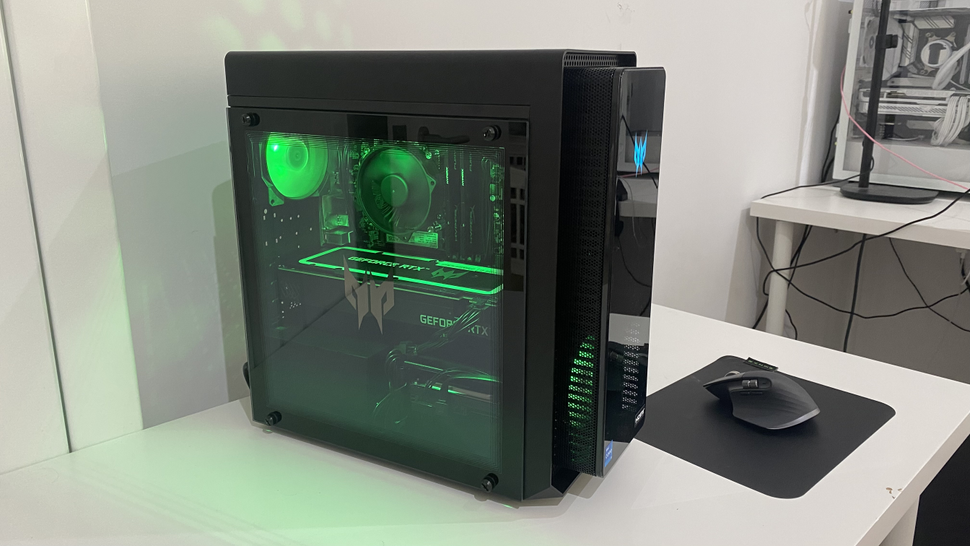 While the Acer Predator Orion 3000's higher-end configurations don't sit in the budget department, we did find its more affordable versions offer absolutely incredible value for money, with performance-per-dollar beating out most other gaming PCs. Our review unit achieved 7,160 points in the PCMark10 test, scoring higher than 93% of other PCs. That's why it takes the top spot on our best budget gaming PC list - despite the fact that its fans do struggle during the most intensive gaming sessions.
It's also superbly built, something that Acer's Predator PCs have in common, with an attention to detail that's practically unrivaled and a tidy, compact design that makes it much more portable and easy to move around than many of its competitors. Of course, its RGB lighting is also something to behold, made even better by the FrostBlade fans and light bars on the side.
An easy-to-upgrade chassis means that this is a gaming PC that could last you for years, with performance in the base model making it easily capable of playing the latest games at 1080p or even 1440p right now. It's certainly a compelling purchase for gamers who care just as much about aesthetics as they do about performance.
Read our full Acer Predator Orion 3000 review
Not only do we love Alienware's suite of apps to keep things running quickly and smoothly, but we're also impressed by the Aurora R10's gorgeous looking case, which we think is one of the more attractive out there. But, the Alienware Aurura R10 Ryzen Edition is more than just a pretty computer.
It's a powerhouse, especially in its more robust configurations. We were able to test one equipped with an AMD Ryzen 7 5800X and Radeon RX 6800 XT GPU, not to mention 32GB of RAM, and it flew through all of our tests without breaking a sweat. 1080p gaming on Ultra regularly hits above 100+ FPS, and we can even turn on ray-tracing for some games, though it's not quite as widely implemented for AMD-powered machines as it is for ones packing an Nvidia GPU.
Of course, that configuration, like most Alienware PCs, is not light on the wallet, though its most stripped down configuration with an AMD Ryzen 5 5600X, Radeon RX 5300 , and 8GB RAM is a little more reasonable. However, if you really want to experience the Alienware magic, be prepared to spend.
Read our full Alienware Aurora Ryzen Edition R10 review
The Corsair PC Build Kit is a special addition to this list as, unlike all the other entries, it's not a pre-build, which means that you do get the pleasure of building it yourself. However, it might as well be, as Corsair already puts together the configurations for you - there are three currently - taking out the involved research required when building a PC on your own. In fact, all we needed to do when we got our kit was to follow the detailed instructions and build it ourselves. Almost a no-brainer for beginners. Almost.
Of course, the base configuration we got isn't as powerful to see gamers through gaming on Ultra with everything turned up high. However, playing Hogwarts Legacy on it was a favorable experience, thanks to its smooth performance with no noticeable lags, even with ray tracing at low. Same deal with Kena: Bridge of Spirits, which it handled beautifully, giving us smooth gameplay.
Sadly, the base configuration won't give you RGB components or even an RGB-lit case, but upgrade to the mid-range or high-end configuration, and you're getting a nicely-lit setup. Just be prepared to pay a lot, as Corsair never rolls out anything that's cheap where its gaming PCs are concerned.
Read our full Corsair PC Build Kit review
Most people won't be able to afford the most kitted out gaming machines on the market. But that doesn't mean you have to compromise too much in your gaming pursuits. The Lenovo Legion Tower 5i's entry-level configurations are perfect for those on a budget, capable of handling the most popular esports and AAA titles at 1080p.
The model we tested with an NVIDIA GeForce GTX 1660 Super meant we had to forgo ray tracing and DLSS. However, esports gamers can make great use of this machine as you can easily turn down the graphics settings and get high frame rates.
Luckily, we noticed how easy this Lenovo gaming PC is to upgrade. Getting inside is a snap and there's plenty of room to maneuver. So, if you want a base model to slowly morph into a powerhouse, then the Lenovo Legion Tower 5i is an ideal fit. We do suggest putting a little more money aside for an external SSD as the one the computer comes with is pretty miniscule.
Read our full Lenovo Legion Tower 5i review
The Corsair One i300 is exhibit one when it comes to proving that you don't need a behemoth to get fantastic gaming results. This absolutely (relatively) tiny gaming PC takes high-end components like an Intel Core i9-12900K and Nvidia GeForce RTX 3080 Ti, and crams them in a case not much bigger than an Xbox Series X.
And, while this small size means that you probably will be forgoing any future upgrading as the innards are fit together like a well-played game of tetris, we found it to still run smoothly and, more impressively, quietly. Its power is something to behold. We were able to, for example, run demanding games like Cyberpunk 2077 at 4K at max settings with ease.
Just know that as exceptional and compact as the Corsair One i300's form factor is, you're going to have to pay for it. In fact, you can probably get two normal-sized powerful gaming PCs for the price of this one. However, if you have the money but prefer something space-saving, it's truly worth the money.
Read our full Corsair One i300 review
The HP Omen 30L is a bit of a contradiction. It's a powerful computer made of standardized parts with tool less access meant for easy customization. However, its sleek and admittedly elegant case doesn't allow for much space. When we opened it up to see what potential upgrades were to be had, there's not much room for additional cooling options with only one fan slot at the front and top of the case as well as space for just one small one at the rear exhaust slot.
However, its faults begin and mostly end there – we would love a USB-C port on its front port panel. When it comes to performance, the Omen 30L doesn't need any additional help as our test unit, equipped with a powerful Nvidia RTX 3080, blazed through all our testing including more than one AAA game on Ultra settings in 1080p.
Even its most modest configurations, sporting an Intel Core i7 and an Nvidia GeForce RTX 3060 Ti will have you immersed in your favorite titles. Just don't max out that ray tracing if you're trying to save a little money.
Read our full HP Omen 30L review
Swipe to scroll horizontally
Best gaming PCs at a glance

| | | | | | | | |
| --- | --- | --- | --- | --- | --- | --- | --- |
| Row 0 - Cell 0 | Acer Predator Orion 7000 (2022) | Acer Predator Orion 3000 | Alienware Aurora Ryzen Edition R10 | Corsair PC Build Kit | Lenovo Legion Tower 5i | Corsair One i300 | HP Omen 30L |
| Price: | Starting at $3,000 / £3,300 / AU$5,500 | Starting at $1,449 / £1,099 | Starting at $1,079 / £1,249 | $1,199.99, $1,699.99, $2,099.99 | Starting at $899.99 / £999.99 / AU$1,351.59 | Starting at $2,599.99 / £2,999.99 | Starting at $1,699 / £2,679.98 |
| CPU: | 13th-gen Intel Core i7 - i9 | 12th-gen Intel Core i5 - i7 | Up to AMD Ryzen 9 5950X | Intel Core i5 - i9 | Up to 11th-gen Intel Core i7 | 11th-gen Intel Core i7 - i9 | Up to Intel® Core™ i9-10850K |
| GPU: | Nvidia GeForce RTX 3080 - 3090 | Nvidia RTX 3060 - 3070 | Up to Nvidia GeForce RTX 3090 / AMD Radeon RX 6900X | Nvidia GeForce RTX 3060 - 4070 | Nvidia GeForce RTX 3050 - 3070 | Nvidia GeForce RTX 3080 | Up to a Nvidia GeForce RTX 3090 |
| RAM: | 32 GB, DDR5 SDRAM | 8GB - 16 GB, DDR4 SDRAM | Up to 128GB 3200MHz DDR4 | 16GB - 32GB | 16 GB DDR4 3200MHz | 32GB DDR4-3200 - 64GB DDR4-3200 | 16 GB DDR4 3200MHz |
| Storage: | 1 TB SSD, 2 TB HDD | 512 GB SSD - 1 TB SSD, 1 TB HDD | Up to 2TB SSD + 2TB HDD | From 1TB M.2 SSD | 1TB HDD, Up to 1TB PCIe SSD | 1TB M.2, 2TB HDD - 2TB M.2 | 256GB SSD, 1TB HDD |
How to choose the best gaming PC for you
How to choose the best gaming PC for you
Since building your own PC can be pricey and/or a bit of a hassle, buying the best gaming PC you can afford definitely makes the whole process easier. And with some recent offerings from companies like HP and Dell, you don't even necessarily have to spend a fortune either. Still, it's always good to go in knowing what you're looking for within your budget.
Whether you're playing the best PC games or the best free games (opens in new tab) to save a bit of coin, your priority should be choosing something that manages to be within your budget without compromising on performance or scrimping on vital features like a healthy port selection and appealing RGB lighting.
That could very well mean a pricey desktop PC that will see you through 4K gaming, or one of the best budget gaming PCs (opens in new tab) that will give you a smooth 1080p gaming experience. Don't worry so much about the frills and the design unless your budget is flexible or you've got deep pockets.
Once you've decided on your budget, you should pick a computer with the best GPU you can afford. You'll want at least an Nvidia GeForce RTX 3070 if you plan on gaming in 4K while an RTX 3060 Ti can handle 1440p gaming. While you want a CPU that can keep up like Intel Core i5 or i7, pre-built PCs won't come with underperforming CPUs.
You should also make sure you have enough speedy RAM and fast storage capable of keeping up. These days, an 8GB DDR4 memory is the bare minimum, but upgrade to 16GB if you can. Plenty of SSD storage is ideal as well, since many top titles take up a lot of space, although you can always get an additional drive later down the line.
Finally, make sure you have enough money for quality peripherals as well. After all, a gaming PC is only as good as its peripherals. Only when coupled with the best gaming monitor and the best gaming keyboards will yours be the stuff of legends.
Is it better to build or buy a gaming PC?
Whether to build or buy a gaming PC, that is the question. For some PC gamers, building a system is the only way to go, as this lets you customize your rig to very precise specifications. Unfortunately, finding the individual components you need to build a PC is getting tougher than ever. As much as you might want to build a custom gaming PC, you might not actually be able to do so.
If that's the case, then there's absolutely nothing wrong with buying a gaming PC. No, you might not be able to precisely customize it to your liking, but if what you want to do is play your favorite PC games, then buying one of the best gaming PCs you can afford will simply make the whole process easier.
Should you get a gaming PC or a next-gen console?
There may not be a clear answer to settle the gaming PC vs next-gen console debate, but there are a few key things you should consider before buying either one. Both pieces of technology will flawlessly play the biggest game releases, but consoles like the PS5 still have exclusive games like Horizon Forbidden West that can't be played anywhere else.
Next-gen consoles are also an all-in-one package with the console and at least one controller in the same purchase. Gaming PCs require a tower, monitor, keyboard, and mouse - most of which all have to be purchased separately. The cost for PC gaming accessories only goes up when you want to get things like the best gaming keyboard, best gaming mouse, and best PC gaming headsets.
Both next-gen consoles and gaming PCs have been affected by component shortages, making it difficult to find consoles as well as newer PC gaming parts. If you can get these items for retail price it won't be as much of an investment, but it has become increasingly difficult to find reasonable prices amongst scalpers. Stock often sells out fast as well, making it hard to get your hands on either technology.
So, is a gaming PC better than a next-gen console? Not necessarily, especially if you don't have the room to devote to all the aspects of a PC gaming rig. However, the best gaming PC will run on-par with the newest next-gen consoles so it's ultimately about the gaming experience you're looking for - choosing between a next-gen console or gaming PC is a win either way.
How we test gaming PCs
A gaming PC is a big purchase that shouldn't be taken lightly, which is why we don't take our testing lightly either. Testing gaming PCs is always a comprehensive undertaking for us, using it to play not only the latest or hottest games but also older yet still demanding titles as well, noting things like performance – especially in gaming – as well as noise and thermal efficiency. We also run synthetic benchmarks like PCMark 10 (opens in new tab), 3DMark (opens in new tab), and Geekbench 5 (opens in new tab).
Furthermore, we take a look at its design, things like availability of ports, expandability and upgradability, RGB lighting, and accessibility that its chassis offers. Build quality is an important factor in comparison to the asking price, so if any piece of hardware feels cheap or flimsy in an expensive product, it's going to get marked down. For good measure, we'll also check how it does with daily tasks, because most of us don't only use our gaming PCs for gaming; it serves as our everyday computer as well.
We then take everything we've learned about the gaming PC and compare it to its price – whether or not its performance and features are worth that price tag, and whether or not it offers the best value to customers.
For more information about our process, see how we test.
Today's Best Gaming PC Deals