BEST GAMING TV: QUICK MENU
1. The list in brief
2. Best for most people
3. Best cheaper gaming TV for PS5
4. Best for bright rooms
5. Best budget gaming TV (US)
6. Best budget gaming TV (UK)
7. Best budget gaming OLED
8. Best super-bright OLED TV
9. Best PS5 TV for picture quality
10. Best affordable OLED for PS5
11. How to choose
12. How we test
Looking for the best gaming TV is the same as hunting for the best TV for movies or streaming. You need to find a TV with fantastic image quality, a budget that's right for you and a size that fits into your living room. But there are also several specific requirements you need to consider as well.
Here at TechRadar, we've tested many of the best TVs over the years and we know what makes an excellent gaming TV, too. For example, the best gaming TVs need to have a low level of input lag, meaning there isn't a delay between you pressing a button and what you see on your screen. Of course, exact specifications vary depending on your preferences and what you can afford. But, generally, input lag of under 17ms or 15ms will suit the majority of gamers.
Many of the best TVs available today already have plenty of gaming features packed into them. Higher-end models, including many of the best OLED TVs, are usually excellent for gaming regardless of which one you choose. If you need to stay within a budget, you might find one in the best TVs under $1000 or the best TVs under £1000. But be careful, some of the cheapest models won't include the HDMI 2.1 connectivity gamer's need, which makes the most of the next-gen PS5 or Xbox Series X consoles.
Take a look at our guide below for our pick of the best gaming TV for all consoles, covering a range of budgets. You'll also find out if these displays work particularly well for certain consoles to help you make the best choice to suit your needs.
Written by
Matt is TechRadar's Managing Editor for Entertainment, meaning he's in charge of persuading our team to watch the latest movies on gorgeous TVs as well as listen to fantastic speakers and headphones. It's a tough task, as you can imagine. Matt has over a decade of experience in tech publishing, and has been writing about the latest TVs and soundbars since 2017.
The quick list
If you want to quickly find the perfect gaming TV for you, try this list – you can also get a more in-depth write-up of any particular model by clicking the TV link!
Load the next 3 products...
Super-bright OLED
The brightest OLED TV
This is brighter than any OLED so far, giving you best-in-class HDR, from highlights to deep dark caves. And it's a gaming beast, with four HDMI 2.1 ports.
Best PS5 picture
The best PS5 TV for picture quality
This delivers arguably the best picture quality of the bunch here, and has Sony's 'Perfect for PS5' tech, so this is the ultimate in fidelity for that console.
Best PS5 OLED
The best mid-range OLED for PS5
Another 'Perfect for PS5' TV, this gives you OLED picture quality at a lower price if you want all of Sony's best tricks, including its more advanced HDR.
The best gaming TVs in 2023
Why you can trust TechRadar We spend hours testing every product or service we review, so you can be sure you're buying the best. Find out more about how we test.
The best gaming TV for most people
If you want the best gaming TV and a knockout OLED screen, then the LG C2 is worth considering. It takes everything that's good about our previous top pick, the LG C1, and adds a significantly brighter display (in all but the 42 and 48-inch models) with improved processing and color saturation. You might find the C1 at a more affordable price now it's been heavily discounted, but the C2 has the better specification.
During our testing, we were extremely impressed by the 4K OLED display, which delivers truly breathtaking black levels and dynamic range (the difference between the darkest and brightest parts of the screen). This is ideal for whether you're gaming or watching box sets. Unlike LCD TVs, which are back or edge lit, OLED pixels generate their own light. That means you can have bright highlights and dark areas right next to each other, without the light leaking between them. The only downside is that it isn't very bright – a mini-LED TV might be a better choice if you game in a bright room during the day.
For gamers there's a lot to love here, including FreeSync, G-Sync and standard VRR right out of the box. With a native 120Hz refresh rate and HDMI 2.1, PS5 and Xbox Series X owners can get the maximum resolution and frame rate from their new hardware, while high-end PC owners will have a solid option should they decide to connect their PC to their TV via HDMI. Also appreciated is the new 'Prevent Input Delay' setting that can be set to boost for an incredibly low 1.5ms delay.
When it comes to future-proofing for all consoles and gaming PCs as well, nothing does it better for the same price: it's the best TV for Dolby Vision gaming at 120fps on the Xbox Series X too. And it's one of the few gaming TVs that comes in 42-inch and 48-inch sizes, with all of its features intact. It might be the only option for some people with smaller rooms.
Read the full LG C2 review
Best affordable gaming TV for PS5
The Sony X90K is an excellent value TV, delivering top performance for an affordable price. It has a full-array LED backlight, which features local dimming. The result is deep blacks paired with high levels of brightness and color – although it's not the brightest TV on the market.
This TV is excellent for sports and movies. In our review, we wrote: "The X90K series can deliver deep, detailed blacks for movie watching, and its peak light output is high enough to make it a good option for daytime sports viewing as well."
However, it really shines as a gaming TV, especially for PS5 owners. The X90K has a fantastic suite of gaming features, which is why we rate it so highly. Aside from 4K 120Hz video support (available only on two of the set's four HDMI inputs), it has both variable refresh rate (VRR) and auto low latency mode (ALLM). Input lag as measured by our 4K test meter was 13.8ms, which is a very good result.
X90K TVs are also 'Perfect for PlayStation 5'. This basically means that when connected to the company's gaming console, an Auto HDR Tone Mapping feature gets activated, along with an Auto Genre Picture Mode that optimizes the image for gaming, meaning the visuals are tuned to match exact what the TV can do, for optimal HDR.
This is a great gaming TV for PS5 owners, especially for the price.
Read the full Sony X90K review
The best gaming TV for lighter rooms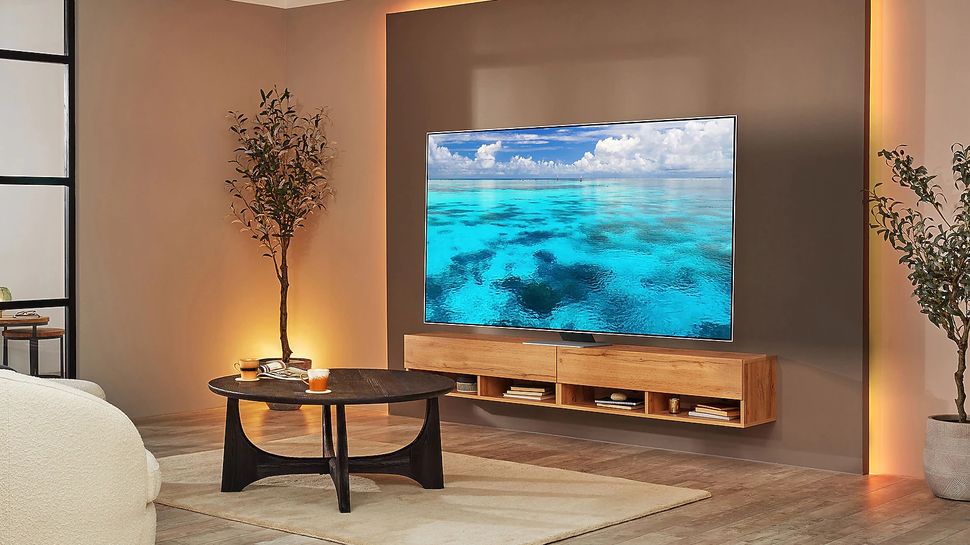 If you're looking for a bright TV that doesn't get lost in reflections even if you're watching it during the day in a sunlit room, and that's a reasonable price, allow us to introduce the Samsung QN85B. It's a mini-LED display that delivers incredible brightness, it has an exceptionally low input lag for a TV of this size and it delivers impressive HDR, albeit with the usual Samsung omission of Dolby Vision.
With HDMI 2.1 support across all four HDMI inputs, compatibility with 4K 120Hz and support for ALLM, VRR and FreeSync Premium Pro, the QN85B looks equipped to make the most of any next-gen console. And when you add in the popping brightness, assured motion tracking and mile-wide color palette already discussed, it shines above the rest. Mostly, anyhow. Game mode is fantastically fast but you do lose a little of the contrast and a slight increase in white-tone blooming, so when it comes to precise contrast, OLED TVs have an edge over it.
This is a spectacular TV for all kinds of entertainment. Contrast is superb for an LED TV for movies, and it's a very bright panel with a wide and convincing color range. The image processing doesn't produce strange results with CGI as some processors do, and the panel has decently wide viewing angles. And provided you stay clear of really old TV shows, the upsampling is excellent.
The audio in Samsung TVs isn't always the best, but this is better than most: with four speaker drivers and 60W of power – plus Q-symphony compatibility with Samsung soundbars, which uses the TV speakers as part of a bigger surround system – it's fine. We'd prefer a little more detail to the sound, but we tend to listen through soundbars or AV receivers so it's not a deal-breaker for us.
Read the full Samsung QN85B review
The best budget gaming TV in the US
This the most impressive TV you can get for the price when it comes to both image quality and gaming features – though only in the US. Mini-LED tech means it delivers high brightness levels and better-than-average control over dark tones, while support for 4K 120Hz and VRR mean that it's ideal for next-gen gaming.
When it comes to overall picture quality, we said in our review that it "delivered the kind of deep, rich blacks we're used to seeing on much more expensive models, and its impressive local dimming ensured that visible artifacts like backlight blooming were kept to a minimum. Overall, this TV delivers a very clean and punchy looking picture for the price."
And the gaming tech all impressed us too, with 4K 120Hz looking excellent, a low level of input lag meaning that it feels responsive, and with HDMI VRR (for the PS5 or Xbox) and AMD FreeSync Premium Pro (for Xbox or PC) on board.
You don't get a dedicated gaming dashboard in the same way you do on Samsung or LG TVs, but that's okay – it can detect consoles automatically to get into the right mode anyway.
Read the full TCL 6-Series Roku TV (2022) review
The best budget gaming TV in the UK
The Samsung Q80B is a great mid-range 4K QLED screen that we consider to be a fantastic all-rounder as it's well-suited for everyday TV viewing and supports high frame rate gaming – and it's one of the best-value ways to get that in the UK. It's also available in the US, but we rate the TCL above as better value.
The Q80B is positioned just below Samsung's mini-LED Neo QLED models, offering a more conventional full array backlight instead. This means it doesn't offer the black level performance or the HDR precision of its more expensive stablemates.
However, with four HFR (high frame rate) compatible HDMI inputs, a useful Game Bar menu for gaming features, and a polished smart TV interface, only serious home cinephiles are likely to feel shortchanged.
Given the prominence of Samsung's Game Hub, it's clear that's where its key appeal lies. QLED, after all, is impervious to screen burn, which translates nicely to anxiety-free gaming sessions. The Samsung also has four HDMIs that all support 4K 120Hz playback. There's also ALLM (Auto Low Latency Mode), Nvidia G-Sync and FreeSync Premium Pro support for gaming.
The set also has an above-average Dolby Atmos compatible sound system. In our Samsung Q80B review we wrote: "Picture quality, particularly if you're a bright room viewer, is impressive, and audio is immersive enough to stave off any additional soundbar purchase, at least until funds allow."
Read the full Samsung Q80B review
The cheapest gaming OLED TV
If you want the perfect contrast and rapid response times of OLED, but for a lower price than the LG C2 at the top of the list, this is your option. You're getting a lower-brightness screen than the C2, and two HDMI 2.1 ports instead of four – but all the essentials are here.
OLED's famous contrast still looks excellent, and there's support for 4K 120Hz gaming with VRR using the regular HDMI kind (for the PS5 or Xbox), AMD FreeSync (for PCs or Xbox), or Nvidia G-Sync. LG's gaming menu makes it easy to tweak settings as needed to.
Response time is very low at 9.1ms, and it'll auto switch to gaming mode when it detects you've fired up a console.
For movies and TV, it's great there too – it has a less advanced image processor than the C2, but it's still great for a mid-range TV. The audio isn't that impressive, but we can live with that, especially if using a gaming headset.
Read our full LG B2 review
The best OLED gaming TV for brightness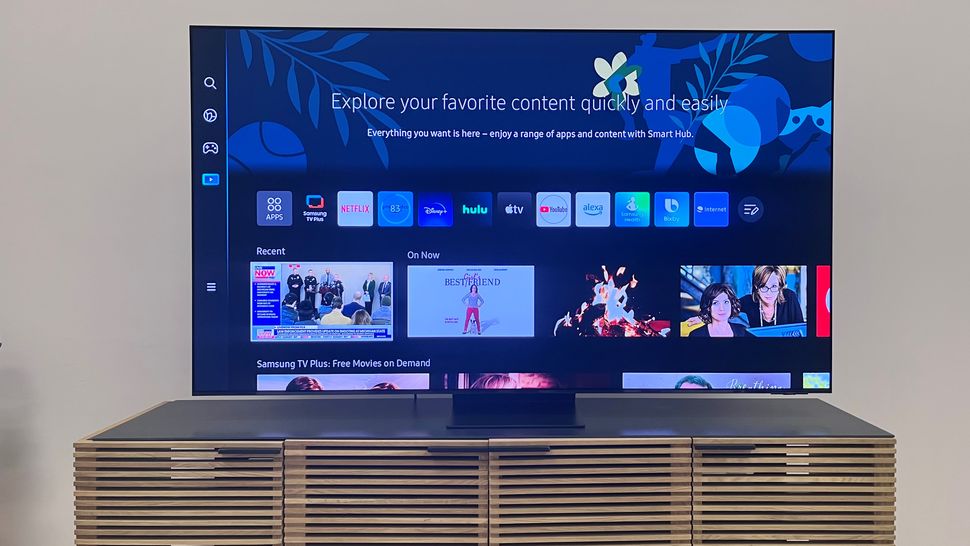 Samsung's QD-OLED TV combines the famous self-emissive properties of OLED with the brightness and color range potential of QLED, delivering superb picture quality and exceptional brightness – around 70% brighter than the LG C2 – with better blacks and contrast than non-OLED displays. In our review, we said that with a bit of tweaking it provides a combination of brightness, black depth, contrast and color that we just haven't seen before on a home TV. It's something special.
There are four HDMI ports that all support 4K at 120Hz, variable refresh rate and automatic low latency mode switching features now available to Xbox Series X, PS5 and PC gamers with the latest premium Nvidia and AMD graphics cards. The built-in sound system is very impressive for such a slim set, with Dolby Atmos and Samsung's Object Tracking tech for positional audio.
There's no Dolby Vision gaming support for the Xbox, but the HDR is so good you probably won't really mind. The only issue is that it's very expensive, but if your budget stretches to it, and you want something with the high brightness to break through the light of bright rooms, it's fantastic.
Read the full Samsung S95C review
The best PS5 TV for picture quality
When we tested the Sony A95K, Sony's flagship, next-gen QD-OLED TV, we were so impressed by the picture we wrote in our review that it delivers "arguably the most flat-out beautiful images we've seen from a consumer television".
That's no exaggeration. Thanks to a combination of its excellent Cognitive XR processor with a new Quantum Dot OLED screen, the picture quality is truly outstanding. Although rivals, such as the Samsung S95C, deliver a fantastic experience, this is our top pick for the most refined picture alone overall.
However, we know that the best-looking TV isn't necessarily the best gaming TV, so how does the Sony A95K fare? Well, there's a lot for gamers to love here, including 4K 120Hz support and variable refresh rates. The Sony A95K also supports 'Perfect for PlayStation 5', exclusive features built-in to the latest Sony TVs that make using a PS5 more immersive and seamless.
For example, the console automatically optimizes its HDR game output settings based on the Sony TV it's connected to, while the Auto Genre Picture mode is essentially a proprietary Sony version of the Auto Low Latency Mode HDMI 2.1 feature that enables TVs to switch in and out of their low-latency game picture presets automatically as a console or PC switches between game and video sources.
Unfortunately, it only has two HDMI 2.1 ports. By normal standards this is fine, but it's weak for such a high-end TV with an eye-watering price tag. What's more, there's no 4K 120Hz Dolby Vision gaming mode for Xbox users, and you can't enjoy Dolby Vision at all from any source if you don't choose the necessary setting from the HDMI set-up menu.
Read the full Sony A95K review
The best OLED gaming TV for PS5
This is Sony's mid-range OLED TV, offering a less advanced screen than the high-end Sony A95K, but still packing in all of its best image processing and – crucially for us – gaming features.
You've got 4K 120Hz and VRR support over two HDMI 2.1 ports, with a great low latency of 12ms when we tested it. And this is part of Sony's Perfect for PS5 TV line-up, which means it includes Auto HDR Tone Mapping support with the console. This means the PS5 adjusts its HDR output to match the exact capabilities of the screen, so you always get the best-looking image.
And it's doesn't rely on its gaming features to get by. We were very impressed with the image quality in our tests, going as far to say in our review: "The Sony A80K offers all the best things you expect from an OLED TV such as detailed blacks and well-saturated color, plus Sony's Acoustic Surface Audio+ tech". The latter of these means that it sounds so good, you won't need to pay for a soundbar too.
It doesn't go as bright as the LG C2, or the higher-end LED and mini-LED TVs here, but it does offer an infinite contrast ratio – it's capable of 'true blacks', by which we mean we measured it at 0 nits when it was supposed to show blackness. Absolutely nothing. That's very impressive, and makes it great for atmospheric games or movies in HDR.
If you've got a PS5 in particular and want an OLED that gets that absolute best out of it without paying a super-premium price, this is an excellent choice.
Read the full Sony A80K review
How to choose the best gaming TV
How to choose the best gaming TV
There are a few key things to consider when you're choosing the best gaming TV for you.
Game Mode and low latency: Latency is the time between when an image is sent by the console and when it actually shows up on the screen. Modern TVs do a lot of clever processing to images to make them look better, but this takes time, which means there's a delay between you pressing a button on a controller and seeing the result – that's not ideal in a fast-paced game. All TVs now have a Game Mode, or something with a similar name, which reduces the processing, meaning lower latency.
HDMI 2.1: The latest and greatest HDMI connector tech, which includes support for ALLM, 4K 120Hz, and VRR.
ALLM: Auto Low Latency Mode is a newer feature where consoles can tell the TV to switch into Game Mode automatically – you won't have to set it with a remote.
4K 120Hz: This means a TV can refresh its screen up to 120 times per second, while still displaying at 4K resolution. Cheaper TVs are more likely to refresh at 60 times per second. You may also find some mid-range 4K TVs that refresh at 120Hz, but don't include HDMI 2.1, so they can only show Full HD resolution at 120Hz, or 4K at 60Hz.
VRR: Variable Refresh Rate is a feature that means the TV will synchonize the speed at which is refreshes the screen with whatever the current framerate of your game is. This means games don't have to stay locked to 30, 60 or 120fps to avoid screen tearing, which means they can offering better graphics. There are three types of VRR: HDMI forum; FreeSync and G-Sync.
HDMI forum VRR: This is supported by both the PS5 and Xbox Series X, and is an official part of the HDMI 2.1 spec. Most TVs with HDMI 2.1 support it.
AMD FreeSync: This is supported by the Xbox Series X and AMD graphics cards on PC. It's pretty common to find on TVs, including on some without HDMI 2.1.
Nvidia G-Sync: This is supported by Nvidia graphics cards on PC, but not by consoles. It's pretty rare to find on TVs, too, but it does happen.
Is a TV good for PC gaming?
We've established that gaming TVs are fantastic companions for your games consoles, but what if you play on PC? There's certainly an appeal in playing graphically intensive PC games on a big screen, but how does that play out in practice?
While a gaming TV can certainly substitute for a PC gaming monitor, you'll need to make sure your PC can handle the resolution. 4K screens are naturally more taxing on your PC's resources due to them offering much higher image quality.
If your PC is up to scratch, you'll get a smooth experience at 4K on a bigger screen. If not, you may have to switch your game to a lower resolution like 1440p or 1080p, in which case your gaming TV might not be able to handle the upscaling needed very well. This will result in a blurrier than intended image thanks to the size of the TV compared to a monitor.
It's a double-edged sword, then, and almost entirely dependant on how powerful your PC is. If you've got the high-end parts to make it happen, then PC gaming on a TV can produce wonderful results. If it's not quite there, then you're better off playing on a smaller monitor able to output a sharper, cleaner image.
How much is a gaming TV?
TVs suited for gaming vary wildly in price, depending on a wide number of factors. 4K gaming TVs are incredibly common these days, and can be bought for as little as $300 / £300 / AU$450. Of course, you're getting very basic features with a TV at this price, with a size of around 43-inches and potentially lacking niceties like HDR (high dynamic range) which packs a much greater gamut of colors.
There are plenty of cheap 4K gaming TVs available, then, but those of you looking for the best experience possible might want to seek out a 4K gaming beast like the LG C1, which offers gorgeous HDR and some of the lowest input lag we've ever seen. Of course, LG's flagships don't come cheap, and you can expect to pay around $1,499 / £1,699 (around AU$2,999). And that's just for the smallest available model in each region.
Do I need an 8K gaming TV?
The short answer? No.
While 8K games are absolutely on the horizon, and the PS5 / Xbox Series X console come with this capability baked-in, there's no immediate need to get an 8K TV for gaming. Gaming devs are still getting to grips with 4K performance, and in general other picture specifications like a high frame rate (60fps, 120fps) are going to be more important in the coming years.
In 2025, maybe it'll be a different answer, but for now we think the 4K gaming TVs listed above will do you just fine.
How we test the best gaming TVs
Read the specs and marketing claims of TV makers and they often over promise on what the TV can really do. That's why we've extensively tested all of the best gaming TVs in this list to ensure they work well and deliver on their next-gen gaming specs.
What that means is we'll publish the official specs from the TV manufacturer, like the input lag or refresh rates on offer, then tell you ourselves whether the TV lived up to them in practice.
To do this, we tend to review TVs with a range of different content. Of course, next-gen gaming takes priority in this guide, but we imagine you'll also want to know what movies and TV shows are like to watch as well.
We use a Leo Bodnar 4K HDMI Video Signal Lag Tester to test the input lag, and a colorimeter to test the brightness levels and color accuracy. We connect a latest-gen game console to ensure that features such as 4K 120Hz support or Dolby Vision gaming work as advertised.
As well as testing for all of the key specs you need in a gaming TV, like refresh rates and HDMI connections, we're also looking for good picture quality, vibrant colors and viewing angles to suit all kinds of rooms.
Sound is less of a priority with most gaming TVs as you'll get the best experience from gaming headphones or a soundbar, but it's always good to know you'll get a decent built-in experience. Which is why we've also detailed what it was like to listen to these TVs without additional devices, too.
As we've reviewed many TVs over the years – and many of the best gaming TVs – all of our testing isn't done in isolation, but takes into account the performance and specs of every TV that's come before it.