Editor's note: June 2023
The LG OLED55C3 is the latest addition to our best 55-inch 4K TVs guide. We were blown away by the performance of this versatile new LG TV, which delivers new HDR-improving picture processing, a smart TV interface overhaul, and features for both gamers and movie fans.

If the C3 is so good, why is the C2 our top pick? As the price of the LG C2 drops it becomes better value. So while stocks last, it simple makes sense for most people to pick up a cheaper LG C2 than go for the newest model.

Matt Bolton, Managing Editor – Entertainment
The best 55-inch 4K TVs are the perfect size to really get the most out of your ultra high definition entertainment. Once upon a time a 55-inch TV seemed a staggering behemoth to install in your living room but over the past few years this has become the go-to standard size for the ultimate home theatre happily ever after.
While you can now get plenty of screen tech packed into a smaller form factor - don't miss our list of the best 50-inch TVs if you have a smaller space - 55-inches is the perfect size to really make the most of the new TV technologies like local dimming. At this size, you can see OLED and QLED panels in action, bringing contrast and brightness to the fore in a size you can really appreciate.
And because the best OLED TVs mostly start at 55-inches there's no shortage of choice when you're choosing one of the best TVs. The even better news is that you're currently shopping for a 55-inch TV at the best possible time. 55-inch TVs are one of the most popular big ticket items for end-of-year sales, and there will be no shortage of deals. Our widgets below will update automatically to show you the best prices.
The best 55-inch TVs are also ideal for those playing on consoles or PC. Plenty of our best gaming TVs are lurking below with ALLM and VRR for low latency gameplay as well as HDMI 2.1 so you can play in 4K at 120fps. Oh, and if 55-inches still isn't big enough for you, you can go all in with our list of the best 65-inch TVs and go big or go home with the best 75-inch TVs. For everyone else though, let's take a look at the very best 55-inch TVs you can buy right now.
The best 55-inch 4K TVs for 2023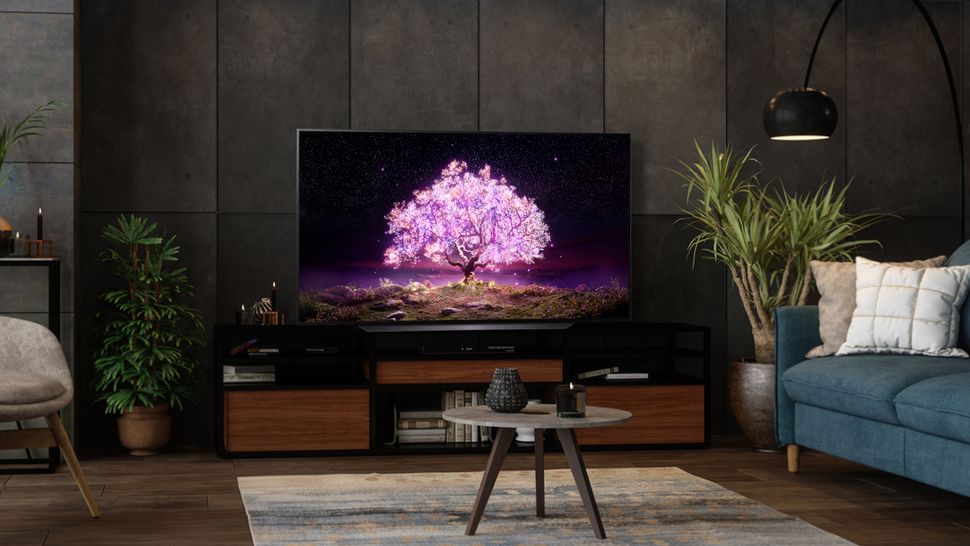 For those tempted by the deep blacks and infinite contrast of an OLED TV, the LG C2 Series is your best bet. It takes everything that was great about the previous C1 series and ups the brightness to deliver one of the best TVs you can buy today. LG may have not made a huge overhaul of its C1 OLED with this 2022 model, but the incremental improvements are useful, and the connectivity options you get are unbeaten.
Improvements for the 2022 model include the new Alpha a9 Gen 5 processor, which is designed to offer better object enhancement and dynamic tone mapping than its predecessor. As well as that, you're getting 'virtual surround sound', with the TV upscaling stereo content into 7.1.2-channel sound. While we weren't convinced by the claims of virtual surround sound, the audio performance is good for a flatscreen TV, and a number of different sound modes means you should be able to find an audio profile that suits your needs.
There's an improved version of LG's already excellent webOS smart TV platform, excellent connectivity including four HDMI 2.1 ports that all support 4K/120Hz that makes this a great TV for gamers and truly excellent brightness and contrast no matter what you're watching. Color saturation is even better than before, and there are new features to address burn-in and image retention to ensure that your TV lasts longer.
The LG C2 showcases everything we love about OLED technology, with excellent brightness and contrast levels and great gaming features. We think it's the best 55-inch TV for most people.
Read our full LG C2 OLED review
TCL's 6-Series TVs are known for their combination of impressive picture quality and high value, and the latest version of the company's flagship not just continues that tradition, but improves upon it. Available in 55- to 85-inch screen sizes, the new 6-Series arrived in late 2022, and it offers not just movie fans but gamers on a budget a great big-screen option.
In the 6-Series, mini-LED tech enables high brightness, while a quantum dot layer enhances color reproduction, and full array local dimming processing creates deep and detailed shadows. The set features Dolby Vision IQ to make high dynamic range images look good in both dim and well-lit environments, and HDR support extends to HDR10+ and HLG.
Gaming features on 6-Series TV are enabled via a pair of HDMI 2.1 inputs, with onboard support for 120Hz, Variable Refresh Rate (up to 144Hz), and Auto Low Latency Mode (ALLM). FreeSync Premium Pro is also supported, making TCL's flagship an obvious choice for gaming.
The new 6-Series is one of the more compelling TV options on the market. This series is packed with great features and the performance is well above-average, especially given the price.
Read our full TCL 6-Series (2022) review
This Samsung is one of the best TVs you can buy for under £500 in its smallest version and one of the best under the 1K mark in its medium sizes too. The Samsung BU8500 is designed to offer some up-to-the-minute functionality, discreet looks, and rock-solid build quality at a price that the majority of us won't baulk at. And it absolutely nails that.
At this price you're not getting picture quality that's a match for the best TVs overall, but it's up there with the very best TVs under £1000. The Samsung's never less than competitive and its backlighting is beautifully implemented, which helps the impression of quality no end. And as long as you temper your expectations it even sounds okay… but we still think you should budget to add one of the best soundbars anyway.
This is a 4K LED screen, powered by Samsung's 'Crystal 4K' processor and with support for HLG and HDR10+ standards of HDR. As ever with Samsung, there's no Dolby Vision. There are three HDMI 2.0, one of which is eARC for use with a soundbar, and there's Bluetooth 5.2 and Wi-Fi connectivity.
Getting the best picture quality takes a bit of fiddling at first – Samsung's default modes are overly bright and sharp – but it's worth the effort, because this panel delivers detailed, clear images with impressive brightness and decent color balance. Upscaling isn't as good as you'll get in Samsung's more expensive sets but it does a decent enough job with HD content, although we wouldn't recommend going for lower quality sources. Vintage daytime TV is not your friend here.
As a no-frills 4K TV this is very impressive indeed: while corners have of course been cut to keep the price down, Samsung has ensured that there's no compromise when it comes to picture quality. If you're looking for an affordable 4K set that won't disappoint then the BU8500 should definitely be on your shortlist.
Read our full Samsung BU8500 TV review
The Sony A95K is truly a sight to behold. Available in both 55-inch and 65-inch sizes, Sony's flagship display combines its fantastic Cognitive XR processor with a new Quantum Dot OLED screen. The result is, in our opinion, one of the most beautiful images we've ever witnessed from a consumer television.
Although it's the picture quality that's the true star of the show here, there's a lot to love about this TV more generally. Audio is great thanks to the Acoustic Surface technology in more high-end Sony TVs, which essentially turns the TV's screen essentially into speakers—although we would always recommend pairing your new TV up with a soundbar.
The build is excellent and premium through and through. In terms of design, the Sony A95K certainly makes a statement. It also, unusually, has a full-width metal plate stand, which you can sit the display in front of or behind for more of a statement.
It's hard to fault such an impressive TV, but at times we were disappointed by the lack of brightness here. It's not bad by any means but doesn't quite match up to its outstanding picture performance.
But in every other respect this is one of the best 55-inch TVs in the world today. That's why it's no surprise the price tag is sky-high. The 55-inch model is $2,999 / £2,399, significantly more expensive than most of its rivals on this list. For example, the impressive Samsung 55S95B is $1,799 / £1,999 for the same size. Only those willing to spend the big bucks on a new 55-inch TV should consider it—everyone else can swoon from a distance.
Read our full Sony XR-A95K review
The S95B TV from 2022 was remarkable given it was the first OLED TV model from Samsung in a decade. But now the newer Samsung S95C outguns it in almost every department – even in bringing bright and colorful images into your home, which we originally applauded the S95B for last year.
Samsung has managed to find almost 40% more brightness. In our Samsung S95C review we said this is a "truly transformational" set-up. Especially when applied to a self-emissive, every-pixel-makes-its-own-light technology like OLED. We found that this impressive brightness is particularly effective for HDR video, delivering a new level of enjoyment and realism and unleashing levels of colour volume and purity that we've never seen before from an OLED TV.
We also highly rated viewing angles, sharpness and upscaling from the Samsung S95C too. But as well as making your movies, TVs and games look fantastic, the TV itself is ultra-slim with a miniscule screen trim – a great option if you're looking for a TV to hang on a wall. For all of these reasons, the Samsung S95B enters our best 55-inch TV list as our top pick if bright and colorful images are your priority – especially if you like movies and gaming.
Read our full Samsung S95C review
The Samsung QN95B Neo QLED replaces its predecessor, the Samsung QN95A, on our list of the best 55-inch TVs. It has a barely-there frame, and a slim design to the rear that's as flat as the front. This creates a striking monolithic effect that looks premium.
Picture quality is fantastic here. There's improved processing and backlight controls over the QN95A, delivering marked improvements in most picture areas, with less blooming, more brightness and better shadow detailing. This picture quality is exceptional across both gaming and video sources this year, too, and while the TV's sound doesn't excel as much as its pictures do, its Object Tracking Sound technology makes it a perfectly adequate partner for the stellar pictures.
Unfortunately, we thought the revamp of Samsung's Tizen smart system was a misstep, there are several unhelpful design decisions. Overall, though, the picture improvements are so irresistible that a bit of pain on the smarts front and even quite a lot of pain on the wallet front can't detract from the brilliance of the Samsung QN95B Neo QLED.
Read our full Samsung QN95B review
The Sony XR X90K we tested delivered pictures with impressive brightness. The local dimming processing used by the set's full-array backlight also created powerful blacks with good shadow detail and only limited backlight "blooming." For the price, the X90K's overall performance is very good and should satisfy even fussy viewers.
The X90K series is the next-gen version of the company's X90J sets, a series that currently sits on our list of the best 4K TVs. You'll find many of the same features here, including Sony's XR Triluminos Pro panel, which combines with its Cognitive Processor XR and Contrast Booster XR features to deliver HDR images with powerful contrast and a rich color range. The XR90K series does lack X-Wide Angle, a feature found in the flagship XR95K line that improves off-axis performance, but as long as you watch within a 30 degree viewing angle (basically, the width of an average sofa) that isn't an issue.
We found that the Sony XR X90K is excellent for watching movies, TV shows and sports. But we do recommend it if you're looking for a 55-inch TV for gaming, as you'll find two HDMI 2.1 inputs and support for 4K/120Hz, VRR, and ALLM. This TV is also Perfect for PlayStation 5, a Sony initiative that activates both Auto HDR Tone Mapping and an Auto Genre Picture Mode to optimize the image when a PS5 console is connected.
You'd need to pay twice as much to step up to Sony's flagship X95K series. But the step-down A85K series lacks the X90K's local-dimming backlight. With that in mind, the X90K likely offers the most bang for the buck and is an excellent value 55-inch TV.
Read our full Sony XR X90K review
LG's A2 range is the company's entry level OLED set but don't let that put you off. As ever, LG is generous on its functionality and the A2 is a brilliant OLED screen with excellent picture quality for the investment. The biggest difference between the A2 and the C2 and other flagship offerings from LG is the panel.
Where the others have the LG OLED Evo panel which offers significantly improved brightness - always OLEDs Krptonite - the A2 has a slightly older OLED panel. This still means exceptional blacks and contrast though so definitely don't write it off. Colours are fully saturated and clean so you'll get plenty of visual bang for your buck. There's also 2021's excellent LG A7 Gen 5 AI Processor so you get great upscaling and dynamic tone mapping.
The A2's design is sleek enough and, just like the rest of the range, you'll get a Magic Remote to steer your way around LG's excellent WebOS software. This has all the usual suspects when it comes to streaming capabilities. Plus, Alexa and Google Assistant are on hand and the A2 has AirPlay 2 if you want to stream from your Apple devices.
A big downside is if you're planning to plug in a PlayStation 5 or Xbox Series X. The A2 doesn't have HDMI 2.1 functionality so you won't be able to play at 120fps or make the most of the VRR and ALLM tech that's so useful for low lag gaming on the C2. But if you're just here to enjoy Blu-rays and high definition streaming, the LG A2 is an exceptional OLED TV at a great budget price. You'll also probably want to invest in a soundbar to make the most of the Dolby Atmos.
Read our full LG A2 review
2022's LG C2 TV – which is sitting pretty at the top of this guide – is fantastic, combining top performance, features, and a good value price. The LG OLED55C3 is the C2's successor and we're happy to report it's every bit as impressive as its predecessor, and then some.
We liked that the features and specs on offer here make this a versatile choice for both gamers and movie lovers alike. It has four HDMI 2.1 inputs with support for 4K 120Hz, VRR, ALLM, along with FreeSync Premium Pro and Nvidia G-Sync. Cloud gaming options include Nvidia GeForce Now and Utomik.
LG's Alpha9 Gen6 chip used for picture processing brings new HDR-improving features including OLED Dynamic Tone Mapping Pro and Expression Enhancer, both of which have an impact on image quality. You'll get similar picture brightness to the C2, but the level of contrast, clarity, and definition it delivers is notable.
The only reason the LG C3 OLED isn't at the top of this guide is it's brand new, which means it's more expensive than the LG C2 that came out last year. For most people, the LG C2 is better value, especially now you can find it reduced. But if you're after the best LG TV money can buy and one of the best 55-inch 4K TVs – as well as what's shaping up to be one of the best TVs of 2023 – then you can't go wrong with the LG C3.
Read our full LG C3 OLED review
The Philips OLED807 is the latest mid-range OLED from Philips. When we tested this TV we really rated the design, which consists of a thin screen with a high-quality metallic finish that looks spectacular with Philips' Ambilight technology. This uses rear-mounted LEDs to cast different coloured lights onto the wall behind the TV and matches the pictures you're watching with wondrous accuracy. The picture feels bigger and more immersive thanks to these effects.
The picture quality is incredibly eye-catching, using one of OLED manufacturer LG Display's latest EX panel designs. It can deliver up to 30% more brightness than regular OLED panels, and it pushes this panel hard with Philips' latest picture processing engine. The result is one of the most vibrant pictures we've tested, even if it's less bright than high-end rivals.
The Philips OLED807 is a great option for gamers, too, thanks to its support for 4K 120Hz signals, variable refresh rates and automatic low lag mode switching. Its audio performance is also far more powerful than you'd expect from such a slim TV.
The OLED807's price is arguably the icing on the cake. Having to find just £1,299 at 55 inches for the level of picture and sound quality it delivers would have been enticing enough by itself, but in the OLED807's case the value appeal is taken to another level by its extraordinary Ambilight-sporting design and premium build quality, its extensive gaming support, and its comprehensive smart TV features.
Read our full Philips OLED807 review
The Samsung Q80B is a high-value mid-range 4K QLED screen that's well suited for everyday TV viewing and console gaming. It's positioned just below the brand's mini-LED Neo QLED models, offering a more conventional full array backlight with local dimming instead. That means you will get some backlight blooming compared to more expensive models, and it's a bit thicker too – which may be a deal-breaker if you're looking for a svelte set to stick on a wall. But it's much more affordable, and still dazzles.
This is a particularly good option for gamers thanks to the included Samsung Game Hub, which connects you to major streaming services, and QLED doesn't suffer from screen burn so you can game to your heart's content. There are four HDMI 2.1 inputs with support for 4K 120Hz, ALLM and VRR.
As ever with Samsung, there's no Dolby Vision HDR, but unlike most similar sized TVs you won't necessarily have to rush out and buy a soundbar: the speakers here are surprisingly good, with six directional speakers pumping out impressive Dolby Atmos – although it's important to note that the smaller 50-inch model doesn't have the full complement of speakers its siblings have, so it uses virtualisation rather than dedicated upward speakers. The 55-inch has all six speakers, however.
Read our full Samsung Q80B review
Best 55-inch TV FAQ
What is the best 55-inch smart TV?
Right now, that's the Samsung QN95A, which tops our best 55-inch TV guide. But its pricing and Mini LED system mean it won't be the best choice for everyone – those of you who prefer OLED pictures, or just something a bit cheaper, have plenty of options that will sit right at home in your, well, home.
How much should you pay for a 55-inch TV?
55-inch TVs can be very cheap, with some budget LCD models costing just $400 / £400 – though that number will double for mod mid-tier options, if not triple and quadruple for high-end screens with OLED panels or Mini LED backlighting. A brand new 55-inch OLED will usually cost around $1,799 / £1,799, for example.
Is a 55-inch smart TV big enough?
55-inch TVs are the flagship size for today's televisions. That makes it pretty much the most common sizing option. It's a kind of happy medium between 32-inch small TVs and massive 75-inch TVs.
It's worth thinking hard about how important screen size is to you, though. You'll likely pay less for smaller screens, as with the 48-inch OLED TVs that generally offer premium TV tech for less, or the lower-spec models found at 40-inch sizes.
However, larger screens are increasingly becoming the norm for those that can fit them into their home, and mass production means a big-screen display isn't quite the bank-breaking cost that it used to be.
A bigger screen means more detail that's more easily visible at a larger distance – ideal for family movie nights or those after a truly impactful home cinema. Keep in mind though that picture defects are also more visible at larger sizes, so you should make sure that you're getting a TV good enough to warrant a step-up screen size.
What should I look for in a 55-inch TV?
At this ample size, you should absolutely be looking for some good features – lest you get stuck with a large screen that simply blows up artefacts and visual defects.
OLED or Mini LED screens are well worth getting at this size, without the truly extravagant price points of larger models – 55 inch TVs offer a smart, well-judged entry point to premium TV tech. For LCD models, you want to make sure you're getting Direct Full Array Lighting, rather than the edge-lighting still found on some budget sets – and which limits the consistency of brightness across the screen.
Otherwise, 4K HDR is a given, and you may want to check that HDMI 2.1 is included if you're partial to gaming, with the VRR (variable refresh rate) and ALLM (auto low latency mode) support usually thrown in.