Editor's note: May 2023
Based on current prices for soundbars, we think the Samsung HW-Q700B is the ideal choice for people who want a mid-range Dolby Atmos upgrade for mid-sized TVs. It's energetic, expansive and inexpensive. We love the Sony HT-G700 for smaller TVs and/or lower budgets, while the mighty Samsung HW-Q930B remains top of the pack for elite Dolby Atmos 3D surround sound thrills for a sensible price.
Matt Bolton, Managing Editor – Entertainment
One of the best soundbars is essential if you've invested in a big TV and its speakers aren't living up to its visuals. With one of the top soundbars, you get bigger, forward-facing speakers that deliver better speech clarity and immersion in movies. The best bit is they're sleek and slim, often fitting below your TV on a cabinet or mounted on the wall.
Some TVs may not need a soundbar, but plenty of the best TVs you can buy today need an external soundbar for better audio – especially cheaper ones. Many of the best soundbars come in three styles: all-in-one units with just a single soundbar unit, soundbars with subwoofers, and soundbars with rear speakers for surround sound. The first is ideal for people who want a minimal setup, the second is great for big sound on a budget, and the third is perfect if you want a real home theater experience.
In expensive soundbars, you'll find features like wireless connectivity, which can be used in multi-room speaker setups, while cheaper soundbars play the audio from your TV. We've tested hundreds of soundbars and speaker systems over the years, including elite units with Dolby Atmos 3D sound, through to bargain soundbars that boost your sound. Below you'll find our selection of the best soundbars to suit all price ranges and preferences.
The best soundbars for 2023: our top picks
The Samsung HW-Q700B is all the soundbar that most people will need, delivering a giant upgrade on the sound that any TV can produce, including Dolby Atmos height channels, at a very reasonable size and price.
You get 3.1.2 channels of sound, which means left, right and center channels at the front, bass from a wireless subwoofer, and two upfiring Dolby Atmos height channels. The end result is audio that's truly impressive for the price – in our full review, we said "It's able to deliver crisp dialogue (which has long been a strong point of Samsung's better bars), but can slam hard when the action demands it. It can also cut a rug with streamed Bluetooth music."
Its size is ideal for 55-inch to 77-inch TVs, and it could work for 48-50-inch TVs, but check the measurements of yours – it's a bit weird if your soundbar is wider than your TV.
It's great for features too, offering a 4K HDR HDMI passthrough port so you don't lose the use of one on your TV (though it's doesn't support 4K 120Hz passthrough), as well as Bluetooth, AirPlay 2 and Chromecast for audio streaming. It also has Samsung's Q-Symphony tech, which means if you have a compatible TV, it can combine its speakers with the TV's for even bigger sound – but this only works with certain Samsung models. Even without that, though, we still awarded it five stars… it's just nice if you can use i.
We rate this so highly because it's simply the most cinematic sound you can get for this price – but obviously, it has limitations compared to more expensive models. It doesn't deliver strong side-firing virtual surround, and there are no rear speakers out of the box, but you can but them separately and add them if you want.
Read our full Samsung HW-Q700B review
We think the Sony HT-G700 hits an excellent sweet spot for features, price and the scale of its sound. It's a soundbar and wireless subwoofer combo, and the soundbar is a good size for TVs of 48 inches and up.
As we've come to expect from Sony, there's more to this soundbar than just stereo, as good as that is. It supports both the Dolby Atmos and DTS:X elite surround sound formats (which is not something that's guaranteed with even more high-end soundbars), and Sony uses its excellent sound processing and acoustic wizardry to create a real wall of sound that stretches way beyond the limits of your TV screen, but with convincing positioning and direction of specific sounds. It might not be quite as good as the Sonos, but it's definitely up there.
Sony hasn't forgotten about the basics, though. The subwoofer gives it depth in bass that something like the Sonos Arc can't match on its own, and speech is really clear even in busy action soundtracks – and that's without the speech-boosting mode turned on.
Downsides? There aren't any dedicated upfiring channels, so we found the Atmos performance a little lacking compared to our Sony AV amp with its dedicated Atmos speakers. And if we're being really picky we'd say that it's also slightly less dynamic for sudden explosions and swelling soundtracks than the likes of the Sonos Arc or Samsung HW-Q800A – but it's a lot cheaper than either. So for the price, it's the most cinematic experience you can get.
Read our full Sony HT-G700 review
Samsung's best flagship soundbars are great things, but its slightly less expensive models haven't always been quite so brilliant. This one bucks the trend, not least because it includes the rear speakers that previous models didn't. That makes an enormous difference to the soundstage, and with both Dolby Atmos and DTS:X decoding it delivers extremely impressive and immersive audio in movies and TV shows.
The HDMI loopthrough supports the HDR10+ and Dolby Vision HDR formats as well as 4K resolution at frame rates of up to 60Hz. There's no support for the 4K/120Hz or variable refresh rate (VRR) features now delivered by the PS5, Xbox Series X or highish-end PCs, but the same is true of almost all other current soundbars too. The soundbar also supports Q Symphony in compatible Samsung TVs, intelligently pairing its speakers with those of the TV to provide a bigger soundstage.
This soundbar isn't ideal for music, but it absolutely excels in home cinema: it's the most immersive sub-four-figure soundbar we've ever heard. That's quite the statement when the top-tier Q990B was so impressive, but the savings to make here will be best matched for most people looking for an epic surround system with little compromise. If you're mad about movies, this is the best soundbar that won't break the bank.
Read our full Samsung HW-Q930B review
The Bose Smart Soundbar 600 is a fantastic choice if you're looking for a budget soundbar that can really deliver. It pumps out big Dolby Atmos sound, but all from a relatively small package. At 27 inches wide by 2 inches high and 4 inches deep, it's a fairly sleek and compact design for an all-in-one unit and a perfect choice for smaller homes or screens.
During our review, we noted that dialogue clarity is excellent, and while it doesn't hit the low bass notes that other soundbar systems with an included subwoofer manage, it offers up consistently exciting sound when watching movies and TV.
There's lots more to love here, too. Onboard streaming features, including AirPlay 2 and Chromecast, are plentiful, app-based setup is a breeze, and everything is packaged here in an attractive all-in-one form factor. This soundbar impressed us during testing, but its price also makes it excellent value.
Read our full Bose Smart Soundbar 600 review
If you're looking for a cheap and compact soundbar that won't break the bank or impose on your living room, then check out the Yamaha SR-C30A. During our testing, we found that the soundbar and accompanying wireless subwoofer deliver "a nicely detailed, quite assertive sensation of stereo audio."
However, don't expect miracles here. In our Yamaha SR-C30A review we also commented that the soundbar is only going to give you audio that's a few steps up from what your TV can manage. But for the price, that's all we'd expect and it's all a lot of people need – especially from a second TV or a smaller TV that's somewhere between 32- and 50-inches.
For bigger TVs, or to make the most of movies, we recommend checking out the equally great value Sony HT-G700 further down in our list. It won't play music as well as the Yamaha, but it's a pretty solid budget rival.
Read our full Yamaha SR-C30A review
It's not everyday we award a soundbar with five out of five stars when we review it, but the JBL Bar 1300X deserves its lofty score. We truly enjoyed testing this soundbar, particularly praising it for both its innovative design and its ability to deliver impressive levels of immersion whether we were listening to music or it was pumping out movie soundtracks.
We think the JBL Bar 1300X would suit anyone looking for a powerful and immersive soundbar option, but particularly those who are after the visceral excitement that the best home theater systems effortlessly deliver, while also being relatively easy to setup and not becoming a burden on your living room.
There are multiple HDMI inputs here, meaning you can connect a stack of sources without worry, and the system's rechargeable rear speakers can also be used as portable Bluetooth speakers. That might be a "so what?" feature for some people, but to us it's a design flex that heightens the Bar 1300X's overall value.
Although the JBL Bar 1300X doesn't take up too much space, it is designed to fill larger rooms with sound so we wouldn't recommend it in smaller homes. This soundbar also isn't going to suit serious gamers. While there are multiple HDMI ports here, none of them have 4K 120Hz pass-through to support that resolution and frame rate when playing games on PS5 or Xbox Series X.
Read our full JBL Bar 1300X review
The Samsung HW-Q990B is the high-end Dolby Atmos soundbar system from Samsung's 2022 range, and it's essentially the upgraded version of the Samsung HW-Q950A above. Like the HW-Q950A, it delivers 11.1.4 channels of audio that it directs around and above, delivered from a combination of soundbar, subwoofer and two wireless rear speaker units.
But it's made some refinements from the previous model. A new 'acoustic lens' on the subwoofer diffuses the sound better around the room, the rear speakers have been redesigned to better help the precision of the upfiring drivers, there's now 'Space Fit' automatic room compensation to help maintain detail in the sound as it reflects around, and the sound has generally been tweaked and re-engineered.
And the result is that, in the words of our review, "the Q990B creates the most fully rounded and immersive surround sound experience we've ever heard from even the best Dolby Atmos soundbars." They way it steers parts of movie round around and right above you is unparalleled. It's so really big and fulsome in its sound, without being overly heavy – it's a heavy sledgehammer and a deft fountain pen, depending on the need.
Read our full Samsung HW-Q990B review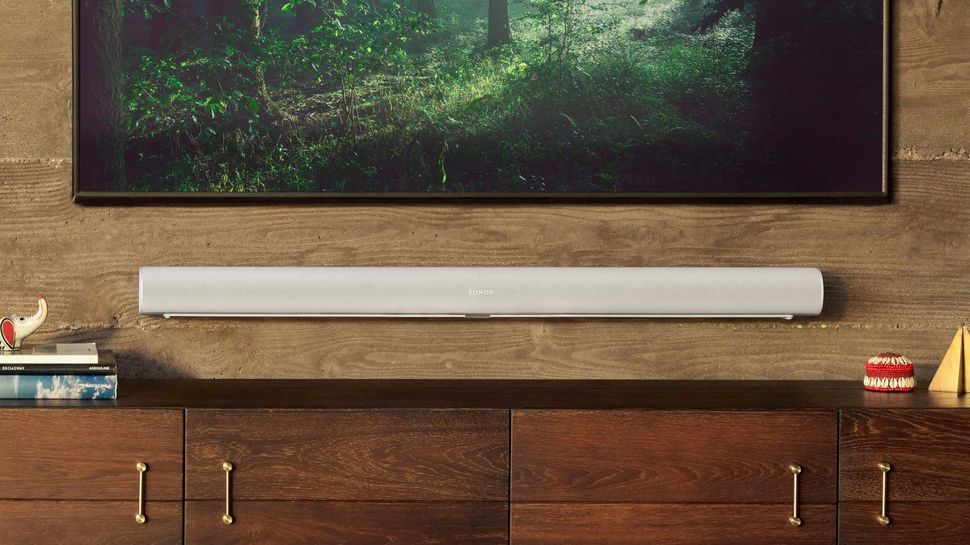 Sonos has managed to cram an entire surround sound solution into its Arc soundbar. It isn't cheap, but if you're already a fan of Sonos then we think you're going to love the way this soundbar delivers really impressive surround sound.
The Sonos Arc draws on Dolby's latest TrueHD and Dolby Digital Plus sound codecs to deliver the best quality lossless audio found on cutting-edge Blu-ray disks and some of the leading streaming services. It then enhances the 3D soundscape using Dolby Atmos object tracks to bounce certain sounds off the walls around you so they feel like they're coming at you from all angles. We thought the effect was pretty convincing in our tests, and while it's not as immersive as overhead speakers mounted on your ceiling it's a lot easier to install.
We also liked the simple setup, which involved just a couple of steps on the smartphone app, and as you'd expect it's easy to hook it up to other Sonos speakers. The minimalist cable connections and all-in-one system construction add to this no-fuss feeling and streamlined aesthetic – making it the best single-unit Dolby Atmos soundbar you can buy.
Read our full Sonos Arc review
If you're tight on space, the Sonos Beam (Gen 2) is the best soundbar you can buy. Its compact size means it will easily slot beneath your TV, whether you pop it on a TV stand or mount it to your wall, and a sleek design means it won't look out of place with your decor. It's compact enough to work with 32-inch TVs (just about), but it's a perfect fit with 40-inch TVs up to 50-inch TVs.
It improves on the company's original Sonos Beam soundbar with virtual Dolby Atmos, HDMI eARC compatibility, and a refreshed design.
While it doesn't have the upfiring tweeters necessary for 'true' Dolby Atmos (and as a result, we found the sonic height isn't as impressive as the Sonos Arc), the Sonos Beam (Gen 2) boasts a wide soundstage and an immersive audio performance. It's very detailed, impressively dynamic for switching between loud and quiet suddenly, and is just as good with music as it is with movies.
In fact, you can stream music to it over Wi-Fi (AirPlay 2 or Sonos' own wireless system), and it works as a smart speaker – it has Amazon Alexa or Google Assistant built in (you can choose which).
Read our full Sonos Beam (Gen 2) review
Best soundbars 2023: FAQ
What connection do I need for a soundbar?
The best way to connect a soundbar to your TV is with an HDMI cable. You'll need to make sure you have an HDMI port on your soundbar and an HDMI ARC port on your TV. This allows you to use a cable to connect them.
An HDMI port means that the highest quality audio can pass from your TV to your soundbar, like Dolby Atmos.
If your TV or soundbar doesn't have HDMI ports, the second best option is an optical. This can still transfer digital sounds, but not the high-resolution ones you'd get with HDMI.
However, you will still get quality audio and an optical connection does work with soundbars and surround sound systems.
What size soundbar should I get?
You need to get a soundbar that fits in the space you have available. Some people have their TV mounted and a soundbar could happily be mounted underneath. Others have their TV on a stand and the soundbar can sit in front of it.
Consider the space you have free but also the size of your TV. A compact soundbar might look silly with a massive screen and vice versa. There are many different-sized soundbars available to suit your TV, so make sure you check the dimensions and match them up.
Can soundbars do surround sound?
True surround sound means speakers are positioned around you. Some soundbars on this list also come with a subwoofer and two smaller rear channel speakers, meaning you can place them around your room.
However, other devices with only one soundbar claim to offer surround sound. What this means is they deliver a stereo effect, which seems more like sound is coming from different directions, but isn't.
Many of the high-end soundbars in this list also have Dolby Atmos built-in. Again, this isn't technically surround sound, but the audio tech is advanced and creates the illusion of immersive sound by bouncing sounds off the walls and ceiling around you.
Are Dolby Atmos soundbars really worth it?
If you can afford the high price tag that comes with the best Dolby Atmos soundbars, then it's worth investing in this technology. Especially if you love watching movies and want to recreate that cinematic atmosphere at home.
However, if you're on a budget or simply want to boost your TV's sound rather than create a high-end entertainment set-up, then you don't need Dolby Atmos to get good audio from a new soundbar.
Are soundbars worth it?
Absolutely. Even if you don't consider yourself a hardcore cinephile, the best soundbars make a world of difference to your TV watching experience—even the built-in speakers that come with the best TVs just don't do your favorite films, TV shows, and games justice.
How much should I spend on a soundbar?
It depends on what you're looking for. If you want the very best soundbar technology has to offer, you might be looking at prices of $800 / £800 / AU$1,000 and upwards.
However, there are lots of fantastic budget soundbars on the market, with some costing less than $100 / £100 / AU$150. Just bear in mind that you generally get what you pay for, and these budget models probably won't come with premium features like Dolby Atmos, included rear speakers, and hi-res audio support.
Where should I put a soundbar?
You generally have two options when it comes to soundbar placement: wall-mounting it, or placing in below your TV on your TV cabinet. If your soundbar is quite tall, wall-mounting may be the best option, as it could obscure the IR receiver on your TV, rendering your remote control useless.
How to buy the best soundbar for you
Why you can trust TechRadar We spend hours testing every product or service we review, so you can be sure you're buying the best. Find out more about how we test.
There are several things to consider when you're looking for the best soundbar.
The first is the size. You'll want to make sure that your soundbar fits under—or next to, depending on your set-up—your TV. For example, the long Sonos Arc soundbar is designed specifically for large screens, so won't look right with a smaller 50-inch TV. You'll need to know the size of your current TV and the size of the space you have to fit it and compare those figures to the dimensions listed alongside the soundbar you want to buy.
You'll also want to consider whether you need a Dolby Atmos speaker or not. Dolby Atmos is surround sound technology, placing sounds and voices all around you so that whatever you're watching or listening to is more immersive. The thing is, Dolby Atmos-enabled soundbars tend to be more expensive. You'll need to weigh up whether Dolby Atmos sound is worth it for you. Otherwise, consider a capable but cheaper option, like the Sony HT-S400.
Another thing you'll want to watch out for is the kind of connection you need. You'll find most modern soundbars have HDMI connectivity, but there's also optical connectivity—so what's the difference? These are two ways that audio is passed from your TV to your soundbar, but HDMI passes high-resolution audio, including Dolby Atmos.
If you want a premium, immersive listening experience you'll want to be sure you have an HDMI connection to use from your soundbar and an HDMI ARC (that's audio return channel) port on your TV for it to connect to.
But this means one of your TV's HDMI ports is used up by the soundbar, so some bars come with HDMI 'passthrough' ports, meaning you can connect a console/set-top box/etc to the soundbar, and it passes the visuals back to your TV. If your TV has few HDMI ports, you'll want a soundbar with this feature.
There's more to think about, but getting the size, audio features and connectivity nailed down early on should make finding the best soundbar for you much easier.