Amazon's first soundbar is a basic, low-cost model that's light on features, but relatively weighty in terms of value. Although it's sold as part of the Fire TV product family, there's no voice control or any wireless streaming features beyond Bluetooth. Overall, the Amazon Fire TV soundbar is as basic as it gets, with limited connectivity and sound processing options. Even so, viewers looking to add a simple soundbar to improve upon their TV's built-in speakers won't be disappointed, and when Prime Day discounts arrive, Amazon's soundbar could end up being an even better value.
Pros
+

Affordable price

+

Simple setup

+

Good overall sound
Cons
-

Wireless connections limited to Bluetooth

-

No expansion options

-

Occasionally bloated-sounding dialogue
Why you can trust TechRadar We spend hours testing every product or service we review, so you can be sure you're buying the best. Find out more about how we test.
Amazon Fire TV Soundbar: two-minute review
The Amazon Fire TV Soundbar is the company's first soundbar, and as with other Amazon-branded products, it arrives at a competitive price point of just $119. It's currently only available in the US, though. Amazon's offering is about as basic as a soundbar gets. It has a 2.0-channel speaker array and both HDMI and optical digital ports for a TV hookup, along with Bluetooth for music streaming.
There are many features found on the best soundbars that Amazon could have added to its model to make it a more compelling option – built-in Wi-Fi, for example. That specific feature would have given Fire TV users the ability to create a wireless, voice-controlled 'Alexa Home Theater' as they can with the company's Echo wireless speakers. As it stands, even though Amazon claims its soundbar is 'designed to work with Fire TV', there are no specific Fire TV-related features. This is a cheap, basic soundbar that works with any TV featuring an HDMI eARC/ARC or optical digital connection.
Amazon's soundbar has a compact design, and its build quality is good for the price. It provides Movie, Music and dialogue-boosting EQ modes, all selectable using the supplied remote control. There's also DTS:Virtual X processing to expand the sound for movies and TV shows with surround-encoded soundtracks.
Sound quality is surprisingly good for the cost. Music sounds decent enough when played at reasonable levels. Eeven though bass is limited, movie soundtracks are strongly enhanced when the virtual processing is enabled, with the sound expanding well beyond the confines of the soundbar and TV screen. Dialogue is for the most part clear, though male voices can sound too heavy with the bar's Bass setting, which is otherwise optimized for movie playback.
An advantage to the Fire TV Soundbar is that it's easy to set up and use. If you're simply looking for a basic, low-cost soundbar to improve upon your TV's built-in speakers that you can just set and forget, it will do the trick. As for value, you can find other equally good options for around the same price, so Amazon's first real home theater audio offering isn't exactly setting the budget soundbar space on fire. But that situation could change come Amazon Prime Day or Black Friday, when the Fire TV Soundbar is likely to see the same deep discounts that other Amazon-branded products typically get.
Amazon Fire TV Soundbar review: price and release date
Released in September 2023
Priced at $119
Limited to the US
The Amazon Fire TV Soundbar was released in September 2023 and is priced at $119. At present, it's only available in the US.
Amazon appears to have designed its first soundbar as a basic, low-cost audio upgrade for its Fire TV lineup, but it can also be used with any TV. At just $119, its price competition includes cheap, off-brand soundbars as well as the Roku Streambar, a higher spec offering with built-in streaming capabilities.
Amazon Fire TV Soundbar review: features
Dolby Audio and DTS:Virtual X processing
HDMI and optical digital connections
Bluetooth wireless streaming
Amazon's soundbar is about as basic as soundbars get, with a 2.0 speaker array and HDMI and optical digital audio ports for connecting to a TV. There is no built-in Wi-Fi to enable audio streaming from phones or tablets using AirPlay 2 or Chromecast, though Bluetooth wireless streaming is supported.
At $119, you wouldn't expect a soundbar to have Dolby Atmos support, even of the virtualized type, and the Fire TV Soundbar not surprisingly doesn't. What it does support is Dolby Audio, which here ends up being 2-channel Dolby Digital with sound processing to enhance detail and normalize volume levels when switching between TV channels or sources.
Along with Dolby Audio, the Fire TV Soundbar has DTS:Virtual X processing and Movies, Music and Dialogue EQ modes.
Amazon Fire TV Soundbar review: sound quality
Good overall dialogue clarity
Spacious virtual surround
Light on bass
When I first plugged in the Fire TV Soundbar, I was happy to note that it provided a strong sound quality boost over the built-in speakers of the Amazon Fire TV Omni QLED TV I connected it to. Dialogue clarity received an immediate boost, and there was a spaciousness and heft to the sound that wasn't there previously.
Watching scenes from the sci-fi film District 9, the interviews dispersed throughout the action sounded full-bodied, and so did the comments from Vikus as he wandered around the alien compound. With the Surround mode switched off, effects in the movie's soundtrack were constricted, but when I switched it on, helicopters and machine gun fire sounds expanded beyond the TV's screen and there was a naturalistic sense of ambience.
When I next watched a scene from Top Gun: Maverick where Maverick is disciplined by Rear Admiral Chester 'Hammer' Cain, I found that the dialogue, while mostly clear, was too bass-heavy, with a 'boomy' quality. Checking the soundbar's Bass setting, the medium option was selected, so I dialed it back to low. The effect of that change was to thin out the overall balance of the sound, so I decided to switch back to medium and live with too-boomy dialogue.
For comparison's sake I swapped out Amazon's soundbar with a Sony HTS2000 soundbar ($500 / £449 / around AU$788), a 3.1-channel model with virtual Dolby Atmos processing, and found dialogue in the same Top Gun: Maverick scene to be significantly cleaner-sounding with the Sony's medium bass level selected. The comparison demonstrated the advantage to using a soundbar with a dedicated center-channel speaker, which is a feature that 2.0-channel models like the Fire TV Soundbar lack.
Otherwise, I was impressed with how effectively the Fire TV soundbar's DTS:Virtual X processing widened the soundscape on Top Gun: Maverick and other movies, and did so without negatively affecting other elements in the audio mix such as music and dialogue. Bass was one area where I found the Amazon bar to be lacking, especially in comparison to the much more expensive Sony model. But given the Amazon's compact design, the amount of bass it did deliver was actually better than expected.
I don't expect music to sound great on budget soundbars and the Amazon Fire TV soundbar didn't do much to change my mind. That being said, when I streamed Endless Time by The Weather Station using the Tidal app on the Omni QLED TV, the song's simple Joni Mitchell-like piano and vocal presentation sounded smooth and natural. There was also a good sense of spaciousness with the Surround mode enabled. Other, more dynamic music I played sounded a bit harsh and congested with the volume pushed to a high level, though it was comparatively fine with the volume dialed back to a normal listening level.
Sound quality score: 3.5/5
Amazon Fire TV Soundbar review: design
Compact design
Remote control included
Front-panel LED indicator lights
The Amazon Fire TV Soundbar is a lightweight and highly compact design, measuring just 24-inches wide by 2.5-inches high and 3.5-inches deep. Its black plastic cabinet has rounded edges and is fronted by a black mesh grille. A row of control buttons are located on the top surface that let you adjust volume, select inputs, pair the soundbar with Bluetooth devices, and power it on and off.
An equally compact remote control is packaged with buttons to adjust volume, switch inputs as well as select the EQ, bass and virtual surround sound modes. Remote commands trigger a sequence of LEDs on the soundbar's front, with one to three lights indicating the volume level range, for example. There's also voice confirmation when selecting EQ modes, with a robot-like (not Alexa) voice telling you if Dialogue, Music, or Movie mode is selected.
Amazon Fire TV Soundbar review: usability and setup
HDMI eARC/ARC connection to TV
Easy Bluetooth pairing
No alphanumeric front panel display
Given the Amazon Fire TV Soundbar's basic design, setup poses no challenges. You simply connect it to your TV's HDMI eARC/ARC port or optical digital output, and Amazon even gives you an HDMI cable to speed things along. Once an HDMI connection is made, you can use your TV's remote control to adjust volume instead of the one supplied with the soundbar.
Pairing a Bluetooth device like a phone is equally simple. You just press the Bluetooth button on the soundbar's control strip and a blue LED starts pulsing to indicate it's in pairing mode. You then check the Bluetooth setup menu on your phone or tablet, select the Amazon Fire TV Soundbar, and you're ready to stream.
Audio features such as EQ modes, bass level, and surround sound can be easily accessed from the Amazon Fire TV Soundbar's remote control. A drawback to inexpensive soundbars like this one, however, is having to rely on LED light sequences instead of an alphanumeric display (or a control app) to make adjustments. But these proved easy enough to work with on the Fire TV Soundbar and having voice confirmation when switching EQ modes made things that much easier.
Usability and setup score: 4/5
Amazon Fire TV Soundbar review: value
Good overall value
Faces strong budget competition
Look for Prime Day and Black Friday discounts
The Amazon Fire TV Soundbar is one of the least expensive options on the market, although you can also buy a 2.0-channel model from Sony or a 2.1-channel system with a wireless subwoofer from Vizio for even less than the $119 Amazon is charging here. And spending a bit more will get you the Roku Streambar, a model with the Roku streaming platform built-in that can be expanded with the company's wireless surround speakers and subwoofer.
Nevertheless, given its good design and decent overall sound, Amazon's soundbar ranks fairly high for value. You'd have to step up to the $500 range to get reliably better performance, along with extras like Dolby Atmos support via virtual processing or upward-firing speakers. And while I strongly feel that better sound is worth extra money, not everyone wants to spend that much to improve their TV's built-in audio. For those who instead think around $100 is the right price, the Amazon Fire TV Soundbar is a solid budget-bar option.
While Amazon's soundbar is a good deal at its current price, the company typically offers substantial cost reductions on its Fire TV products both on Prime Day and during the Black Friday sales. Should the Fire TV soundbar get a 25% or better price cut during either of those events, which I expect it will, its overall value will get a strong boost.
Should I buy the Amazon Fire TV Soundbar?
Swipe to scroll horizontally
| Attributes | Notes | Rating |
| --- | --- | --- |
| Features | A basic 2-channel bar with DTS Virtual:X and Bluetooth wireless connectivity | 3/5 |
| Sound quality | Good dialogue clarity and spacious virtual surround but limited bass | 3.5/5 |
| Design | Compact design with good build quality for the price | 3.5/5 |
| Usability and setup | Easy set-up and control using included remote | 4/5 |
| Value | Good overall value but faces strong budget soundbar competition | 4/5 |
Buy it if…
You want a cheap soundbar
Some soundbars cost as much if not more than a new TV. But if you're simply looking to make a low-cost improvement to your TV's built-in sound, Amazon's cheap Fire TV Soundbar delivers.
You want a basic soundbar
Amazon's soundbar doesn't have fancy features like Wi-Fi connectivity, app control or Dolby Atmos sound. It's a basic soundbar with simple controls that you can set up once and then forget.
Don't buy it if…
You want Dolby Atmos
While Amazon's soundbar provides a good, basic TV sound upgrade, it lacks upfiring Dolby Atmos speakers found in pricier models and there's no virtual Dolby Atmos processing either.
You want a soundbar with bass
The Fire TV Soundbar is light on bass, so if you want a bar that can go low, you'll be better off seeking out a budget option with an included subwoofer.
Amazon Fire TV Soundbar review: Also consider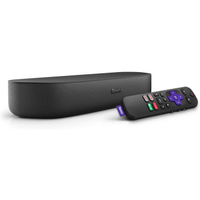 Roku Streambar
Another compact soundbar with virtual surround processing, the Roku Streambar features the company's built-in Wi-Fi streaming platform plus app-based control and it allows for future system expansion using the company's wireless speakers and subwoofer.
Read our full Roku Streambar review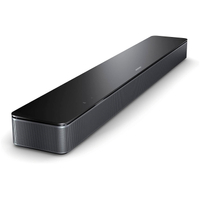 Bose Smart Soundbar 600
Though priced substantially higher than Amazon's soundbar, Bose's 600 delivers real Dolby Atmos sound via upfiring drivers on its top surface. The 600's sound is a bit light on the bass, but like the Roku Streambar it can be expanded with the company's wireless speakers and subwoofers.
Read our full Bose Smart Soundbar 600 review
How I tested the Amazon Fire TV Soundbar
Evaluated using both 4K Blu-ray discs and streamed sources
Break-in time allowed before critical listening
Tested using reference movie scenes and music tracks
I tested the Amazon Fire TV Soundbar in a 12 x 16 x 9-foot room using a 4K Blu-ray player, Apple TV 4K, and music streamed from Tidal via an Amazon Fire TV Omni QLED TV as sources. I allowed it to break in by watching movies and TV shows before settling in for more critical listening using reference movie clips and music tracks.
The key things I listened for with movies were dialogue clarity, bass definition, and a sense of spaciousness with the soundbar's surround mode engaged. For music, I paid attention to the naturalness of the sound with acoustic instruments and voices, as well as the dynamics in louder tracks.
Having reviewed many soundbars in the same room over the years, I have a reference sound standard that the Amazon Fire TV Soundbar was compared to. For further comparison, I also used a Sony HT-S2000 all-in-one soundbar, switching between the two compact models on identical movie clips and music tracks.
First reviewed: October 5, 2023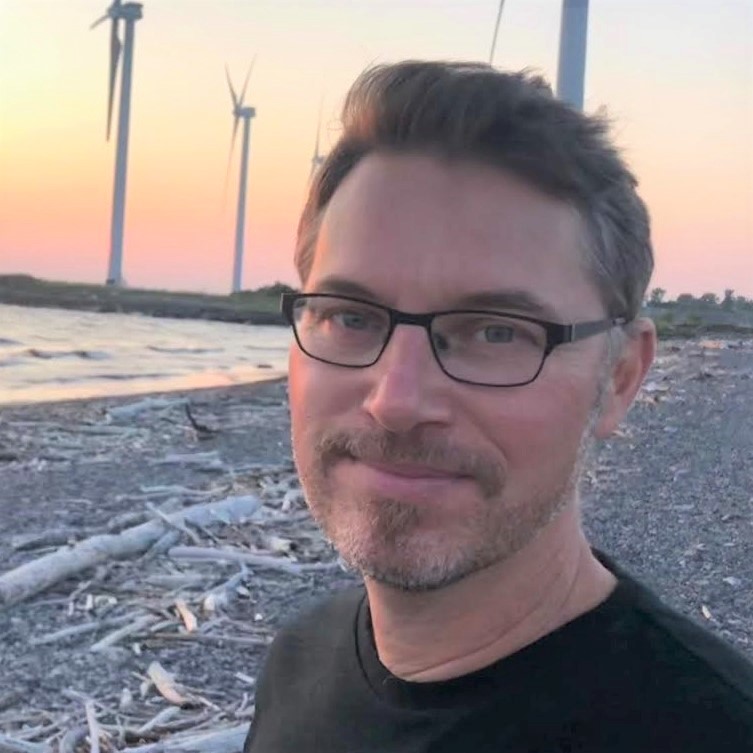 Senior Editor Home Entertainment, US
Al Griffin has been writing about and reviewing A/V tech since the days LaserDiscs roamed the earth, and was previously the editor of Sound & Vision magazine.
When not reviewing the latest and greatest gear or watching movies at home, he can usually be found out and about on a bike.