The best Dolby Atmos soundbars 2023: home theater upgrades for all budgets
Best
Contributions from
last updated
Dolby Atmos soundbars are the simple way to home theater paradise, no matter how big your room is
VERDICT
REASONS TO BUY
REASONS TO AVOID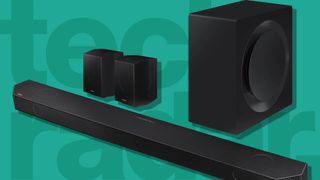 (Image credit: Future)
The best Dolby Atmos soundbars allow you to hear your favorite movies and TV shows in a way that's more immersive and natural. That's because Dolby Atmos is a surround sound audio format, which means each sound is recorded as an individual object – someone screaming, a dog barking, a helicopter overhead – that can be mapped in 3D space, rather than being attached to a particular speaker in a setup. It also supports height sound channels, as well as channels around you.
So if you can see a helicopter on screen flying above your head, it'll sound as if it's flying over your head, too. Essentially, sound is placed where it naturally would be based on what you're watching on the screen, with more precision and effectiveness than regular surround sound.
You won't get the same uncompromised presentation of Dolby Atmos soundtracks that the best AV receivers deliver when paired with a surround sound speaker system, but those setups take up a lot of space and can be expensive. That's where the best soundbars show their advantage. Although not all Dolby Atmos-enabled tech comes in a soundbar format. For example, the Sonos Era 300 has shaken up this space in a major way.
Not all new soundbars are Dolby Atmos soundbars. But many from from major brands have Dolby Atmos built-in these days, including models from LG, Samsung, Sonos and Sony, and there's a range of sizes and styles with different features to choose from. Whether you choose a Dolby Atmos soundbar or a regular one, they're generally a good idea these days. Screen tech in the best TVs has evolved over the years to make them thinner, but there's less space for big speakers. Soundbars are the solution, and the best Dolby Atmos soundbars are the easy way to deliver a powerful home theater experience.
Best Dolby Atmos soundbars 2023: the list
The Samsung HW-Q700B is our top pick in this best Dolby Atmos soundbars guide. We think it's the soundbar that will please most people, delivering a huge sound upgrade from your TV and including Dolby Atmos height channels, at a very reasonable size and price.
It's particularly a good idea if you own a Samsung TV with Q Symphony, Samsung's high-end audio technology, which syncs up your TV and your soundbar so that sounds are played in sync. Combine a Q Symphony TV with the Samsung Q700B soundbar and you can create a wall of sound. We watched the Netflix movie The Gray Man to test it and, in our review, we wrote that we were impressed by the clear dialogue, hefty presentation and spacious soundstage.
However, even without a Samsung TV you can get a lot from the Samsung Q700B soundbar. This 3.1.2 sound system boasts Dolby Atmos and DTS:X codec support, as well as HDMI input and output. We found that the HW-Q700B also doubles as a solid music speaker, too.
Other soundbars on this list might offer a more high-end audio experience, like the Sony HT-A7000. But you'll have to pay almost double the price. In contrast, the Samsung Q700B is excellent value for money and punches well above its weight when it comes to both performance and functionality.
Read our full Samsung WH-Q700B review
We think the Sony HT-G700 hits an excellent sweet spot for features, price and the scale of its sound. It's a Dolby Atmos soundbar and wireless subwoofer combo in one, and it's a good size for TVs that are 48 inches and bigger.
As we've come to expect from Sony devices, there's more to this soundbar than just stereo, as good as that is. For it to make this list, it obviously supports both the Dolby Atmos surround sound format, as well as DTS:X. Sony uses its excellent sound processing and acoustic wizardry to create a wall of sound we were truly blown away by. It stretches way beyond the limits of your TV screen, but with convincing positioning and direction of specific sounds. Admittedly, we don't think it's as good sound-wise as the Sonos Arc that you'll find further down in our guide, but it's definitely close.
Sony hasn't forgotten about the basics, though. The subwoofer gives it depth in bass that something like the Sonos Arc can't match on its own, and we found speech to be really clear even in busy action soundtracks — that's without the speech-boosting mode turned on.
Downsides? There aren't any dedicated upfiring channels here, so we found the Atmos performance a little lacking at times compared to our Sony AV amp with its dedicated Atmos speakers. And if we're being really picky we'd say that it's also slightly less dynamic for sudden explosions and swelling soundtracks than the likes of the Sonos Arc or Samsung HW-Q800A — but it's a lot cheaper than either. So for the price, it's the most cinematic experience you can get.
Read our full Sony HT-G700 review
Samsung creates excellent soundbars, including expensive models and more affordable, mid-range devices, like the Samsung HW-Q930B. This soundbar represents a change to the tech company's approach to Dolby Atmos. Up until now, only Samsung's flagship soundbars give you more than the main soundbar and a subwoofer. The HW-Q930B gives you both of those and two rear speakers.
It delivers an impressive 9.1.4 audio channel count that's only two channels down on the Q990B's class-leading 11.1.4 configuration, making it the best Dolby Atmos soundbar in our opinion, especially for its price. During our testing, we were thoroughly impressed by the HDMI passthrough with support for both of the Dolby Vision and HDR10+ HDR formats, and playback of both of the Dolby Atmos and DTS:X sound formats that currently represent the best the film and music worlds have to offer.
We found that the sound on offer here is truly in a different class to its two-piece Samsung soundbar predecessors. Now it has good quality rears, we found the sound is be truly immersive, it's no longer locked to the front of the room only.
In our experience, no similarly-priced soundbar we've heard to date rivals the Samsung HW-Q930B. Or combines such an immersive surround sound experience with so much raw power. The reason it's not at the top of our list is the Samsung HW-Q700B is more affordable and, we think, more appealing for that reason. But that's not to say the Samsung HW-Q930B isn't impressive in terms of both power and performance. To beat it, you'd have to pay much more money. But if you do want better performance and you're willing to part with more cash, check out the stellar Samsung HW-Q990B further down in our list below.
Read our full Samsung HW-Q930B review
If you're looking for a Dolby Atmos soundbar that delivers big sound from a compact and affordable package, consider the Bose Smart Soundbar 600.
This soundbar features actual up-firing speakers for Atmos height effects, which is rare for a budget bar. In our review we wrote: "Music and sound effects were rendered in a spacious manner that extended the presentation well beyond the confines of the bar itself, and even music sounded well-balanced and with decent stereo separation – something many soundbars fail to deliver."
During our testing, we also noted that dialogue clarity is excellent, and while it doesn't hit the low bass notes that other soundbar systems with an included subwoofer manage, it offers up consistently exciting sound when watching movies and TV.
This is a solid choice if you want a relatively affordable soundbar, but it's great for smaller spaces too. At 27 inches wide by 2 inches high and 4 inches deep, it's a fairly sleek and compact design for an all-in-one unit.
Onboard streaming features, including AirPlay 2 and Chromecast, are plentiful, app-based setup is a breeze, and everything is packaged in an attractive all-in-one form factor. This soundbar impressed us when we reviewed it, but its price is what makes it an excellent value Dolby Atmos soundbar too.
Read our full Bose Smart Soundbar 600 review
We don't often award a soundbar five out of five stars in our reviews, but the JBL Bar 1300X hands-down deserves it. We enjoyed testing this soundbar, finding it worthy of praise for its ability to deliver impressive levels of immersion whether we were listening to music or it was pumping out movie soundtracks, as well as its innovative design.
The JBL Bar 1300X is a Dolby Atmos soundbar that would suit anyone looking for a powerful and immersive option on par with the visceral excitement that the best home theater systems effortlessly deliver, while also being relatively easy to setup and, crucially, not becoming a burden in your home.
This soundbar offers multiple HDMI inputs, so you can connect a stack of sources, and the system's rechargeable rear speakers can also be used as portable Bluetooth speakers – design flex that heightens the Bar 1300X's overall value.
The JBL Bar 1300X may not take up too much space, but it is designed to fill larger rooms with sound so we wouldn't recommend it if you only have a small space. It's also not the best soundbar for serious gamers. Multiple HDMI ports are here, but none of them have 4K 120Hz pass-through to support that resolution and frame rate when playing games on PS5 or Xbox Series X.
Read our full JBL Bar 1300X review
The Samsung HW-Q990B is the high-end Dolby Atmos soundbar system from Samsung's 2022 range. Which should suit you if you're looking for a cheaper soundbar as it's last year's model. It delivers 11.1.4 channels of audio that it directs around and above you, delivered from a combination of soundbar, subwoofer and two wireless rear speaker units.
There are some significant refinements from the previous model. We found that the new 'acoustic lens' on the subwoofer diffuses the sound better around the room. What's more, the rear speakers have been redesigned to better help the precision of the upfiring drivers, there's now 'Space Fit' automatic room compensation to help maintain detail in the sound as it reflects around, and the sound has generally been tweaked and re-engineered.
And the result is that, in the words of our review, "the Q990B creates the most fully rounded and immersive surround sound experience we've ever heard from even the best Dolby Atmos soundbars." The way it steers parts of a movie around and right above you is unparalleled. It's so really big and fulsome in its sound, without being overly heavy – it's a heavy sledgehammer and a deft fountain pen, depending on the need.
Read our full Samsung HW-Q990B review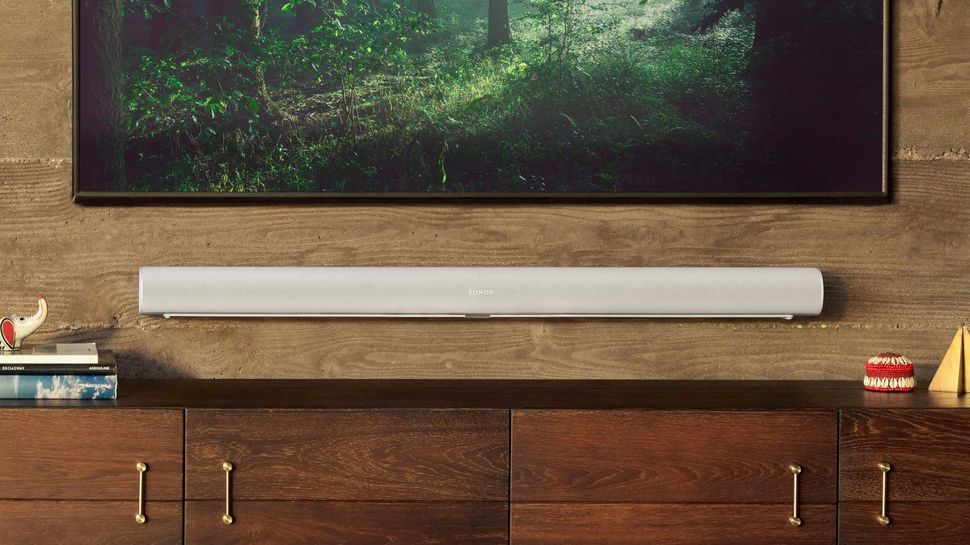 Sonos has managed to cram an entire surround sound solution into its Arc soundbar.
The Sonos Arc draws on Dolby's latest TrueHD and Dolby Digital Plus sound codecs to deliver the best quality lossless audio found on cutting edge Blu-ray disks and some of the leading streaming services. We were truly impressed with how it uses Dolby Atmos to enhance the 3D soundscape, which is really delivered on — sounds really do come at you from all angles.. We thought the effect was pretty convincing in our tests, and while it's not as immersive as overhead speakers mounted on your ceiling it's a lot easier to install.
We also liked the simple setup on offer from Sonos here, which involved just a couple of steps on the smartphone app, and as you'd expect it's easy to hook it up to other Sonos speakers. The minimalist cable connections and all-in-one system construction add to this no-fuss feeling and streamlined aesthetic – making it the best Dolby Atmos soundbar you can buy.
No, it isn't cheap. The Samsung HW-Q930B soundbar that's currently in third place in our list is a better and capable option if you need to save cash. But if you're already a fan of Sonos then we think you're going to love the way this soundbar delivers really impressive surround sound.
Read our full Sonos Arc review
If you're tight on space, the Sonos Beam (Gen 2) is the best compact Dolby Atmos soundbar you can buy. Its small size means it will easily slot beneath your TV, whether you pop it on a TV stand or mount it to your wall, and a sleek design means it won't look out of place with your decor. It's compact enough to work with 32-inch TVs (just about), but it's a perfect fit with 40-inch TVs up to 50-inch TVs.
During our testing, we found that it certainly improves on the company's original Sonos Beam soundbar with virtual Dolby Atmos, HDMI eARC compatibility, and a refreshed design.
We were disappointed that it doesn't have the upfiring tweeters necessary for 'true' Dolby Atmos (and as a result, we found the sonic height isn't as impressive as the Sonos Arc), the Sonos Beam (Gen 2) boasts a wide soundstage and an immersive audio performance. But it's very detailed, impressively dynamic for switching between loud and quiet suddenly, and is just as good with music as it is with movies.
In fact, you can stream music to it over Wi-Fi (AirPlay 2 or Sonos' own wireless system), and it works as a smart speaker – it has Amazon Alexa or Google Assistant built in (you can choose which).
Of course, if you have the cash and the space, the Sonos Arc soundbar in the list above will give you a superior experience. But for a compact soundbar that does the basics well, we'd recommend the 2nd generation Sonos Beam.
Read our full Sonos Beam (Gen 2) review
The LG S95QR stretches the definition of a soundbar by including four separate speaker units and delivering a channel count that would embarrass most separates-based systems. With 810W of output power and an unusual 9.1.5 channel configuration – there's an up-firing centre speaker as well as the expected surround ones – it's designed to deliver the clearest possible dialogue without sacrificing surround performance or that all-important low-end thump. It's been designed in conjunction with high-end speaker maker Meridian, and includes a special Meridian music mode that reconfigures stereo music to take advantage of more of the S95QR's channels.
This is without a doubt LG's best-sounding soundbar to date, with phenomenal power, huge dynamic range and an impressively realistic soundstage. It's up there with the very best Dolby Atmos soundbars available today, and it's as good with music as it is with movies.
The only real negative here is the price, which is considerably more than the similar Samsung HW-Q930B. But it's a powerful, compelling and convincing soundbar that's a particularly good match for one of the best LG TVs.
Read our full LG S95QR review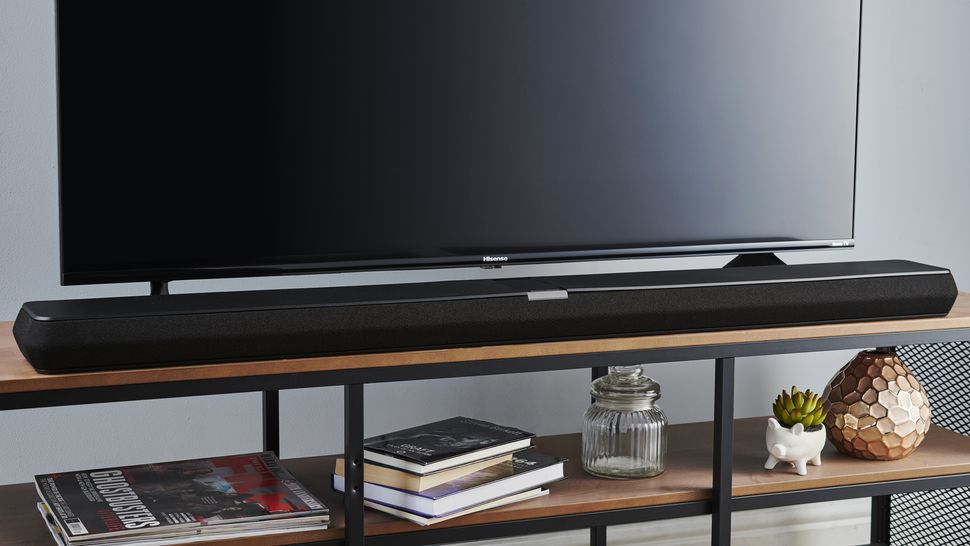 If you're looking for a convincing alternative to the Sonos Arc at a similar price, the Bowers & Wilkins Panorama 3 soundbar is a great choice to bring Dolby Atmos into your home.
This sleek-looking soundbar was a joy to test, offering 3.1.2-channels of cinematic sound, Dolby Atmos support, and lots of control options, including a touch-sensitive panel on the bar itself.
During our review of the soundbar, we found it to be engrossing, punchy and dynamic without sacrificing the natural and coherent sound Bowers is known for. The soundstage is wide and spacious, although we felt the Dolby Atmos feature could have been more convincing. What we mean by that is we didn't get the same sense of height that you'd get with other high-end soundbars, like the Samsung HW-Q990B soundbar, for example, or a pair of overhead speakers.
Still, the Atmos performance does make the sound more three-dimensional and the soundbar sounds just as good for music as it does for movies. With Spotify Connect, AirPlay 2, and Bluetooth (with aptX Adaptive), you've got plenty of connectivity options, too. Unfortunately there's no HDMI passthrough, but that's a small bugbear for a soundbar that's otherwise so feature-rich.
You'll be able to hook the Panorama 3 up to a multiroom system with Bowers & Wilkins Zeppelin, Formation, or other Panorama speakers — but this feature came with a software update, so we weren't able to test that particular feature for ourselves.
Read our full Bowers & Wilkins Panorama 3 review
The Devialet Dione might be the ultimate single-unit soundbar. You get excellent, Dolby Atmos sound but with no subwoofer and no rear speakers, just plug it in and go.
The reason for that is Devialet has packed eight(!) woofer drivers in this soundbar to create bass as full and deep as a subwoofer can manage, and it really works. It means the soundbar is a beast, but it's only as wide and tall as something like the Sonos Arc — it's actually a little shorter than the Arc — so as long as the depth isn't a problem, it'll still fit in most rooms.
It's got a clever spherical center speaker enclosure too, which enables this driver to rotate, so that it always faces you no matter whether you have it flat on the TV table, or wall mounted in an upright position.
After testing it, we said that it produces "a massive but also beautifully constructed and balanced soundstage underpinned by arguably the finest bass performance we've heard from a soundbar that doesn't deploy an external subwoofer." Its ability to position treble sound at exact points in space, while underpinning it all with directionless (as it should be) low-end is just astounding.
It's not perfect. We thought it was a shame that you can't add any rear speakers for genuine surround sound if you'd like to, since it can't really recreate that. It's also frustrating for something so expensive to not offer HDMI passthrough. But when it comes to sound alone, this is as premium as it gets.
Read our full Devialet Dione review
The Philips B8905 (which can also be found with the model number TAB8905) is a big Dolby Atmos soundbar that launched with a similar price to Dolby Atmos bars from the likes of Sonos and Samsung. It was impressive enough then, but a huge manufacturer price cut means it's now in the same price bracket as more mid-range soundbars, many of which it punches way above.
The Philips is best suited to TVs of 55 inches and up, and it delivers up to 600W across its 3.1.2 speaker channels. It's up there with much more expensive soundbars when it comes to Dolby Atmos audio: it's the strongest implementation of this we've heard from a mid-priced soundbar. Speech clarity is excellent too, which is always vital for a TV speaker. Two HDMI passthrough ports, Wi-Fi streaming and Bluetooth too add to the considerable appeal.
It's not perfect, though. The sub feels as if it isn't quite integrated with the rest of the audio, and as a result it makes its presence felt a bit too much sometimes – and while you can dial it back a bit with the remote, that demonstrates how fiddly and confusing the remote menus can be.
Despite these flaws, the Philips is a very impressive soundbar system with superb Dolby Atmos that's as good as many much more expensive models. If you're looking for a big soundbar with a big sound and a relatively small price, it's well worth considering.
Read our full Philips B8905 review
There are many big, expensive Dolby Atmos soundbars to choose from, and plenty inexpensive, smaller soundbars for upgrading your TV. The Denon Home Sound Bar 550 sits somewhere in the middle, bringing you Dolby Atmos-style audio thrills in a smaller form factor.
It's a compact, well-specified soundbar whose looks are quite understated but we found that its sound is anything but. Offering plenty of connectivity options, great audio (including hi-res audio ability and some processing wizardry to deliver a sense of spatial audio) and a genuine facility as a music speaker.
We found the sound the Denon serves up to be tall and quite wide, which makes for an engrossing and entertaining listen. However, we also found that this isn't a soundbar that wants to go too loud: turn it up too much and things quickly get out of hand, with the Home 550 baring its teeth and becoming overly aggressive.
It's not the best Dolby Atmos soundbar you can buy, the immersive effects are solid but not stellar. But for a small soundbar it delivers big on sound and features.
Read our full Denon Home Sound Bar 550 review
The Sony HT-A7000 soundbar may have a massive sticker price, but it promises a long shelf life thanks to its two HDMI 2.1 ports and support for all of the major spatial audio formats.
At this price we wish it came with the surround and subwoofer units, but those with incredibly deep pockets can tack those on for a few hundred more later down the line.
What helps make the price tag here feel a little more justified is the fact that the HT-A7000 comes with upfiring drivers. What that means is it delivers true and impressive Dolby Atmos, although we did feel the height channels could be a little more convincing during our testing.
In terms of musicality, though, the HT-A7000 is a very talented soundbar, with excellent stereo imaging and a really room-filling sound — especially if you take advantage of its support for Sony's 360 Reality Audio.
Connectivity is very good, too. The soundbar supports HDMI, of course, but it also has 3.5mm auxiliary, Bluetooth audio, USB devices, Spotify, Chromecast, Amazon Alexa and 360 Reality Audio via Deezer, Tidal and Amazon Music. That's a very wide selection of sources, giving you lots of flexibility in terms of what you want to connect.
Read our full Sony HT-A7000 Dolby Atmos soundbar review
Dolby Atmos soundbars FAQ
How to choose the best Dolby Atmos soundbar
If you love the slim aesthetic of your new 4K TV, we can bet it doesn't have the audio needed to match the visuals. That means picking the best soundbar to go with your TV is your best option to get the most out of your favorite TV shows and films. But how do you choose the best Dolby Atmos soundbar for you?
The first consideration is where it'll go. Most of the soundbars in this guide are sleek, minimal and designed to sit flush against a wall or home cinema set-up. You'll need to pick out a space for it and ensure it'll fit. With that in mind, you'll need to consider a soundbar that'll pair well with your TV.
For example, the long Sonos Arc soundbar is designed specifically for large screens, so won't look right with a smaller 50-inch TV. You'll need to know the size of your current TV and the size of the space you have to fit it and compare those figures to the dimensions listed alongside the soundbar you want to buy.
You should also think about the kind of connection you need. Most modern soundbars have HDMI connectivity, but there's also optical connectivity—so what's the difference? These are two ways that audio is passed from your TV to your soundbar, but HDMI passes high-resolution audio, including Dolby Atmos. If you want a premium, immersive listening experience you'll want to be sure you have an HDMI connection to use from your soundbar and an HDMI ARC (that's audio return channel) port on your TV for it to connect to.
If you're looking for an alternative solution to a soundbar, check out the Sony HT-A9 Home Theater System. It comprises four speakers that communicate with each other wirelessly via a tiny box that's slightly larger than an Apple TV, working together to create a further 12 "phantom" Dolby Atmos speakers.
If you have an iPhone or an iPad, you should also take a look at our guide to the best AirPlay speakers. These allow you to stream music directly from your devices to your speaker. That means room-filling sound from your phone without the need for a more complex entertainment set-up. Some are small and portable, but plenty of soundbars come with AirPlay integration baked in too.
Soundbar FAQs
Are Dolby Atmos soundbars worth it?
If you want the most immersive soundbar experience, then they absolutely are – mostly at the the more premium end of things, though. They're designed to create spatial audio with 3D effects, which means speakers that have lots of angled drivers and advanced processing make the most of them. It's nice for cheap soundbars to be able to access the audio quality of Atmos, but it's much less essential because they won't create the same kind of 'dome of sound' effect.
What are the key features of a Dolby Atmos soundbar?
Any Dolby Atmos soundbar has to use HDMI ARC or HDMI eARC to get sound from your TV – this is the only way to transmit Atmos sound between the two. Otherwise, the most effective Atmos soundbars will have upfiring drivers – that means two (or more) speakers pointing upwards, as well as speakers facing forward. One of the big features of Dolby Atmos is that it can add height as well as surround sound, and upfiring drivers are the best way to create this from a soundbar. Some Dolby Atmos soundbars don't have upfiring drivers, but use clever digital processing to add height to the audio… but it's never as fully effective as having real upfiring drivers.
Do I need a Dolby Atmos soundbar with a separate subwoofer?
Some soundbars are all-in-one units that contain all the speakers needed to convey Dolby Atmos. Others come packaged with a subwoofer, a speaker specifically designed to handle the bass and low frequency effects (LFE) in Atmos soundtracks. In most systems, this subwoofer connects wirelessly with the soundbar, and can be either placed nearby or hidden out-of-sight behind furniture.
Do you need a soundbar with a wireless subwoofer? Not necessarily, though systems that include one generally deliver higher bass impact and can play louder than all-in-one designs. Some all-in-ones on our list like the Sonos Arc and Beam (Gen 2) or the Bose Smart Soundbar 600 can be upgraded with a wireless subwoofer at extra cost, so you can first try the soundbar out, and if you feel that bass is lacking, add that option at a later date.
Do I need a Dolby Atmos soundbar with wireless surround speakers?
Some Dolby Atmos soundbars come with wireless surround sound speakers, which help to create a fuller sense of immersion in the sound. While these aren't completely necessary – many Dolby Atmos soundbars are designed to deliver a "wraparound effect" where the sound extends beyond the width of the TV screen – our testing experience has shown that systems with surround sound speakers offer a performance advantage over ones that don't include them.
Same as with optional wireless subwoofers, Dolby Atmos soundbar makers, including Sonos, Bose, Samsung, LG, and Sony offer wireless surround sound speakers, and these can be added to the system at a later date to upgrade performance.
How we test
How we tested the best Dolby Atmos soundbars
We've reviewed hundreds of audio devices over the years and plenty of the best soundbars and best Dolby Atmos soundbars. This means we know what to look for in a soundbar, the level of audio performance to expect and how specs stack up.
However, there are a few key things we consider when we're testing Dolby Atmos soundbars. The first is, as you might expect, sound. Does the speaker deliver on its audio promises? And does it knock our socks off with a performance that sounds like immersive Dolby Atmos? We spend time comparing what a tech company says a soundbar can do with our own experiences playing, and listening to, a range of content.
Design is also important. We compare how a soundbar looks to others we've tested in the past, assessing whether it's likely to appeal to people and fit well under, or beside, their TV. We also know that user experience design is just as important as aesthetics. We paid close attention to the set-up process, too. Although we're pros when it comes to setting up audio tech these days, we want to be sure we're recommending devices that anyone can get up-and-running out of the box.
We also consider any smart or additional features that could be a nice-to-have and make you choose one device over another. Ultimately, we picked the soundbars above because we wanted to showcase the best Dolby Atmos tech has to offer, as well as the best value soundbars for your home.