Editor's Note: January 2023
For most people, the Sonos One is the best AirPlay speaker you can buy today. It brings you everything you need from a speaker, like full-bodied sound and smart assistant support, in a great-looking design that handles AirPlay well.
If you want to keep everything you own in the Apple ecosystem, the Apple HomePod Mini is a close second. Also check out the KEF LSX II stereo speakers, the most recent addition to this list, which are an ideal choice for those who love classic audiophile gear but want the ultra-convenience of AirPlay speakers.
Matt Bolton, Senior Editor - TV & Audio
The best AirPlay speakers have Apple's fantastic AirPlay wireless communication tech baked into them, enabling you to stream music, audiobooks and podcasts from your iPhone or iPad straight to your speaker. It's such a simple feature and works so well it's easy to overlook how great it is. In fact, if you own Apple devices, you've probably used AirPlay without realizing it.
However, to make the most of AirPlay and get fantastic sound in your home, you also need one of the best AirPlay speakers. Although there are many of the best smart speakers to choose from these days, not all of them offer AirPlay integration – but plenty of them do.
We've tested hundreds of speakers over the years, so we know what makes a good performance, easy set-up and fantastic sound. We've also reviewed plenty of AirPlay speakers now too, so can speak to how well these devices connect and whether they truly make the most of the music you have on your iPhone.
If you want to upgrade your home sound setup but don't necessarily need AirPlay, check out our best soundbars and best Bluetooth speakers guides instead to find the top audio tech across the board. Otherwise, read our guide below where we've selected the best AirPlay speakers for you, including a range of devices to suit your budget and your preferences.
Best AirPlay speakers: the list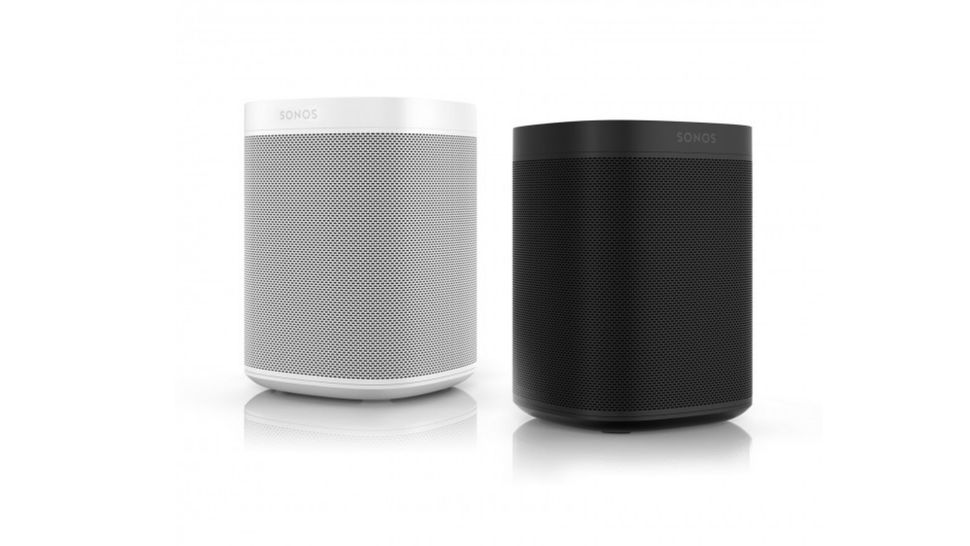 Given that this is a Sonos speaker, you won't be surprised to hear that the Sonos One sounds pretty fantastic. Throw Elegie by Mouse on the Keys at the speaker, and sound has real punch and energy to it. The song's kickdrum... well... has kick to it, and drives the energy of the song. It's an impressive amount of power from such a small speaker.
This AirPlay speaker even deals admirably with more complicated pieces of music. Silent Earthling by Three Trapped Tigers sounds clear and crisp, despite the multiple layers of instruments circulating throughout the song.
With AirPlay 2, you can play any sound from an iPhone or iPad, or Mac computer – including YouTube videos and Netflix movies – on the Sonos One. You can also ask any Siri-enabled device to control Apple Music on Sonos speakers. Because this device ticks all the boxes when it comes to what you need from a speaker, it's our top pick for the best AirPlay speaker you can buy today.
Read more: Sonos One Review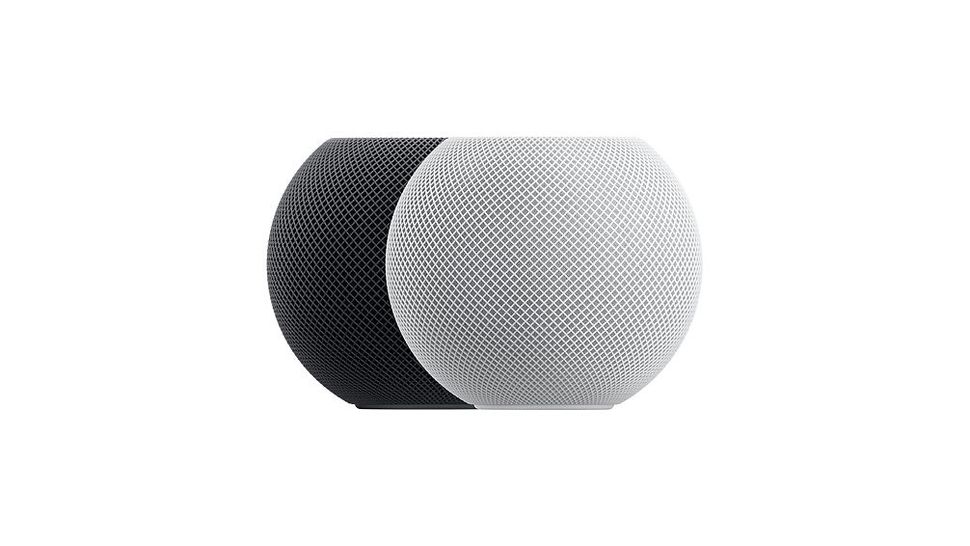 For anyone looking to enter the Apple smart ecosystem, or who has an Apple Music subscription, the HomePod mini is a great option. It's far cheaper than some might expect, packing mighty sounds and an elegant design for under $100 / £100 / AU$150.
For us, the audio performance is the key reason to buy the HomePod mini. It's excellent for a speaker that's so small, and it really feels like the right mix of price and sound quality. The bass isn't too heavy, vocals aren't lost in the mix, and when you pair two minis the stereo experience is really immersive. There may be better-sounding speakers in this list, but the HomePod mini is certainly the best value, and the best speaker to use if you're hoping to build out your wider Apple ecosystem.
It's worth mentioning here that the original Apple HomePod has been discontinued, though you can still buy it while stocks last.
Read more: Apple HomePod mini review
Naim Audio is a company that produces some of the most stylish connected speakers in the business, and we think the Mu-So Qb 2nd Generation is the best they've put out yet. With Kanye West's 808s & Heartbreak playing via Tidal, the Naim controls the strangely chilly low frequencies well.
The frequency range is nicely balanced overall, with no area given undue prominence nor too little power. And, with something like Mogwai's Come On Die Young, the Qb 2nd Gen. showcases its facility with dynamics, both great and small.
It comes will a full suite of connectivity options including aptX Bluetooth, Spotify Connect and AirPlay, which means all of your music should be supported at its maximum resolution, no matter what device you're using.
But even if you don't have your phone in hand, this wireless speaker is still controllable using its sleek touch-screen which allows you to access internet radio stations, for example. It's got a premium price, but if you opt for the Qb then you won't be disappointed.
Read more: Mu-So Qb 2nd Generation review
As the great pop group Five might put it: Everybody get up! Five will make you get down now. This hefty Sonos speaker delivers an equally weighty serving of volume, filling even large rooms without breaking sweat. It's the latest iteration of Sonos's excellent Play:5 and while it isn't dramatically different from its predecessors, there are still some worthwhile improvements including a slightly sleeker design, more memory and a more powerful processor. Previous models already sounded great, but this newer edition sounds even better.
The speaker array is the same as the Play:5, with six custom-designed drivers driven by six class D amplifiers for a combined power output of 120W: three high excursion 10cm mid-woofers across the bottom of the unit and three tweeters above them, two of which are angled outwards. We suspect that releasing a newer model with the same spec is largely about the new processor: it means Sonos could add the long-rumoured hi-res audio support in a future firmware update.
In our Sonos Five review we said that "it's here to bring the bass and make you feel it", and it's at its best when you use the TruePlay tuning on your iPhone to tune the output to your room. The bass isn't overpowering in more delicate music, and music that can sound harsh on rival speakers – the flute in Rachmaninov's Piano Concerto No. 2 in C Minor, for example – is beautifully detailed without being abrasively bright.
The lack of Bluetooth or Alexa/Siri/Google Assistant may put some potential buyers off but there is AirPlay 2 support and Sonos's own app does a great job of covering all the key streaming options. And it sounds superb solo, in a stereo pair or as part of a Sonos home cinema setup.
Read more: Sonos Five review
Bowers & Wilkins revived its iconic Zeppelin wireless speaker for 2021. Well, in terms of looks. The internal hardware in the B&W Zeppelin (2021) is all new and, it turns out, more than fit for purpose.
This latest Zeppelin speaker comes with aptX Bluetooth, Apple AirPlay 2 and Spotify Connect built-in. You also get access to pretty much all the rest of the planet's stock of music via its clean, tidy and responsive Music control app. There's support for the Amazon Alexa voice-assistant, too. And the unit is just as good-looking, just as well-made, and just as big as it ever was.
During our testing, we decided it sounds better than ever, too. And while it isn't a substitute for an actual pair of stereo speakers, the Zeppelin serves up a wide, well-defined and endlessly engaging sound, no matter the genre of music. It's not exactly cheap, but in this case the price seems absolutely justified.
Read more: Bowers & Wilkins Zeppelin (2021) review
These small speakers have a pretty big price tag, but these aren't "just" a pair of bookshelf speakers. They're incredibly well-connected, with AirPlay 2, HDMI ARC and USB-C, Ethernet, analogue and digital inputs, a pre-out for a subwoofer and CAT 5 for wiring a pair together. If you do wire them up you get up to 24-bit/384KHz and DSD256; wireless connection downsamples to 24-bit/48KHz.
The sound quality is spectacular, with rich mids, detailed highs and very punchy bass for speakers so small – and you can always use that subwoofer out if you need even more low-end thump. Unless your source material is poorly recorded or very low bitrate the sound here is immersive and incredibly enjoyable.
These speakers aren't made to fill massive rooms with sound, but if you want to turn your home office or study into a high quality listening station then these speakers will excite and delight no matter what kind of music you're listening to – and with five very distinct finishes they'll look great with any kind of décor too.
We're just putting the finishing touches to our in-depth KEF LSX II review, so check back shortly for all the in-depth details.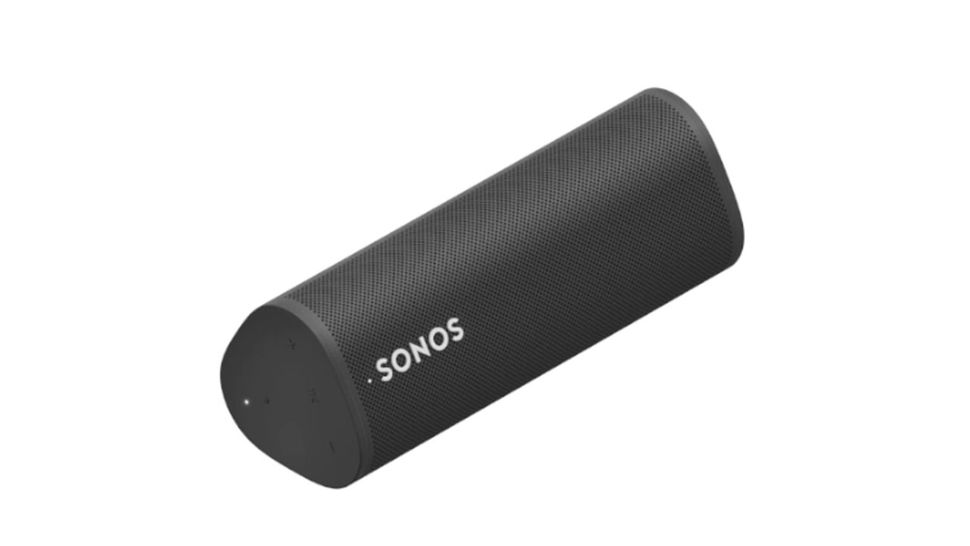 The Sonos Roam is our pick for the best Bluetooth speaker on the planet, with a powerful sound, rugged design, excellent connectivity features, and smart home control. A bass-heavy audio performance makes it ideal for use outdoors, while a clever Automatic Switching feature means it's easily used indoors, too – though audiophiles may dislike the overwhelming low frequencies and rhythmic handling.
Following in the footsteps of the Sonos Move, the Sonos Roam comes with both Bluetooth and Wi-Fi connectivity along with AirPlay support, which means it can work as a portable speaker as well as part of your wider multi-room Sonos system – and with Google Assistant and Alexa onboard, it doubles up a smart speaker too.
In spite of its (relatively) low price you're getting a lot for your money here. Its slick design means the Sonos Roam won't look out of place in your home, while a rugged, waterproof and dustproof build and a decent battery life make it ideal for listening to music outdoors.
Read more: Sonos Roam review
Love Apple but hate Siri? The Amazon Echo Studio might be the perfect answer, offering AirPlay 2 support alongside Alexa smarts.
It's a good option for anyone who's low on space and can't stretch to an upfiring soundbar or multi-speaker setup, as it can upmix stereo sources into a form of spatial audio.
If you're upgrading from the simple speakers built into your TV, or a lowly stereo soundbar, it's a fantastic and simple upgrade to make to your home cinema system. You'll get a cracking, resonant bass response, excellent volume and far more depth than a comparably-priced soundbar can offer.
Read more: Amazon Echo Studio review
A resurrected Braun Audio's new flagship one-box hi-fi offers impressively bassy yet detailed audio, plus excellent build quality to complement its smart speaker status. The need to use Google Home for setup and Google Assistant-only compatibility might annoy some, but Apple AirPlay 2 and Chromecast streaming is easily capable of challenging Sonos on sound quality.
That's a good thing, because the LE01 smart speaker comes with only Bluetooth 4.2; there's no sign of aptX hi-res audio streaming. Nor does this dual-band Wi-Fi speaker allow streaming directly from Tidal Connect or Spotify Connect, and it doesn't operate as an access-all-areas UPnP speaker either.
Read more: Braun LE01 review
The Devialet Phantom I is a continuation of the French audio brand's iconic range of wireless speakers, which come with powerful side-firing bass reflex ports that pulse in time to your music. The sound is nothing short of outstanding, and a good range of connectivity options - including AirPlay 2 - and an easy-to-use app make the Phantom I easy to recommend – if you have a lot of money to spare, that is.
Oh, and don't forget the 22-carat rose gold-plated sides – which may go some way to explain the speaker's $3,200 / £2,790 / AU$5,490 price. And that's the price for just one speaker, by the way. If you want to pair two for stereo sound, it will cost you double.
Still, the sound is undeniably good. This speaker packs a real punch, presenting a powerful, immersive sound, thumping bass, smooth mids and detailed trebles.
Read more: Devialet Phantom I review
Best AirPlay speakers: FAQ
How to choose the best AirPlay speaker for you
Why you can trust TechRadar Our expert reviewers spend hours testing and comparing products and services so you can choose the best for you. Find out more about how we test.
There are a lot of factors to consider when you're looking for the best AirPlay speakers for you.
One of the obvious ones is budget. None of the speakers in our list below are cheap. But they are from some of the best audio brands around, which means your money will go further and you'll have access to updates so they keep working for a long time. Some cheaper and older speakers might not be getting updates anymore, so that's worth checking before you buy.
If you want AirPlay but you're not sure your budget can stretch to new speakers, consider the Belkin SoundForm Connect instead. It's an audio adapter that can be plugged into any powered speaker or sound system via a 3.5mm or optical port to give it Apple AirPlay 2 connectivity, giving your old speakers a very modern upgrade.
Design is also important. Luckily, most AirPlay speakers are simple and streamlined, meaning they'll fit into most homes discretely. However, it is worth considering whether a small portable speaker, like the Sonos Roam, or a soundbar that slots under your TV, like the Sonos Beam (Gen 2), would suit you and your home better.
Finally, think about sound quality. All of the best Airplay speakers below are on our list for a reason, but you might have specific things to consider. For example, do you like listening to hi-res audio? Only a few of the options below will give you the sound quality you're looking for.
The best way to choose the right AirPlay speaker for you is to take a look at the options and compare the specs. Be sure to click through to our reviews of the speakers too, which will give you even more information about how they work day-to-day.
How we test the best AirPlay speakers
We've tested all of the top AirPlay speakers in this guide and, to be included, we wanted to ensure that each device ticked a few key boxes.
For starters, as you might expect, we wanted to ensure they have reliable AirPlay integration that works well and provides a reliable connection.
We also wanted to ensure they boast great sound quality. Not all of these speakers provide room-filling sound, but they all blast out music and do your favorite tracks and albums justice.
We've been sure to include a number of different types of speakers, from those that are more portable to soundbars that are, mostly, designed to hang out in one place.
Can I AirPlay to multiple speakers?
If you have a multiroom audio system, you should have no trouble using AirPlay to cast your music to more than one speaker at a time. You'll just need a compatible system - check out brands like Sonos, Bowers & Wilkins, and Bang & Olufsen for wireless speakers that support the format.
Which is better, Google Chromecast or Apple AirPlay 2?
It depends on your needs. In terms of pure audio fidelity, Chromecast wins; it supports 24-bit / 96Hz streaming, whereas AirPlay 2 is limited to 16-bit / 44.1Hz streaming. So, if you're looking for hi-res audio support, Chromecast is your best bet. If you're not too worried about hi-res audio, AirPlay's CD-quality streams should suffice, though.
Chromecast also works with a wider range of source devices, while AirPlay 2 is pretty much limited to Apple products - though both services work with lots of third-party speakers, soundbars, and TVs.
If voice control is important to you, Chromecast is probably the better option, too. That's because Google Assistant is built into lots of smart speakers, while Apple's Siri is limited to the HomePod and HomePod mini.
If you're an Apple obsessive, that won't matter though. AirPlay still offers the best streaming solution for Apple devices.