Best AirPlay speakers: the top Apple-friendly wireless speakers in 2023
Best
Contributions from
last updated
The best AirPlay speakers for your music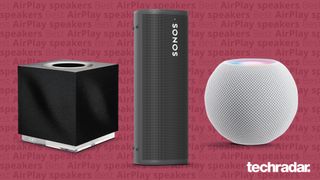 (Image credit: TechRadar)
Editor's Note: December 2023
We rated the Sonos One as the best AirPlay speaker you could buy for several years. But that title has now been snatched by its successor, the Era 100, which is a big step up. We've also now added the Era 300, if you're after spatial audio.
All of these speakers are a dab hand at AirPlay. Of course, there's also Apple's own refreshingly affordable second-gen. smart speaker, the HomePod Mini, and on the other end of the price spectrum we have the KEF LSX II stereo speakers, which are an audiophile's dream.
Matt Bolton, Managing Editor – Home Ents
The best AirPlay speakers aren't always made by Apple. We know this because we're testing speakers all the time – and sometimes, Apple's wireless streaming tech that piggybacks on your home wi-fi network does play nice with non-Apple products, as well as Apple ones.
We've rounded up the best of the best here, offering a variety of the best smart speakers at different price points that will suit all wants and needs.
No matter whether you're playing music, audiobooks, podcasts or streaming movies and TV shows, these speakers all allow you to connect to your iPhone, iPad or MacBook and deliver top quality sound to boot.
If you're after a surround-sound setup for your home, check out our best soundbars and best wireless speakers guides for top audio performance speakers. There's also plenty of options to choose from in our best Bluetooth speakers if you don't need AirPlay. But if you do, read on for our top picks.
Best AirPlay speaker overall
The best AirPlay speaker for most people
Specifications
Dimensions:
4.72 x 7.18 x 5.14 in (120 x 183 x 131 mm)
Drivers:
2 x tweeters, 1 x woofer
Supported Connectivity:
Alexa, Sonos Voice Control, Apple AirPlay 2
Reasons to buy
+
Excellent detail and clarity
+
Much improved bass over Sonos One
+
3.5mm line-in option and Bluetooth, too
Reasons to avoid
-
Bass can be heavy-handed at times
-
Less audio improvement over Sonos One than expected
This may not be an Apple speaker, but we've put the Sonos Era 100 at the top of this list because we think it's the option that will suit most people. It's a good step up from the Sonos One, which sat atop this list before it, and with seamless AirPlay 2 support, it's the best all-round option – ideal for those with Apple devices, or with something else (or, most importantly, both).
You can send sound to the Era 100 over AirPlay 2, or using Sonos' own multi-room system, or just using Bluetooth.
From playing a YouTube video to streaming Apple Music, the Era 100 can play top quality sound with excellent detail and clarity – we noted in our review how voices and treble were full of vitality and realism. With such an expressive soundstage, excellent features and premium connectivity, in a reasonably small package that can still go loud, this is all the speaker a lot of rooms need.
Read more: Sonos Era 100 review
The best budget AirPlay speaker
The best small AirPlay speaker for Apple lovers
Specifications
Dimensions:
3.3 x 3.9 x 3.9 inch / 8.43 x 9.79 x 9.79 cm
Drivers:
Full-range driver and dual passive radiators for deep bass and crisp high frequencies
Supported connectivity :
Wi-Fi, Bluetooth 5, AirPlay
Reasons to buy
+
Incredible sound for the size
+
Sleek and small design
Reasons to avoid
-
Siri works with limited services for music
-
Not as expressive as larger speakers
For anyone looking to enter the Apple smart ecosystem, or who has an Apple Music subscription, the HomePod mini is a great option. It's far cheaper than some might expect, packing mighty sounds and an elegant design for under $100 / £100 / AU$150.
For us, the audio performance is the key reason to buy the HomePod mini. It's excellent for a speaker that's so small, and it really feels like the right mix of price and sound quality. The bass is strong but isn't too heavy, vocals stand out of the mix with clarity, and when you pair two HomePod minis the stereo experience really gives the whole setup room to get lively. There may be better-sounding speakers in this list, but they're all much larger and more expensive – the HomePod mini is certainly the best value, and the best way to add AirPlay to a room with a subtle speaker that doesn't dominate a surface.
Read more: Apple HomePod mini review
The best Apple AirPlay speaker
The best AirPlay speakers for all-Apple homes
Specifications
Dimensions:
5.6 x 6.6 inches (142 x 168mm)
Drivers:
1 woofer, 5 tweeters
Supported Connectivity:
Apple Music, AirPlay 2
Reasons to buy
+
Excellent clarity and detail
+
Rich, well-balanced soundstage
+
A pair with Atmos is mind-blowing
Reasons to avoid
-
No Bluetooth or aux-in
-
Siri just isn't that useful
-
Less bass impact than original
The big HomePod is back, and if you're tied into the Apple ecosystem it's pretty great – but AirPlay is the only way to get music to it (well, and Siri, but that really wants to be used with Apple Music), so if you've got Android users in the house, you should look elsewhere. There's no Bluetooth, no Chromecast, no Spotify Connect, no aux-in. However, as Apple Music and AirPlay devices go, it's great.
If you're Apple Music user, the HomePod 2 is perhaps the best-value speaker out there. It's cheaper than what you get from the hardcore hi-fi brands (such as the Naim Mu-so Qb 2), but is crammed with luscious detail, crisp treble, and a rich mid-range. And you get the impressively easy setup and control you'd expect from Apple.
Compared to the first generation of HomePod, there's better clarity around the upper mids, which really benefits classical and acoustic music, and the Dolby Atmos performance is incredible if you have two in a stereo pair. However the second generation HomePods are not as loud as the first gen, and the bass is a bit lighter too. They're still a huge step up from the HomePods mini, though, and the sound quality you get for the money is excellent.
Read more: Apple HomePod 2 review
The best premium AirPlay speaker
The best AirPlay speaker for premium sound quality without going massive
Specifications
Size:
210mm x 218mm x 212mm
Drivers:
1 x Woofer, 2 x Mid-range, 2 x Tweeter, 2 x Passive Radiator
Supported Connectivity:
UPnP, AirPlay, Spotify Connect, Bluetooth aptX
Reasons to buy
+
Lovely physical interface
+
Robust, balanced and informative sound
+
Capable of startling volume
Reasons to avoid
-
Frustrating control app
-
Not the biggest audio presentation around
Naim Audio is a company that produces some of the most stylish connected speakers in the business, and we think the Mu-So Qb 2nd Generation is the best it's put out yet. With Kanye West's 808s & Heartbreak playing via Tidal, the Naim controls the strangely chilly low frequencies well.
The frequency range is nicely balanced overall, with no area given undue prominence nor too little power. And, with something like Mogwai's Come On Die Young, the Qb 2nd Gen. showcases its facility with dynamics, both great and small.
It comes will a full suite of connectivity options including aptX Bluetooth, Spotify Connect and AirPlay 2, which means it's easy to play to it in high quality, no matter what device you're using – and that's before we get to its wired options.
But even if you don't have your phone in hand, this wireless speaker is still controllable using its sleek touchscreen which allows you to access internet radio stations, for example. It's got a premium price, but if you opt for the Qb then you won't be disappointed.
Read more: Mu-So Qb 2nd Generation review
The best portable AirPlay speaker
The best Bluetooth speaker with AirPlay
Specifications
Size:
168mm x 62mm x 60mm (H x W x D)
Drivers:
Two class-H amplifiers, one tweeter, and one midwoofer
Supported Connectivity:
Apple AirPlay 2, Spotify Connect, Bluetooth, Wi-Fi
Reasons to buy
+
Powerful audio performance
+
Easily portable design
Reasons to avoid
-
Fairly pricey
-
Bass can be overwhelming
The Sonos Roam is our pick for the best Bluetooth speaker for most people, with a powerful sound, rugged design, excellent connectivity features, and smart home control. A bass-heavy audio performance makes it ideal for use outdoors, while a clever Automatic Switching feature means it's easily used indoors, too – though audiophiles may dislike the overwhelming low frequencies and rhythmic handling.
Following in the footsteps of the Sonos Move, the Sonos Roam comes with both Bluetooth and Wi-Fi connectivity along with AirPlay 2 support, which means it can work as a portable speaker outdoors as well as part of your multi-room Sonos system, or with other AirPlay 2 speakers in a multi-room system – and with Google Assistant and Alexa onboard, it doubles up a smart speaker too.
In spite of its (relatively) low price you're getting a lot for your money here. Its slick design means the Sonos Roam won't look out of place in your home, while a rugged, waterproof and dustproof build and a decent battery life make it ideal for listening to music outdoors.
Read more: Sonos Roam review
The best AirPlay speaker for Spatial Audio
The most expansive soundstage from Sonos yet
Specifications
Dimensions:
6.30 x 10.24 x 7.28 in (160 x 260 x 185 mm)
Drivers:
4x tweeters, 2x woofers
Supported connectivity :
Wi-Fi 6 and Bluetooth 5.0
Reasons to buy
+
Impressive stereo and Dolby Atmos effects
+
Very detailed and rich sound
+
3.5mm line-in option and Bluetooth
Reasons to avoid
-
Bass could be deeper
-
Unforgiving with flawed recordings
-
Dolby Atmos music is still limited
Sonos didn't just release the impressive Era 100 in 2023. Instead, it dropped two new wireless speakers to its range. The Era 300 is the more premium option out of the two and is packed with top-of-the-line features.
The one stand out feature for us – outside of AirPlay 2 support – is the addition of Dolby Atmos, which is a first for Sonos, and we're so glad it did take the leap as this has completely elevated this speaker to another level with its ability to deliver an immersive Spatial Audio experience from just a single speaker. The HomePod 2 is excellent for Dolby Atmos with a pair, but this gives you the most spatial trickery from a single unit.
Now, to get Dolby Atmos sound from it, you can't use AirPlay 2 – you need to connect your Apple Music account to the Sonos app. But you can listen to music regularly over AirPlay 2, and you still get the best stereo effect we've heard from a single speaker. It's great to listen to overall, featuring a metric ton of detail, and a great balance of sound overall – though it has no tolerance for imperfections in lower-quality music. You'll hear the issues, for sure.
It wins points for its ease of use. Sonos' app makes it easy to set up, and easy to tune it to your room, helping to make the spatial sound come across even more dramatically. It's bigger than most of the options here (but not all), but it can certainly fill a large room on its own, which is an advantage.
Read the full Sonos Era 300 review
The best AirPlay speaker for hi-fi sound
The best AirPlay speaker for balanced, detailed sound
Specifications
Dimensions:
210 x 650 x 194mm
Drivers:
2x 25mm (1") Double dome tweeters, 2x 90mm (3 1⁄2") FST midrange, 1 x 150mm Subwoofer
Supported connectivity :
AirPlay 2, Bluetooth 5, Spotify Connect, B&W Music App
Reasons to buy
+
Balanced, detailed, full-range sound
+
All sorts of wireless streaming options
Reasons to avoid
-
Not quite the stereo separation we were led to expect
-
Pretty large for a wireless speaker
Bowers & Wilkins revived its iconic Zeppelin wireless speaker for 2021. Well, it was revived in terms of looks; the internal hardware in the B&W Zeppelin (2021) is all new and, it turns out, more than fit for purpose.
This latest Zeppelin speaker comes with aptX Bluetooth, Apple AirPlay 2 and Spotify Connect built-in. You also get access to pretty much all the rest of the planet's stock of music via its clean, tidy and responsive Music control app. There's support for the Amazon Alexa voice-assistant, too. And the unit is just as good-looking, just as well-made, and just as big as it ever was.
During our testing, we decided it sounds better than ever, too. If your priority is finely balanced and full-range sound that has the kind of natural sound and attention to detail of hi-fi speakers, Bowers and Wilkins has you covered. And while it isn't a substitute for an actual pair of stereo speakers, the Zeppelin serves up a wide, well-defined and endlessly engaging sound, no matter the genre of music – though the Sonos Era 300 maybe has is slightly beaten on the stereo effect. It's not exactly cheap, but in this case the price seems absolutely justified.
Read more: Bowers & Wilkins Zeppelin (2021) review
The best stereo AirPlay speaker
The best stereo AirPlay stereo speakers
Specifications
Dimensions:
240 × 155 × 180 mm (9.5 × 6.1 × 7.1 in.)
Dolby Atmos / DTS:X enabled:
No
Active or Passive:
Active
Frequency response:
49Hz – 47kHz
Reasons to buy
+
Vigorous, up-front and dynamic sound
+
Properly made in a wide choice of finishes
+
Ample wired and wireless connections
Reasons to avoid
-
Pricey compared to standalone wireless speakers
These small speakers have a pretty big price tag, but these aren't "just" a pair of bookshelf speakers. They're incredibly well-connected, with AirPlay 2, HDMI ARC and USB-C, Ethernet, analogue and digital inputs, a pre-out for a subwoofer and CAT 5 for wiring a pair together. If you do wire them up you get up to 24-bit/384KHz and DSD256; wireless connection downsamples to 24-bit/48kHz.
The sound quality is spectacular, with rich mids, detailed highs and very punchy bass for speakers so small – and you can always use that subwoofer out if you need even more low-end thump. Unless your source material is poorly recorded or very low bitrate the sound here is immersive and incredibly enjoyable.
These speakers aren't made to fill massive rooms with sound, but if you want to turn your home office or study into a high-quality listening station then these speakers will excite and delight no matter what kind of music you're listening to – and with five very distinct finishes they'll look great with any kind of décor too.
Read more: KEF LSX II review
How to choose the best AirPlay speaker
There are a lot of factors to consider when you're looking for the best AirPlay speakers for you.
One of the obvious ones is budget. None of the speakers in our list is super-cheap cheap, but some are much more affordable than others. And they are from some of the best audio brands around, which means your money will go further and you'll have access to updates so they keep working for a long time.
Design is also important. Happily, most AirPlay speakers are simple and streamlined, meaning they'll fit into most homes discretely. However, it is worth considering whether a small portable speaker, like the Sonos Roam or HomePod mini, is better for you than a big B&W speaker.
Finally, think about sound quality. All of the best AirPlay speakers are on our list for a reason, but you might have specific things to consider. For example, do you like listening to hi-res audio? Only a few of the options below will give you the sound quality you're looking for.
The best way to choose the right AirPlay speaker for you is to take a look at the options and compare the specs. Be sure to click through to our reviews of the speakers too, which will give you even more information about how they work day-to-day.
The best AirPlay speakers: FAQs
Can I AirPlay to multiple speakers?
If your speakers are AirPlay 2, you should have no trouble using AirPlay to cast your music to more than one speaker at a time, using an easy list of them from your Apple device.
Which is better, Google Chromecast or Apple AirPlay 2?
It depends on your needs. In terms of pure audio fidelity, Chromecast wins; it supports 24-bit / 96Hz streaming, whereas AirPlay 2 is limited to 16-bit / 44.1Hz streaming. So, if you're looking for hi-res audio support, Chromecast is your best bet.
But it mainly comes down to what devices you use – Android phones can't stream to AirPlay speakers by default (there are third-party options to enable this, but anything unofficial is always risky). And there tend to be more AirPlay 2 speaker options overall, especially from the more premium brands.
How we test the best AirPlay speakers
We've tested all of the top AirPlay speakers in this guide and, to be included, we wanted to ensure that each device ticked a few key boxes.
For starters, as you might expect, we wanted to ensure they have reliable AirPlay integration that works well and provides a reliable connection.
We also wanted to ensure they boast great sound quality. Not all of these speakers provide room-filling sound, but they all blast out music and do your favorite tracks and albums justice.
We've been sure to include a number of different types of speakers, from those that are more portable to soundbars that are, mostly, designed to hang out in one place.