The Sonos Era 100 is nearly the ideal small and flexible speaker. It offers wide dispersion of sound, Bluetooth and Wi-Fi, a line-in option, support for tons of streaming services, voice control, and it goes as loud as you could need it to. But it's less refined in the bass than is normal for Sonos, and with a higher price than its predecessor, it's less of a slam-dunk than the Sonos One was.
Pros
+

Excellent detail and clarity

+

Much improved bass over Sonos One

+

3.5mm line-in option and Bluetooth
Cons
-

Bass can be heavy-handed at times

-

Less audio improvement over Sonos One than expected

-

Higher price
Why you can trust TechRadar We spend hours testing every product or service we review, so you can be sure you're buying the best. Find out more about how we test.
Sonos Era 100: Two-minute review
The Sonos Era 100 is effectively the replacement for the Sonos One – the compact speaker that we've rated highly as the best option for most people pretty much since it came out in 2016. That's a big legacy to live up to – and the Era 100 does it by laser-targeting the biggest complaints about the Sonos One.
The Sonos Era 100 adds a wider soundstage so one speaker fills a room better, it adds more bass for a fuller dynamic range, it adds Bluetooth so you can play music to it from anything wireless, and an adapter can even add 3.5mm line-in, so you can connect to wired music sources. So, did the best wireless speaker on the market just get better in every way?
I mean… kind of, yeah. But the bass isn't as clear-cut an upgrade as we expected, and the price is higher than the Sonos One, with some regions rising more dramatically than others – other way, it pushes it closer to higher-end speakers, and the sound quality hasn't changed so much that the price rise feels like a natural change.
I think the Era 100 deserves to hold its place as the wireless speaker most people will be happiest with, thanks to excellently clear and detailed sound overall. But it just isn't quite the no-brainer that the Sonos One and the Sonos One SL have been.
Sonos Era 100 review: Price & release date
Released on March 28th, 2023
Priced at $249 / £249 / AU$399
3.5mm line-in/Ethernet adapter is optional extra
The Sonos Era 100 launched at the end of March 2023, and comes with a price of $249 / £249 / AU$399, which is notably higher-priced than the Sonos One that it replaces, which costs $219 / £199 / AU$319 – and it's much higher priced than the Sonos One SL, which costs $199 / £179 / AU$289.
That's tough just because anything rising its price is hard right now, but also because it's suddenly swinging into the territory of even fancier speakers, including the $299 / £299 / AU$479 Apple HomePod 2, which features more speaker units and Dolby Atmos support, or the Audio Pro Addon C10.
The Sonos One (particularly the SL) sat nicely at a level above the likes of the Amazon Echo, but below more serious speakers. The Era 100 has absolutely put on a shirt and tie to join the serious party at this price.
Don't forget to see what Sonos promo codes are available right now too.
Sonos Era 100 review: Specs
Swipe to scroll horizontally
| | |
| --- | --- |
| Speaker drivers | 2x tweeters, 1x midwoofer |
| Amplification | 3x Class D amps |
| Dimensions | 4.72 x 7.18 x 5.14 in (120 x 183 x 131 mm) |
| Connectivity | Wi-Fi 6, Bluetooth 5.0, USB-C (3.5mm line-in and Ethernet via adapter) |
| Streaming support | Sonos app, Apple AirPlay 2 |
| Voice assistant support | Alexa, Sonos Voice Control |
| Other features | Sonos multi-room control, Sonos home theater option, stereo pair option |
Sonos Era 100 review: Features
Angled tweeters for ultra-wide sound
Bluetooth and Wi-Fi audio built-in
Can add 3.5mm line-in and Ethernet using adapter
Sonos' goal with the Era 100 was to deliver stereo sound from a single unit while eliminating the idea of there being a 'sweet spot' to listen to it from, and to add more bass – the last of these is something I've always bemoaned as missing from the Sonos One. Even in acoustic music, you're not getting the full effect without rich bass.
So the Sonos Era 100 features a new oval woofer for bass and mid-range, and two angled tweeters above it, one facing left, and one facing right. The tweeters have a 100-degree angle between them, and each has a waveguide frame in front of it that disperses sound across 180 degrees per tweeter. That means the tweeters have a total sound spread of 270 degrees between them, according to Sonos.
Bluetooth audio is here, which is a new inclusion that the Sonos One lacks. It's Bluetooth 5.0 (Sonos says it will be upgraded to 5.2 in the future, which could unlock more features), and you can just pair it with anything – no special Sonos sauce. A button on the back triggers pairing mode, and you're away.
Of course, day-to-day you'll more likely use Sonos' Wi-Fi tricks to play music, and as usual you can use the Sonos app to play music from the best music streaming services, or use Apple's AirPlay 2 streaming system from Apple devices.
Like the Sonos One, it's a smart speaker, though here there's only support for Alexa and Sonos' own Voice Control system (which only controls music, and doesn't send anything to the cloud). Google Assistant has been dropped from the list.
The USB-C port on the back can be used to connect an adapter that adds 3.5mm line-in or Ethernet connectivity, making it even more flexible – but you'll need to pay extra to add that feature.
Sonos Era 100 review: Sound quality
Bass is strong, but not always perfectly controlled
Can go gloriously loud while staying composed
Wide sound is great, but falls short of feeling stereo
The sound quality of the Era 100 is impressive, partly because it's immediately very expressive. Sonos tends to go hard on detail, and that's no different here – it can pick out small parts of the mix and give them the precision they need to feel textured, and it can step up dynamically when needed for really sharp and clear sounds.
Voices and treble are particularly well-delivered, full of vitality and realism. But that's nothing new – the Sonos One was exactly the same, and was unsurpassed for this at the price even six years after its launch.
The difference from the Sonos One in this area is the width – upgrading to two tweeters angled away from each other has indeed created a wider soundstage, though Sonos One wasn't exactly bad at this anyway. However, when moving off-center, I did find the Sonos Era 100 to hold onto the quality of the mix more strongly for longer than in a comparison with the Sonos One, so we'll give it to Sonos for that, no question.
The far bigger upgrade to the overall sound is the additional bass extension, provided by a 25% larger woofer. It absolutely does its job – there's way more thump to it when listening to something like electronic hits, and instruments such as piano get far more resonance to bring them closer to real life.
However, the new deeper low-end is a bit flabby – not ruinously so, but in a way that I just wouldn't expect from Sonos. Hearing the bass is like hearing someone being heavy-handed when putting the dishes away – nothing's being broken, but you wish they'd be a bit more delicate with it. This feeling is lessened at higher volume – at around 30% or so, it's happier, but it's still there a little.
That's what you get if you pay more for the HomePod 2 or the Sonos Era 300 – the same kind of depth in bass, but even tighter and more orderly. Of course, the fact that the soundstage is remotely comparable to those more expensive speakers at all is a good thing for the Era 100.
And while we're comparing to the HomePod 2 – because, as I mentioned before, they're so close in price, size and general goal now – I'll mention that the other thing you get from the HomePod is a more natural soundstage. The Sonos comes across as more hard-working and artificial of the two – the HomePod feels more like its frolicking outdoors. Added to the extra bass control and Dolby Atmos support, that's what you get by paying more for the HomePod in terms of sound – the Sonos remains the more flexible option for features, of course.
When it comes to the idea of getting a stereo feeling from the Sonos Era 100's angled drivers, I would say not to buy it in expectation of that. Sitting right in front of it, you can hear steering to the sides in stereo music, but it's subtle and not really worth writing home about.
Ultimately, I think the Era 100 is a step up in sound over the Sonos One, but a smaller one than I expected once you factor in that the bass is a little loose – if you already have a pair of Sonos Ones and are wondering about replacing them with two of these purely to get richer bass, then I'd spend that money on adding a Sonos Sub Mini to them instead.
Still, it's a fun speaker that really highlights all the elements of tracks, in a compact body. Oh, and it's capable of going really surprisingly, alarmingly loud without falling apart.
Sonos Era 100 review: Design
A little larger than Sonos One
Modern, simple design
Available in black or white
Though it's got a bit more heft than the Sonos One, the Era 100 still manages to maintain a compact frame overall – it can sit on a shelf without dominating it in any way. The oval design very much follows Sonos' current design language, with a hard grille all around that is mercifully easy to dust.
On top is a set of touch controls – skip forward and back, play/pause, and volume controls in a concave lozenge that makes them easy to find – plus a hole for the mic. On the rear is a switch to disable the microphone totally, plus the button for Bluetooth pairing, and the USB-C port.
It comes in black or white, and both are nondescript in a good way – they're simply neutral, and blend into the background of a room. I think this is what Sonos' target customers want.
The six-foot power cable is a standard length for speakers – I wish slightly longer was standard, but it'll probably work for most people.
Sonos Era 300 review: Value
Lots of clarity and punch for the price
More flexible than a lot of rivals
But overall, the higher price doesn't feel 100% justified
Although the Sonos Era 100 is better than its predecessor in every way, I'm struggling with the higher price. We're in an (ahem) era of price rises, so I'm trying to factor that in – and yet, if you don't want the smart speaker functions (which, let's face it, not everyone is so hot on these days), the Era 100 is a full 39% higher in price than the Sonos One SL in the UK. I don't think I can say I see an equivalent amount of extra value in it. (I'm sure a Sonos Era 100 SL will come one day to help even out that price imbalance, but that day is not today.)
If you think of it as cross-platform, flexible alternative to the HomePod 2 that's a little cheaper (even if its sound isn't a little more constrained) then it looks like good, if not spectacular, value.
If you look at it as the long-awaited update to the Sonos One, first released six years ago, then it feels a little weaker. Yes, you're paying more to get more – but in the tech world, we're used to paying the same to get more as technology progresses. And as I mentioned above, I think the sound is an improvement, but not a 'wow, what a difference' improvement. And don't forget that the 3.5mm line-in and Ethernet support requires spending a little more.
Should you buy the Sonos Era 100?
Swipe to scroll horizontally
| | | |
| --- | --- | --- |
| Features | Adding Bluetooth and optional line-in support to the package makes this super-flexible. | 4.5/5 |
| Sound quality | So clear and so detailed, with good range, though bass can be a little clumsy. | 4/5 |
| Design | Fairly compact, with a classily simple and well-made finish. | 4/5 |
| Value | It's a good buy, the price is just a little higher than we're totally happy with. | 3.5/5 |
Buy it if…
You want big, high-quality sound from a small speaker
It's loud, it's got great range from low to high, it spreads its audio well, and when you ask it to, the Era 100 can really push it.
You want connection flexibility
Sonos app with multiple streaming services, AirPlay 2, Bluetooth, and even optional line-in support – you can get sound into here in so many ways.
Don't buy it if…
You expect real stereo sound
Despite the angled tweeters, you're only getting a hint of stereo here, not something that compares to the real thing.
You're not a bass fan
The Era 100 isn't overly bassy in any way, but because it's less poised than the rest of the soundstage, it will stand out to those who are focused on more delicate listening.
Sonos Era 100 review: Also consider
Swipe to scroll horizontally
Sonos Era 300 competitors

| | Sonos Era 100 | Sonos One SL | Apple HomePod 2 | Sonos Era 300 |
| --- | --- | --- | --- | --- |
| Price | $249 / £249 / AU$399 | $199 / £179 / AU$289 | $299 / £299 / AU$479 | $449 / £449 / AU$749 |
| Speaker drivers | 2x tweeters, 1x midwoofer | 1x tweeter, 1x woofer | 5x tweeters, 1x woofer | 4x tweeters, 2x woofers |
| Amplification | 3x Class D amps | 2x Class D amps | Not listed | 6x Class D amps |
| Dimensions | 4.72 x 7.18 x 5.14 in / 120 x 183 x 131 mm | 4.7 x 6.4 x 4.7 / 120 x 161 x 120 mm | 5.6 x 6.6 x 5.6 in / 142 x 168 x 142 mm | 6.30 x 10.24 x 7.28 in / 160 x 260 x 185 mm |
| Connectivity | Wi-Fi 6, Bluetooth 5.0, USB-C (3.5mm line-in and Ethernet via adapter) | Wi-Fi (802.11n), Ethernet | Wi-Fi (802.11n), Bluetooth 5.0 (not audio) | Wi-Fi 6, Bluetooth 5.0, USB-C (3.5mm line-in and Ethernet via adapter) |
| Streaming support | Sonos app, Apple AirPlay 2 | Sonos app, Apple AirPlay 2 | Apple AirPlay 2 | Sonos app, Apple AirPlay 2 |
| Voice assistant support | Alexa, Sonos Voice Control | Alexa, Google Assistant, Sonos Voice Assistant | Siri | Alexa, Sonos Voice Control |
| Other features | Sonos multi-room control, Sonos home theater option, stereo pair option | Sonos multi-room control, Sonos home theater option, stereo pairing option | Dolby Atmos support, Thread/HomeKit smart home hub, auto-calibration, stereo pairing option, Apple TV home theater option | Dolby Atmos support, Sonos multi-room control, Sonos home theater option, stereo pair option |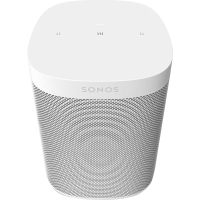 Sonos One SL
Sonos isn't making this any more, but it's still available while stocks last. The Sonos One delivers best-in-class clarity and a finely honed sound balance – there might be less bass than the Era 100 and no Bluetooth (or voice control), but for the lower price, it's as good as it gets. Here's our full Sonos One SL review.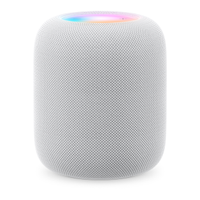 Apple HomePod 2
If you're all-in on the Apple ecosystem, this is really the big alternative. A similar kind of size, only a little pricier, but adding more speaker drivers and Dolby Atmos support – the HomePod 2 sounds more expansive and natural than the Sonos One. However, it doesn't go as loud, and doesn't have Bluetooth or other connectivity options apart from Wi-Fi. Here's our full HomePod 2 review.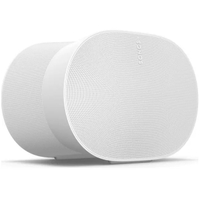 Sonos Era 300
If you're thinking "I want something that delivers more controlled bass and the kind of stereo effect from a single speaker that I was hoping for here, and I'll pay more to get it", then look no further than the Era 100's big sibling. Read our Sonos Era 300 review for more on exactly why!
Sonos Era 100 review: How I tested
Tested with music from Sonos app and over AirPlay 2, and from my laptop
Used at home, in the same environment as compared speakers
Tested over a week, listened to for around 10 hours total
I had the Sonos Era 100 for a week for testing, and I ran it in (ie, played music on it without making any judgments) for about 15 hours before sitting down to listen to it. I played music on it via the Sonos app, including tracks from Amazon Music Unlimited and Apple Music, and streamed sound to it from various sources over AirPlay 2 from my iPhone. For testing the Bluetooth connection, I paired it with my laptop and played music from there.
I had the HomePod 2, Sonos One and Sonos Era 300 in the same room in my home for testing, so I could run direct comparisons between them.
You can read TechRadar's review guarantee here.
First reviewed: March 2023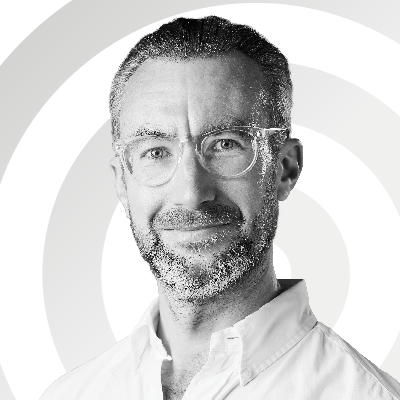 Managing Editor, Entertainment
Matt is TechRadar's Managing Editor for Entertainment, meaning he's in charge of persuading our team of writers and reviewers to watch the latest TV shows and movies on gorgeous TVs and listen to fantastic speakers and headphones. It's a tough task, as you can imagine. Matt has over a decade of experience in tech publishing, and previously ran the TV & audio coverage for our colleagues at T3.com, and before that he edited T3 magazine. During his career, he's also contributed to places as varied as Creative Bloq, PC Gamer, PetsRadar, MacLife, and Edge. TV and movie nerdism is his speciality, and he goes to the cinema three times a week. He's always happy to explain the virtues of Dolby Vision over a drink, but he might need to use props, like he's explaining the offside rule.